Sharon Stephenson eats her way through delectable Dunedin.
Eat your greens, sit up straight and avoid alleyways that look as though they'll do you mischief.
Who wasn't taught that as a child? But while our mothers might have been right about some things, they couldn't have known that in 2021, laneways and other off-the-beaten track locations are often where the best bars, cafés and restaurants can be found.
It's especially true in Dunedin where tiny eateries and bars, sometimes with minimal signage, offer some of the city's best foodie experiences.
From apple crumble gelato and chocolate vodka to mānuka honey pilsner and some of the best toasted sandwiches to ever pass your lips, if you know where to look, Dunedin will deliver the goodies.
Burger Plant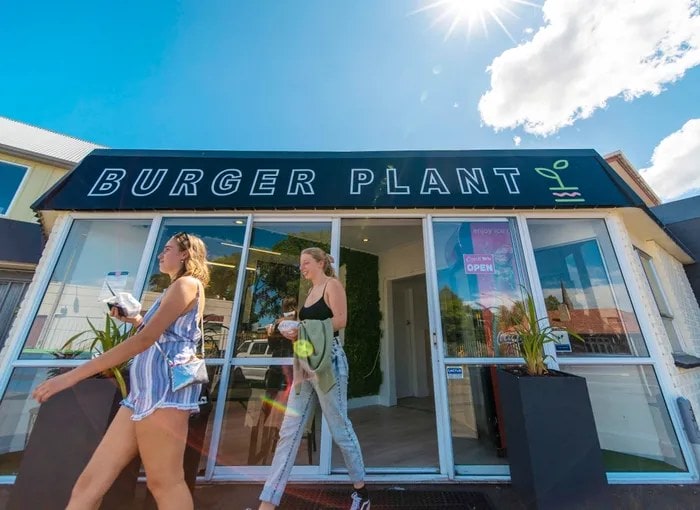 The long, flat thoroughfare that slices through North Dunedin is nicknamed Fatty Lane, thanks to the fast food outlets that cater to the area's student population.
So was Thomas White brave or silly for opening a vegan burger bar in the heart of Fatty Lane?
"Probably a bit of both," says the 22-year- old, laughing. "But I realised there was a gap in the market for people who wanted to eat healthily. I also wanted vegan food to be as approachable as possible – not just jackfruit and boring tofu but vegan chicken and pork- belly cracking that we make ourselves."
If anyone has the credentials to pull it off, it's Thomas – he's a trained chef who's worked in Auckland and Dunedin restaurants. Ironically, he's also from a long line of cattle farmers.
"I became vegan in 2019 because of environmental reasons, which isn't the usual path for someone from a farming family."
Thomas converted a former fish and chip shop into this light-drenched burger bar last March, filling the menu with offerings such as the sassy Chook Burger, which pairs his own "chook" patty with a hot sauce/maple syrup so good I asked for the recipe, as well as Babe, a burger stuffed with vegan "pork" coated in a sticky Szechuan glaze and even a genius vegan "crackling" that Thomas dreamed up.
Leave space for dessert, which is harder than it sounds – sweet burgers feature cookies, chocolate mousse and Thomas's own vegan marshmallows. You'll never look at burgers the same way again.
Hungry Hobos
You've heard of pulled pork but pulled carrots? It's a clever trick that Romeo Dowling-Mitchell manages to pull off at his cult George Street eatery, which specialises in toasted sandwiches and soup.
But these aren't any old toasted sandwiches – they're gourmet offerings based on the American "hot sandwiches" the chef sampled all over the US. Think the New York Reuben, filled with 14-hour slow-cooked corned beef, and mac 'n' cheese.
But this popular eatery also packs some seriously healthy vibes, with the spicy slow-cooked pulled-carrots sandwiches that come with homemade peanut butter barbecue sauce and aged cheddar.
Romeo, who has manned stoves from London to Spain, and cooked for everyone from Lady Gaga and ACDC to Kim Dotcom, also caters for gluten-free and vegan eaters, even making his own vegan cheese.
"It's about offering healthy, seasonal food that doesn't cost the earth," he says.
Steamer Basin brewery and taproom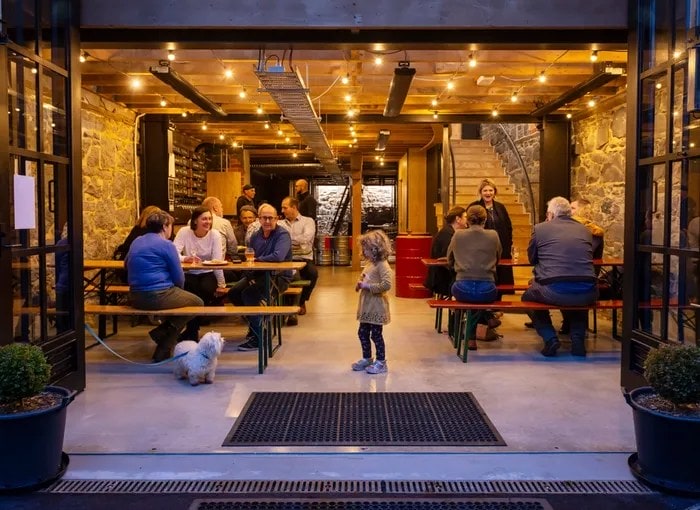 One of Dunedin's favourite craft brewery, between Bond and Princes Streets, is tucked down an alleyway with no signs (even the street is called No Name Alley). And when I visited in late August, Steamer Basin brewery and taproom had only been open two weeks. But it won't be long before the heritage building becomes the go-to for thirsty punters.
Because not only do you get to pick from 38 brews – including mānuka honey pilsner and lemongrass saison – you also get a side order of history at this former bond store, built in 1871.
Owner Paul Kelly, who spent 20 years living in Sydney and Hong Kong with his partner Karen Gazzard, started the couple's craft beer journey in a friend's garden shed. Then, in 2015 they started selling their wares at the Otago Farmers Market.
A trip to America's Pacific Northwest cemented their desire to use local ingredients. That now extends to mānuka honey from Mosgiel, lemongrass from their backyard and plums from Earnscleugh.
"We also use Kiwi hops and malt. Our aim is to use ingredients from within a 100km radius," says Paul.
Dunedin Craft Distillers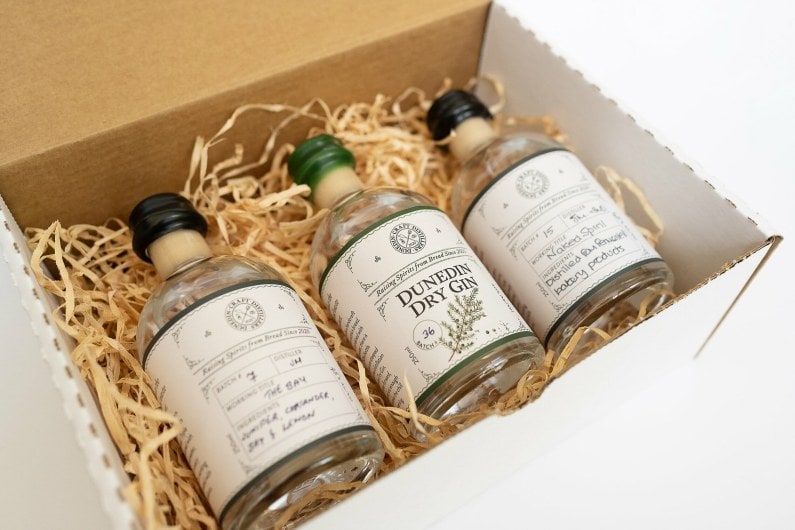 Fact: around 76,000 tonnes of bread is wasted in Dunedin alone each year. Locals Sue Stockwell and Jenny McDonald weren't happy about that – so they put their respective catering and science backgrounds to use and decided to convert leftover bread into gin and vodka.
The friends launched Dunedin Craft Distillers in March this year, and recently moved into a former peanut butter factory, which they're converting into a tasting room.
That meant installing equipment to convert the bread into a porridge, which they then add malt and oat husks to.
"We ferment that for two weeks before distilling it," says Sue.
They use botanicals such as coriander, cassia and liquorice, some of which are sourced locally. The pair also lean into sustainability, sourcing oat husks from a local porridge factory and cacao husks for their chocolate vodka from OCHO, Dunedin's famous chocolate label, which handily happens to be next door.
"It's about having fun and being as sustainable as possible," says Jenny.
Gelato Junkie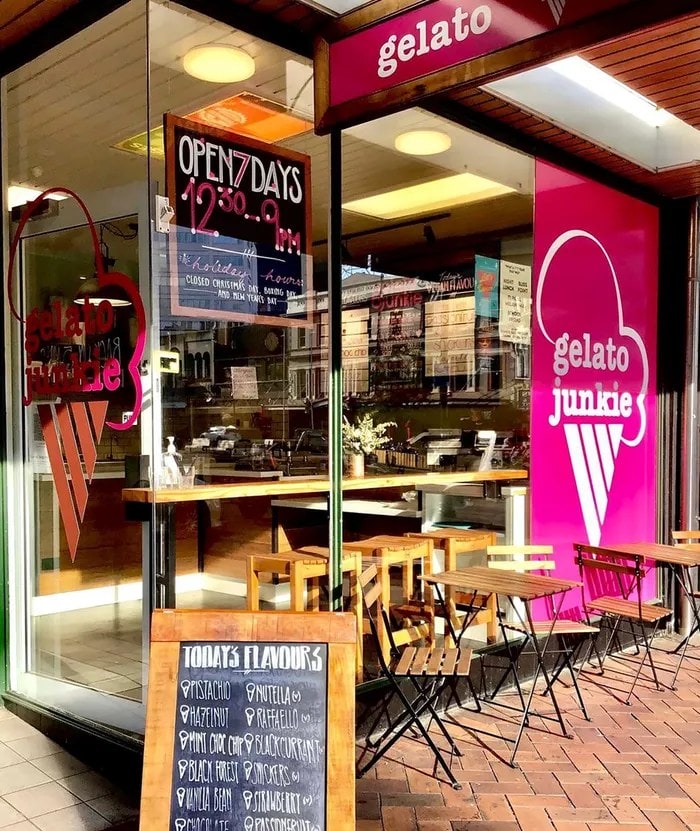 Some of the best food comes not with Michelin stars or table service – or even tables. Sometimes all you need is a hole in the wall.
Which is what Leni Bebensee has – a compact space in the Octagon where she makes possibly New Zealand's best gelato.
That includes the classics – chocolate, vanilla, Nutella and the creamiest pistachio I've ever tasted. Other options include Snickers and apple crumble, and, in a nod to Leni's German heritage, a delicious Black Forest offering.
"We have a pool of around 30 flavours but they change daily, with 12 flavours at any one time," says Leni.
The key to her gelato is milk from Ōamaru micro dairy The Natural Dairy. "They use cow-with-calf dairying, have a small herd and align with my ethos of sustainability and animal welfare."
But don't worry if you don't take kindly to cow's milk – around half of Leni's range is vegan and much of it is also gluten-free.
If anyone knows good gelato, it's Leni. The trained chef moved to Aotearoa four years ago, and although she enjoyed feeding Kiwis, her love of gelato was always nibbling at the edges.
In 2018, Leni flew to Italy to learn how to make the creamy treat in Bologna, the home of gelato. Thankfully for us, a year later she converted a former juice bar into Gelato Junkie.
The Roastery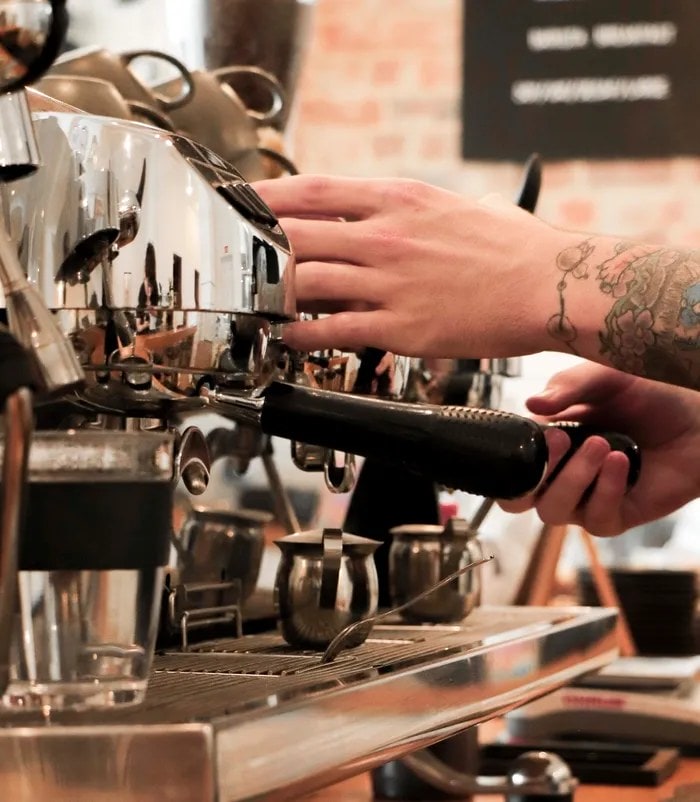 Vanguard Specialty Coffee Co's premises started life as a shipping office, but this space in Dunedin's warehouse precinct has been reimagined as a roastery and café.
If the name sounds familiar, that's because owner Jason Moore has owned the Vanguard café on Princes Street for several years. But post Covid, he decided to move his German-imported coffee roaster out of that café and reposition it inside this heritage building on Vogel Street.
Not only do you get a choice of Colombian, Brazilian, Kenyan and Ethiopian beans that can be traced back to the individual farmer, but there are also tasting flights (of espressos, filter coffee and flat whites) made by people who care deeply that your caffeine needs are met.
Bonus: you get to say hi to Wayne, the roastery dog.