Fleeing destruction in their homeland, these Syrian women found a new beginning in New Zealand. They share their life-changing experiences with Elodie Berthe.
Imagine one day, the walls of your home start shaking, the sounds of birds are replaced by loud explosions, fresh air is filled with the smell of burning and death, and blue skies are hidden behind grey smoke. Imagine Aotearoa is no longer safe. Bullets and bombs have become the new normal. What would you do?
In the last decade, the world has witnessed the highest levels of displacement on record: 80 million forcibly displaced people globally. More people are fleeing their homes than ever before, surpassing even post-WWII numbers. Behind this staggering figure are ordinary people who have faced extraordinary circumstances. Children, mothers, fathers, grandparents – people who had no other option than to flee.
Since March 2011, the fighting in Syria between state and non-state armed groups has caused large-scale death and destruction. Over the past decade, more than five million people have fled across borders and millions more have been displaced within Syria. Many are still in dire need of assistance. As the war continues, hope is fading fast.
Thousands of kilometres away, in peaceful Aotearoa, we meet Manahel Haroura, Nisrine Zarzar, Rahaf Almabaid and Alia Al Mohamad – four inspiring Syrian refugee women now living in Dunedin, each with a unique story of survival, courage and determination.
Rahaf Almabaid: Aiming for the stars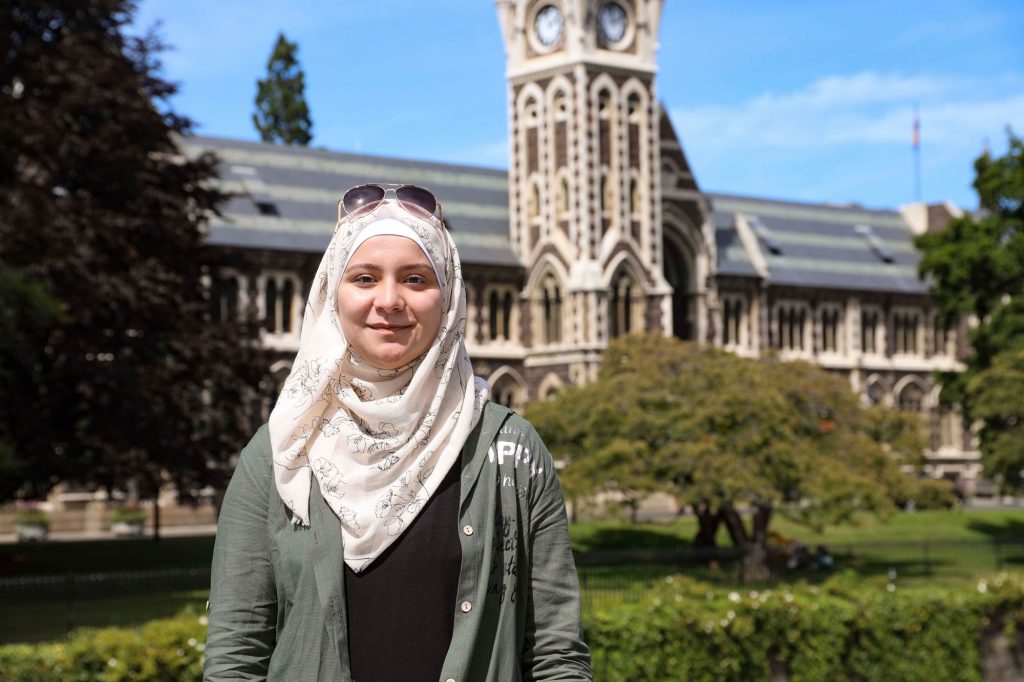 It's an unusually warm and busy day in Dunedin. Orientation Week has brought students from all over the country and the University of Otago campus is buzzing. First years are discovering their new place of study, admiring the old buildings and enjoying the unusually pleasant weather.
Among the many students on campus is 20-year-old Rahaf Almabaid. Unlike many of the young people there today, this is not Rahaf's first year at university. She knows the best coffee spots, walks with confidence and points out where her lectures take place.
Rahaf has always been ambitious. From a very young age, she dreamed of going to university. When the war in Syria broke out and her family was forced to flee, Rahaf did not stop pursuing her goals.
"I never thought the war would happen to us. My parents had already set a plan for me – they wanted me to get educated, go to university and graduate, all in the same place. Somehow it didn't happen, but things are still good," explains Rahaf.
As the conflict reached the outskirts of her neighborhood, she recalls, "My granddad said, 'OK, enough is enough, we need to move!' So most of us moved to Lebanon in 2013 – it all happened in 24 hours."
While life in Lebanon was relatively normal for Rahaf, who was able to attend school, the future for most Syrian refugees there is not promising. So, when the opportunity to settle in New Zealand was offered to Rahaf 's family, they were thrilled.
"Once I heard about the possibility of moving to New Zealand, I did my research. The first thing I found was University of Otago – I got excited and thought, 'Maybe it will be my university one day,'" explains Rahaf.
Little did she know that the University of Otago was indeed going to be the place where she would pursue her dream to become a doctor. When Rahaf settled in Dunedin in March 2016 with her family, she picked up her high school studies where she had left off in Lebanon and worked hard.
"I dream to be a doctor and help the community. I want to do it for my parents, who sacrificed everything for me and my brother. They wanted us to have these opportunities and they get so excited whenever we do something new, so I'm going for it."
I dream to be a doctor and help the community. I want to do it for my parents, who sacrificed everything for me
Thanks to her dedication and excellent grades, Rahaf was accepted into Health Sciences and won two different scholarships, all while working part-time.
While Rahaf passed all her first-year papers, she didn't get an offer from the course she wanted – medicine. Undeterred, she has enrolled this year in Biomedical Science, majoring in functional human biology.
"After the two years, I will try to apply again to get into medicine. I'm still very keen to pursue this. I am passionate."
Manahel Haroura: Stitching together a new life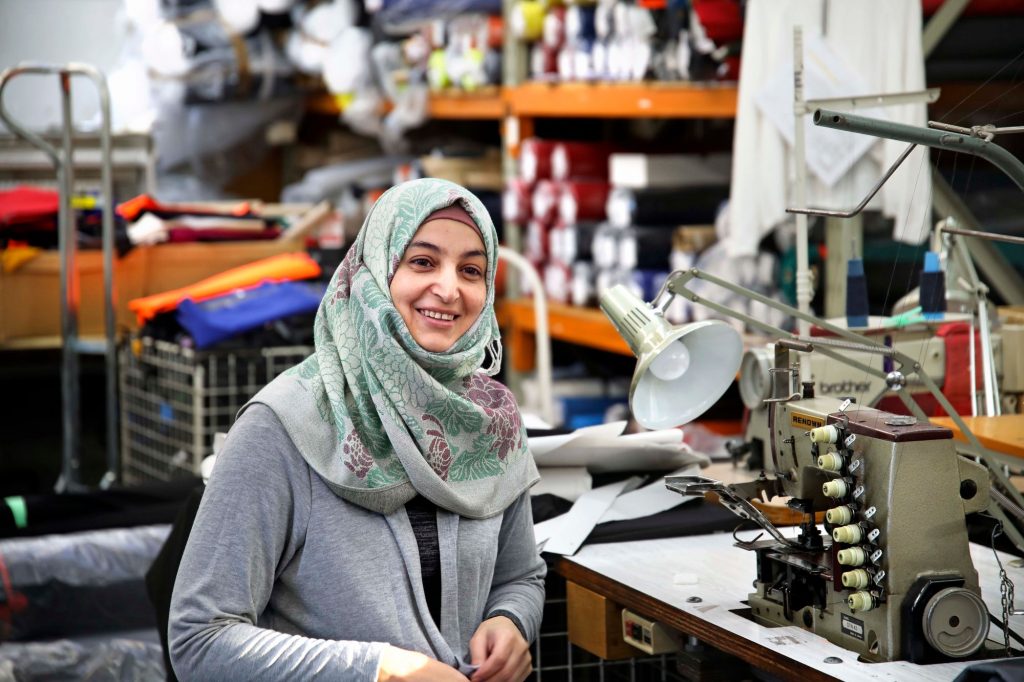 A low hum echoes across the floor of Elco Apparel in Dunedin. Everyone is focused on their work and the only sounds are of needles punching through fabric, garments sliding across tables, scissors slicing through material and, occasionally, a soft tap on a foot pedal to activate a sewing machine.
The buzz of sewing machines was new to Manahel Haroura, but she's become very familiar with the sound since she started training as a machinist. It's a sound she's learnt to appreciate – one that reminds her how safe she is in New Zealand, away from the noise of bombs in Syria.
"I don't want to talk about the war, I am going to start to cry," says Manahel, who grew up in Damascus among a big family with lots of relatives. "I had a nice life and lots of love and happiness."
The single mother fled Syria with her three children across the border to Lebanon. Like many others, she doesn't like to talk about her experiences and wants to focus on the future – one that she hopes will bring peace and contentment to her family. In 2017, the family was offered resettlement in Dunedin – a new life Manahel has grabbed with both hands.
"It's nice, safe, quiet and with many friendly people," says Manahel. "Dunedin is such a nice city. I'm happy here."
Initially, she focused on learning English, and approached New Zealand Red Cross to help her find employment. She was introduced to the people at Earth Sea Sky clothing company in Christchurch, which owns Elco Apparel. The business was struggling to find machinists, so had approached Red Cross to enquire about potential refugee workers.
Manahel met the team, fed them delicious home baking and asked many questions about the machines. They felt she'd be a great fit and that training her up would be worth the effort. "The first time I came to the workshop, I was so surprised and wondered, 'Oh my God, how am I going to work with these big machines, I have never seen these before!'" says Manahel, who nevertheless picked it up quickly.
This is the first job Manahel has ever had. In Syria, she maintained her home and supported her kids. Finding work in New Zealand has meant becoming more independent and has brought a lot of joy to her children, too.
"With this job, I feel like I am doing something good in life. And my children are so happy. They came to the workshop and had a very nice time here. They know all the team and the team knows them. Today, my son cried because he wanted to come to the workshop with me," Manahel laughs.
Her colleagues say she is an inspiration. Her journey, attitude in life and warm personality have deeply impacted them.
Shirley Murdoch, one of Manahel's colleagues, says, "I love working with Manahel because she is so friendly, so humble and she has so much courage.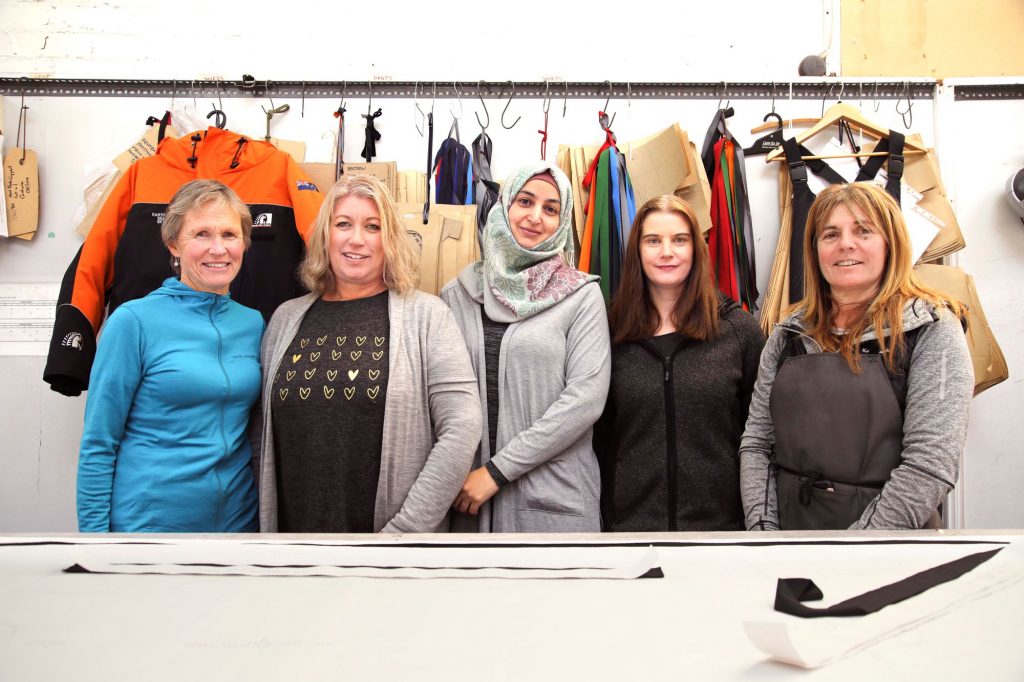 "And that's what I love the most about her: the fact that she's come here from a different country to New Zealand with her children, and she just gets on with it and does it so well. She makes me cry! Talking about her courage makes me cry because there is no way I am anything like that. That's what I admire in her."
Alia Al Mohamad: Starting from scratch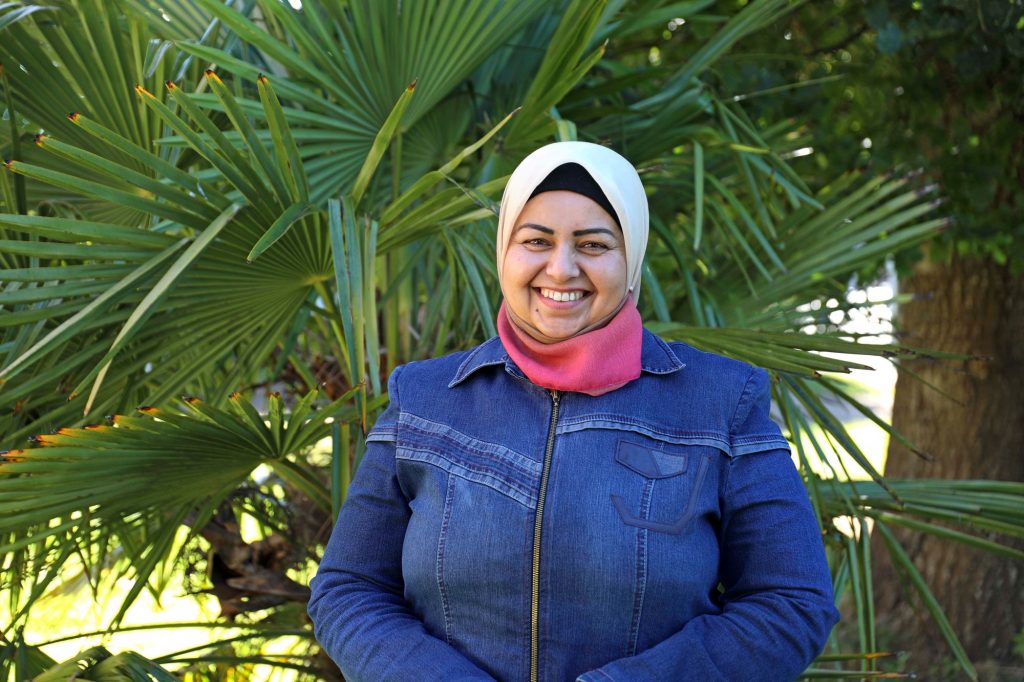 Alia Al Mohamad had everything she could dream of in Syria: a beautiful and loving family, her own house, a business and an impressive career. Alia worked as a qualified midwife in Syria for 11 years, both in a public hospital and at her private clinic, all while raising four children. Life was busy, but it brought her a lot of happiness.
"I worked really hard to build up my own business and my own house. Then, I lost everything when I left my country, everything I had created in my life," explains Alia calmly.
"The war started in 2011, but it started in other cities. After maybe six months, it reached my hometown. When I tried to go to my work, soldiers stopped me. Then I lost my job because the hospital was bombed, completely demolished."
Just like that, life in Syria was no longer an option for Alia and her family. Alia's husband, Mowafak, fled first to Lebanon, and Alia followed six months later with her children.
"I didn't choose to stay or leave, I had to leave my country," explains Alia. "It was unsafe, and my children were scared."
After four years in Lebanon, Alia's family were offered resettlement in New Zealand. It was a shock for Alia, who had never heard of our country until that day. "But a friend told me it was a really good country and that people were very kind."
Kindness is what Alia and her family were looking for after fleeing the horrors of the war. They arrived in New Zealand on June 29, 2016, and she credits the Red Cross for helping them settle.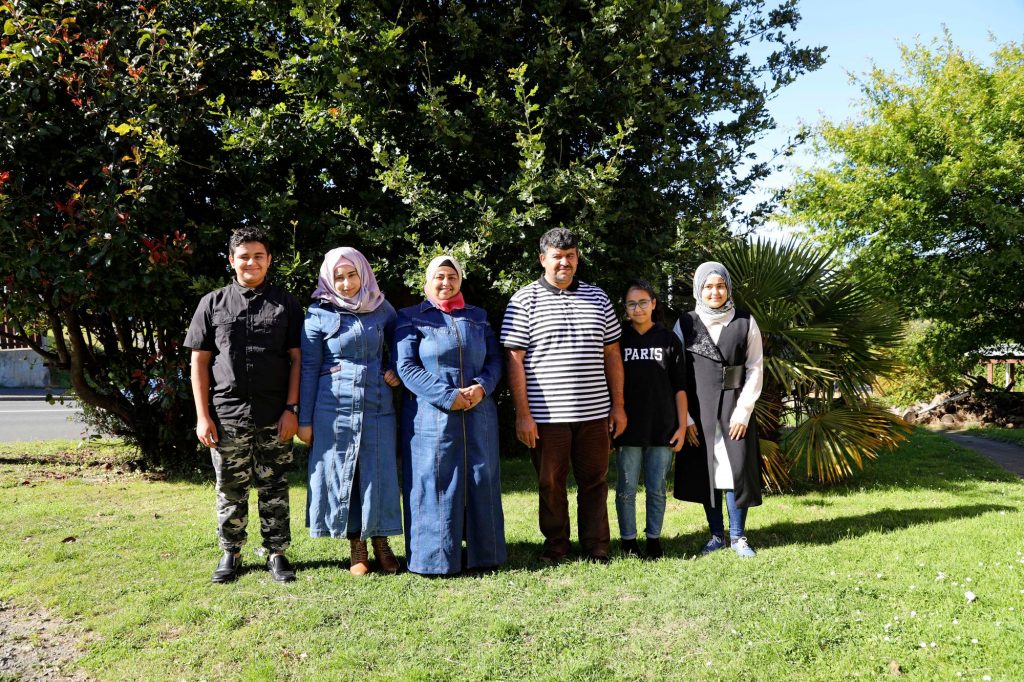 "The first year in New Zealand was very difficult. Sometimes I felt homesick, I spent maybe six months just crying. After that, I went to school and saw new people.
"Red Cross has helped us a lot, and they still help us. Any issue, we go to Red Cross and ask for advice. They are very kind, very helpful; they are very good people. I consider them part of us."
When Alia arrived in New Zealand, she had no English. She explains she was unable to communicate with the air hostess on her journey to Aotearoa. "I couldn't even say 'water' to the lady on the plane. I didn't know how to tell her my daughter needed water!"
Alia is now in her final year of her nursing studies. She hopes one day to return to the job she loves – midwifery.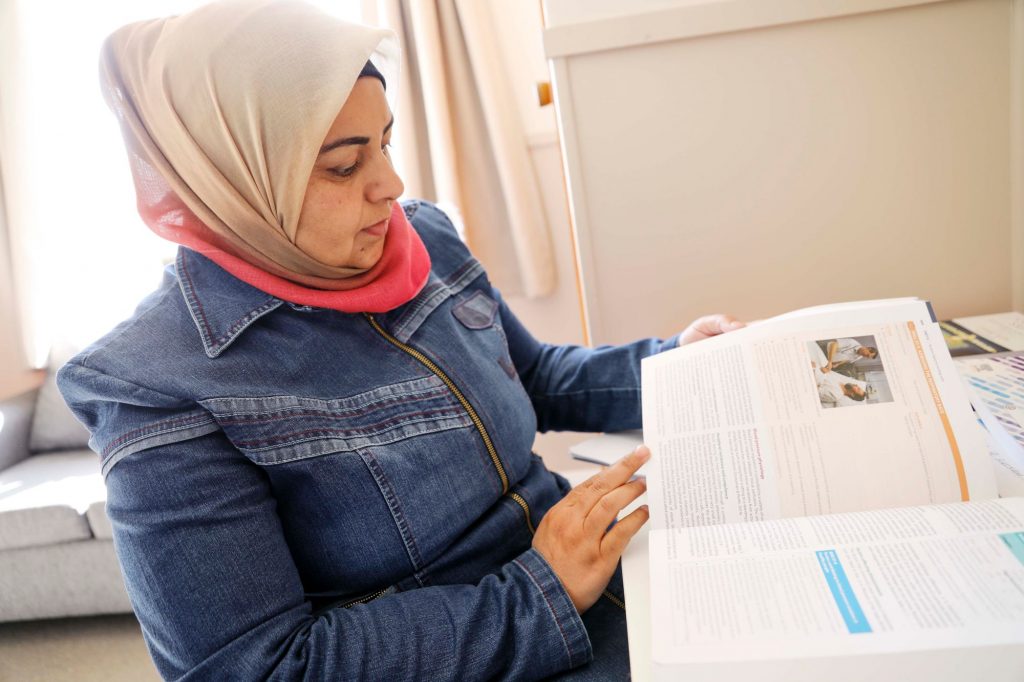 "In Syria, I studied, graduated, had my own house and my own clinic, but now I have to start from scratch," she says, explaining that she wasn't able to get into a midwifery course because her English language proficiency wasn't quite high enough.
She is already supporting pregnant women in her community, though – other Syrian refugees – as a friend.
"Working as a midwife is part of me, it's my passion. It means humanity, resilience, being kind. It means a lot to me."
Nisrine Zarzar: The pursuit of tranquility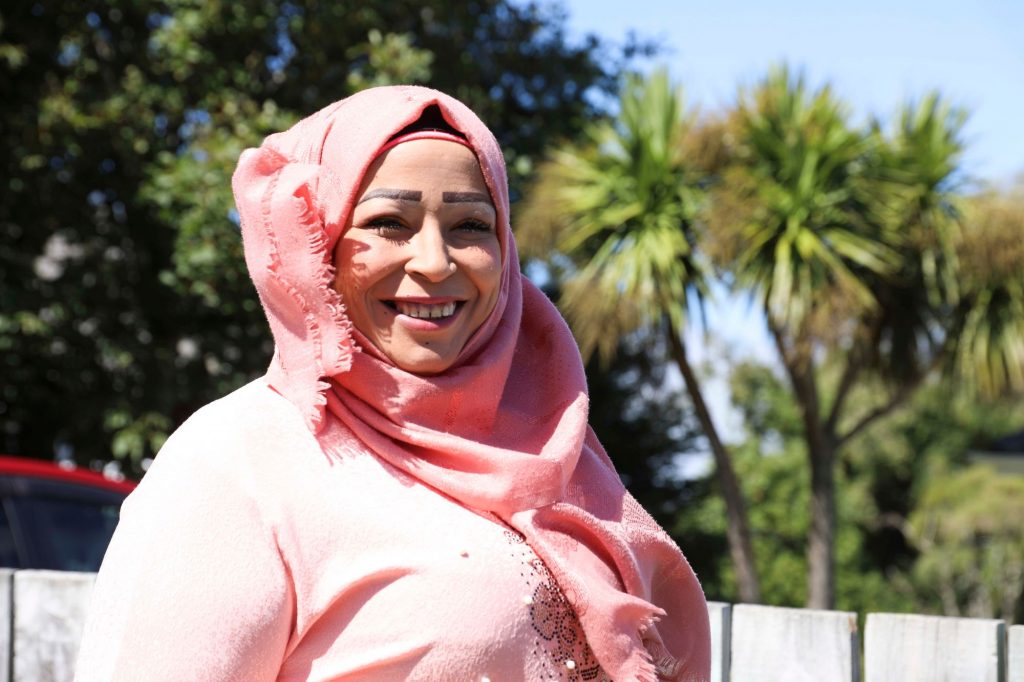 Behind Nisrine Zarzar's beautifully colour-coordinated pink hijab and top is a woman with incredible strength and resilience.
August 8, 2014, is a day Nisrine will never forget. It was the holy celebration of Ramadan, marked by millions of Muslims around the world. It was also on that day that her own world was cruelly ripped apart.
Nisrine, who was six-months pregnant with son Mohammad at the time, was in her kitchen preparing fasting food, like most people in Syria, when her cooking was interrupted by the sound of a violent explosion. She ran outside to look for her children and her husband. That's where she found her son Kasem, lying on the ground with his right leg severed and his arm barely attached to his body.
"I carried Kasem, I took his leg and his arm, then told my nephew to hold onto my hand and we started running," explains Nisrine, through the help of an interpreter.
Nisrine took Kasem to the emergency department, where surgeons operated on him 17 times. They
were unable to salvage his right leg, but his arm was saved.
As doctors worked to save Kasem's life, Nisrine searched for her three other children and husband.
"One guy came, carrying my [deceased] small daughter. She was two years old," recalls Nisrine.
"Then a car came, carrying many more dead bodies. I removed the cover and saw my second son and his stomach opened. At that time, I fell down. I had no idea what had happened to my husband or my second daughter – but I later learnt they all died."
Nisrine says she had no choice but to flee her homeland if she had any chance of survival. Once Kasem recovered, they crossed the border to Lebanon where she applied through the United Nations for protection under the 1951 Refugee Convention. Because of Kasem's disability, the offer for resettlement in New Zealand came relatively quickly – two years later.
Nisrine, Kasem and baby Mohammad arrived in Dunedin in 2017. While the Zarzar family was finally safe, starting a new life in Aotearoa came with challenges.
"Moving to Dunedin was a safer place, but actually leaving my country wasn't easy for me. At the beginning, I was feeling alone. I used to cry every day for almost two months, but later on, I found everybody around me supported me, especially Red Cross," says Nisrine.
For some families, it can take time to feel comfortable in their new country. Many may have trauma, grief or loss which won't just go away as soon as they arrive. Settling in, adapting to a new way of life, learning a new language and being away from family all takes a lot of work and a good dose of courage.
"In the beginning, Kasem was very supportive of me, saying, 'Mum, don't worry, I will be strong. If one leg has gone missing, I still have the other one'," shares Nisrine.
Today, the Zarzar family is rebuilding their lives in Dunedin, one day at a time. From fishing off the wharf, to going to the park or going horse riding, Kasem and Mohammad, along with their mother, are making the most of their new Kiwi lives.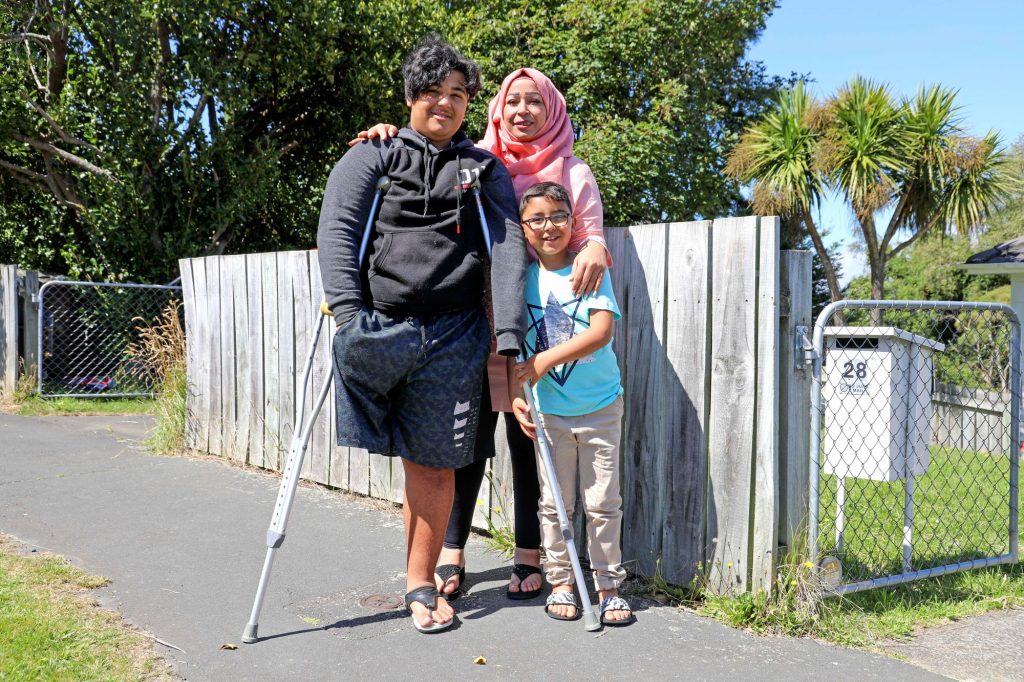 "The whole of Dunedin is a beautiful place and it's nice and safe," says Nisrine.
For all the other women struggling to make Aotearoa their new home, whatever their circumstance, Nisrine has one message.
"Don't give up. The future will cover everything for you. You must work very hard to achieve what you want."
Did you know?
New Zealand Red Cross is the primary provider of community refugee settlement in Aotearoa, supporting and empowering new Kiwis as they rebuild their lives. The Red Cross team is always looking for volunteers to help a new Kiwi family get settled or employers keen to offer a job to a former refugee. Visit redcross.org.nz/refugees to get involved.