Four business-savvy women talk to Sharon Stephenson about continuing their family legacy.
If you've never see the TV show succession, let me catch you up. Based loosely on the Murdoch media empire, the series follows the exploits of a wealthy American family who spend their days manipulating each other and fighting for control of the family business. Actually, not too different from its '90s predecessors, Dynasty and Dallas.
But family businesses – which represent an estimated 70-90% of the world's GDP – aren't all high-octane drama. There's often something reassuring about a small, family- owned company that's been passed down from generation to generation like a family heirloom. Here, we meet four Kiwi women taking over their family's business.


Nicola Cranfield
Finding your life's passion can sometimes be like finding a unicorn with a winning Lotto ticket – pretty rare. But Nicola Cranfield is one of those lucky people who had her unicorn moment in 2016 when she took over Cranfields, the Wellington furniture and homewares store her mother Valerie started in 1981.
"Getting to do what you love everyday is a real privilege," says Nicola, who opened a second branch of Cranfields last year. "I'm continuing Mum's legacy, but in my own way."
In person, Nicola is much like her shops: smart, quirky and coming at life from a stylish angle.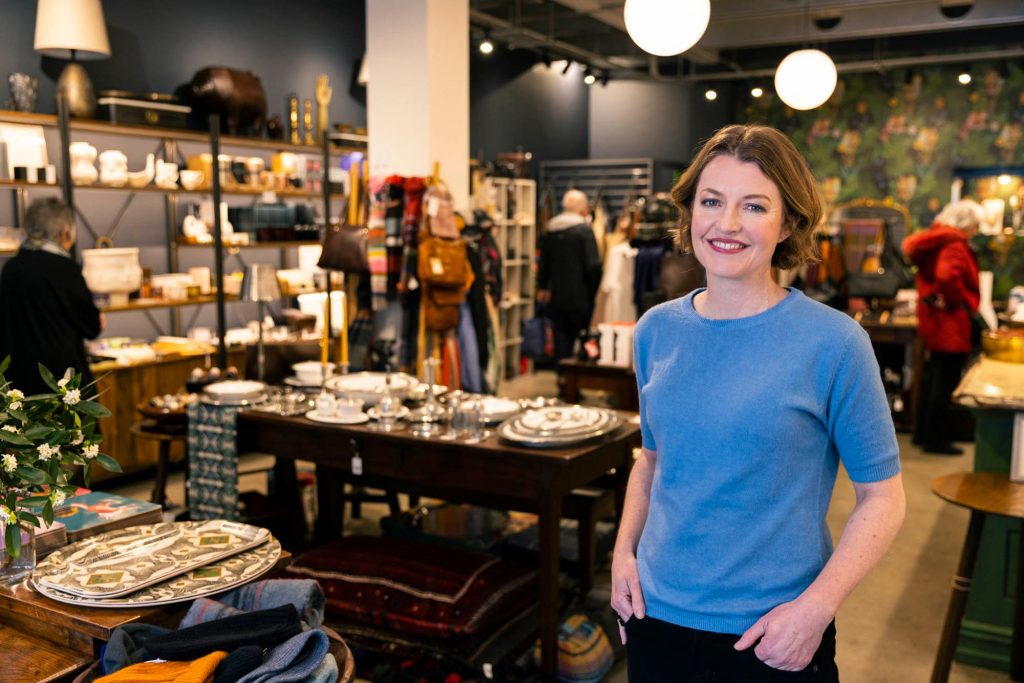 It's a combination that has seen the 48-year-old make the transition from an accounting career to scouring the globe for everything from Italian pewter and English stuffed leather animals to hand-crafted chess sets from Florence.
Life for Nicola started in Christchurch. She moved to the capital when she was two, thanks to her father's job as a sales manager. As long as she can remember, her mother loved interior design, and Nicola would often come home from school to find the furniture in a different place to where it was that morning.
"Mum has always had great style and a good eye."
Valerie also knew her way around craft fairs, and was so inspired by the local crafting scene that she decided to showcase fellow New Zealand designers. In 1991, she opened the first Cranfields store on Tinakori Road.



Thirty years and several moves later, the flagship store is in Wellington's CBD.
Nicola, meanwhile, was crunching numbers for accounting firms in both Auckland and London. She liked it well enough, but longed to do something more creative. In 1999, she landed a job at famous British interiors store, Heal's.
"I knew I had found my place," Nicola says. "It was certainly more interesting than accounting!"
Inspired by her experience, but not quite ready to come home, Nicola moved to Melbourne and opened a branch of Cranfields there. "Mum gave me her blessing and the business is in my DNA, so it was an easy transition."
Although Nicola stuck to the family ethos of "quirky, sustainable and enduring style", she also stamped her own mark on it, including taking buying trips to Morocco.
"My style is a bit different from Mum's, but with the same emphasis on buying fewer, quality items with meaning."
When Valerie decided to retire five years ago, Nicola closed the Melbourne store and came home.
"There was never any pressure on me to take over, but it was an honour to be able to continue a business that's been going for 30 years."
Nicola travels to Europe on buying trips, particularly to France, once or twice a year. But thanks to the robust relationships she has, filling her stores during the pandemic wasn't an issue.
"For example, our pewter suppliers are an Italian family we've dealt with since Mum started the store. Having those relationships, particularly with small family businesses with the same core values, has been essential to our success."
Keen to attract a younger demographic, Nicola – mum to nine-year-old Hugh – opened a new store in Wellington's Te Aro shortly after lockdown last year.
Both stores now stock items from Europe, India and the US as well as local creations. "It's such a pleasure to be able to drive around the country finding interesting artisans such as Whanganui jeweller Emma Cunningham, who makes beautiful pieces from vintage silverware."
Although Hugh has helped in the store with gift wrapping, Nicola isn't sure if he'll be the third generation to take over the family business.
"It would be nice to think he might. It's such an honour to be able to continue your parents' legacy."
Claire Vogtheer
When Claire Vogtheer was growing up, her father Gordon told his four daughters there was no pressure on them to take over Holly Bacon, the family's 107-year-old Hastings business.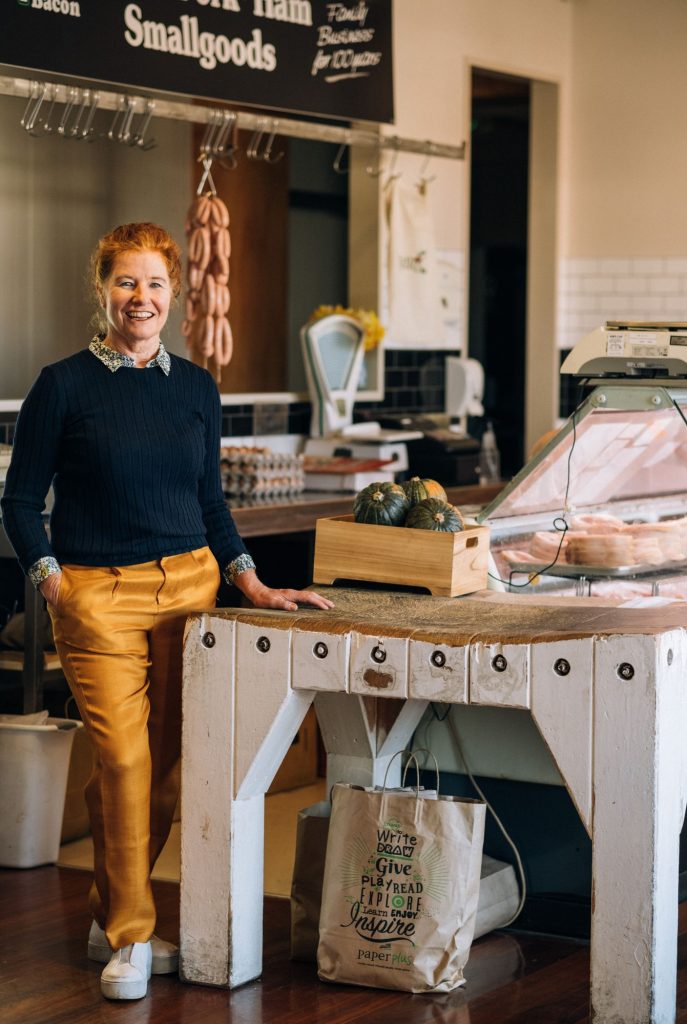 "Dad was an only child so he had to join the family business," says Claire, 62. "But he wanted to give us the escape clause he'd never had, so told us to get a job first."
Which Claire did, working as a nurse and nursing tutor. But over Christmas in 1981, she helped her father in the shop – the fourth generation of Vogtheers to butcher and brine pork the way her German ancestors have done since the 1800s.
"And I never really left! I loved that I was following such a strong tradition and that we still pretty much do things the way my great-grandfather did when he started this business in 1914."
When Gordon retired a few years later, Claire stepped up to the plate. "I always wanted to be self employed, and grew to love this business."
Forty years ago, it wasn't easy being a female butchery owner in such a male-dominated industry.
"I'd have customers come in and say, 'I want to speak to the owner', and when I said that was me, they'd say, 'No, I want to speak to a man.'"
Thankfully that's changed, but what hasn't is the weight of responsibility Claire still feels. "Dad used to say it takes two generations to build a business, but only one to ruin it. I'm hugely conscious of not stuffing it up!"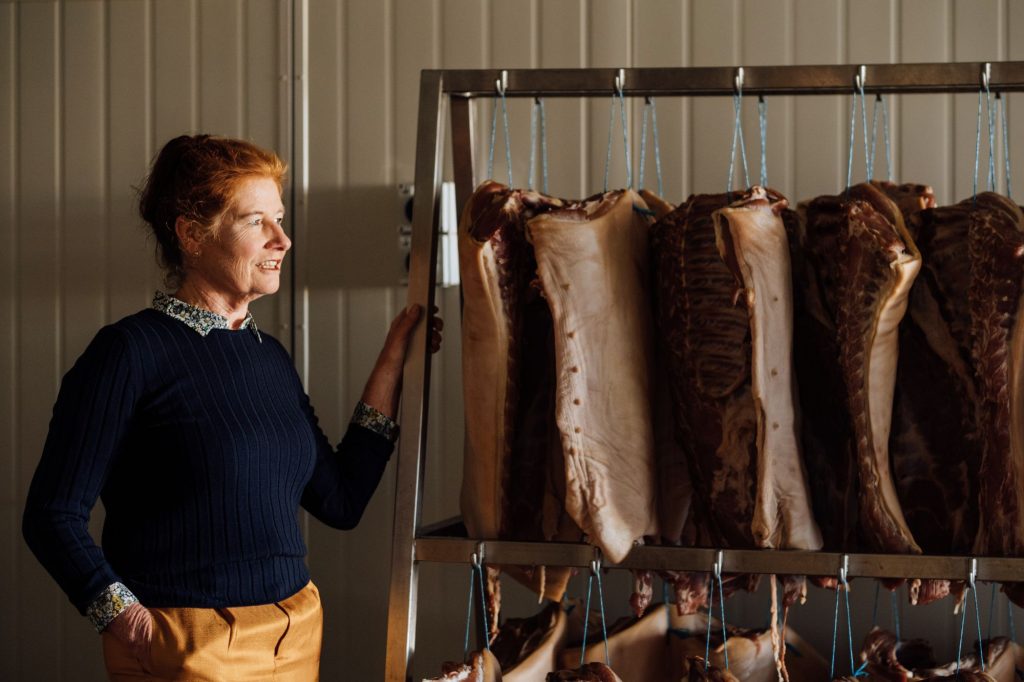 It's also harder to leave a family business, she adds. "Over the years, I've owned several refrigeration businesses with my husband Neil Pulford, which we've built up and sold. But you can't do that so easily with a family business because of the legacy. Still, I can honestly say there's never been a moment I've wanted to sell it."
The couple's two daughters have now joined the business with Ellen, 30, working in distribution, and Lydia, 28, a chef in the adjacent cafe.
"There was no pressure on them to join the business, but they both wanted to. There can't be too many New Zealand businesses with a fifth generation working in them. But the girls joining has worked out better than I could have hoped. When I retire, I know the business will be in good hands."


Susie Devonshire
She was five when she started making dresses for her dolls, and by age 10, Susie Devonshire had graduated to sewing her own clothes.
The Havelock North local had a good role model – her mother Diana Matthews.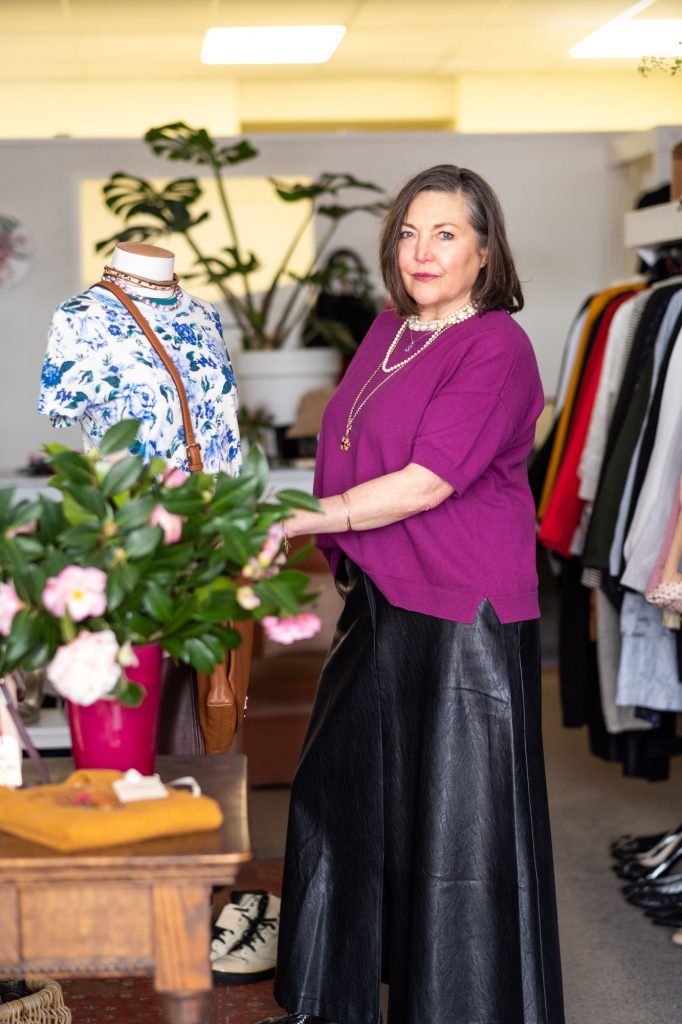 "Mum was incredibly stylish and often made her own clothes," says Susie, 54. "Even later in life, she'd always wear pearls and lipstick."
So much did Diana love fashion that she worked in boutiques in Wellington and Auckland. In 1994, shortly after she and Susie's father relocated to Hawke's Bay, Diana opened her own store, Nostalgia Designer Recycle Boutique.
"Mum was ahead of the curve, because second-hand clothing was just starting to take off. Hers was the first recycle boutique in the Bay."
At the time, Susie and her two younger siblings were busy carving out their own careers, with she and her sister both studying law. After two years at an Auckland law firm, Susie and her husband Mike (who she'd met at the University of Canterbury) moved to London. "I worked in corporate law, but after 13 years I burned out," she says.
The couple also had their two older children in London – sons Charlie, 23, and Max, 19 – and Susie retrained as a florist. But when Diana's breast cancer returned, the family moved back to New Zealand, and daughter Flora, 18, was born soon after.
To help her mother, Susie started working part-time in the boutique. "It's so satisfying helping people find the perfect item of clothing. I believe that clothes are our armour, and we need the right armour to go out into the world with."
In 2019, Diana was diagnosed with terminal melanoma, and shortly afterwards, Susie's father died of a sudden heart attack. Although Diana didn't specifically ask Susie to take over the store, she did so when her mother passed away last year.
"I wanted to honour Mum's 25 years of hard work, but I've also grown to love this business."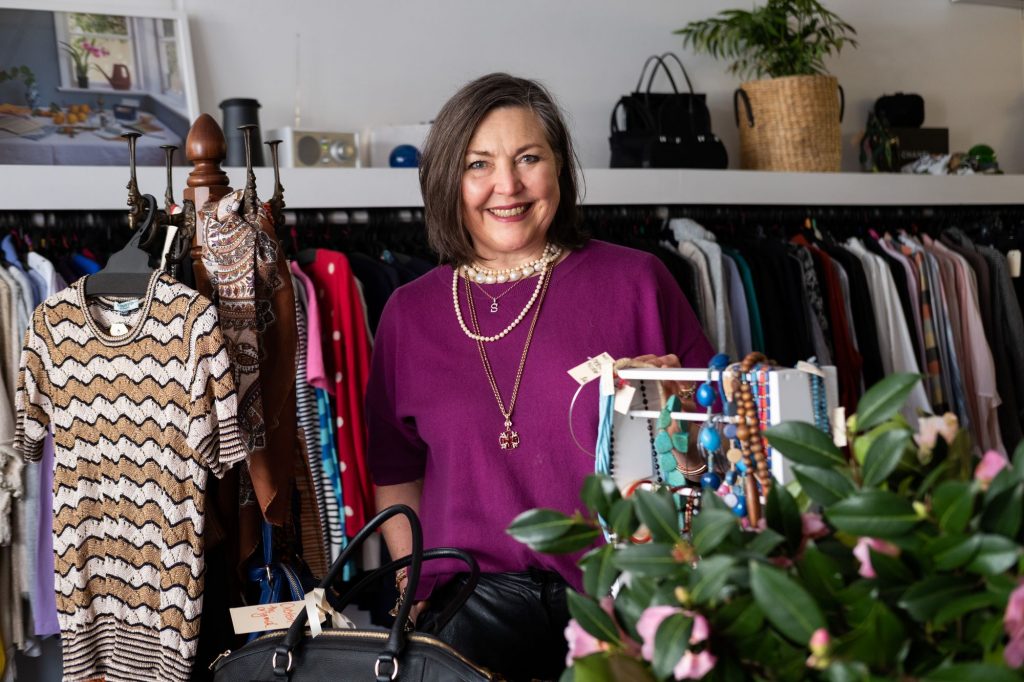 There have been, she admits, good days and bad. "The business was Mum's passion and she liked things done her way, so even before she passed, we got around conflict by working on different days! But I'm glad I learnt the business from her. Mum also gave me the freedom to upgrade areas she wasn't into, such as building an online presence."
Since taking over, Susie has made subtle changes, including painting the store and stocking vintage clothing.
"Mum would have a hernia at some of the clothing I accept because she didn't like vintage!" Susie laughs. "But a lot of the younger customers are into vintage, and so am I."
Future plans include online sales, but Susie says it's important to honour her mother's legacy.
"I need to be mindful of what's come before, and to leave this business better than I found it."
Zhana Baker
Roll the clock back to 1994, and self-confessed hippie Kim Baker was trying to brew cider from apples grown on his Levin orchard.
"Something went wrong and it exploded," laughs his daughter Zhana, 27. "However, the apple cider vinegar leftover was pretty good."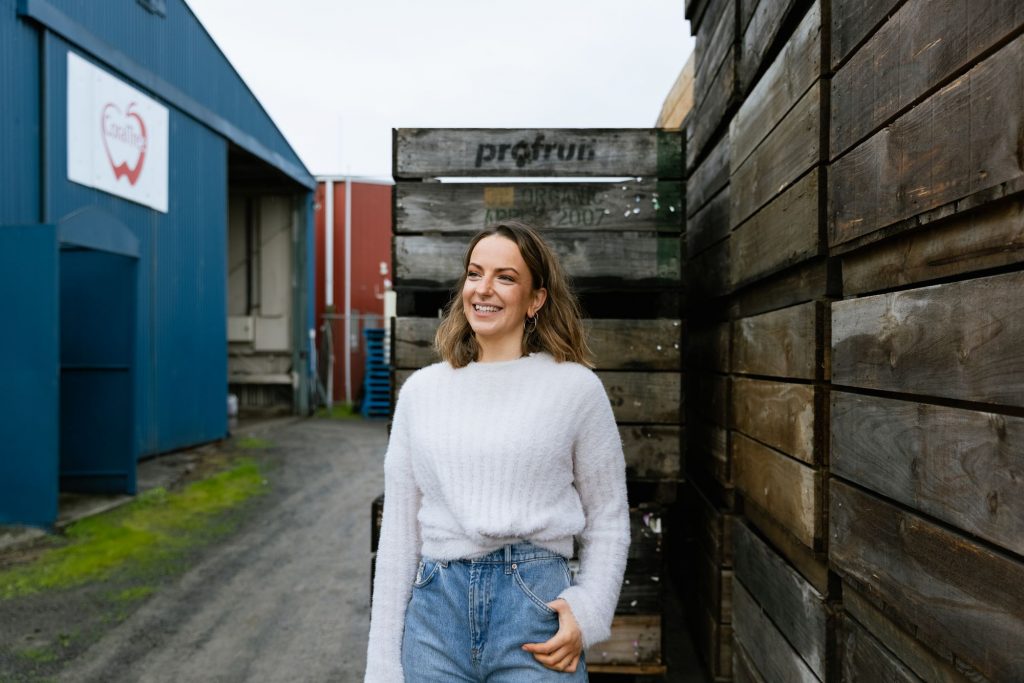 And that was the start of CoralTree Organics, the Kāpiti Coast apple cider vinegar company Kim has run since then.
Zhana, an only child, grew up in the business, attending her first trade show when she was just six months old.
"Dad was ahead of his time, and was into organics and sustainability long before they were buzzwords," she says. "I went to a Rudolph Steiner School and we always grew our own organic food."
Although there was never any pressure to take over the business, Zhana admits her father made it clear that it was hers if she wanted it.
"He'd say, 'This is all yours. It's my legacy I'm handing over to you.'"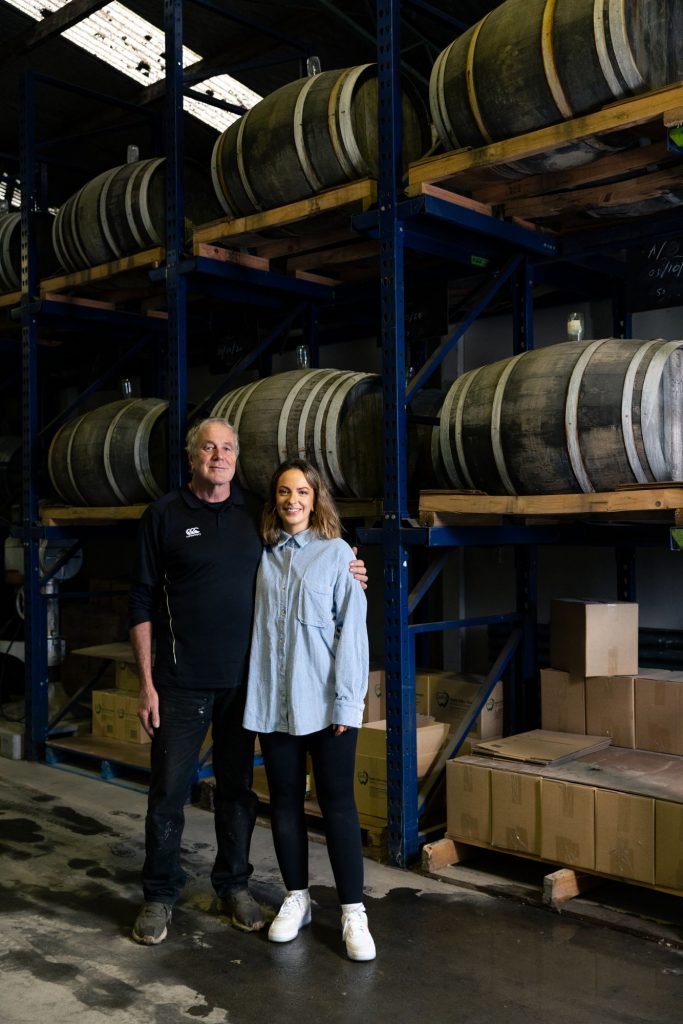 First though, there was a career in hairdressing, which Lower Hutt-based Zhana "fell into" when she was 13. "I enjoyed it so kept doing it. I still do a few days a week at a Wellington salon because I don't want to disappoint my clients."
For the past year, Zhana has also spent three days a week making the hour-long drive to Ōtaki to the CoralTree Organics factory.
"Dad sold the orchard and bought a block of land in Kaitaia, so in the next few months he's keen to move there. I grew up with the business, spending holidays bottling and labelling and attending overseas trade shows with Dad. I've spent the last year learning how to make the vinegar and taking over the customer service and export sides."
There's a lot to learn, as around 80% of the company's apple cider vinegar is exported to Thailand, Malaysia, Singapore, Taiwan, Australia, South Africa and Japan, as well as being sold in supermarkets and speciality food stores around New Zealand.
"Dad has been next to me the whole time saying, 'You can do this'. He's glad I came on board because otherwise he would have had to sell the business, which would have been a shame as it's his life's work."
Zhana is already stamping her mark on the company, redesigning the labels and tweaking the recipe for their ready-mixed health drinks ,which contain apple cider vinegar, honey and lime. "I'm using mānuka honey instead of bush honey, so I've been perfecting the taste."
The only downside to taking over the business is that she now lives and breathes apple cider vinegar.
"It's all my father and I talk about! At family gatherings it can get a bit much, and my poor partner [Mike Isaacs] has to listen to me going on about it. But I'm incredibly passionate about this amazing opportunity."