Nadine Higgins rides the IVF roller coaster and experiences all the emotional ups and downs that come with it.
I arrive at the clinic masked and alone – those are the rules that allow fertility treatment to continue under Level 4 lockdown.
I attempt to keep my distance from everyone, ignoring the other lonely hopefuls, but most importantly ignoring the whirring thoughts in my head.
Today, an embryo is going to be transferred into my uterus, and I'm deliberately dissociating.
We've been given just a 10 percent chance of this, or either of our other two embryos, actually resulting in a baby.
After three years, a surgery for each of us and four failed letrozole (fertility drug) cycles, we've put our faith in IVF. Science, we've decided, must prevail where timing and trying and patience and even surgery had failed us.
But thus far the process has been fraught.
As an unabashed girly swot, I receive my first-ever C grade for the underperformance of my microscopic cells in a petri dish. My future children, if they are to eventuate, are dawdling on the way to class and take seven days to become low-grade embryos. I wish I'd known they would be graded, although I have no idea what I could have done to have scored better.
The day I find out that our chances are that slim, I walk to Judges Bay and judge myself for my failings at every stage of this most crucial of life's hurdles: procreation.
I know 10 percent is not nothing, but it's not much. My husband tells me to focus on the possibility, and not be crushed by the weight of the odds. I resolve to expect nothing – failure will sting less that way – which is why I've filed today away in the procedural drawer of my mind. It's going in because you don't just bin embryos, however slim the chances. But let's not get romantic about it.
It's easy enough to keep things clinical when you're surrounded by masked doctors and nurses, your legs spread and a needle jamming a hole in your uterus.
It becomes less easy to detach when, on the screen, a sudden flash of light bursts into the inky black empty space of my womb. I'm mesmerised as they play my embryo's dramatic starburst appearance over and over on the screen, as if the ref is trying to decide whether a try has been scored.
And right then, a little bit of hope creeps in.
Reckless, stubborn hope. Could my microscopic, defrosted lab creation soon be our own creation?
They print me out a little Polaroid of my shooting star to take home, like a party memento.
"Now, your job is to go home and make a baby," the doctor says.
The whole thing was so quick that when I get back to the car, Dan wants to know what it cost per minute (about $173, I calculate).
Then, we just wait.
I'd happily take stabbing myself in the abdomen nightly with hormone concoctions over this. At least when I'm jabbing things into my guts it feels like I'm doing something proactive. My only job is to scoff hormone pills three times a day and jam others up me to act like uterus glue.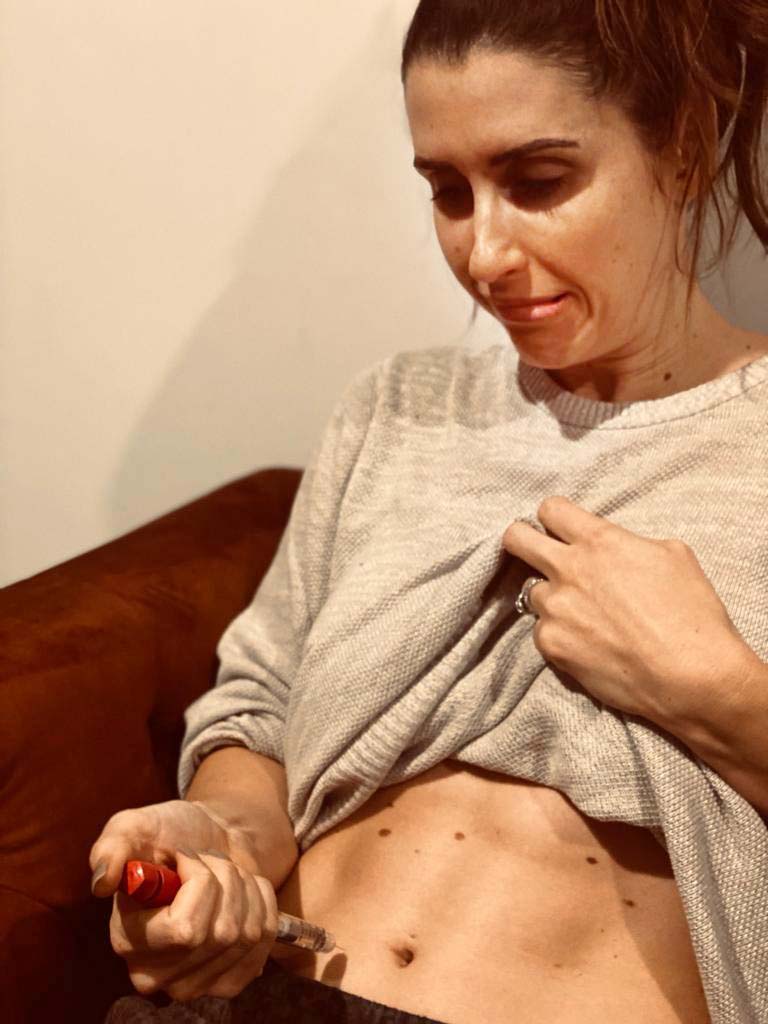 So that's what I do, while making pickles and chutneys and muffins and bread and elaborate dinners and desserts, because my hands need to be busy at all times and those are my lockdown activities of choice.
I put my "baby" picture on the fridge, which I'm visiting often because, well, lockdown. But while I'm there, I look at it and think, "What if…?"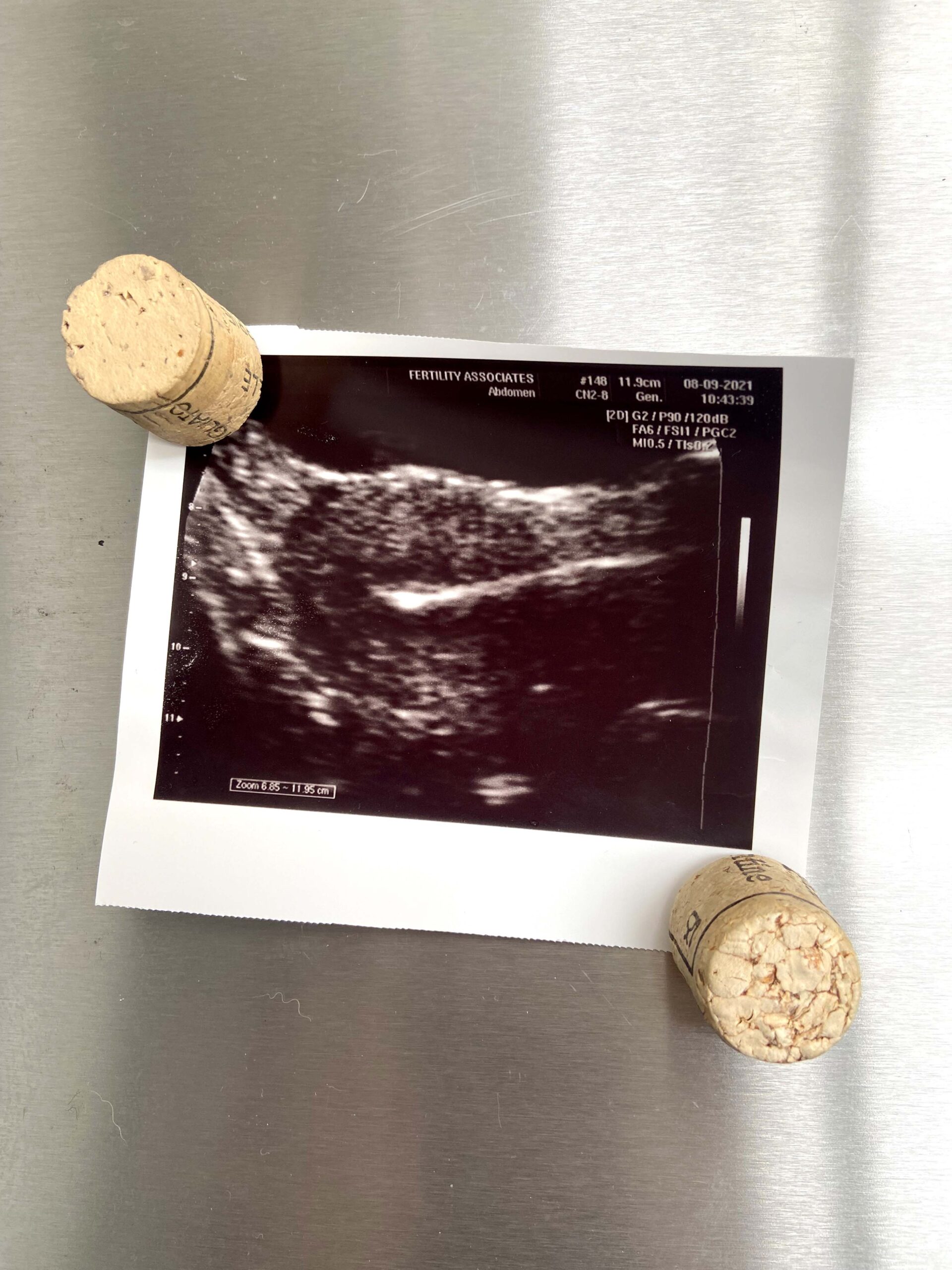 Finally, testing day arrives. At the blood centre, the line snakes around the corner. There is only one blood testing centre open at the weekend in all of Auckland during Level 4, so a long queue of masked strangers shuffle along, two metres apart.
Those who are, like me, waiting for answers to fertility-related questions, clutch their priority forms to their chests, eyes flitting as they nervously calculate whether they'll reach the front of the line before the 9am cut-off. One marches to the front to announce she has priority… and gets sent to the back.
At 12.30pm, the phone rings. I deduce from the tone in the friendly nurse's voice that she's about to let me down gently. But then, she doesn't.
"Congratulations, you're pregnant!"
"What?" I say, almost accusatory. That can't be right. But it's a strong positive.
The rest of the conversation about further blood tests and checking hormone levels dissolves in a blur of blubbering.
I get off the phone and Dan wraps me in his arms. "It's OK, angel. We'll just try again next month, we have two more embryos."
He's mistaken my floods of tears for bad news. I didn't mean to punk him, but I have.
"No, no, no," I splutter. "I'm pregnant!"
How foreign that sounds coming out of my mouth. We cling to each other for a minute of stunned silence. Our kid is an overachiever already, and it's scarcely the size of a poppy seed.
My mind starts racing months, and then years, ahead. I imagine decorating a nursery, giving birth, making friends at coffee group, the wrench of going back to work. I start to take care of myself with a very un-lockdown-like fervour, because it's not just me now.
I stare at my little Polaroid on the fridge and think about how miraculous it is that any of us are here, given the frailties of the human reproductive process.
I've been open about the IVF process, so I decide to eschew the standard 12-week rule and clue my closest friends and family in, figuring that if anything happens, I'll want them for support anyway.
In reality, I didn't expect to need to be consoled by them. I'd spent so long trying to get pregnant that I hadn't given any thought to the challenges of staying pregnant. In my mind, we'd already overcome the odds. But I was about to experience a dose of emotional whiplash.
Just four days later, my blood test shows my hormone levels are not doubling every 48 hours the way they should be. They're up, but not enough. Another test is ordered four days later, and it shows even more meagre movement, my levels are now nowhere near doubling. One final test another four days later shows the level is now falling and I lurch from confused joy to confused grief.
I appreciate the isolation of lockdown as I cry at my home-office desk, while searching Google for explanations and berating myself for getting carried away. Two weeks after I found out I was inexplicably and miraculously pregnant, at six weeks along, I miscarry.
I'm not even sure if they consider it a miscarriage when it happens that early. Even the state of Texas wouldn't have considered it a baby, I think ruefully. But after three years trying and failing to get pregnant, that poppy seed – that starburst – was the promise of a baby, albeit an ephemeral promise. A promise that remains unfulfilled.
I take my Polaroid off the fridge.