The cult brand, Hair by Sam McKnight, responsible for the iconic Cool Girl Texture Mist and the Modern Hair Spray, is back with one of the biggest hair launches of the year – and we have all the details. 
If you didn't know, Sam Mcknight became Princess Diana's hair stylist in 1990 after working as a session stylist at Vogue. Since then, he has continued to work his hair magic on celebrity megastars such as Naomi Campbell, Bella Hadid and Kate Moss. If that wasn't enough, he also boasts an incredible list of collaborations with fashion houses such as Chanel and Fendi. With a resume like that, we'd trust Sam McKnight with any hair emergency.
If you want soft, shiny, nourished hair, follow along to see which products will work for you.



Hair by Sam McKnight Light Range

Don't let the internet fool you into thinking that you shouldn't wash your hair often. The truth is, it's different for everybody, and you should do what feels right for your hair. For example, you may like to wash your hair on an everyday basis. However, it is crucial to employ the right products, so you don't end up with a dry scalp or brittle hair.
Enter the Light Cleanse and Light Nourish from Hair by Sam McNight. This shampoo and conditioner is specifically designed for everyday use. Using ingredients like velvet flower and nettle leaf extract, you can get a good clean without stripping the hair dry. Coupled with Aquaxyl, strengthen the skin on your scalp for a lightweight cleanse that keeps your hair smooth and scalp healthy.
We also recommend these products if you have super fine hair. Using a shampoo and conditioner that is too heavy or moisturising can reduce volume and create the appearance of oily hair. Work smart, not hard.



Hair By Sam McKnight Rich Range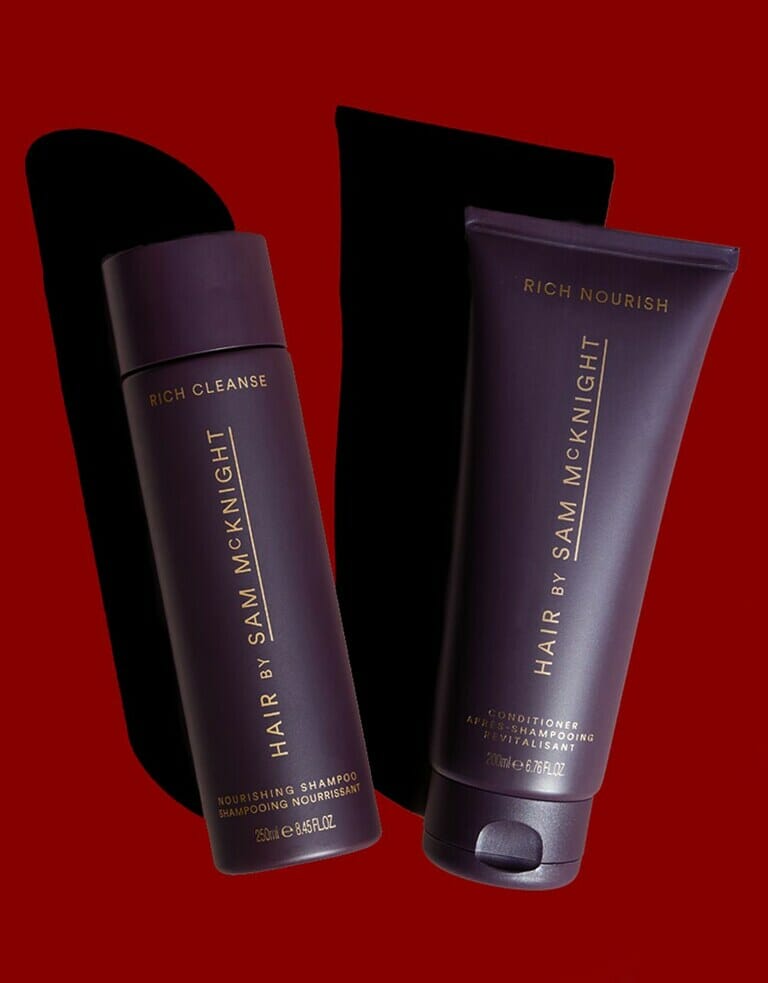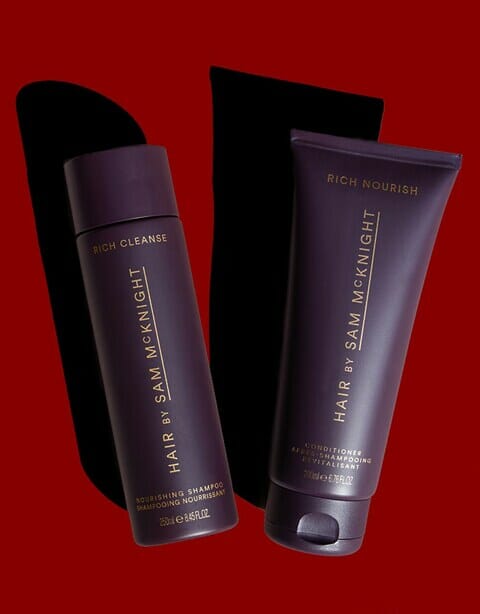 Did you know that consistent hair care between hair appointments can save you a lot of money and time? Salon day might make you feel beautiful and invigorate your mood, but what's the point if you don't treat your hair with love and respect?
The Rich Cleanse Nourishing Shampoo and the Rich Nourish Conditioner by Hair by Sam McKnight is deeply moisturising and formulated with colour-protecting ingredients like quinoa pro. Instead of depositing globs of oil onto the hair and scalp, vitamin E and castor oil replenish the hair's natural oils for a genuinely hydrated result and super soft look.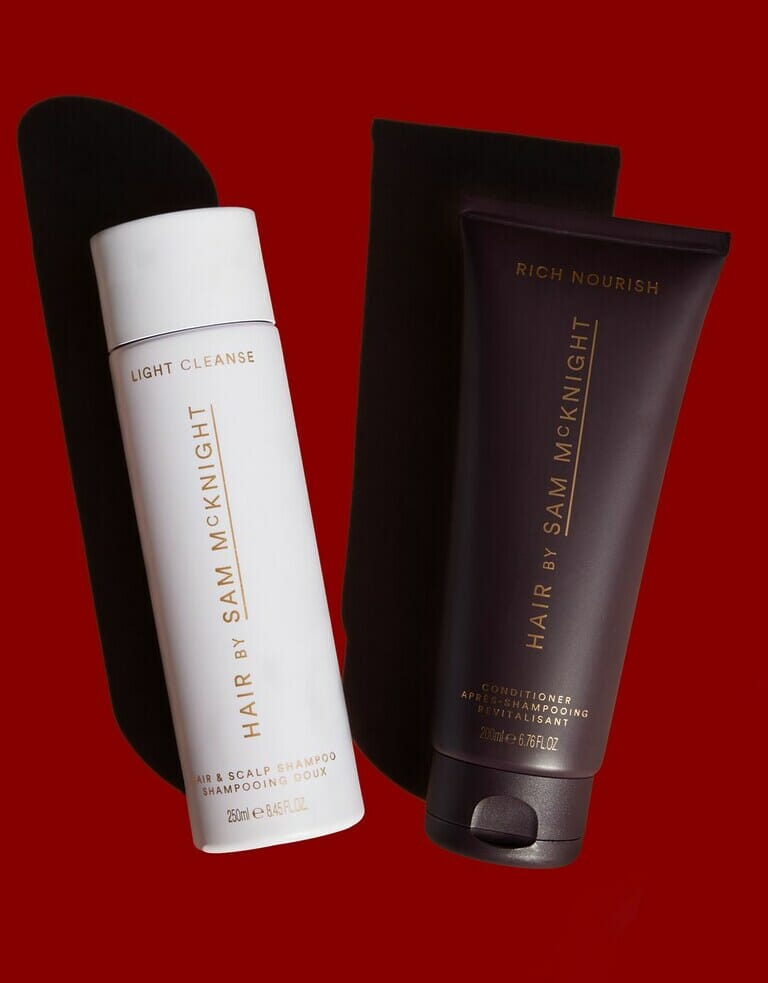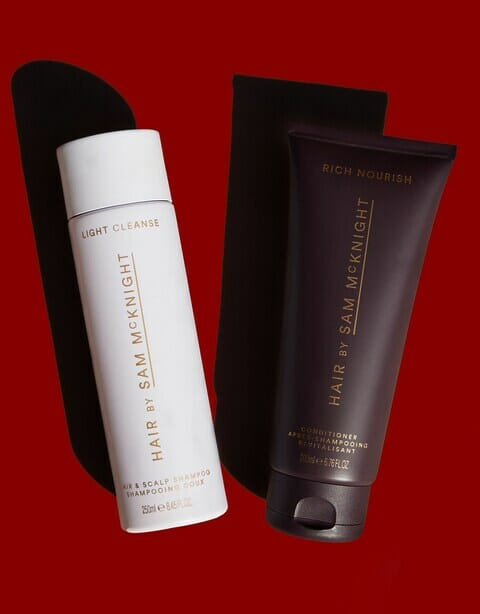 Feel free to mix and match between the Light and Rich Range. We recommend using the Light Cleanse and the Deep Nourish for a balanced hair care routine for those with fine hair but a lot of it. On the other hand, using the Rich Cleanse in conjunction with the Light Nourish is perfect for those with thick and damaged hair.



Hair by Sam McKnight Curl Range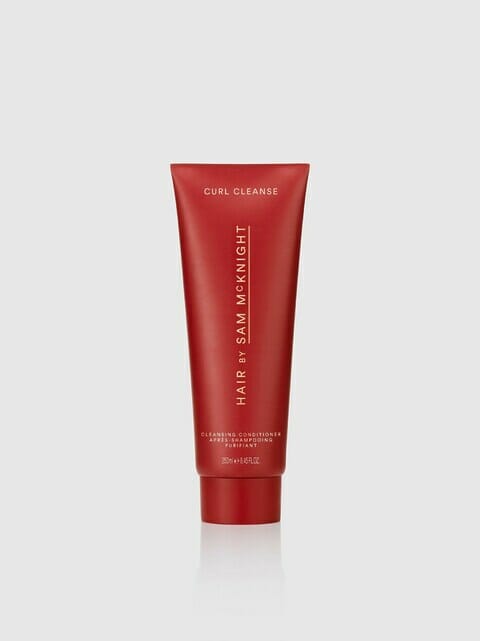 The Curl Cleanse is a must-have for curly hair types. The unique cream formula will cleanse your hair while keeping your curls or coils bouncy and defined.
It is a conditioning shampoo that tames frizz without weighing the hair down. The Curl Cleanse strikes the perfect balance between cleansing the hair and locking in the moisture by using sustainable ingredients such as jackfruit extract. This rich protein contains vitamin A and iron for regenerative hair growth and healthy strands.
Additionally, if you're on a journey to revive the natural curls in your hair pattern, using the Curl Cleanse can deliver essential ingredients that will bring back life to your hair.



A Split End Treatment That Feels Invisible and Keeps Your Hair Invincible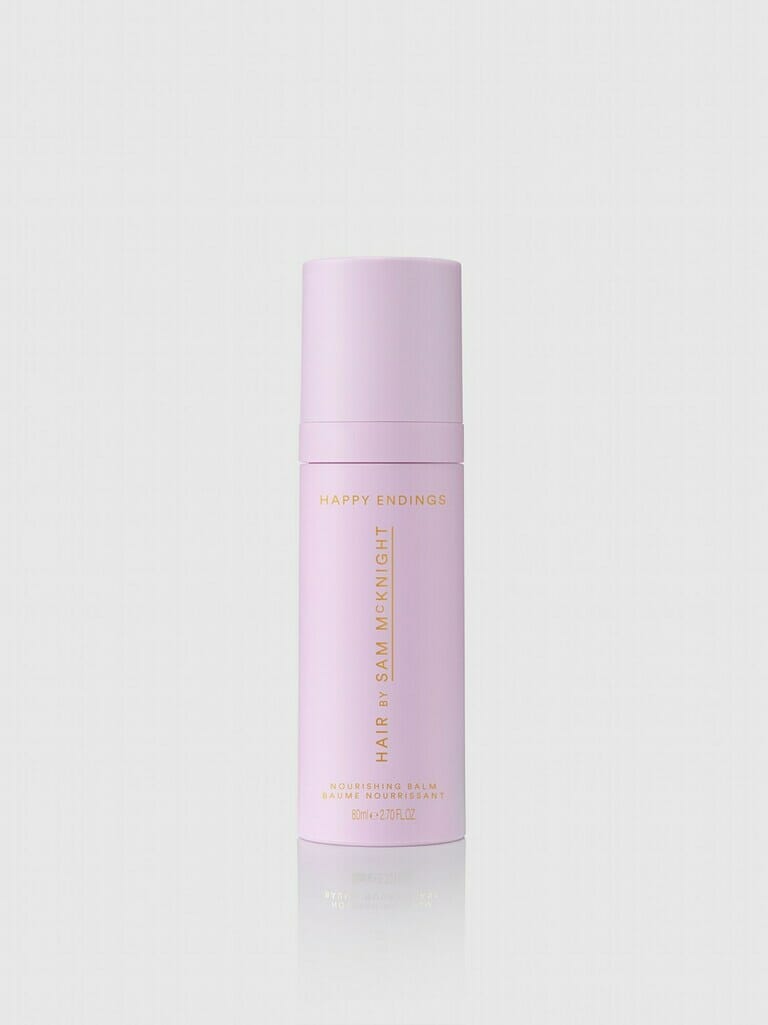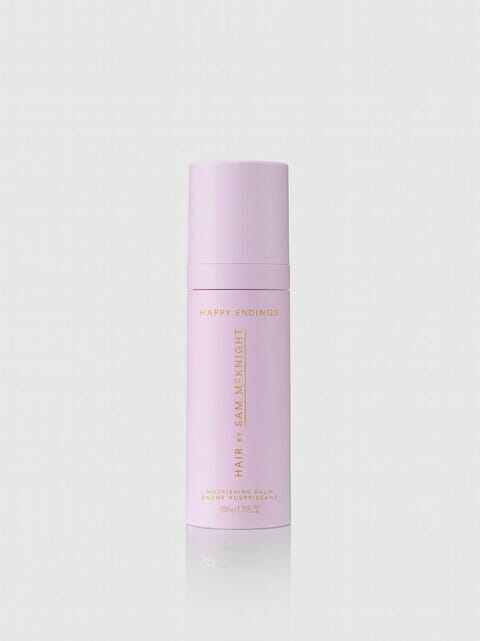 Say goodbye to crusty hair with one simple solution. Happy Endings by Sam McNight is a WOMAN+ Favourite. This super lightweight serum texture feels and works like hyaluronic acid. Packed with pro-vitamin B5, shine-boosting Vegebead and shea butter, Happy Endings will nourish your hair from the inside out.
If you heat style your hair daily or have dark hair that is beginning to look worn down around the ends, make sure you use a serum like Happy Endings. It is clinically proven to seal up to 50% of split ends on the first try, and you can use it to defluff and defrizz the hair after styling.



Looking For a New Hair Mask?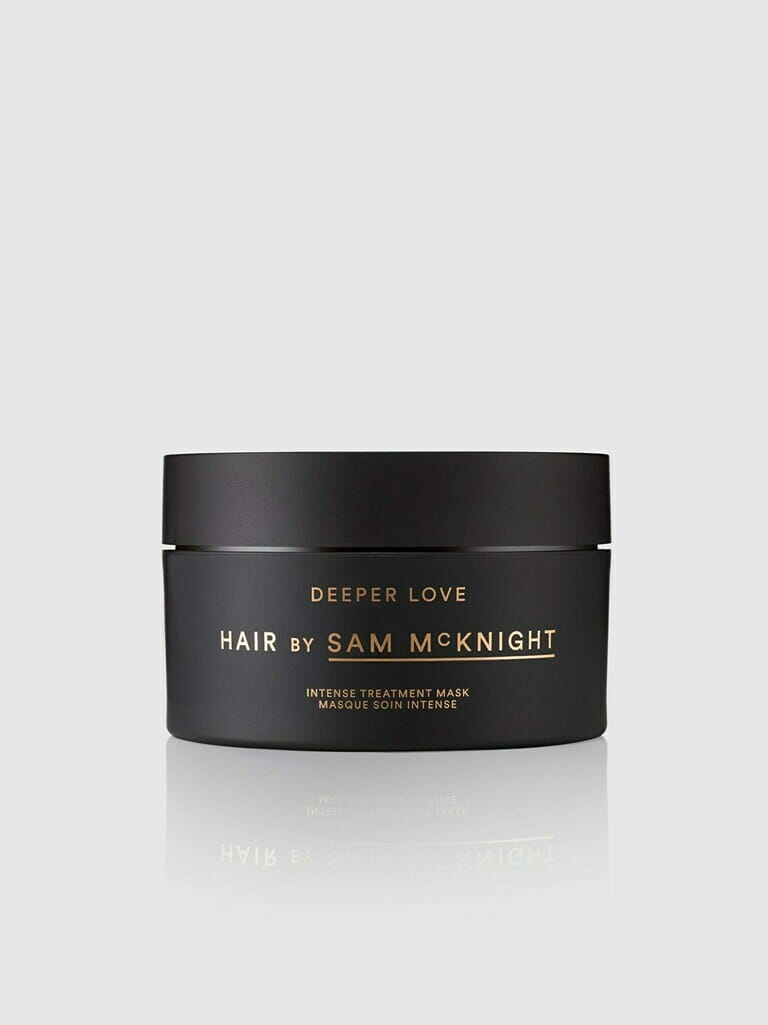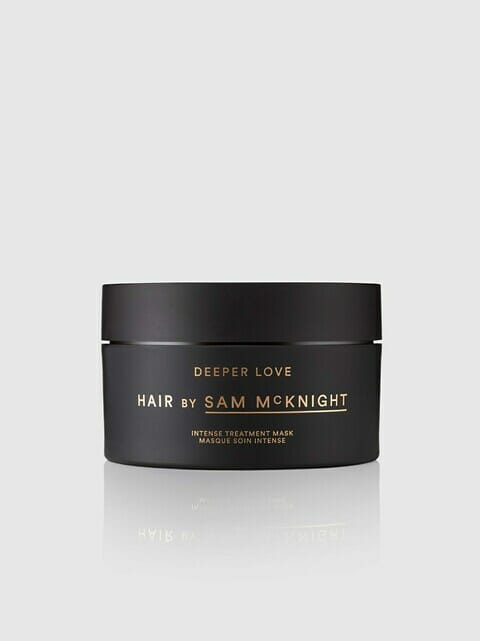 For those who wash their hair regularly, keeping a hair mask on standby will revive your hair when necessary. On the other hand, an effective (but expensive) way to keep your hair incredibly nourished is to use a hair mask in place of your conditioner. Whatever the purpose, the Deeper Love Hair Mask can do it all.
Formulated with Hair by Sam McKnight's unique RepHair and Crodabond, Deeper Love seals split ends and boosts the hair's resilience. This product is clinically proven to seal 50% of split ends with one use and makes the hair stronger after six treatments.
Hot Tip: Your hair is much more likely to absorb ingredients in its wet state. Using an in-shower treatment along with your serums and oils will form a consistent cycle within your hair routine.



Beachy waves in a Bottle: Sundaze Beach Spray

Did you know that Sam Mcknight handled all the beautiful models for Charlotte Tilbury's Beautiful Skin Campaign? We are absolutely living for Kate Moss' hair! Tousled, chic and voluminous – here's how to achieve supermodel beachy waves with no heat.
Work Sundaze into 75% dried hair and loosely braid random sections. If you need to speed up the process, blow dry the braids with cold air. Once you release the braids, you will be left with the most effortless, voluminous, textured waves that will last you all day. When you try this out, you'll notice that your hair will remain soft and shiny. This is due to the pro vitamin b and hibiscus flower extract which isn't so common in other sea salt sprays.
Additionally, Sundaze is a unique salt spray due to the pro-vitamin b and hibiscus extract infusion. As a result, you can get that beachy look without the salty, crunchy effect.