Bringing together a passion for the environment and artistic flair, Miranda Brown hopes to harness the healing power of nature in her art. Dionne Christian reports.
Creative entrepreneur Miranda Brown lives in the heart of Canterbury, but combining her love of nature and art means her business is fast becoming bigger than a cottage industry.
Chatting on a Zoom call, I can see the steam rising off Miranda's mid-morning cup of tea. The day is turning chilly and the easterly sunlight, streaming through the windows of the Cooper's Creek cottage she shares with partner Bruce, isn't quite enough to warm her up.
Were we together in the wood-panelled room where Miranda creates stunning nature-themed art, designs and textiles, I might smell the rosemary, nettle and kawakawa she grows and harvests for her tea, and fully appreciate the inspiration that comes from living an hour north of Christchurch in the foothills of the Southern Alps.
Here, she's been able to tap into a lively network of local artists, becoming a trustee at the Arts in Oxford gallery, where renowned painter Philip Trusttum is the patron and leading contemporary jeweller Areta Wilkinson is chairwoman.
More significantly, being surrounded by the mountains and river valleys of Te Waipounamu (the South Island) where she grew up, has helped refine and develop Miranda's mission to connect us to nature by bringing it into our built environments. Once a textile artist on some of Aotearoa's biggest film and television productions, she fulfils this goal by creating sustainable art and designs inspired by the natural world.
She is now the first New Zealand artist to have her designs licensed by Australian textile and interiors company Materialised, which specialises in manufacturing sustainable textiles and related products for a range of hospitality, entertainment, health and education businesses.
As well as commissioned and project-based jobs, Miranda is also carving out time to create her own lifestyle range, which includes art prints, cards, notebooks, hemp cushions, tablecloths and tote bags, which she hopes to launch toward the end of the year.
"My work is about bringing nature indoors to enhance wellbeing," says Miranda, explaining that the term for this is biophilia. "When you feel the energy we experience in nature – the peace, the harmony and the balance – you can reciprocate that to live a more loving and caring life, looking after those around you and nature."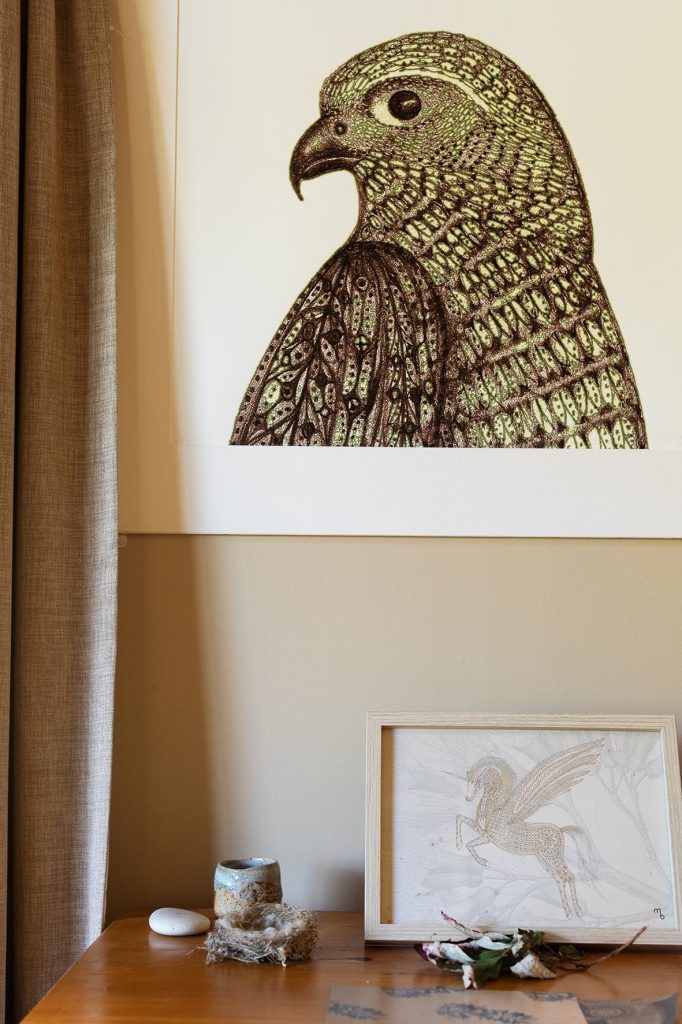 Recent experiences have reinforced the importance of this. Two years ago, she developed acanthamoeba keratitis, a rare, parasitic and incredibly painful eye infection that can cost sufferers their sight.
Hospitalised for two weeks and then forced to "live in the dark" for a further six weeks, Miranda was confronted with the news her beloved mother Dwyllis had experienced a seizure and would need to transition from living independently to nursing home care.
It was sudden and life-changing, prompting Miranda to farewell Auckland after 23 years in the city and move to Cooper's Creek. Two years on – but just six months after Dwyllis' death, in October last year – the emotions invoked by reflecting on that time are still raw, with Miranda describing it as "my darkest hour".
Now, though, she's finding a new dawn thanks to her work, which is going from strength to strength. Miranda works with a small team, situated around New Zealand, to turn her hand-drawn illustrations and designs into wallpapers, limited edition prints, artworks and textiles. New technology has provided the opportunity for her to work in different mediums, like wood and copper.
"Wallpaper is one of my products, but there's the artworks, the commissions, which can be on any substrate," she explains. "That's the beauty of print these days. We can print and we can cut. One's always innovating as a creative; one is always storytelling."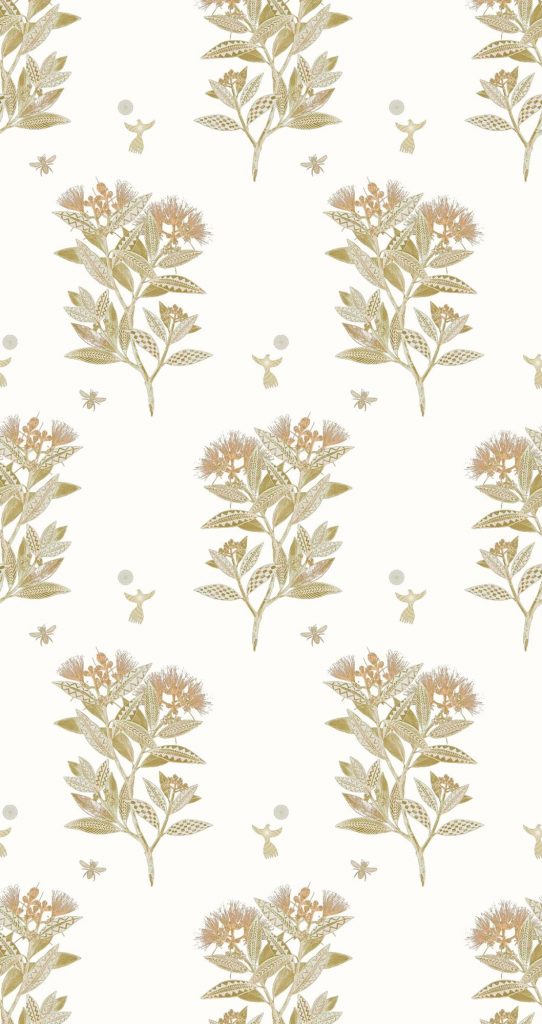 It means her designs have been printed on everything from canvasses to wallpapers, exterior and interior walls – including glass, wooden and aluminium ones – and textiles like cushions, curtains, light shades and clothing.
"I have a lot on, but I go for my morning walk, I drink my teas. I work very regular hours and I'm amazed how much of my life is sitting on the computer running the business – but three days a week I am just being creative and designing."
Being in nature – be it the beech forest which surrounds her cottage, the rivers of the Waimakariri District or Auckland's sandy shores – is a vital component not just of Miranda's work, but her life philosophy, which is built on acknowledging the interconnectedness of nature, humanity and culture.
Born in the South Island town of Fairlie, Miranda's father, Thomas, was an Anglican vicar who later became Bishop of Wellington, while Dwyllis was raised on a farm and introduced her three children to the joys and delights of growing, harvesting and hunting for their food, as well as crafting.
The family supplemented its income through making their own clothes, as well as beeswax candles and leather tooled bags which were sold locally. By the time she was 12 years old, Miranda had made a three-piece suit.
But when she left school, it was to a job in a bank. "I left because I wanted to earn some money, but it was very conservative, and I was wearing all my flamboyant creations and fantastic numbers… I was a little too creative!"
So, she moved to Dunedin to study textile science at the University of Otago and was soon dyeing silk in the sink at her flat – "I went straight for silk, none of this cotton!" – and marvelling at the colours she could conjure. Miranda knew then that she wanted to be an artist – even if that meant regular work and financial stability were not guaranteed.
"Part of being an artist is valuing yourself when the society around you doesn't; our society doesn't really understand the role of the arts so therefore it can't value it," she says. "We value accountants and lawyers, and we pay them huge amounts of money, but often it's a case of, 'Oh, you just paint that painting, you just create that'. But when we really look at the wellbeing the creative sector brings – whether it be music or imagery or sound – that is the soul of life, and if we don't look after our souls then we might as well be robots spitting out widgets with no meaning."
If we don't look after our souls then we might as well be robots spitting out widgets with no meaning
After finishing her studies, Miranda went to Wellington where, like many creatives, she did a variety of jobs from set dressing to managing museum stores. In her mid-twenties, she moved to Japan to teach English – and received another timely reminder of her desire for an artistic life.
In Tsuyama, 90 minutes from Okayama – the centre of Japan's denim industry – Miranda studied shibori under the watchful eye of artist Mrs Yokohara. Shibori is a method which sees cloth folded, bunched or twisted then tied and dipped into dye to create the most iridescent colours.
Miranda recalls those days dearly and clearly: "One day, I painted a piece of fabric in Mrs Yokohara's beautiful old wooden building – down an alleyway, with a Shinto temple next door, really old Japan.
"I was far away from anyone I know; I was 26 years old, Mrs Yokohara had very little English and I had very little Japanese. When I finished this piece of fabric, I wept. Mrs Yokohara said, 'Healing'. And it was such a deep healing in me because I knew then that I was an artist, and I made a promise to myself that I would continue."
As if preordained, Miranda received word from friends in New Zealand that the burgeoning film and television sector could use her textile crafting and fabric dyeing skills. Returning home, this time to Auckland, she found herself working on the likes of Xena, Hercules, The Lord of the Rings and The Last Samurai.
She's learnt that nature can work in mysterious ways, but through observing and being part of its seasonal cycles, she sees life – just like the natural world – as cyclical, sometimes requiring us to stand back, breathe and recalibrate to find balance again.
"We have to learn to trust life," she says. "Nature is evolving and regenerative – we must do the same. We can't live in 'summer' the whole time because, like nature, there are seasons and during winter we have to go in and be quiet.
We have to learn to trust life. Nature is evolving and regenerative – we must do the same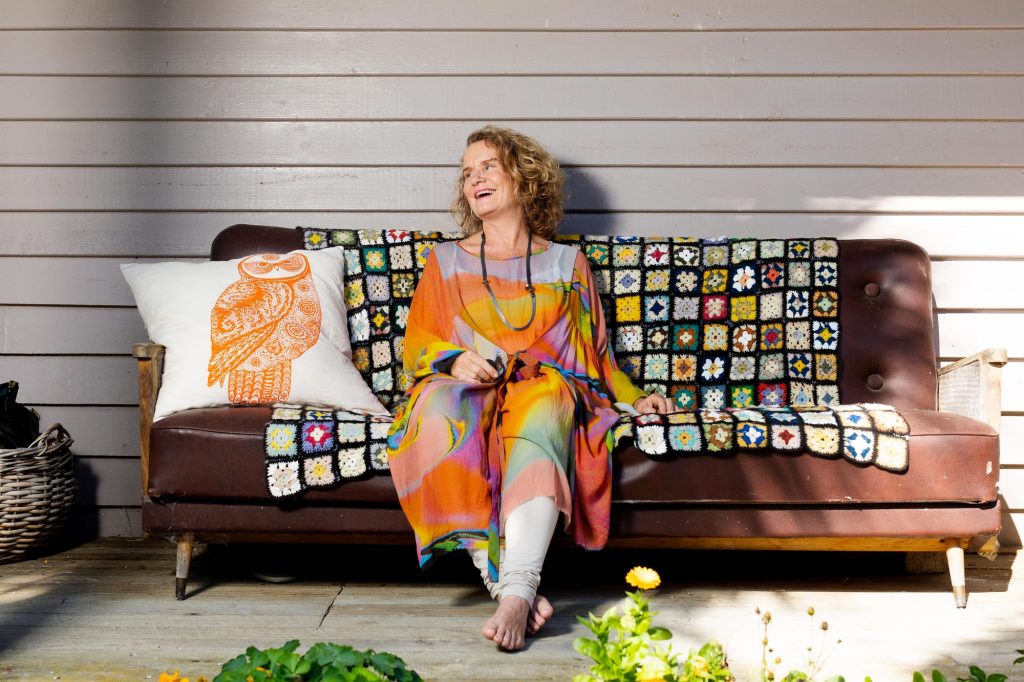 In 2002, she decided it was the time to rebalance and started her own fashion label, Conscious Cloth, where she was at the forefront of sustainability. It is a way of working – a way of life – that Miranda calls "quadruple bottom-line thinking", with the environmental, social and spiritual as important as the economic.
She ran the successful label for a decade, but premium products with environmental considerations and sustainability at their heart do not come cheap, and Miranda found it increasingly difficult to compete with inexpensive, imported clothing. She considered bringing on high-powered investors and building a larger enterprise, but decided she didn't want the business to take over her entire life.
"I sought balance, to be like nature, because it's knowing when to change."
Reinventing herself anew once again, Miranda is now in a place which utilises the full range of her talents along with all the business smarts she has developed during her career.
"I feel elated!" she says. "It's been a lot of work; this doesn't happen overnight, and every artist or designer who has created a sustainable enterprise has found that there are ebbs and flows."