Thirty years ago, when Ariana Tikao was growing up in Ōtautahi, getting her moko kauae seemed like a distant dream. Now her dream has been realised and documented in a beautiful book, writes Aroha Awarau.

The idea of getting a moko kauae came to Ariana Tikao in a dream. She envisioned two lizards, a bright green male and a paler female. The female lizard was hapu (pregnant) and Ariana took care of her, while the male lizard slowly walked up towards her chin. Moko, or mokomoko, is the Māori word for lizard, and when Ariana woke up, she knew that her dream was a sign.
"As a child, growing up in the '70s and '80s, I never saw a living person with a moko. I had seen moko kauae in books, but they seemed like relics from a world I did not know. I knew one day I would follow whānau tradition and get my moko. But back then it seemed like a joke. Thirty years later, I had changed and so had Aotearoa."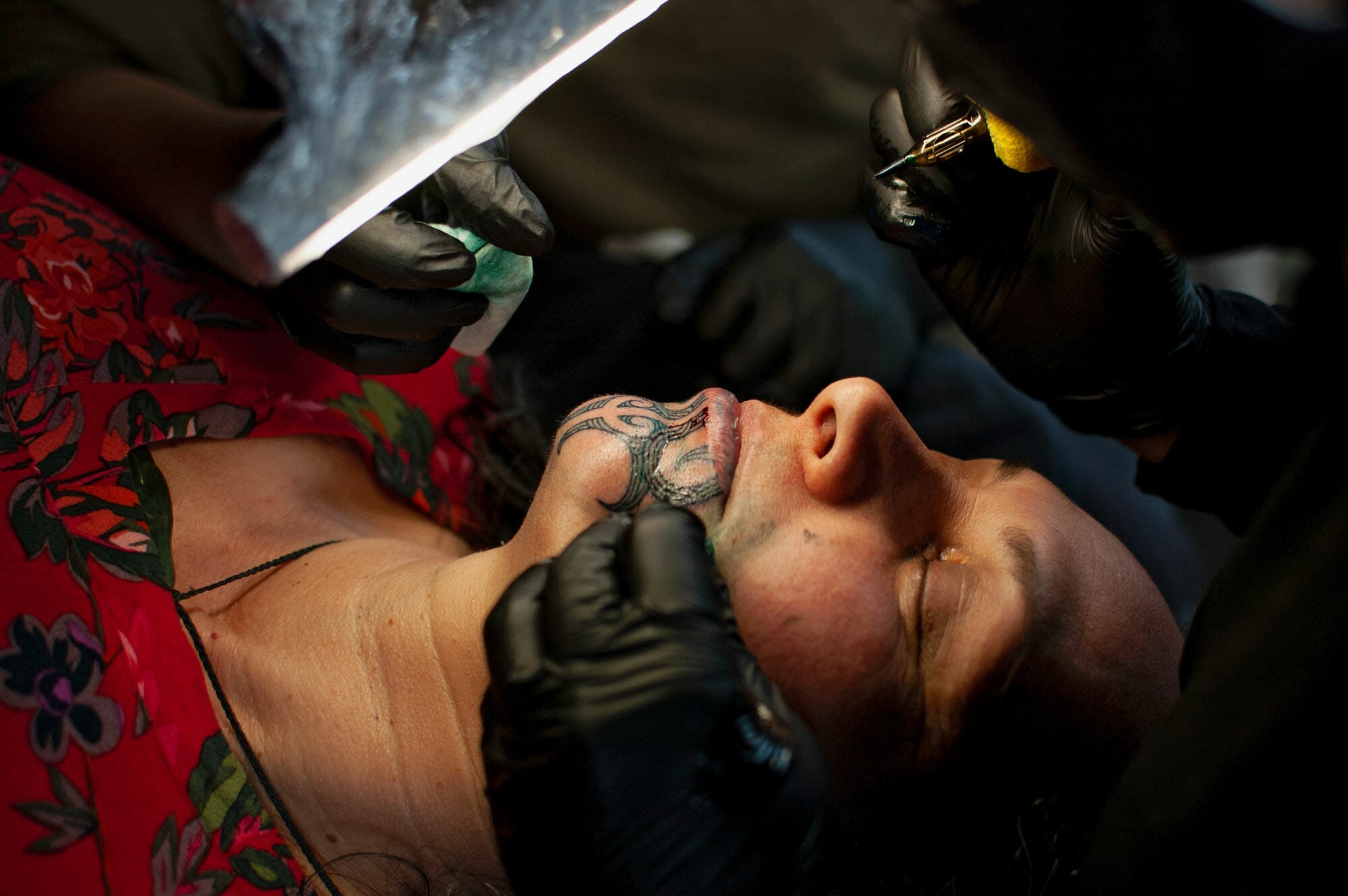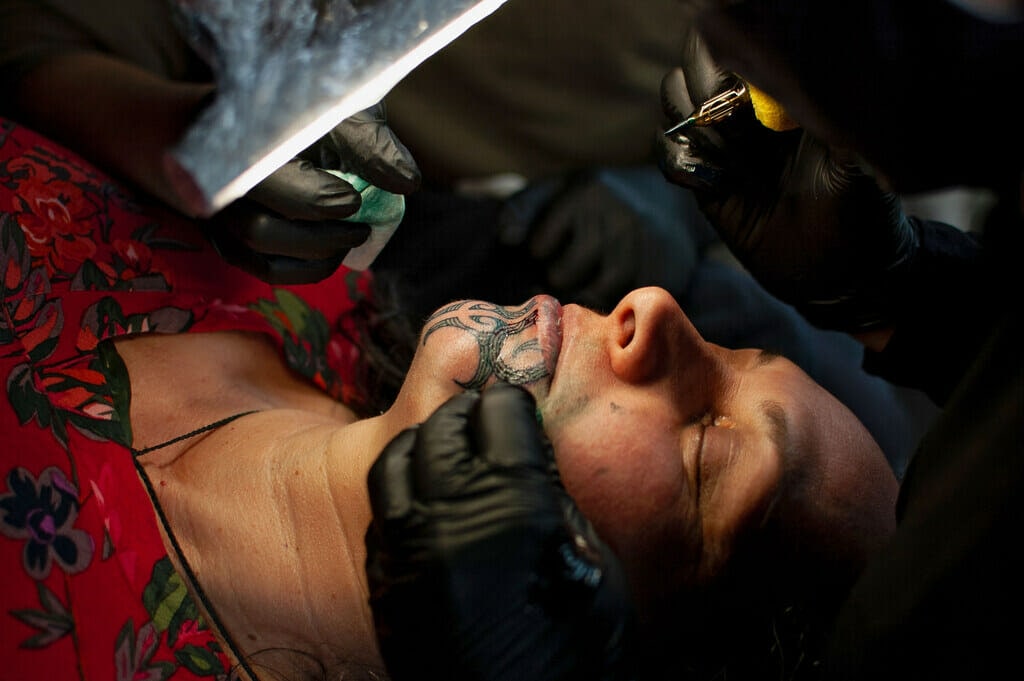 In 2020, the mother of two received her moko kauae in an emotional ceremony at her cousin's home in Ōtautahi (Christchurch). She was surrounded by her whānau and close friends and was serenaded with waiata, traditional Māori instruments and karakia. Today, many Māori women are reclaiming their birthright and choosing to etch their chins with a traditional tattoo.
Ariana (Kāi Tahu) is one of the few wahine who has documented her journey by publishing a book. Titled Mokorua: Ngā Kōrero Mō Tōku Moko Kauae – My Story of Moko Kauae, the taonga has photos and beautiful poetry in English and te reo Māori to honour the moment when Ariana received her moko.
"My husband's cousin, Matt Calman, is a photographer and shot the emotions of the day," Ariana says. "My eyes were closed most of the time and so I really appreciated a record of the room and a close-up of what was happening.
"I realised these pictures were taonga. I wanted to put them in a book, to give people more of an insight of what goes on behind getting a moko kauae, to help educate people about the personal nature and the deep cultural side of the process."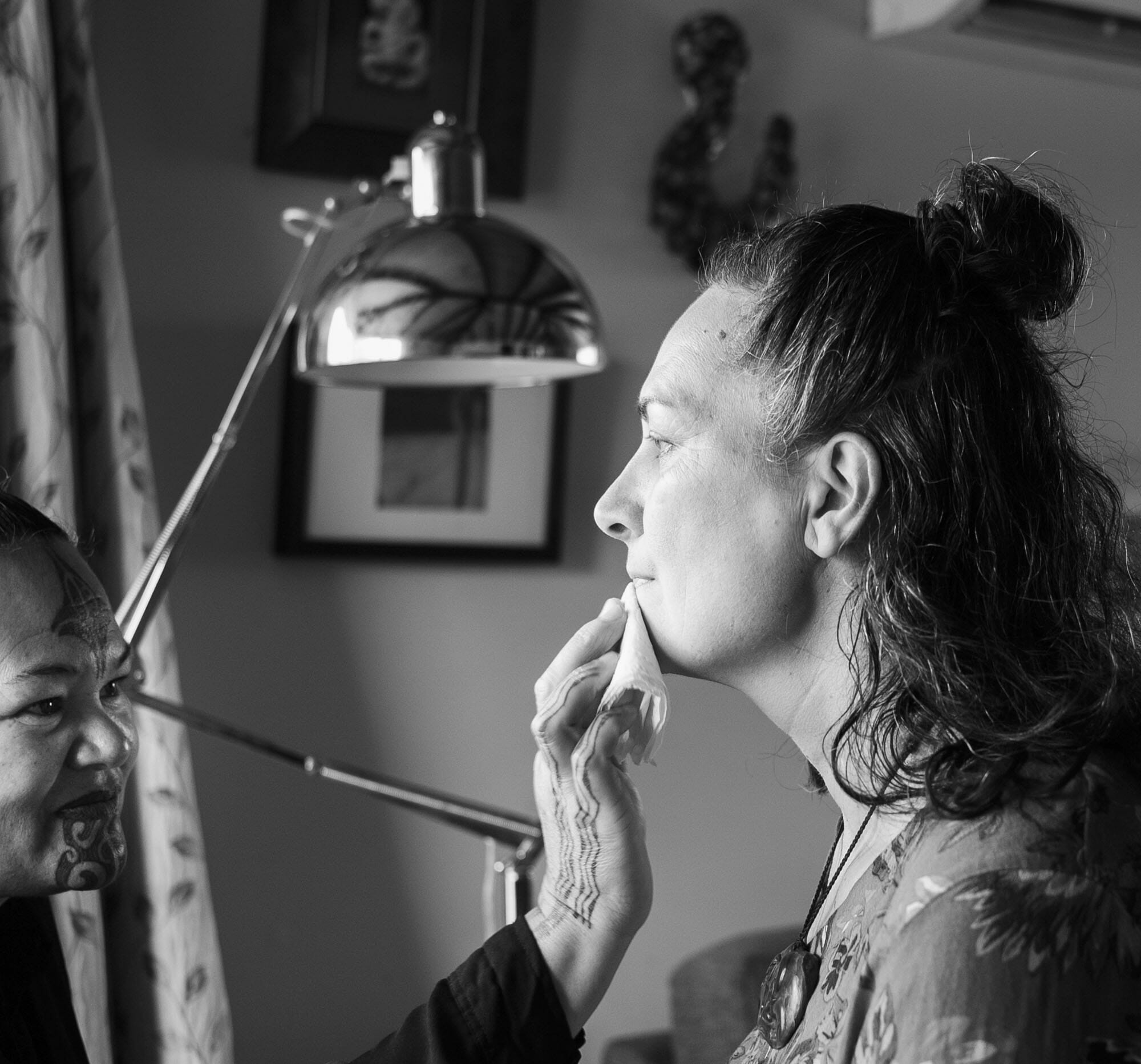 Ariana grew up in Ōtautahi and says she was raised without te reo Māori or the culture.
"My father is Māori and my mother is Pākehā. While I was growing up in Christchurch, we were surrounded and dominated by the Pākehā world and grew up in a 'Kiwi' environment. There weren't many Māori families around."
When Ariana left school she made a commitment to connect with her culture and language, becoming deeply involved with her marae and ancestral home. She spent years working in the Māori archive at the Alexander Turnbull Library and expressed her love for her culture by writing poems and performing taonga puoro.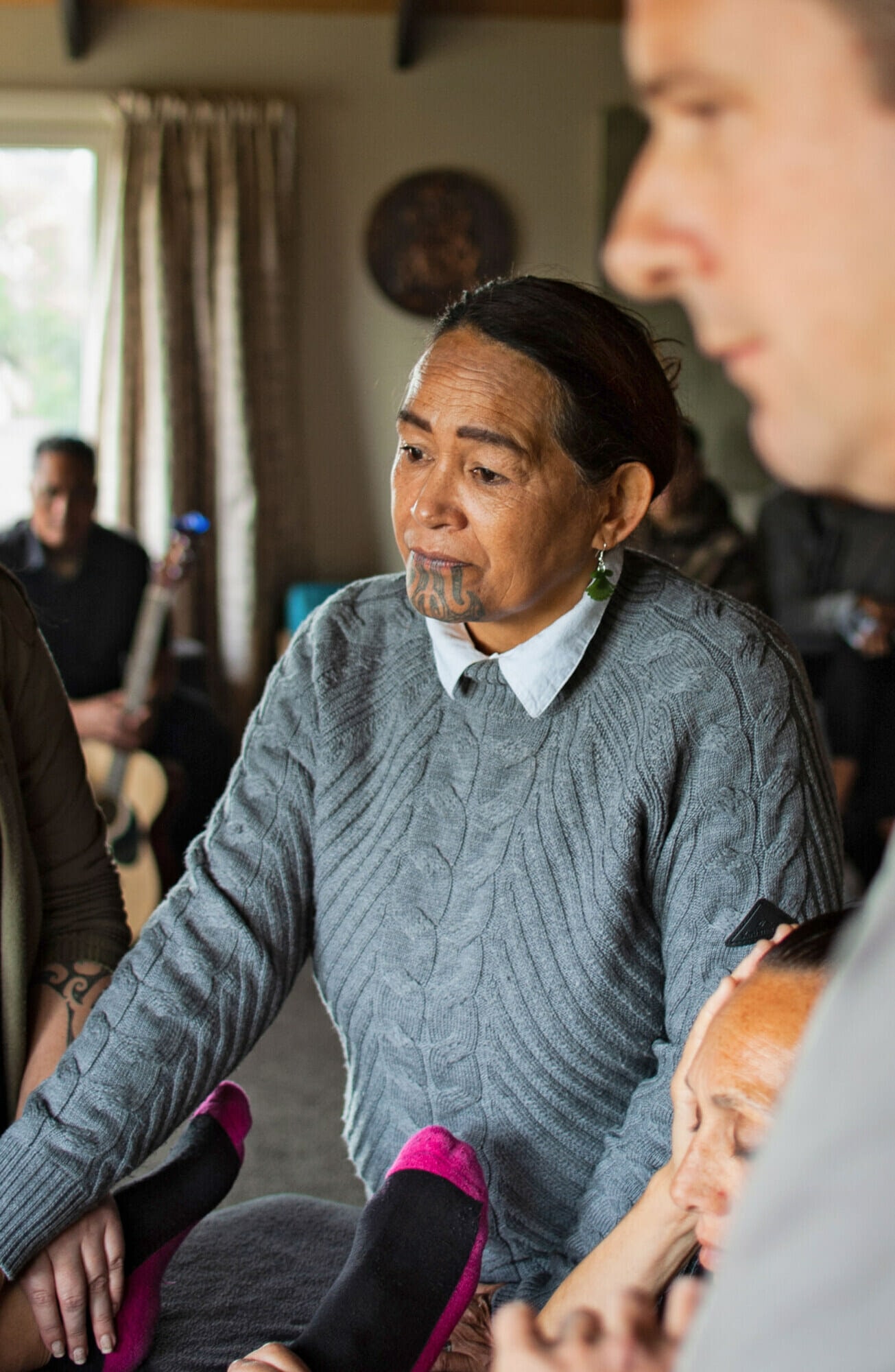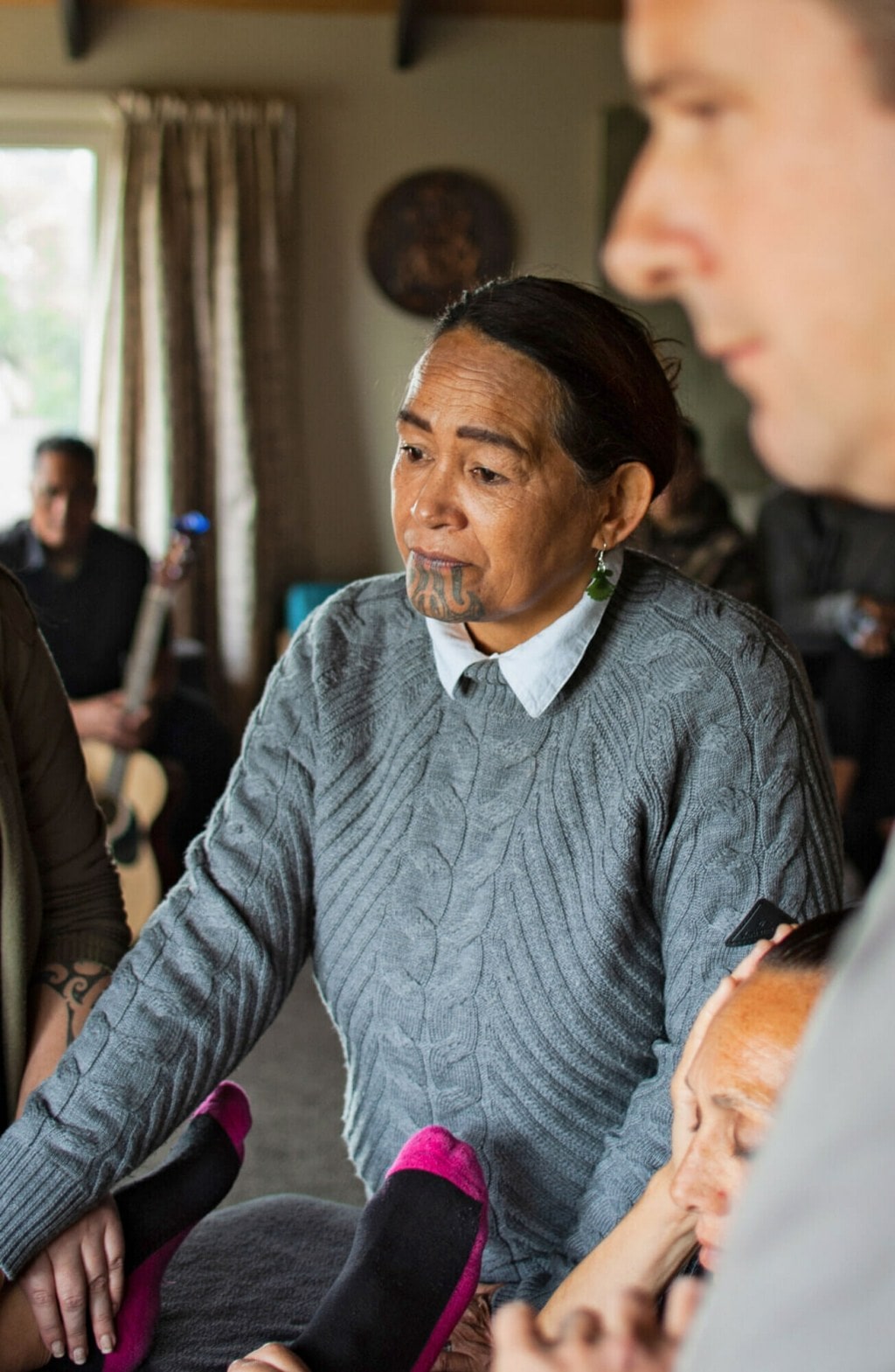 The art of moko kauae had been lost in Ariana's family for three generations but doing research and seeing old black and white photos of her kuia wearing moko kauae, Ariana felt a longing to be the person in her whānau to reclaim the traditional practice.
It was important to her that the younger generation of wāhine in her whānau were present to witness the ceremony, including her 23-year-old daughter Matahana.
"I'm looking forward to the future," Ariana says. "I can see that more of our wāhine may end up wanting to get their own moko. I wanted to plant that seed and have this experience opened up to them."
This is public interest journalism made possible by the support of NZ on Air.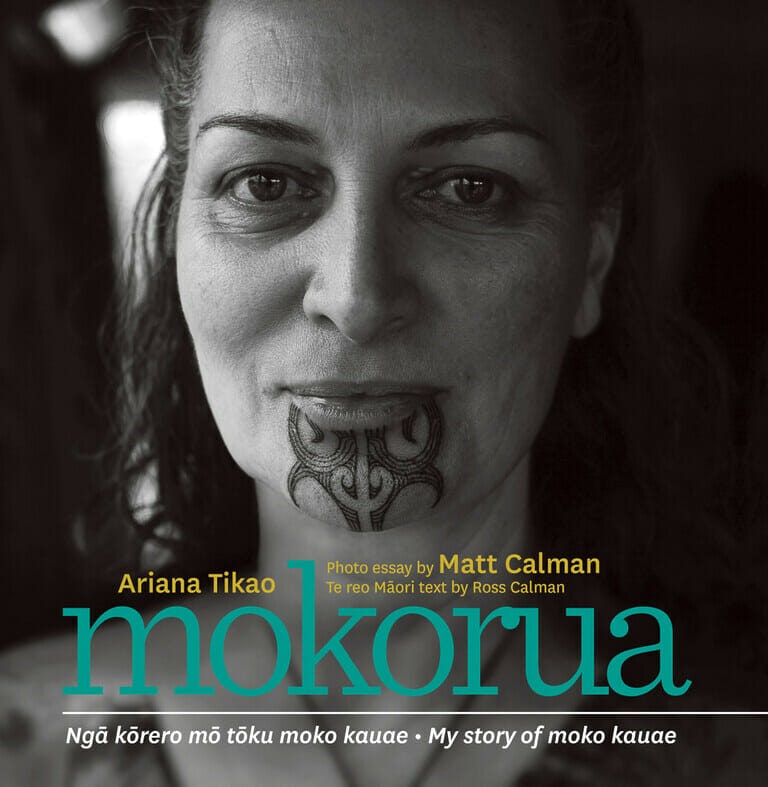 Mokorua: Ngā Kōrero Mō Tōku Moko Kauae – My Story of Moko Kauae by Ariana Tikao (Auckland University Press, RRP $45).
photography: Matt Calman
This is public interest journalism funded by NZ on Air.