A people-loving villa in Ōtāhuhu, Auckland, was a dream come true for a creative couple looking for a home that embodies manaakitanga.
When crochet artist Lissy Robinson-Cole first saw a 1908 villa that was up for rent in Ōtāhuhu, she fell in love with it entirely. "It was just the whole thing," she recalls. "We call it the Hallelujah House, because we all moved in and were like, 'Hallelujah, this is amazing.'"
Lissy found the home in 2014, when she and husband Rudi, her creative collaborator, were looking for a place to rent with her sister, Katherine Cole, and Katherine's husband, Tim Heraud.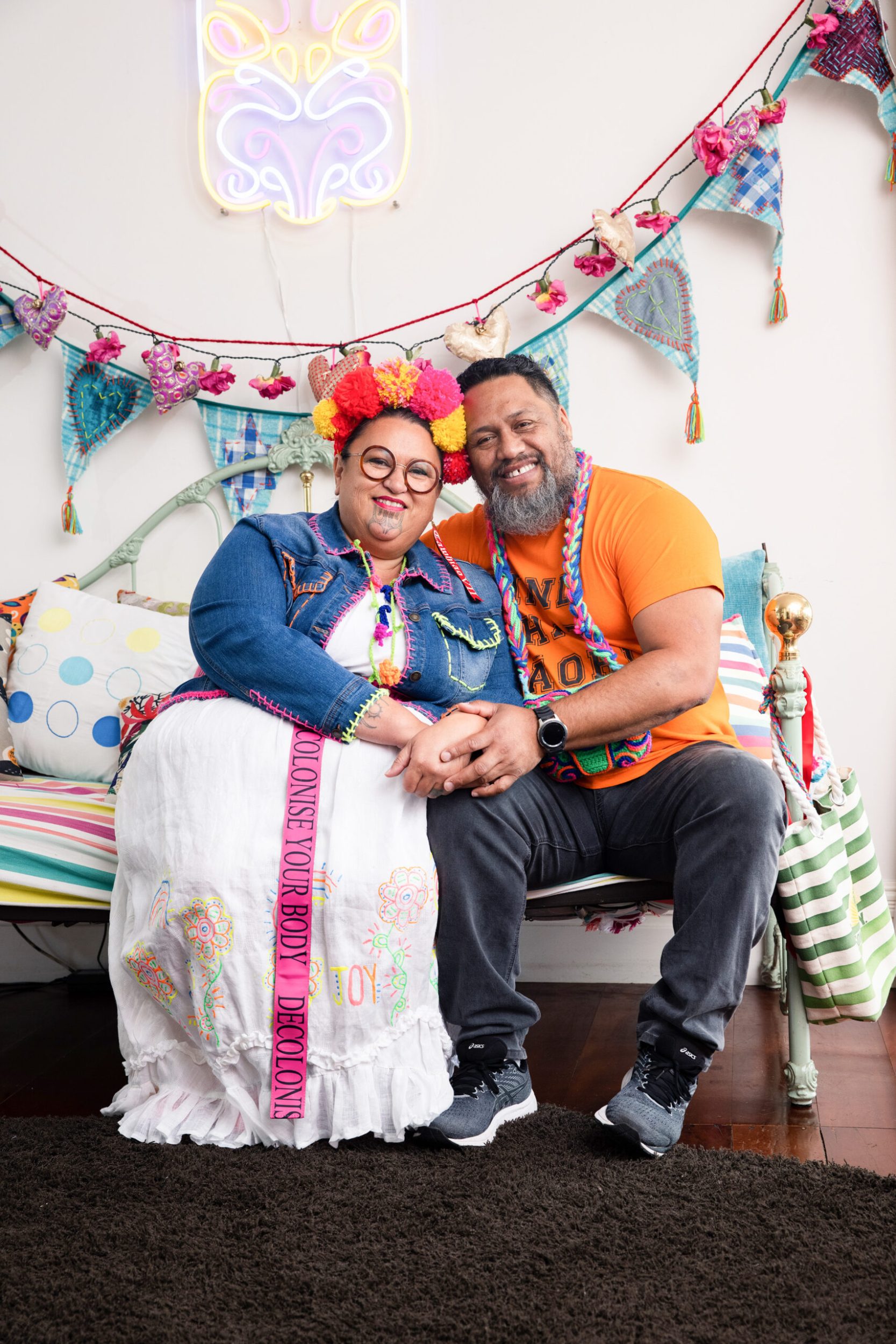 It reminded the women of the Mt Eden villa in which they grew up with six other sisters. With a large lawn, wrap-around deck and three bedrooms, their home invites itself to being just as full. "It has an invisible beacon on the top of the roof, we believe, that just says, 'Come! Come and stay!'" Lissy says.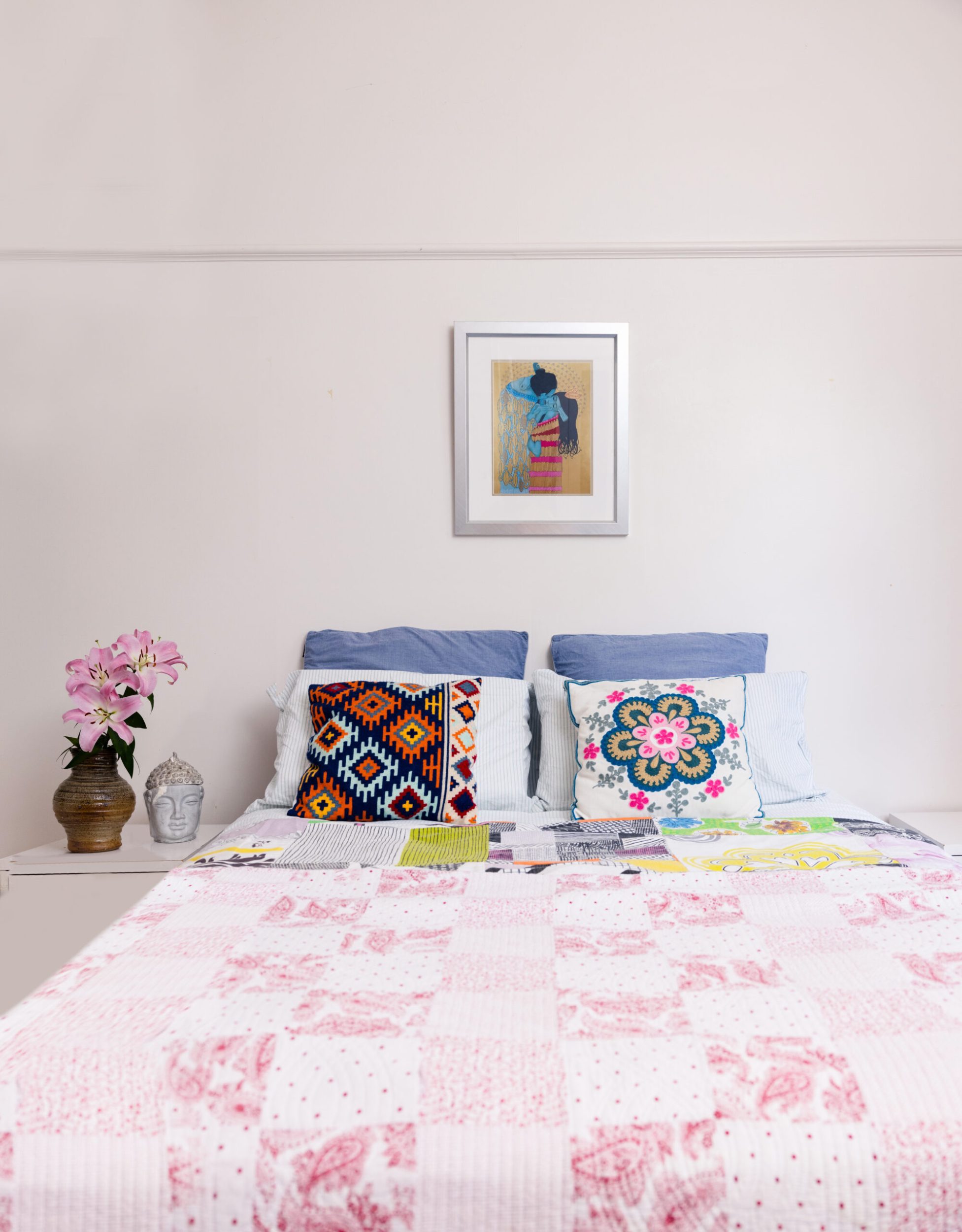 The villa comes with the classic character features of its era, from glowing wooden floorboards to soaring ceilings. There's just one element missing, Lissy says. "If this was our house, it would not be cream. It would be all sorts of colours."
Instead, Lissy and Rudi have brought the colour, with their neon artworks brightening up every nook. And the villa supplies plenty of its own flair, in the form of detailed arches, stained glass windows and ornate fireplaces.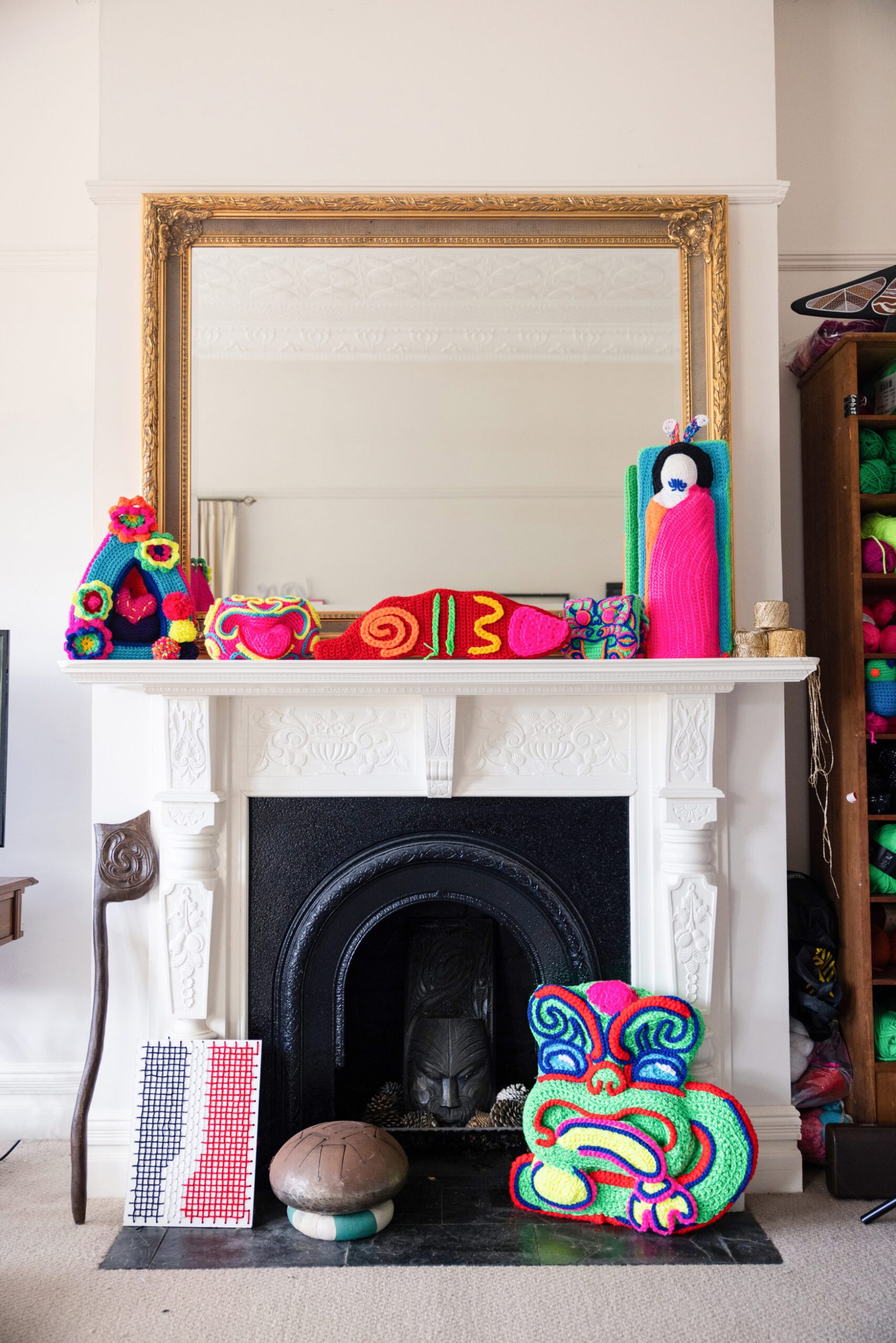 The most frequented area of the home is the kitchen, with a large central island that flows to a dining table and on to the outside.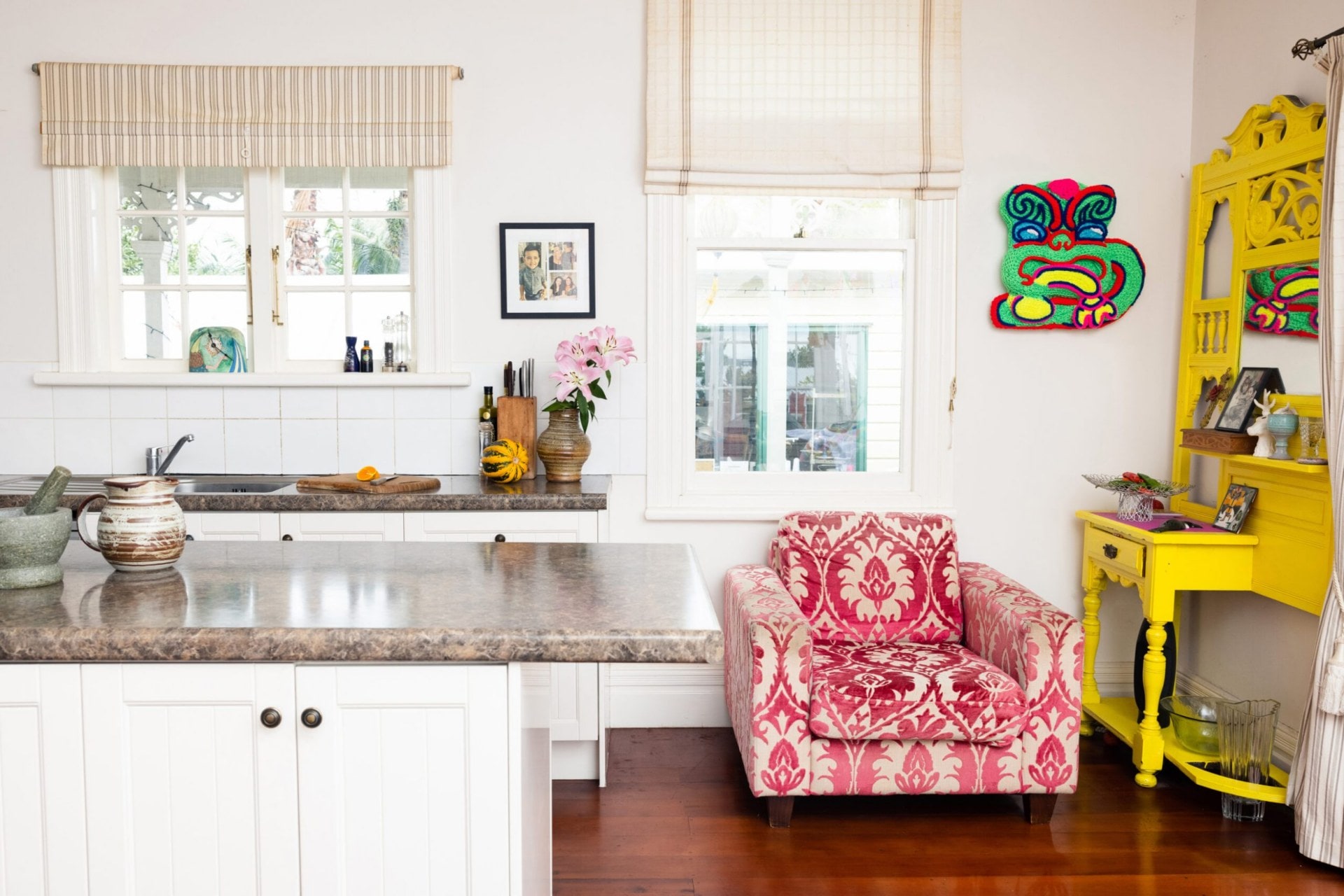 "Of course, the kitchen is just the complete heart of the house – with all the French doors, everyone spills out onto the deck," says Lissy. "It's all about the manaaki, so it's all about the hospitality."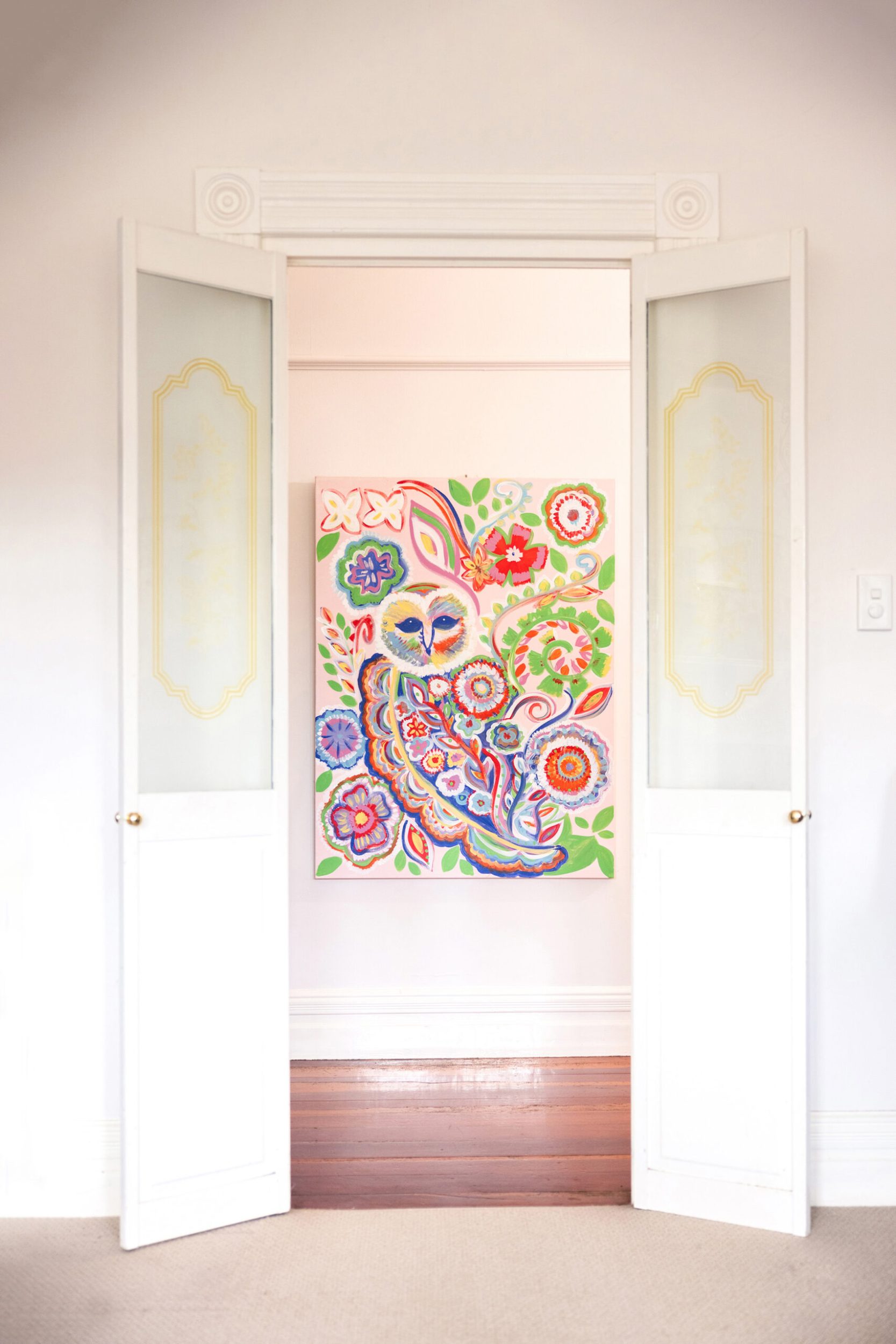 Accordingly, the family has hosted engagement parties and birthdays for all ages here. After their first Christmas in residence, their neighbours popped their heads over the fence to say how great it was to see every corner of the house being used.
Their favourite way to cook is by charcoal barbecue or hāngī. "Gas bottle? It's a sin around here," says Rudi, laughing. He says a niece has recently become engaged to a Brazilian man with an appreciation of churrasco, "so we've had a million more barbecues since he's come on the scene".
Lissy and Rudi were married on the back lawn three years ago, in front of 200 people and big stencilled letters that spell out "LOVE", which remain on the wooden fence. The decorations were made by the couple and include chandeliers in the trees and colourful paper floral garlands strung between. "For us, home is whānau," says Lissy. "It's about celebrating life, for sure."
The section stretches down to the Tāmaki Estuary – they call a slice of lawn next to the water their sunrise ridge. Parked up to take in the view is a retro caravan called Anahera, "our angel", which Lissy and Rudi have painted in colourful swirls, like those you'll find on Lissy's car, Joy Ride, in the front driveway.
Anahera is roadworthy and ready to go, with plates all stacked up in their decorated cupboards, but the couple don't need to take the caravan on holiday to feel carefree. During the long lockdown of 2020, Lissy and Rudi crocheted here when they needed some space. "It's truly a bubble of joy," says Lissy.
To the side of the house, the sleepout has been co-opted for the couple's creative needs. Lissy and Katherine's father, Colin Cole, was a renowned Kiwi fashion designer. Taking after her father, Lissy makes almost all of her clothes and most of Rudi's, so a sewing machine, overlocker and her dad's mannequins take pride of place here. Spilling out of a box is a rumala sahib, a vibrant pink fabric gifted from a local Sikh society to be repurposed.
Lissy and Rudi's vocation is mixing crochet with sculpture and carving to create contemporary artworks. They are working on creating a life-size wharenui, just like you'd see on a marae but reimagined in spirited loops of wool. It's a big project, and they'll be collaborating with three international crocheters, who will work on unique tukutuku panels.
On completion, they hope the structure will travel the country as well as the world. With a design based on Matariki, it's an educational tool for sharing their culture and stories, as well as simply being a bright space to come together. They're calling it Wharenui Harikoa, which means "the large house of joy".
"All our kaupapa is to ignite joy globally," says Rudi. "We want our work to be really accessible to all people and for it to resonate with all sorts of different people," adds Lissy.
Crocheting is about connecting, which is why Rudi and Lissy have taught workshops at the local Sparkle Laundromat and the Ōtāhuhu Library.
"It's amazing how much people open up, especially when you're distracted by doing something with your hands," says Lissy.
Their first foray into crochet was yarn bombing in their neighbourhood – including covering a fence near their grandson's school as a surprise, with rainbows, stars, hearts and more. Lissy and Rudi were overwhelmed by the positive comments from those who suspected it was them, and when part of their design came undone, someone from the community swiftly restored it. "That's what I love about Ōtāhuhu – it's the people," says Lissy. "And it's really vibrant and alive."
Swipe the style