After years of shared flats, a hospitable Auckland couple find a cosy home for two.
Never judge a book by its cover, goes the old saying. But can you judge a person by their bookshelf?
You certainly can at the Herne Bay home of Che Barrington and Olivia Orani. That's because Che – co-owner of Auckland restaurants GoGo Daddy, Chop Chop, and The Blue Breeze Inn – owns hundreds of cookbooks.
"Around 90 percent of them are Asian cookbooks," says Che, who credits his love of Asian food to the months he's spent travelling through the region. "It's a bit embarrassing when you go into a bookshop and you have more cookbooks than them!"
Che's books dominate a large bookcase in their rented second-floor flat, and that isn't even the half of them – many are still in storage in Sydney, where he worked as a chef for a year.
Olivia, who co-owns After Ours, an events space near Karangahape Road, met Che when she waited tables at his first Auckland restaurant, MooChowChow. That was seven years ago, and the couple have lived in two rented apartments since then. "Our last flat, in Grey Lynn, was spacious and in a great location," Olivia says. "But we've always had flatmates, so we decided it was time to move into a place of our own."
Despite the recent horror stories of frustrating hunts for rental accommodation in Auckland, the pair got lucky with this three-bedroom apartment, one of 12 in a block tucked between houses and the Hamilton Road beach reserve. It's only a 10-minute drive from Olivia's work and most of Che's restaurants.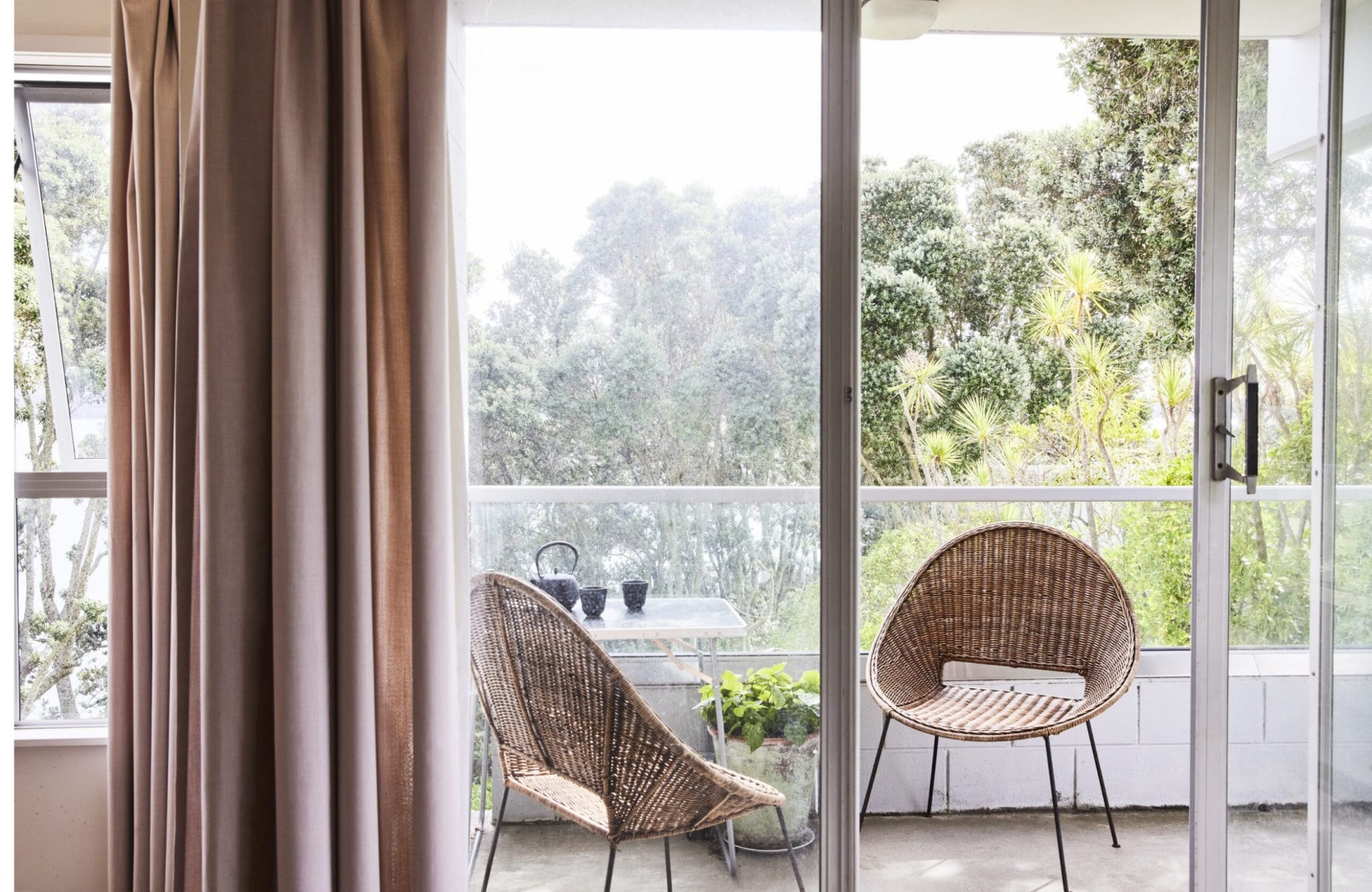 "I saw the apartment on Trade Me and fell in love with the amazing views across the Waitematā Harbour and the mid-century modern vibe," Olivia says.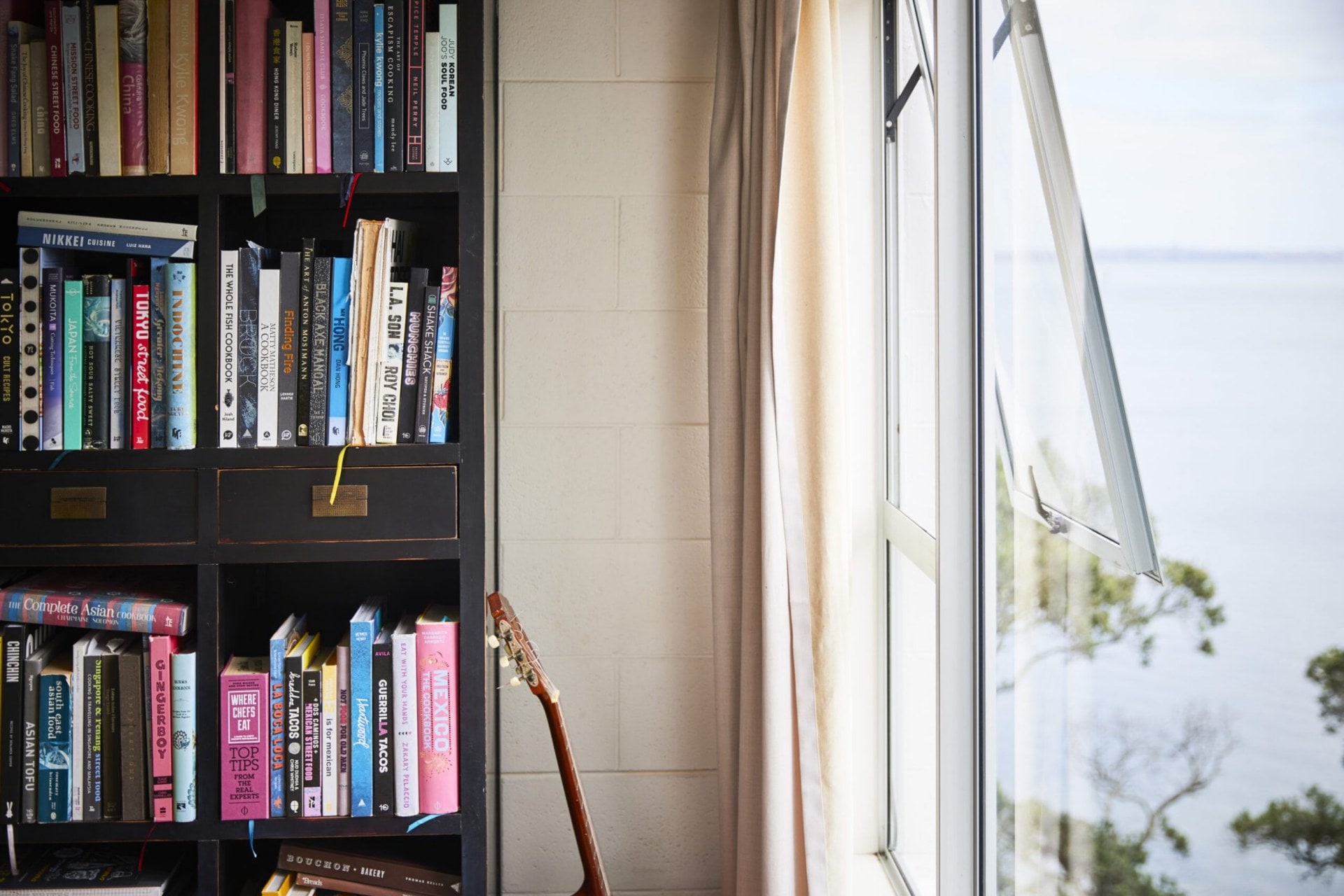 It's the only apartment in the 1969-built block with three bedrooms. "Others have knocked down walls to create a bigger kitchen and reduce the space to two bedrooms," says Che, who wasn't initially sold on the tiny kitchen. "But our landlord doesn't want to do that."
It's ironic that the award-winning chef manages with such a compact space. "It's still got a Shacklock oven that's in Fahrenheit! And we're just about on top of each other when we're both in the kitchen. But I'm not home most nights, and we do eat out a lot."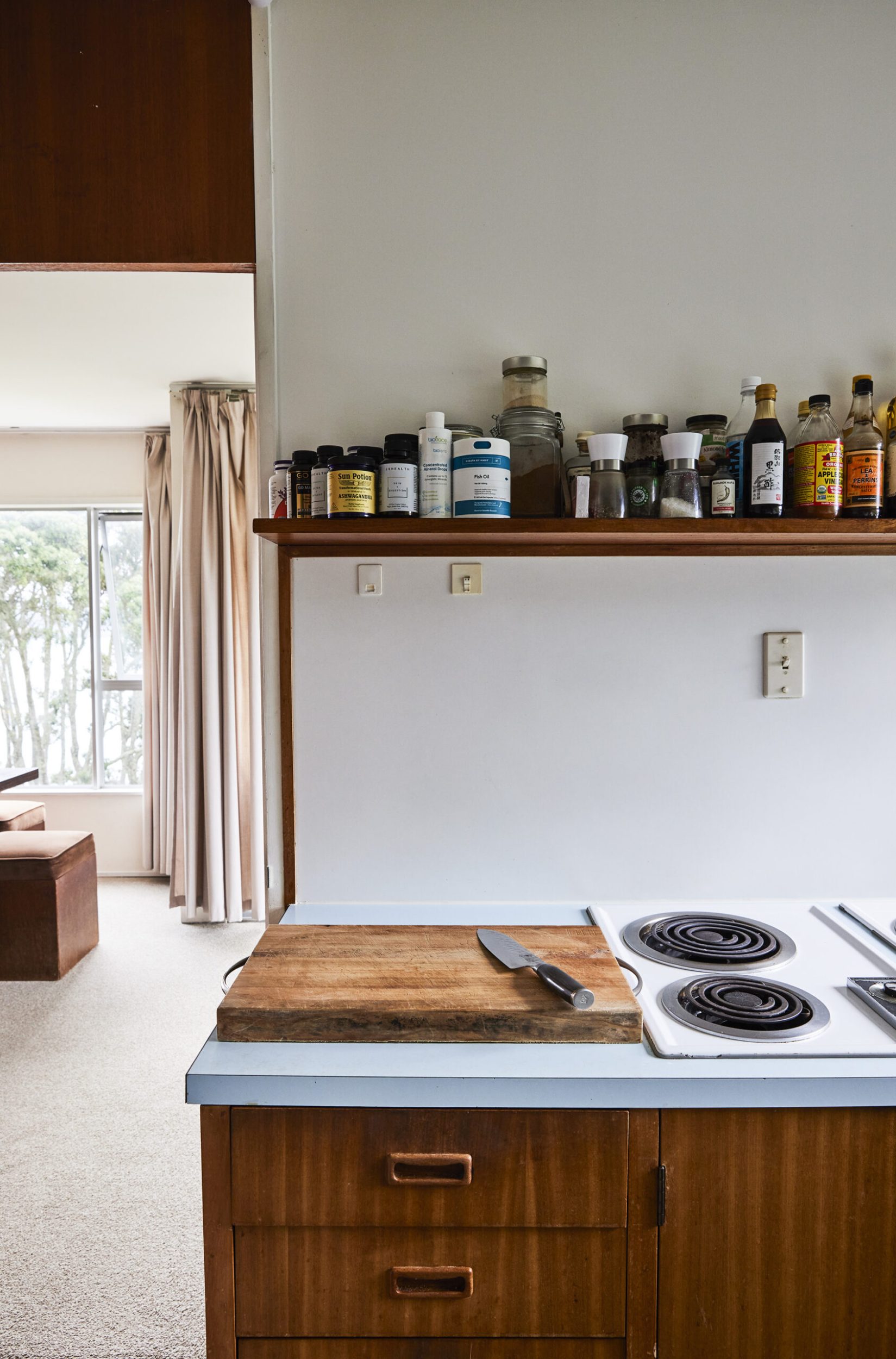 Plus, they're masters of making it work, with Olivia hosting 10 family and friends last Christmas. "The key with a tiny kitchen is to clean as you go," says Olivia. "I had my sisters washing dishes between courses."
Sunday nights are also the night they often entertain friends from the hospitality industry. "Sunday nights in our business are like Friday nights for other people because many restaurants aren't open on a Monday, so it's our chance to have mates over for some good food and a few drinks."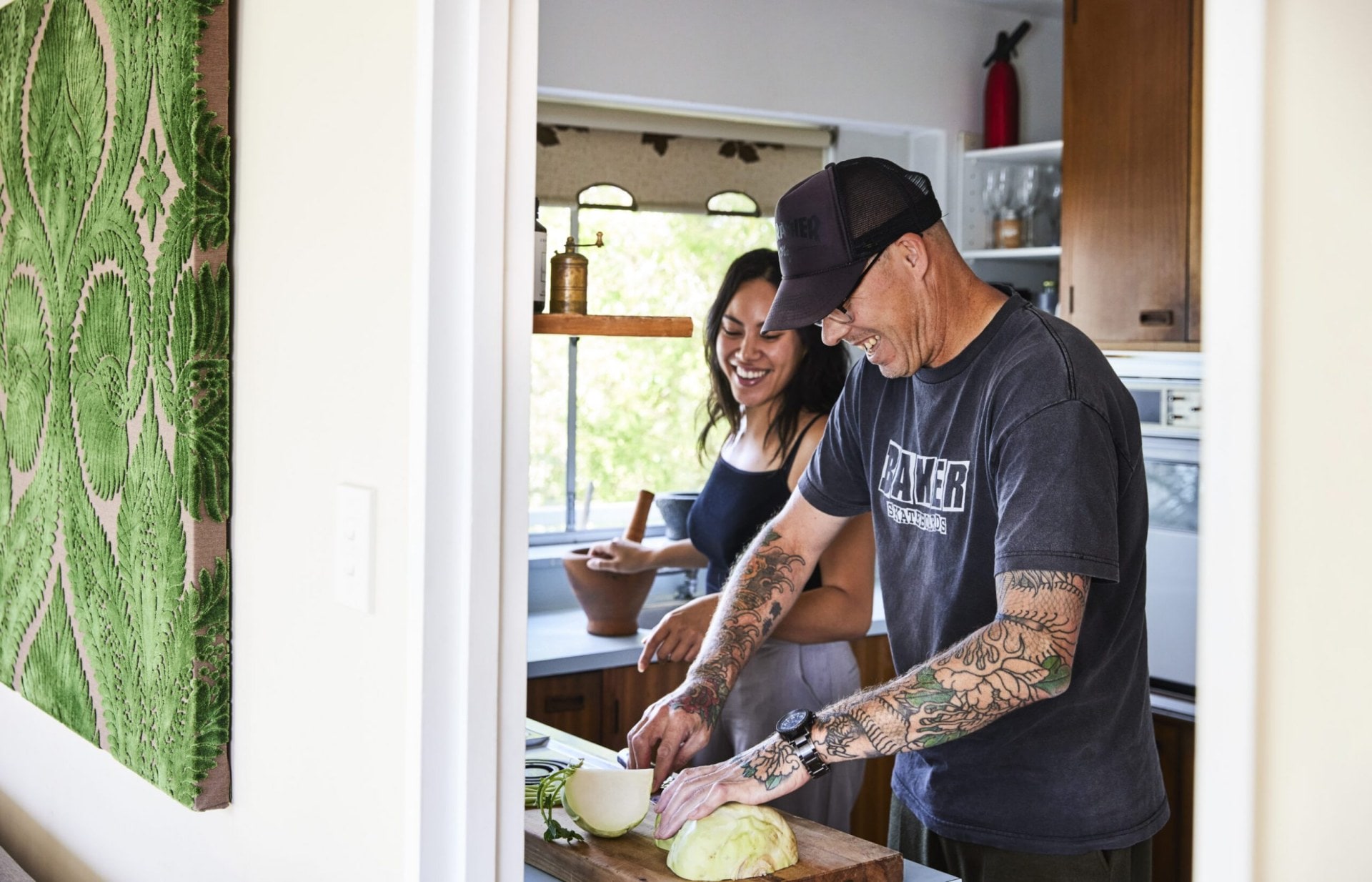 Open the large Japanese-style rice-paper screen doors and you're in a spacious living room with gobsmacking sea views. Fortunately, Che owned most of the furniture in their last flat, and it has easily transitioned to this space.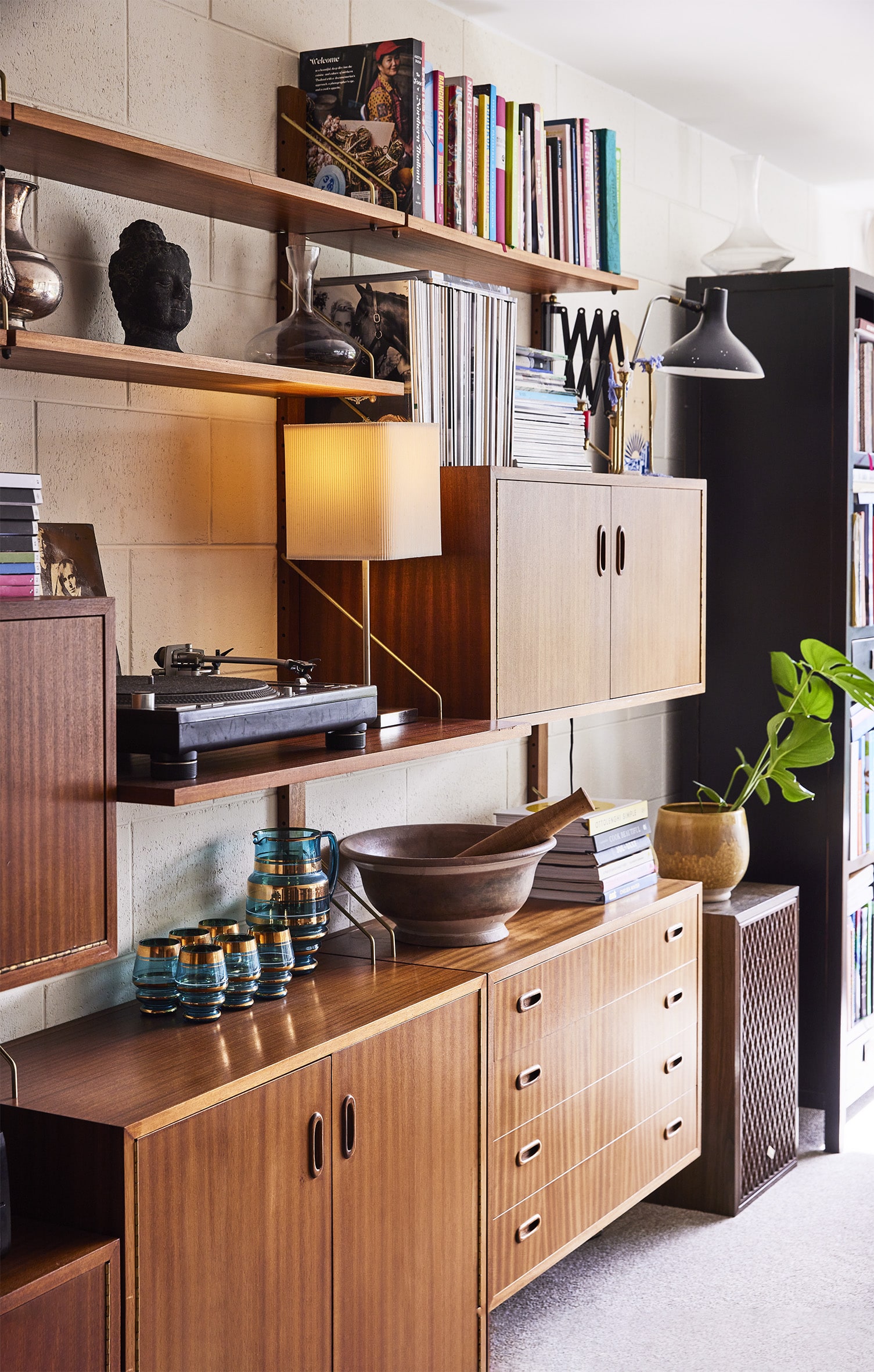 That includes two grey Nood sofas that handily fold out to beds when Che's sons Ethan, 17, and Chase, 13, come to visit from Nelson.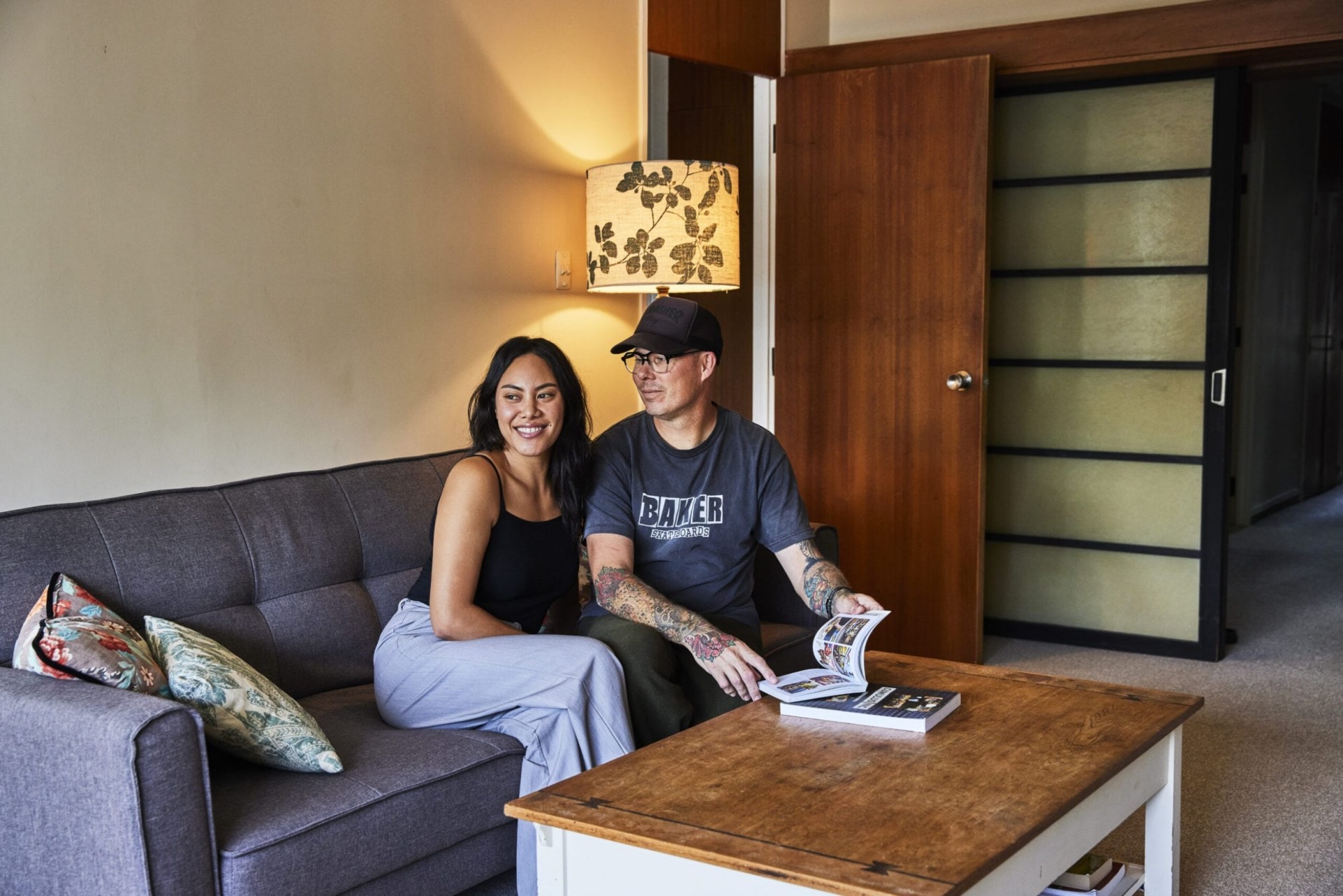 The dining table came from MooChowChow, which was known for its communal eating. "We had to scrape lots of chewing gum off the bottom first," Olivia says, with a laugh.
Che's mother once owned a homewares store in Nelson, and several of her pieces found their way into this apartment, including the bookcase and an Asian-style console in the main bedroom, which provides great storage.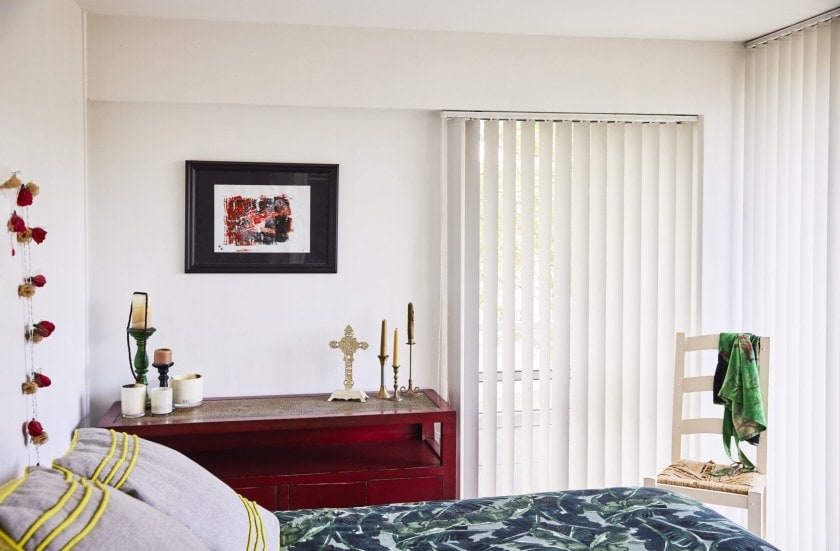 A large wooden bowl from his mother's shop and oversized mortar and pestles from Thailand are among favourite items that reside in the 1970s-style built-in cabinetry that Olivia immediately fell in love with when she perused the Trade Me listing.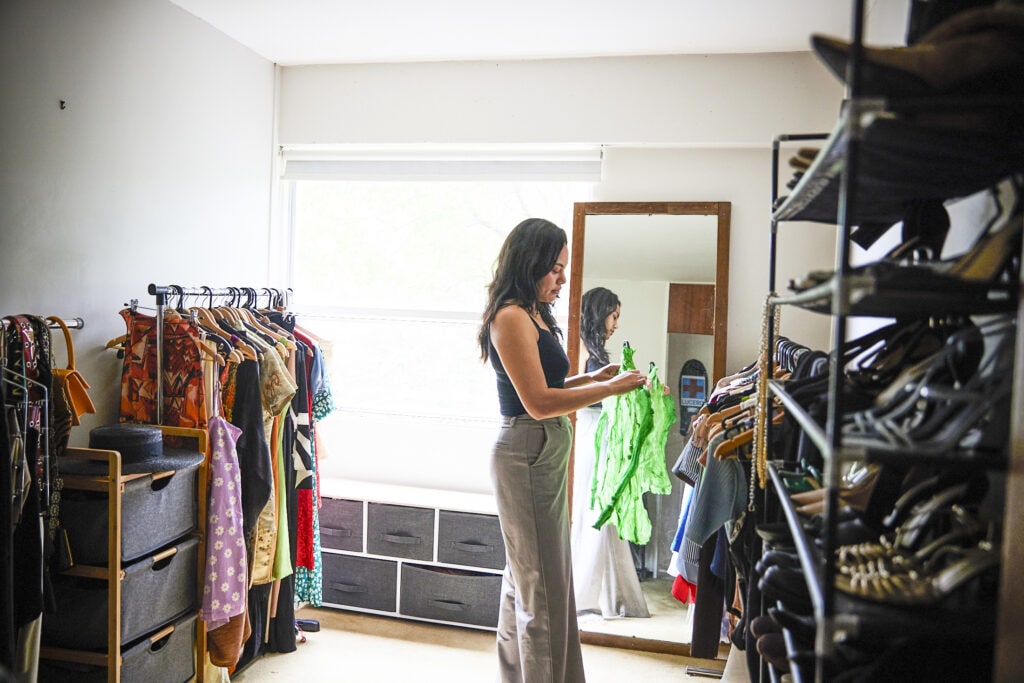 When the couple manage to get time off together, they like to fossick in Auckland's many vintage stores, buying pieces such as a blue 1970s jug and matching glasses, and a retro prize wheel from Junk & Disorderly. "Someone else apparently had it on hold, but I offered them cash because I had to have it."
The two vintage turntables were once spun by DJs at The Blue Breeze Inn, but when they decided to stop having live acts, Che snapped them up. "It's an excuse to build up our vinyl collection," he says.
Books and records aren't the only thing Che collects – dotted around the walls and propped up in what Olivia calls the "skateboard room" are hand-painted and screen-printed skateboard decks.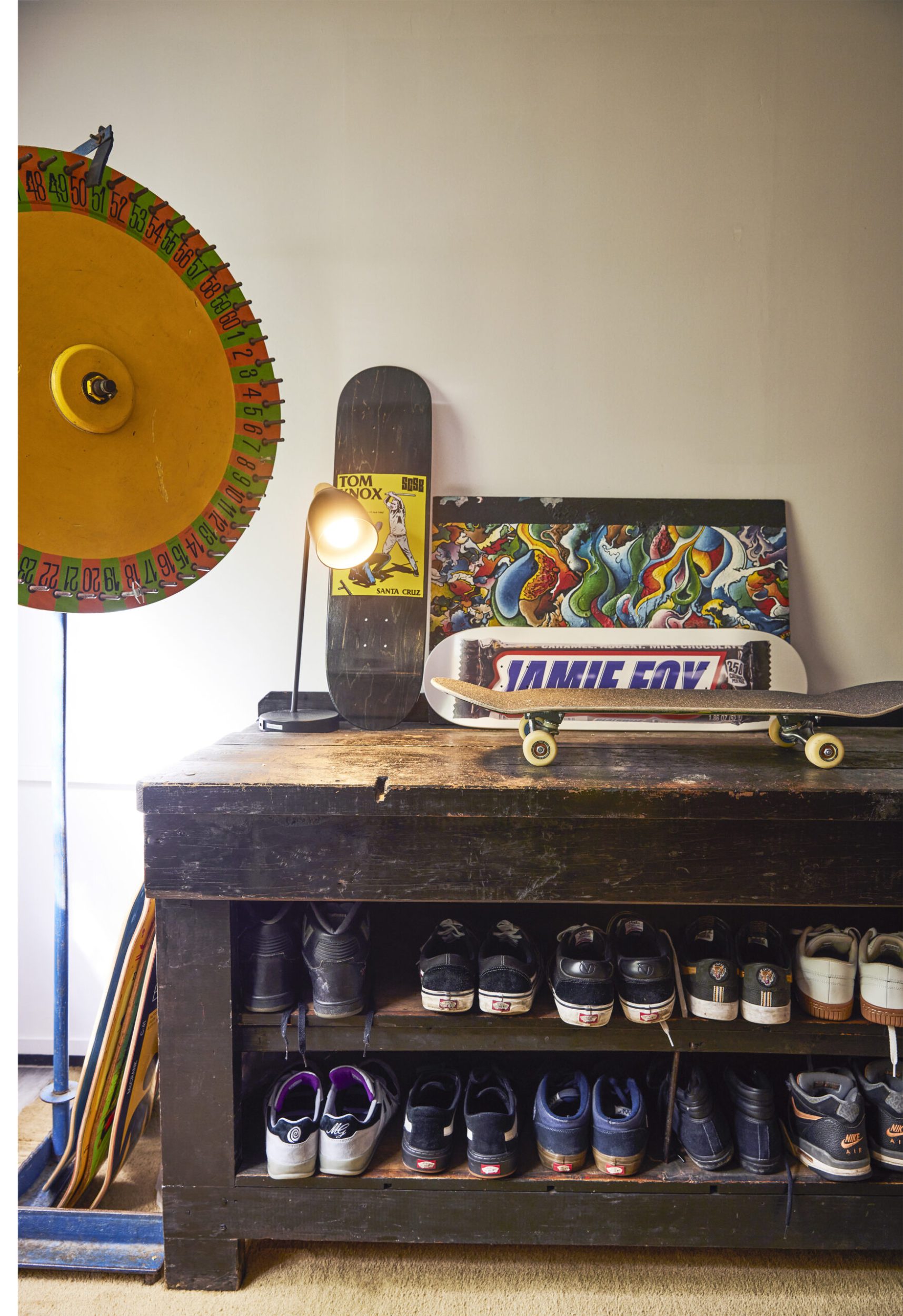 A keen skateboarder, Che estimates he has around 50 of them, sourced mainly from the United States. "It's an expensive habit!"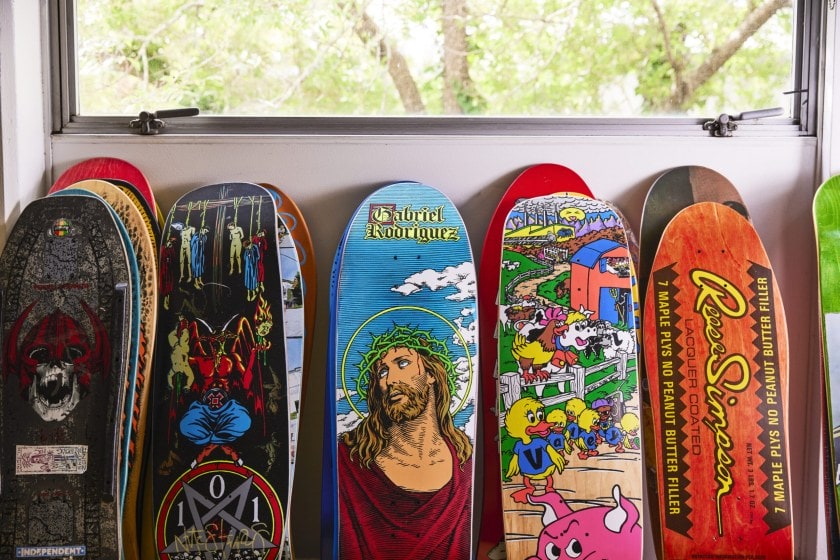 The couple have created wall art by stretching textured Mokum fabric offcuts over canvas. "It's simple but really effective," says Olivia.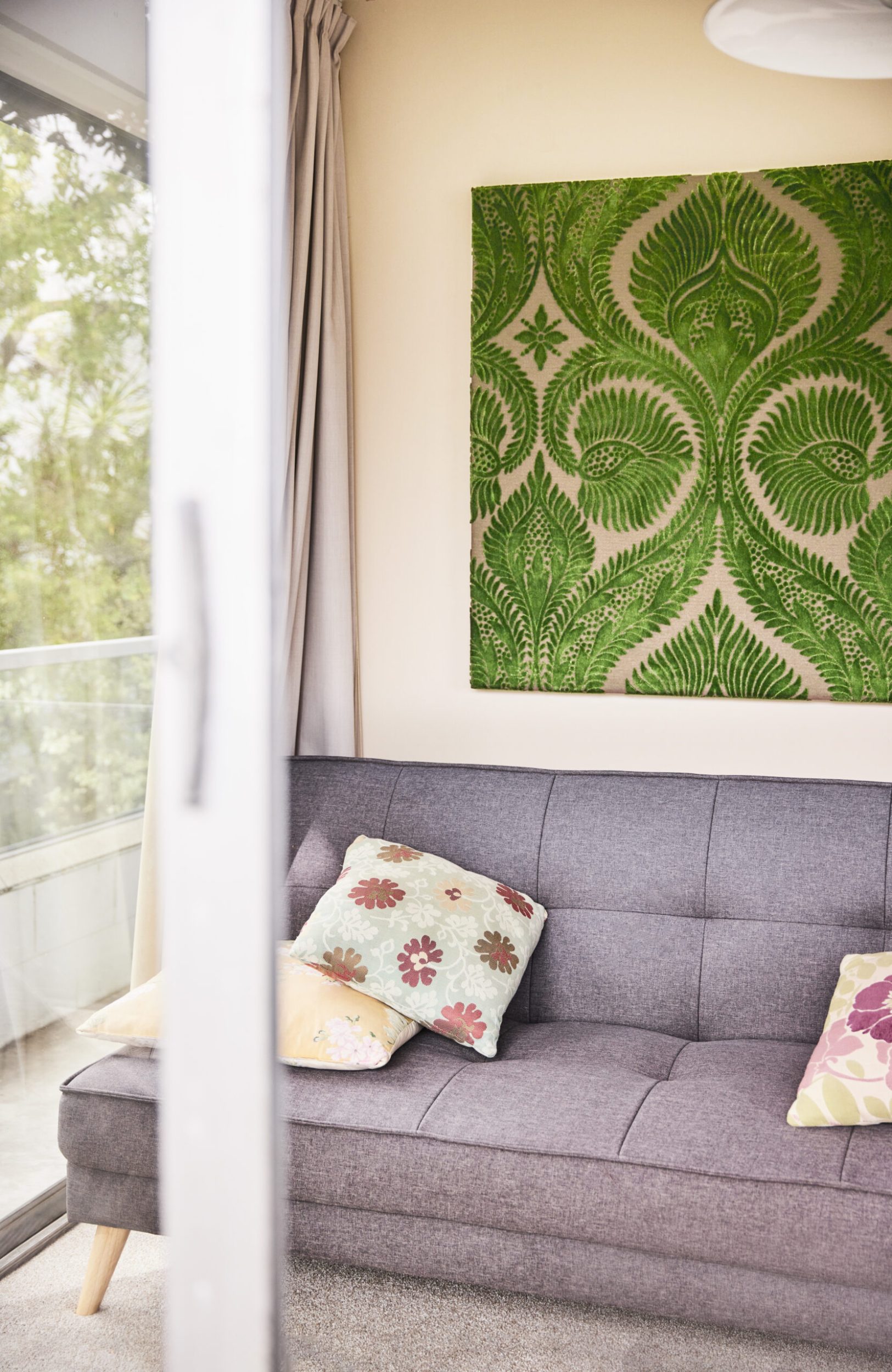 Owning restaurants is all Che has ever wanted to do. Born in Nelson, he grew up with parents who knew and loved good food. "I'd go to school with all these exotic lunches, but back then all I really wanted was peanut butter sandwiches!" But it instilled in him a love of food. As well as working his way around some of New Zealand's best eateries – including Cibo in Parnell – he spent almost three years in London, working for Peter Gordon at the acclaimed Sugar Club.
Although the couple enjoy living in the apartment, they plan to buy a house at some stage. "Maybe if I stop opening restaurants we might be able to," Che jokes.
Swipe the style