A couple on a mission have transformed a church and Sunday school near Palmerston North into a heavenly home and retreat.
Drive north-earth from Palmerston North, swerve around the odd stray sheep and, 50 minutes after leaving the Manawatū's largest city, you'll reach Āpiti.
Tucked under the shadow of the Ruahine Range and settled in the 1880s, this small rural community boasts a population of just over 200. There's a pub, a school and a museum.
At one stage, Āpiti was also home to five churches. One of those – a former Presbyterian church and its adjacent Sunday schoolhouse – is now a quirky Airbnb and events space.
It's all thanks to Jemma and Alex Robertson, who bought the historic property in 2018. The couple had not long returned from an OE in New York, where Jemma, a journalist-turned-communications consultant, and Alex, a videographer, had spent 14 months.
Like most returning Kiwis, they were keen to buy their first home, but the property market wouldn't play ball. "We moved to Palmerston North, where Alex's parents live, and made offer after offer on houses we kept missing out on," recalls Jemma. They almost shelved their plans but then a friend of a friend mentioned the abandoned church. Alex's whānau has deep connections to the area, so they drove there for a look.
"We could barely see the buildings because the garden was completely overgrown," says Alex. "But there was something about the sense of history and the tranquillity of the place. We knew we could give it another life."
They bought the property for less than $200,000 and set about turning the 127sqm schoolhouse into a two-bedroom home. "The schoolhouse is much larger than the church, so that became our home, and we turned the church into a space for functions such as yoga workshops and musical performances."
They called in professionals to rewire the schoolhouse and then, although neither of them had ever done any renovating, they rolled up their sleeves and gave it a go, spending every weekend and evening ripping up dated carpet and painting the walls a neutral colour.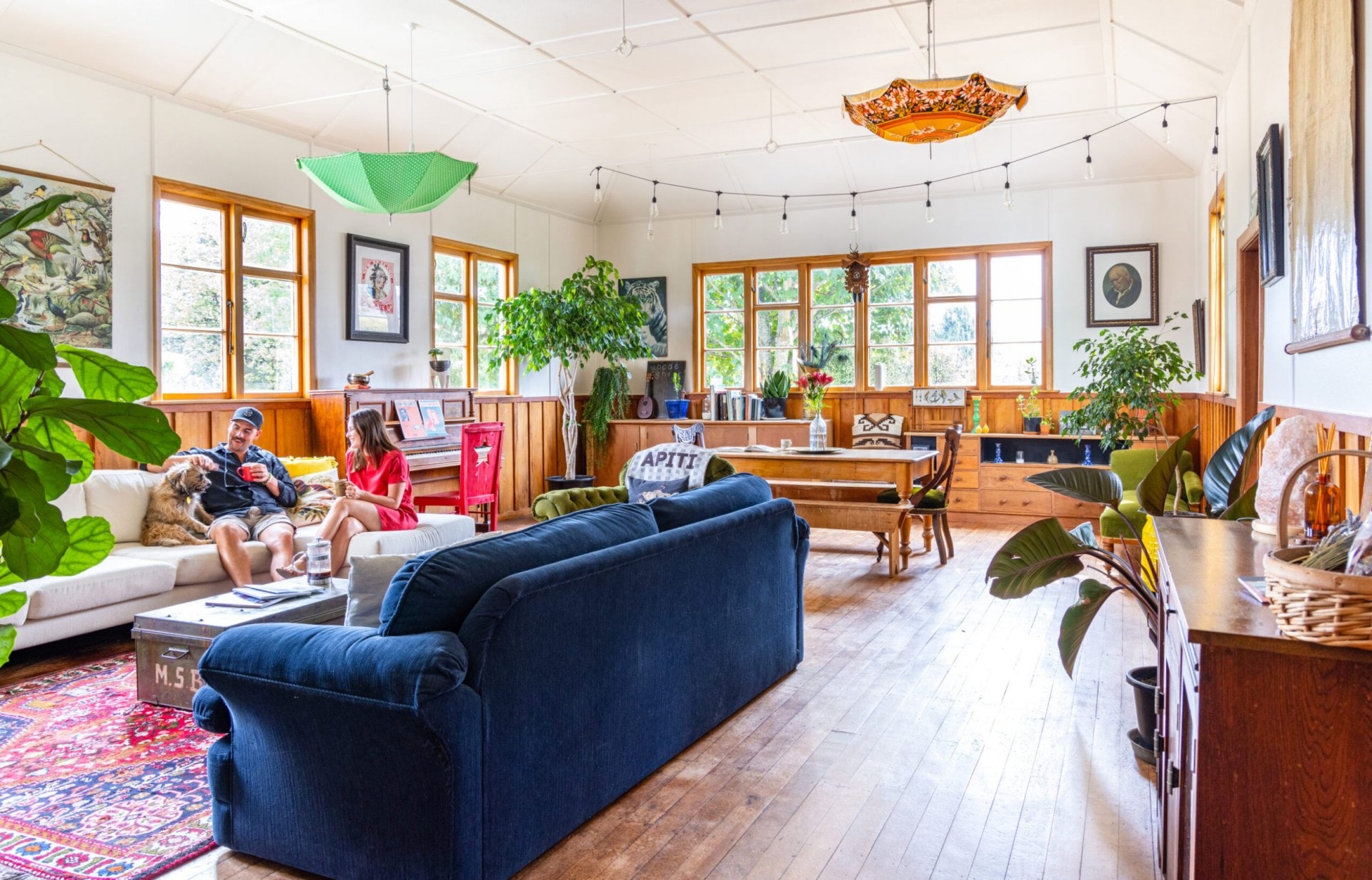 Most of their furniture has either been donated by generous family and friends or picked up during frequent raids of second-hand stores.
"Not only did we not have the budget to buy new furniture, but it also wouldn't have suited the character of the school, which was built in the 1940s," says Jemma. (The church was built in 1920.)
Their many fortuitous finds include a dining suite that came from Alex's parents, and sofas from his sister. A stylish wooden cabinet that anchors one wall of the dining space was found in a second-hand store.
The kitchen island, which came complete with cheesy black-panther prints, served as the bar for the couple's 2018 farm wedding.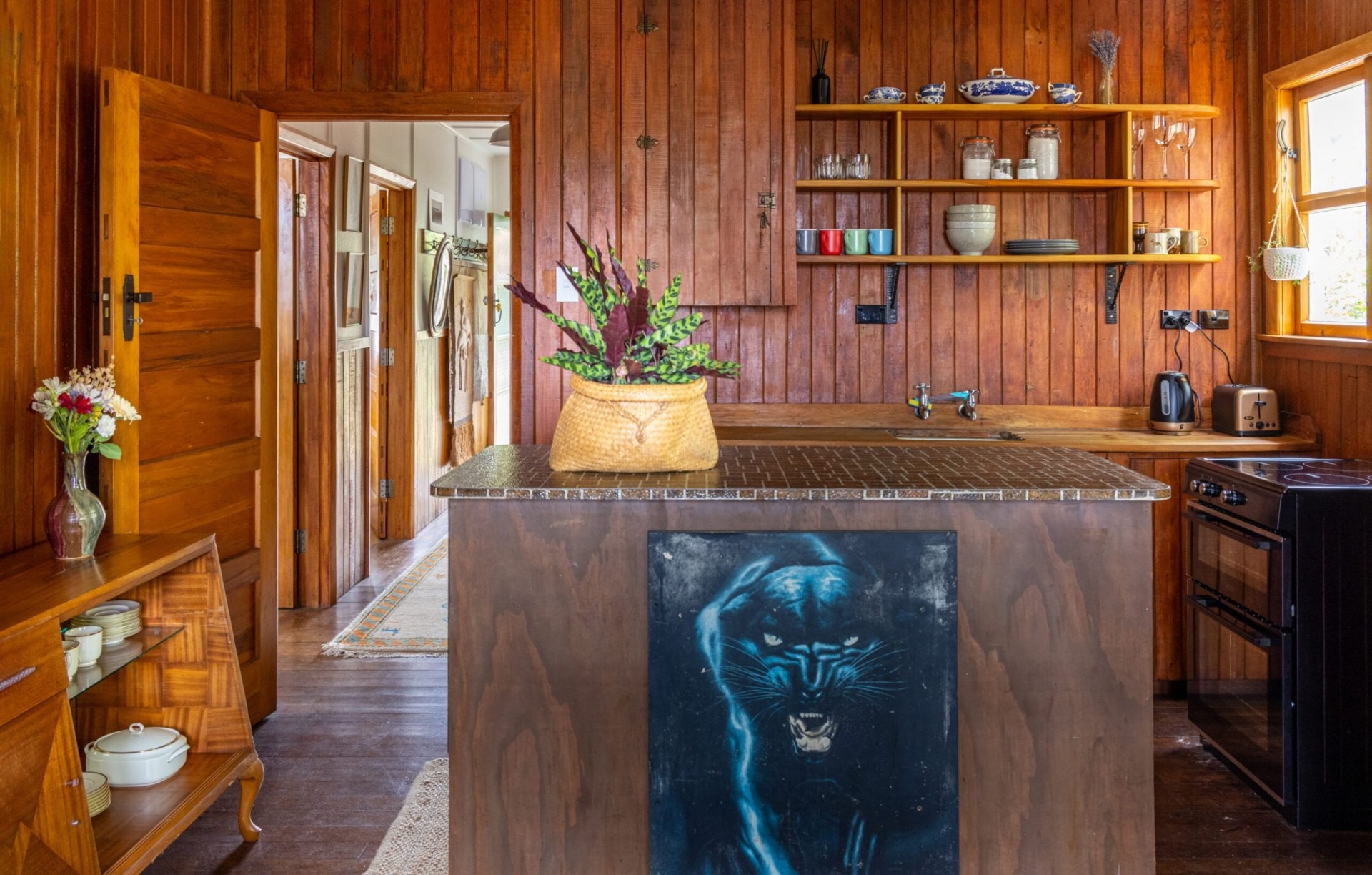 They scraped back years of grime and varnish from the kitchen bench before oiling it and adding wooden shelves to store crockery.
Then it was time to fill the large walls with a mix of old and new art, including a piece by Kiwi artist Lester Hall, which hangs over a piano that came with the property, as well as colourful prints found at second-hand stores.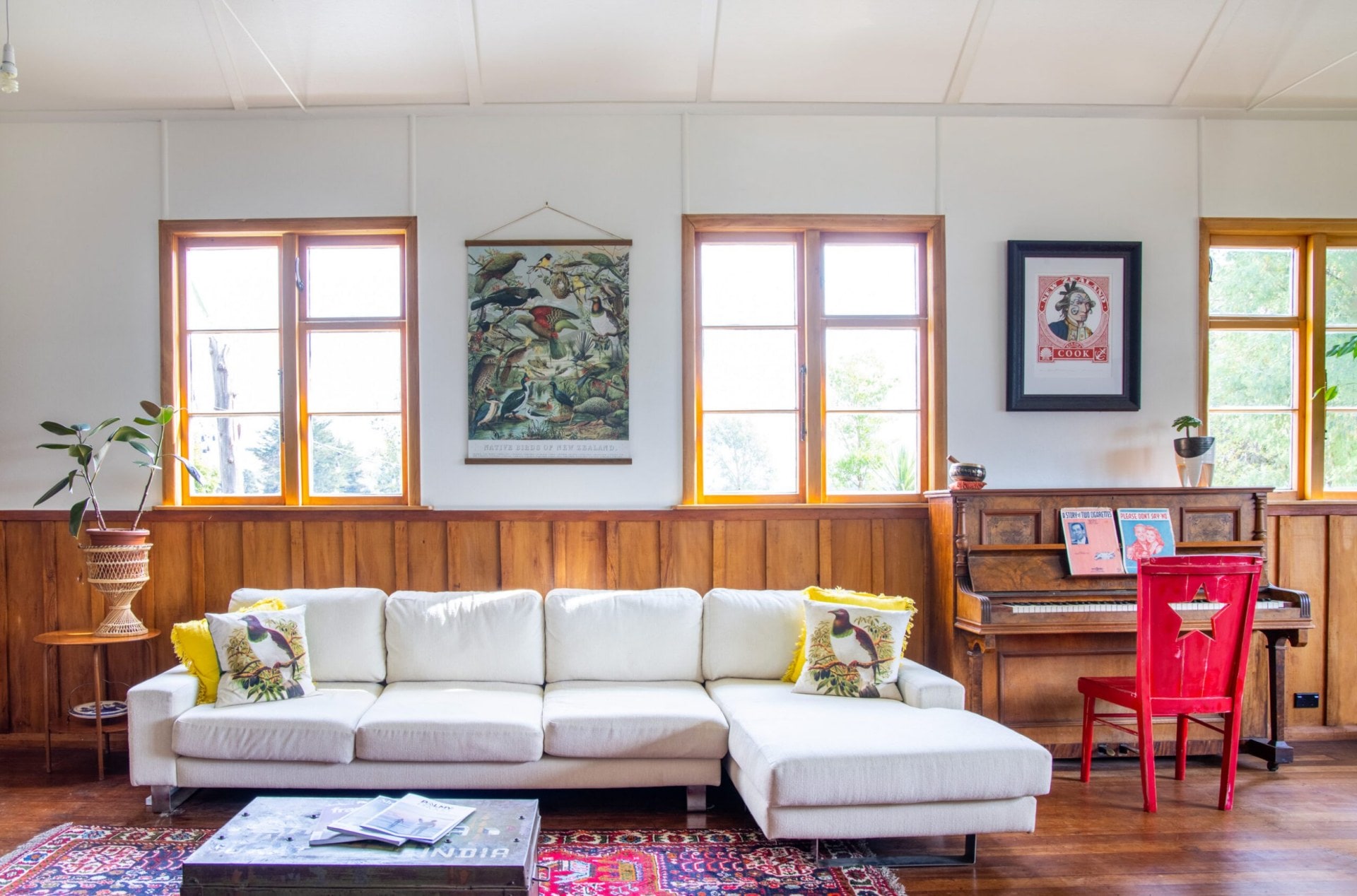 Jemma and Alex ended up living in the Sunday school for a year or so before they again got itchy feet. "The plan was to do another OE to Europe, so we put the place on Airbnb to test the waters."
It worked well, with mainly Wellingtonians wanting to stay somewhere fun and character-filled. Until Covid hit, that was. The pandemic shelved their travel plans and forced them to stay put in the schoolhouse.
But last year the couple spied another character house – a fully renovated former post office, just a 10-minute drive away in Kimbolton. "We couldn't resist it, because we love old buildings," says Jemma. "Plus, it was sightly closer to both our jobs in Palmerston North, which meant a reduced commute."
So they bought the old post office and set up the schoolhouse as full-time guest accommodation. They're currently booked out every weekend with guests who love the sense of history and the many stories behind the site.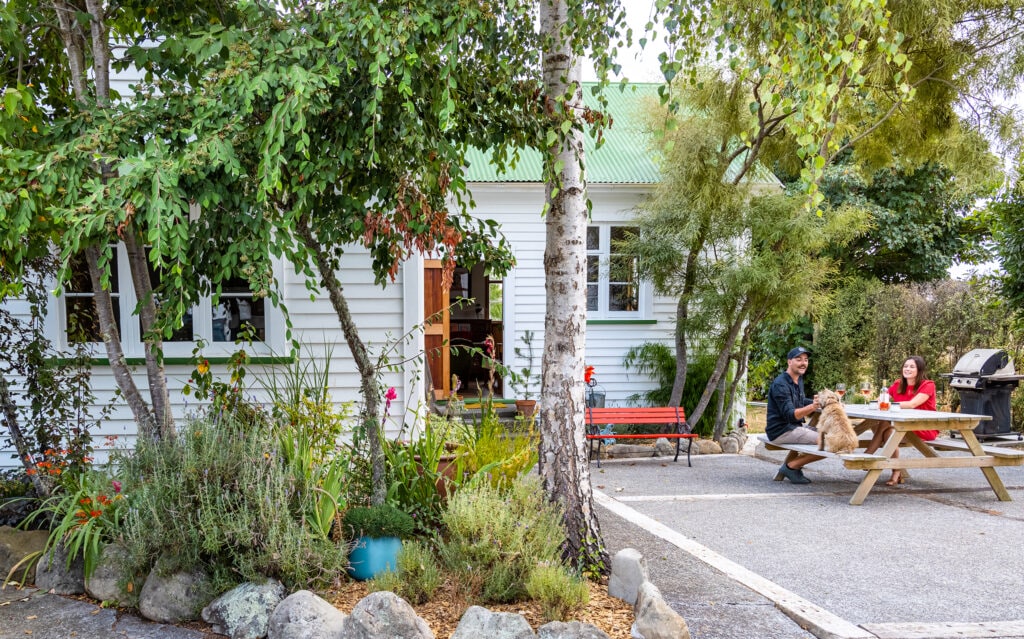 "Our elderly neighbour, for example, was married in the church," says Alex. "She was a seamstress and sewed the blinds for our two bedrooms."
They installed an outdoor bath on a raised platform, which is the perfect spot at sunset, especially when combined with a glass of something cold.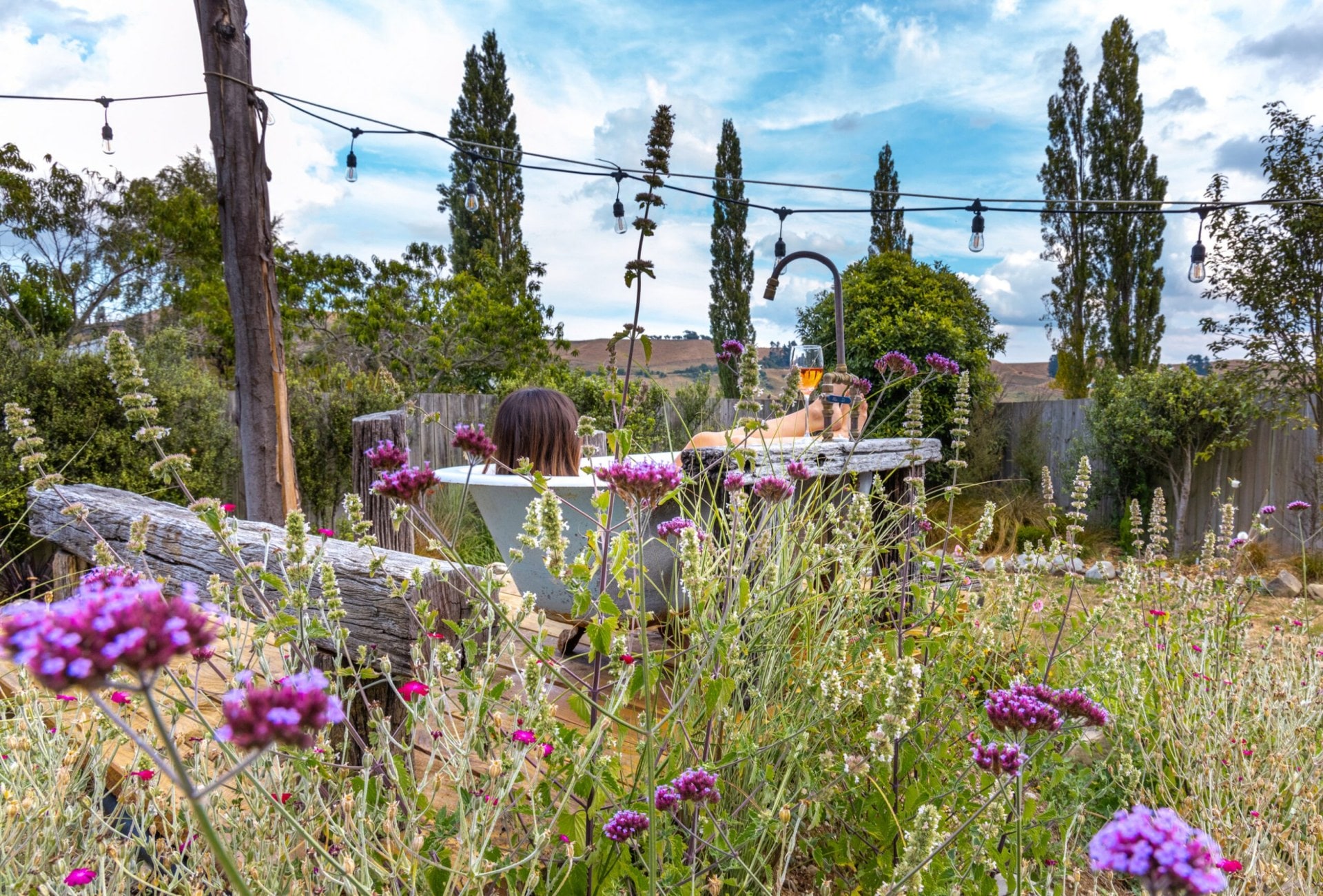 And they took on the mammoth task of taming the wildly overgrown garden. They pulled out truckloads of weeds, trimmed trees and laid paths using old railway sleepers. They also uncovered the original well, which supplies the house with what they jokingly refer to as "holy water".
Once the schoolhouse was completed they started on the 66sqm church. They aimed to keep it as original as possible, so the work mainly entailed painting the walls navy and white, a combination that fits well with the pews and original carpet.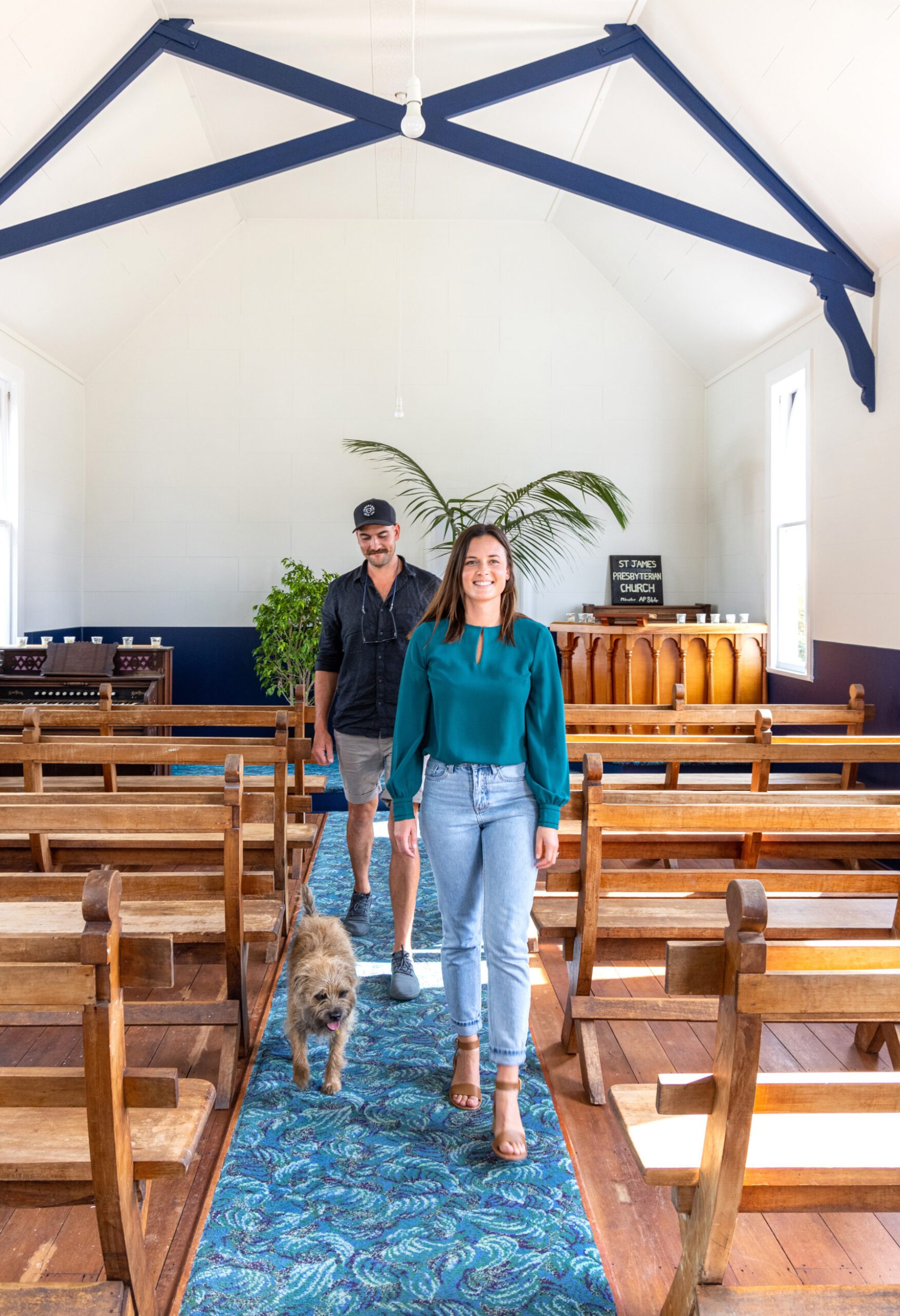 Two 1920s organs – one from New York and one from Chicago – also came with the church. They don't work but Alex is hoping to remedy that.
A small room at the back of the church is currently used as a storeroom and workshop but the couple have had pipes laid so, if they decide to turn the church into accommodation, they can make that room a bathroom. For now, though, this enterprising couple are glad that others can share their vision and hard work. "When you've worked really hard on a renovation you want to share the results with others," says Jemma.
Alex also wanted to introduce others to this special place. "I really care about this land, and what we've done to be able to share that with others is pretty special."