Finding inspiration in everyday objects, Judy Darragh creates works of art that explore the connection between people and plastic. Dionne Christian discovers the many meanings behind the artist's latest exhibition.
The rug doesn't look crude when you first see its combination of vintage and new sheepskin and possum fur stitched together with red tendrils exuding from a central tear.
But when artist Judy Darragh uses expressions like "labial" to describe it, you start to see why some people might not want it on their floor.
So be it, declares Judy, because the rug is part of what is meant to be a "disruptive" art exhibition where viewers are provoked to think about everything from bodies – how we present them and how we use them – to whether our opinions about plastic are influenced by class.
"A lot of what I do is… I am not very polite in the art world."
Not that Judy, who's been making art for 45 years, has ever wanted to be polite. Spend a couple of hours in her Auckland studio – behind the Western Springs home she and partner Grant Major, an Academy Award-winning production designer, share with their son Buster, 24 – and the conversation ranges from second-hand shops in Ponsonby to arts education and government policy, with gender and class politics in between.
Judy is forthright, funny, feminist and extremely adept at bringing together disparate objects – often found in op shops, discount and bargain stores, industrial suppliers and even on the roadside – so they enter into a kind of conversation with each other, as well as with those who are looking at them.
Now in her early sixties, Judy's been preparing for one of the biggest exhibitions of her work in recent years. Called Competitive Plastics, it's named after a Christchurch factory Judy saw for lease when she visited her hometown recently. She liked the sound of the name and what it conjured up – abundant amounts of plastic goods competing with one another for the attention of consumers who know plastic is an environmental hazard but still buy it anyway.
The exhibition includes an artwork called Choir, in which Judy has grouped together unremarkable but functional plastic objects – dishes, lemon squeezers, buttons, pastry cutters, brushes and ping pong balls – stacked them and affixed them to plain pieces of wood.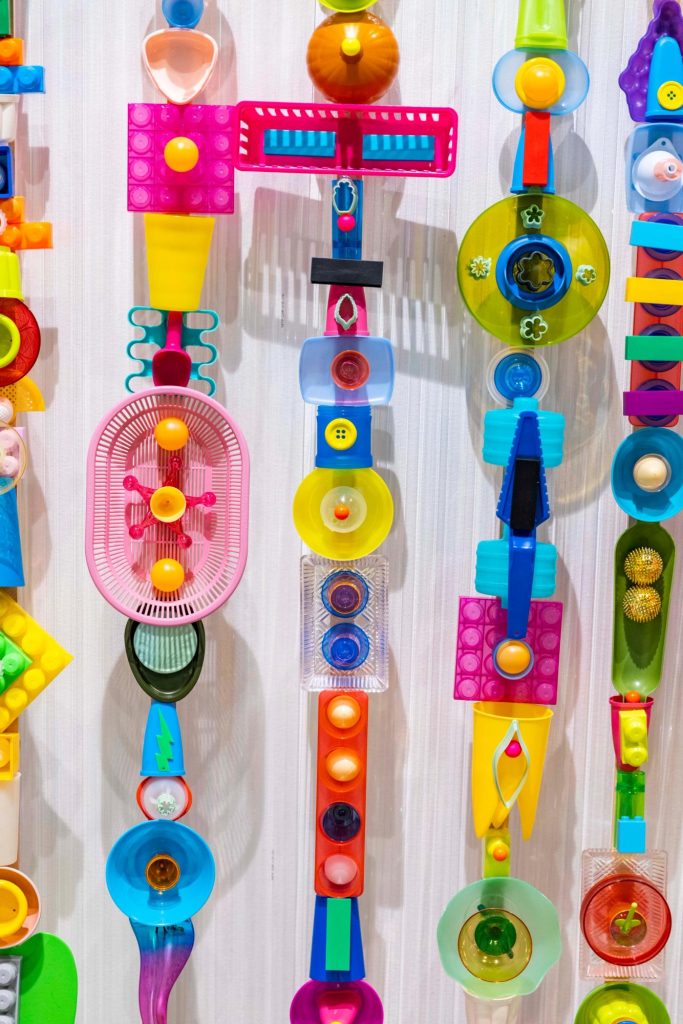 Then there's Lunge, where fishnet tights are stuffed with plastic balls and tacked to the wall which, says Judy, plays with ideas about bodies and fetishising everyday objects.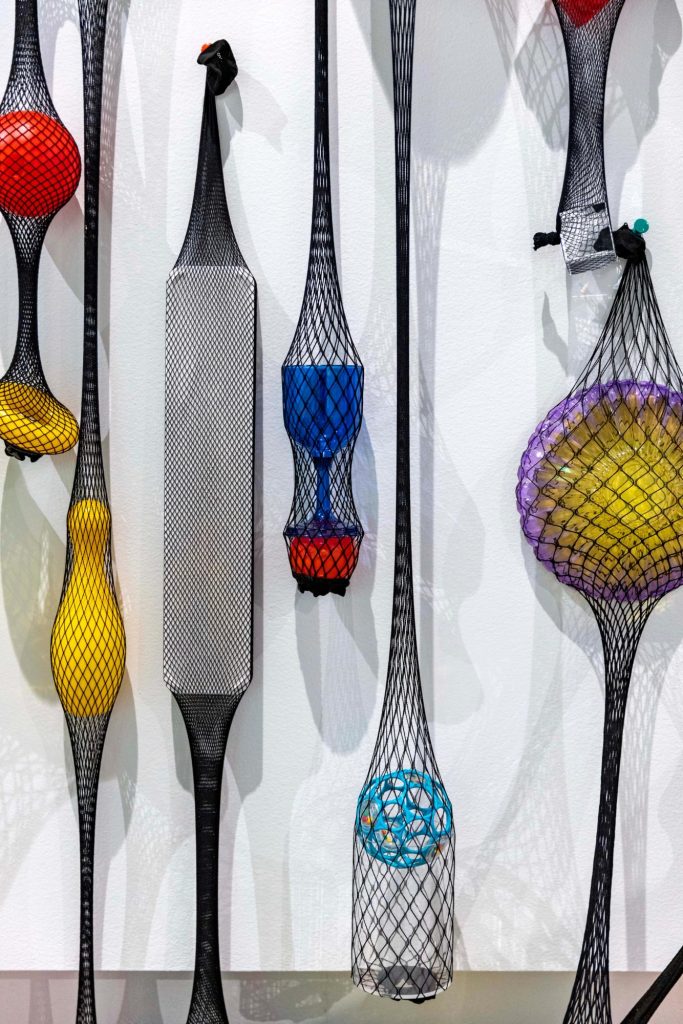 Electrical extension cords covered with coloured gaffer tape will hang from the lighting rig of Ponsonby's Objectspace gallery, while thin, neon-green reeds will protrude from the walls as a nod to the Megazone Laser Tag arena next door.
Hands and legs of shop mannequins are draped with diaphanous fabric in an artwork called Capital, which considers the sorts of aspirations we're raised to have in a world where money talks. In a strange way, they complement the shoes – all sky-high heels attached together, so the feet that might be wearing them would be akimbo and unstable.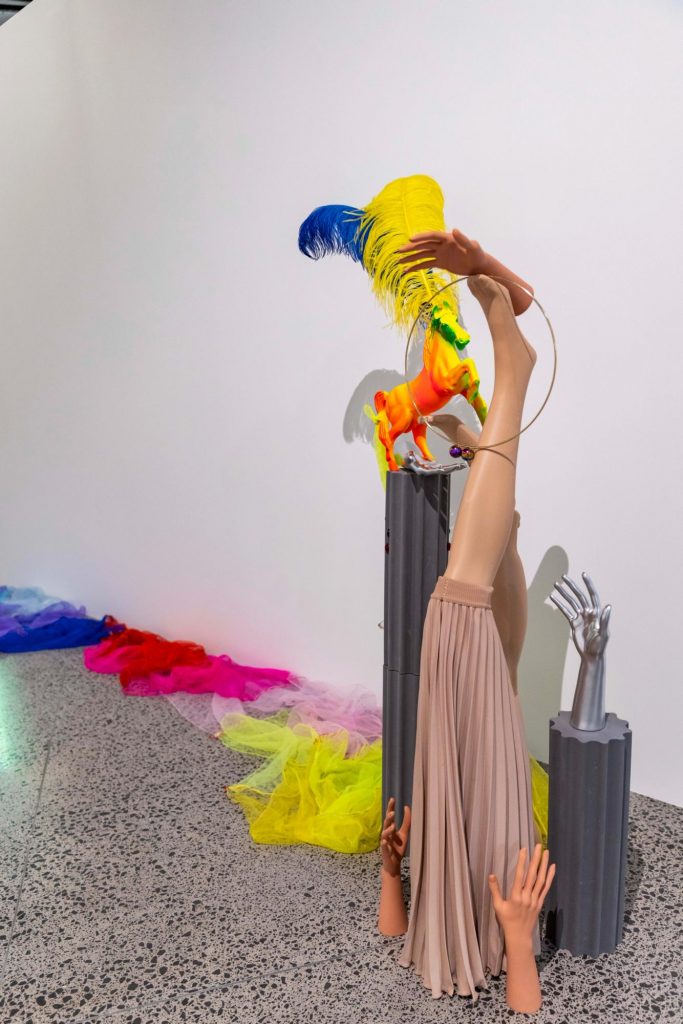 Judy was once dubbed "the queen of kitsch", but it is far too simplistic to sum up her work like that. The interests behind the art traverse a gamut from consumerism to what shapes our brains and bodies involving, along the way and among other things, work by French philosophers (Catherine Malabou and Gilles Deleuze), to questioning whether the same forces that drive addictions may also fuel the desire to craft and create.
Despite having always found making art – the physical act of crafting – a positive and productive outlet, Judy says she couldn't make a thing when Covid and its subsequent lockdowns hit.
"I was anxious and I didn't know what was going to happen," she recalls. "It was like the end of the world, I couldn't concentrate. But I know a lot of people who loved it, absolutely loved it."
So, Competitive Plastics focuses on analogue making and what we gain from physical dexterity, repetitive actions, transforming materials and seeing – sometimes through trial and error – the results of our labour. Judy is concerned that the reduction of arts programmes in schools may deny young people opportunities to truly discover this, so she's an advocate of including arts in STEM subjects – science, technology, engineering and mathematics – and renaming it STEAM.
"It's like getting all this feel-good stuff in you, and the joy of having made something yourself," she says. "To be creative, that's what sets us all apart."
Because much of her art is made from cheap, mass-produced plastic, conversations about the environment cannot be avoided. But, like many things, there are no straightforward answers.
"In the 1980s, I used to see a lot of artists spending a lot of money of their work, and it sort of terrified me. I used to think, 'How can you mortgage your house to make a giant bronze sculpture?' It felt too precarious and I had to find ways to make work that wasn't going to bankrupt the family," Judy says. "Plastic was cheap and readily available, so it started because I was really concerned about not 'over-investing' in the art I made. But the environmental issues do go through my head. There's so much plastic out there and it's not going away – in fact, there's probably more coming.
Plastic was cheap and readily available, so it started because I was really concerned about not 'over-investing' in the art I made. But the environmental issues do go through my head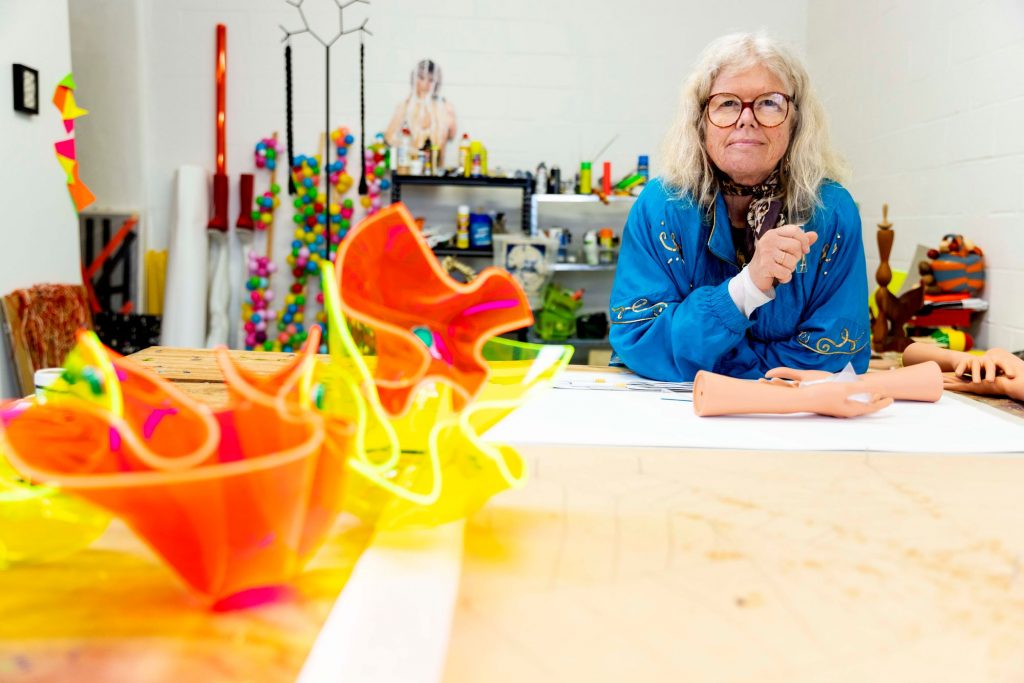 "There are also ideas about class around plastics. It can be the thing that keeps people in certain parts of the world; for example, when women use plastic buckets to carry water across long distances. Monobloc plastic chairs that you see all over Europe are the most appropriate piece of furniture for that part of the world because of their durability, portability and functionality. They're a really good piece of design but, unfortunately, made of this really toxic material…
"I think the tipping point was when we started making plastic 'do-dallies' with no functional use. With that, we're in a whole new world… It's about need, what do we need? You have to ask, 'Do I really need that lacy plastic bowl over there?'"
As well as a focus on the overuse of plastic, Judy's art is also a nod to the "plasticity" of our own brains and how learning doesn't stop. "Things are connecting, new pathways, things reconnecting. I like that visual idea of connecting, making new things and connecting and making new connections."
Connection is an important theme, partly because Judy's former pupil from Westlake Girls High School, Heather Galbraith, curates the exhibition. For Judy, it keeps alive a line of continuity that extends back to her own high school days, where she was taught by visionary female artists like Rhondda Bosworth and Sylvia Giddens. She recalls being fascinated by their sense of style, refusal to follow trends and bucking of conventional roles. "I thought, 'These are my people, I want to identify with these women', and it was the beginning of feminism for me."
Around the dining room table at home, she heard her mother, Grace, who worked in a lingerie factory, and father, Jack, a freezing worker, having "extraordinary conversations" about workers' rights and politics.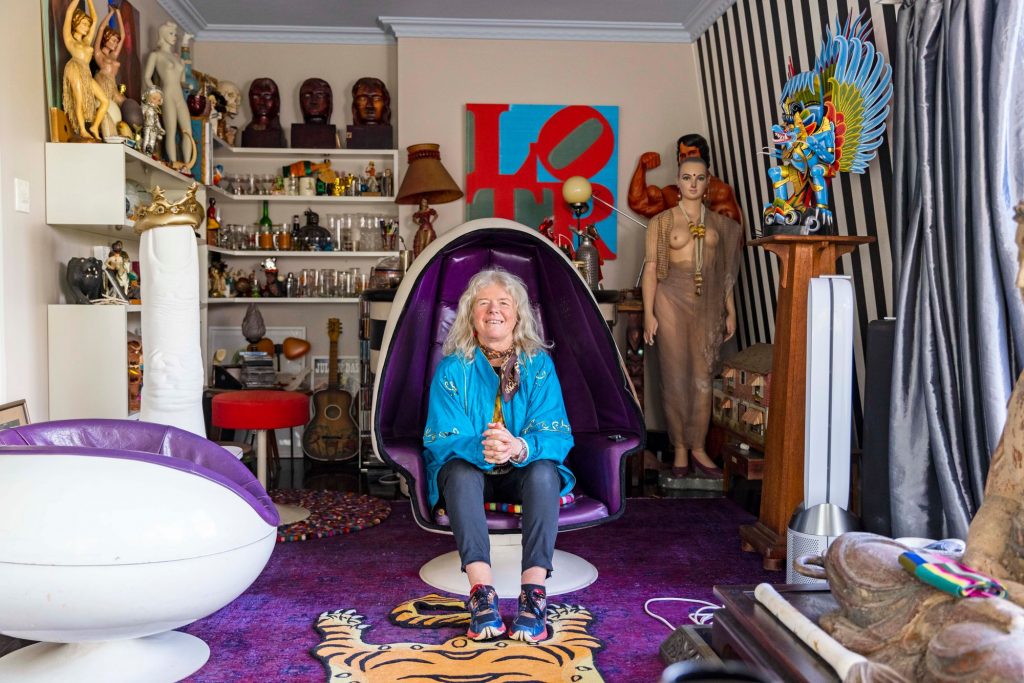 Judy's teachers introduced her to a world where the stuff of life could be given new meanings. She says Object (Le Déjeuner en Fourrure) – a fur-covered teacup, saucer and spoon created by German-Swiss artist Meret Oppenheim – was the artwork which opened a world of possibilities to her.
But Judy says she wasn't rebellious. People often commented on how quiet she was like it was a negative thing, when she was, in fact, sitting and observing, taking it all in and thinking hard about the world around her and her place in it.
Wearing clothes bought in op shops, Judy would catch the bus into central Christchurch on Friday evenings for the Mollett Street Market which, she says, was the place where people who dressed "funny" went and it left her feeling as if she had "found my people".
She decided to leave Christchurch, though, when walking across Cathedral Square to get a bus home, a woman made a derogatory comment to her son about Judy's black Charlie Brown shoes, on which she had spray-painted silver stars. "I just knew I had to leave," she says. "It was too conservative, too flat."
She followed older sister Barbara, an award-winning costume designer, to Wellington to study graphic design, but the idea of following that career pathway into an advertising agency left Judy cold. Instead, she moved to Auckland, trained as an art teacher and, like so many artists, got creative after hours. She was one of the eight founders of artist-run gallery Teststrip, which gave them a place to show their own work – art that wasn't, at least back then, appreciated by dealer galleries or institutions.
"We just gleefully became punks," says Judy. "We were looking around and couldn't see any opportunities for where we could operate in the space, so we just went off and did it. None of what we were doing had been folded into the art world at that time, so it grew out of a frustration."
Judy is still actively involved in artist-run organisations. In 2017, she joined forces with emerging artist Imogen Taylor to co-edit the journal Femisphere which, now four issues old, aims to increase the visibility of women in New Zealand's art scene.
"I was thinking, 'Gosh, so I'm in my fifties and Imogen's in her thirties, and the intergenerational conversation is still the same. But I think we do have to keep having those conversations to see how far we've come – or haven't come – or the gains that have been made.
"I know we're making some gains, but we have to keep talking about them. If we don't, we will slip back. I'm worried about that, post-Covid. We're seeing a lot of women disadvantaged and losing part-time jobs, the whole lockdown situation and what it meant, especially for women, to be working from home."
She has most recently joined Art Makers Aotearoa, which advocates for the arts through community and grassroots platforms. While appreciative of the government's wage subsidy and extra investment in the arts, Judy remains concerned that funding isn't targeted enough and that artists themselves aren't getting enough direct input into decision-making. Having a Prime Minister's Chief Arts Advisor, similar to the Chief Science Advisor, would be great, she says.
"There's a lot of boards and people making decisions, but rarely are practitioners asked, 'What do you want? What do you need?' I think if you're in a space with resources and room, then you open it up and let more people come in. You throw out your curatorial programme and let people come in and access that space. What we want is a bit of a voice in the decision-making."
Competitive Plastics is at Objectspace Gallery in Ponsonby, Auckland from June 19 to September 5, and will see artists Ani O'Neill and Layla Rudneva-Mackay working with Judy on a series of workshops. The exhibition is presented in partnership with the Centre of Contemporary Art Toi Moroki in Ōtautahi Christchurch.