Artist Alice Berry lives and creates by the theory that art doesn't need to be perfect to be interesting and beautiful. Take a tour through her home and studio.
"I just feel like the world would be a pretty boring place without art," says Alice Berry.
The Tauranga-born creative has made art since she can remember, enrolling in after-school classes from a young age. One of her teachers was popular contemporary artist Hayley Brown, who became an unofficial mentor. Yet Alice never did art at school, and set her sights on being a town planner instead.
However, a year at the University of Otago taught her that she did not want to pursue town planning. She switched to design school at Otago Polytechnic, then after graduating she worked full time as a graphic designer in Auckland. She kept up her more creative work through a side business, illustrating greeting cards and other small delights, sold online and through stores like Iko Iko.
Her early designs were colourful and quirky, often featuring a sassy llama. But things were bleaker behind the scenes. Alice experienced an emotional breakdown in 2016, and she started painting again to heal.
Abstract expressionism helped her live in the moment and express herself through colour and texture. "I was in a pretty dark place, and along with other help, it helped me just get out of those cycles of thoughts," she says. "I found it really therapeutic."
Alice went freelance, and found that working from home gave her the space to focus on her art more seriously, fitting it around commercial projects. The art is now a form of mindfulness that helps her "keep steady".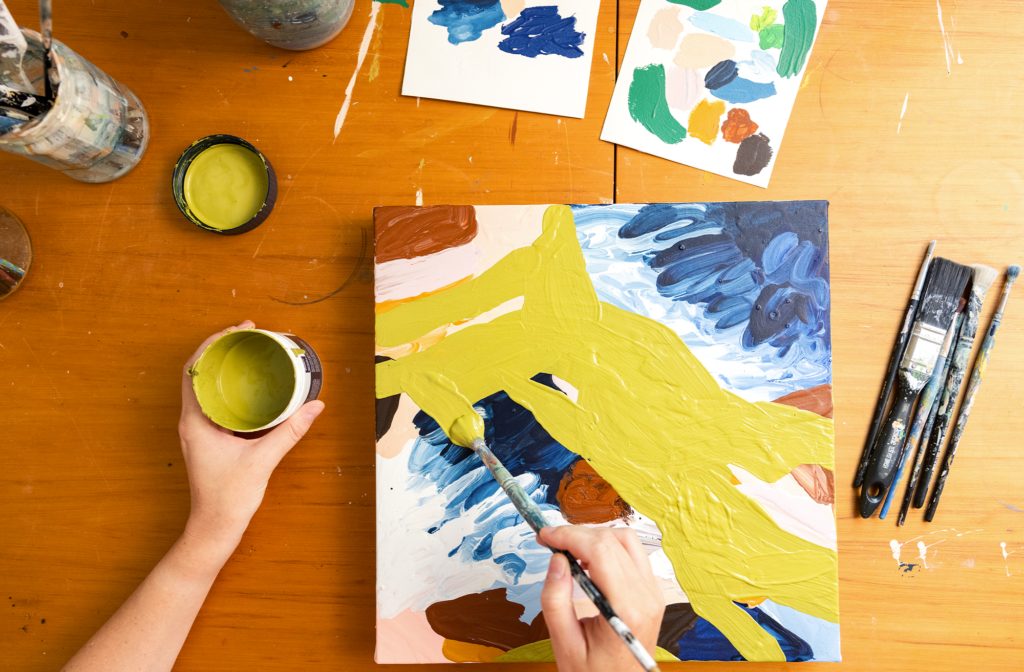 Her first exhibition, 2017's Wonderland, traced her journey through anxiety, as if she were Alice in Wonderland finding the beauty on the other side. In 2019 the exhibition A Midsummer Night's Dream was a reflection on a wonderful trip to Samoa, full of vibrancy and warmth. "What inspires me is experiences," she says.
Meanwhile, Alice's commercial projects have included rebranding work for the Child Cancer Foundation, designing the look and feel of the prestigious Deloitte Top 200 business awards and working on a campaign for the 2017 British and Irish Lions tour to New Zealand.
With the past year's challenging circumstances, Alice has focused even more on her painting. "The creative sector really suffered from Covid and the lockdowns, in terms of the commercial side," she says, then adds, optimistically, "but it's been really great for creating!"
Her current Uncut Gems series showcases the charm in rough crystals before they're made into polished jewels. "You can just see so much going on in one of the stones," she says. "You don't need to be perfect to be interesting and beautiful."
When starting a new artwork, Alice doesn't plan it out but she often has an idea in mind. For Uncut Gems, she says that the first couple of layers on the canvas can look messy – "but I kind of love that because it just gets you really loose and free and mixing colours that you don't usually mix". The next stage is more considered when the top layer of texture is added so that "little sections of deliciousness" can be carved out. "It eventually comes together nicely into a finalised artwork."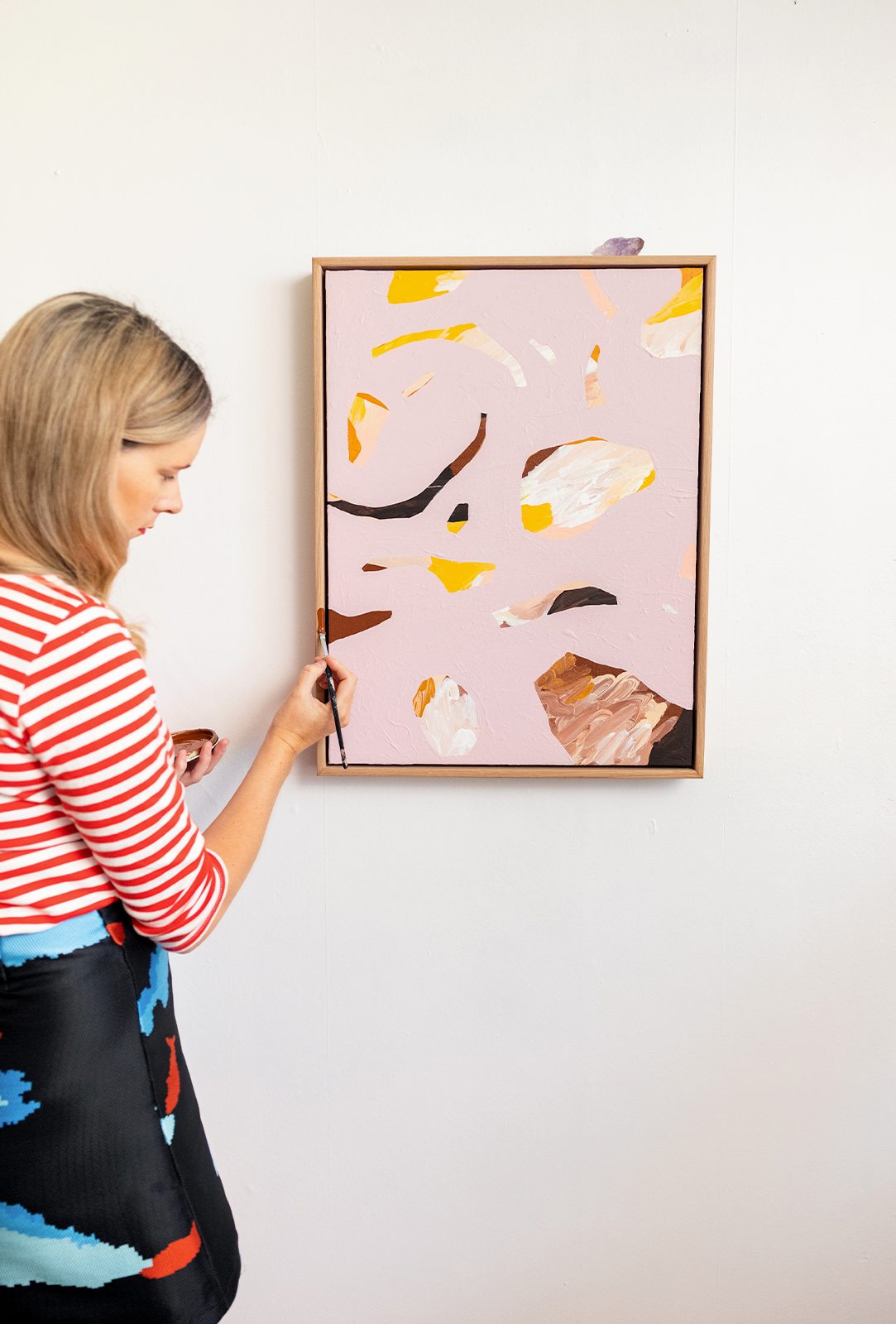 Other than for commissions, Alice simply paints what she feels like and hopes the right person will fall in love with it. For the latest series, she has been drawn to a dusty, peachy pink (Resene Wax Flower) as well as a bright olive green (Dulux Clive) and light lilac (Resene Gelato). "I just love colour," she says. "I think it brings a lot of joy."
Alice recently started creating ceramics at Studio One Toi Tū in Ponsonby. She's been making colourful pretzels, snakes and playful vases. "I love ceramics because you're using your hands so much," she says. "It's very tactile."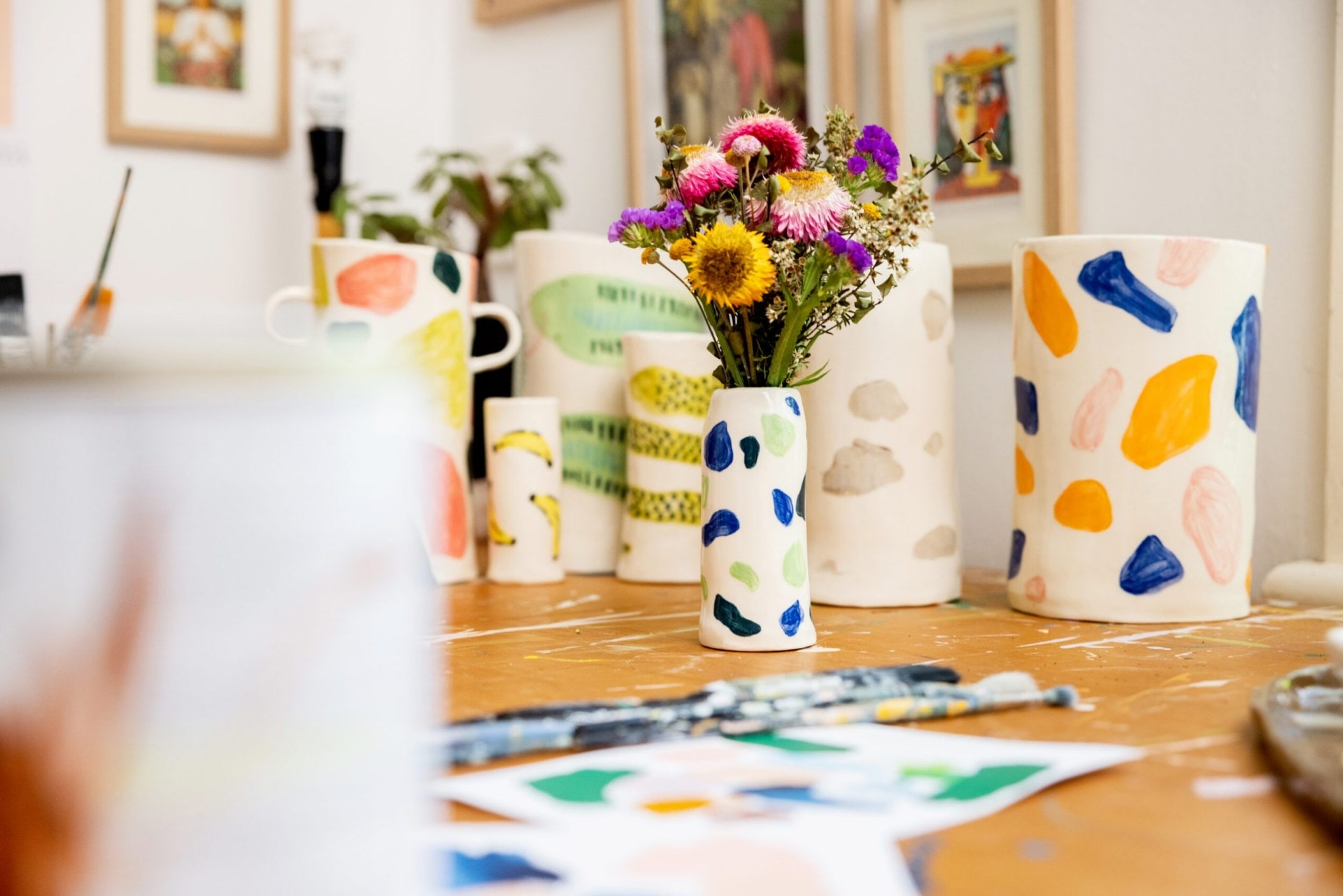 The multidisciplinary mix of graphic design, painting and ceramics is a motivating force in itself for Alice. "I need that variety, and working a full-time job just does not work for me."
Alice's studio is at her home in Mt Eden – a rented villa that she shares with three others and her six-year-old cat, Larry, whom she adopted from the SPCA last year. They're on the main road but large trees provide privacy and native birdsong. Auckland's highest volcano, Maungawhau, is just over the road for when Alice needs a work break.
Life imitates art in her studio, which she recently redecorated to showcase her eclectic aesthetic. Alice is fascinated by the architecture of Morocco and southern Spain – including sun-soaked colours, curved archways and intricately patterned tiles and rugs. A few momentos have followed her back from her travels.
She has styled what she describes as "a collection of random things" with a Scandinavian sensibility.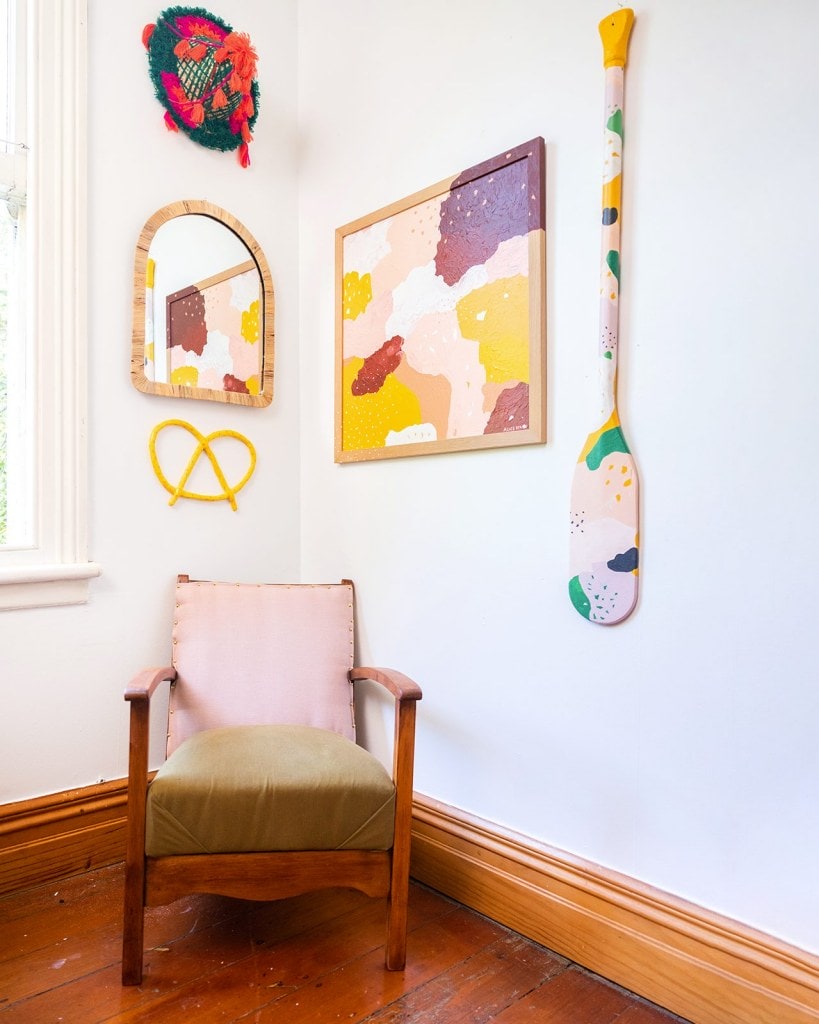 Simple, elegant and clean details, like the freshly painted Resene Alabaster walls, lighten up what would otherwise be a dark villa room with one sash window. "Now it's so bright and fresh. I'm so happy."
This year, she'll be taking each creative day as it comes. She's one of the artists to make the competitive shortlist for the Antarctica New Zealand Community Engagement Programme.
"If successful, I can't wait to experience the work the scientists are doing down there and translate it into creative outputs for the community to learn from," she says.
Alice sees abstract art as just one of many forms of self-expression, from music and dance to architecture and cuisine. "I think art is really important in the mix. It's another type of visual representation of how people experience the world," she says. "For me, it's just something I have to do."
Alice's work is sold through her website, aliceberrydesign.com, and at Endemic World.