An incredible acting career and more beautiful than ever at 60 – what's the secret of Julianne Moore's success? Laser-sharp focus and a wide-brimmed hat, she tells Gavanndra Hodge.
Back in December, in the middle of lockdown, Julianne Moore did not have the 60th birthday she might have imagined.
"It was just dinner with my family – it wasn't a blow-out or anything. I was thankful that we were able to be together."
She's gone through all the lockdown clichés in the past year: adopting a puppy (a Labrador cross called Hope), baking, trying to learn French ("I would download an app, then I wouldn't look at it"). Her 19-year-old daughter Liv was grounded at the family home too – "Poor kid, she missed graduation and everything."
There have also been the obligatory online yoga classes, and when we talk over Zoom, she's sitting on the floor of the designated yoga room in her New York home, wearing black leggings, a grey hooded sweatshirt and minimal make-up.
"I try to do yoga four to five times a week. It has honestly been the thing that has saved me this past year," she says.
She is friendly and gentle, showing genuine delight when my nine-year-old daughter barges into our meeting – "Who's this?!" And she has her own visitors in the form of Hope and her older dog, Milly. "They're good girls, but they don't like to be alone," she says, settling them on her yoga mat, where they loll for the rest of the interview.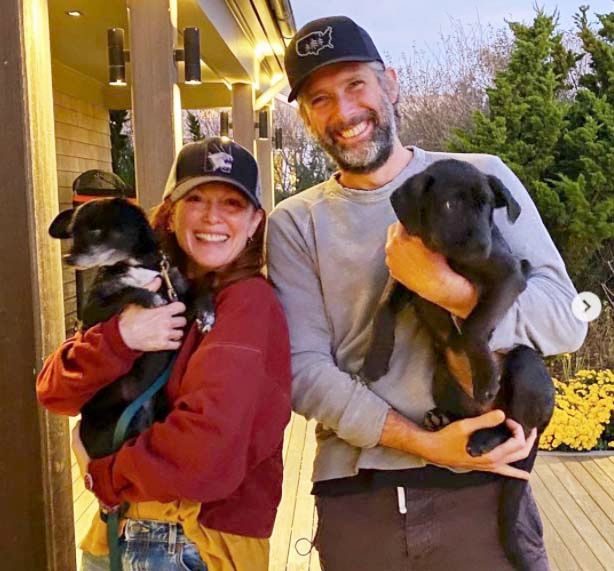 Julianne is also an extraordinarily accomplished actress, having made more than 70 films and winning an Oscar, three Golden Globes, a BAFTA and too many other awards to list. There have been blockbusters, indie films, comedies and heart-breaking period dramas, but rarely any duds. She has a fabulous career, a hot husband, great hair, homes in New York and Long Island.
What's her secret?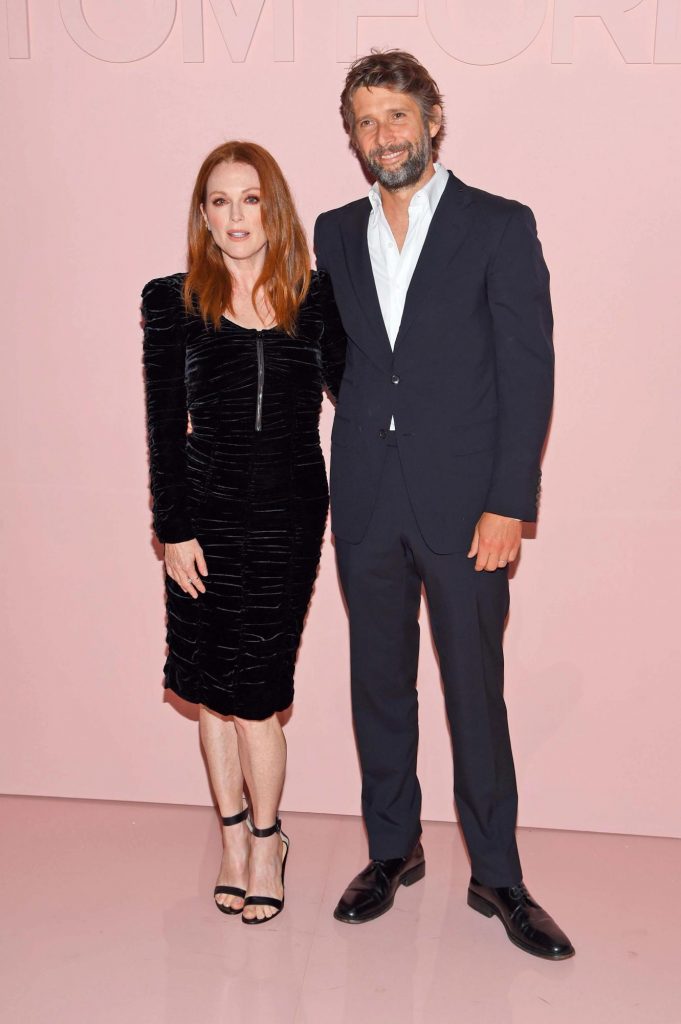 "I have been so lucky, I really have," she professes. "As a young person, I was hard-working, laser-focused. I was persistent and consistent, always prepared for an audition, always on time. And I was working really well," she continues. "But I did find my personal life wasn't successful, and it wasn't until I was in my early thirties that I decided, 'I want that too'. I wanted to have a family, to have children and to make sure I was with someone who wanted to have children too."
It wasn't until I was in my early thirties that I decided I want that too. I wanted to have a family.
Julianne has been married to the film director Bart Freundlic for 17 years – they met when he directed her in The Myth of Fingerprints – and as well as Liv, they also have a 23-year-old son, Caleb, who is in his final year at New York University.
Julianne made an active choice to provide her children with a more geographically stable upbringing than her own. Her mother was a psychologist and her father was a helicopter pilot, a paratrooper and latterly a military judge.
The family moved from military base to military base in America, ending up in Germany, and Julianne attended nine different schools.
"I don't regret how I grew up – it was very interesting," she says. "I loved the exposure, but I don't think it was ideal. I wanted my children to have a sense of identity based around being in one place."
One of her favourite childhood memories is her mother taking her to the library once a week, whatever city they were in. Julianne has a deep and long-standing love of literature, and her next big role is about books and the power of the imagination.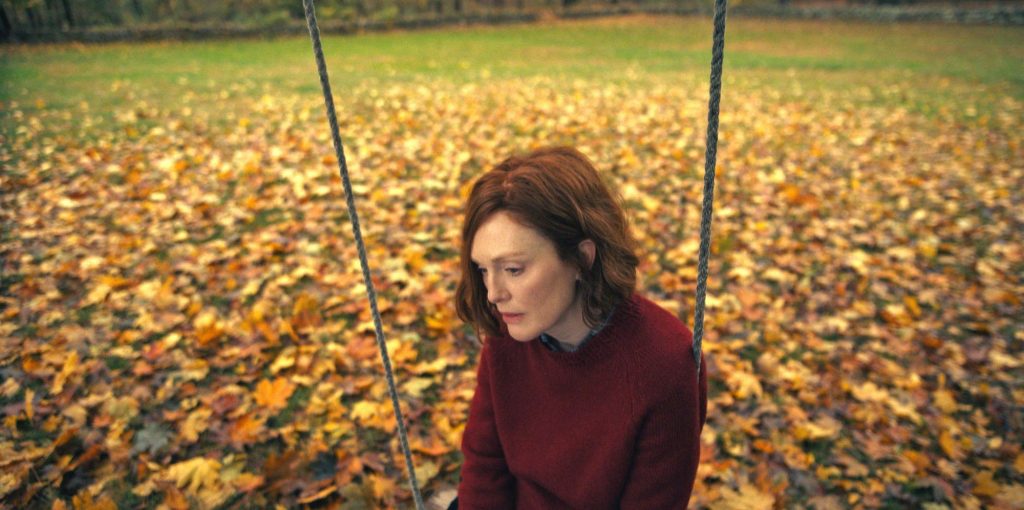 Lisey's Story, an eight-part series for Apple TV+ based on a novel by Stephen King, is about a woman grieving the death of her author husband (played by Clive Owen).
"Because it's Stephen King, there is a horror element, a stalker element, a thriller element. But my first attraction was to the story about a mature relationship, about what happens in a marriage. So often our narratives are, 'Am I going to meet somebody? Am I going to meet somebody? Oh, I met somebody. The end.' Any of us who have been married know the introduction story is usually the least interesting part."
Lisey's Story is also about loss, and the wildness and creativity of grief, which is something Julianne has also experienced. Her mother, Anne, to whom she was incredibly close, died suddenly in 2009 of an embolism, aged 68. Anne came to America from Scotland when she was 10, marrying at 19 and having Julianne soon after. She instilled in her daughter a strong sense that she wasn't just American, she had another heritage too. After her mother's death, Julianne took dual American-UK citizenship to honour her.
I ask if she still carries her mother with her. "Oh yeah, I can't… I am going to start crying," she pauses, her eyes welling before she composes herself. "It's hard to talk about grief. It's forever, that's the thing. When you experience trauma or grief, it's like this hole, and as the years go by, more stuff piles up, so it is not as accessible. But still, it is always there, and you also have to be grateful for it."
When you experience trauma or grief, it's like this hole, and as the years go by, more stuff piles up, so it is not as accessible
Julianne's parents encouraged their children (she has a younger brother and sister) in their ambitions, even though they hadn't necessarily anticipated that their clever eldest daughter would become an actress. "But they thought I had the right to try. They paid for my college education, which was extraordinary as they were not wealthy people."
After studying theatre at Boston University, Julianne moved to New York, working as a waitress while auditioning. Her break came with Robert Altman's Short Cuts in 1993, followed by films such as The Lost World: Jurassic Park and Boogie Nights.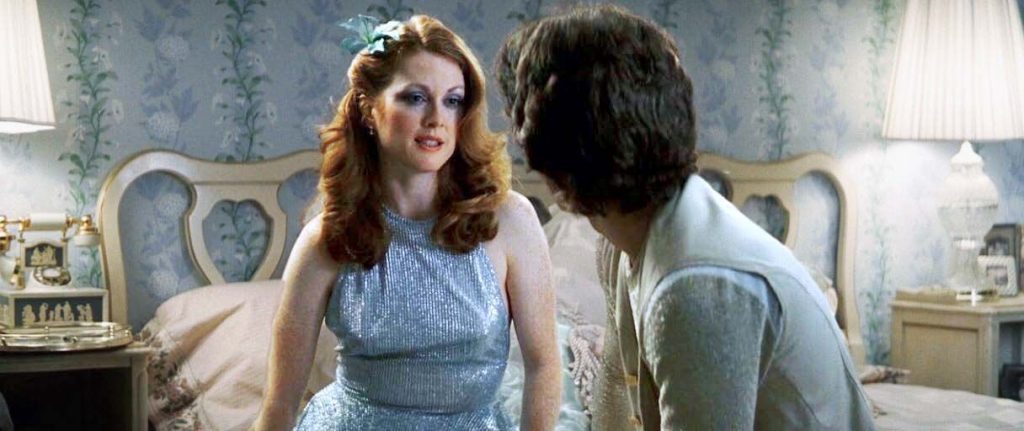 One of her most notable roles was as the gloriously sozzled and gorgeously attired Charlotte in Tom Ford's 2009 film, A Single Man.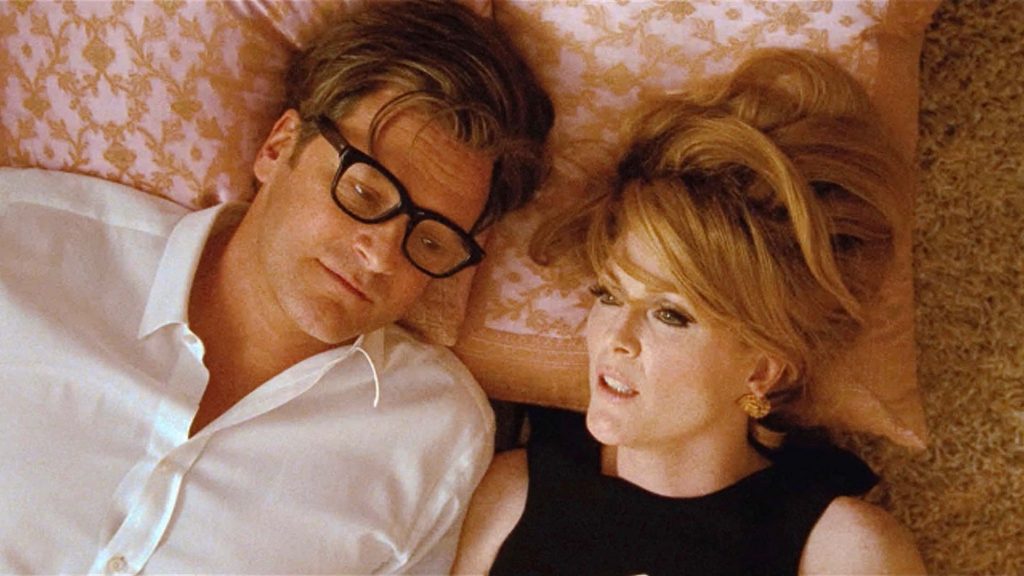 Tom wrote the part for Julianne, who found a new fashion fanbase via the role. She has since walked in a fashion show for Chanel, is frequently on the front row at Louis Vuitton and recently appeared in a show film for Saint Laurent.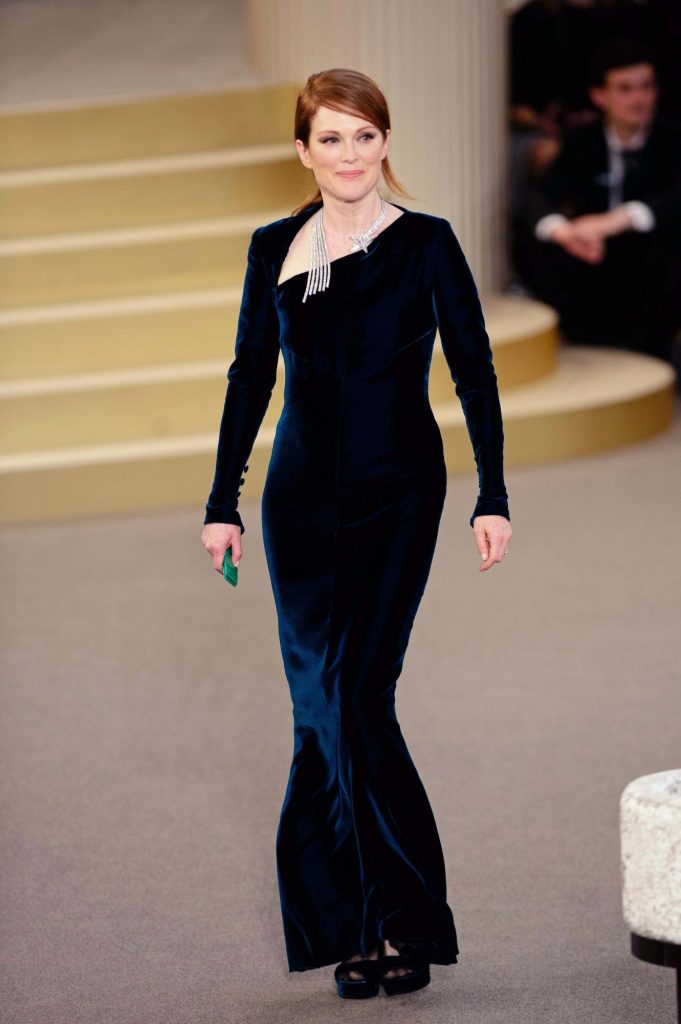 However, lockdown has provided an opportunity to streamline her wardrobe. "I got rid of so many clothes. I really want to be more thoughtful about consumption," she says. Of course, there were some pieces she didn't have the heart to discard, such as her Chanel gowns.
"It was such a privilege to know him [Karl Lagerfeld], and have things that he made for me – that was really extraordinary." (Her "go-to" footwear remains her very un-Lagerfeld Birkenstocks.)
As well as being an actress, Julianne is also an author of nine children's books and is politically active (she's a Democrat). Her Instagram juggles between pictures of her children and political memes.
A hot issue in the acting industry now is ageism, and Julianne gets frustrated with the narratives around it – "It seems so silly to talk about it as something negative when it is a privilege to continue to age." But she doesn't mind me saying that she hardly looks 60.
"My mother has a lot to do with it because she wouldn't let us go in the sun. She couldn't be in the sun, and I look just like her. I wear a sunscreen on my face every day, and a hat, too."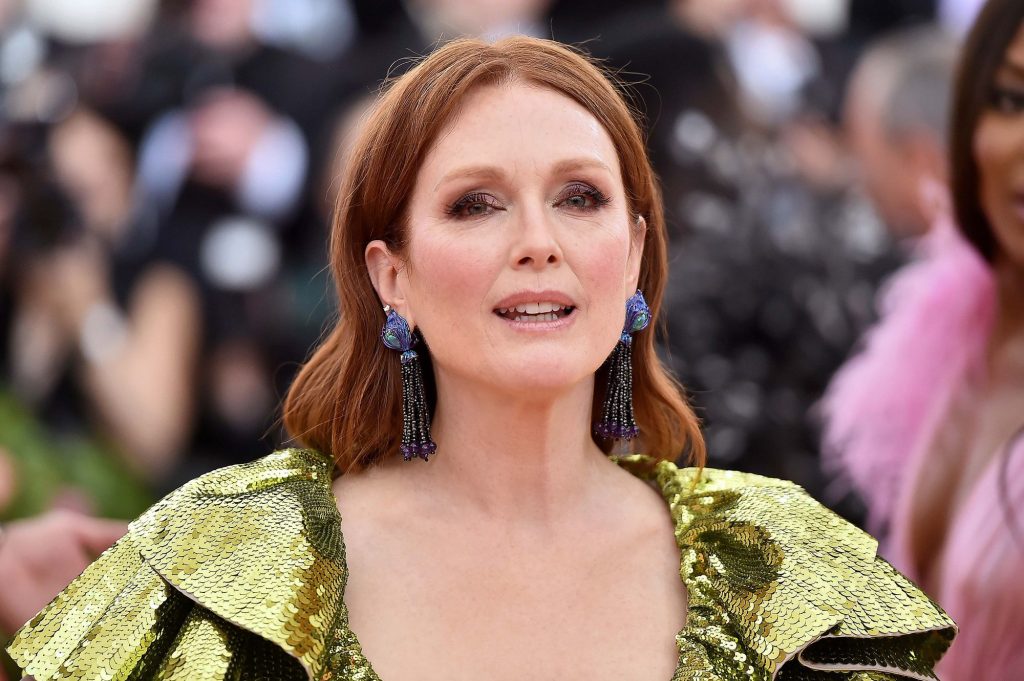 She likes high-end facials: microneedling and radio frequency. Her diet is healthy (fish and lots of vegetables), but she is no Gwyneth Paltrow. "I'm not that good, I like wine. I try to stick to things that make me happy."
The dogs are getting restless and it's time for us to go. Two days after our interview, on Mother's Day, Julianne posts a picture of herself wearing her mother's locket – a well-loved, slightly battered, beautiful gold heart.
Text: © The Sunday Times Style Magazine / News Licensing.