With their first baby on the way, Lucy Slight and Clint Roberts maximised space and style within the footprint of their 1940s charmer. Get the details behind the design.
Who lives here?
Freelance writer Lucy Slight, her husband, radio broadcaster Clint Roberts, their daughter Tui, 17 months, plus British shorthair cats Ziggy and Bowie.
Where is it?
New Lynn, West Auckland.
How long have you lived here?
"We moved here in December 2015," says Lucy.
What renovations have you done?
"In February 2019 we began renovations, mainly on the kitchen, laundry and bathroom, but in the process the lounge and dining room got a bit of a glow-up too."
What did you change in the kitchen?
"The house was built in the 1940s and the kitchen looked like it must have been original. The layout was pokey, there was no pantry – only really deep square drawers and tiny cupboards for storage – and the only toilet was located behind the kitchen, next to the laundry.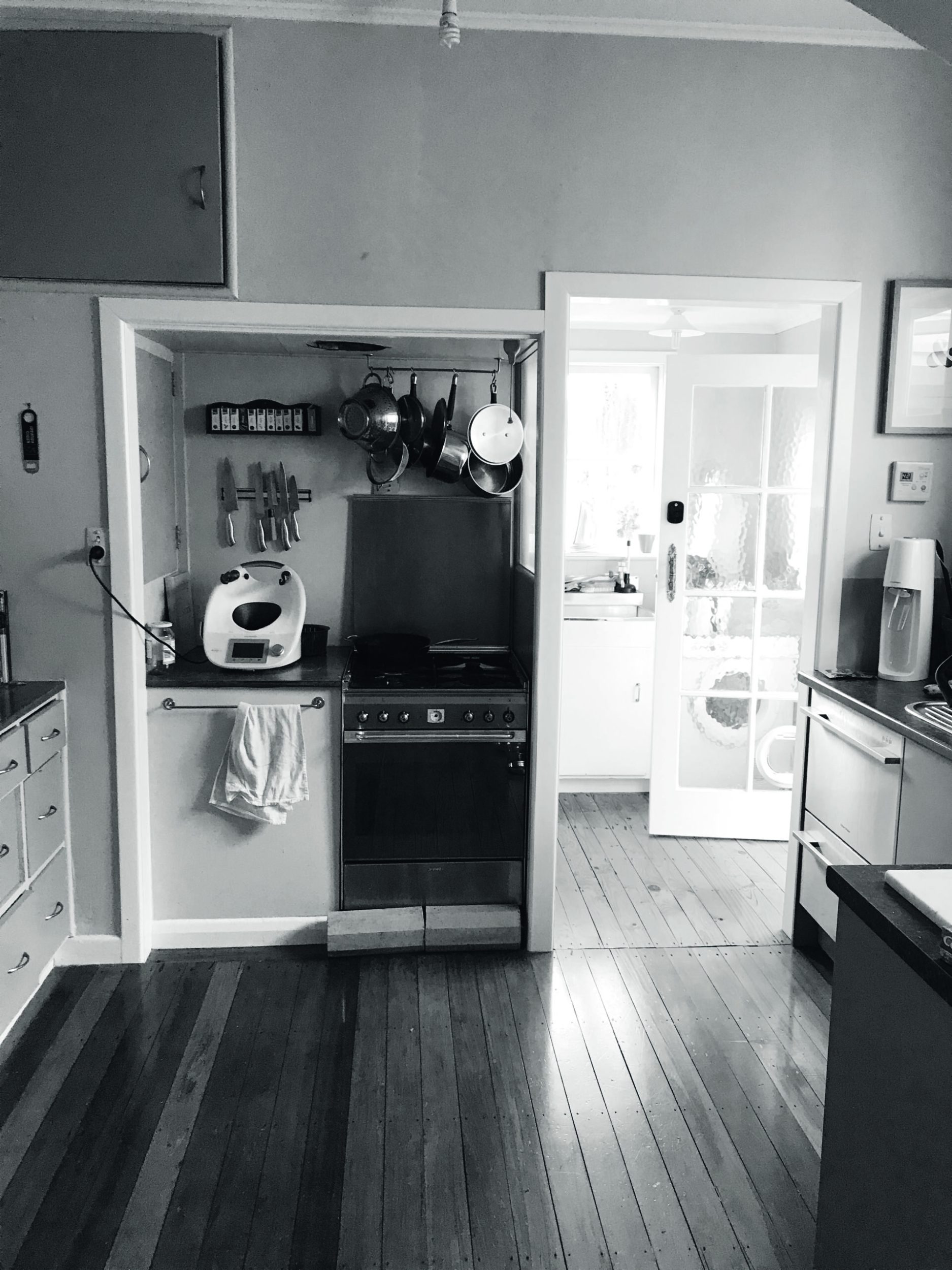 There was barely any bench space in the kitchen because the storage was so poor that there was nowhere to hide appliances, plus the benches were really narrow, which gave no space to lay anything out when cooking.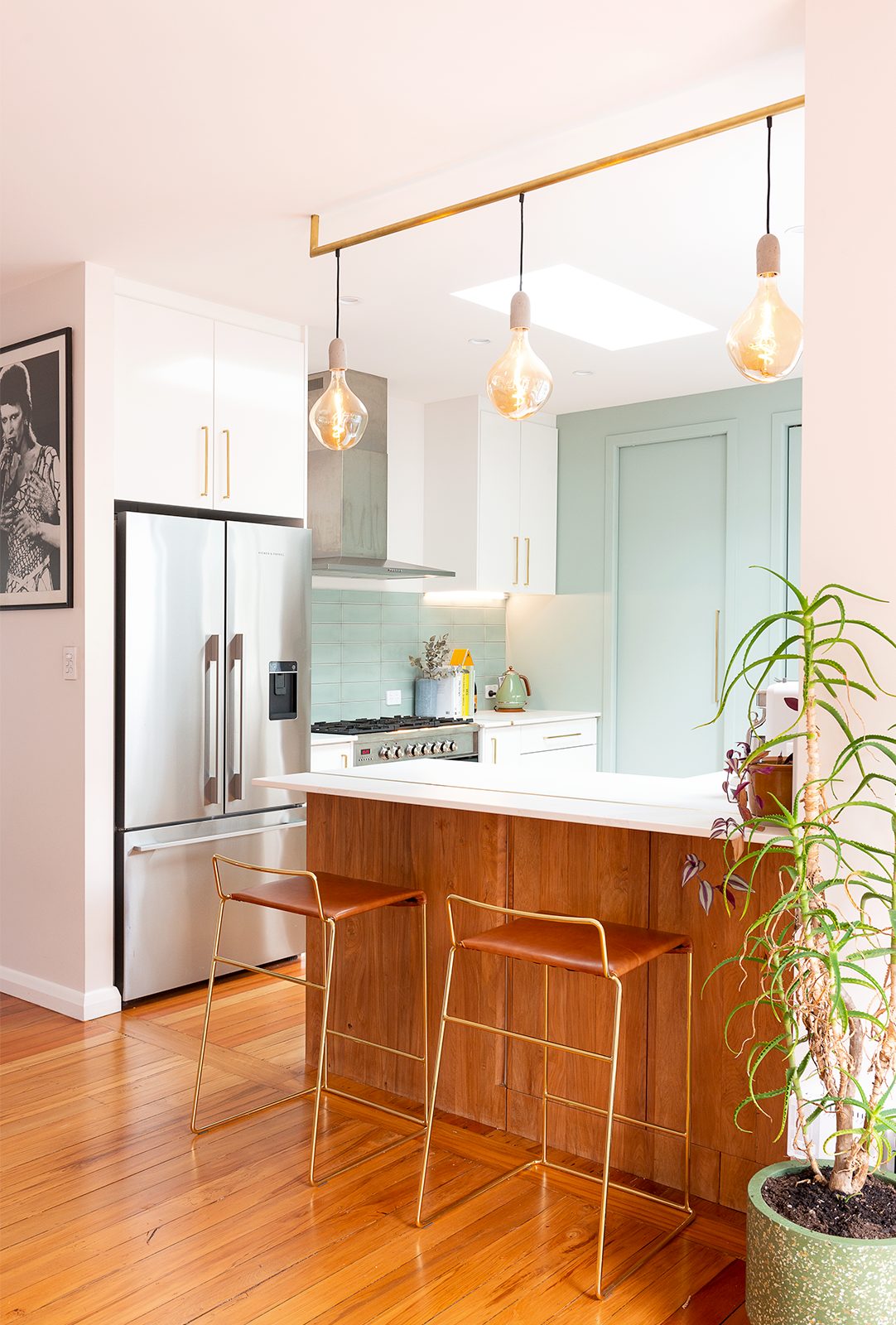 "The kitchen was a separate room to the dining room, with a curved entranceway, which was terrible for entertaining, so we knew that it had to be open-plan with plenty of room to move, ample storage, a pantry, and room for an enormous fridge and oven."
How about the laundry?
"There was no room for a separate laundry to be built without altering the footprint, so we opted for a stacked washer and dryer, plus cupboards and storage, to sit on the back wall of the kitchen next to the walk-in pantry, hidden by tri-fold doors. We didn't bother with a laundry tub but in hindsight we should have – kids are messy! The pantry can also be closed off, but we keep the cats' bowls in there, so that never happens! We love how much storage we have.
And the lighting?
"We were worried about losing light in the kitchen area because we had to remove windows from the side of the house in order to fit the laundry in, so when the builders went onto the roof and noticed rust that needed attention, we decided it was the perfect opportunity to look at putting in a skylight, seeing as the roof needed fixing anyway. And we're so happy we did! We went with a Velux skylight on a slight angle to allow maximum light in at all times of the day. It also makes the space look bigger because of the added height it gives to the ceiling."
What about the bathroom?
"The old bathroom was so tiny you could literally reach out and touch all four sides when standing in the middle.
So, to extend the size without encroaching on the two adjacent bedrooms, we removed the linen cupboard and moved the door of the guest bedroom to the other side, which allowed the bathroom to be extended enough to fit a full-sized bath, a toilet and a large vanity.
We kept the layout basically the same, which meant we didn't have to reconfigure any plumbing, though we did end up repiping the entire house because the pipes were so old that many of them had started to rust. We also rewired the whole house."
What was on your must-have list?
"For the kitchen/laundry, must-haves were a pantry large enough to walk into, a free-standing gas oven, a double fridge, a kitchen bench that could double as a breakfast bar, and an open-plan layout.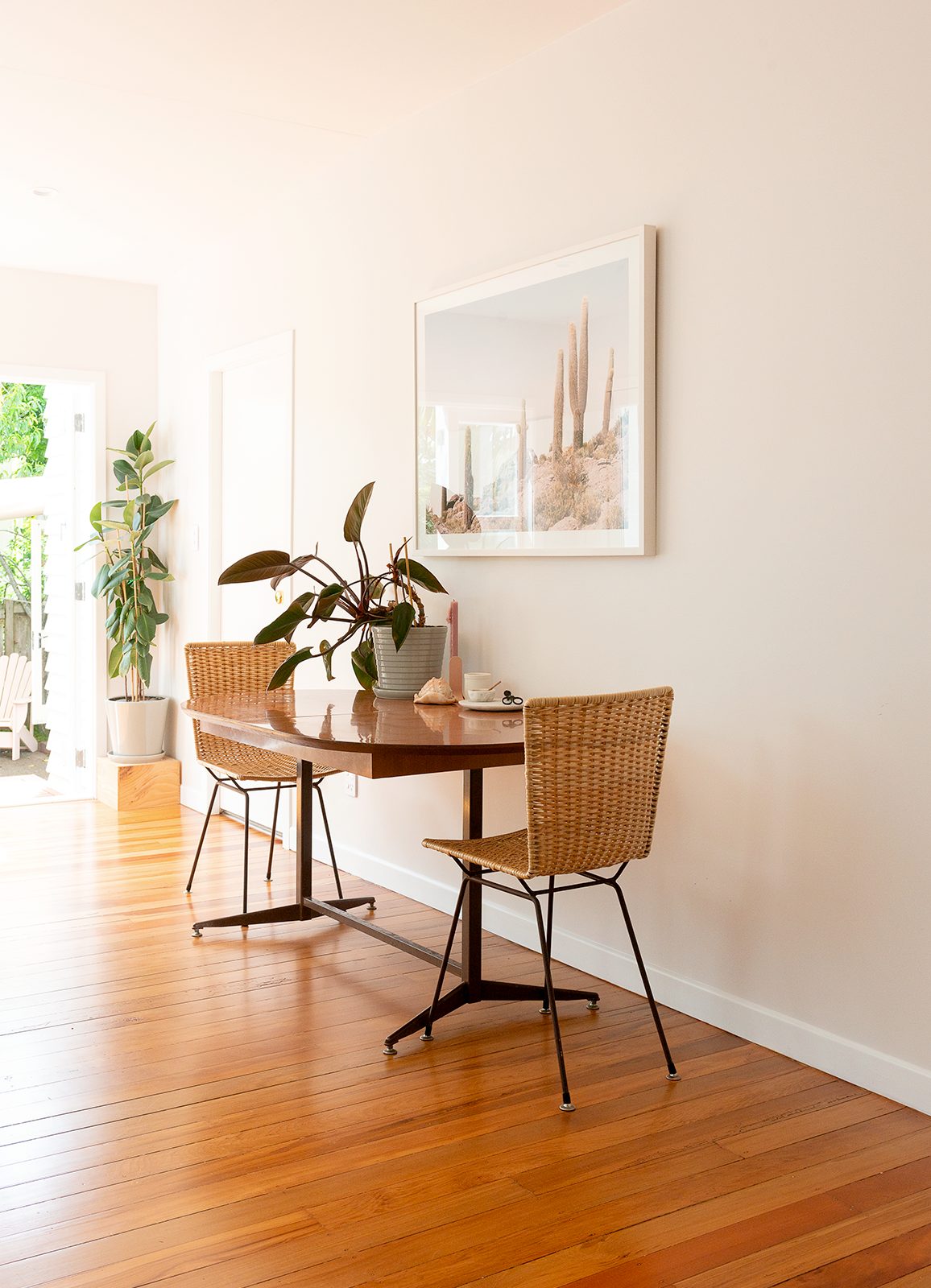 "In the bathroom, we needed to have enough room for a toilet and to be able to comfortably bathe children without the space being too cramped. We have a lot of products in the bathroom, so we needed somewhere to keep them all. Storage was very important. The products sitting on the exposed reclaimed-rimu shelves can look a bit messy because there are so many of them but it's not something that bothers us. We're definitely not clean freaks and can handle a bit of clutter."
Did you do any of the work yourself?
"The only thing we ended up doing ourselves was a bit of painting. Clint and my dad put in a couple of weekends' worth of effort to get that done before Tui was born. With both of us working full time and me getting more and more pregnant by the day – I went into labour the day after the last tradesperson finished up! – we didn't have time to do any DIY. Plus we wanted the house to actually look good, so just left it up to the pros."
Who did you work with?
"Callum Sheridan from CJS Construction was our main builder and project manager, and he engaged all the tradies, which all came recommended by him. Cameron Dick from Vital Electrical did all the electrical stuff, including the rewiring. Noor Keary from Nala Studio was our architect. The kitchen was built by Absolute Kitchens. The plumbing was done by LA Hughes Plumbing and Gas."
What inspired you for the design?
"We were really inspired by the art deco meets mid-century era and style of the house so it was really important to us that the kitchen and bathroom retained the character of the home. We wanted both to look modern but complement the charm of the house, which is what we fell in love with in the first place. I created a mood board, which was essentially just showcasing the type of vibe we liked, rather than specific layouts or design. We relied on our architect very heavily for the design side of things and she totally got what we were after from the very first meeting. We meshed really well."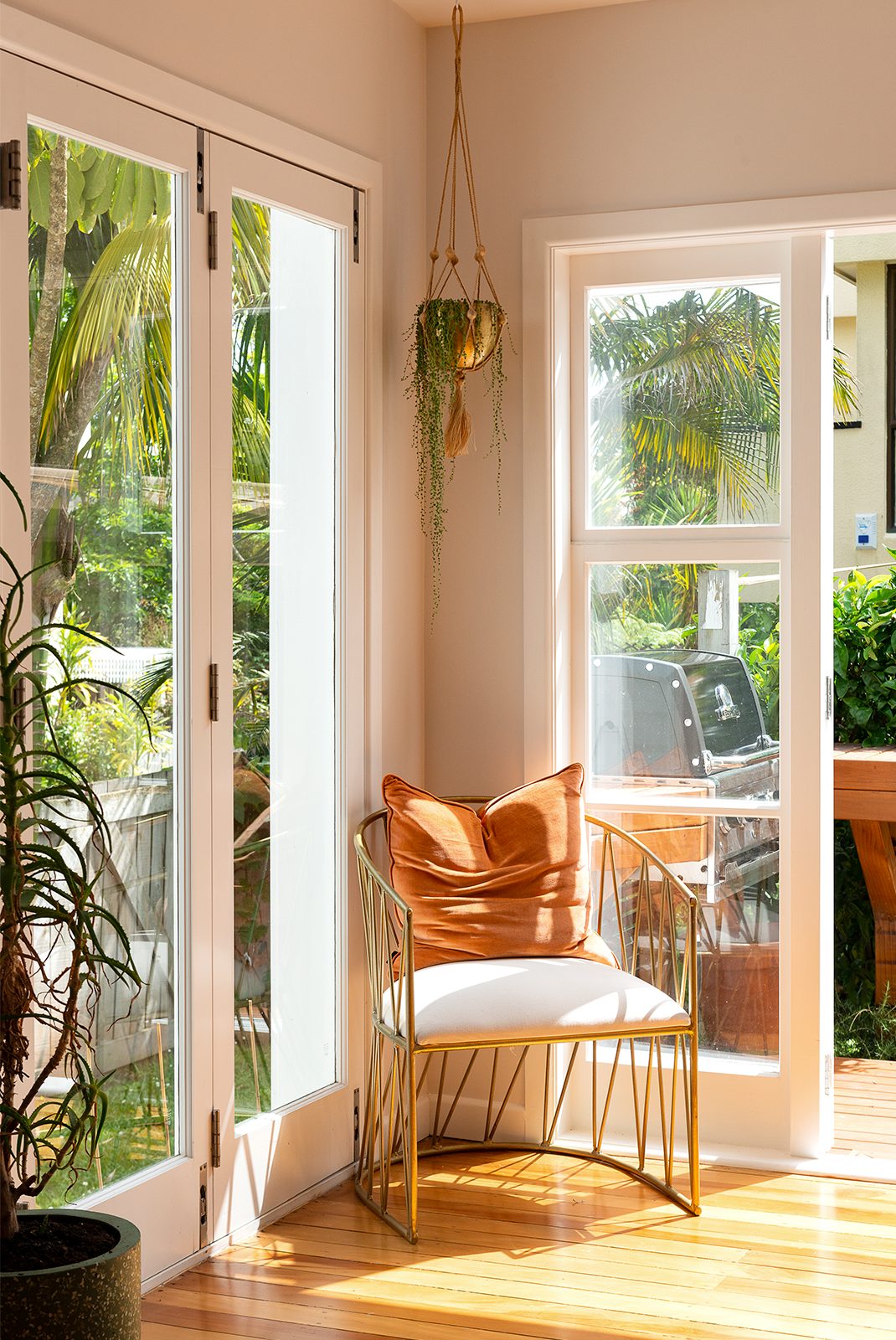 How was it working with an architect?
"Noor came over for an initial meeting, which Callum recommended to make sure that we vibed with each other and for us to explain what we were after. We had no design plan drawn up – we just talked it out at our first meeting and, from there, she came up with the draft drawings. Her initial idea was to extend the kitchen out from the wall where the sink currently sits and to build a deck around that side of the house too, to create a more open-plan layout, but we decided that would probably be extending our budget just a bit too far so we chose to keep within the original footprint."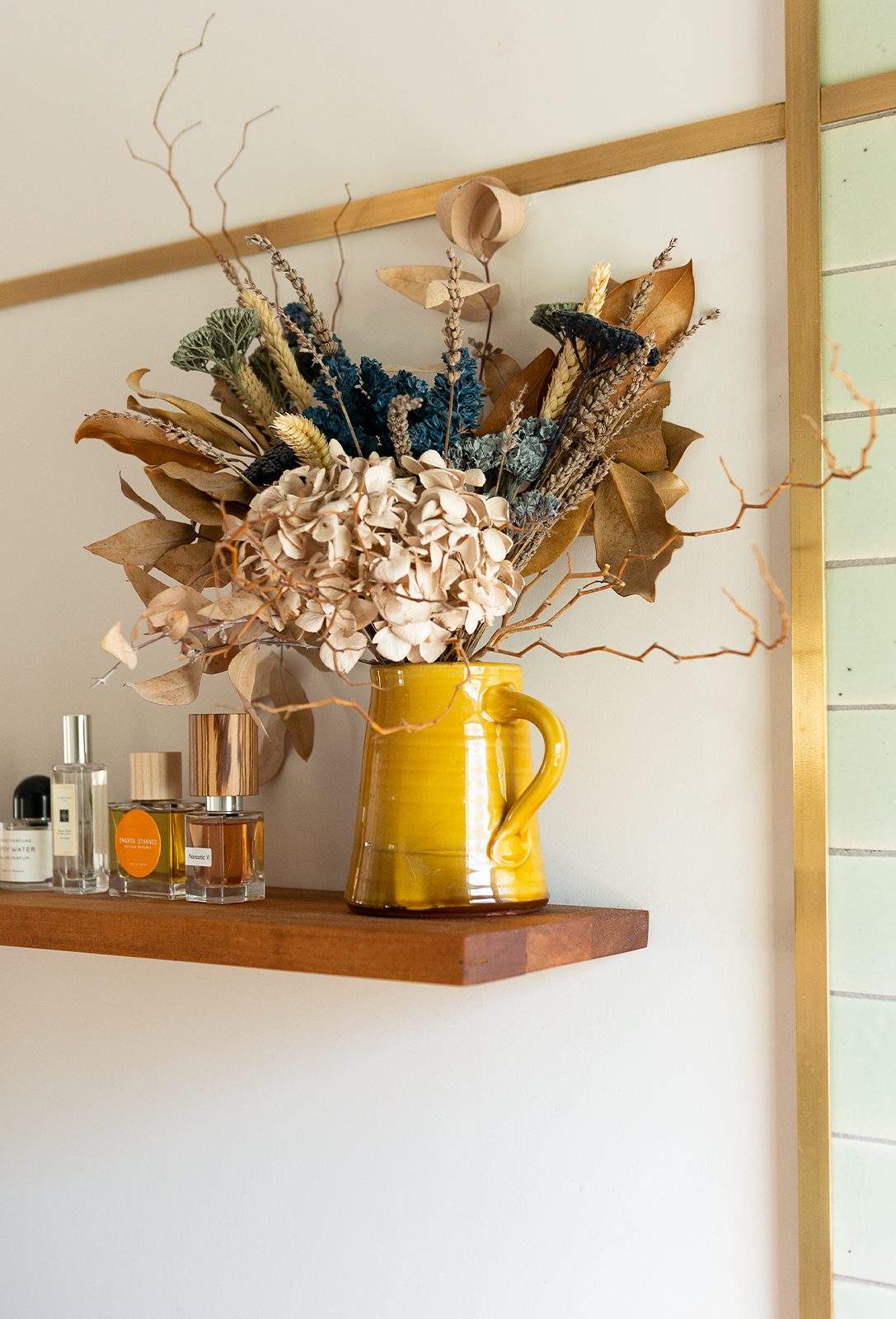 "She was such a pleasure to work with and understood that this was definitely our first rodeo and we didn't really know what we were doing, so was always happy to discuss details, suggest fittings, and make changes as needed throughout the whole process. She ended up choosing all our paint colours and helped us track down the right fittings. We trusted her immensely and she just really understood what we were after to a tee."
What did you learn from doing the reno?
"No matter how annoying you think a question is, always ask your tradies – and push back if something doesn't feel right. When the pantry first went in, Clint and I took one look at it and both said, 'This just isn't what we thought it would be.' It ended up getting remade by the kitchen company and now it looks like the architect's drawings. We would have been so disappointed if we hadn't spoken up! Remember, you're the ones who have to live with the end result so while it can be hard to push back sometimes, it's worth it to get what you want."
Did you have a budget?
"We did have a budget but had a bit of flexibility in being able to borrow extra from the bank if we needed to, which we did. We ended up going over our budget by about 25 percent but spending the extra money to make it exactly what we wanted isn't something we regret at all. It all just went on the mortgage!"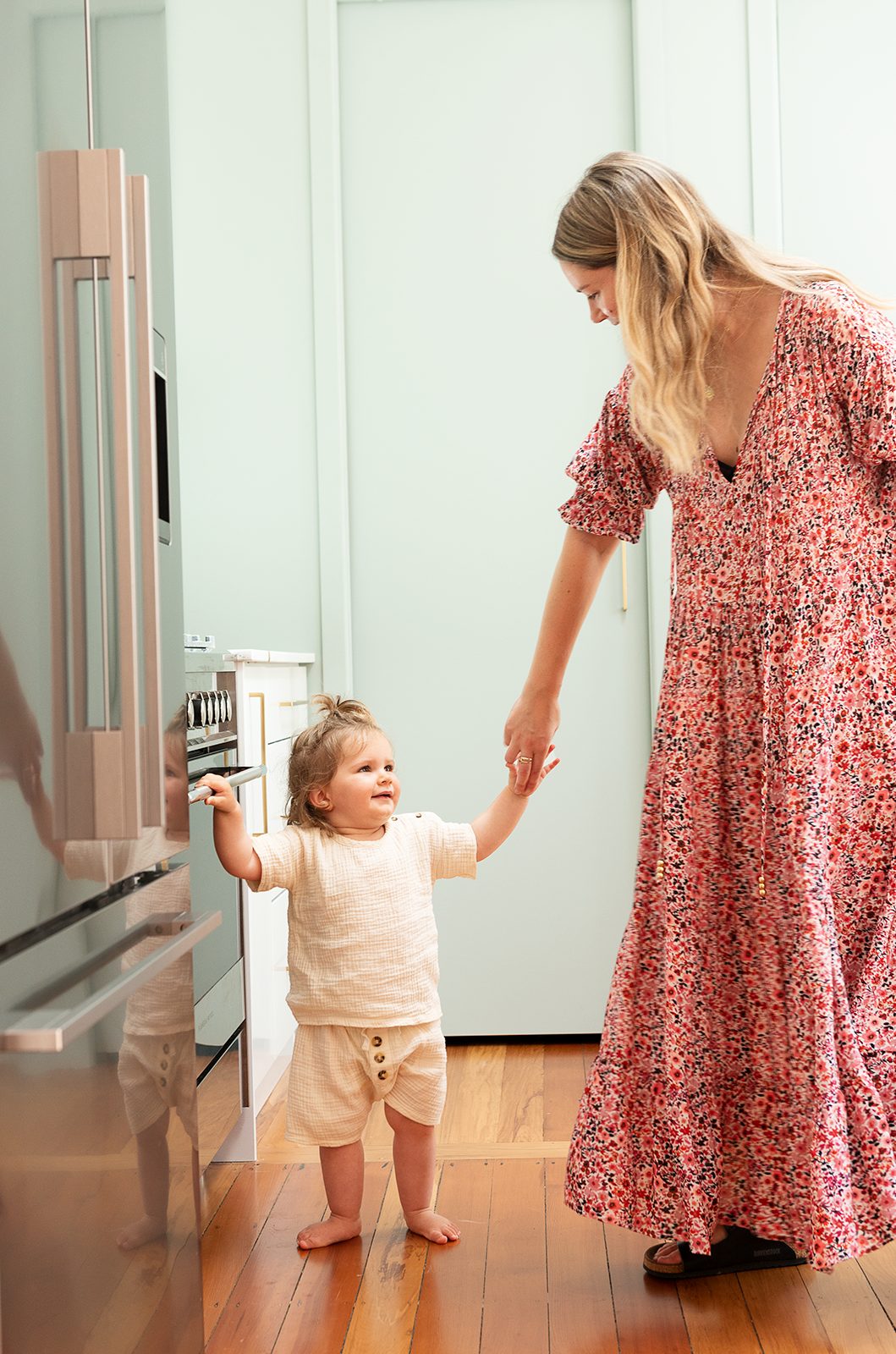 How is the new space working for you?
"We love it. I could not have coped with being at home full time with a baby for a year, using a tiny bathroom and impractical kitchen. Plus, the open-plan layout makes it much easier to keep my eye on Tui if I'm in the kitchen and she's wandered off somewhere.
"Everything has a place and there's a place for everything, as they say, and that in itself is worth every penny. While we often have a lot of clutter on the bench because that's just life with a toddler, when we do have a proper tidy up, everything has somewhere to live. The hidden laundry is so handy being right in the kitchen too."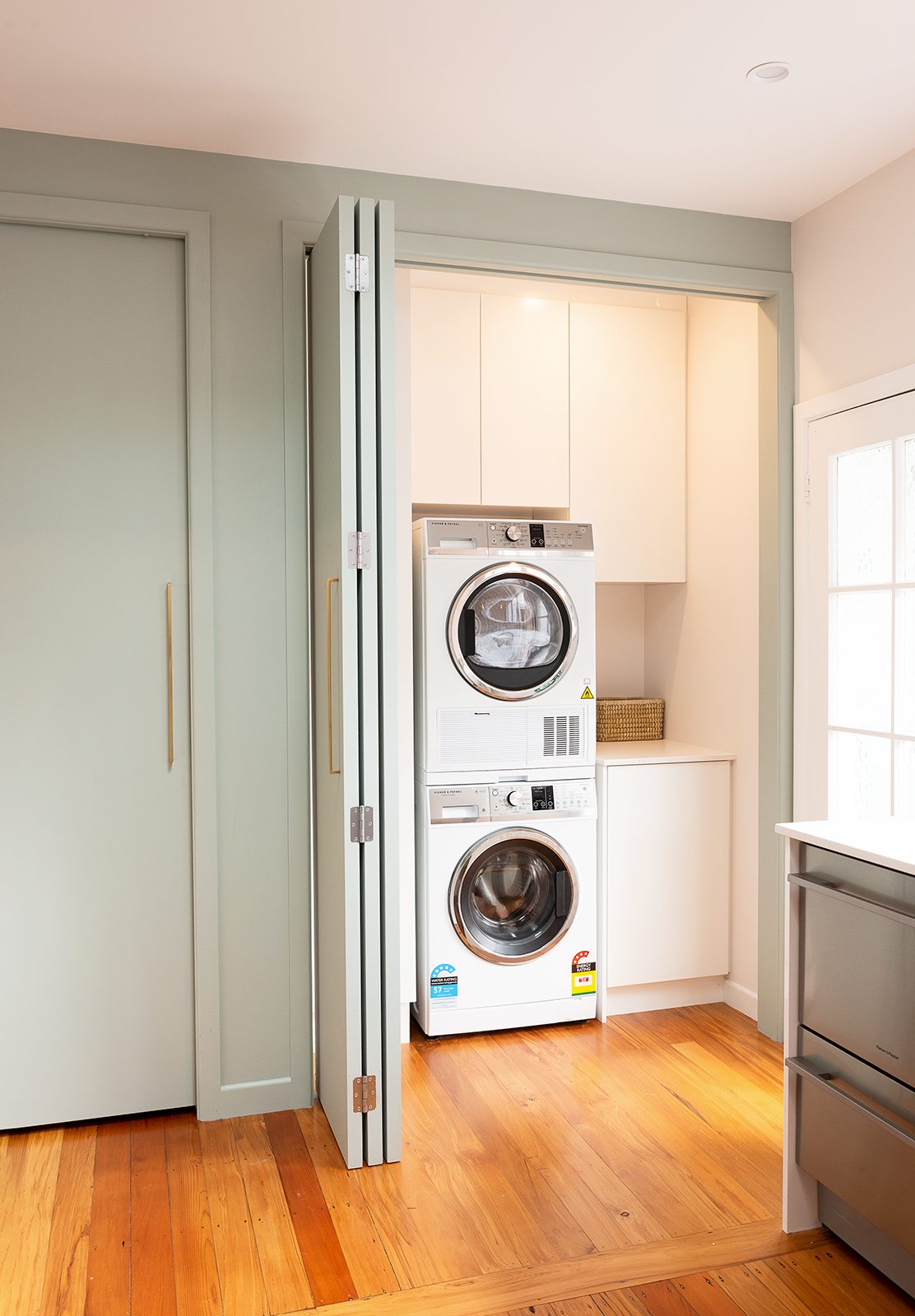 "You can throw dirty tea towels, cloths, etc, straight into the machine and close the door. The tri-fold kitchen windows are great in summer for extra airflow."
Are you planning any future renovations?
"Aside from redoing the fence outside, I think we're done!"
Renovation tips from Lucy
If you're doing a bathroom and kitchen renovation at the same time, move out of the house! We thought we could stay there, but our builder insisted that it wasn't a good idea. When we went into the house after the demo was all done, we realised immediately that there was no way we could have lived there, especially not with a baby or toddler! The house was practically a shell. So listen to your project manager and tradies.
Cover everything in every room in dust covers, even if nothing is being done to those rooms. I don't know how but everything gets covered in dust and it's fine and sticky and an absolute nightmare to clean up. Hire an industrial vacuum to suck up that dust too – this is not a job for your fancy stick vac.
Ask for a timeline and then add a couple of extra months to it. Check the wait times when you order things like tiles, handles and any fittings. It's so annoying when everything is done and you're still waiting on your handles to arrive because you left it late to order them. The tradies don't like it either because it means they have to come back when they may have moved on to another job.
Your tradies and architect often get good discounts if they order fittings, etc, for you, so before you order everything yourself, always check with them first to see if they can get you a better deal. Nine times out of 10, they probably can.
If you have no idea what you want your design to be like but you have a feel for the vibe, create a mood board. This was so helpful for us and gave our architect a real sense of how creative we were willing to get. Pinterest, Instagram, interiors magazines and design blogs will be your best friends here. If you see something on Instagram that you like but don't know how to get it, send a message to whoever posted it and see if they can help. That's how we found our bar stools and bathroom lights.