Simon Lewis Wards' sculptures recreate memories of being a kid in a candy store (aka the local dairy) or playing knucklebones.
One of Simon Lewis Wards' earliest memories is of buying 50-cent bags of lollies from the dairy, something many Kiwis of a certain age will also remember doing.
In Simon's case, that childhood sweet tooth was a catalyst for an artistic career crafting sculptures and screen prints of iconic Kiwi lollies such as jet planes, milk bottles and what he calls Candymen – the sweets once known as Eskimos that have now been rebranded by Pascall as Explorers.
"My art is about nostalgia and tapping into past memories," says Simon from his Titirangi studio. "For some people my work is a way of time travelling and revisiting those lovely childhood memories."
It's a form of Kiwiana that has captured the imagination of many, with Simon's glass and ceramic works gracing walls and homes around Aotearoa as well as New York and London – "anywhere there are expat Kiwis".
His range includes nine playful interpretations of classic sweets, as well as limited edition screen- printed wrappers of lollies such as Milk Shakes. Another favoured medium is aluminum, used by Simon in his giant 300kg knucklebones.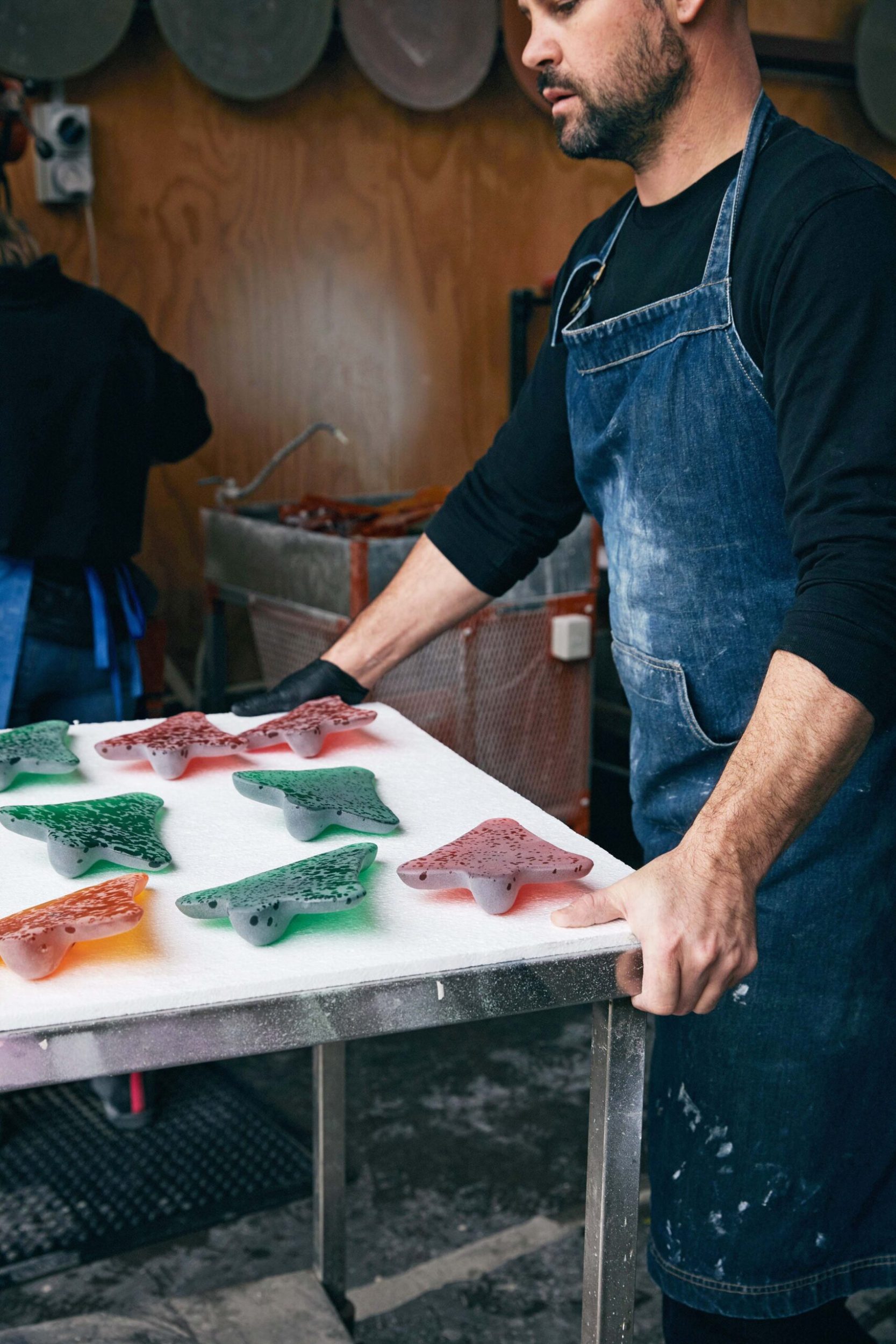 For an artist with such a cult following, it's ironic that the 43-year-old came to art late. He was born
in Auckland, and didn't really know what he wanted to do with his life when he was growing up. However, he always had an artistic bent, and his first job when
he left school at 15 was as a signwriter. But when that involved "putting stickers on windows rather than actual painting", he left. A role with his friend Luke Jacomb's father – the respected glass artist John Croucher – introduced Simon to the wonderful world of glass. "That's when the colours and uses of glass first seeped into my consciousness," he says.
It was an influence he would circle back to after working as a drain layer and plumber, and time spent graffitiing Auckland buildings during the peak street art period of the 1990s.
"I was bored with being a tradie but knew how to use my hands. Luke had gone on to have his own successful glass-blowing career, including spending 10 years in the US. When he came back to Auckland in 2008, I helped him set up his studio."
Seeing what Luke and his artist partner were making reignited Simon's love for glass, and he started experimenting, making 30cm-tall glass telegraph poles.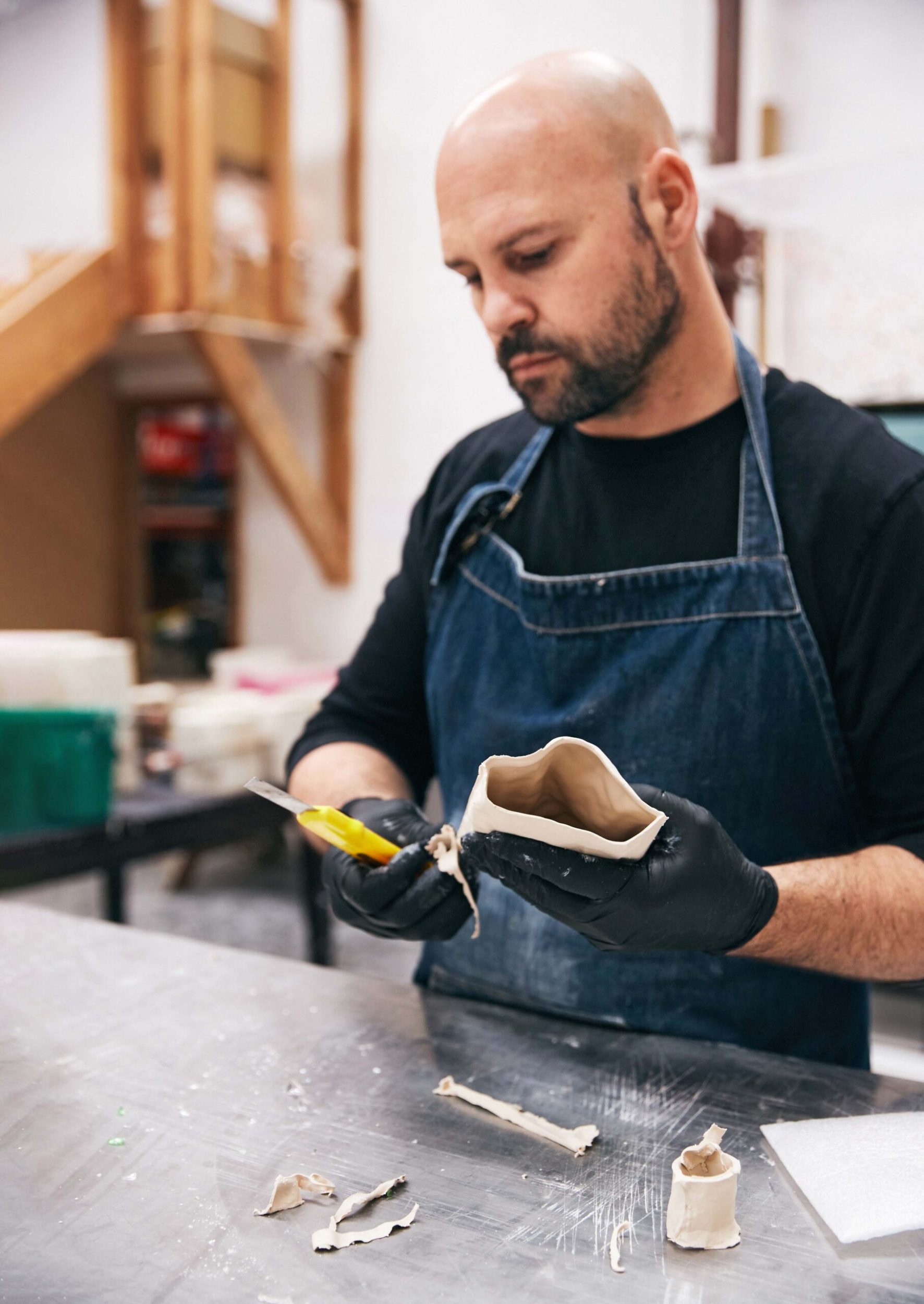 When they sold to galleries, he was also sold – on a career as a sculptor. "It was my chance to do something I loved and to work for myself, which I've always wanted to do."
Simon's foray into iconic Kiwi candy came when he realised how much raw glass looked like a glistening lolly. He handcrafted a set of glass jet planes using an actual jet plane lolly to create a mould.
When life led him to Paris, Simon spent four years refining his techniques including learning how to wrap copper foil around stained glass. He sold that work to Parisian shops and used the time to set a clear path for his business. "I came back with a fire in my belly and have focused on my art ever since."
That includes exhibiting his work and making public sculptures like the giant knucklebones at Warkworth's Brick Bay Sculpture Trail and Auckland's Sylvia Park mall, where 400 of Simon's jet planes are suspended from the ceiling.
Simon is now stretching the limits of his artistic boundaries, experimenting with a sculptural technique that involves manipulating wax while it's still warm. "When the sculptures are warm they're malleable, so that allows me to twist them. I'm currently working on a limited edition series of cast glass pieces inspired by raspberry licorice twists. They're 15kg, so larger than some of my other work, but still connected to the idea of candy."