Sharon Stephenson interviewed these 5 inspiring women in wine around a year ago and we at WOMAN, have been shocked and saddened to hear of the tragic passing of Bridget Glackin from Framingham Wines. We are grateful to have had the opportunity to highlight her story in our pages and her contribution to the world of wine here in Aotearoa.
Five of Marlborough's top women in wine tell Sharon Stephenson why the industry has room to grow.
They say that behind every good wine is a great woman. Actually, I made that up – they don't say it, but they should. Especially in Aotearoa, where a 2019 survey by New Zealand Winegrowers indicated that around 48% of industry respondents were female. Although figures aren't broken down by region, given that the north-eastern tip of the South Island is our largest wine region, more than a few women make Marlborough's wine industry tick. We tracked down five of them.

Jane Hunter
Owner of Hunter Wines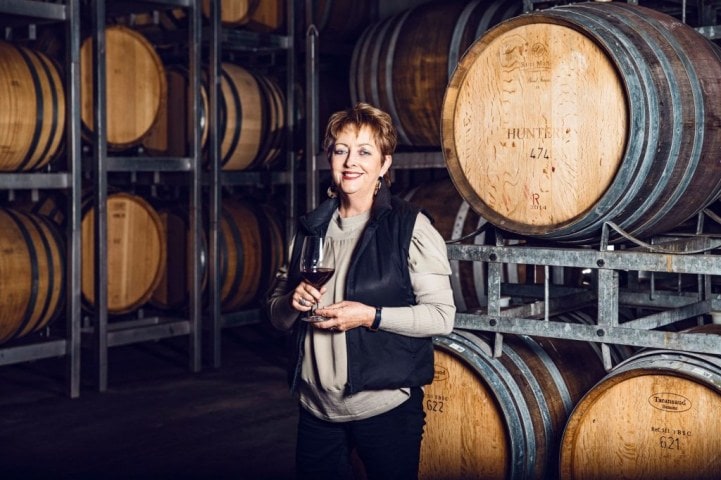 Jane Hunter may be many things, but a quitter isn't one of them. When her husband Ernie died in a car accident in 1987, Jane could easily have closed the Renwick winery he'd set up a few years earlier.
"I didn't know anything about running a winery," admits Jane, 67. "We'd been having a hard time before Ernie died, trying to keep the business going with 28% interest rates. I also had to get on a plane three months after his death to visit our overseas markets, which was incredibly tough because I'm not gregarious like Ernie was. But I couldn't walk away from it."
Fortunately she didn't, because today Hunter's Wines is one of Aotearoa's most successful wineries, with 25 staff managing 150ha of grapes and processing around 2000 tonnes of them a year.
Grapes were clearly in Jane's DNA. She was raised on a vineyard in South Australia where her late father and uncles grew produce for neighbouring winemakers.
"But I saw how hard they worked and how volatile the wine industry was, so I didn't want any part of it." Instead, she applied to study farming at Adelaide's Roseworthy College, but back then they didn't take girls. So Jane did a four-year agricultural science degree and chased that with teaching horticulture and business management, including to inmates at a maximum-security prison.
She then got a job in Wellington doing the same. "I thought I'd be in New Zealand for a year or two, so shipped over my car and my cat!" she says. She later ran a café for 18 months before the wine industry once again pulled her strings.
"I got a job as a viticulturist at Montana in 1983, back when Marlborough only had 30ha of sauvignon blanc (there are now around 26,000ha)." A year later, she met Ernie and joined him in his fledgling winery.
Although Jane was one of the first women in Aotearoa to own a winery, she admits she's never felt the sting of sexism. "I was only 33 when I took over the winery and I wasn't very confident, so maybe people were kinder. I also didn't presume to know everything and asked for a lot of help," she reflects.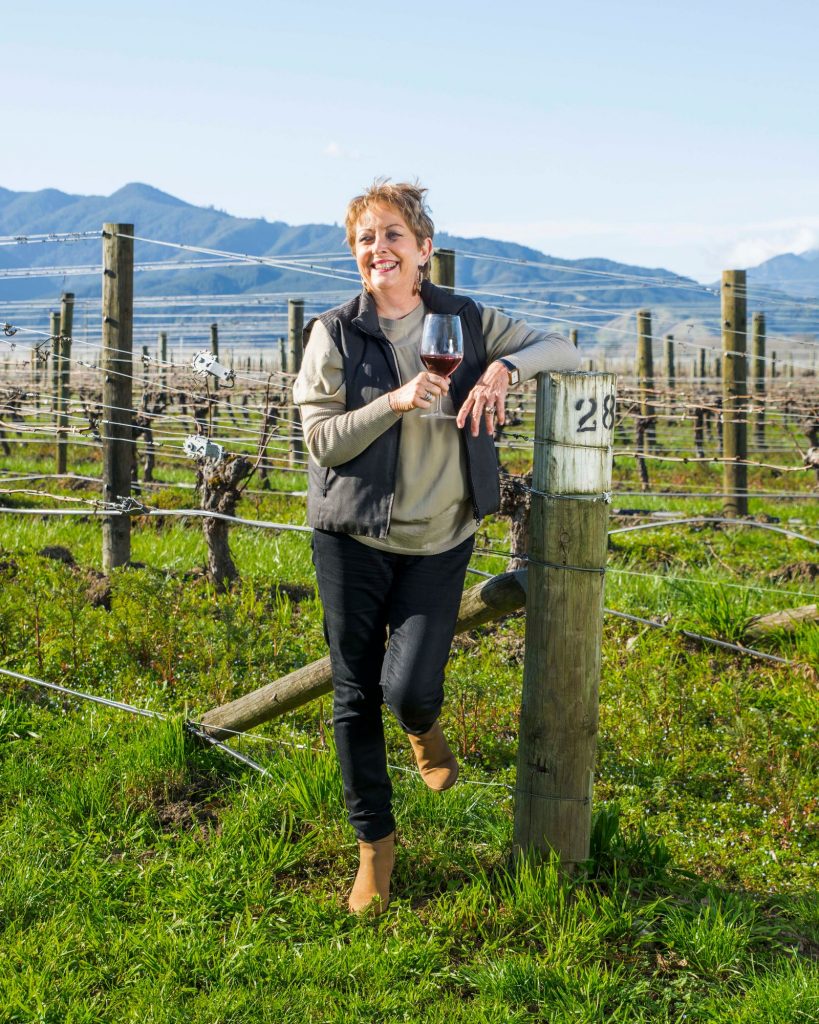 Jane's sister Libby and brother-in-law Peter moved to New Zealand to help run the business. Peter is now the general manager, while one of Jane's nephews is the chief winemaker and another runs the distribution side.
With the winery in good hands, Jane is looking forward to stepping back from day-to-day operations. Once borders open, she's planning to spend time at her house in Adelaide and mentor more young women in the industry.
"There are lots of female role models for women coming through and lots of different roles. Back in my day, unless you came from a family winery, it was hard for a woman to get a job in this industry. But now there are many jobs across the spectrum, from viticulture and winemaking to finance and marketing."

Anna Flowerday
Winemaker and GM, Te Whare Ra Wines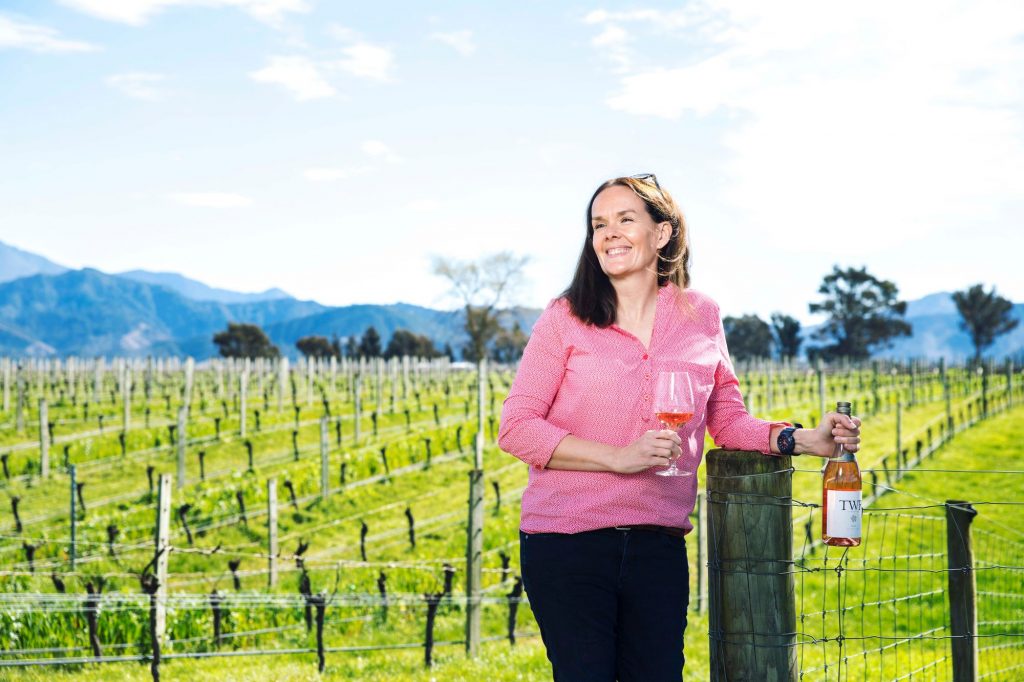 Draw Anna Flowerday's family tree and you'll notice one thing – all her ancestors grew grapes. The Australian import is, in fact, a sixth generation winegrower on her mother's side. "My relatives were planting grapes in South Australia way back in 1854," says Anna.
Today, Anna and her Kiwi husband Jason are the proud co-owners and winemakers at Renwick's Te Whare Ra Wines, Marlborough's oldest boutique winery, which they bought in 2003.
In an Aussie accent eroded slightly by 18 years in Aotearoa, Anna describes how hard it was breathing life into the rundown winery while raising two sets of twins: Emily and Sophie, 16, and Isabel and Charlotte, 13.
"Our house is next to the winery, so I'd take the baby monitor into the winery and when the kids woke up I'd have to leave Jason to it," she recalls.
The couple now have 11ha of vines and produce around 9000 cases a year. Working together, says Anna, has never been an issue. "We agree 95% of the time and we've had the same vision for quality, high-end wine since we met at an Adelaide vineyard in 1999."
Although they were named NZ Winery of the Year 2014 and Anna often works as a wine judge, she admits she's been on the sharp end of sexism once or twice.
"At trade shows I've had blokes say, 'You know a lot about wine for the marketing chick!' At our cellar door once an older couple assumed I did the marketing and my husband made the wine. But thankfully that's getting less as more women become winemakers."
Although Anna would love her daughters to eventually take over the vineyard, she's happy for them to follow their own dreams.
"They've seen how hard being a winemaker is – working seven days a week, being dependant on what falls out of the sky and how a bad vintage can almost break us."

Natalie Christensen
Chief Wine Maker, Yealands Estate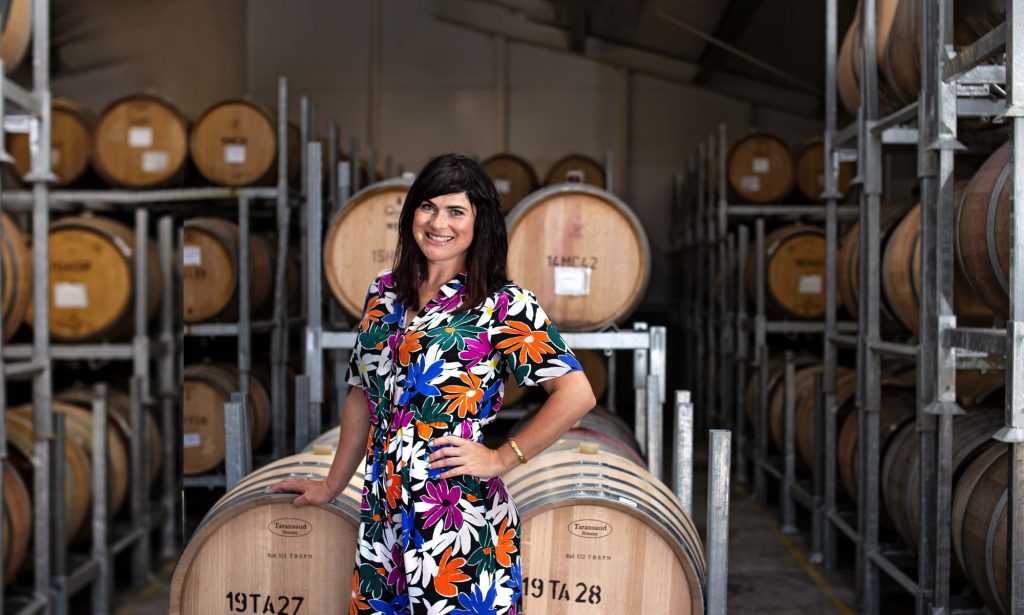 By all reasonable imaginings, Natalie (Nat) Christensen should never have become a winemaker. Or been named one of the most innovative women in wine globally in 2018, the only Kiwi to make the list.
For starters, Nat, 40, had been studying music since she was a child and was headed for a career composing for films.
"I also don't come from a winemaking family and didn't really know that much about wine," she admits. But when her brother suggested she come to Marlborough for a harvest to help finance her OE, the die was cast.
"I remember being so happy that first harvest. I couldn't believe being a winemaker was a job."
In a happy coincidence, Nat had the right skills for the industry, having worked in a wine bar as a student and as a volunteer firefighter in Lyttelton. "I was used to dragging heavy equipment around," she explains.
That initial gig at St Clair winery led to six years in both the laboratory and cellar door where Nat started studying for a graduate diploma in oenology and working as an assistant winemaker.
In 2012, she moved to a Martinborough winery for a year before being headhunted by a family-run winery in Galicia, Spain.
"They liked Kiwi and Australian winemakers and it was amazing to make wine from 100-year-old vines," Nat tells.
She eventually returned to Marlborough, and a summer job at Yealands, while she sorted out her Spanish work visa. Somehow, she never went back.
Today, she oversees a team of seven in both the winemaking and lab operations. Her days consist of making picking decisions, blending wine and, before Covid, visiting customers in the UK, Russia and the Netherlands. During harvest, that can involve 12-hour days, six days a week.
"People have this romantic idea that being a winemaker is all about long lunches under olive trees and picking a few grapes here and there. Nothing could be further from the truth!"
Although she loved her time in Spain, Nat says Marlborough is home. "I want to showcase how fantastic our region is to the rest of the world."
Belinda Jackson
Group Marketing Manager – Lawson Dry Hills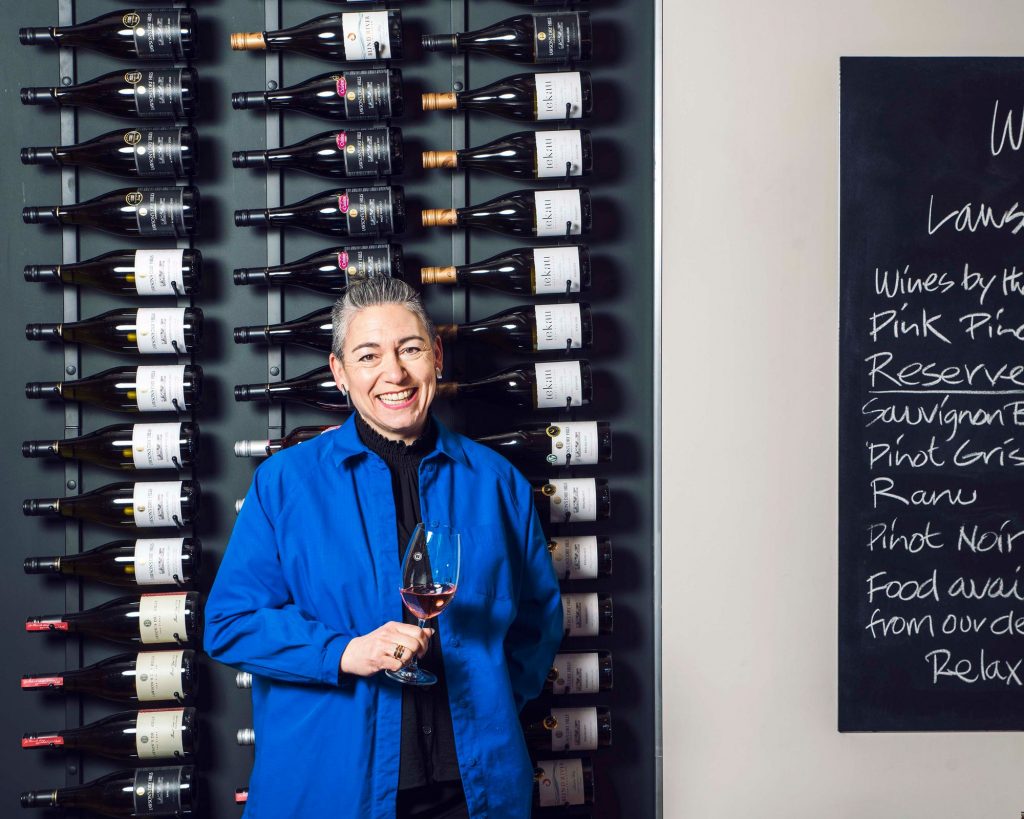 When Belinda Jackson was 18, her father gave her a suitcase, £100 and a one-way ticket to Bordeaux.
"I was working in a pub and wasn't sure what I wanted to do with my life," tells the British-born 54-year old. "I spent a year in France learning as much as I could about the wine industry."
Back in London, Belinda gained formal wine qualifications before working as a sales rep, buying 750,000 cases of wine from all over the world for 16,000 UK customers.
In 1995, she and her then-husband emigrated to New Zealand, where Belinda was quickly snapped up as the national wine manager for Liquorland and later Glengarry Wines, and she frequently travelled to France and Italy on buying trips.
When her now 20-year-old twin sons, Felix and Harry, were born, Belinda started her own company, running wine competitions and consulting to various wineries. Work took her to Marlborough when her sons were two.
In 2014, she joined Lawson's Dry Hills winery on the outskirts of Blenheim as GM of one of its brands. When that brand was brought into the wider Lawson's whānau, she moved into her current role. That includes overseeing the marketing for three brands, which, up until last year, included frequent trips to Europe. Belinda even had an apartment booked in France for a three-month stay last year, but Covid-19 travel restrictions put a stop to that. It's a role that suits Belinda to a tee. "You never stop learning in this industry and I'm extremely thankful to live in Blenheim, doing what I do and still being passionate about wine after all these years," she says.
She's got remarkable staying power, especially when you consider some of the hurdles she's had to jump over in her career. "When I started out in the UK, there were very few women in the industry. For example, I'd be selling alcohol to working men's clubs where women weren't allowed on the premises, so I'd have to go in before they opened."
And then there was the time she was asked to judge a wet T-shirt competition.
"Apparently the drinks rep always did it, but I was absolutely horrified and refused to."
Sexism still happens, says Belinda, telling the story of a bloke who recently wandered into her office and asked for the boss. "I told him, 'I'm the boss!'"
When she's not working, writing books (she's written four so far, mainly about food and wine), finishing a diploma in business studies and training for multi-sport events, Belinda is looking to the future.
"I've got a few projects on at the moment that I can't talk about yet. Let's just say my life will always have wine it!"
Bridget Glackin
Marketing Manager – Framingham Wines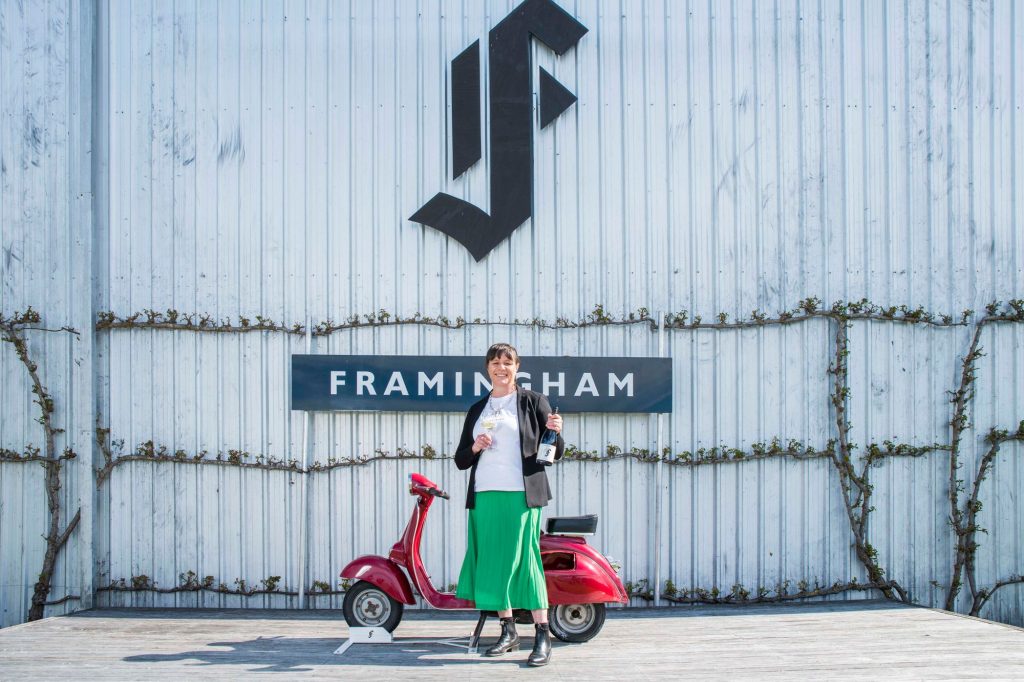 Before making her mark on the Marlborough wine scene, Bridget Glackin spent more than two decades marketing for some of New Zealand's biggest corporates, including Telecom and Fonterra.
But in 2015, the 45-year-old and her husband Andy gave up the bright city lights to settle in the lower Wairau Valley, on a 15ha vineyard they bought from Andy's parents.
Andy now contract grows grapes for nearby wineries, while Bridget spends 20 hours a week extolling the virtues of Framingham Wines.
"We were city slickers, spending four years in Christchurch and another nine in Auckland," says Bridget. "I was also used to working for large corporates with huge marketing budgets."
Her experience of marketing wine in Christchurch helped her land her current role, but the mother of Ruby, 13, and 10-year-old twins Grace and Olly, says passion keeps her there. "The wine industry has a huge impact on Marlborough so it's an absolute privilege to be able to tell these stories," she says. Stories such as Framingham's riesling vines, some of the oldest in New Zealand, or the fact that around 90% of the winery's output goes overseas to the UK, US and Australia.
"It's also a really collegial industry because, although we're small, we support each other. For example, all the wine marketers will get together to network because it can be hard when you don't have a marketing team to bounce ideas off.
"There's a perception that people in the wine industry sit around drinking wine all day, but we're head up, bum down!"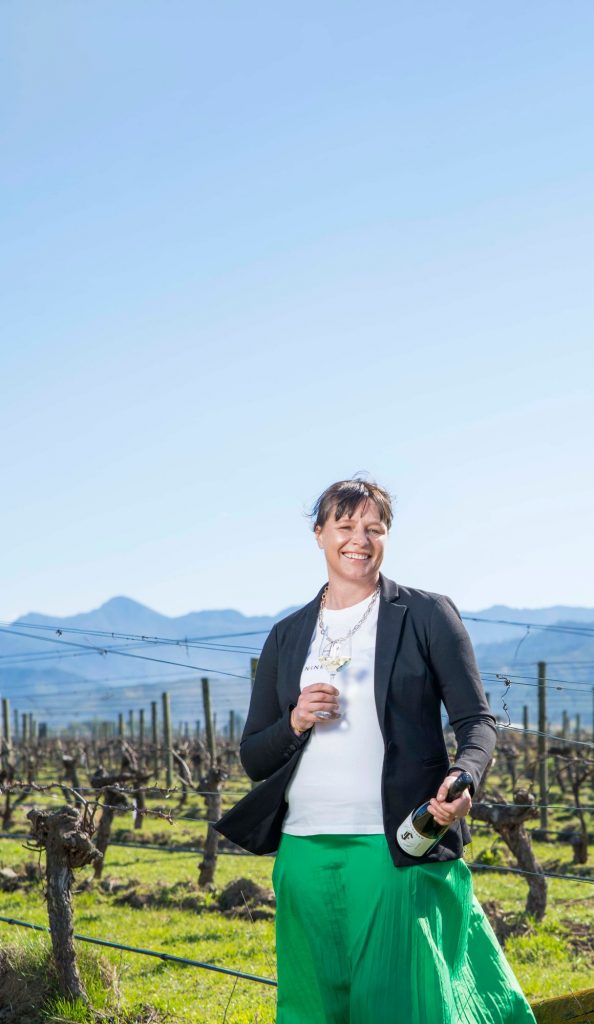 Bridget would be thrilled if her daughters followed her into the wine industry, but believes more could be done to encourage the next generation of females.
"We need to really promote the industry and show how great it is. You work hard, learn a lot, but also have a fantastic time doing something that's important for the region and for New Zealand."
Women in Wine explained
The Women in Wine NZ initiative aims to promote and facilitate the participation and success of women in the Kiwi wine industry. The programme was founded in 2017 after no women put themselves forward for the New Zealand Winegrowers Board elections. Today, regional Women in Wine groups have been formed around the country, allowing members to meet regularly, including at an annual national networking event.