Ceramicist, butcher, upcycler, skincare maker: Carrie Andrews is a rare breed. The entrepreneurial farmer tells Sue Hoffart why her creativity can't be tamed.
Each morning, Carrie Andrews wakes determined to tackle more of the ideas that buzz around her brain.
The entrepreneurial farmer is co-founder of a boutique butchery in Cambridge, as well as a painter and ceramic artist, a founding member of Raglan's Jet Collective art store and an environmental advocate. She is also a mother of four, equally able to develop a skincare range or tan a sheep hide.
A former vegetarian, she established the Wholly Cow Butchery with husband Tom, but it's Carrie who made clay tags to label each cut of meat. It's Carrie who sews unwanted T-shirts into reusable shopping bags for customers and ensures a sprig of fresh rosemary is tucked into every parcel of lamb. The soaps, lip balms, hand creams and candles are made by her, too, using beef tallow, old-fashioned recipes and smart packaging. And Carrie is the one who devised a way of utilising waste fat to make the waterproof paper that replaces 800-plus plastic bags previously used in the store each week.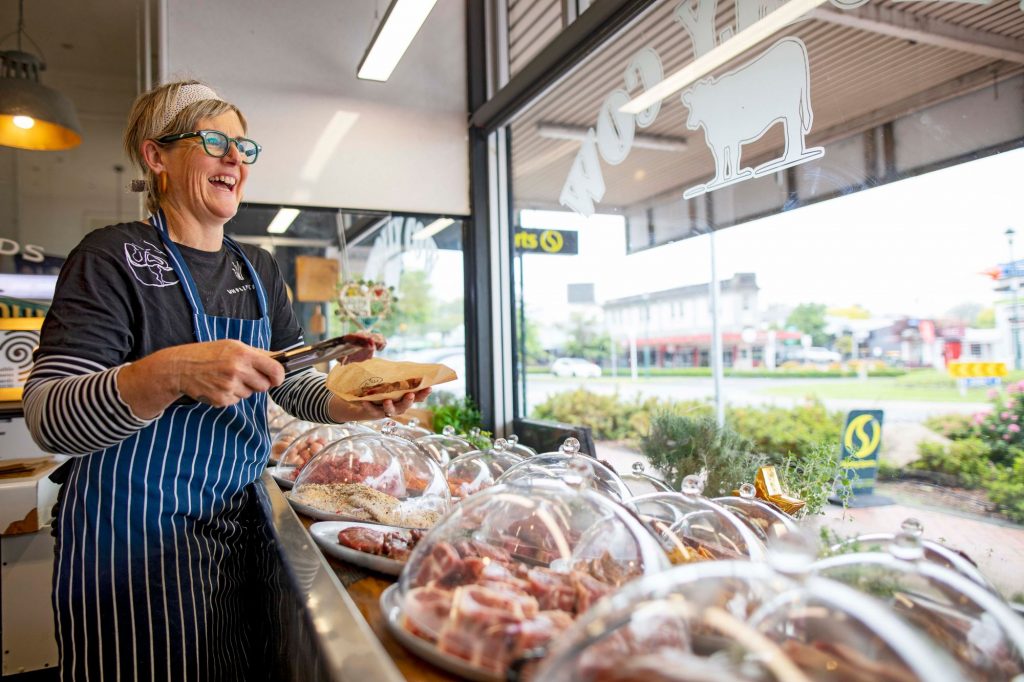 The pragmatic businesswoman comes by her can-do attitude honestly. Her childhood was spent on a South Island dry stock farm, with eight older siblings and a father known for his inventions. Her capable, forward-thinking mother Anthea arrived home from hospital with newborn Carrie to find five kids sporting chickenpox and a dozen shearers to feed. According to family lore, the matriarch didn't blink an eye.
"My mum is very open, she loves hearing new ideas and was there for all my home births," Carrie says. "She's 92 now, very non-judgmental and a complete optimist."
Anthea's youngest child collected assorted diplomas in display and advertising, visual merchandising and craft designing before heading to Dunedin to study fine arts.
"The fine arts world wasn't for me," she says. "I'm an avid maker. I love second-hand, trying to upcycle. It stems back to my grandmother; I've still got the rag rugs she made, she was so resourceful.
"Now, all my creativity can go into displays in the shop, all the packaging. I'm a big ideas tank. My mind just fizzes. I wake up every day and can't wait to get at it. I'm really passionate about making and doing things differently."
Tom Andrews is similarly independent in his thinking. He owned a roading business with his father and was working long hours away from home before deciding he wanted more time with his family. So the couple left their Raglan lifestyle block to farm a hilly 186ha property that backs on to native bush, 20 minutes' drive from central Cambridge. The move also placed the family closer to schooling and sporting opportunities for active offspring Olivia, Luke, Reuben and Grace.
It didn't take the couple long to ask themselves why their animals were being dispatched to an abattoir and the meat exported. They decided to try processing and selling the meat locally.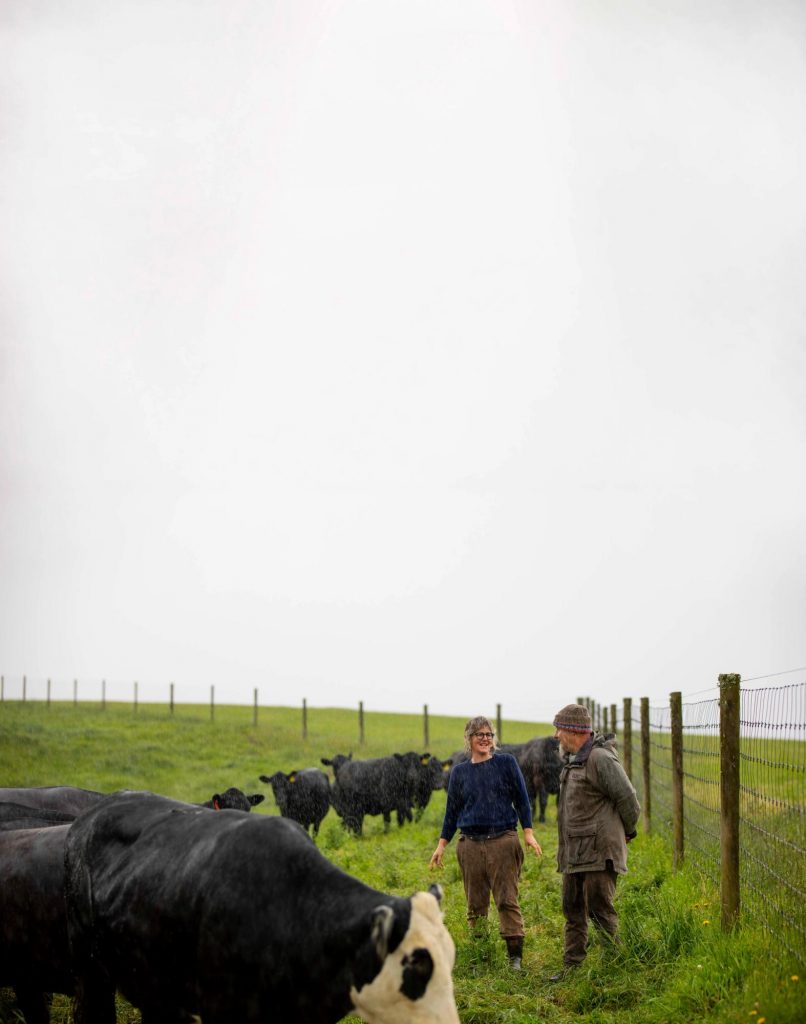 "We had a lightbulb moment, we thought, 'It seems crazy all the beef we grow is sent straight overseas.' So we built a trailer, found a processor, Tommy packed it all. I used to trundle to the Cambridge farmer's market with four kids when they were four, seven, nine and 11. We'd be at the market by 6.30am, come hail or shine."
She says the exercise gave the children business experience and they learnt early how to converse easily with adults. Often, Olivia remained in charge of the trailer while Carrie darted to a sports game with a younger sibling.
The lessons stuck. These days, 18-year-old Grace runs her own consignment clothing store, Mint, in downtown Cambridge and will launch an upcycled homeware store down the street in September. Luke is a qualified butcher, in charge of Wholly Cow. Reuben, a former Black Sticks development hockey player, is studying business management while completing a drain laying apprenticeship. Olivia lives in Denmark, where she works as a graphic designer for a global company.
"Every day, at the dinner table, there's always someone saying, 'I had an idea today.' And no one ever says, 'That's a dumb idea.' We should all dream big, think about it, give it a go."
The mobile butchery stall proved such a hit, the Andrews expanded to weekend markets in Tauranga and Hamilton before finding a small permanent space in the town. In 2018, the couple built a micro abattoir on their property, so they now control every step of the process.
"Relocating inland was hard, initially," says Carrie. "However, Cambridge has a very supportive, caring community and being so central makes it easy to connect to other areas easily. We love Cambridge and you have more connection with the community by running a local shop.
"Now I feel a greater sense of purpose, because our approach gives respect to the animals, land, community and wellbeing, whilst having such huge scope for creativity. It's just fantastic."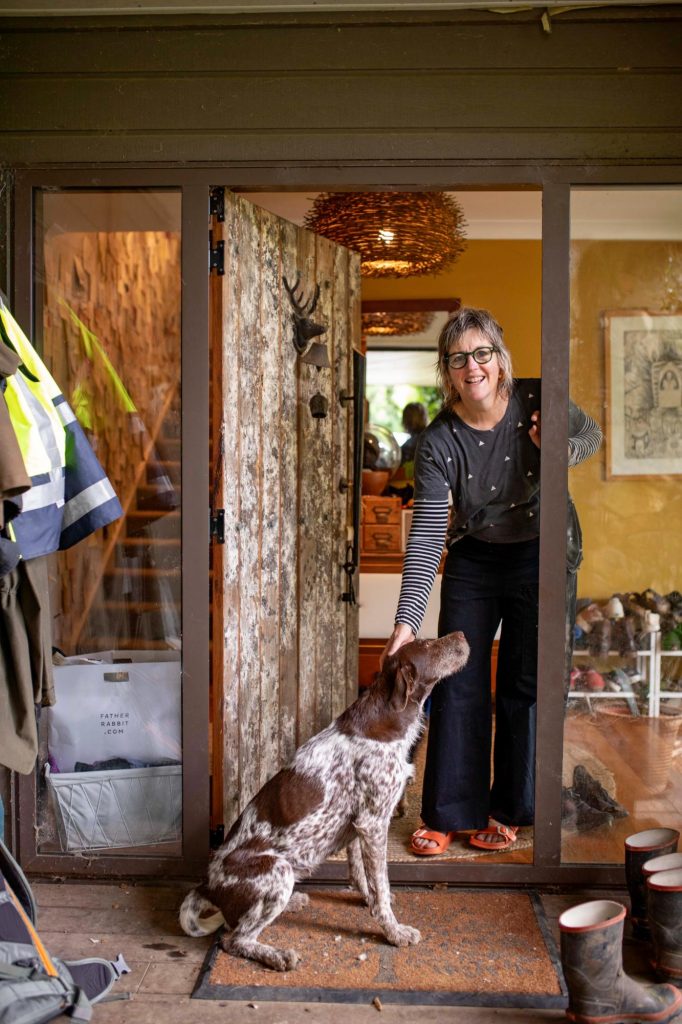 Although Tom heads the agricultural side of things, Carrie's zero-waste goal has seen her tackle worm farming. Customers can return their compostable meat trays and biodegradable wrap to the butchery, where they are gathered alongside paper towels and cardboard and taken to the farm for worm food. Any animal waste is composted, too, using a mix of horse manure and straw shovelled out of local racing stables. The resulting fertiliser is used on the farm, while excess wool is used for everything from felting to compost.
Her latest experiment involves recipes for gourmet dog treats using waste animal products, hemp and peanut butter. She's already taught herself to tan a sheep hide courtesy of YouTube tutorials, so she can make stylish chair coverings. Next on the wish list is learning to make leather belts from cow hide. And perhaps ceramic platters for the butchery, if only she had time.