Beloved broadcaster Toni Street opens up to Sophie Neville about finding happiness after immeasurable loss and how she hopes her new memoir will bring comfort to others.
"The thing with grief," says Toni Street, "is that it permeates everything. And even though people say time is a healer, the reality is that the pain never really goes away. You just have to find a way to live with it."
She's one of our most successful TV and radio stars; her down-to-earth style and inimitable warmth winning her a legion of loyal fans. But behind her easy-going positivity lies a family story so heartbreaking that until now, it's remained largely untold.
While Toni, 38, has hinted at the gravity of her family's losses over the years, it's only with the release of her book Lost and Found that the Coast breakfast host is finally ready to talk in depth about the devastating deaths of her siblings Lance, Tracy and Stephen, and the colossal toll the tragedies have taken on Toni and her family.
She also opens up about her own terrifying health battles, the high-profile career that saw her become a household name in her twenties, and the miracle surrogacy that helped the entire family heal.
Toni's story is an intimate and moving tale of heartbreak and hope, and as she sits down to chat over a Zoom call during Level 4 lockdown, she admits that writing it has been a highly emotional journey. At times difficult, often confronting, but ultimately healing.
"It was a very big decision for me to do a book and to share so much, but at the same time, it's been incredibly cathartic," she says. "I've always had a tendency to bottle things up, yet through doing this, there has been no hiding from the hard stuff. It's been a really important thing for me and my family to do."
The former Seven Sharp star is talking to us from her living room at home on Auckland's North Shore. It's week five of the Covid-19 lockdown, and the mum-of-three has just finished a spelling lesson with her daughters Juliette, who turns nine this week, and Mackenzie, six, while her husband Matt France has kept three-year-old Lachie entertained in the background.
A cake is baking in the oven, toys lie scattered over the floor, and plans are afoot for a family bike ride if the rain ever stops. "I hope it does, because the key to keeping everyone happy is getting outside and burning off their energy," she laughs. "Otherwise we all start going a bit crazy."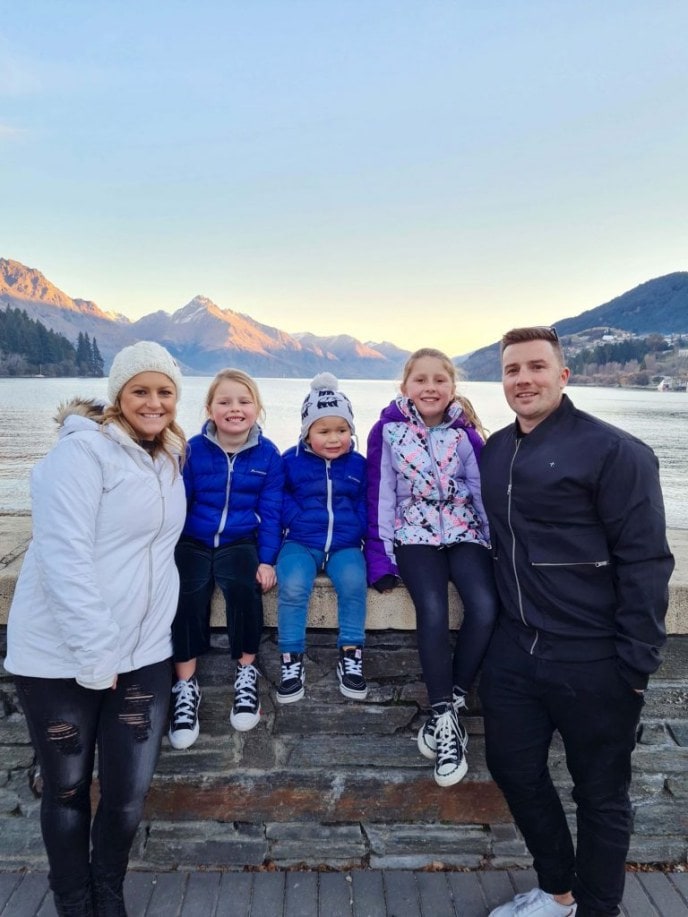 Being stuck at home wasn't quite the way she'd planned the launch of her book, but ever the optimist, Toni is making do with phone calls, Zoom interviews, social media posts and makeshift photo shoots with Matt, 37, behind the camera. She still can't quite believe her labour of love – which was a year in the making – is finally on shelves, and it's clear there are a few last-minute nerves. She explains that she wrote the book as a tribute to her parents, Wendy and Geoff, and adds tentatively that she hopes her story might help others going through difficult times. She doesn't claim to have all the answers, but there's comfort in knowing you're not alone, she says.
"I hope people can relate to the book… Whether it's someone thinking about surrogacy or going through it, or if someone has an auto-immune condition or been on long-term steroids and has had episodes like I have, hopefully they'll find my story comforting.
"Or for people in the thick of grief right now, perhaps my story will show them that one day life will get better and easier. My parents are an incredible example of what the human spirit can endure. People go through hideous things in life, all sorts of trauma, but my parents' survival shows you can get through even the most terrible of times. It's still possible to experience joy and have an enjoyable life. I really believe in the power of success stories, rather than the opposite."
While Toni initially thought her book would focus on her 2018 surrogacy journey, in which her best friend Sophie Braggins carried her and Matt's longed-for third child, it became patently clear very early on that there was no way of avoiding the other momentous parts of her life. To try to write about events in isolation would've been impossible.
"When I talked about my surrogacy, that naturally meant I had to go into my health problems and the reasons why I couldn't carry a baby myself. And that, of course, led to the impact of my illness on my family, and what they'd already been through. I couldn't ignore the fact that my yearning for another baby was totally tied up with the losses that my family has endured. I learnt that every single thing in my life is inextricably linked."
Toni also made the decision early on that there was nothing in her life that she would try to keep secret. She was going in, boots 'n' all.
"If it's something negative, it is what it is. I've always taken the view that it's best to be pretty open about things. We've had the lowest of lows, but why would I not share that? It's nothing to be embarrassed about."
Toni's story begins in rural Taranaki in the early 1980s. She was born a twin, something that perhaps not many people knew about her. Her parents were delighted to get a son and a daughter in one hit – "Dad said it felt like winning Lotto," writes Toni in Lost and Found.
Yet their joy was not to last as Lance fell ill at a few months old. The little boy was eventually diagnosed with acute myeloid leukaemia, a type of blood and bone cancer. After months of gruelling yet unsuccessful treatment, Lance passed away peacefully in his parents' bed at 18 months old, sandwiched between his devastated parents and his twin sister.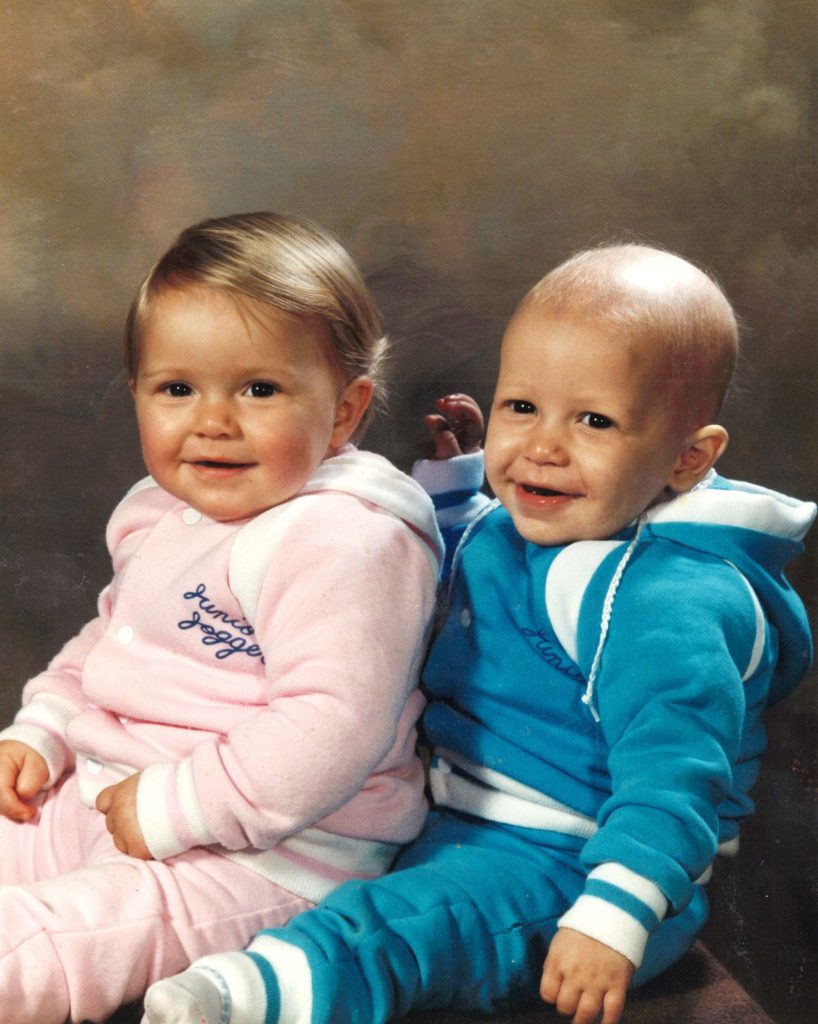 "That was the moment my mum's heart truly broke for the first time," says Toni, who sadly has no memories of her twin brother.
A year later, Wendy and Geoff were thrilled to welcome Tracy Ann, a baby girl who they'd hoped would help them heal. But just moments after she was born, it was clear she was very sick, and doctors discovered Tracy had no kidneys.
'She was taken to the intensive care unit, placed on a ventilator and her parents were given a few hours to spend with their daughter before saying goodbye. The machines were turned off 14 hours after she was born, and it was through "a haze of disbelief and horror" that Toni's parents found themselves burying a second baby within a year.
While Toni always had an awareness of her lost younger siblings growing up, it wasn't until writing the book that she realised there was so much she didn't know. In several emotional sessions, she sat down with her parents and listened as they shared their harrowing stories in extraordinary detail. She never knew, for example, that a terrified Lance would hide his little arms when he heard the "bloods trolley" rattle down the corridor on the children's cancer ward.
She never knew that her mother, who went on to have Toni's younger siblings Stephen and Kirsty, felt "completely and utterly alone" after losing two children, because back then no one really talked about grief out loud. She also never knew her mother's greatest fear was that her remaining children would experience the inescapable agony of losing a loved one.
"I have such a greater depth of understanding now about what my parents went through, and so much admiration for their resilience and survival," she says. "I look back and see how they did everything in their power to shield us from the pain they were carrying. I just think they're incredible, because even though my brother, sister and I grew up in the shadow of all that, we were somehow spared. We thought life was pretty perfect."
I have such a greater depth of understanding now about what my parents went through, and so much admiration for their resilience and survival.
Yet the unimaginable happened on January 7, 2002, when Toni's 14-year-old brother Stephen was killed in a tragic farm accident. He'd been helping his dad milk the cows, when he went off on his quad bike to fix some fencing. When he didn't return, Geoff headed out across the paddocks in search of his son – only to discover his lifeless body crushed under the bike.
"My dad had to carry my dead brother back home to a mother who'd already lost two children," says the broadcaster through tears. "I still struggle with the magnitude of that."
For Toni, Stephen's death was the moment her life changed forever. Nothing would ever be the same again. She now knew the sadness that her mum had lived with for so long.
"The moment my brother Stephen died, I went from being this carefree, nothing-can-touch-me-in-life kind of person, to bam! Life as I knew it was just blown up in one day. You're not the same person after that.
"I guess your foundations get absolutely shattered and you have to find a way to live again, and it's not the same way you lived before," she says. "Everything you do after that point is impacted. Every decision you make, every relationship you have… is impacted by that massive thing that happened to your family."
Twenty years might have passed, but the pain lingers on and the tears still flow. Toni describes her grief as a feeling of heaviness, a burden almost. "It's like an invisible cloak draped around my shoulders. I'm used to it now, but it's always there."
And even now, happy moments with her own children are often clouded by memories of her lost loved ones, particularly Stephen, the shy, lovable, rugby-mad boy who enjoyed nothing more than spending time on the farm with his dad.
"Because of what happened, I often look at the kids and go, 'Oh my goodness, we could lose them'. It's a terrible way to think, but I look at Juliette and think, 'If that was Stephen, we'd only have five more years with her'. It's awful, but that's the reality of grief. It never goes away. It permeates everything. But it also makes you appreciate things more clearly because you know how quickly things can get snuffed out."
It's awful, but that's the reality of grief. It never goes away. It permeates everything. But it also makes you appreciate things more clearly.
Toni is at pains to point out that her book might have some heavy themes, but it's in no way a "misery memoir". There are light hearted moments, humour and surprising revelations – including Toni's foray into plastic surgery with a breast reduction at age 18.
She describes the decision to have her bust reduced as one of the best she's ever made, helping her go further in her sporting career and feel more confident in her appearance as she climbed the TV ladder from TVNZ sports reporter to Breakfast host and Seven Sharp presenter.
While she walked away from full-time TV in 2017 to focus on her family, in the past year Toni has been a familiar face fronting both the America's Cup and Tokyo Olympics coverage. She's always been naturally ambitious, but Toni credits her background for giving her a strong sense of purpose in life.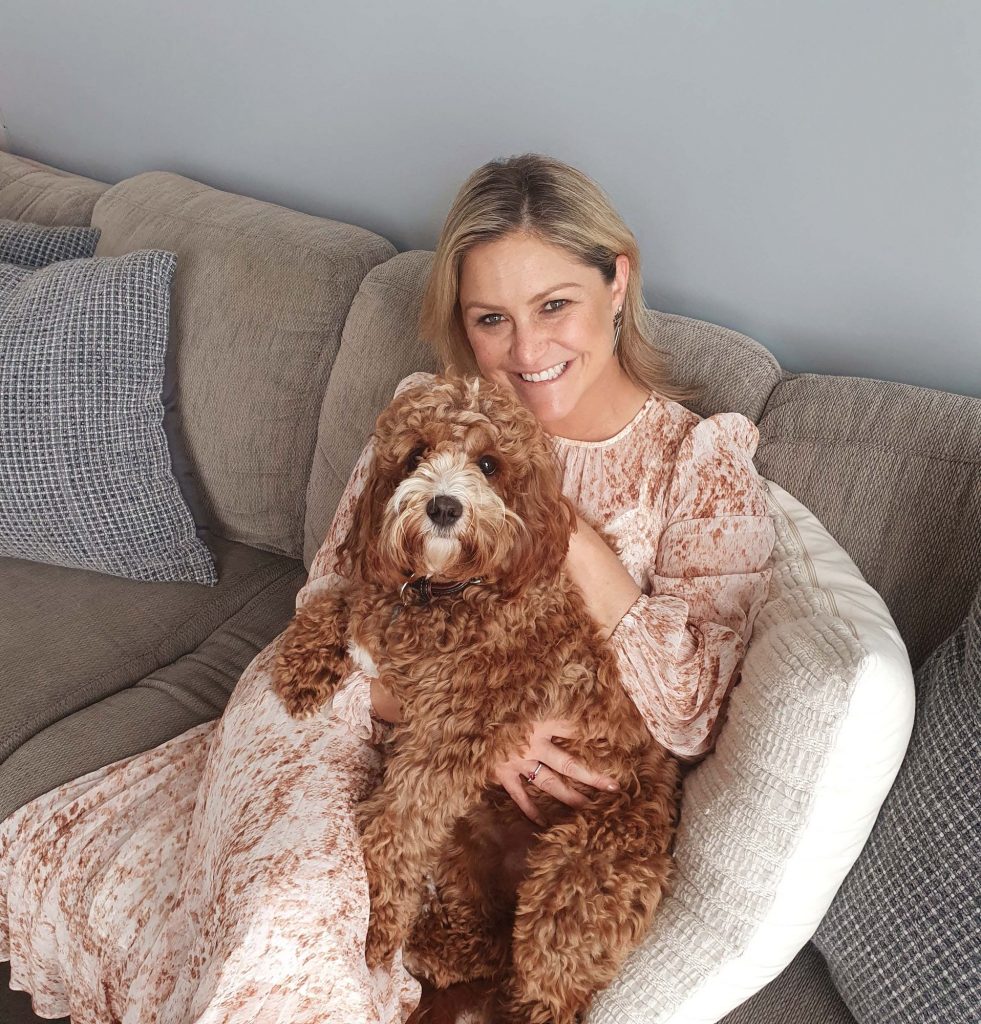 In fact, in the hours after Stephen's accident, Toni says she made a promise to herself – she would never, ever do anything that would make her parents' pain worse. Everything she did from that moment on would be for Wendy and Geoff, who still live on the family farm just outside New Plymouth.
Despite the distance, they are a constant presence in Toni and her family's lives – visiting at least once a month, travelling up to help with the kids at the drop of a hat, and joining the family on their holidays. The joy of grandchildren has been the greatest gift, says Toni.
"That desire to make life better for them has continued to drive me ever since Stephen died," she says, her voice breaking. "Absolutely everything I have ever achieved, the children I've had, it's been as much for them as for me, and I get so much joy now when I see them all together. They're the centre of my parents' universe and vice versa."
Toni is grateful that the book has breathed life back into the decades-old memories of Lance, Tracy and Stephen, and for the fact it's given her parents the time and space to talk about what they went through. She sees Lost and Found as something of a keepsake.
"The death of a child is unlike anything else. It's the most sensitive topic of all. No one wants to talk about it, and your family devises ways to still live with this gaping hole without necessarily addressing it all the time. From my perspective, as a child of parents who have lost three children, you never want to do anything that's going to make that worse, so all my life I've found it very hard knowing how much to talk about those losses without making it worse. I feel like this almost gave us a reason to revisit things, which was hard and uncomfortable at times, but very necessary. I'm glad I did that for Mum and Dad and I know they're proud."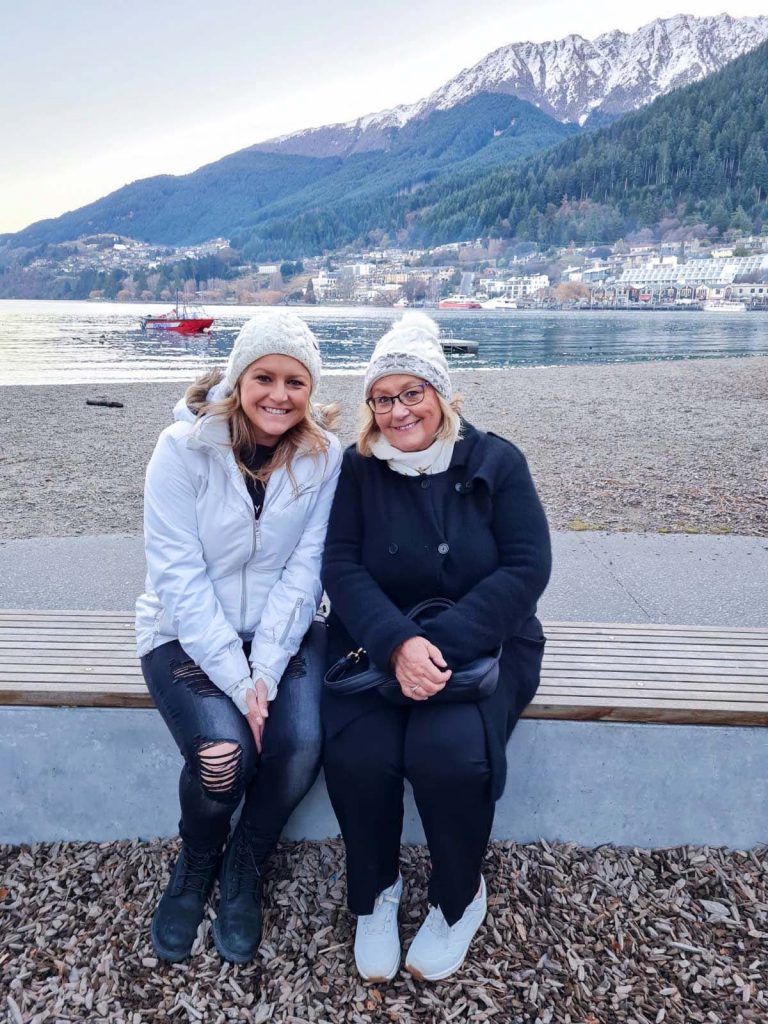 While the book has helped their recovery, nothing has been more healing for the family than the arrival of little Lachie, the miracle baby born thanks to the incredible generosity of Toni's childhood friend Sophie, who stepped in to help.
Toni had been devastated to learn her auto-immune condition, Churg-Strauss syndrome, meant she couldn't consider a third pregnancy, and Sophie's selfless act changed her life in more ways than she ever could've imagined.
"Lachie is such a gift," says Toni, who says her little boy's resemblance to his late Uncle Stephen constantly amazes her. She hopes that by sharing the story of his creation, others will find the surrogacy process less daunting than she did.
In the beginning, she, Matt and Sophie were frustrated and confused by the void of information on surrogacy in New Zealand, and she hopes that her book might help demystify the process somewhat.
"I remember looking on the internet for real-life Kiwi surrogacy stories and there was only one! So now I feel a huge responsibility, as someone who's been through a public surrogacy, to share a true representation of what we went through," she says. "I know from the outside it might look like it was all roses, but Sophie and I both believe it's really important that we're honest about how hard it was. There were so many hurdles to get through, so many tough parts, and it's important that side of the story is shared."
One of the "grittiest" parts, which is detailed in her book, was the hours and days after Sophie gave birth to Lachie. Handing over a baby that she'd carried for nine months was much more emotionally difficult than either of them had anticipated.
"Sophie was knocked for six by her feelings of loss and loneliness, and I was overwhelmed with guilt for what I'd put her through," recalls Toni. "It wasn't like she regretted it or wanted to keep the baby, it's just that neither of us were prepared for the huge emotions."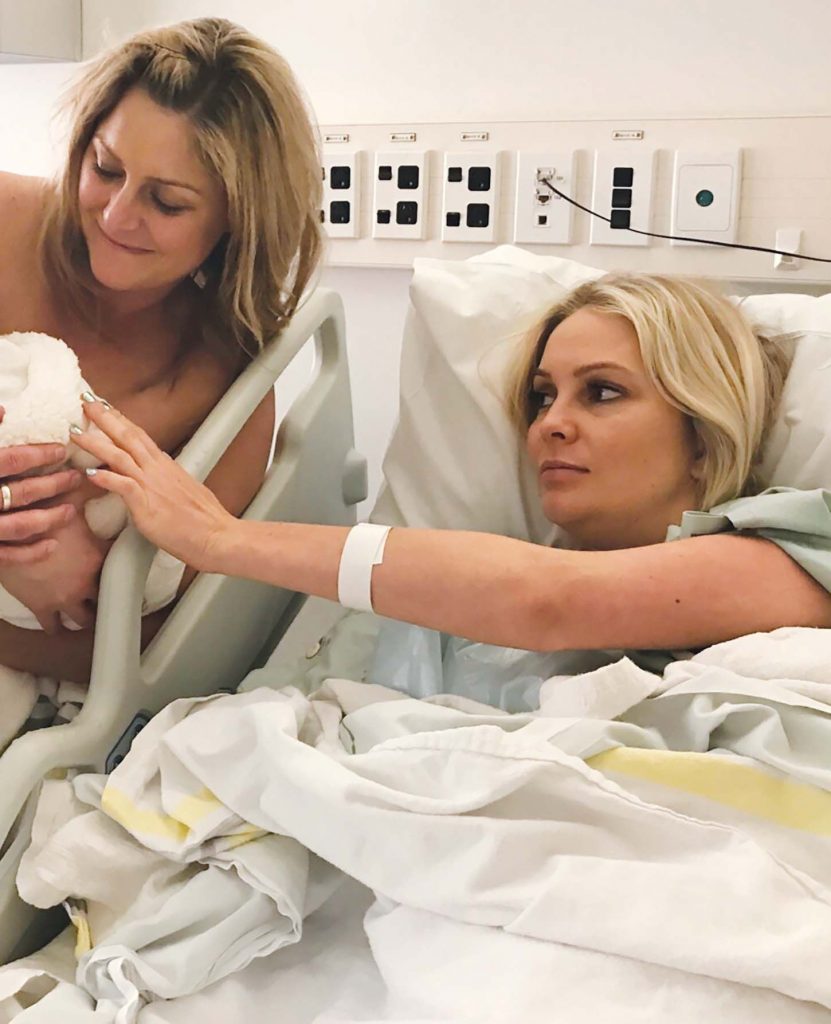 They credit open communication and a deep trust built on their 25-year friendship for helping them through – something that most people embarking on a surrogacy don't have.
"We had all the elements for the perfect surrogacy because we were lifelong friends, and even with that it was hard. So for people going into this with someone they don't know so well, I can only imagine how much fear there must be lurking in the back of your mind. There is so much trust involved."
Toni has become an outspoken critic of the laws governing surrogacy in this country, and on the day we speak, she's just put the finishing touches on her submission to the law commission on proposed reforms.
Her biggest hope is that intended parents, people like her and Matt, will end up with greater protection. Currently, if a surrogate changes her mind while carrying a baby that's not biologically her own, she has every right to keep that baby. The fact that Toni and Matt had to apply through Oranga Tamariki to legally adopt their own child after he was born, despite the fact he was conceived via IVF using Toni's egg and Matt's sperm, still shocks them.
"It took four months before Lachie was officially our child, which was upsetting for us, and a big burden on Sophie, who deserved to be free of the responsibility. The laws are so outdated, so it's a big relief that changes are underway."
Whether it's penning a submission or writing a book, Toni's desire to help others is at the heart of why she shares her story.
The rain has stopped now and Toni's family are mobilising for their bike ride. No matter what she's been through, she'll never stop being grateful for what she has – her ability to see the positive in any situation, she says, is the silver lining in what she's been through.
"I've lost a lot, but I have so much as well, and that's what my mum has taught me. That no matter what, we're lucky to have the people we love and none of us will ever take that for granted."