When their dream of a villa on a spacious site came to nought, a Wellington couple created a timeless character home from scratch.
Although this new-build farmhouse overlooking the Hutt Valley looks grand and smart on the outside, few could imagine what lies beyond the cheerful red front door. Step inside and an intricate design story unfolds, where every perfectly executed element builds on the narrative and each corner adds another decorative chapter to the tale.
Visha White is a natural-born storyteller and she's crafted a home for her, her husband Jonathan and their children Sebastian, 16, Lylah, four, and baby Liam that is ever engaging. Born in Fiji, Visha grew up on a farm and emigrated to Aotearoa 21 years ago. Jonathan also grew up rurally – he was homeschooled in the middle of the South Island, surrounded by mountains – so the couple, who both work in IT in Wellington, wanted land for growing children and room to kick a ball. After a two-year search, they found it here, on an acre with a view of the river, where twinkling town lights punctuate the night.
Truth is, they looked long and hard for a traditional old villa in a commutable location with lots of land, but this proved elusive. Besides, the decision to build meant Visha could put her stamp on the architecture as well as the interiors. "One of my pet peeves is going into houses that all look very similar," she says. "They may be modern and clean but to me they lack soul."
With a clear vision, Visha worked with a group building company to craft her own "modern European farmhouse", straying from the copybook to pick out items such as decorative wall panels, wide skirting boards and moulded architraves. But she wasn't just across the details – in a commendable leap of faith, she also took on the design of the kitchen herself. She drew it up using online software (measuring carefully!), and chose the materials and colours for the cabinets, hardware and benchtop. Then she put it out for quotes. "They were coming in around the $100,000 mark, so I decided to go directly to the source, and ordered it myself from a manufacturer overseas."
It was a risk, and the process was by no means plain sailing. "I wasn't aware of importation fees or how long things would take to arrive," she says. When the kitchen finally made it to our shores, the marble for the island top was smashed to bits, and it became a gigantic flat-pack project. "We struggled to find a builder who would take it on, but finally, a retired cabinetmaker said he would do it for the challenge." He turned out to be a godsend. The kitchen, with its Shaker-white cabinetry, shiny brass hardware, and a French blue island topped with a slab of oak, is a showstopper – for half the price.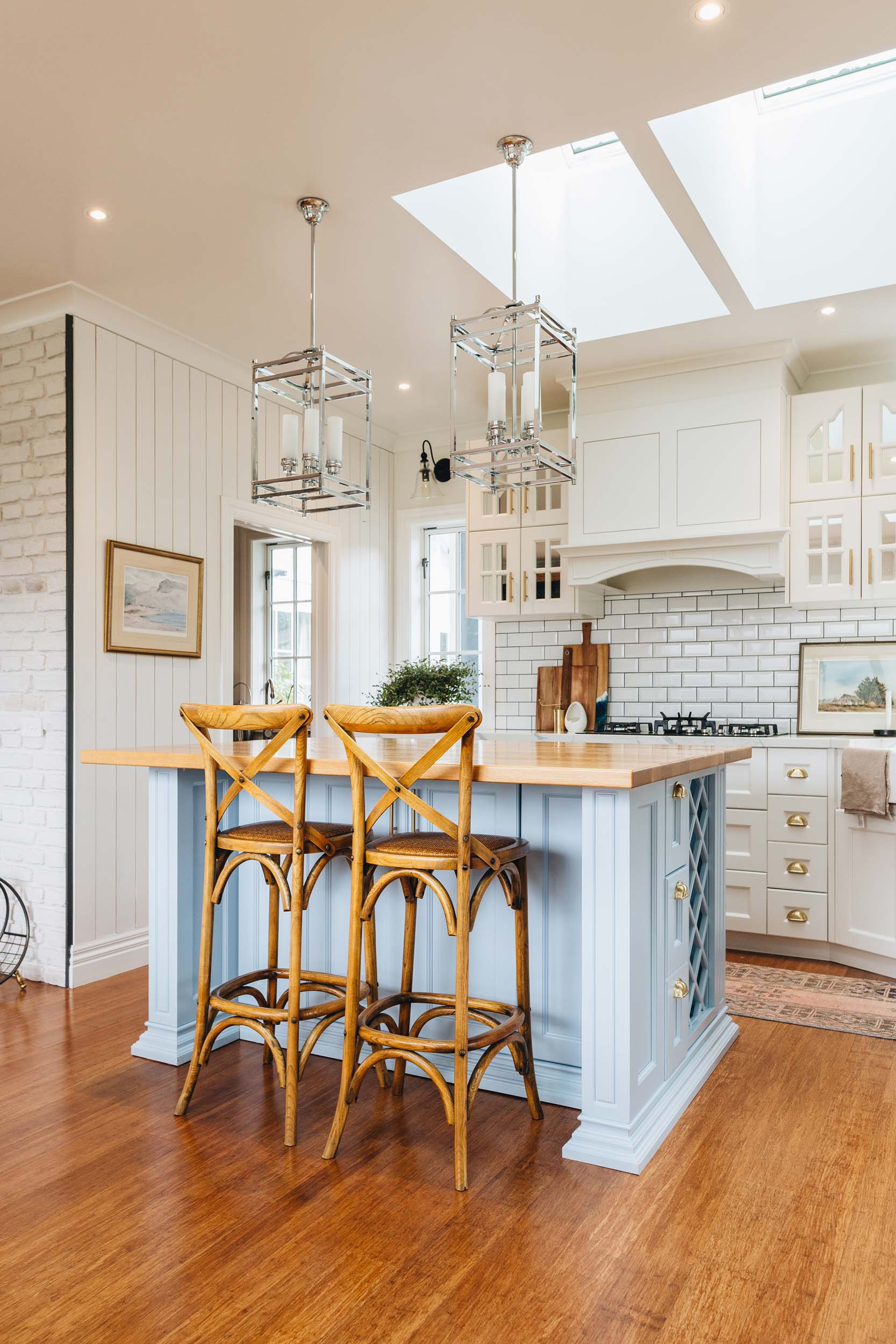 The kitchen wasn't her only triumph. Heavily pregnant and working, Visha's dedication to the cause was thorough. For the bathrooms, she hunted high and low for fittings with a touch of European grace. In the black-and-white guest bathroom, a claw-foot French tub teams elegantly with a French armoire-style vanity. Though they are the perfect match, they're both from different stores.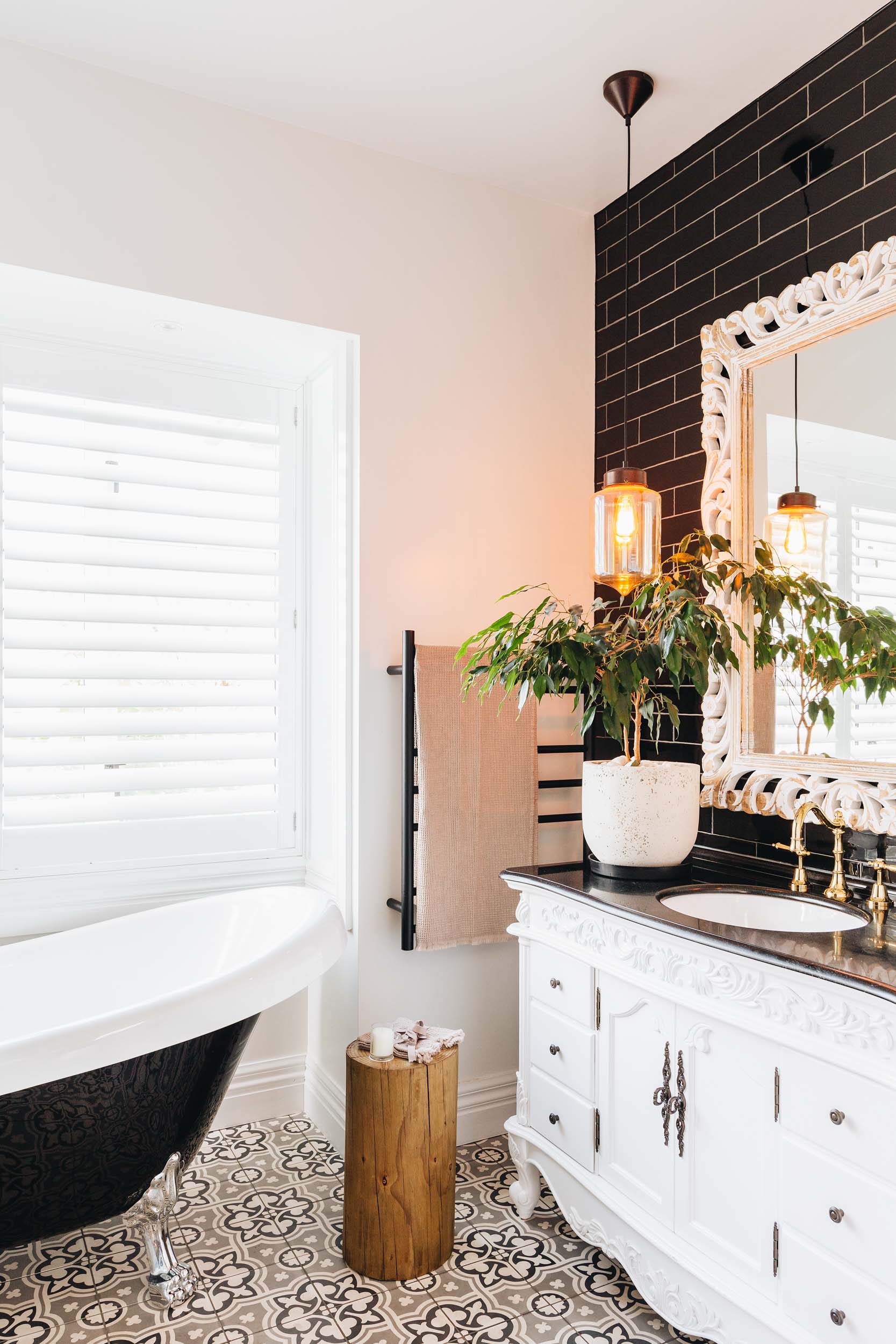 Visha enjoys the hunt, so once the 13-month build was complete, she was literally and figuratively in her happy place. Seeking furnishings and other finds to decorate the four-bedroom home has been her joyful mission ever since. The open-plan family room, dining and kitchen area, connected by several sets of French doors to the deck and the backdrop of the valley, showcases her mantra of using white for lightness, wood to add warmth and touches of metal, mostly brass. "It's a formula I keep going back to," she says.
Visha credits Instagram, Pinterest and American designers Amber Interiors and Joanna Gaines for her inspiration (and she now returns the favour by sharing photos of her journey to her own Instagram account, @home_with_the_whites.) "I also like Parisian style – the way they use chandeliers and elegant, large mirrors," she says.
The sophisticated ambience belies the fact she has Trade Me and Facebook Marketplace bookmarked. She has discovered several vintage and antique pieces on the sites for a steal, including old timber stools and a hallway table for storing shoes. "I am addicted," she admits.
If that's true, it's a healthy addiction that wraps the family in a layered, lovely aesthetic. In Lylah's room, which is painted French grey, a bed with a tented frame is the centrepiece while a handmade hand-me- down doll's house also gets a starring role. In the main bedroom, the mood is slightly darker, with a forest of trees on a grey-blue background bringing pattern to the wall behind the bed. Curated vignettes abound, from a collection of glass jars used for storage in the pantry to a distressed pottery vase with an ikebana tree branch on the entry hall table.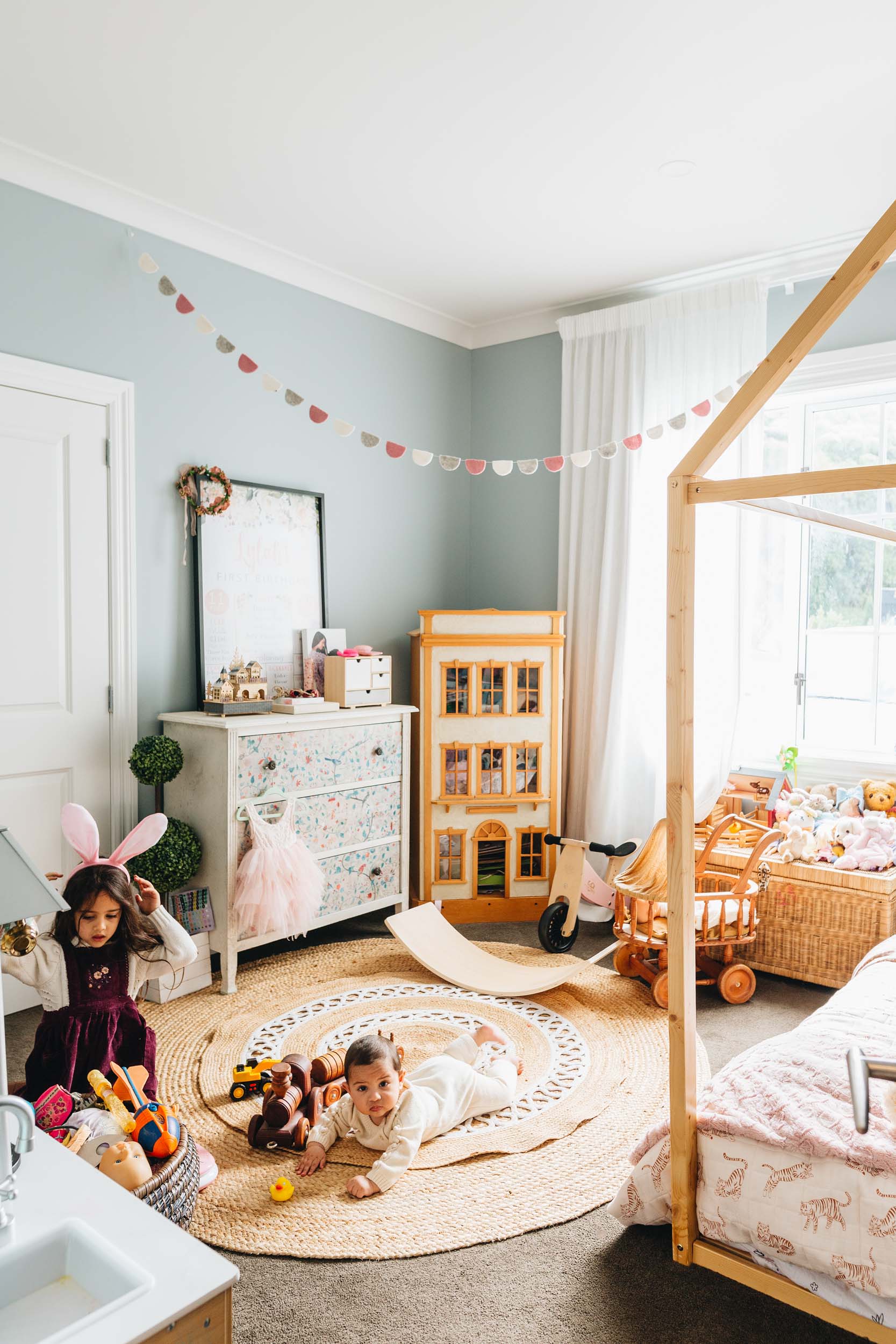 Although the Whites took up residence in 2018, the decor continues to evolve. Now that she's home for a few months of maternity leave, Visha likes to spend Liam's afternoon nap time tucked into the royal blue couch in the formal living room, where the sun streams in and a rubber plant stretches to the ceiling. "I close the French doors and hide away. No one looks for me here," she says.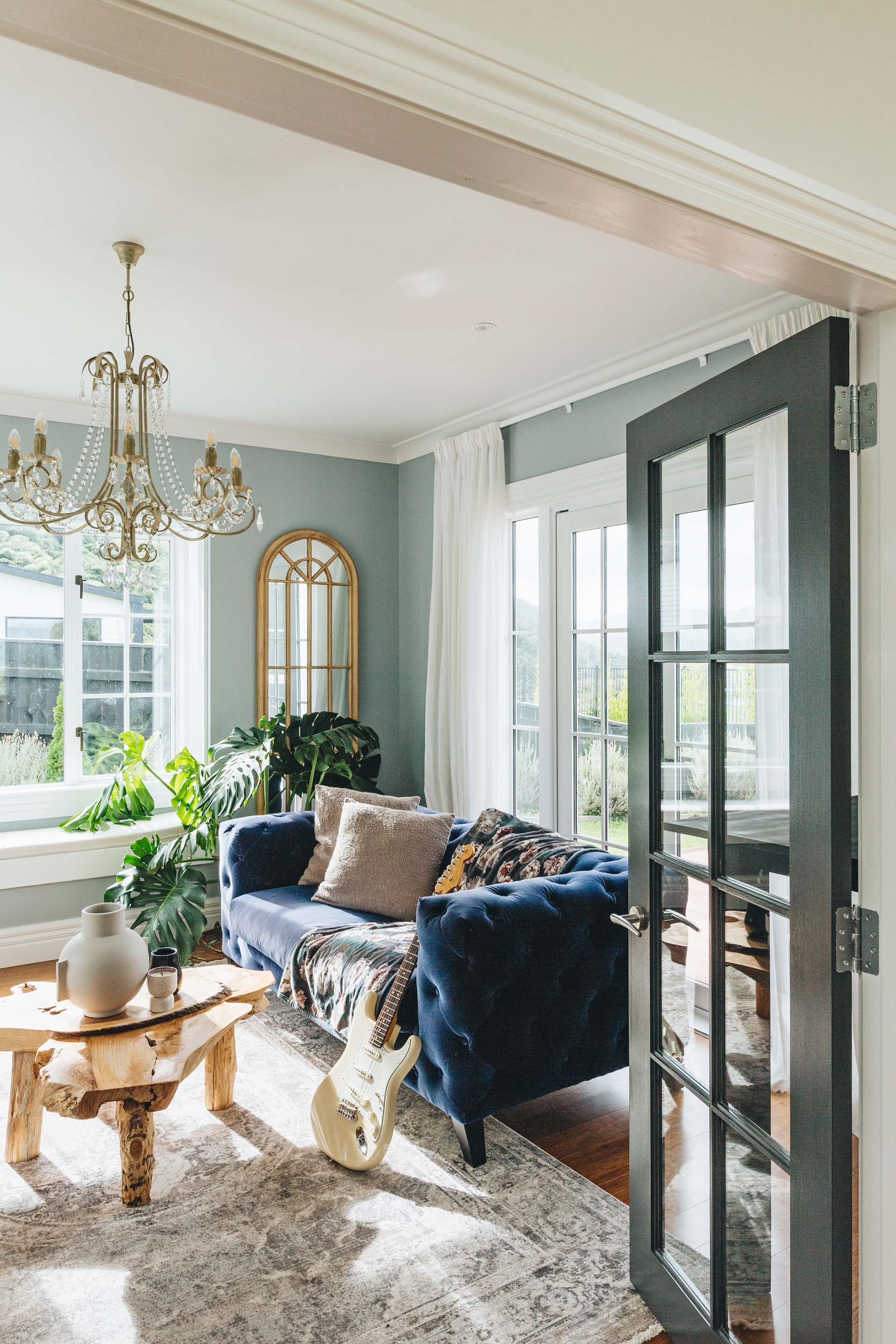 If they did, they'd likely find her dreaming of her next move – she wants to add shelving to the room for books and vessels. Or they might find her online, chasing her next discovery. "I just love it," she says. "I keep trying different things. At one point – who knows? – I might even have the confidence to jump out of IT and do what I am truly passionate about." Not just a new chapter but a whole different novel.
IMAGES VIA BONNY BEATTIE