Treading lightly was a top priority for a Waiheke Island family of three whose new build almost disappears into the surrounding bush.
For three years, Willem and Kate Van den Bergh, along with their son Leo, two, and cat Alba, happily fit their lives into an 18sqm tiny house. But they always knew they would outgrow the cosy cabin on the bush-clad Waiheke Island section they purchased four years ago. Their plan was to use the tiny house as an affordable stepping stone while designing their dream family home further up the 1778sqm section. This relaxed schedule gave architectural designer Willem plenty of time to hone the design, which brings through some of the small-space considerations gleaned from tiny-house living.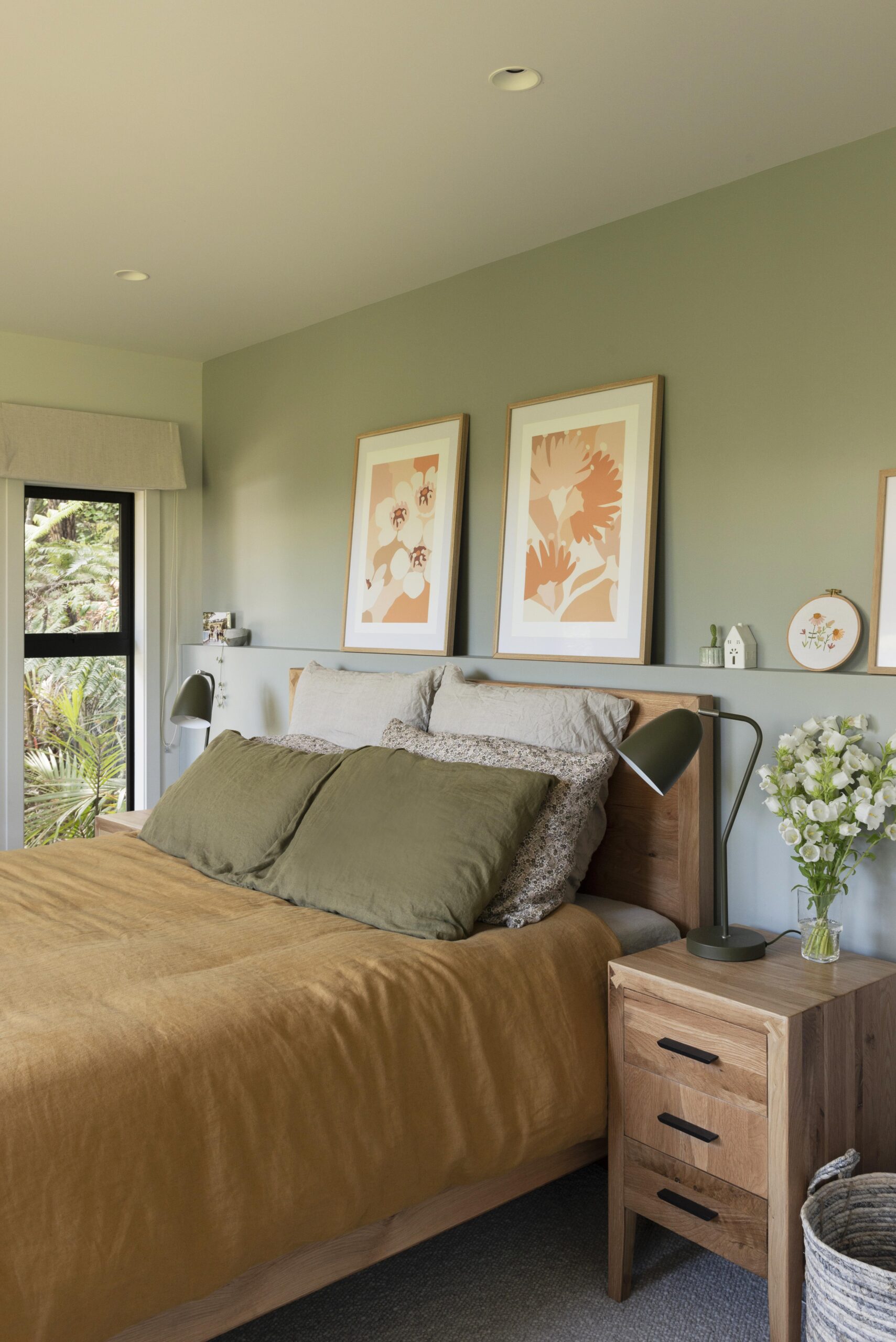 Willem and Kate loved their first house and found it roomy enough for a couple and even a baby, but as Leo grew into a toddler and 2020's first lockdown hit, a little more space suddenly became a lot more desirable. They ramped up the project, bringing Tomik Architectural Builders on board, and started building in September 2020. Six months later they moved in, just a month behind schedule, with slight delays caused by another lockdown and supply issues.


Kate says that living on-site in the tiny house meant they could watch the home come together during the build. "It was incredible seeing it go from paper into real life and coming home every day and seeing the progress, walking around the spaces once they were constructed and dreaming about what it would end up looking like."
Willem had designed the tiny house as well, but it was his dream to design their new home, so Kate let him take the lead. But with Kate being a graphic designer, there was potential for clashing opinions. The couple have "two very different styles", she says, so they came up with a compromise. "I let Willem design the outside of the house and I got free rein on interiors!"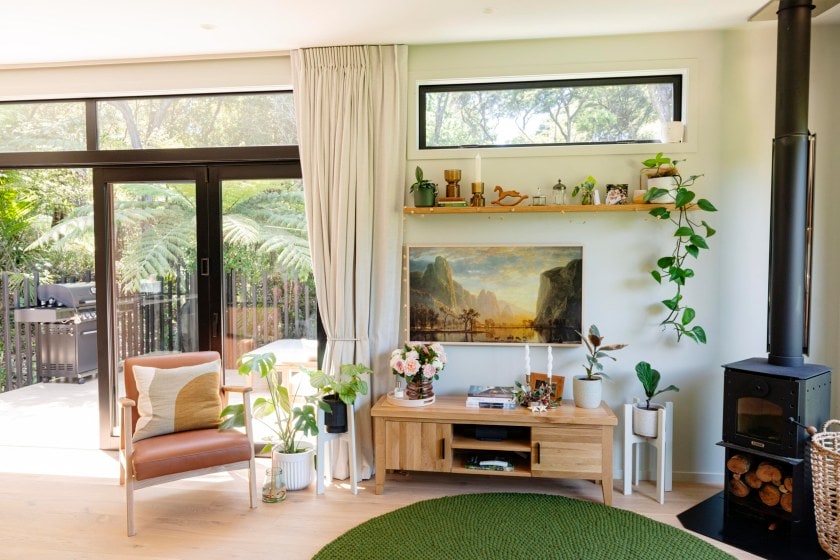 Kate and Willem took their cues from the native bush surrounding the home, which is nestled into the surrounding kānuka, tī kōuka and nīkau. They removed as few trees as possible, to ensure there was minimal disruption to the environment and to help the house merge into its surroundings. "It looks like it's been there forever," says Willem. "It almost feels like it's hidden, and that someone could walk past and not even notice it."
He chose black Colorsteel cladding and window joinery to help the building blend in and to disguise any kānuka sap – a lesson learnt after using white joinery in their first house. Willem was also inspired by the minimalist homes architectural and building company Box has built on the island, and in a nice turn of events, he now works for them.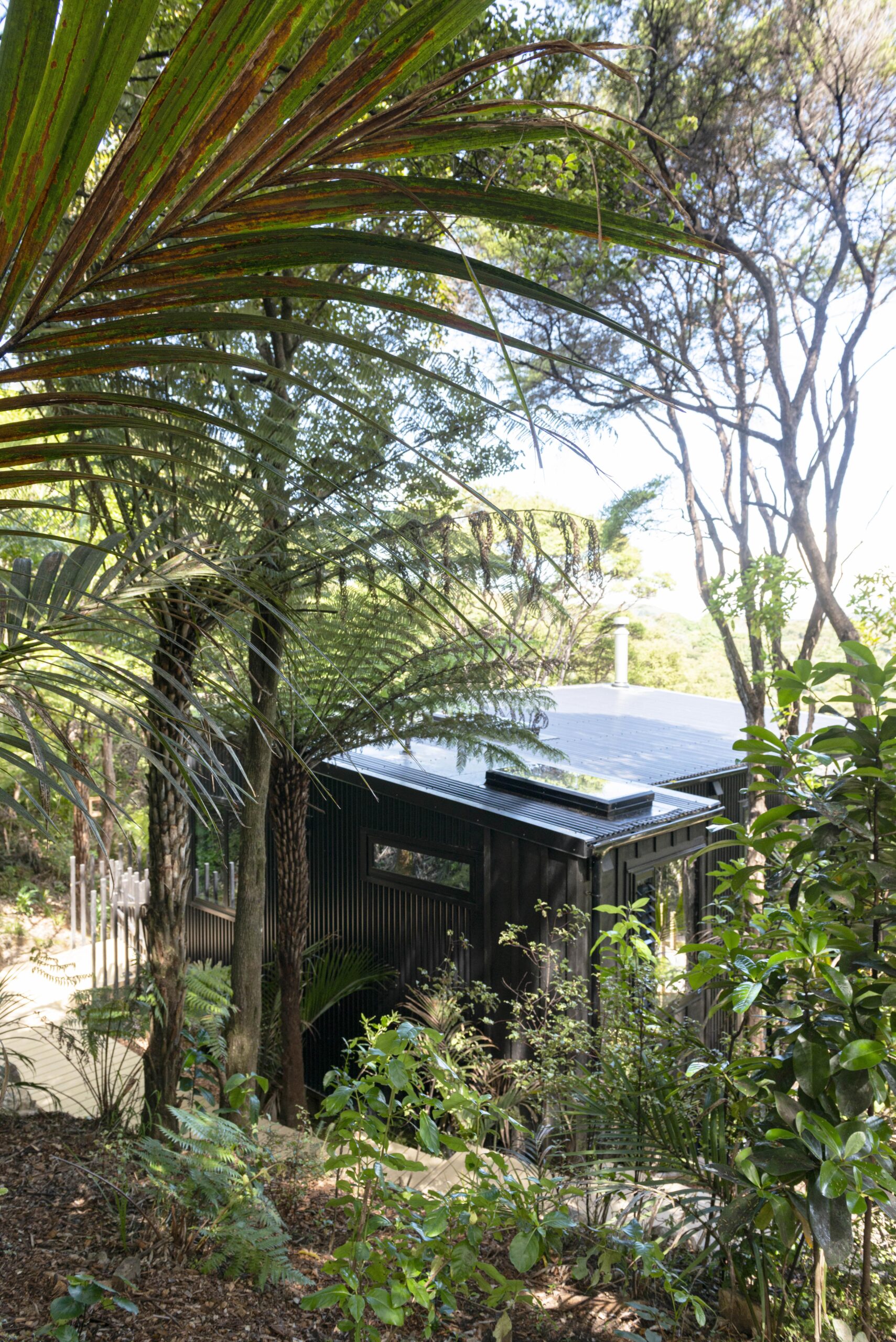 Inside, the connection to the environment continues, with the open-plan kitchen, living and dining space featuring a cantilevered window seat floating above the trees, and a wall of almost floor- to-ceiling windows sliding open to the valley beyond (with a toddler-height glass railing for safety).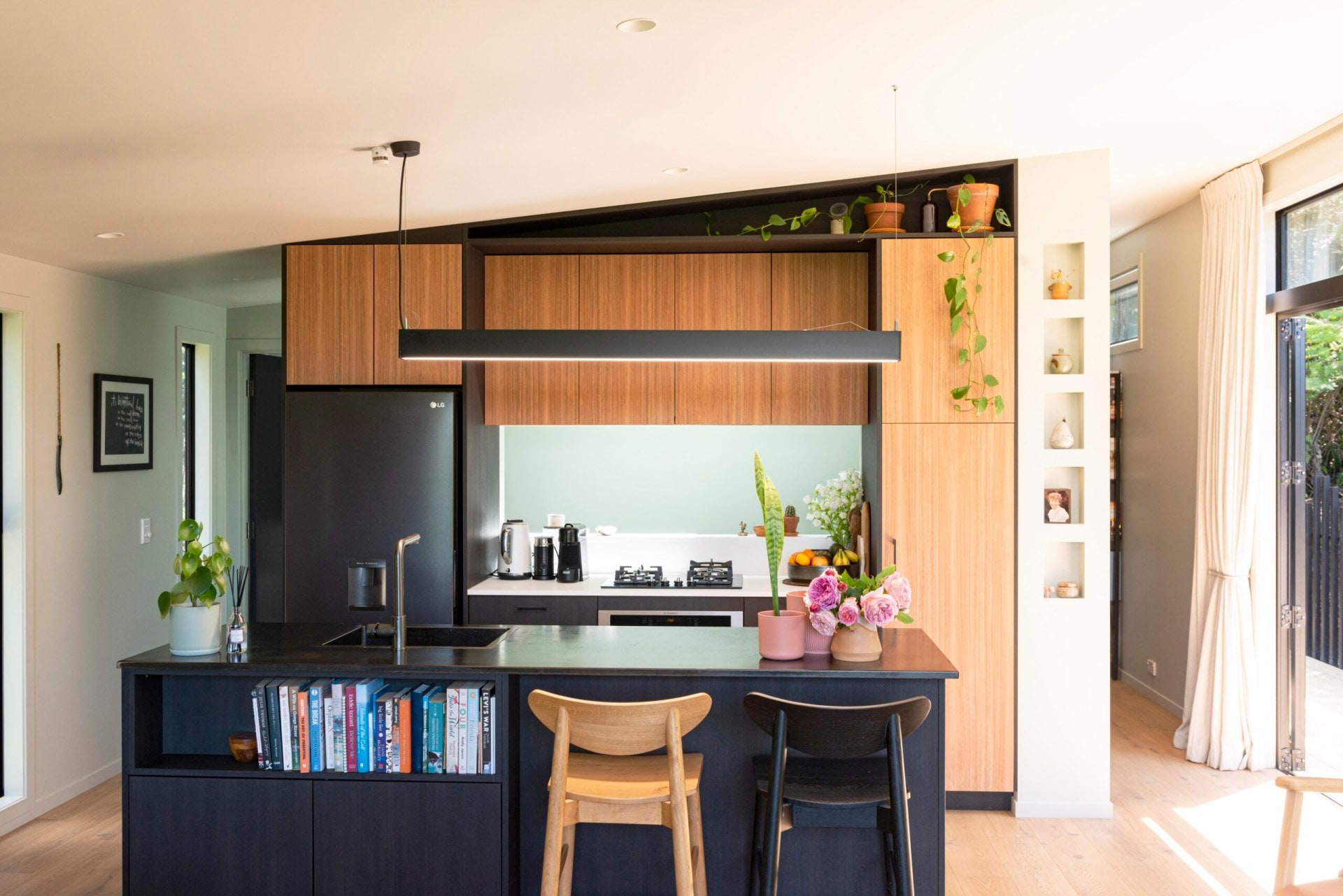 In the bathroom, the bath pops out into the bush, and a skylight and large surrounding windows make it feel as if you are bathing outdoors (something you can actually do at the tiny house, which is now visitor accommodation).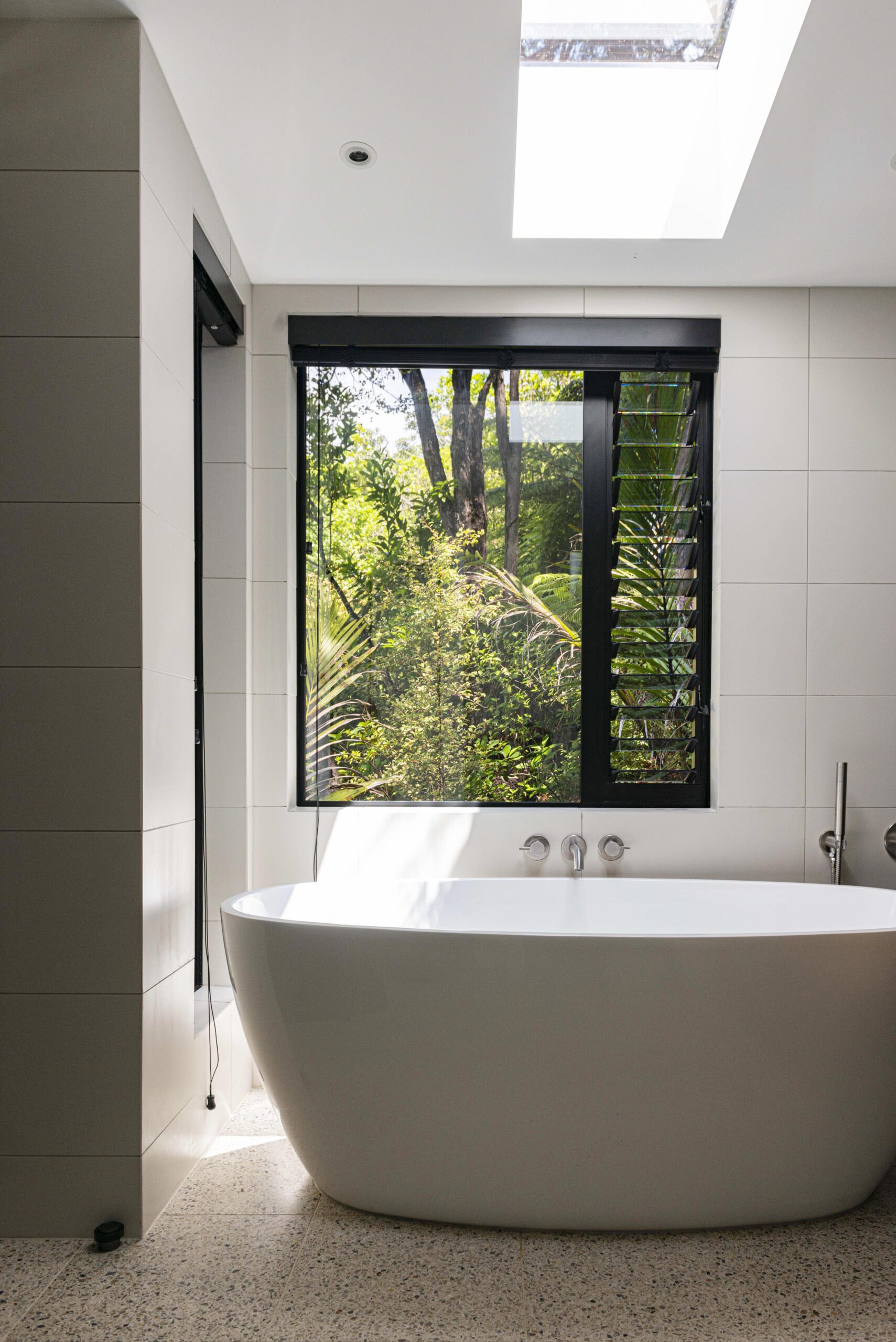 Inspired by their experience with small-space living, Kate and Willem wanted to keep their new home compact, and the sloping, tree-covered site also dictated a smaller size. At 95sqm, the home is not as large as the average Auckland house. They have consent to build a sleepout, which will provide more bedrooms if the family expands.

Their time in the tiny house also led Willem away from the traditional format of a formal entry and hallways, and inspired multifunctional details, such as the window seat that acts as dining table seating, storage and a guest bed, and the mini playroom tucked into Leo's wardrobe. "If you spend a bit more time at the earlier stages, designing and thinking about spaces, it helps in the long run," says Willem. "You can actually do smaller spaces and more functional spaces."

Kate began her design process by meeting with a Dulux colour consultant, who helped her choose a theme for the house, with calming green tones influenced by the surrounding bush. The colour was meaningful in another sense too. Kate's mother sadly passed away two weeks before Leo was born, and green was her favourite colour, so it was important to Kate to incorporate it into the home. "Mum's inheritance gave us the freedom to build the house," she says. "It was like a gift from her, so we were very conscious of how we spent it." The move-in process was only slightly marred by the fact the family initially had nothing to sit on. They wanted to get a feel for living in the house before making decisions about furniture, but shipping delays meant that they couldn't get anything delivered for months.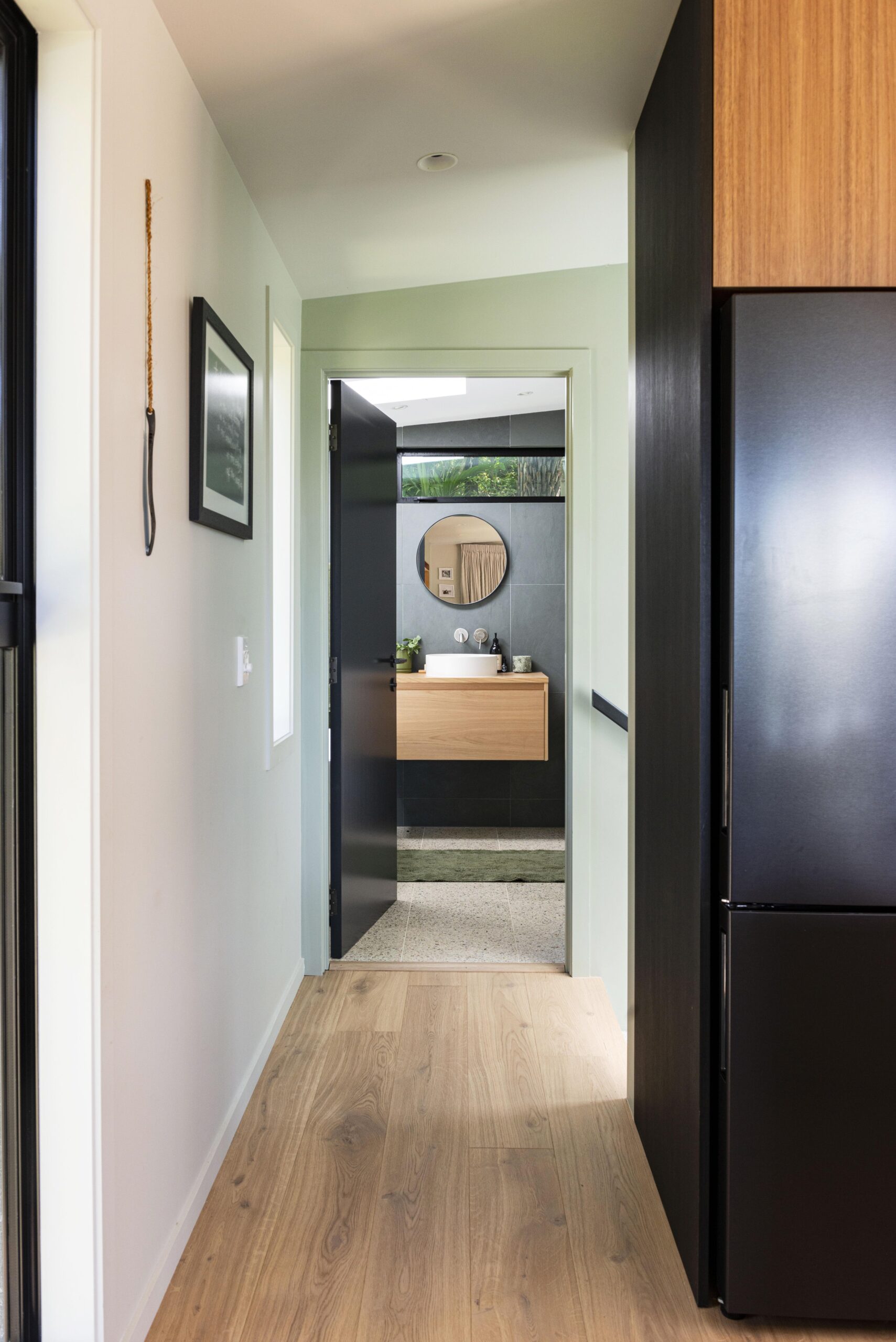 "When we moved in, it was like an empty shell because we had been in the tiny house where every piece of furniture was inbuilt," explains Kate. "We brought our mattresses in, and it was like camping for the first three months!"

Now, it's all furnished, and there is just the landscaping – including a firepit and outdoor kitchen – and a few finishing touches to go. Although it took a while to get used to the increased space, the family is now relishing the sense of "normality" of their still small, but not tiny, home. They're quick to recommend tiny- house living, though, as the tool which gave them the freedom to get onto the housing ladder and, ultimately, into their dream home.
Follow Kate, Willem and Leo's adventures on Instagram at @tinyhousefamilynz.
Bush craft: tips for building in the wild
Try to keep the footprint as small as possible, so that you have a minimal impact on the surroundings, even if that means you build multiple levels.
If your house is under trees, depending on the species they may drop a sap that can stain your exterior, requiring constant maintenance. Be clever with your choice of materials for the cladding and roof.
Make sure you take your time when planning the position of your rooms so you can make the most of the sunlight you have on a bushy section. Try to add as many skylights as you can, but do consider that you will need to clean them regularly.