As professional film costume designers with their own bespoke furniture line, this couple knew exactly how to bring high drama and elegance into their apartment.
Stepping into the Parnell apartment of Jono Lousich and Jimmy Rogers feels like arriving in a gentleman's club from some elegant bygone era, it's not by coincidence. That's exactly what this husband and husband team intended.
The debonair home is part of a row of buildings erected in the 1960s for fabric factories, warehousing and offices, before being converted into apartments in the 90s. Since they bought it three years ago, Jono and Jimmy have renovated almost all of it by themselves. They've had assistance from an electrician and plumber but figured out everything else with the help of the internet.


"We learnt how to lay flooring and then painted everything white because it was a horrible, vile yellow colour," says Jono.
"Brown wood and vomit yellow," adds Jimmy. With the help of the less-obtrusive colour scheme, the 5m-high ceiling at the centre of the apartment soars. "It feels really open and large in kind of a small space," says Jono. "That's why we're able to play around with it."

The result of their efforts is a tactile and timeless mise en scène that spans several eras of standout design, including a modern chesterfield-style sofa in emerald velvet, paired with mustard cushions printed with a faux oil painting of Bill Murray.
"I guess we've got a good eye to just make it work," says Jono.



He and Jimmy work together in the costume departments of feature films, focusing on textile design and manufacture and artistic finishing to help the costumes tell their story. Most of their work is for Disney – including Mulan, which required the duo's screen-printing skills for some of the main characters' costumes.
Handcrafted interiors shine in a dramatic Auckland apartment.



Solutions created on film sets often influence their designs at home. A graphic rug in front of the lounge suite was made from four cowhides, scallop-cut and assembled over 30 hours using a technique developed for The Hobbit trilogy.
When they're not doing contract work, the couple create bespoke furniture under the brand Jimmy Lousich, and they are currently experimenting with screen-printed wallpapers for a textiles range.


Seeing their work amplified under bright film lights has instilled an appreciation of paint finishes. Inspired by the candy-apple colours of 1960s hot rods, Jimmy upcycled a damaged gold-leaf mirror into a shining turquoise showpiece – the secret is the silver undercoat.




In the lounge, mirrors bounce light from floor-to-ceiling windows and through to the apartment's darker side. "A lot of the decisions we made – like the excessive amount of mirrors – were specifically because the apartment was small," says Jimmy. Adds Jono: "To try and lighten everything up was quite key to us."


The couple don't shop for interiors for the sake of shopping but they know how to find what they want when the time comes, including during Trade Me auctions. They make an exception to browse Junk & Disorderly and out-of-town op shops, where hidden gems can surface.




Jono is slowly imparting a love of mid-century modern and Kiwiana finds to Jimmy, who, hailing from England, prefers Victorian styles. Favourite ornaments make it out of a storage container for a rotating display, including dramatic sputnik lamps, one of which currently overlooks the sofa. As a chef who used to own restaurants, Jono has made a focal point of the sleek black-and-white kitchen.



The original galley layout has been doubled in size and surrounded by pressed tin that resembles ornate tiles. It's ideal for night-time entertaining, with an open-plan layout and clever storage, including hidden fridges. Swapping white tin for black at the splashback means the space looks like one big bar when the lights are dimmed. Cut to a typical day and you'll find Jono here, taking his time on a dish for a dinner party.
Jimmy's favourite spot is the courtyard – even on rainy days he can be gardening, thanks to a new louvred roof. What was once a concrete yard is now an oasis, with nīkau palms, Australian tree ferns, magnolias and more. Some are straight from the set of the Avatar sequels, which Jono and Jimmy recently wrapped in Wellington. There's also a wine-barrel smoker tucked within the foliage, perfect for when a party moves outside.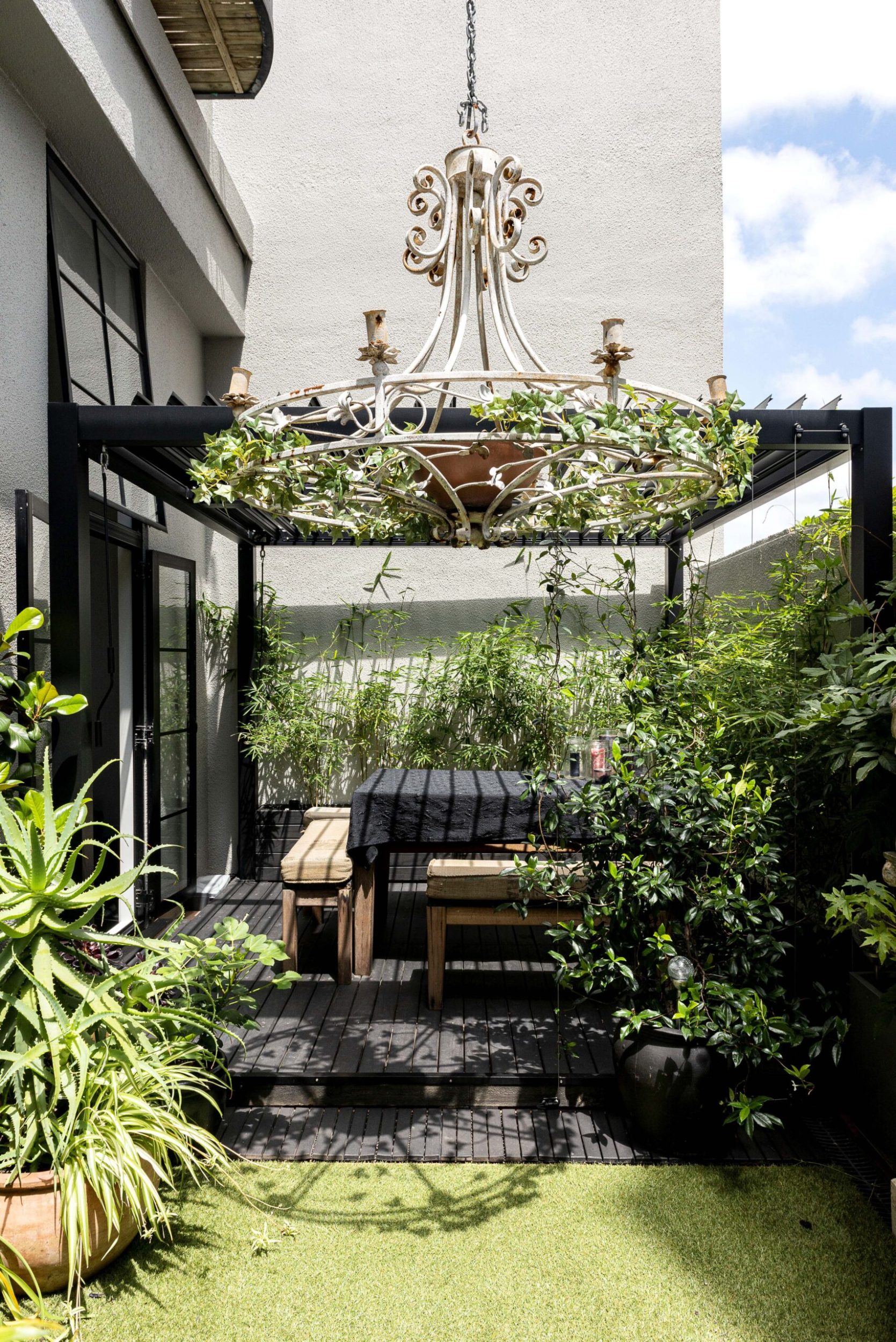 The couple love that they are close to the lush Auckland Domain and the eateries and cocktail bars on Parnell Rise. They enjoy the ease of living in their home – and of locking up and leaving when work calls. All they need to arrange is a plant-sitter. "We want to worry about the inside, but we don't want to worry about the outside," explains Jimmy.
Tennis rackets hang about the apartment, but the longest spell the pair have spent on the complex's shared tennis court was when Jono served a Christmas dinner on it – Jimmy reckons the court has "probably one of the best views this side of Auckland".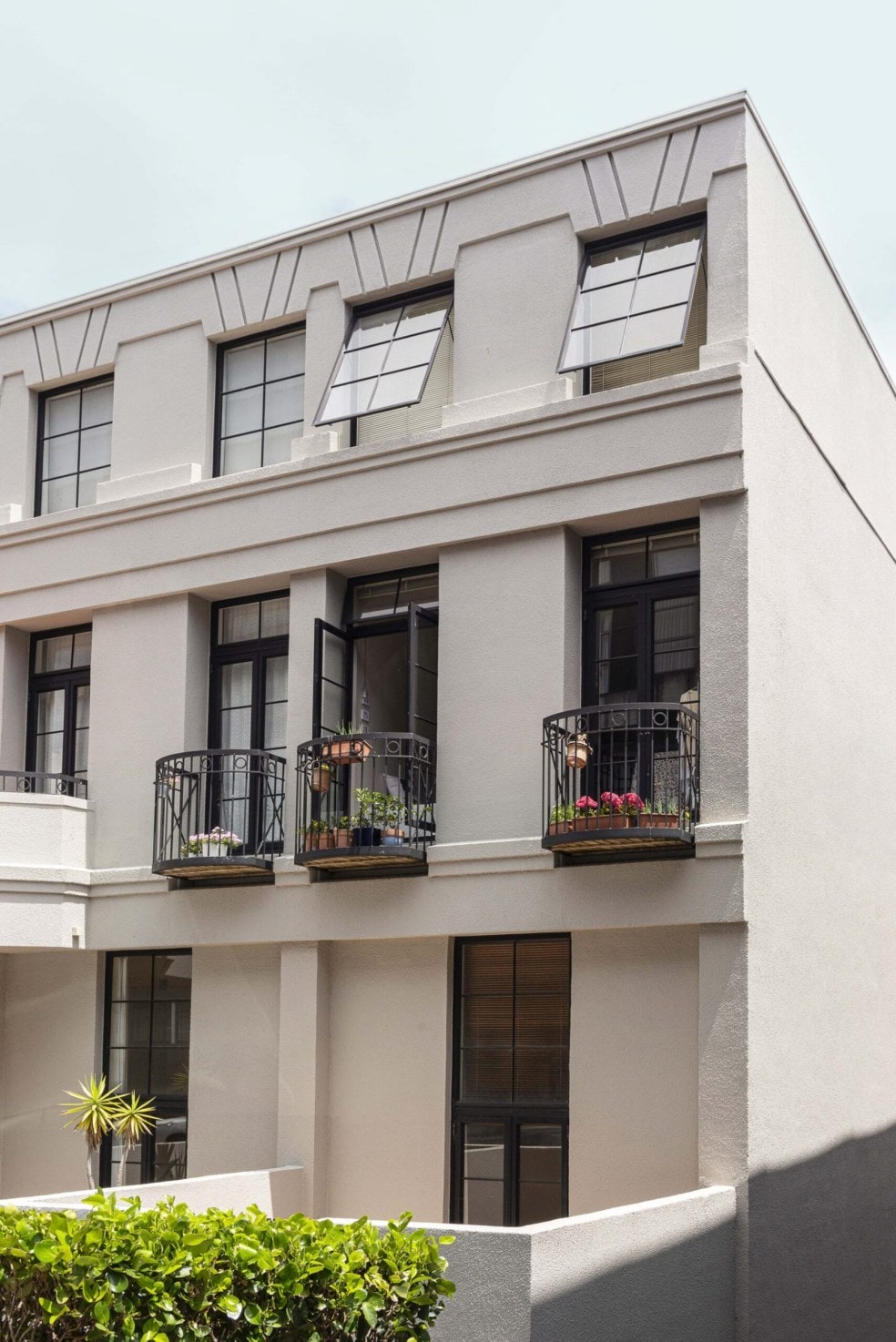 The couple are now preparing for a theatrical renovation upstairs, with a bedroom featuring a scalloped fur wall to rival their living room rug, a walk-in wardrobe, bathroom and study/library, all in keeping with the downstairs theme.
We can't wait until it's ready for its close-up
Swipe the style