A serene home on the outskirts of Hamilton is an inventive, creative and ever-evolving reflection of its owners.
Artist and creator Lynda Wilson turns her hand and mind to all manner of materials. Her creative practice is varied and her work is inventive, other-worldly and imaginative – and her rural home, on the outskirts of Hamilton, provides a restful backdrop for both her love of art and her artistic pursuits. Lynda and her chartered accountant husband Ross built the gabled home in 1998, in a simple three-bedroom-plus-office design that fit their budget and their young family's needs. Their spacious section is also put to good use, with a pool on its northern side that links to a studio and guest annex, and is surrounded by established gardens and mature trees.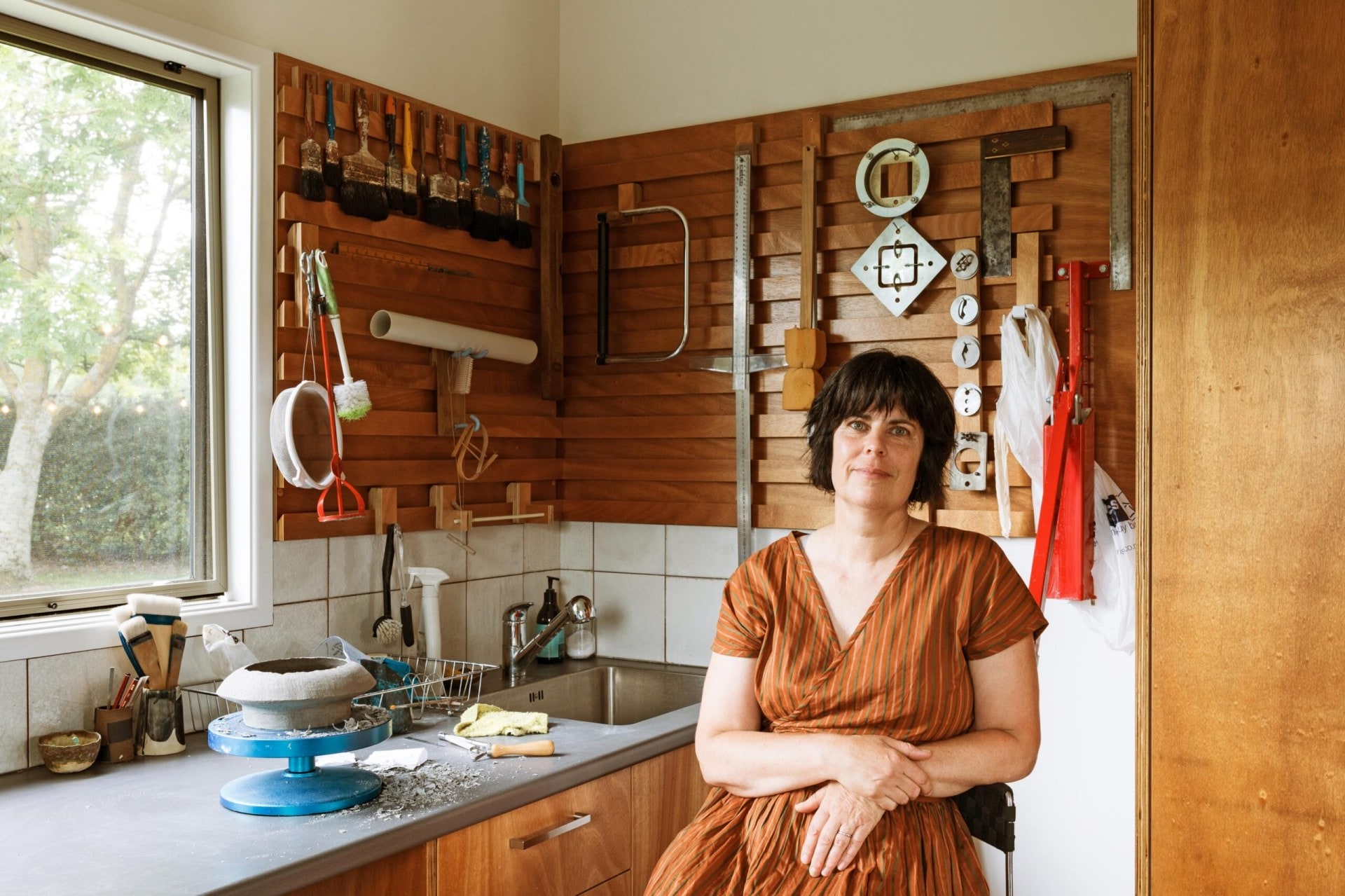 In latter years, with their children Kerin and Jared grown up, they've quietly gone about making subtle but significant alterations to their spaces – including, most recently, a striking and highly functional kitchen reconfiguration that celebrates natural materials.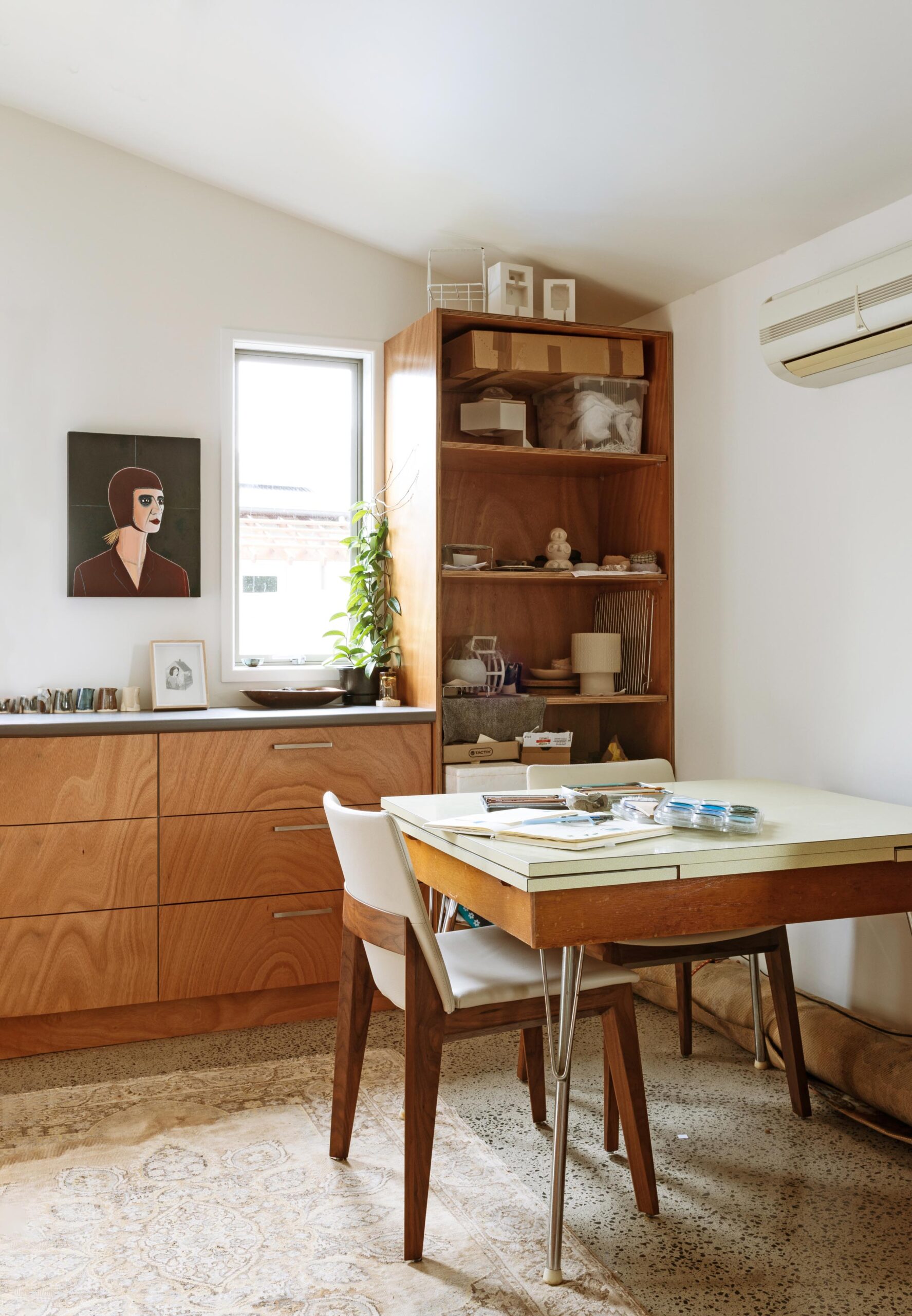 The couple had been thinking for a while of modernising and streamlining their kitchen, and the exercise began in earnest over dinner one night with a builder friend, Martyn Seddon of Cemac Construction. The trio mapped out some sketches at the table, and the collaboration became a meeting of both minds and materials.
Solid Australian spotted gum, chosen for its warm rich tones, features in the cabinetry and flooring. Vertical slats dividing the entranceway and the kitchen invite and intrigue, especially as the light moves about in the space. Tucked behind this screen is a plumbed-in Italian espresso machine that Lynda and Ross say is a necessity for rural living. Beside it, bespoke cupboards in spotted gum veneer touch the ceiling and make a sculptural statement. The splashback and the island bench that runs almost the length of the room are constructed from engineered stone. A grouping of Lynda's hand-built ceramic planters adorns one bench end, creating interest and texture. Behind, L-shaped cabinetry is juxtaposed with creamy wall-hung cupboards. One change – expanding and moving a window down to sit at bench height – was subtle enough to go unnoticed by many regular visitors.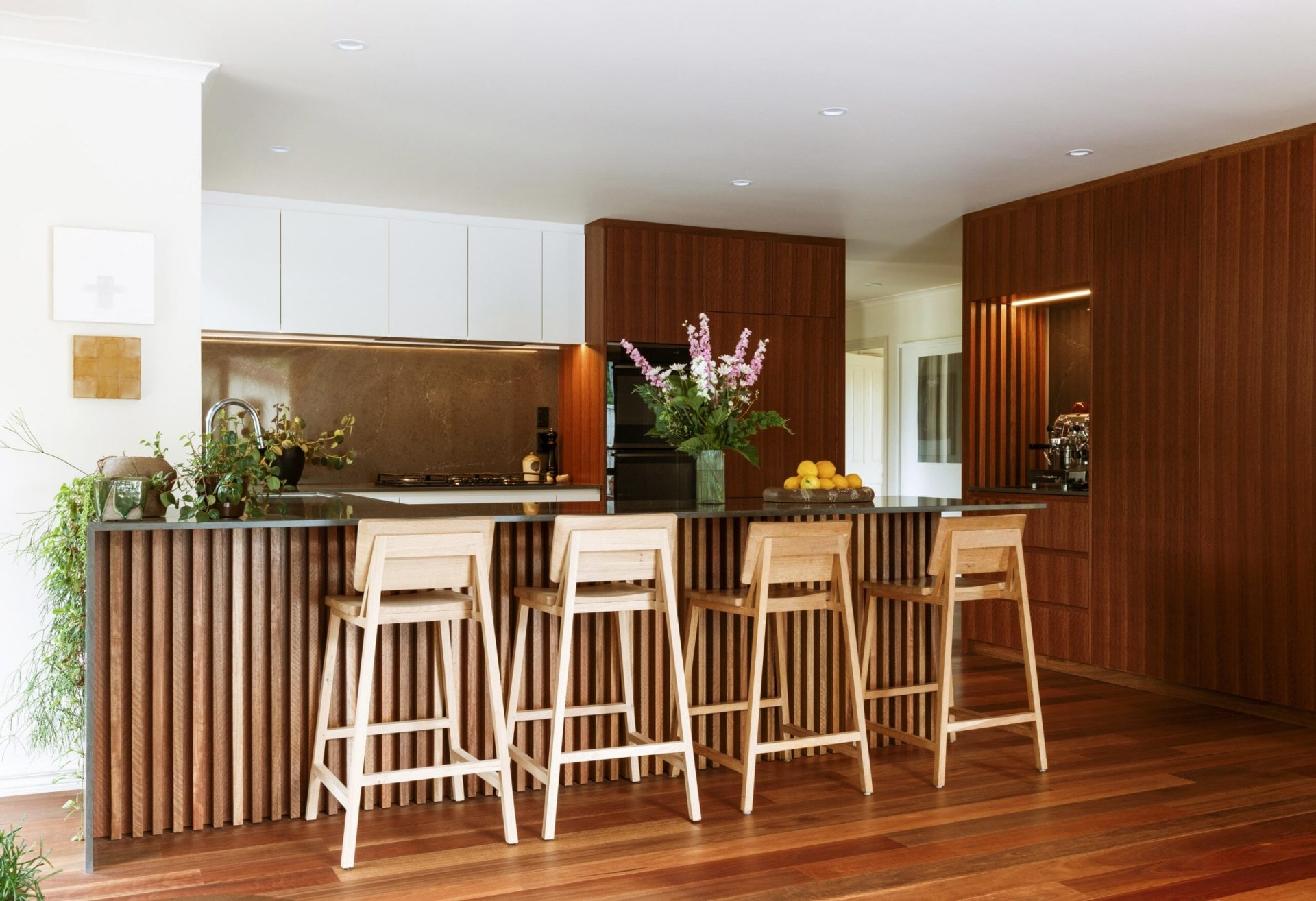 Changing the kitchen space has had the effect of redefining the adjoining living and dining areas that open out to the pool, and the couple have refurnished this space to suit. Two new curvy green velvet chairs from furniture store King Living (daughter Kerin works at the Auckland showroom) extend an invitation to relax while making a design statement. After a long search for curtains, local company The Design Depot had the perfect solution in a loose, natural weave. The couple spotted the dining table in an antiques market in Arezzo, Italy, while on a family holiday in 2019. The vendor didn't speak English and the Wilsons, not speaking Italian, ended up conducting a very unusual transaction via Google Translate. To their relief, it was shipped in January the following year. Above this, a work on paper by contemporary artist Lisa Reihana makes for a considered pairing.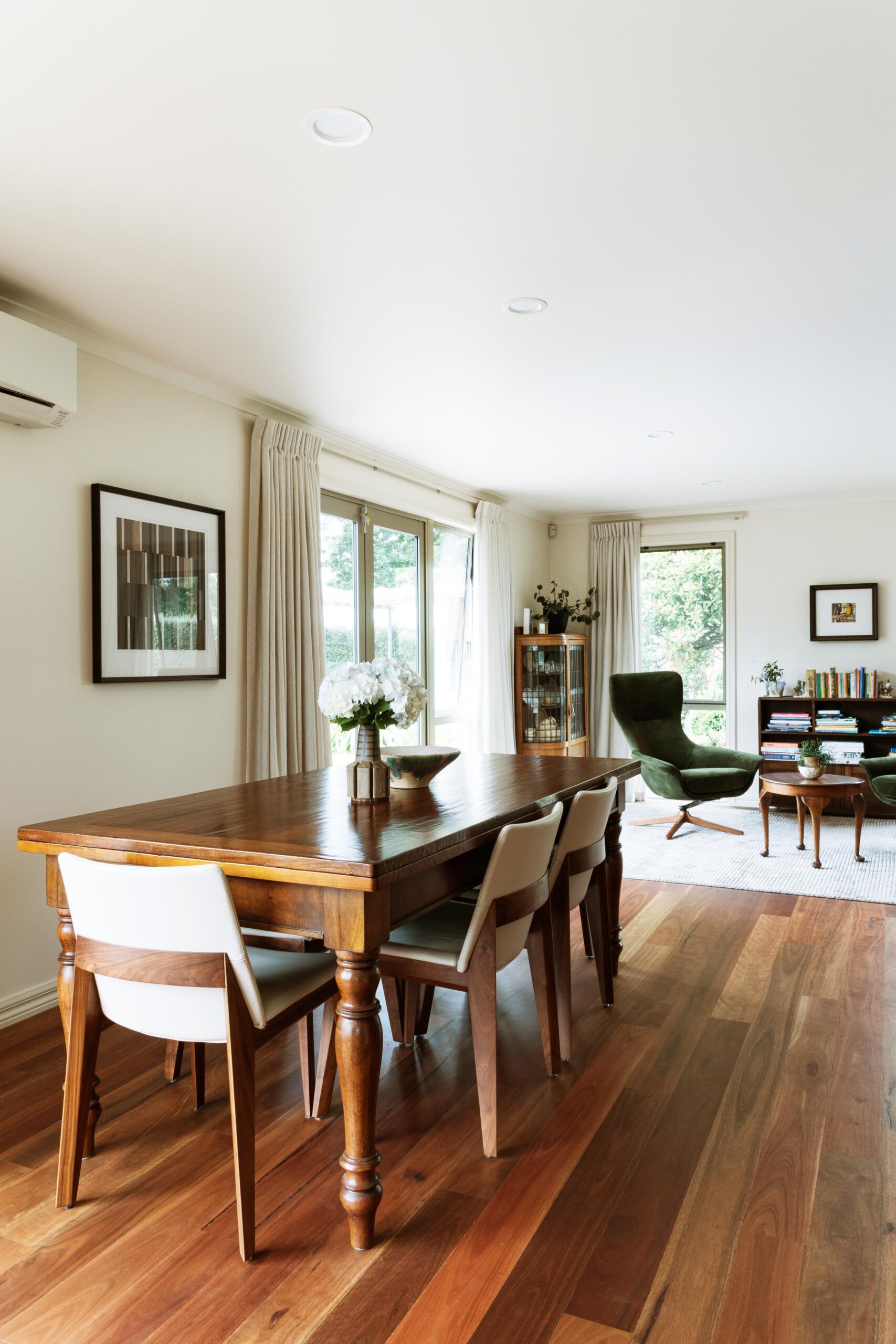 Both keen art collectors, Lynda and Ross have relished acquiring new works for their transformed spaces, positioning them alongside inherited and existing artworks and antique finds.
The kitchen reconfiguration had the flow-on effect of widening the hallway to better display their eclectic art collection. Opposite the entrance, two large abstract works by Ceara Metlikovec and André Hemer command attention, and Lynda's sculptural floor piece is an intriguing counterpoint.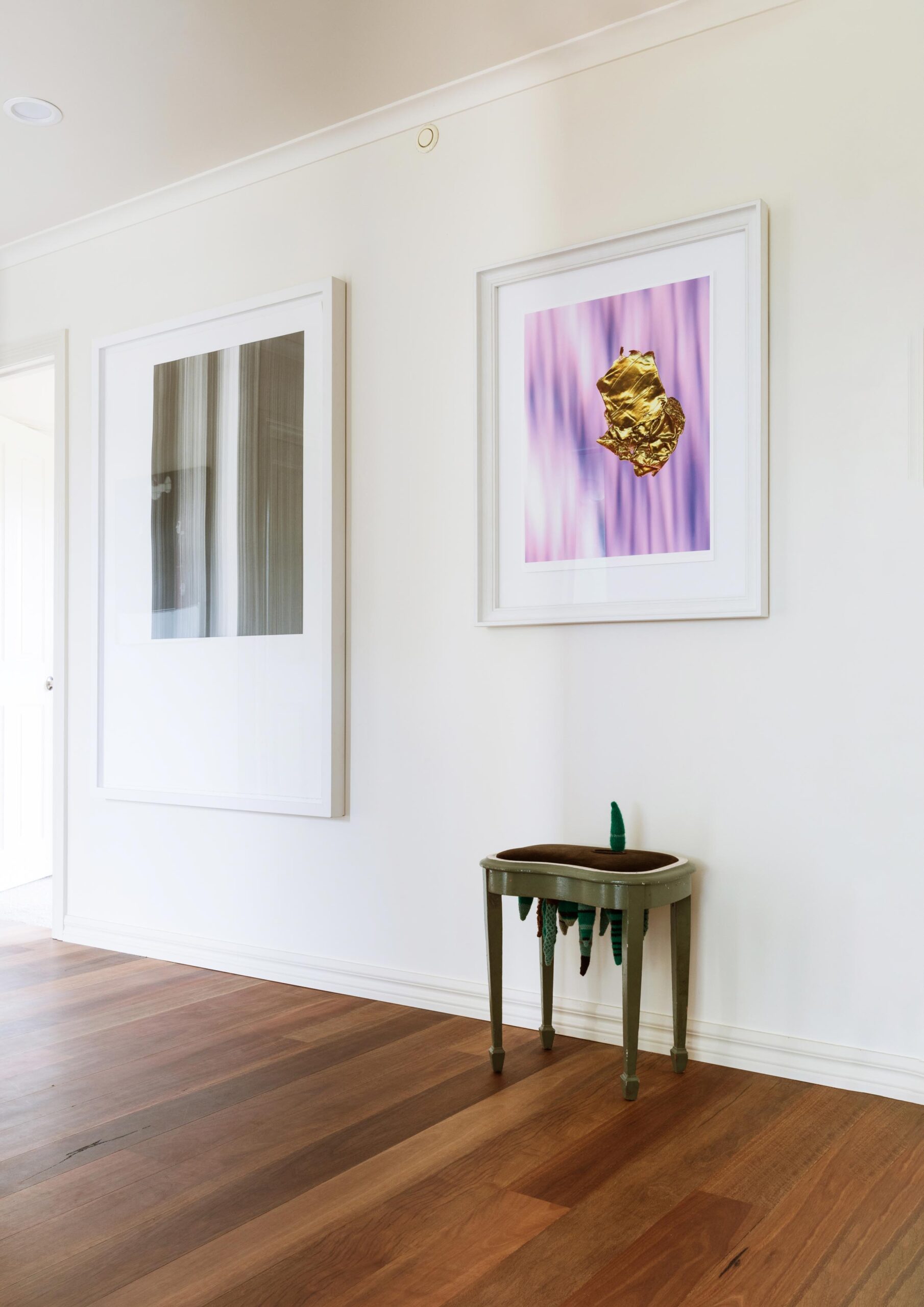 The lounge connects to the dining room via internal double doors, and this space has also been subtly reconfigured. A couple of years ago Lynda and Ross added a 1.8m extension to the west-facing gable, adding more space to the lounge, and replaced a set of double doors with a picture window overlooking the garden. A new fireplace combines function and form, beautifully dividing the space and creating a focal point. These alterations created space for more art acquisitions: works by Tomislav Nikolic, Stephen Ellis and Henry Turner.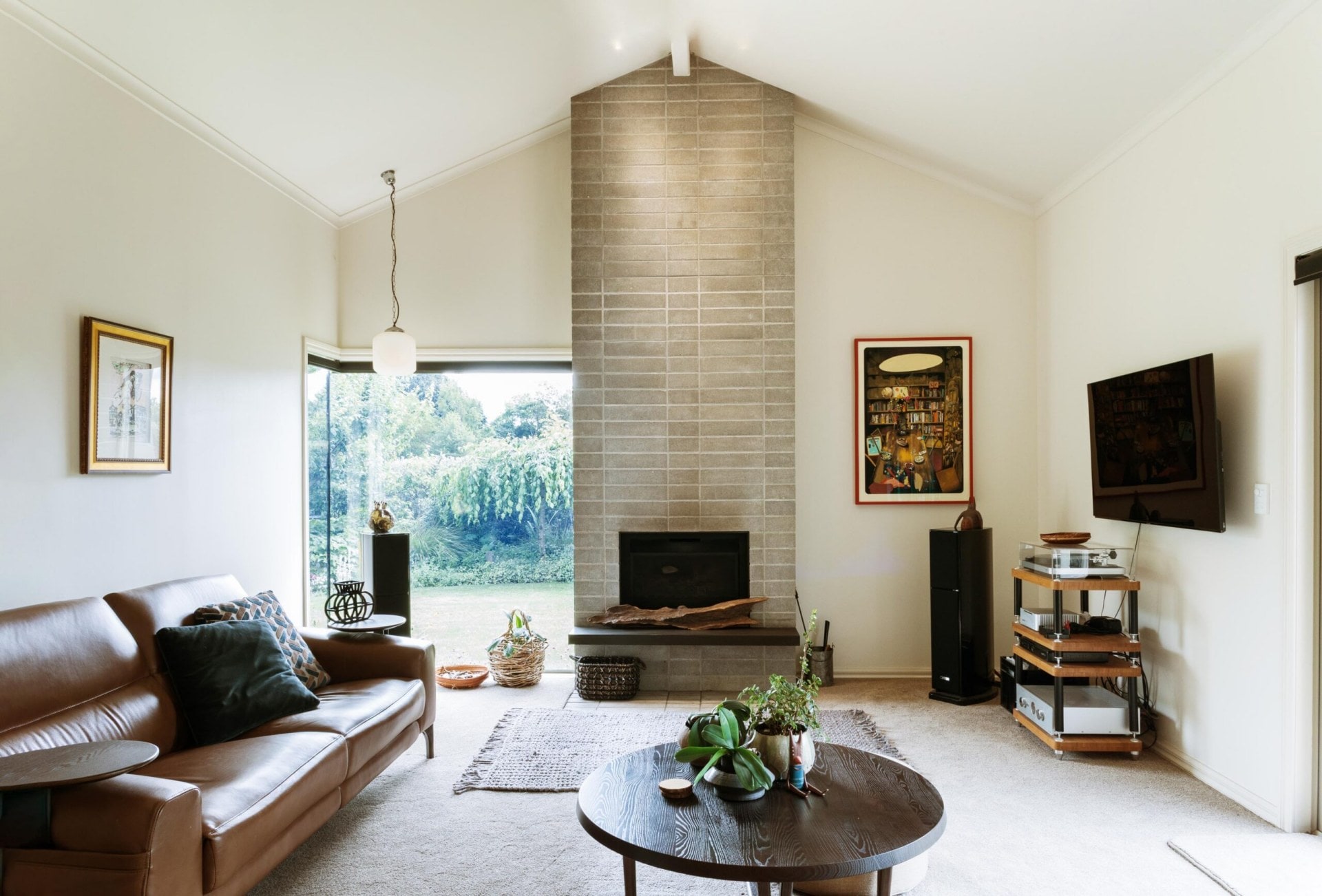 Other collaborative projects with Martyn speak to the couple's inventiveness and willingness to experiment across a range of materials. Outdoors, a large brazier made from steel, timber and copper ingeniously winches up from its concrete pit, allowing perfect cooking above hot coals.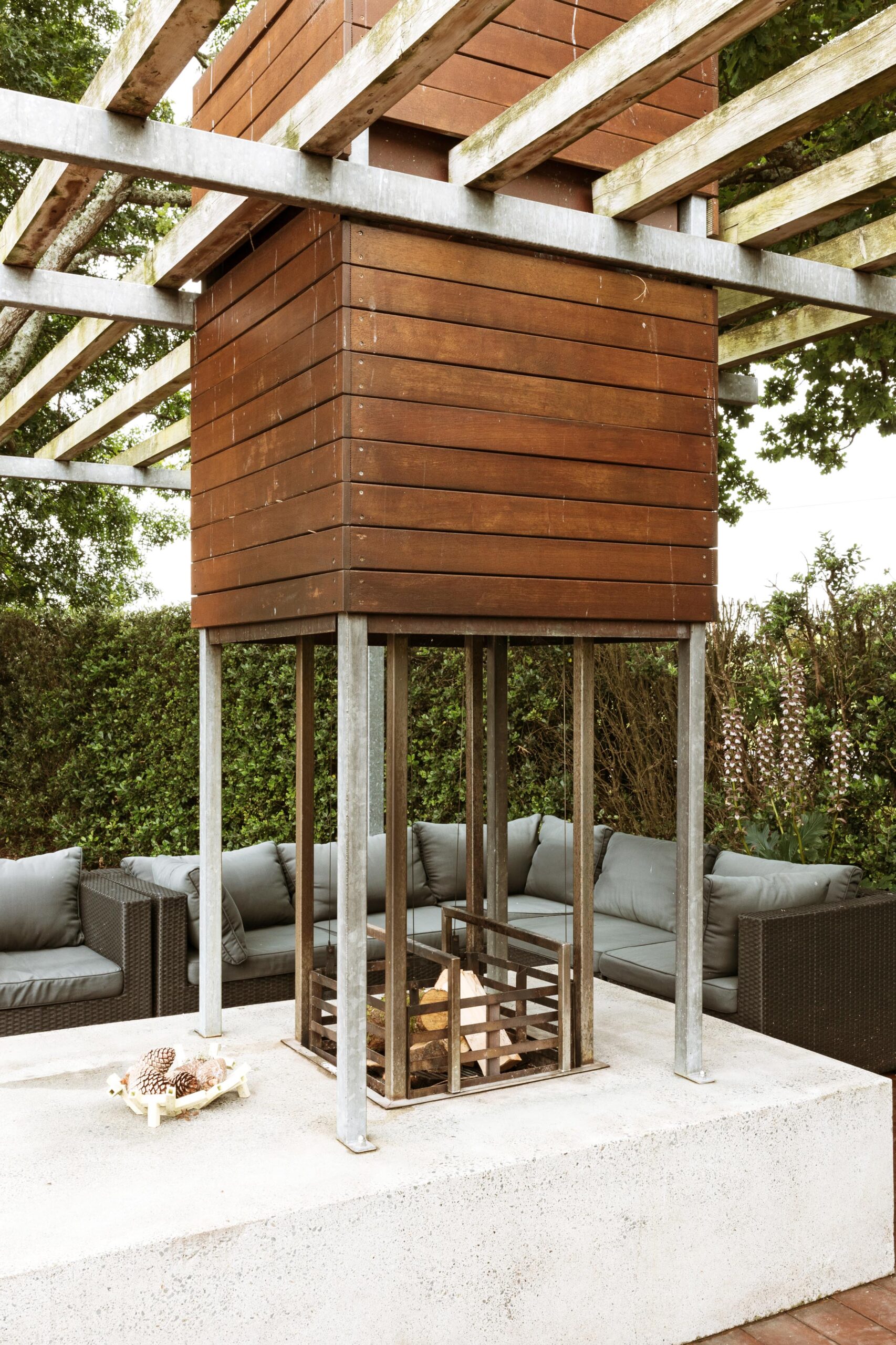 Their most recent venture was Ross's outdoor wine cellar, constructed from ply and Corten steel, which sits in its modernist form in their established garden. "No longer do I have to share our walk-in wardrobe with copious boxes of wine!" says Lynda, with a laugh. A redesign of the kitchen garden is underway, with decking leading to the wine cellar, and Lynda is designing a coffee table for the living area using patinaed steel with a natural stone top sourced from local suppliers, and a wooden cabinet to be made by a local craftsman.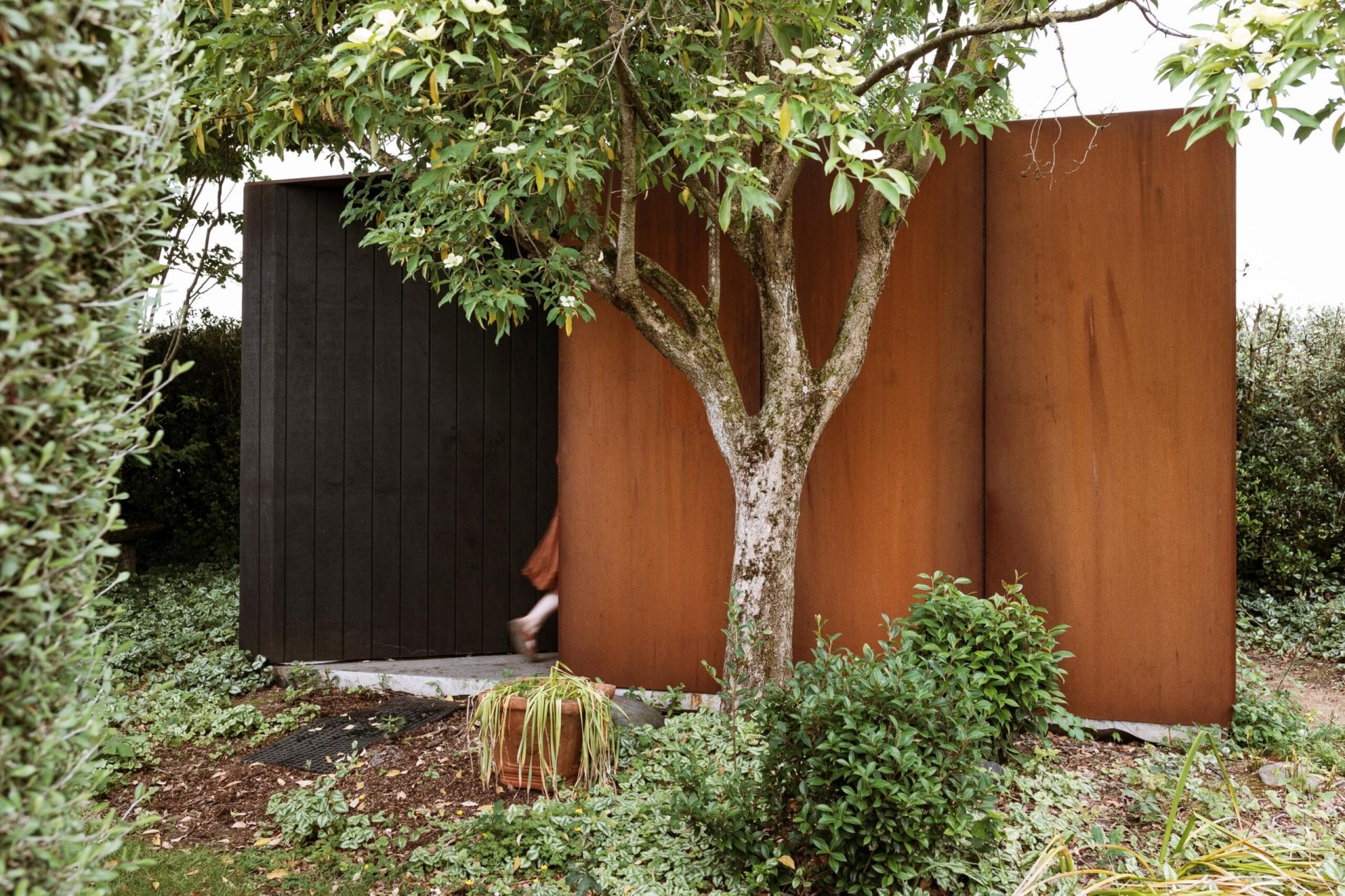 Lynda's maker's hands are evident throughout their home, from the mixed-media photographic prints that formed part of her master's degree project, to her current foray into small enamel sculptures. She works across a range of mediums, including embroidery, ceramics and illustration, and these works all bear her idiosyncratic mark.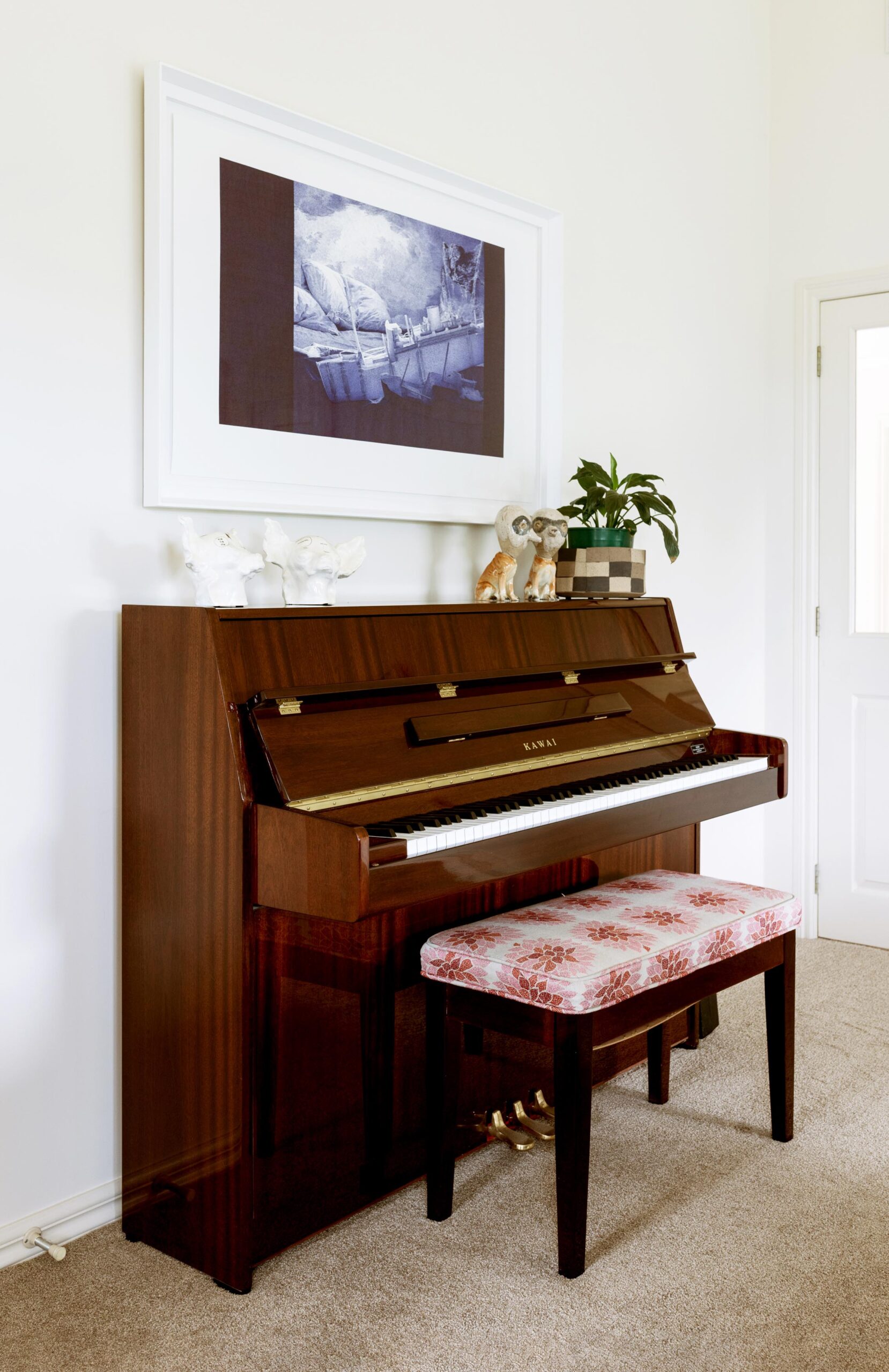 She says her need to make and experiment developed from her early years growing up in rural Ōtorohanga, and has always held an addictive wonder. Just as she continues to explore her art, her home is also under continual fine-tuning, celebrating creativity in its many forms, natural materials and, most importantly, imagination.