An artist's creative spirit shows its true colours against the backdrop of a classic Kiwi bach where living with intent is honoured.
Tracey Tawhiao's home is more than a roof over her head. It serves as a canvas for self-expression, a place where she artfully mixes found treasures with her own creations. Located at Piha, on Auckland's wild west coast, the residence is also her studio, with the living room doubling as her workspace.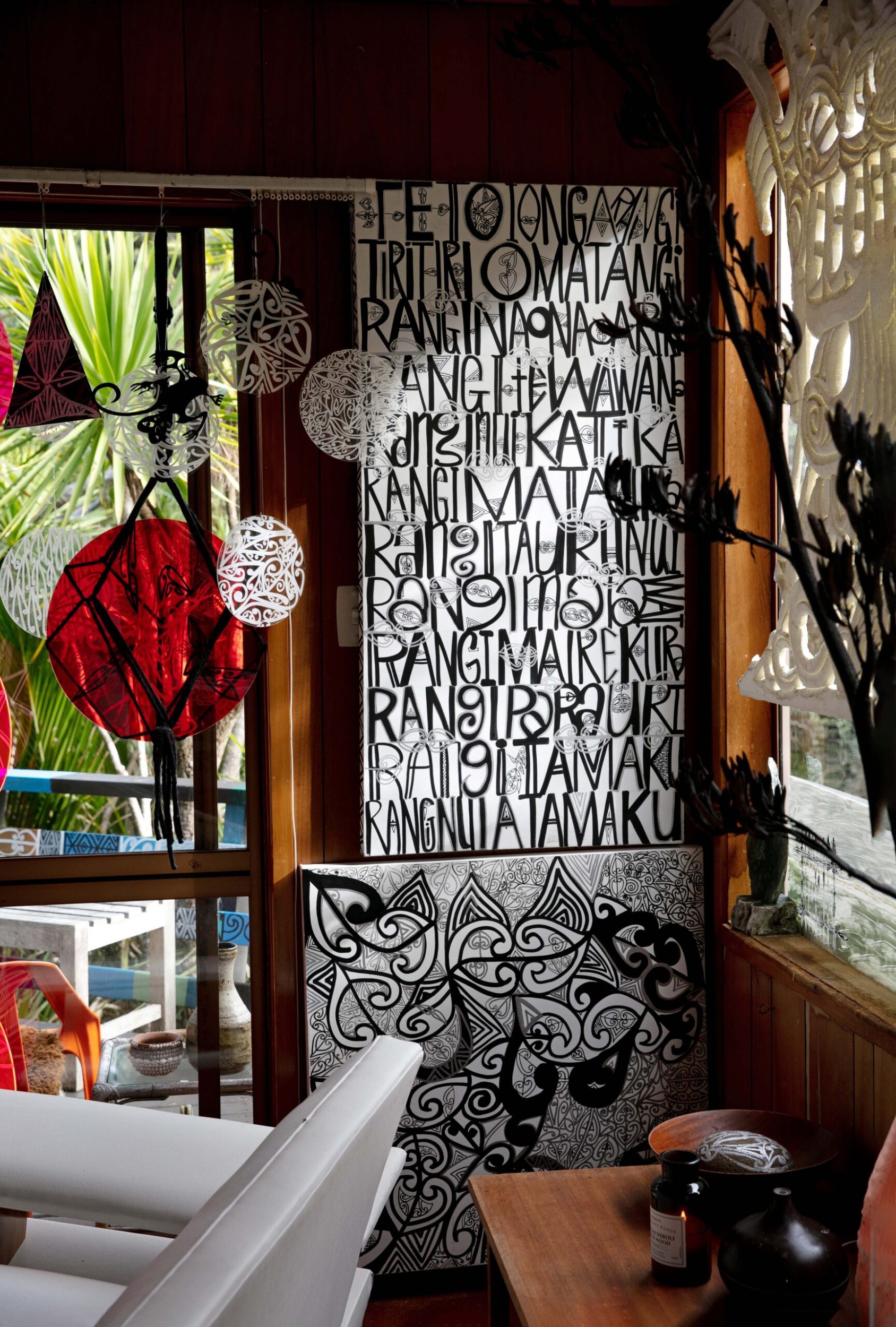 "My home is basically an apartment-sized treehouse. Typically, I use this room to paint in, eat in and entertain in. It works because everything can be moved and changed, depending on what I'm using it for. That's vital in a small house," she says.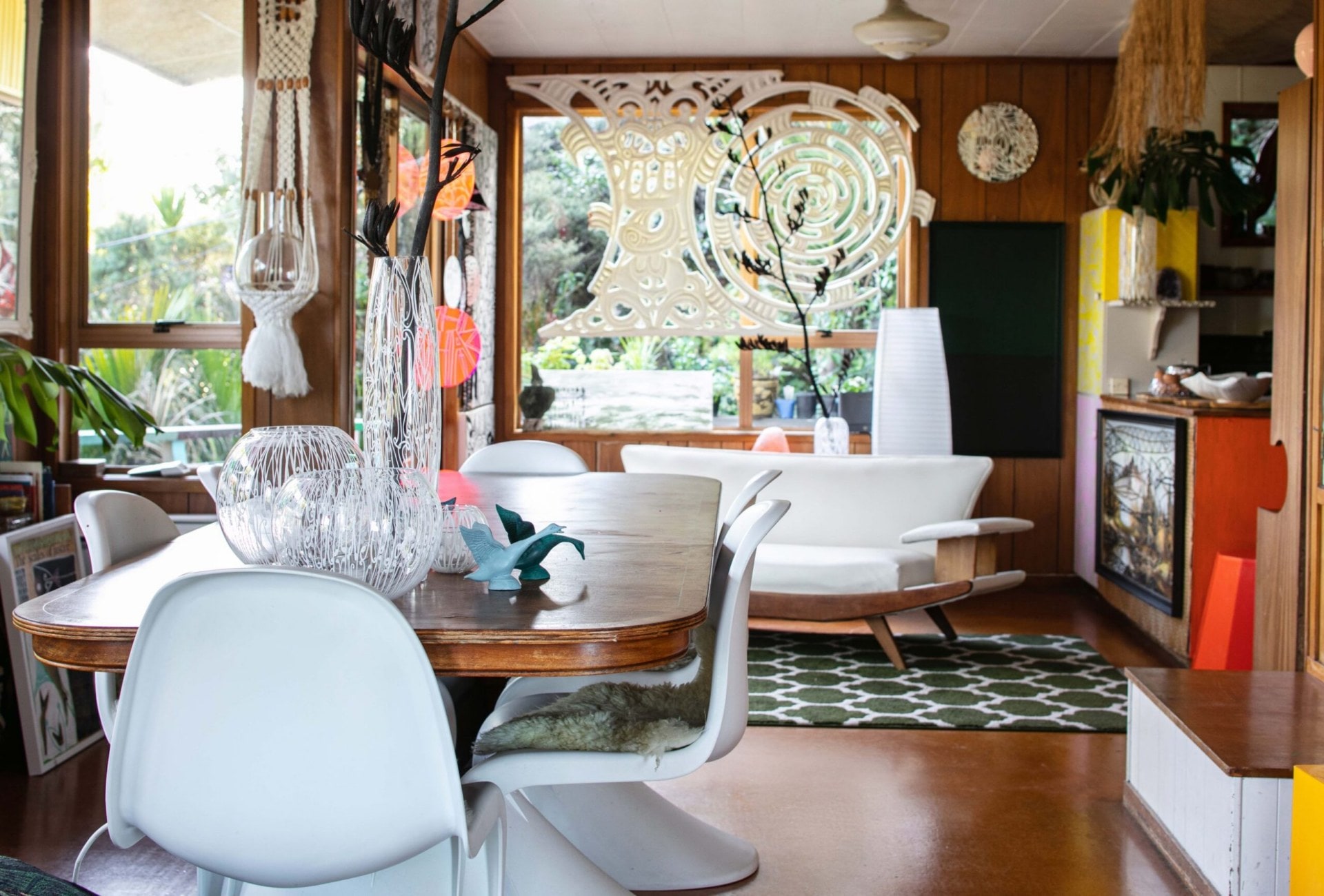 "If I'm doing something on my computer or phone I prefer to be in my bedroom, lying down with a cool breeze and a tranquil view of the ancient pōhutukawa tree outside my window."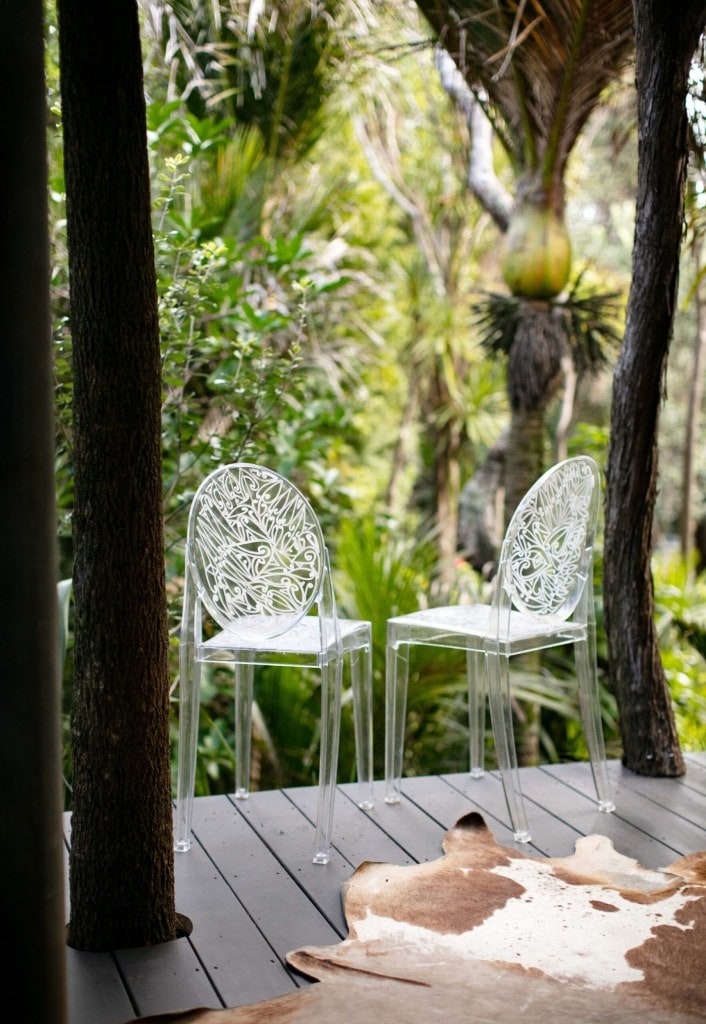 Tracey shares the two-storey 1970s bach with her musician boyfriend Danny Haimona. In the decade she has lived there, she has assembled and beautifully edited a collection of her favourite things. Taking a stand against rampant materialism, almost everything in her home is preloved, vintage or second hand.
Tracey gets a lot of satisfaction out of saving something from the landfill and keeping the story of a piece going.
With her artist's eye, she brings everything together into one harmonious composition. The living room's timber tongue-and-groove walls and polished chipboard floors are brought alive by her confident and painterly use of orange, green, lilac and yellow. "My kitchen needed a lift and orange will always do that. I'm not into beige or grey – maybe that's a reaction to the saturation of those colours in Kiwi homes. If I have to go neutral, it will always be green."
Throughout, she has turned various surfaces into artworks, painting kitchen shelves, deck railings and cupboard doors with Māori symbols and motifs.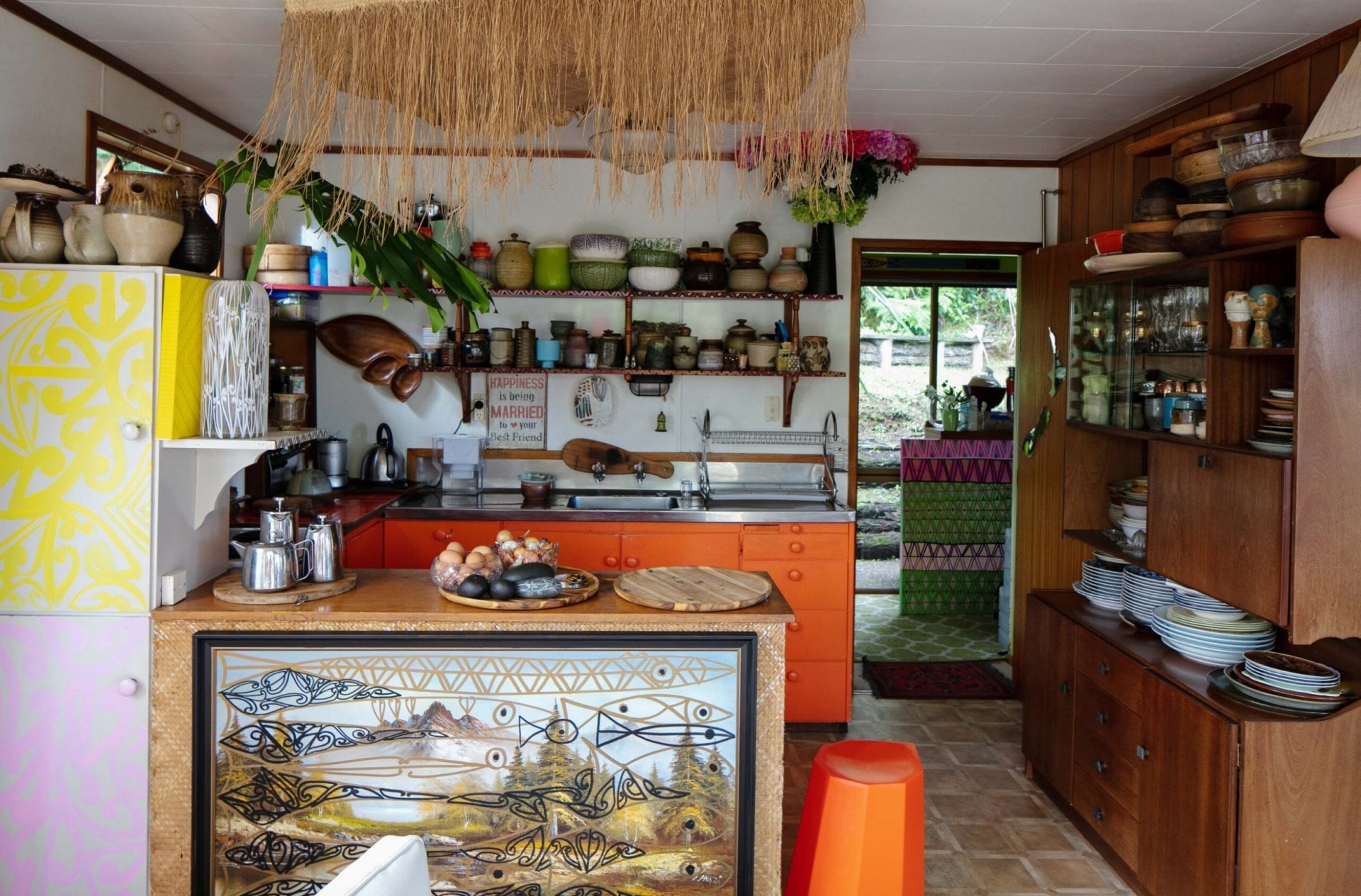 "I love colour. I'm quite unorthodox with it in my paintings. I put things together that aren't always obvious. Māori patterns are my love but equally organic and natural forms do it for me too. Abstraction is preferable to form in any design I love."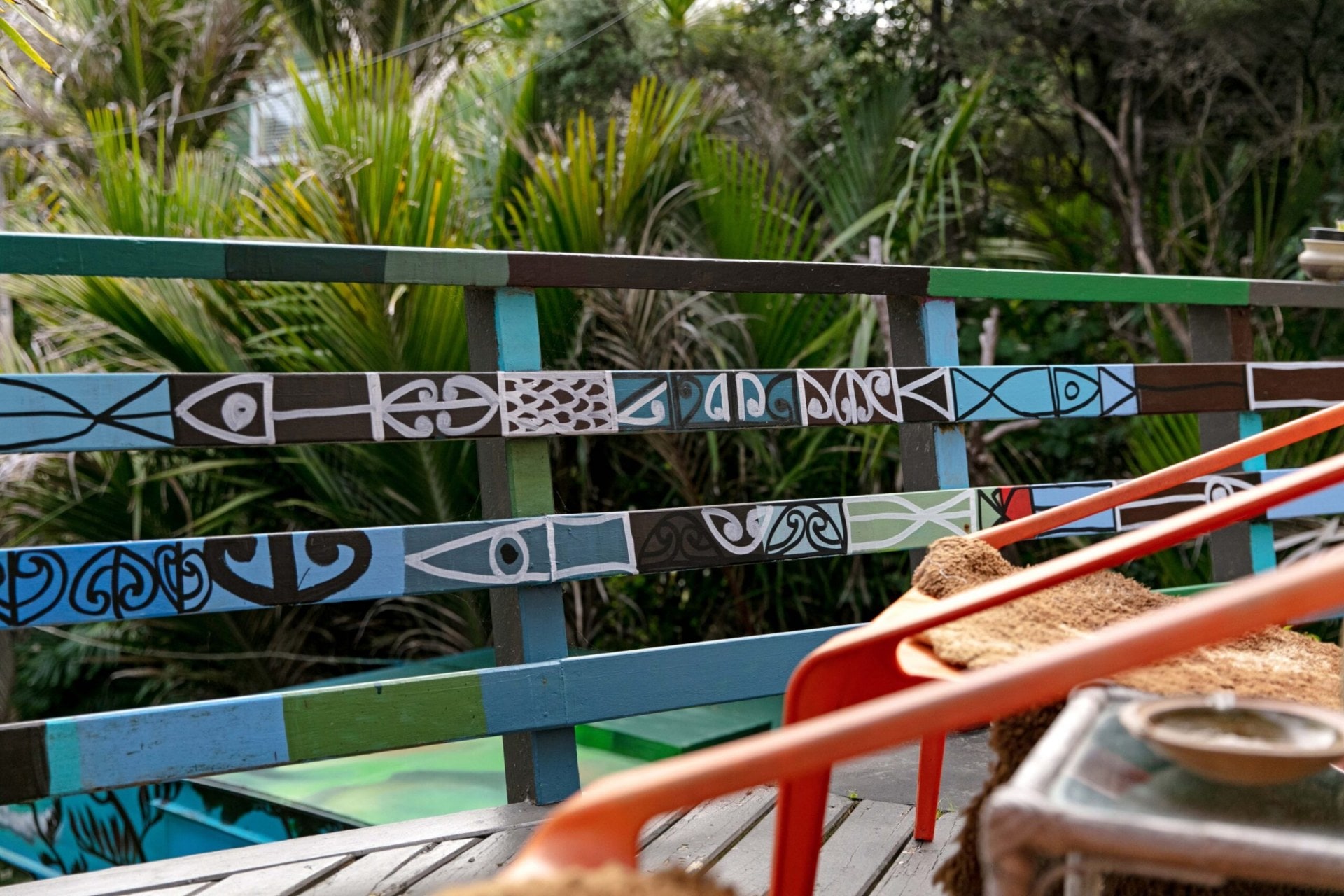 Every room has been decorated with deliberate and considered intent. "Feelings drive everything for me. If I'm not feeling it, I'll change it, give it away or move it around. And I'll work on an area until it feels better. It's a trait I have developed over the years, a form of problem-solving," says Tracey. "I do the most work on my house when I'm about to have people over – suddenly all my job list gets done. I've just wallpapered my stairwell with newspaper paintings. That took ages to get around to and I don't know why, now that it's done!"
After renting the bach for a decade, Tracey jumped at the opportunity to buy it last year. She's made minor improvements since then, adding some storage and making her guest hut more inspiring and liveable, but she's ruled out a major renovation. "I love changing the furniture and art around and adding colour but I believe if it's not broken, don't fix it," she says. "Ripping out old fittings and replacing them with new ones when the old fittings worked perfectly well seems like a waste to me. We need to focus on the rubbish we generate more than ever before."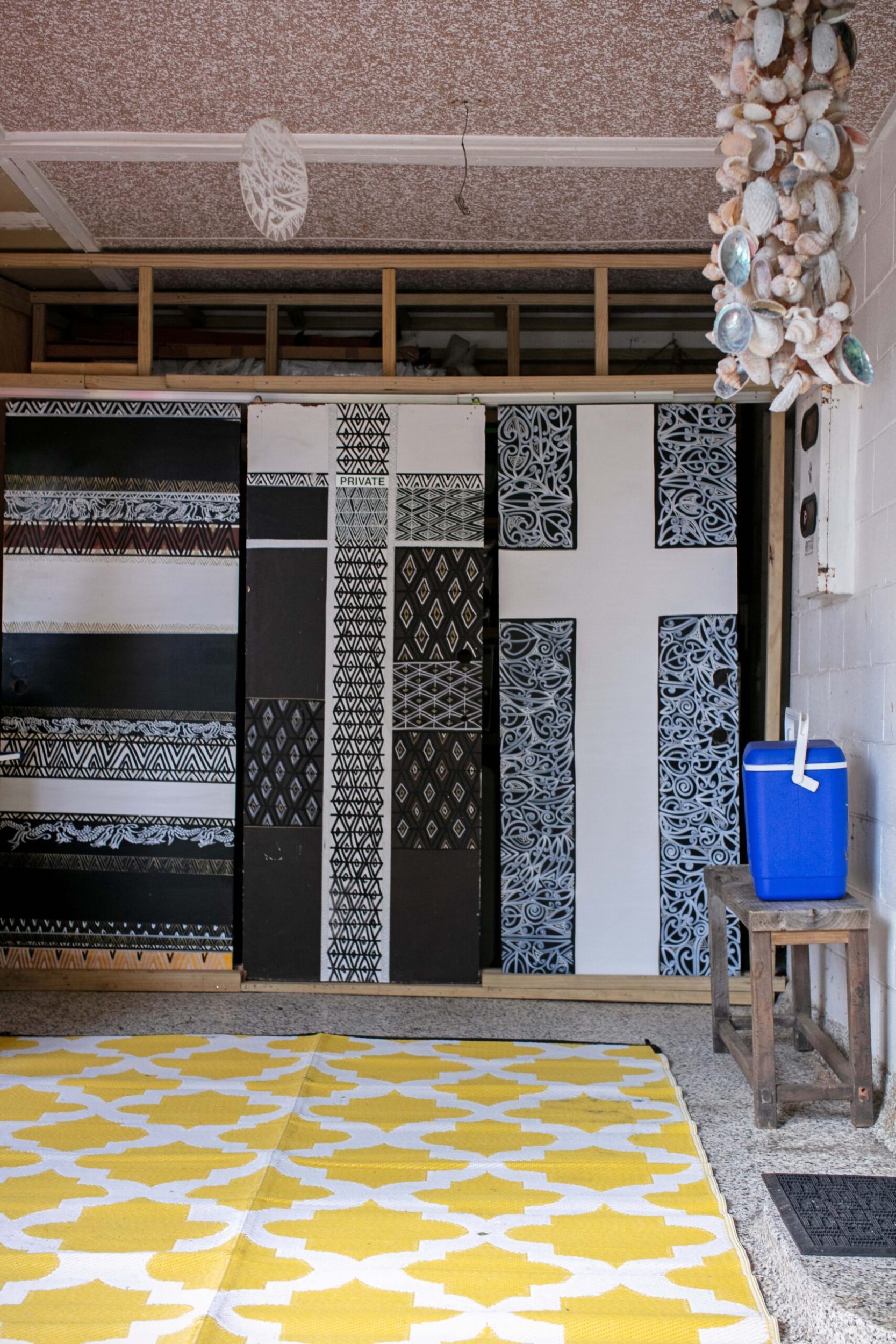 For her, creating the right atmosphere with fragrance and lighting are vital. "I do get obsessed with smell. I'm into essential oils and use them daily." Mood lighting is key, she says, because it has such a big impact on the way a room looks and feels. "I loathe overhead lighting, bright lighting or just plain bad lighting. I heard my (now adult) daughters tell their friends that they virtually grew up in darkness. I do prefer lamps, fairy lights and candles. Bright light at night just kills me."
When friends and family come over, Tracey believes that sharing food together is the best way to show aroha. She enjoys hosting gatherings, from small-scale food and drinks on the deck to larger get-togethers on the beach around a fire.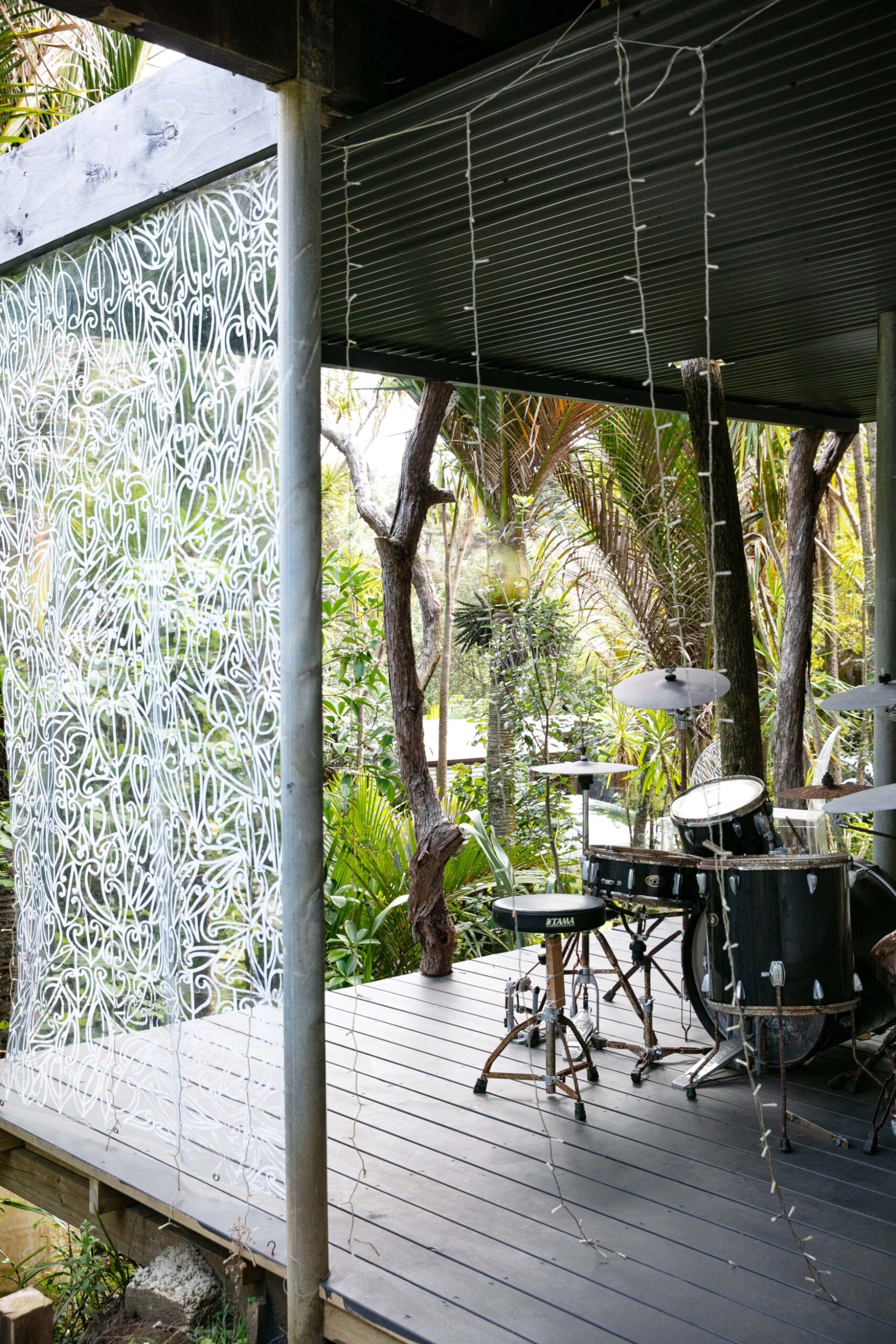 "I love cooking and like to try out new things. I put a lot of love into my food, using the best ingredients. I buy French bubbles in bulk online – it's way cheaper – and I love a good cocktail. I don't like being drunk, so it's always in moderation. Most of my friends think I under pour, which I do, as no one's a good drunk."
Her haven reveals Tracey's strong sense of self, a place of work and play where creativity wins over consumerism.
"My home is a collection of cheap and cheerful bargains and things I've bought at sales, as I believe that all true great design comes from being yourself. It's not a price tag or label – it's a feeling."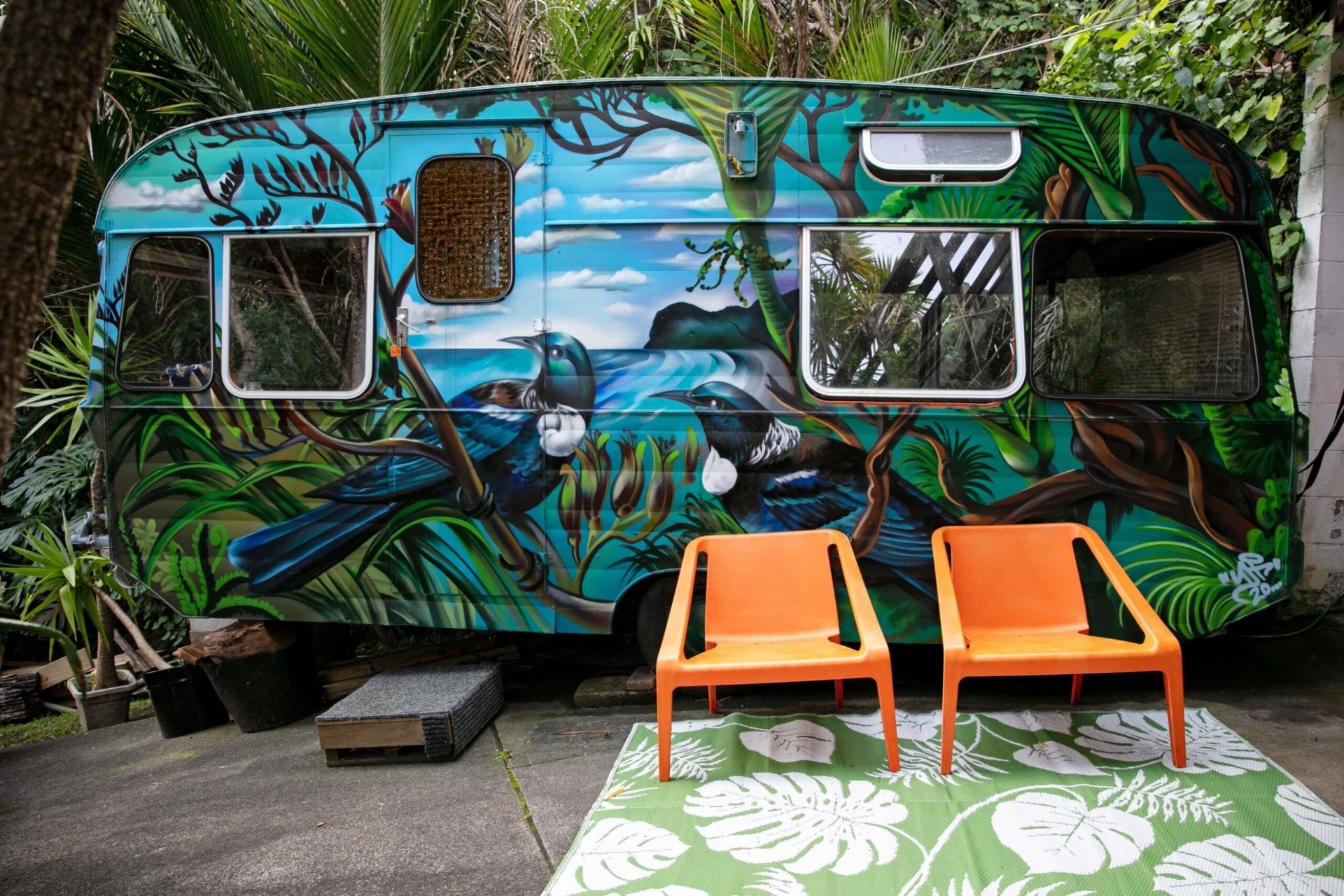 Swipe the style