Fresh off the runway of Tāmaki Makaurau come gorgeous garments from New Zealand Fashion Week: Kahuria. Drinks were sipped, pictures taken, food snacked on, and outfits beheld. Fashion week was not just a celebration of clothes, but of art, music, whānau and culture too. Amongst the fabulous affair that was Kahuria, there were some standout features that were seen across the board, showcased in many designers' works, here are the most wearable trends from New Zealand Fashion Week.
Bows
They have been all the rage for a good chunk of 2023 and fashion week showed no sign of the bow trend slowing down any time soon! Bows were used as long tie up belts on the fronts and backs of garments to cinch in the waist. They also featured as details on gloves, dresses, as collars on blouses and many other cute coverings.



Utility & Subversive Style
Rugged meets refined, and practicality meets fashion on the runway this year at Kahuria, as designers embraced all things functional and frilly. Utilitarian and subversive garments were showcased in various forms, from cargo pants with multiple pockets to big belts and distressed denim pieces. Designers like Rory William Docherty and Nicole Van Vuuren incorporated elements of artful layering, interesting cutouts and utility into their collections. This trend is all about efficiency, making it perfect for those who value comfort, practicality, and versatility without compromising style.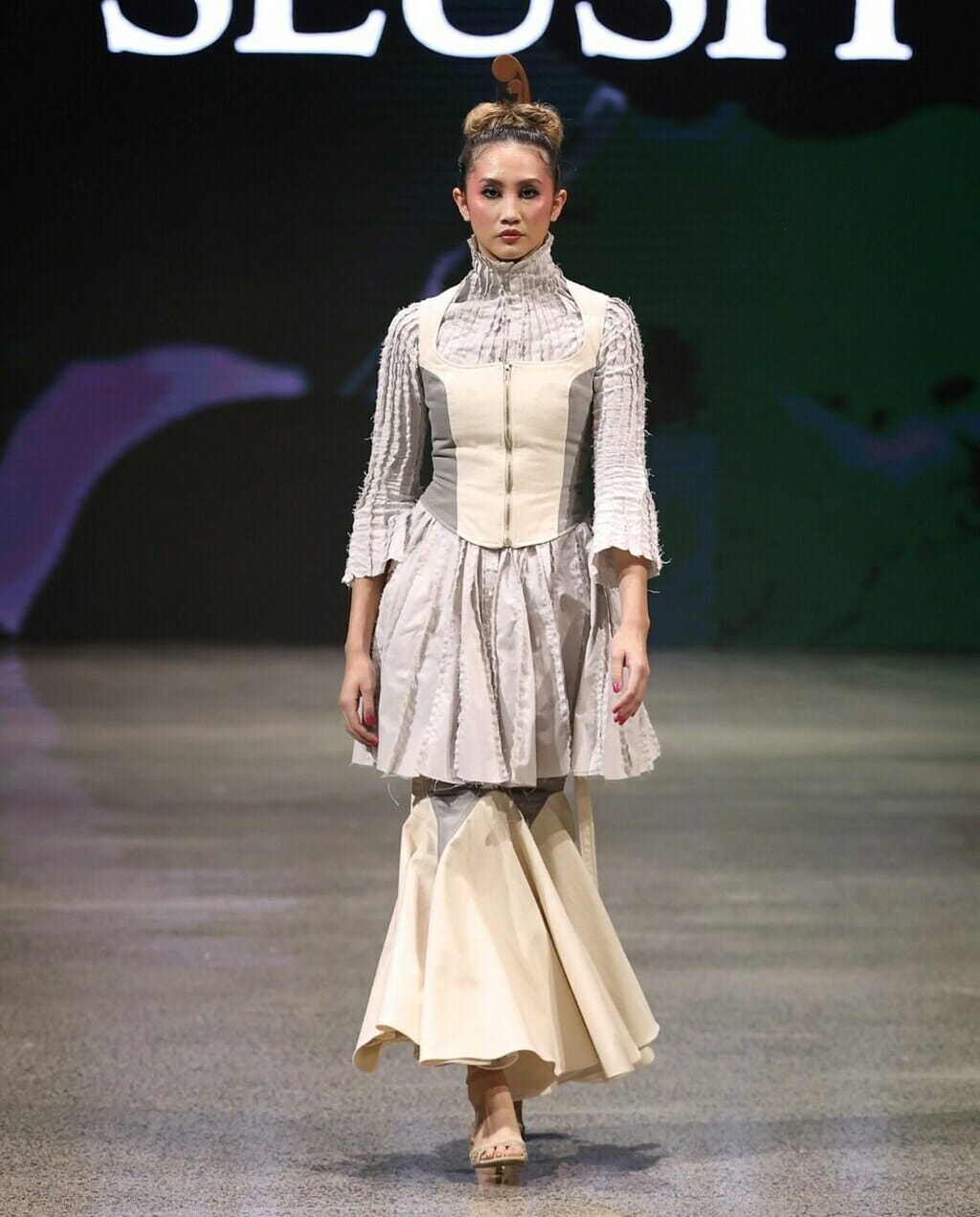 Lace
We're welcoming lace back to the front of our wardrobes again for spring and summer. Lace will never truly be out of fashion, but one thing is for certain, lace is coming in stronger than ever. A trend that allows for versatility, as it can be dressed up or down, is perfect for both day and evening wear. From dainty lace dresses to lace-adorned blouses and even lace detailing on accessories, lace was used in a multitude of ways. Designers like Campbell Luke had lace grace the catwalk and showed us that it isn't just for special occasions, but for everyday wear as well.


Colour
As New Zealanders braved a long and gloomy winter, it seemed that our wardrobes had also succumbed to the dreary weather, with dark colours dominating the past few months, but NZFW says no more! Bright, bold colours were a welcome change on the runway this year. Designers like Bantu, Susana Tasi, Jaqueline Anne and Charlotte Mango reintroduced us to a burst of vibrancy to brighten our spirits. From sunny yellows to vivid blues and forest greens, the return of vibrant colours sparked the joy and energy that fashion can bring into our lives. It's a reminder that fashion is fun, expressive and a gift that allows us to channel and display our personalities through what we wear. We all need a bit of colour in our lives – so for sanity's sake, why not wear it?




New Zealand Fashion Week: Kahuria was a huge success and a delightful fusion of fashion, art, and culture. Giving designers from various backgrounds a platform to express their profound passion and celebrate their mahi. These trends, along with the myriad of others spotted during the week, offer a glimpse of the upcoming fashion landscape in Aotearoa. Ladies, we are in for a fashion feast this spring and summer, and who knows what 2024 could bring? One thing's for sure – we'll be waiting eagerly!
Related Article: WOMAN's New Zealand Fashion Week Trends Prediction