Hannah Tasker-Poland is a highly regarded dance artist, choreographer, stage and screen actor, avant-garde burlesque/fetish artist, SPFX performance specialist, stunt performer, accredited Intimacy Coordinator & Director, model and muse with over 20 years experience in the industry.
Her latest production, The Most Naked, is a live art experience that strips nakedness right down to the bone. Here she explores her feelings behind the production, and how her identity has helped to shape it.

I've always been fascinated by the ideals of the feminine form. The ways in which it has been perceived throughout history, and our relationship to it today. This form holds so much power. It is this thing that has been so celebrated, idolised, lusted after and adored, but also very repressed, controlled, abused and manipulated. Especially in more recent times where the 'sex sells' perspective has been utilised so fiercely in media and advertising – in both good and not-so-good ways – this dichotomy has been amplified even more.
We want women and femme people to be sexy. But not too sexy. And definitely not slutty. We want to see flesh. Flesh and breasts and buttocks and genitals. Just these parts. But we'll only address these parts, not the whole. We keep the sex industry (the world's oldest profession) relentlessly churning amidst our desire to witness the flashing of skin, the stripping of this flesh and to get our hands, our legs, our mouths around these parts. But we don't want to support sex workers rights.
Control control control. So much of it is about control. And fear.
In creating The Most Naked, it was these ideas and themes that really sat at the core of my inspirations. I'd felt this pull and intrigue towards archetypes of femininity, femme-ness, women and the nude body since as far back as I can remember. And while The Most Naked speaks to these ideas that are historical and universal, it is also a very personal statement. This work is a culmination of my life's experience of being a woman, a queer woman, a femme, and my fascination with these ideals that have long been entrenched in my life.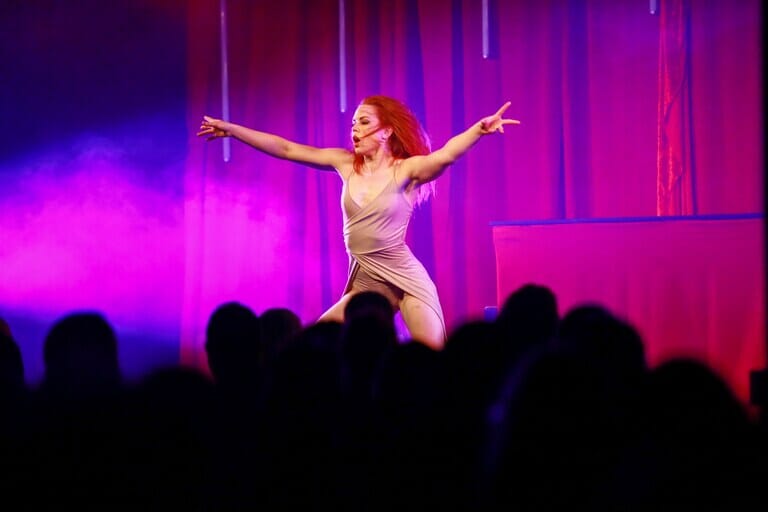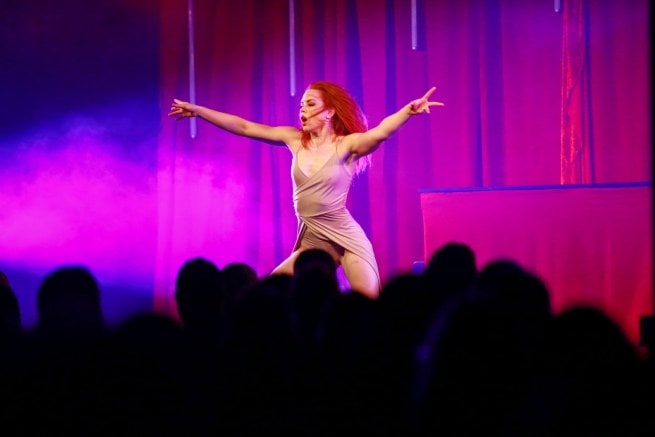 With The Most Naked, and every other performance piece I've created over the years, there is an incredibly high level of thought and articulation that goes into shaping and presenting the more explicit content. I may be naked on stage, but employing strong, relentless physicality to present the nude body as a powerhouse, almost warrior or superhero like. Or embodying the grotesque, the ugly, the animalistic – a combination of arousal and confusion.
'Risque', 'provocative' and 'erotic' are often used as attention-grabbing blanket terms to describe any sexually suggestive or intentionally "titillating" tropes that may involve the flashing of skin or "naughty" narratives. The Most Naked is an investigation into what we consider risque, provocative or erotic, particularly in relation to the naked body, and how these definitions can be challenged, discussed, pulled apart and reassembled. I'm aiming to recontextualize the body and nudity, or perceived suggestion of nudity, while striving to uphold the values of autonomy and agency at its core.
During my research on nudity I came across a bunch of articles and writing about the censorship of the female breast, which began happening around the same time that women were beginning to be persecuted as witches and burned at the stake. Of course. Women are no good. Dangerous. Evil. They are witches. Banshees. Scarlet Women. They will lure you in with their womanly wiles, corrupt your children and unravel the fabric of society. This absolute fear of women, women's power, women's sexuality and women's bodies has seen centuries of horrific control, manipulation, oppression and abuse.
In reflecting on these themes, and my own very real and very numerous experiences of having my body censored for being "offensive", "inappropriate" or simply having breast tissue with "the wrong nipples", my thought was "FINE. Ok then. If this body I have – this femme body – is something to be feared. If it is the witch, the scarlet woman, the monster … then FINE. I will become those things, right in front of your eyes".
This is where the subversion and shapeshifting comes in. Where we see the 'other' of what being naked may mean – stripped back, raw, honest, vulnerable, animalistic – and the ways in which the body responds to the ideas. Its the fury that can build up in a body that has been so historically controlled; the distress that a disconnect between the body and the self can cause; the horror of violence against the body (nudity being used as a torture or punishment); the censorship of the femme body; the fear of honesty or vulnerability; the exhaustion of keeping up a 'facade' or socially acceptable version of femininity; the relief and release at stripping away all the layers of the self; and pure joy, wild, free, expressive movement that encapsulates joy, humour and silliness. This is everything that has built up for centuries and that feels like it exists in the very cells of all women. Sex sells and sex cells.
The Most Naked runs 13 – 17 June at Q Theatre.
Tickets available here

Related Article: Dancer Chrissy Kokiri on performing in the Auckland Arts Festival