Get fired up for winter with our selection of stylish heating options.
The Hang Of It
A hanging fireplace hovers elegantly between the lounge and dining area of this family home, creating an instant style statement. The homeowners chose to burn wood, but the ceiling-hung fire (an icon of modernist 1970s design)
can also be installed with other fuel options, including gas and clean-burning ethanol. Who needs to watch TV when you have a fireplace this good to look at?
Simply Elegant
In the dining room of a renovated villa, an original wood-burning fire is updated to provide the home with both warmth and character. The mantelpiece and fireplace surround take centre stage and are painted in timeless black and white to align with the homeowner's vision for a contemporary- cum-classic look. Modern furniture and copper lights complete the look.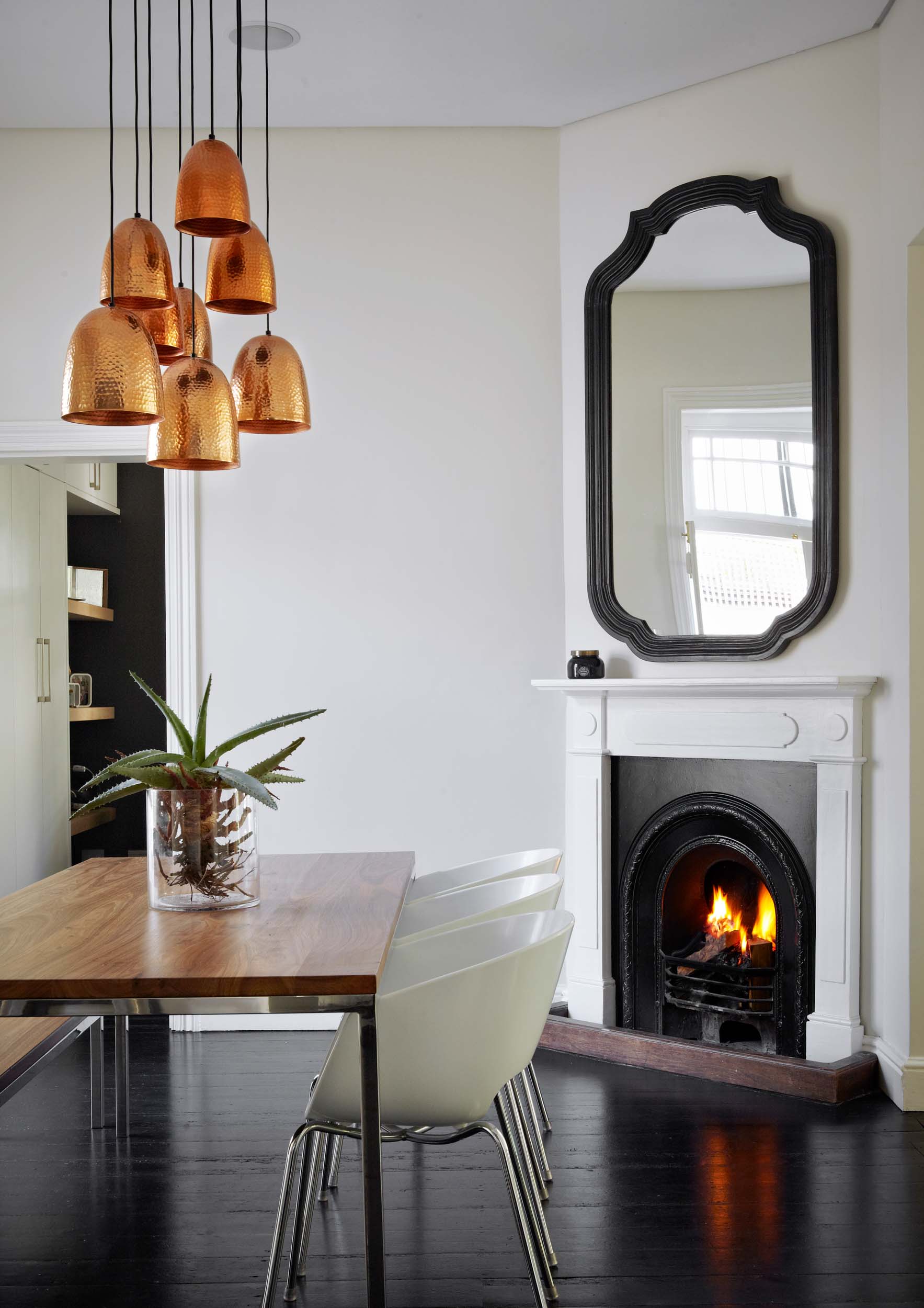 Shades Of Grey
A double-sided fireplace is a great option for dividing rooms – in this case a dining area and TV room. The flue is hidden inside the cavity and vents through the roof, its only giveaway the thickness of the wall. Adding a ceiling fan is the perfect solution for moving warm air from room to room, especially in homes with a high stud, as hot air rises.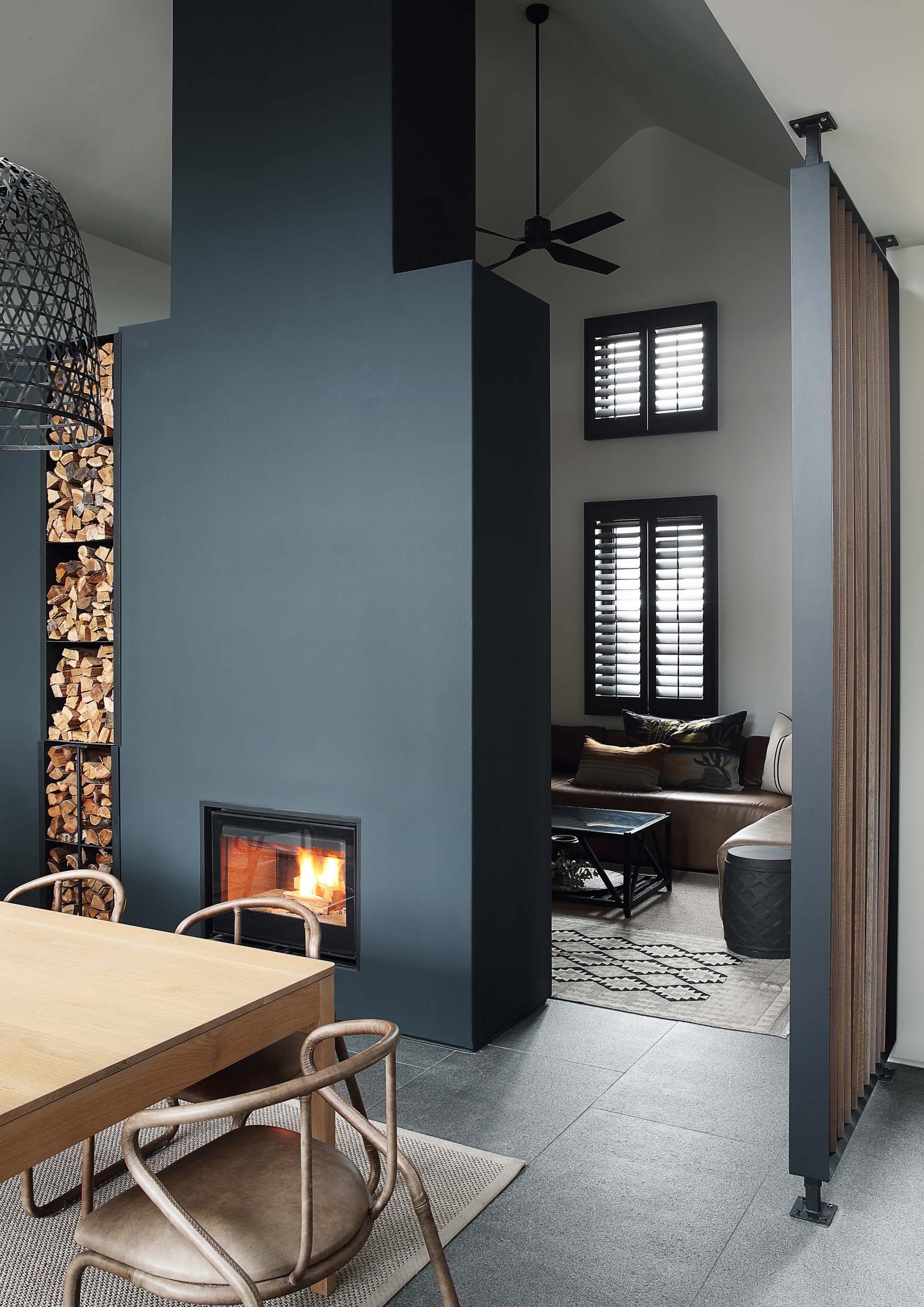 Top tip
Where space allows, include an area to stack wood in your fireplace design. Both practical and chic, it adds instant rustic charm and a contented feeling of hygge.
Stovepipe Dreams
A sleek, black wood burner is cleverly positioned between a living room and dining area to warm both equally. With limited storage space on either side, it includes ample area for logs to be stacked underneath, and sits on a platform of Arabescato marble. As well as looking gorgeous, this helps keep fire debris to a minimum while also protecting the engineered oak floor.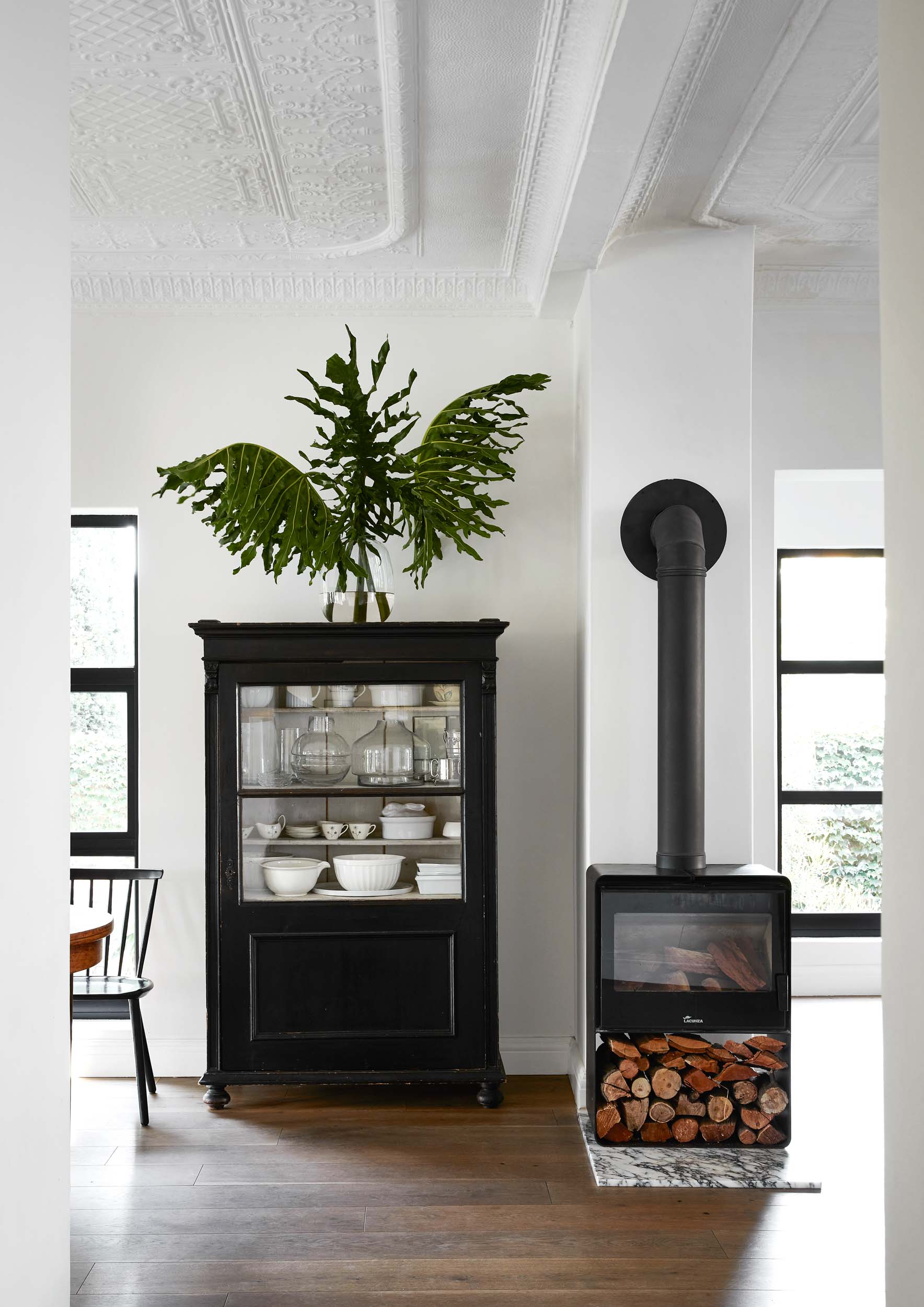 In The Frame
Comfort is key to the look and feel of this living room. An elegant velvet chesterfield is a perfect pop of light-hearted jewel-like colour, while an oversized Persian rug helps to frame the zone. A rustic mantelpiece (using reclaimed wood that originally came from trees on the property) is perfectly balanced with the wood-burning fireplace, and draws a link to the soaring timber beams.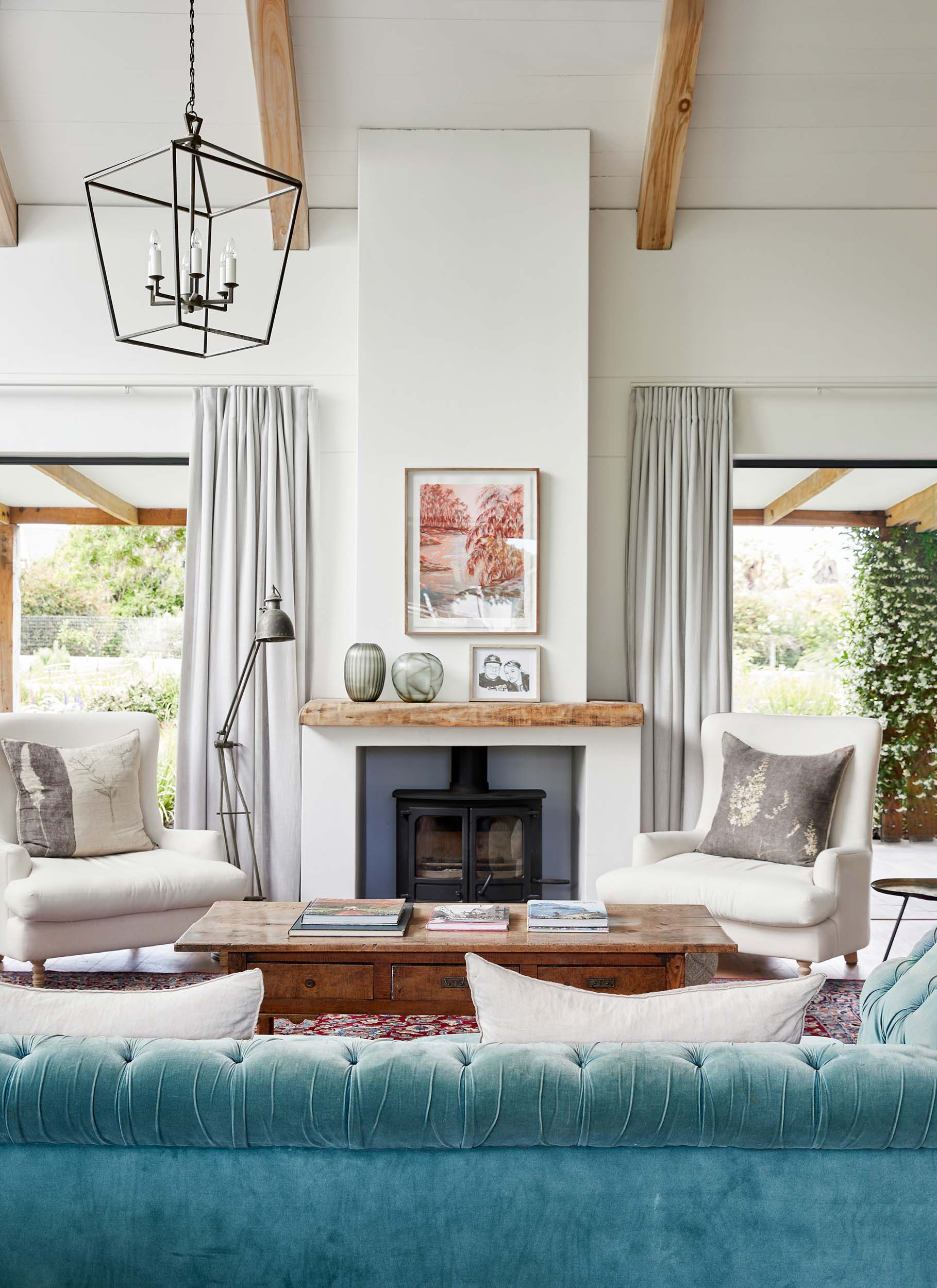 Groovy, Baby
This retro living room is a perfect example of how to use the space above a built-in fireplace as an artful display area. In keeping with the brick mid-century fireplace, the wall is painted an art-deco green and boasts a pair of wall sconces that would look right at home on the the set of Mad Men. Vintage Masketeers ducks, a starburst clock and brass fire accessories add the finishing touches.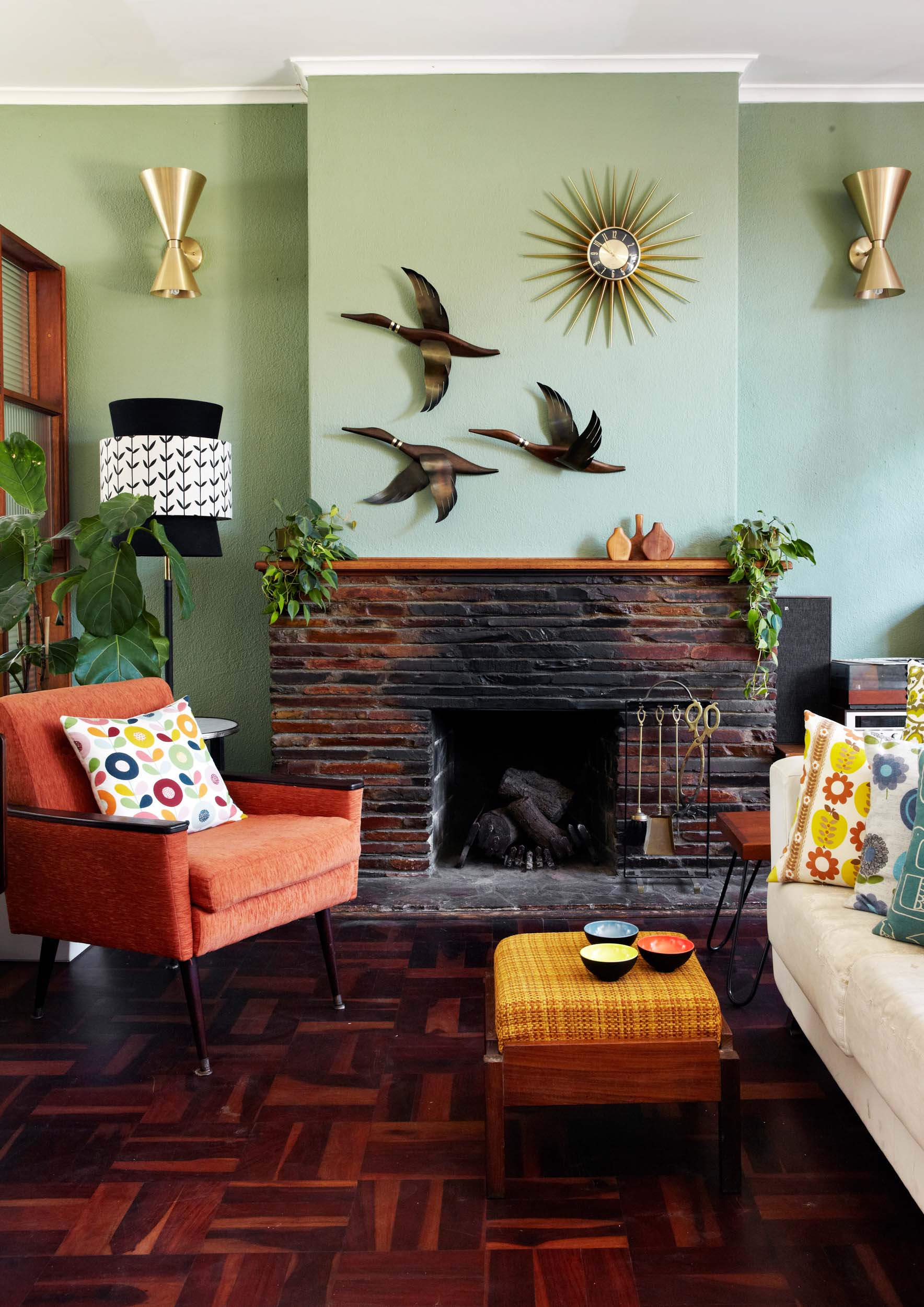 It's A Gas
A barn-style home (complete with wooden rafters), makes the most of its custom-built gas fireplace with the addition of a concrete ledge to break up the expanse of white, and steel shelving on each side of the hearth for books, plants and ornaments. The lounge has injections of blue and green in the furnishings – a break from the muted tones used elsewhere in the home – while couches and chairs face the fireplace, orchestrating a cosy, intimate atmosphere.


Country Comfort
Older villas can be cold in winter due to the combination of high ceilings and the trend for converting smaller separate lounges into open-plan living areas. Keeping a traditional fireplace in operation is a smart decision, and its warmth can be boosted by adding a heat pump if need be. A comfy leather armchair is a must for snuggly evenings in front of the fire.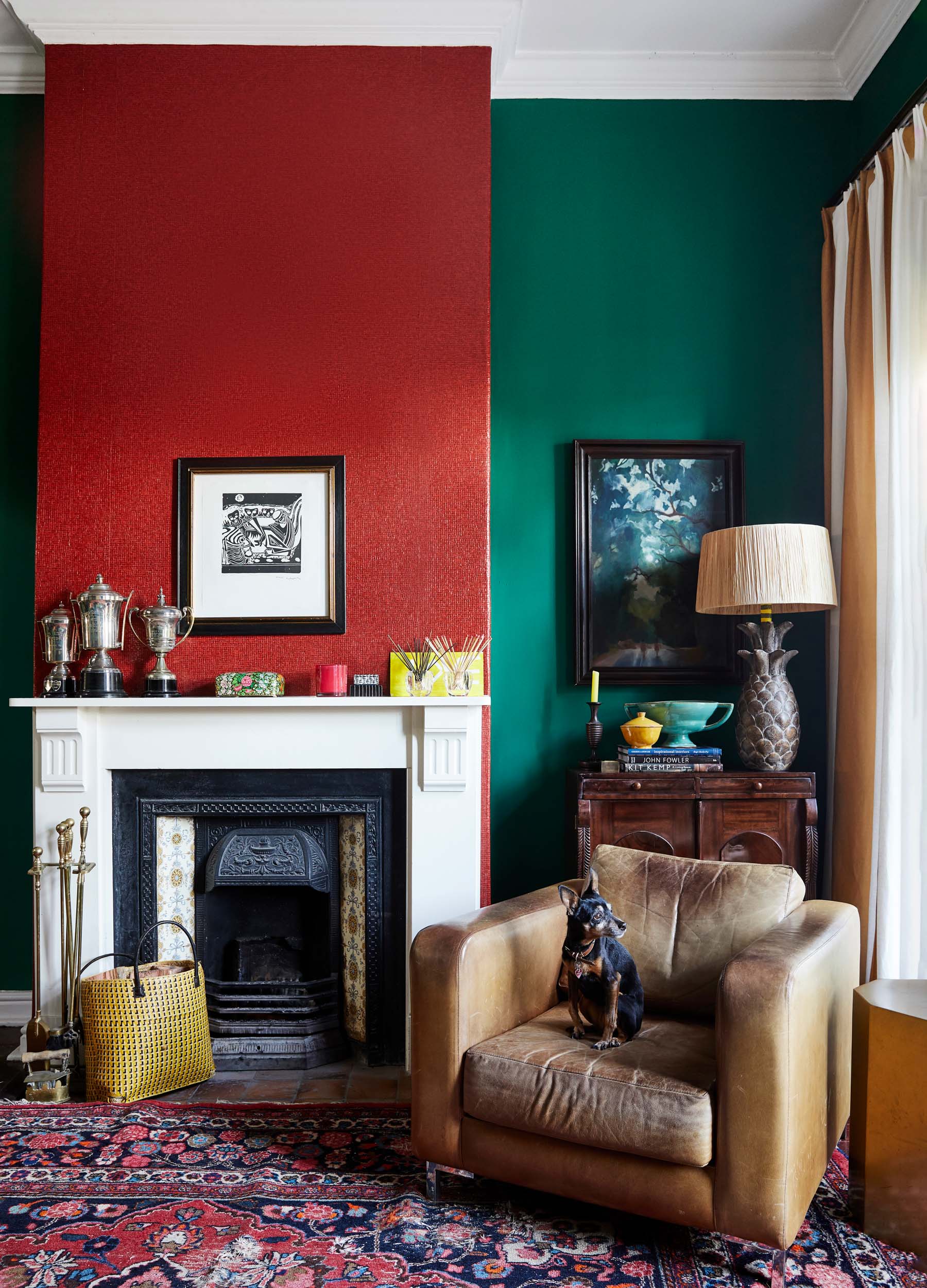 A Great Height
This living room features a wood burner with an extended flue that reaches to the full height of soaring cathedral ceilings. The space is dominated by comforting neutral tones and finishes thanks to a combination of leather, wood and exposed brickwork. Padded seating on either side of the fire sets the tone for laidback winter lounging, helped by a selection of down-filled scatter cushions and a textured rug.