The past six years have certainly not been boring, for successful entrepreneurs and sisters Kate Cullwick and Prue Watson, who launched their 100% organic French Flax linen and 100% New Zealand lambswool bedding range, Foxtrot Home in 2017.
The family-owned and operated online business was an idea they had considered for a number of years, with the aim of achieving a work-life balance that would serve them both in their individual pursuits. For Auckland-based Prue, having achieved an extensive career in executive-level marketing management, and experiencing burnout, she was motivated to create an alternative income stream with a more balanced work-life. For farmer and Mother, Kate who owns and run a large sheep farm with her husband Jeremy in Waipukurau, having a business she could run from home would fulfil her entrepreneurial desires while being able to continue being at home with her kids and help out on the farm.
Together they saw a gap in the market for quality affordable linen homewares that were at a more realistic price point than they'd seen available, and having both grown up on a farm, they knew a bricks and mortar store wasn't necessary with online shopping and delivery being a great model, and decided an online store would suffice.
Needless to say, from their humble beginnings, with linen being stored in Prue's garden shed in Auckland, to today having two warehouses in Auckland, and a showroom and a warehouse in Waipukurau in the Hawkes Bay, a wonderful team, and a continual stream of online orders, they are pretty chuffed where things are at. Foxtrot Home has become a firm favourite for many households in New Zealand in just 6 years.
Kate reflects, "It's blown us away to be honest, we thought we were onto a winner with this business idea but the support we've received from customers who come back again and again, and our sales growth has been amazing. Our focus has always been and will continue to be on providing excellent customer service, we believe this is key to business success, along with providing exceptional goods".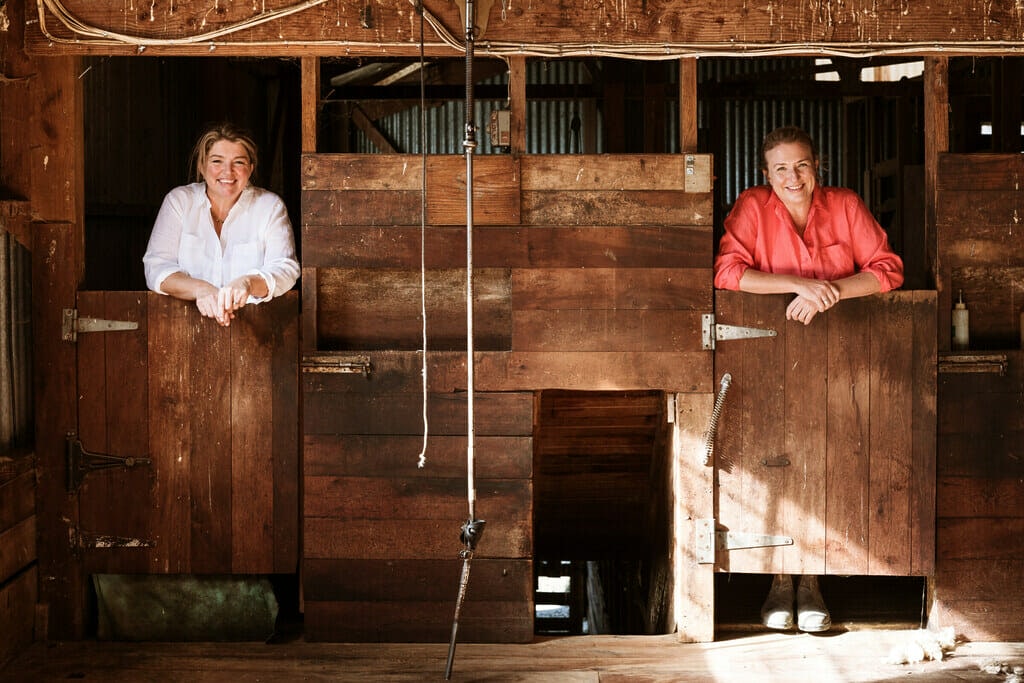 A few months ago, Kate won the NZI Rural Women's Business Award for Best Emerging Business, an acknowledgement of the hard work the sisters have put into growing the business, as well as a nod to Kate who is also a passionate 4th generation farmer. Foxtrot Home recently added a new wool bedding range, with blankets knit from the lambswool from Kate's farm.
Kate left home after high school and worked as a travel agent for over a decade before training as a vet, where she met now husband Jeremy. Together they took over Jeremy's family sheep and beef farm in Waipukurau, which today has over 9000 sheep including breeding ewes and lambs. This year, the couple have taken over running the 1600-hectare family farm in Gisborne from Kate and Prue's retired parents.
Admittedly, the addition of another farm to manage was a baptism of fire for Kate and Jeremy. They took over the farm on Feb 1st in Gisborne. Cyclone Gabrielle hit Poverty Bay on the 13th of February, one of the most gruelling weeks of their lives.
Kate explains, "It was a very hard time and very emotional wondering how our parents were, as we couldn't reach them for a week. Intuitively we knew that people were safe in Gisborne, but our farm is 45 minutes from town, it's remote and having no contact with people whom we care about – our parents, our farm workers and our farm manager who has been there 25 years as well the farm itself which is very close to our heart as we grew up there- to not know how everyone is and not be able to reassure them and support them was incredibly difficult".
She continues, "I was so worried about their welfare, it was horrendous. It took a good week before we heard anything, it was just so emotional waiting. I'm old enough to remember Cyclone Bola which affected our farm pretty badly back in 1988. Thankfully, we didn't lose anyone, just stuff that can mostly be fixed".




With Jeremy working as head of both farms, Kate involved in farm administration and decision-making, and now Jeremy needing to spend a lot more time at the Gisborne farm while Kate holds down the fort at home, it's certainly a busy season.
And while she'd love to be at the Gisborne farm more, for now Kate's focus is on her kids. "I think the Hawkes Bay flooding has taken a huge toll on everyone and the kids aren't exempt from that. Last month we had some pretty big earthquakes in the Bay and one of my kids has understandably been really affected by that emotionally".
An advocate for mental health, Kate is well-equipped to face into these hard feelings. Both Kate and Prue are open about their own mental health struggles having both dealt with depression since their teenage years. For Kate, she further understands the toll rural living can take on women, and is involved in a mental health support group for rural women. Her understanding and care for people and hard work ethic leads her to managing the customer care side of Foxtrot Home and social media marketing, with both sisters working on new product development and marketing and managing stock and supply.
Prue is living a very different life from Kate, and a far cry from her rural upbringing on the family farm. She juggles her time between her home in Auckland city and her other home in Queenstown, while running the Auckland warehouses and overseeing marketing and communications.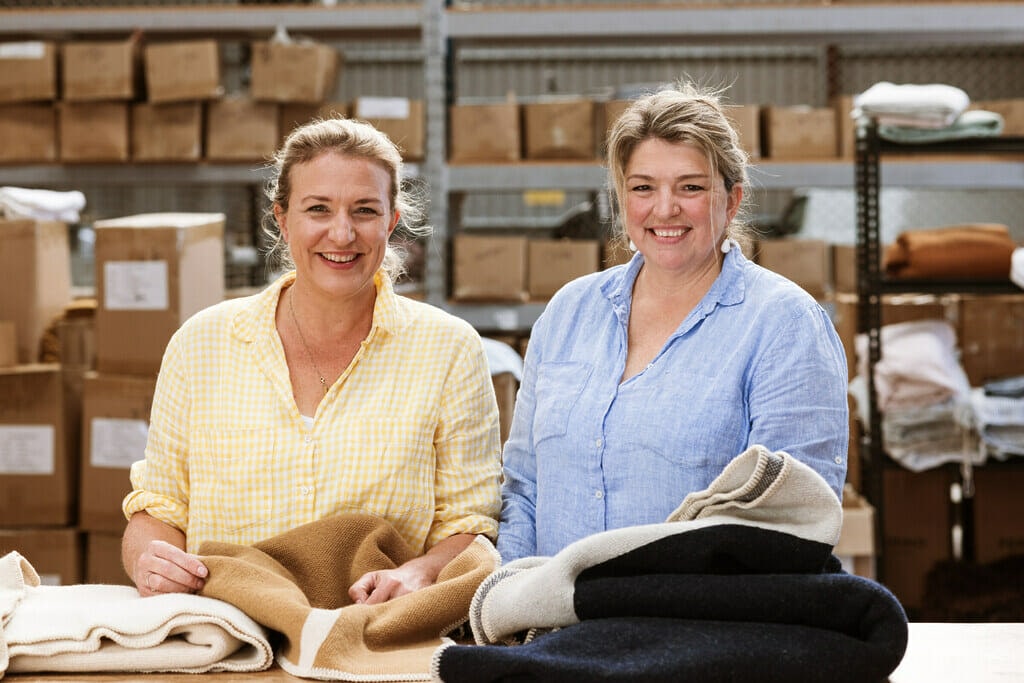 Her career spans two decades in marketing, with roles including Head of Marketing with the Professional Haircare Division of Procter and Gamble, looking after brands, Wella, Sebastian and PPS before moving into the Logistics industry. her most recent role being in Business marketing at NZ Post. Her understanding of marketing, customer behaviour and delivery models has been crucial for the growth of Foxtrot Home, a company she initially worked on part-time in the evenings and weekends while holding down a full-time job.
"It was a busy season doing both things, and it got to the point in 2020 when it was no longer feasible to do both things well. I took a big risk and left my job at NZ Post to work full time on Foxtrot Home. It was the best thing I ever did".
Working with her sister is something she has always wanted, while the pair admit they are pretty different, they share a hard work ethos and a quick sense of humour, both of which play a role in their daily FaceTimes, phone calls and text messages as they discuss work from different regions.
While running a business isn't easy, the flexibility of running her own company has had its perks, and has provided much-needed reprieve over the past 6 months as she has faced into some big life changes.
In September 2022, after feeling slightly run-down Prue's GP intuition made her insist on getting a mammogram done, outside of her typical 2-yearly screening programme. This decision could have saved Prue's life.
"I had no symptoms whatsoever, just tiredness, and my GP rang me a few times insisting I get a mammogram, but my mammogram the previous year was totally clear so I thought, 'yeh, whatever', but I went and got it done. They found a lump and immediately referred me to a specialist".
"This was completely left field for me, we have no family history of breast cancer, and I just didn't expect this to happen to me. That first week waiting for results and not knowing what they could do was pretty scary, but once I saw my surgeon and was reassured it was treatable, it was a bit of a relief".
When the results came in, her medical team moved fast; she had a partial mastectomy within weeks to remove cancer and some lymph nodes, a week later developed a hematoma in her breast requiring more surgery to remove this. After a 6 week waiting period to heal, Prue underwent radiation for a week. She is now on daily medication for the next 10 years to ensure the cancer doesn't return.

And thankfully, she is in the clear! Cancer-free and back on to annual mammogram checks.




At the end of May Prue and Kate ran a Pink Ribbon Fundraising event for Breast Cancer Awareness NZ, with all proceeds from their seconds and outlet sale going to the charity. She reflects, "I'm so grateful my GP pushed me to get checked, as if I had put it off and waited another year for my next planned check, it would be a different story".
It's a real cliche that people think, 'Oh, it won't happen to me', but it happens to normal women every single day. I can't stress enough how important it is to have regular checkups to catch it early. I didn't actually feel a lump until after I had the biopsy so this screening programme is essential".
Kate and the team at Foxtrot Home were able to pick up Prue's workload while she was off work for surgery and recovery, and prior to surgery she was able to hire someone fabulous and train them up to take on some of her responsibilities. Prue says, "The flexibility of having your own business means you can dip and out when you feel up to it. And Kate has picked up the flack for me and was there for me, she's been amazing".
Around the same time in October, Prue's partner, Glyn, became the Mayor of Queenstown, after serving as a councillor for the previous term. Prue has been living between Queenstown and Auckland for the past few years, spending two weeks in each city. Her new role as Mayoress has been a lot of fun, and a great way to support Glyn in his role. "It's an awesome job for him, he is really passionate about it and values helping his community. I see my role as being a support person for him, and I get to do fun stuff like planting a tree for King Charle's Coronation! Glyn is really supportive of our business and what we do".
And of course, with their wicked sense of humour, Kate loves giving her little sis strife about being the Mayoress. Humour keeps the two connected and helps them keep perspective when the stress is on.
Related Article: Nadia Lim on her new country life, ethical farming and bridging the urban-rural divide