With multiple lockdowns and a debilitating illness, London-based shoe designer Carrie Cooper has had a tough year. She talks to Sophie Neville about keeping her business on its feet and her hopes for a family reunion.
For someone who's spent the past 20 years working with her hands alongside makers and artisans in towns and cities all around the world, the Covid-19 pandemic delivered Kiwi shoe designer Carrie Cooper an unimaginable challenge.
Her usual way of life – which involved overseas trips every few weeks from her London home – was completely turned on its head and, like many of us, she's had moments of total panic. How would she keep her business afloat, she feared, as she headed into the first of many lockdowns?
"It's been a complete roller coaster," Carrie admits via Zoom.
The United Kingdom is only just emerging from its Covid-19 grip, and Carrie – who is best known here for Beau Coops, the footwear company she founded in 2009 – is holed up at the East London home where she's spent most of the past 18 months.
Sitting at her kitchen table with a glass of scotch in hand, it's a weary Carrie who tells us this is her sixth online meeting in a row. Zoom has become the norm for this hands-on maker, who would much rather be conducting her life in person. It might be an exhausting new reality, but she's quick to point out that being busy is a good thing in this uncertain world.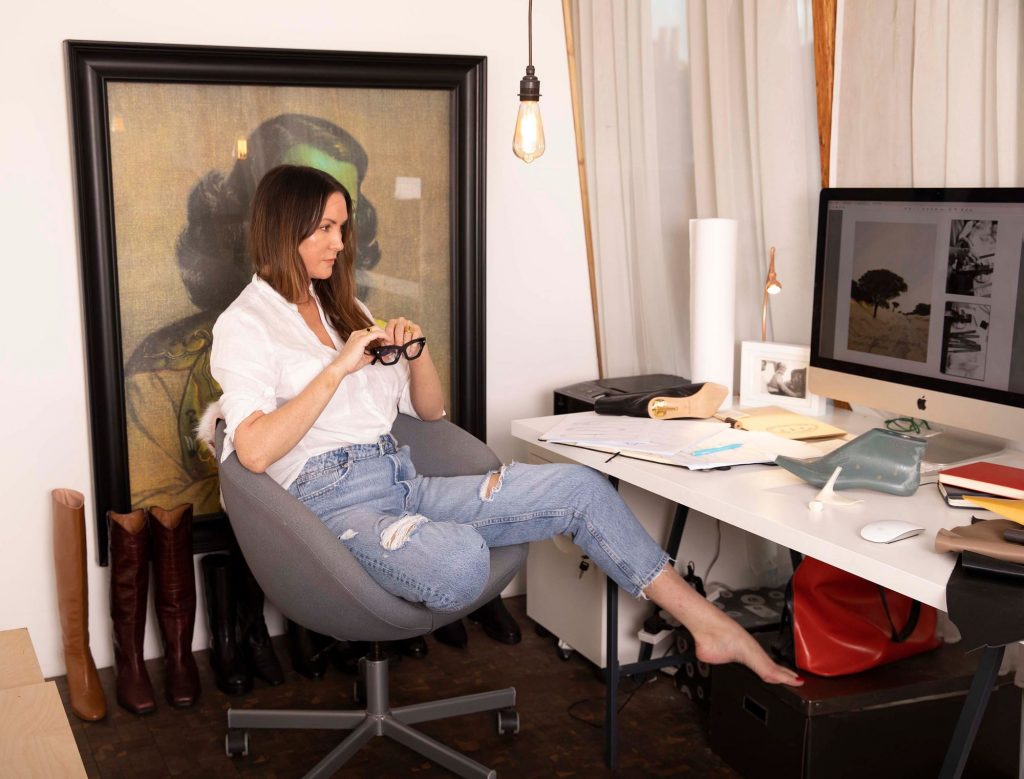 "There was a time there when I was genuinely worried I might lose my business and my home," she says. "The entire retail and fashion sectors were hit so badly by Covid, and work just went from fully-functioning to zilch pretty much overnight."
But unlike here in New Zealand – where we're enjoying the relative freedom of a largely Covid-free country – on the day Woman catches up with Carrie, the UK is deep in recovery mode, its people still reeling at a Covid death toll of 128,000. It's been incredibly tough, says Carrie, but now the days are longer, restrictions are being slowly lifted and a new sense of optimism is emerging. From June, life should go back to "some kind of normal," she hopes, adding that she feels incredibly grateful for the vaccine that's allowing this recovery.
"With so much of the population vaccinated now, me included, the mood has really lifted," she says. "It was a matter of hunkering down and riding out the storm, but now there's finally a sense we can see light at the end of the tunnel. We'll make it out the other side."
Today, Carrie, 43, is speaking to us about her latest exciting project – a new footwear line called Abigayle. It was born as a seasonal collaboration with her long-time friend and associate Greta Washington, who owns Christchurch shoe store Head Over Heels. The pair have worked closely together over the past year (via Zoom, of course) on the stunning range, designed especially for Greta's customers.
"I call this range our 'Covid baby,'" says Carrie. "And it's been such a joy to have this to focus on amid the horror of the pandemic. It's been a true positive."
Before Covid, it would've been unthinkable to have designed and produced an entire range without a single trip abroad. Carrie used to jump on a plane every few weeks to visit her shoemakers in Italy, Spain, Portugal and even India, not to mention trips back to Australia and New Zealand.
"But we did it," she says, with a smile. "And it's quite an amazing feeling because if nothing else, the past year has shown all of us that we're actually capable of way more than we realised. It's shown us just how resilient we are and taught us that we can be flexible and do things differently."
If nothing else, the past year has shown all of us that we're actually capable of way more than we realised
While it's a happy and relaxed Carrie we see today, she tells us that 2020 was one of her toughest years ever. The stress led to a debilitating flare up of an autoimmune condition that would usually see her hospitalised from the severe eczema that covers her body. This time though, she had to manage at home, as hospitals were facing overwhelm in the height of the pandemic.
"Usually I'd be in the hospital, bandaged from top to toe. But that wasn't possible, so I just had to take to my bed and ride it out," she tells. It was a miserable time, but thankfully, Carrie's two-year-old pooch Jacquemus was a constant companion. "Emotional support dog is an understatement," she says, lifting the adorable Parson terrier up onto her lap to say hello into the camera.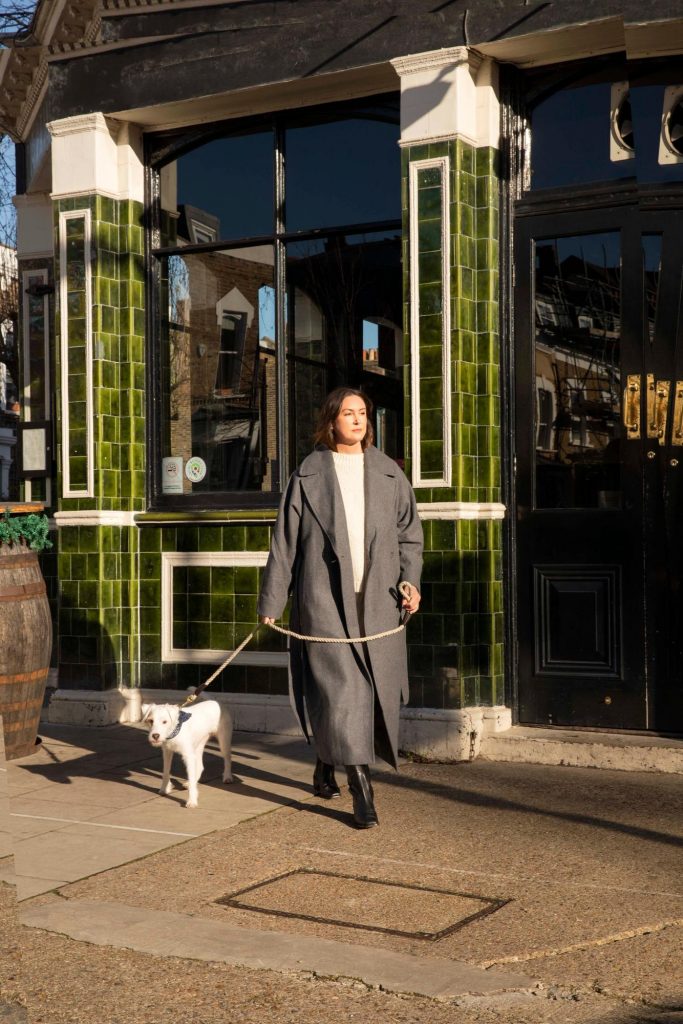 While London has been her home for almost two decades, Carrie says that for the first time ever, she seriously considered a move back to Aotearoa in the height of the pandemic. She looked into flights and made enquiries about quarantine, but as she slowly emerged from her illness, she decided to stay put. Her Christchurch-based mum Lyn, however, still ends every phone call with, "You could just come home, you know!"
And with her dad Barrie's 80th birthday approaching, Carrie has her fingers crossed that a trip down under will be on the cards soon. It's three years since she last came home, which has been the hardest ramification of the pandemic.
"That's been the biggest fallout of Covid for me, personally. As a family, we're desperate to make logistics work for a celebration together, but we can't set a date until the world settles into its new order. I'll be keeping my beady eye on any chance of quarantine requirements changing with vaccine passports."
And like many of us, the events of the past year have sparked something of a rethink. While she sold her shares in the Beau Coops brand several years ago, she's continued to lead the creative and design side of the business, but after 10 years in the role, Carrie's next collection will be her last.
"It just feels like it's the right time to hand over to someone else," she explains. "It was a huge decision and something I really agonised over because Beau Coops has been such a wonderful part of my life for so long. But it's time for a change and it feels like a very happy closing of the door."
Stepping away from Beau Coops will give Carrie more time for her consultancy design business, The Curious Treasury, which is something of a one-stop-shop for footwear – creating designs, organising logistics and manufacture, and taking a product to market. With Abigayle hitting New Zealand shelves last month, Carrie's now busy on a handful of other exciting projects.
"I absolutely love collaborating like this," she tells. "I feel I'm at my best when working with others because it's recognising that these successful, dynamic retailers are style curators themselves." She subscribes to the "pay it forward" model, meaning those she collaborates with receive royalties on any designs picked up by other designers in the future.
"Collaborating is the best process," she says. "Because you're merging your ideas, knowledge and passion with someone else who's just as passionate about it, so it's super exciting."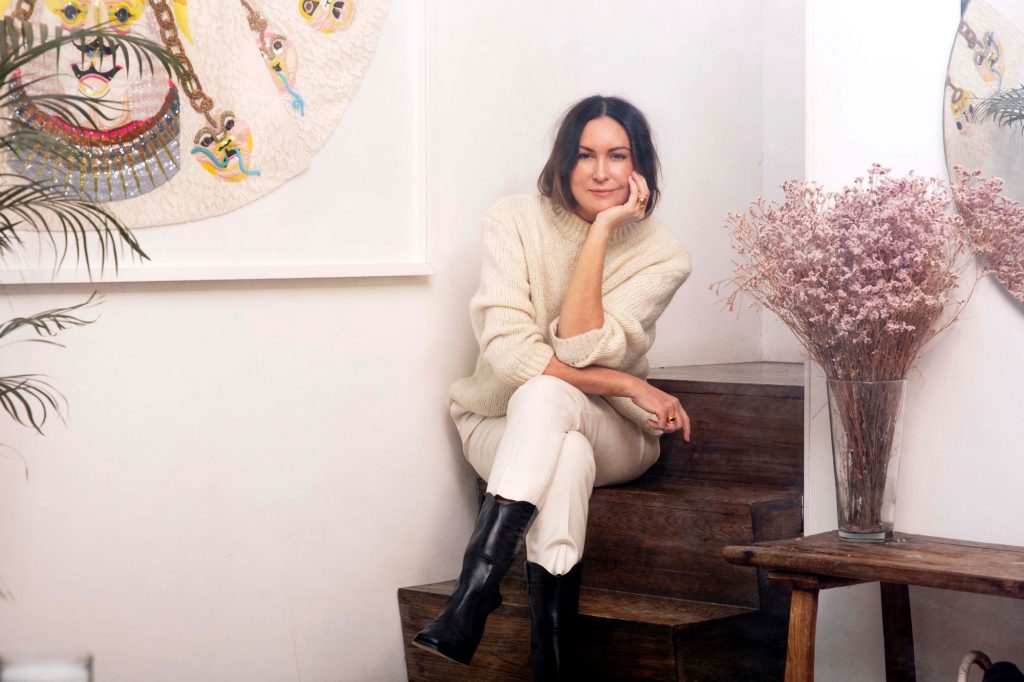 She might be synonymous with footwear in fashion circles, but Carrie admits her journey into the industry was anything but typical. After graduating with a fine arts diploma from Manukau Institute of Technology, she headed to London where she began working as a sales rep for a fashion wholesaler. After showing an interest in the design and manufacturing process around footwear – not to mention some fortuitous meetings with the right people – she was offered
a shoe-making apprenticeship, where, over several years, she spent weeks at a time in Italy learning from the masters. From creating patterns to the making of a last (the wooden mould used in shoemaking) and cutting leather, she was schooled in every step of the process.
"Working with my hands, learning the entire process and all its nuances from these absolute artisans, some of them fourth generation shoemakers… it was fascinating," says Carrie. "It was my 'hallelujah moment' – this was what I wanted to be doing for the rest of my life."
Since then, Carrie has collaborated with some of the world's biggest fashion houses, including Alexander McQueen for Puma, Topshop, Stella McCartney, Karen Walker and, most recently, Rejina Pyo.
"It's been a massive roller coaster of a year," she muses. "There's been shock and tears and so much stress. But in lots of ways it's made us all stop and think. Life was so easy before and perhaps we needed to slow down and take stock. It's been a joy to have these moments of peaceful reckoning – it's reset my lifestyle button in a very positive way."
PHOTOS BY SARAH MERRETT/MEZ PHOTO STUDIO