Inspired by her global travels, this inventive nurse took her DIY skills onto the water. Discover her clever renovation story and her scandi/cape cod style.




Where is it?
An Auckland marina.
Who lives here?
Intensive care nurse Olivia Hammond, plus five little fish.
Why did you want to live on a houseboat?
"I was travelling with a friend through Canada and saw the houseboats in Vancouver and fell in love with them. When I came home, I couldn't get the idea out of my head, and a few years later, here I am."


How did Blue Turtle start out?
"After looking at getting a new houseboat made, I found an older barge that was being used as a workshop/dock maintenance boat and bought that to build on."
What changes did you make to turn a one-storey barge into a two-storey home?
"A lot! A side piece was added to increase the displacement, plus two pontoon structures underneath, similar to a catamaran. Then the whole top level was added."
Did you do much of the work yourself?
"Alan Stephenson and the awesome team at Hobsonville Boat Building Services did the structural parts and the main part of the build – I wanted it to float! – and I mainly did the sanding, painting and non-technical parts. I pulled in lots of help from my family and friends, to whom I now owe some big sanding and painting credit!
My family were amazing. My parents and sister would come up for sanding and painting days. My mum has a lot of experience with design and would walk me through the design of a room to make sure it was both functional and beautiful."
Did you create the plans yourself?
"The design was primarily mine, with huge input from Alan and his team to make it structurally work. We were on the same page from the very beginning about what style of boat we wanted to build, which made the design process easier."
What aspects of the build were unusual due to your house having to float?
"Alan described it as being in a constant low-grade earthquake, so everything had to be designed around that. The actual structure is incredibly strong, with big supports through the base. And weight was a consideration, as the displacement of the hull gave us 12.6 tonnes of flotation. So calculating the weight of the boat, including water tanks, holding tanks and furniture, was important while planning."
Did you have experience in building or boating?
"I grew up in the home my parents were building, which was my only exposure to renovating before this. And I had lived on a super yacht for two years, as a nurse and stewardess, before I came back to New Zealand."
What inspired the design?
"I like open spaces and spent a lot of time looking at a mix of clean Scandinavian style and Cape Cod cottage style."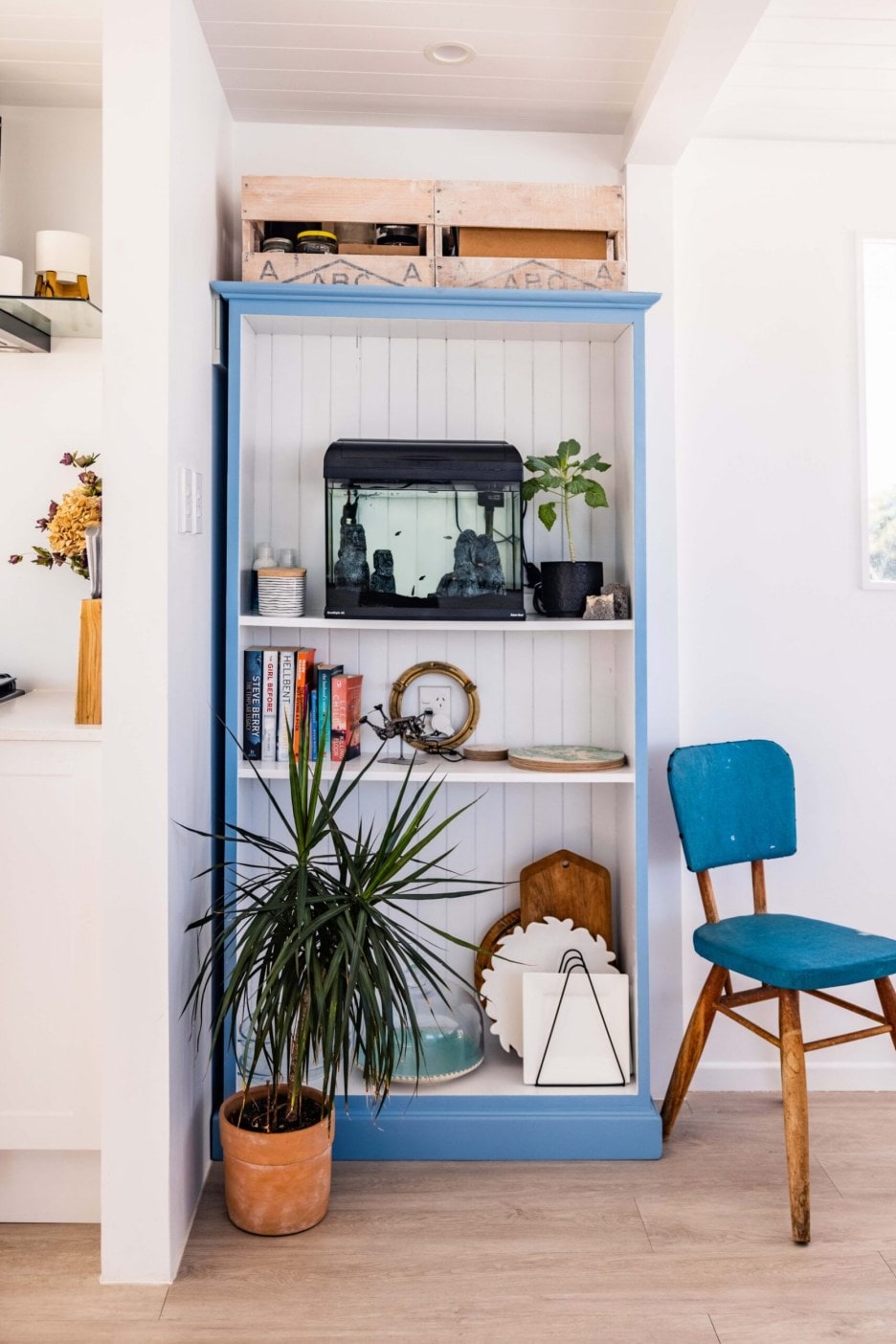 What did you learn during this process?
"Because I was doing it on my own, it was hard to be constantly making decisions. I think I know now to give myself time to think through something or to keep focused on one area before moving onto the next too quickly."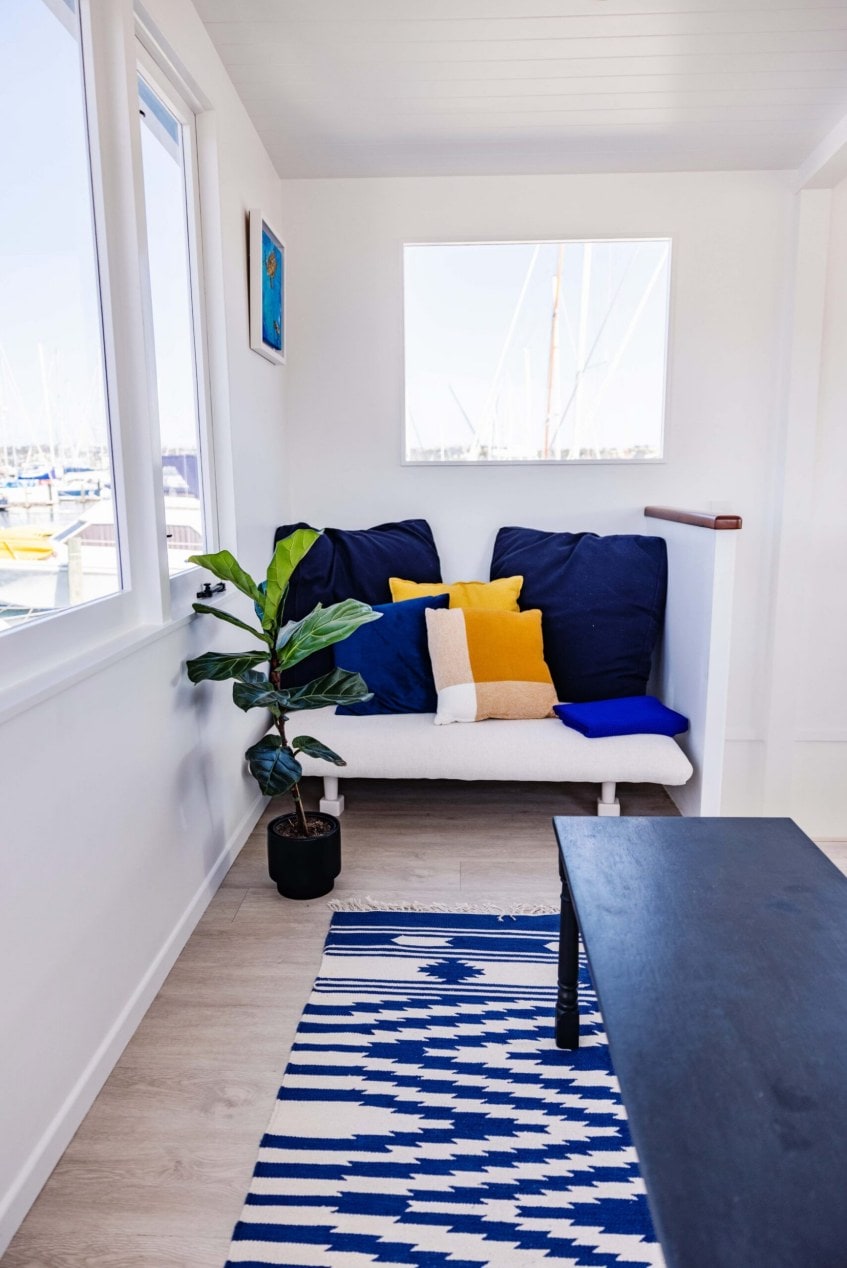 Why did you want to live in a small home?
"I had never been too concerned about large homes and spaces, and the idea of being on the water meant it could never be a large home – within my price range, at least. And I like being in a space that is cosy but still has room to move."
What eco-friendly aspects does the home have?
"LED lighting throughout, and the windows are plexiglass, which is useful for strength, flexibility and thermal properties. Because the hull traps air, the house stays warm in winter – and the windows and cool water around the boat keep it cooler in summer. I managed with just a small heater in the evenings during winter."
Where did you source the furniture from?
"The seating nook was made from a pair of doors that I picked up but didn't end up using – I turned them into a platform and upholstered it. I made the dining table as well, and Mum upcycled the coffee table. The beds are from Trade Me."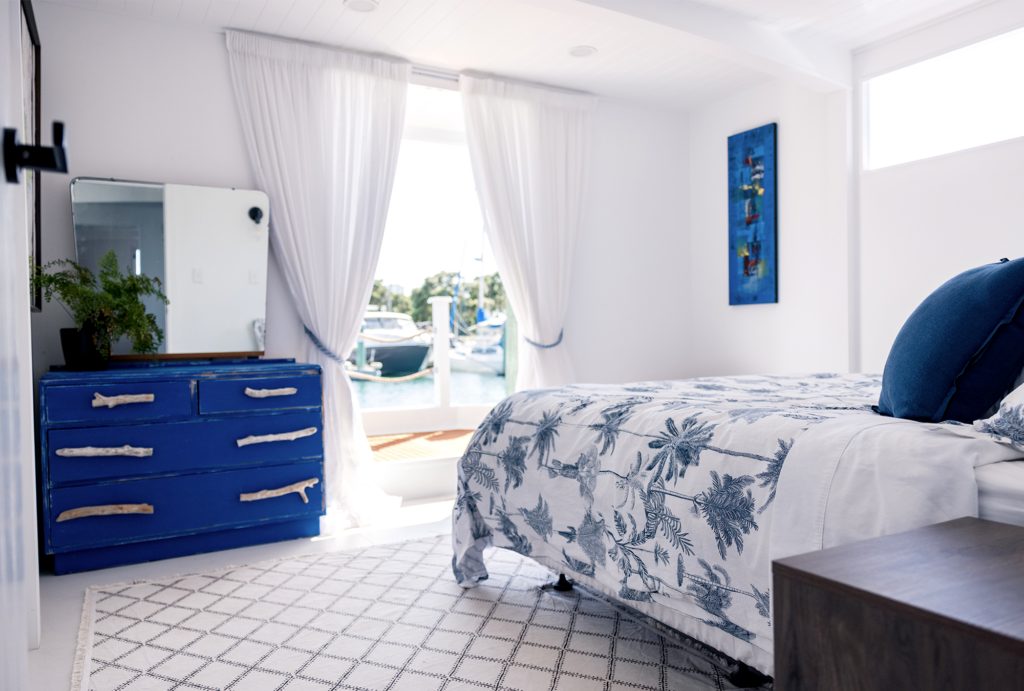 Tell us about the reclaimed materials you used.
"The ceiling beam, stair balustrade and kitchen bar are all made from recycled teak boards from a ship that Alan had. You can still see the original pitch staining around the bolt holes, which I love."

What's it like living in a houseboat and a marina?
"I love it. There's a good community of people living in the marina and also other boaties that come in and out. You know your neighbours, and people help each other and have a chat. Lots of people will stop for a chat about the houseboat – it does stand out! There's a gentle movement that I find restful and, being so close to the water, I can sit on the deck in the afternoons and just relax completely."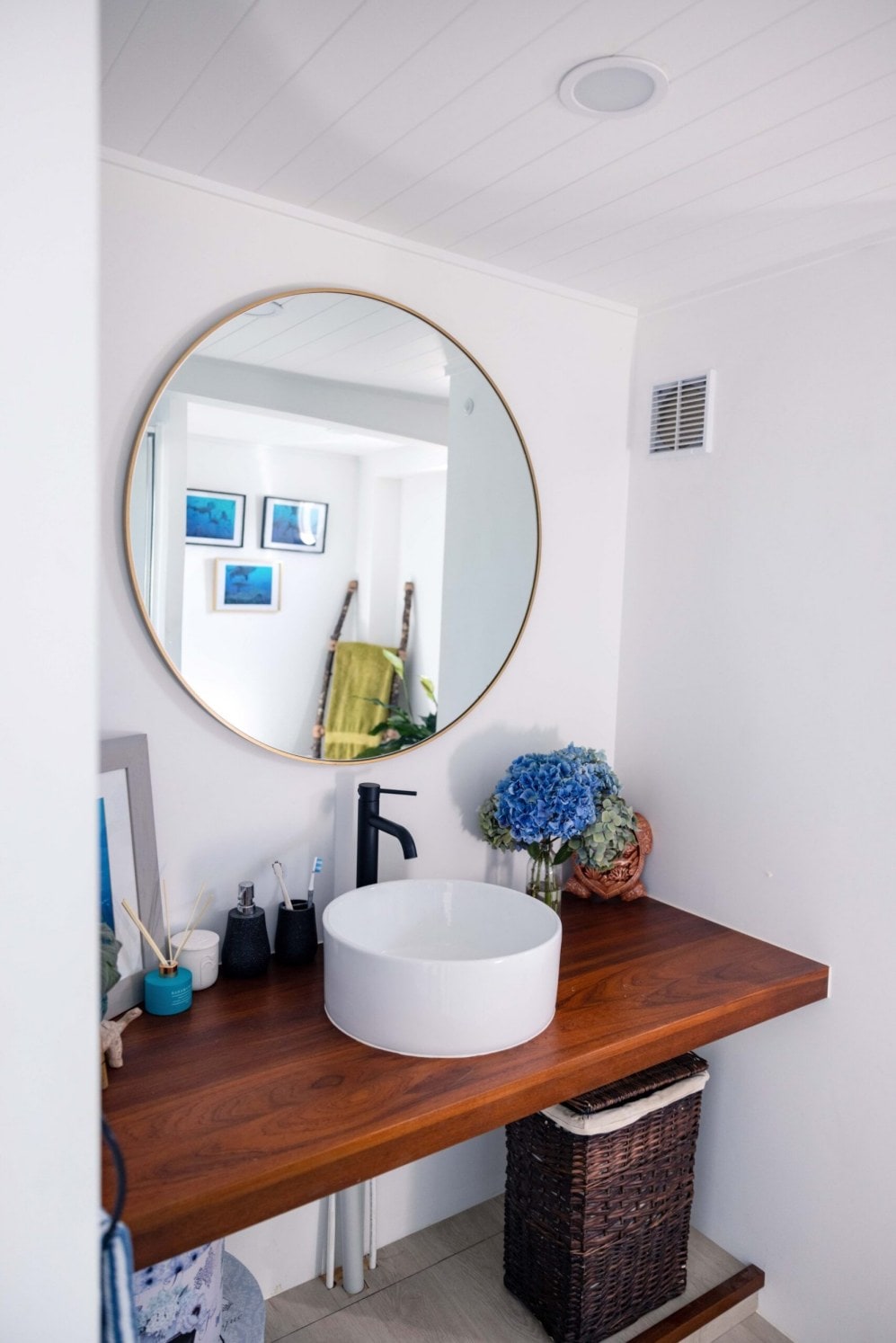 Can you live on the marina full time?
"Yes, I have a live-aboard contract in the marina, along with approximately 40-50 other people."
Do you plan to relocate in the future?
"I would love to live here long-term but one of the nice things about a houseboat is I can always take it somewhere new if life changes."
Have you had to downsize your lifestyle?
"There are only two things I've had to go without: a garage, which I've balanced by occasionally turning the top floor into a crafting space; and having a cat or dog. Most marinas don't allow live-aboards to have pets, so my dream of Commodore Cat, a seagoing Maine Coon, is on hold – but I'm always hopeful the rules will change!"
See more of Olivia's water world on Instagram at @blueturtlehouseboat