Taranaki is a destination you choose to go to, rather than somewhere you pass through on the way to  somewhere else. Back in the day there had to be a good reason to make the special trip and my parents chose New Plymouth for their honeymoon because neither of them had ever been there before and they'd heard there were excellent golf courses. They set off with their clubs in the boot of the Humber Hawke; Mum was keen to visit Pukekura Park and a few gardens while Hawkes Bay born Dad wanted to have a close-up look at that mountain to see what all the fuss was about. 
"It's still all about the Maunga, the usually snow-capped cone, effortlessly dominating and defining the landscape, wherever you happen to be in Taranaki"  
As we were there for a good time, not a long time, we consulted the local oracle and bon vivant, Terry Parkes MNZM. Although he's widely travelled, Terry is an enthusiastic cheerleader for the region he's never felt like leaving for long. He likes the camardarie of a tight-knit community with enough space for individuals to be outrageous and to be accepted.   His expert advice on the best places to eat, drink and visit was invaluable, although we'd have needed another week to do justice to all he recommended. 
I wouldn't want to ignite a war of the roses, but I'm going on record to say it's hard to beat Taranaki for truly fine, spring gardens. With its clement climate and high rainfall it's no coincidence there are so many outstanding new and established gardens. Visitor numbers for the combined Arts Trail, Garden and Feast Festivals have been sky high in the past.
The NZ gardens Trust has taken the uncertainty out of choosing which gardens to visit with a star rating system. They've assessed 112 of our finest gardens,  giving top star ratings to 16 in Taranaki.  www.gardens.org.nz
Puketarata garden, takes its name from the neighbouring 400 year old Pa site. Jennifer and Ken Horner's supurb country garden is a beautifully maintained all year round garden and Parterre. Jennifer  has cleverly planted over the past 40 years to enhance views from the house and the spectacular surrounding countryside.  
Te Kainga Marire translates to mean a peaceful encampment, which is what Valda Poletti and David Clarkson have achieved over the last 40 years.  They've transformed their clay wasteland into an authentic patch of bush in the suburbs hoping to inspire gardeners to landscape in a natural style and appreciate our native plants. They have succeeded brilliantly. I filmed it for the Garden show and it featured in the BBC series 'Around the world in 80 gardens'.

Te Henui Cemetery, the oldest in the city, is a special place thanks to a small team of hard working volunteer gardeners. They are doing a terrific job, replanting the early settlers graves dating back to the 1860's. Shy but obliging, they freely give guidance for descendants who want to restore the headstones or to talk to visitors, charmed by the profusion of all- season flowers.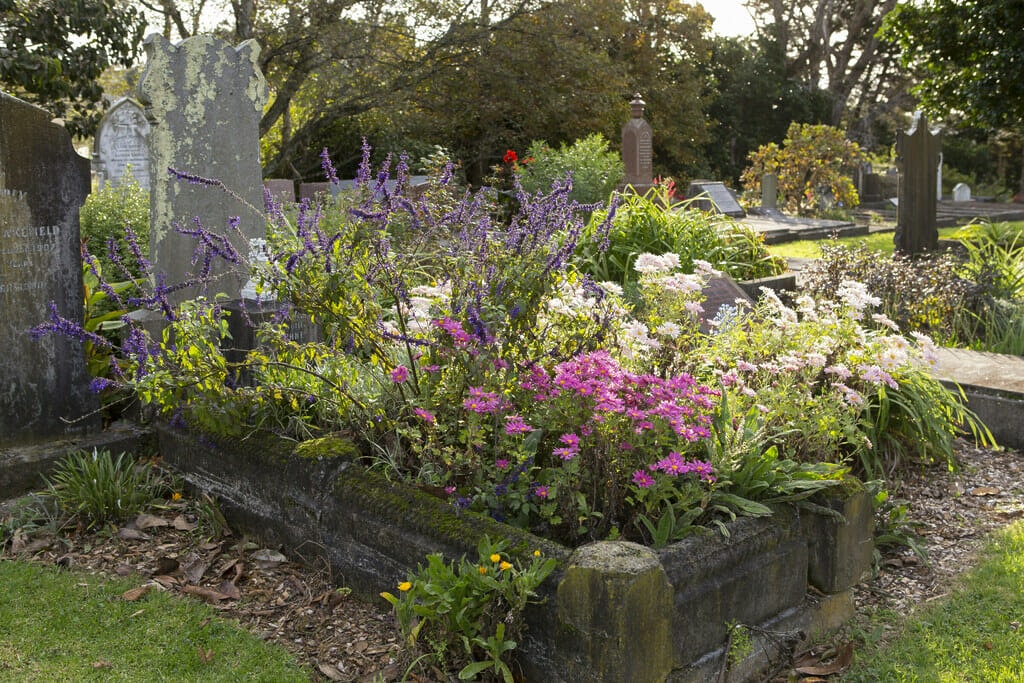 Taranaki businessman Bryce Barnett MNZM and his wife Delwyn are generous local philanthropists who  take a pride in all that Taranaki has to offer. They moved back from Auckland 20 years ago because it's a safe place to live and bring up a family and because everything they need is just a ten minute drive away from home. 'The Dove Garden' has evolved, as family gardens are wont to do. Two of their five children were married there and these days the outdoor playground with hundreds of white doves is a lure for their five grandchildren.
Their mantra to 'follow your dreams and make a difference' is evident in their enjoyment sharing their property, along with Bryce's collection of 30 classic cars for visitors and charity events.
Related article: Rose Tined Roadie