Aw! Remember when Beyonce posted a photo of Kathryn Wilson loafers (one for her kid and one for herself) on Instagram a couple of years back? We took that inspo and talked to 3 women working in the fashion industry taking their kids to shoots and doing the mahi with a small pair or arms encircling their legs. Everyone knows how difficult it is to balance a business with being a mother and sometimes you need to hear back from the little ones to know it's all okay.


Sophy Phillips
Sophy Phillips is a leading hair and make up maven with over 15 years in the business. She's well sought after by film and industry and several years ago gave birth to the beautiful Lulu.
Lulu came to her first photoshoot with me when she was four months old. She came along to several while she was tiny, so that I could work and breastfeed at the same time. She's also spent a lot of time at her dad's hair studio, so seeing us working with hair and makeup is a normal part of her life.
When she was beginning to explore clothing, she found some beautiful things to dress up in. One day she came out of my room wearing a Miss Crabb camisole which fitted her like a dress. I remember the first time I went back to work after lockdown wearing lipstick. Lulu's eyes nearly popped out of her head and she promptly asked for red lips of her own.
She is currently in the throes of a nail polish obsession. Lulu sits on my lap while I do my hair in the morning.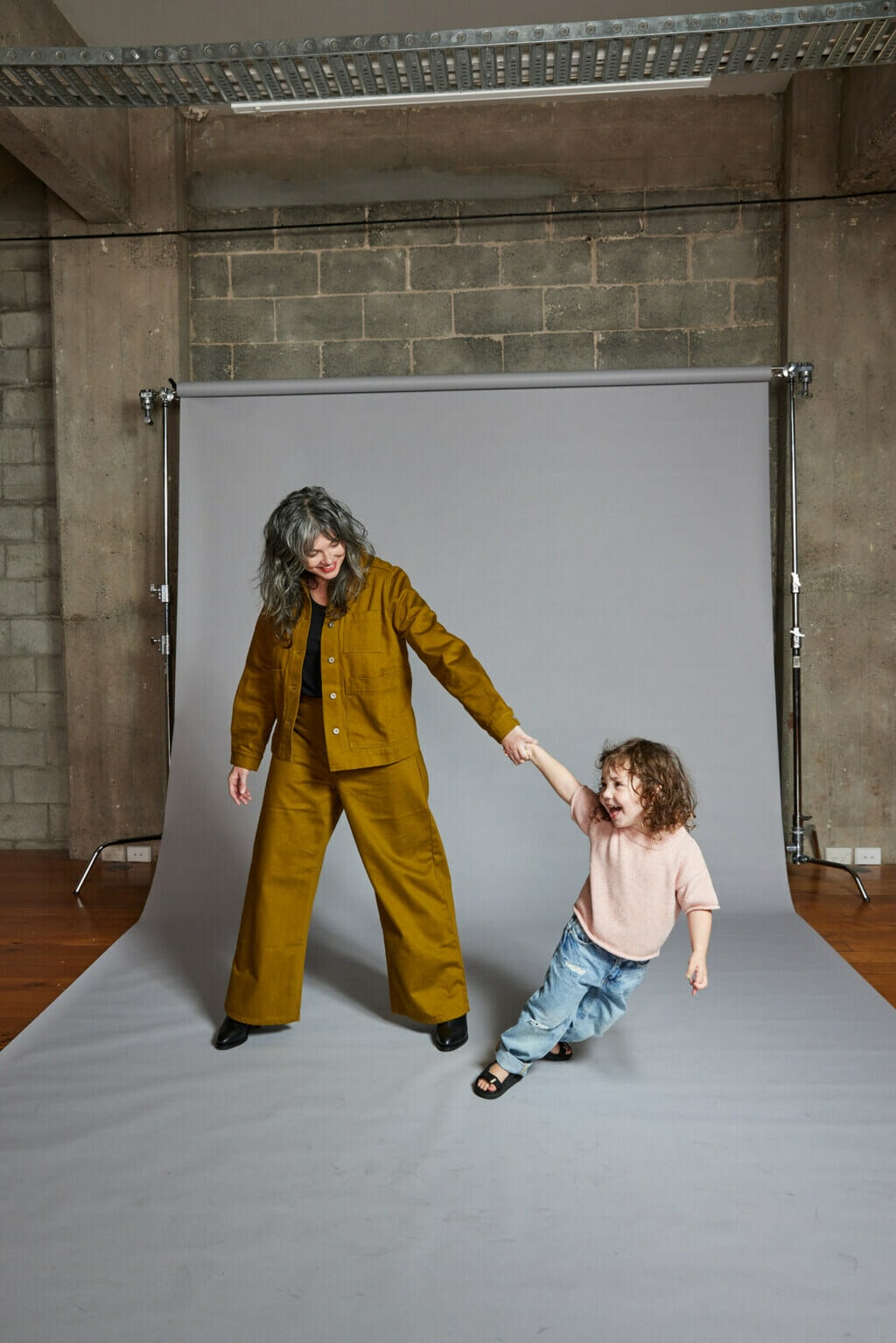 Did you think she might follow in your footsteps?
A while ago a friend of mine said to me, "let her wear whatever she wants". And with the exception of some practical interventions, Lulu puts together her own outfits. Her lack of inhibition or shame has led to some pretty powerful looks. She reminds me to have fun with fashion – I've become quite partial to glitter – so at this moment in time, Lulu inspires me, and she marches to the beat of her own drum.
As for the future, Lulu will have all the means to use hair, makeup, and fashion to creatively present herself to the world, and her dad and I are very open minded to how she might do that. I'm not sure whether fashion will be her career, but it will be an intrinsic part of her self expression.
In what ways are you and her alike and in what ways do you differ?
Lulu and I are similar in so many ways. She's strong, stubborn, and smart. She's inquisitive and brave. She loves to make people laugh. She looks just like me and wears some of my old clothes from the early 90s.
When I was growing up, I was so awkward and never fitted in anywhere. Lulu on the other hand can walk into kindy and have a flock of small children meeting her at the gate shouting "Hi, Lulu!" I think she'll end up being one of those people who is cool without having to even try.

Two questions for Lulu: What is one quality about your mother that you admire?
I love mama's kisses and huggles. She kisses my nose.
Finish the sentence Dear mum, thank you for …Painting my toes like rainbows!
Kathryn Wilson
Kathryn Wilson grew her fledgling shoe designs to a brand that is in constant high demand. She is mum to the gorgeous girls, Lola and Stella. We asked Lola some questions about her mum…
What is your earliest fashion memory you have of your mother?
When I stayed up late past my bedtime and went to New Zealand Fashion Week and watched her catwalk show in the front row with Dad. I ran up to mum at the end of the show, it was fun.
Can you describe a moment when you first noticed that shoes were important to your mother?
When I saw that she wore shoes a lot and liked them. Then when I was about 4, I came to her work and realised that she owned a shoe shop and worked there!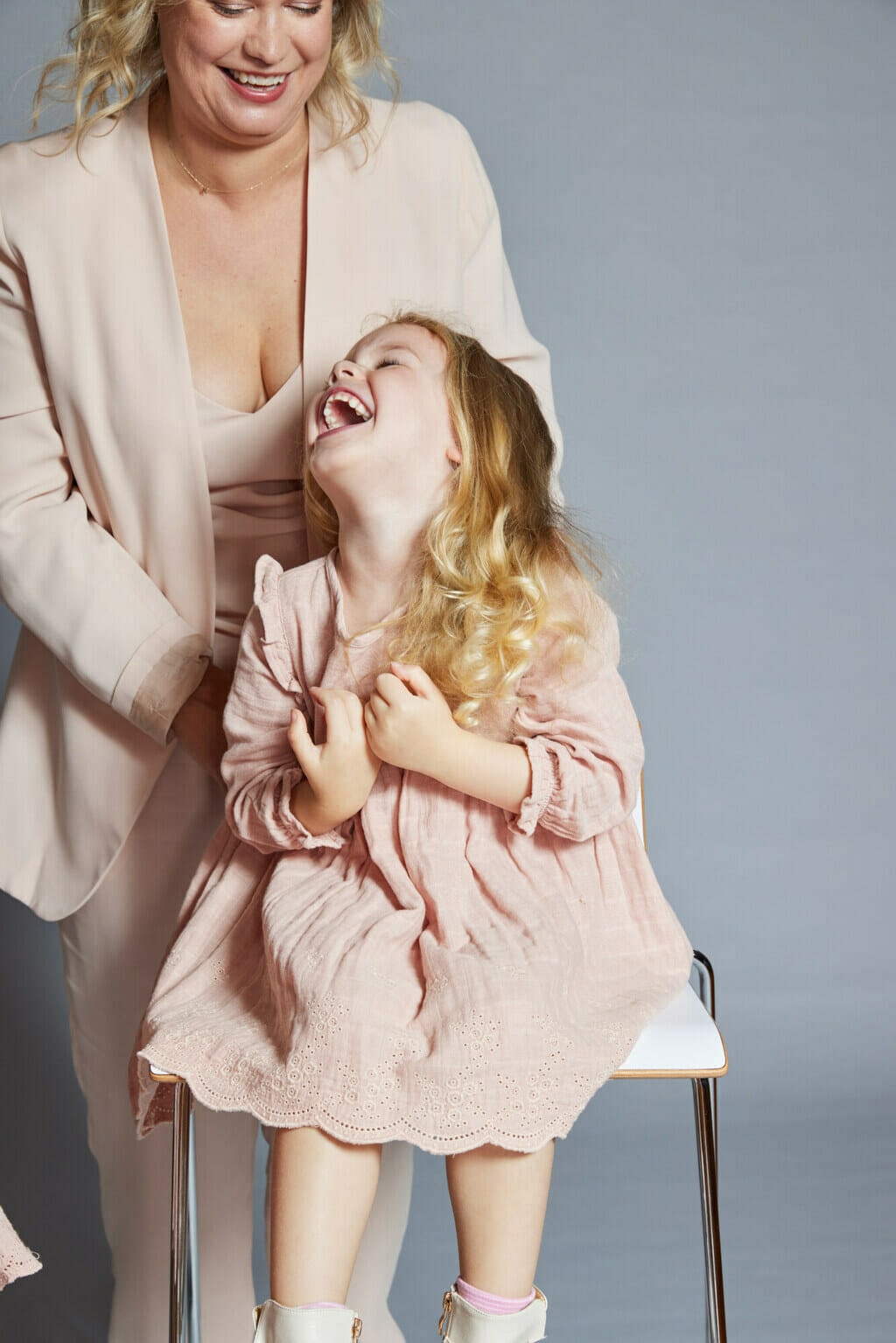 Do you think you might like to follow in her footsteps and one day work together?
Maybe I will, I like to draw clothes, lots of clothes, I want to design clothes but I don't know how to draw shoes.
In what ways are you alike and in what ways are you different?
We both have blonde hair and we like cats and we have the same coloured eyes, and we are happy, we both love shoes and the colours white and yellow; Mum often does work but I just play, Mum drinks coffee and wears makeup but I don't do that.
What do you love about your mother and why?
She's really caring and kind. She's beautiful and I like how she talks to me.
What shoe is your favourite?
The ones with the gem stones in the heels, I like them because they are sparkly.
Dear mum, thank you for … Letting me go to the Ed Sheeran concert, and for teaching me how to be nice to animals and not to rush.
Sarah Cotterell

Sarah Cotterell built her jewellery business Silk and Steel from the ground up- creating the logo, designing the business cards as well as making the jewellery and selling it.
Her daughter Ella was around for much of that ride:
My earliest fashion memory of my Mum would be when I was eight years old. My Mum designed a collection of bespoke jewellery for New Zealand Fashion Week, which I was lucky enough to attend with her, to watch her pieces be worn on the runway, in 2012. There was never a specific moment where I realised how important clothes were to her, as she always takes pride in how she looks and loves beautiful quality.
Growing up, I always loved making jewellery with my mum and learning more and more about what she does. Whilst growing up, there were moments when I wanted to follow in her footsteps, as I think what she does is amazing. However, once I started high school, I grew a huge passion for outdoor education and almost instantly knew that that was what I wanted to pursue, in the future.
My mum and I have always had an amazing relationship, which I am so grateful for. We love the same things; we are both very creative people, and we share a lot of the same morals which is what I love the most. With all the love I have for my mum, there are time where we are different. She is quite the perfectionist whereas I would consider myself more laid back.
The main quality about my mum, that I will forever admire, is how hardworking she is. She will always put 100% into everything she does, whether that's with her work or with her family and she will never not finish something that she has already started. My favourite collection that my mum has released will always be her Talisman collection. That collection means so much to me, as she designed it around hope, love and strength, which are three things that are very important to me.

Dear mum, thank you for.. always being my best friend. Thank you for all the incredible opportunities you have given me and thank you for being right by my side through all the ups and downs. I truly wouldn't be who I am today without you. I love you.

Related article: Inge Woolfs mother of Deb Hart – Memoir on Resilience. Mothers Day