Dr Catherine Stone, founder of The Face Place medical spas, sees the beauty in the natural surrounds and nourishing eateries of her Auckland suburb.
Who lives with you?
My flatmate, aka my lockdown wife, Shareen. We made our house into a health camp over lockdown last year, as I had just come out of breast cancer surgery. We've since had a couple move into our previous flatmate's room – Carlos from Columbia and Kim from Canada. Sadly, no pets. I love dogs, but I work too hard and normally travel too much. Instead, I'm one of those crazy ladies who will cross the road to pat a dog, just to get my doggie fix.
Tell us about your house.
Our home is spacious and we have three bedrooms, three bathrooms and an office, so there is heaps of room to live in your own space or choose to be more social. We are all quite busy, so it is often ships in the night, but when I get the chance, I love just being at home. It was such a special place to be during lockdown last year, and it showed me the joy of working from home, so now I try to do that at least one day a week.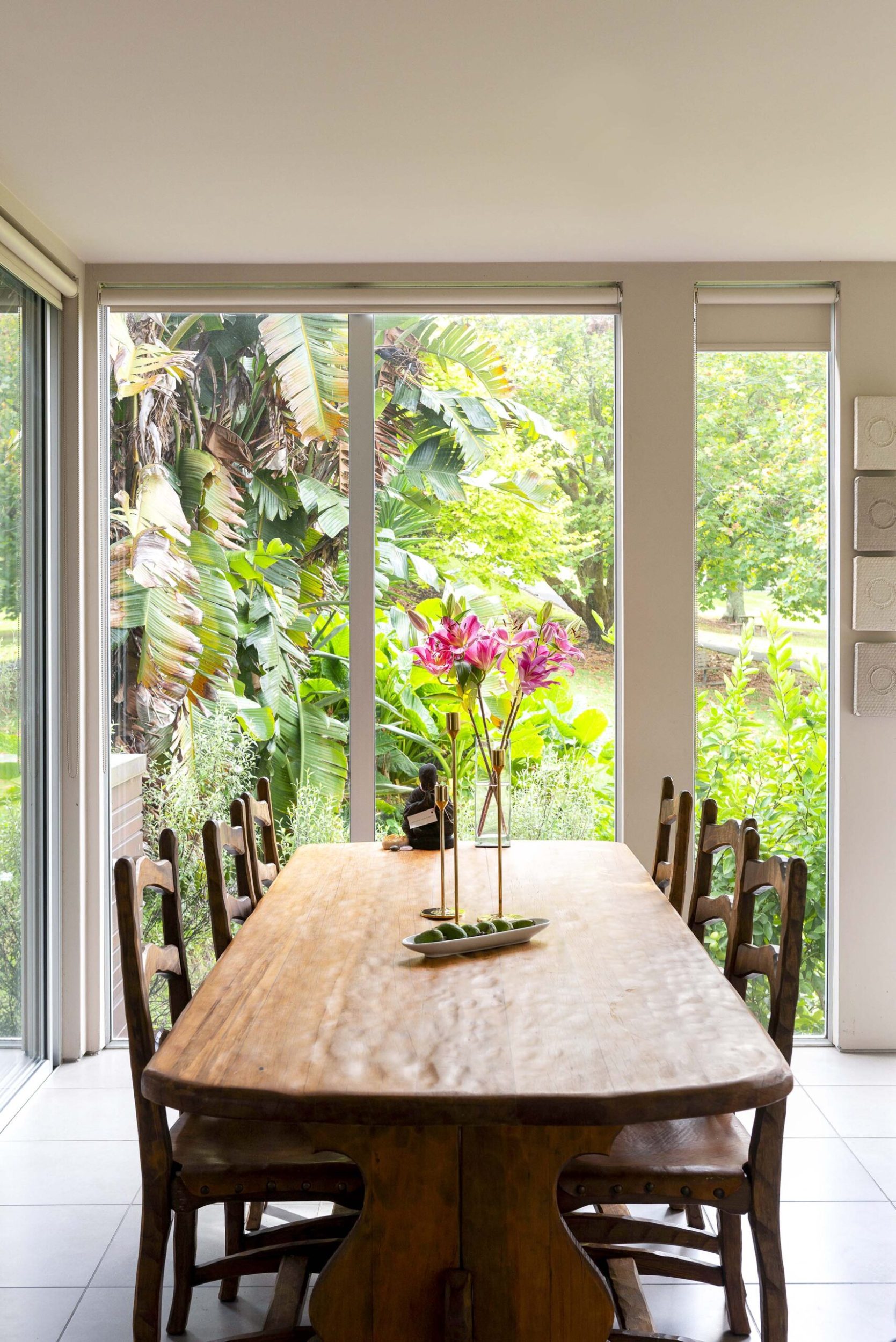 How would you describe the interiors?
When I first moved in seven years ago, I was living with guys, so it was relatively minimalist. When Shareen moved in, she started to bring lots of plants and candles into the house, which I love, as they have made it softer and more feminine. We haven't had a TV here (by choice) for the last four years. It's kind of grown organically – there has been no real "design" to it.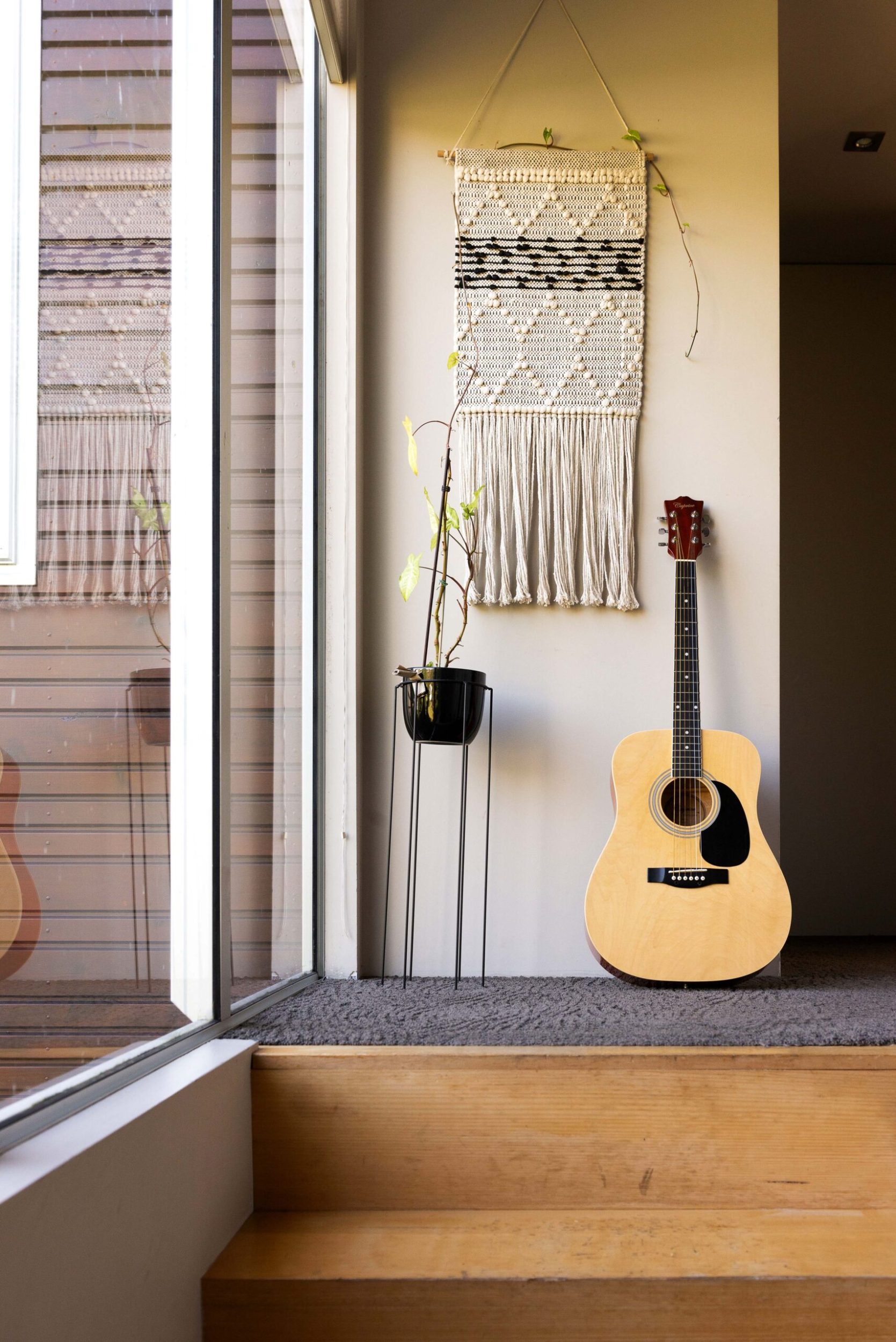 What is your favourite thing about your home?
Definitely living next to Harry Dansey Reserve – waking up each day to cicadas and doves cooing, the sunrise glinting through the trees.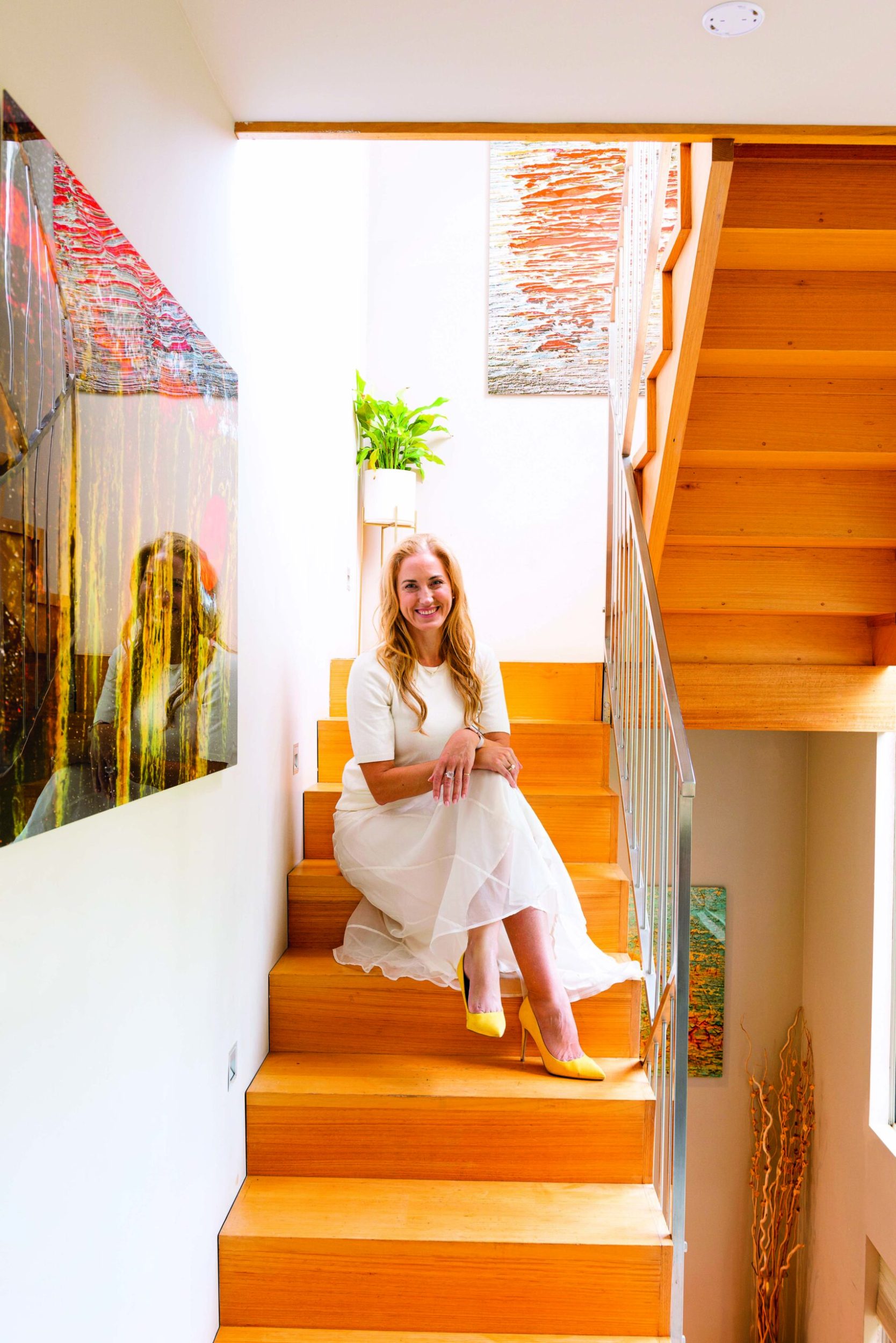 Tell us about the art.
My stepdad, David Leech, is a fine-art photographer who had an exhibition in New Zealand (he and my mum usually live in Canada). When the exhibition finished, they turned my house into another exhibition, with a lot of David's work on the walls in the main areas and hallways. I feel fortunate to have access to so much art.
How do you unwind after a big day?
I do most of my unwinding in the morning, to set me up for the day. I'll usually meditate, looking out at the trees, and sometimes I'll do a workout, qigong or yoga, either in the park or looking out at the park. I have two cosmetic medicine clinics under The Face Place brand, with a team of more than 20 incredible women who change lives with their beautiful work. So life is pretty busy! During the day, I'm extremely focused on my patients, so being able to recharge by being surrounded by big trees and loads of greenery really fills me up and helps me to give my best to my patients and my team. At the end of the day, I'll often be catching up on emails, but I might snuggle up with a book.
What do you most enjoy doing at home?
It's a beautiful spot to write from. I've written two books and a lot of articles for the media. My first book was Grow Younger and More Beautiful As You Age, and it talks a lot about my work and different "biohacks" – shortcuts in nutrition, exercise and sleep/meditation that help you function more effectively and expand your healthy lifespan. My second book is called Grow Younger with Great Food, co-written with our nutritionist, Jessica Giljam-Brown – one of the other things I love to do from home is cooking, and the recipes in our book got used a lot over lockdown. I especially loved making the lemon slice and nutty chocolate fudge, and I would take little boxes of slices and fudge to my radiotherapy sessions to say thank you to my amazing medical team for working on the front line during Covid Level 4 lockdown.
What makes your home a haven?
Coming home is like being in an oasis in the middle of the city. Because it's quiet and surrounded by trees and greenery, it feels like a big "ahhhhhhh". I can just feel the stress come out of me. I grew up in the country, so being around nature really fills up my soul. I used to be out socialising a lot more before I moved here, but now I just love the chilled vibe of being at home.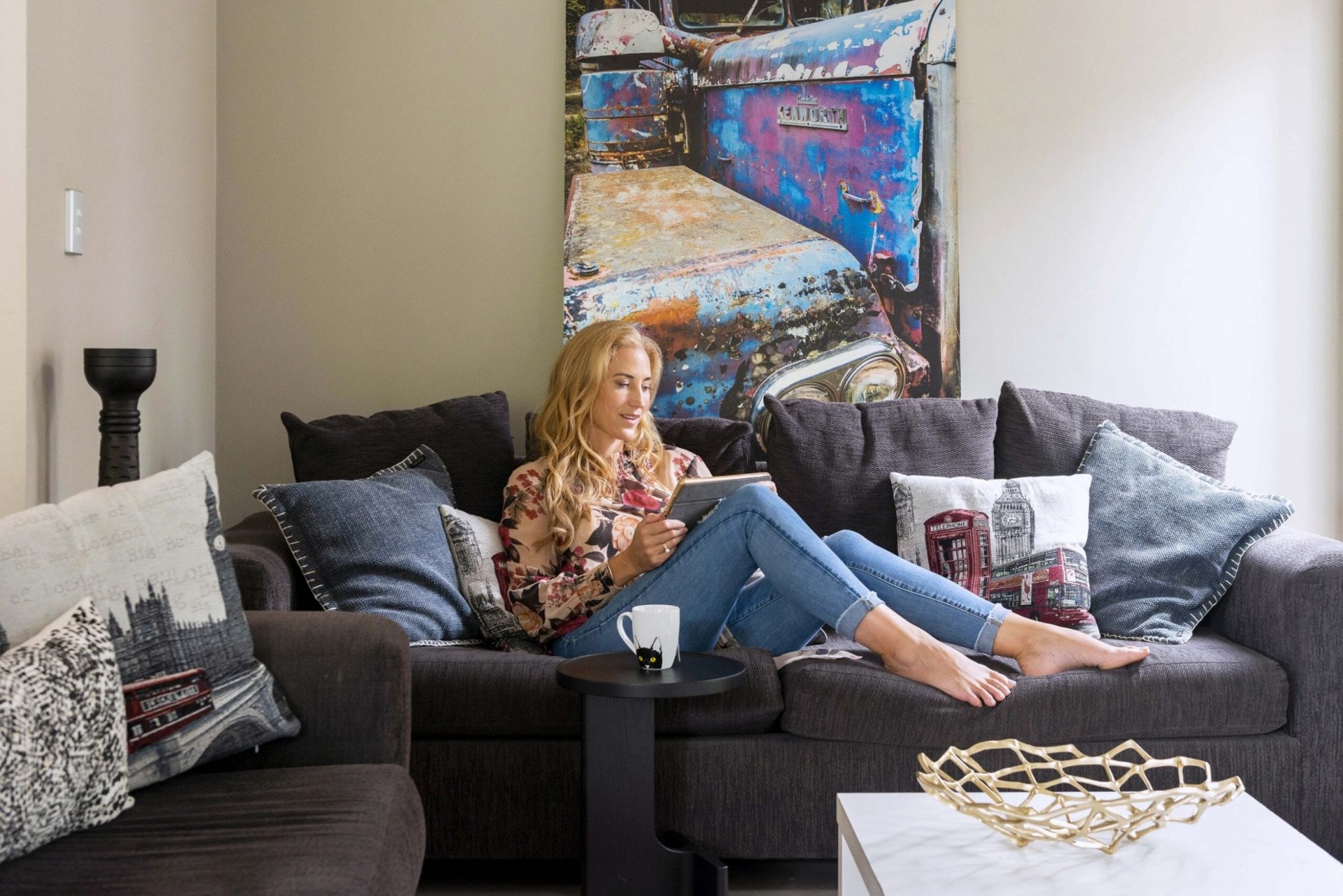 What do you love about living in Ponsonby?
Ponsonby has so many wonderful places to eat and catch up with friends, as well as a wonderful, fun vibe. It's also about halfway between my Britomart clinic and Takapuna clinic, which makes it super handy. I've lived in or around Ponsonby for 20 years now, and can't imagine myself living anywhere else.
What nearby attractions do you enjoy?
I regularly walk through Western Park and Grey Lynn Park, and sometimes down through Westhaven or Cox's Bay. Western Park is one of my favourite parks, as it is one of the oldest in Auckland and has some magnificent old trees. Some old-style swings have been put up, with just a rope slung over a tree and a wooden board, and these have brought so much happiness to so many people. I used to love going on the swings during either my morning or evening walk. Sadly, some not-so-nice person went around and destroyed them all by cutting the ropes. I was delighted when someone managed to put a single swing back up in the middle of the park. When I had my cancer diagnosis, it was an important part of my daily ritual, and gave me so much joy. I remember waiting for the results of my biopsy and thinking I might only have six months to live. Walking through the park and swinging on the swing made me feel super alive and grateful for the incredible life I have.
What are your favourite places to enjoy a meal?
Last year when I had the breast cancer removed, I became super focused on health. Little Bird Kitchen has the most amazing gluten-free, dairy-free, plant-based food. Plus, it tastes absolutely delicious. I have both the Little Bird recipe books. One of my favourite things they make is the salted caramel thickshake, although I love everything on the menu – from the kimchi pancakes to the salted caramel mini cheesecake – and the way they make their fresh mint tea. It looks so beautiful as well as being refreshing and delicious.
The Blue Breeze Inn became a favourite through my friend Jen. We used to spend long Sunday afternoons in the front booths, eating dumplings and drinking rosé. We've celebrated quite a few birthdays and special occasions in the private booth. My favourite thing there is the tiger prawn dumplings, steeped in chilli oil and soy sauce.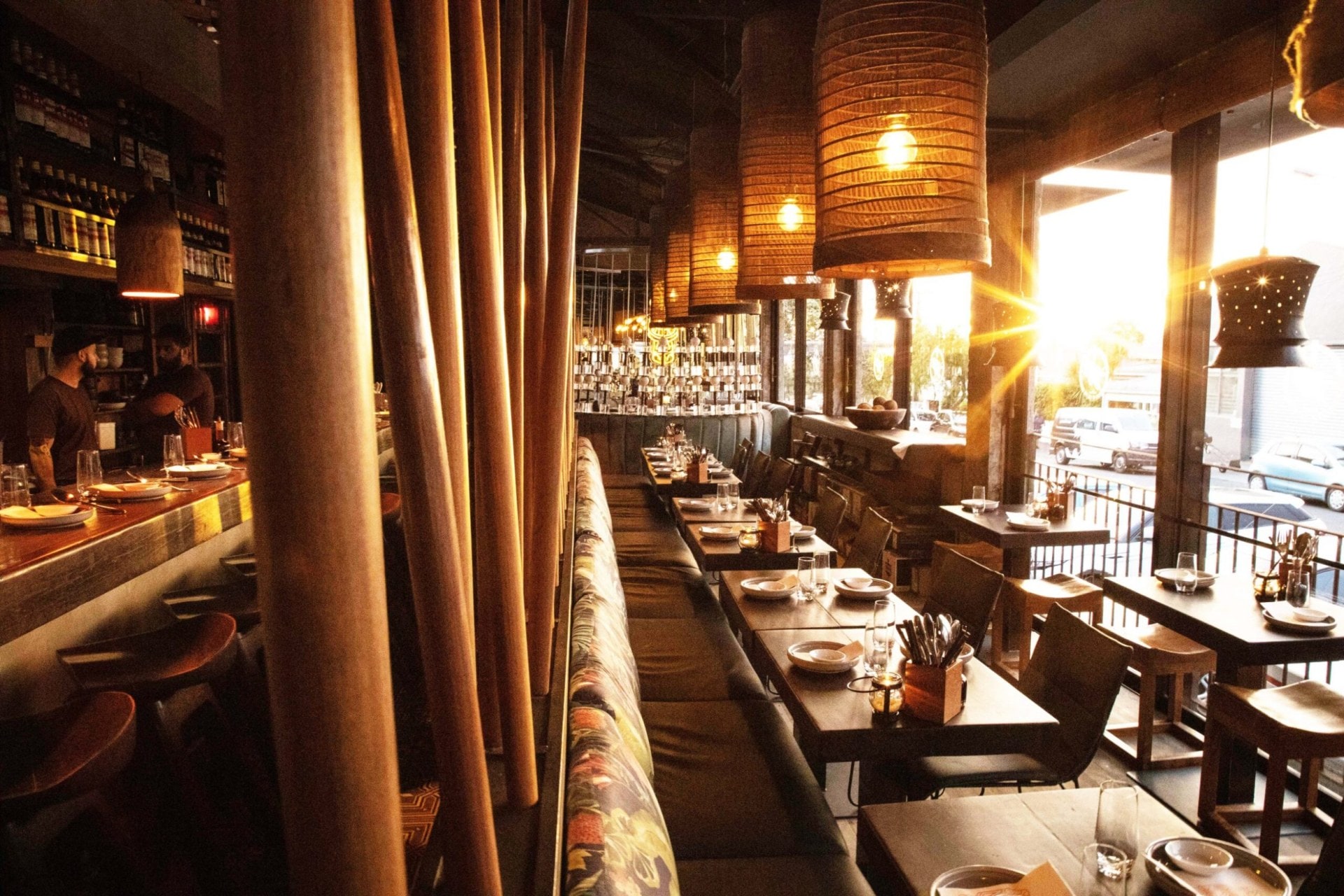 There are so many wonderful eateries along both Ponsonby Road and Jervois Road. It's also an easy trip into Wynyard Quarter and the Viaduct, which was perfect during the America's Cup.
Where are your favourite places to shop?
I'm not a big shopper naturally, but I do love fashion labels Carlson, Elle + Riley and Maggie Marilyn. I'm a huge fan of Simon James for interiors, and I have a number of their pieces on my wish list – I particularly love their gold Richard Hutten candlesticks. Most of the things in my house have been handed down, gifted or left behind by flatmates. The big wooden table, which has been in my family since I was a kid, has had two prime ministers sit at it. A lot of Shareen's touches have been bought at Kmart. In my dream house, it will be very light wood and colours, largely minimalist and with a Bali twist.
Any other central Auckland hidden gems you'd like to share?
I adore Giapo, which is in Gore Street in the city, just around the corner from my Britomart clinic. I love how Giapo is always experimenting with new ways to improve and push the boundaries – not just for their ice cream, but also for the whole experience. One of my favourite things to do is introduce people to the Giapo experience. If you like ice cream and you're in the city, definitely take the opportunity to go. You might want to go on an empty tummy – the ice creams are super delicious and are a meal in themselves!