When it comes to herbs, you can't beat fresh, but Lynda Hallinan has also mastered the art of drying her own – for cooking, natural remedies, posies and bath bombs.
Dried thyme, rubbed sage and crumbled marjoram – nothing smells like teen spirit to me quite like the contents of a small cardboard box of Gregg's Mixed Herbs.
When I left home at 18 to go flatting, clutching the Edmonds Cookery Book under one arm and a Crock-Pot under the other, the cornerstone of my student diet was "savoury" mince. To be honest, it was fairly unsavoury: 500g of budget mince boiled with a chopped onion, a squirt of Wattie's tomato sauce and a heaped teaspoon of dried mixed herbs, not from the garden but from the spice rack in our pantry.
That same pungent combination of thyme, sage and marjoram overpowered most of the cheap and cheerful flat-friendly meals I subsequently learned to cook, from curried eggs to devilled sausages and pizza (topped with canned spaghetti, sliced beefsteak tomatoes, pineapple and grated colby cheese – quelle horreur!).
But three decades on, I wouldn't dream of committing such culinary crimes of convenience. Luckily, I don't need to, as English thyme, purple sage and sweet marjoram (or at least its cold-hardy perennial cousin, oregano) grow plentifully in my garden year-round. I'm rarely short of parsley or rosemary either.
Like most things in life, fresh is best, and not all herbs dry well. Mint, in particular, is a pale imitation of itself once dried. Stripped of all the colour and menthol freshness that makes it zing in salads and cocktails, it really isn't worth the effort, unless you're brewing peppermint tea or strewing apple mint on the floor of a dog kennel or chicken coop.
Sometimes I wish I was born in the Middle Ages, when strewing – the practice of covering floors with aromatic armfuls of freshly cut or dried herbs to offset the whiff of unwashed menfolk and unsanitary plumbing – was the norm. Not only did it helpfully render sweeping the floor redundant, but who doesn't prefer the smell of herbs under one's feet to deodorant under one's armpits?
In the 1500s, Queen Elizabeth I enjoyed carpeting her chambers with marzipan-scented meadowsweet, and from King Charles II's reign in the 1600s until William IV took the throne in 1830, there was even an official royal herb strewer whose job it was to biff herbs at the monarch's feet during the coronation ceremony.
The most regal of strewing herbs, according to Thomas Tusser's comprehensive list in Five Hundred Points of Good Husbandrie (1557), were basil, lemon balm, chamomile, costmary, cowslips, daisies, fennel, germander (teucrium), hyssop, lavender, spike lavender, cotton lavender, marjoram, pennyroyal, roses, sage, scarlet mint, tansy, violets, yarrow and winter savory.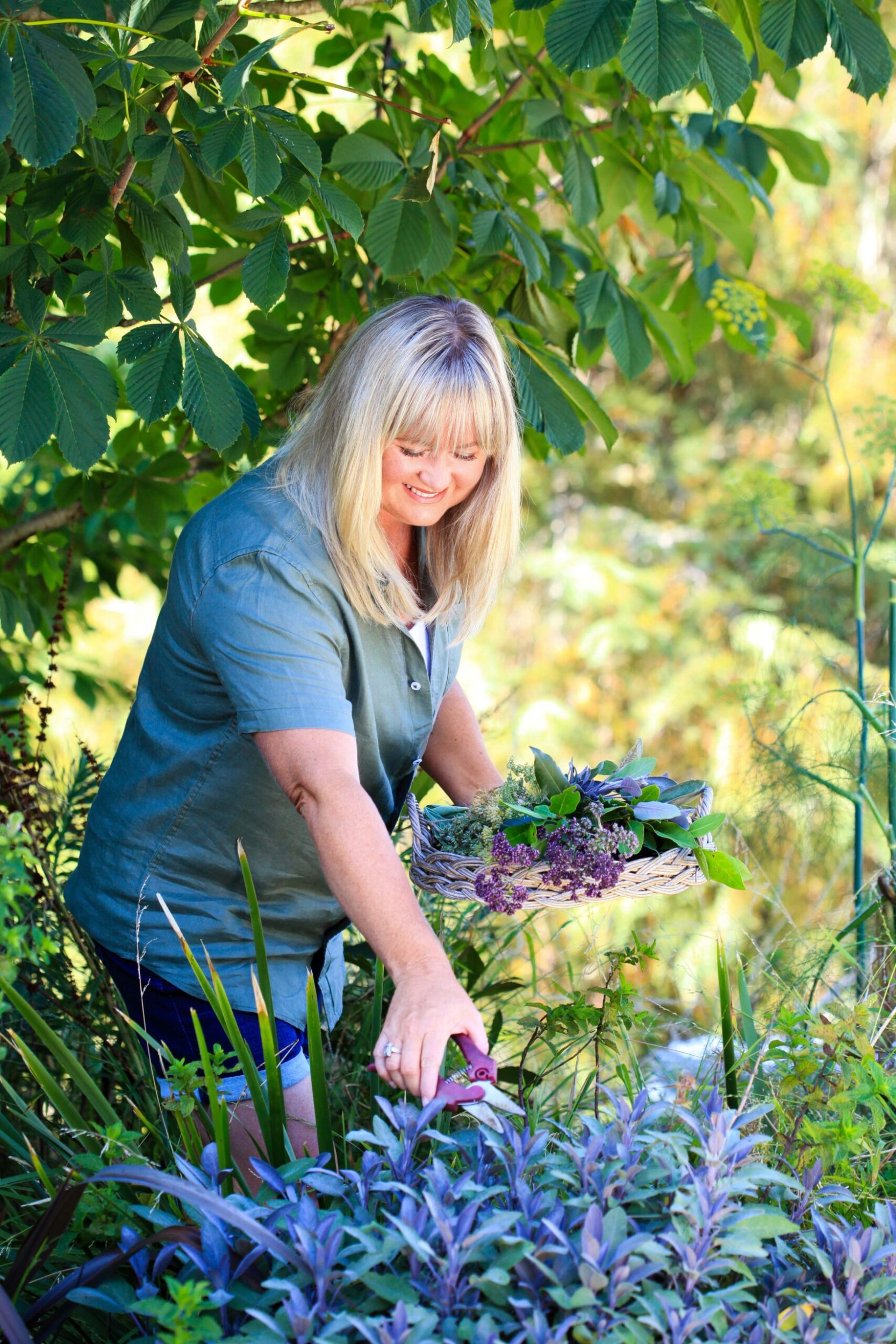 Gather ye herbs
While I suspect that chucking herbs all over the floor wouldn't appeal to many modern householders, it's surely only a matter of time before the renewed fashion for dried flower bouquets extends to drying herbs for culinary, medicinal or purely decorative purposes.
As a general rule, if you're cutting herbs to dry for the kitchen, harvest the stems before they break bud, as the flavour profile of their essential oils can be altered by flowering. If you've left it too late this season to cut your crop of coriander, dill, fennel or celery because it's already in full bloom, don't fret. Just wait a little longer and dry their umbrella-shaped seed heads in paper bags instead. When fully dry, sort the seeds into glass jars.
At this time of the year, you're more likely to find herbs rather than coats hanging on the hooks behind my front door. That's where I dry small bunches of true French tarragon (for chicken casseroles), lemon thyme (to soothe sore throats), pyrethrum (a natural insect repellent) and bay (to foil pesky pantry-moth weevils). In my shed I've also strung up bunches of pink-and- white oregano flowers (for pretty posies), purple sage (for herbal wreaths), homegrown hops (for a good night's sleep), lavender (for bath bombs) and lemon verbena (for everything).
Lemon verbena (Aloysia citrodora) is my favourite fragrant herb, and this nondescript plant's wallop of perfume isn't the least bit diminished by drying. Tuck a leaf into a jar of peach jam; infuse in herbal teas and cordials; sprinkle into shoes or suitcases in storage; crumble into potpourri, handmade soaps, linen sprays and foot scrubs; or just keep a few sprigs in your car to sniff whenever you're feeling antsy about the traffic. Its citrus scent will calm you down and perk you up.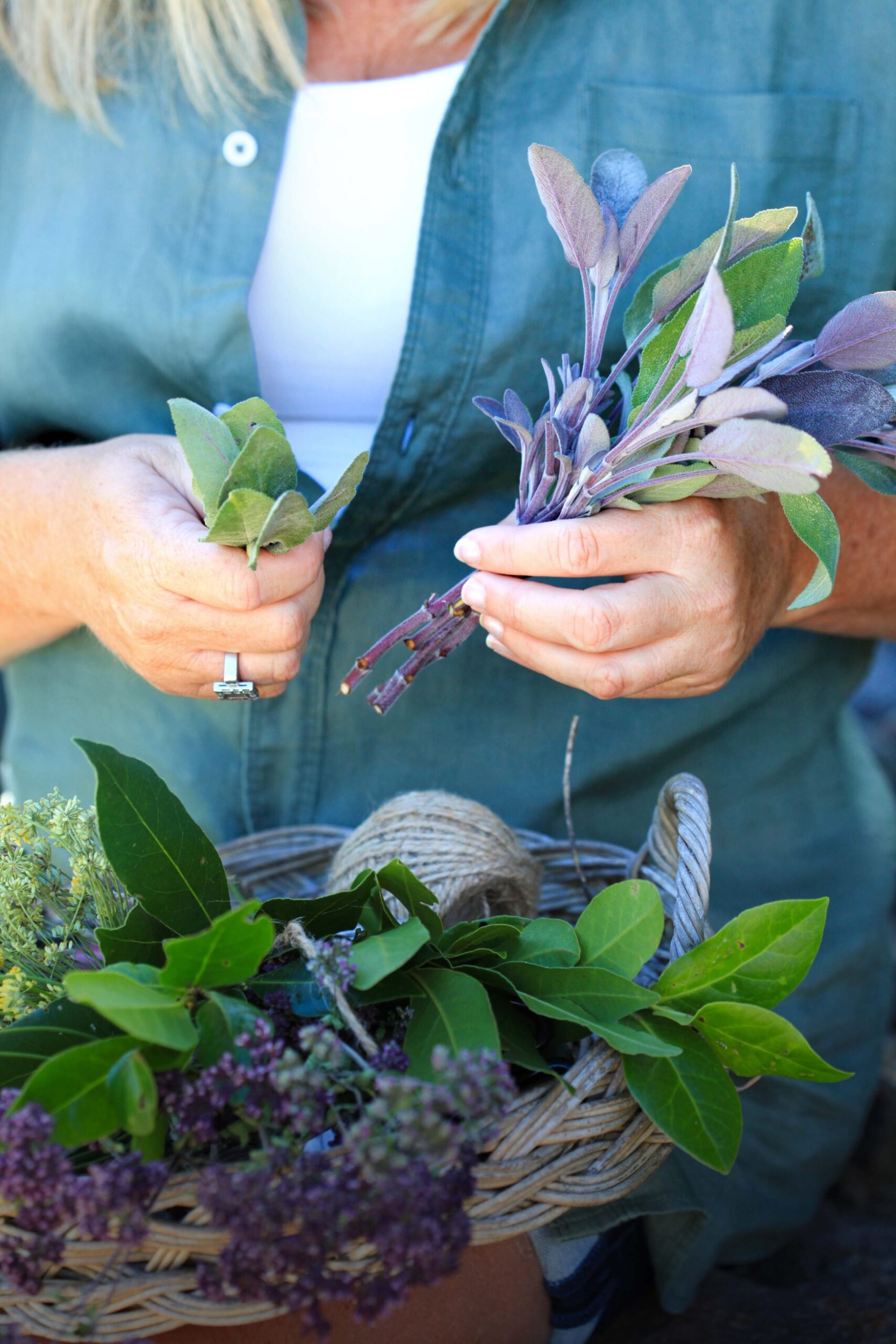 Cut & dried
Harvest herbs for drying in the morning, after the dew has dried. Any excess moisture on the foliage can lead to mould.
You can dry herbs in small batches laid flat in a microwave, fruit dehydrator or oven set to a low heat, but slow air-drying maximises their flavour and fragrance. I prefer to hang them in small bunches of 6-8 stems in a warm, airy location out of direct sunlight.
Strip the lower third of each stalk clean. Bunch with rubber bands if you have them, or tie tightly with twine, as the stalks will shrink slightly as they dry.
Leave to hang for a month. When fully dry, strip whole leaves from the stems, or rub or crumble into small glass jars or resealable plastic bags. Use within 12 months as, over time, dried herbs start to lose their flavour and colour.
Save all those little moisture-wicking sachets of silica gel from pharmaceutical pottles and shoeboxes to pop into airtight containers of dried herbs.