LUMA festival, is a multi-sensory experience that celebrates arts and culture under Queenstown's alpine nightscape, taking place over King's Birthday weekend. Each year has a different theme that inspires the artistic content, and without giving it all away, we can say that this year there will be a lot of fun interactions and quirky characters, and the legendary real-life, glowing 'fairies' will appear as stunning, new, illuminated creatures to enchant young and old.
We're delighted the full scale LUMA is back, lifting our gaze to the night skies and enchanting the winter nightscape. Visit the website for more details about the largest scale light festival in the Southern Hemisphere.
Emma Vickers is the LUMA Festival Performance Director responsible for helping create the 'live' element in a fantasy world with actors, aerialists, video mapping, soundtracks and sculpture for the thousands of visitors to lose themselves in, a circus aerialist herself ( though she hasn't performed in 15 years!) we asked her some questions on how it was she once came to be swinging through the air.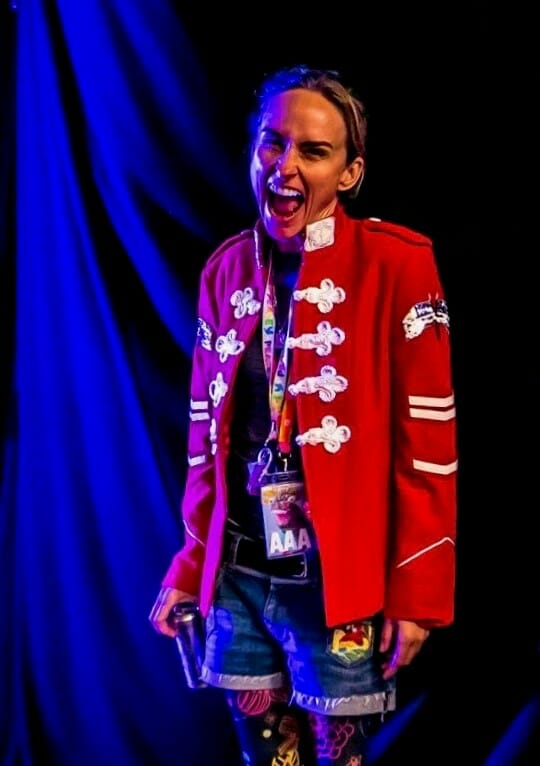 Emma Vickers
My mother sold a performing horse to a circus when I was 8 in the UK, so I was circus-struck from then on, seeing the flying trapeze artists and dancing horses. My Dad was a film director, so I visited film sets from a young age. I had some parts as a kid extra, so I basically always wanted to perform.
When I was 19 I tried out flying trapeze where a friend was training in Paris, and I was immediately hooked. I hadn't gone to university so I thought – this is something I can do. I then trained extensively in London at the National Centre for Circus Arts, in all aerial disciplines, performing at weekends in clubs in London and across Europe. I would train for about five hours a day during the week.
When you're swinging above people on a slender rope or above a stage on a thin bar with no safety, concentration is 100%. Your body does know what to do, which enables you to add character and performative elements, to be 'entertaining.' You always have your voice or that of your trainer, talking to you at the same time about timing and the detail of each trick.
I broke my toe in training on a swinging trapeze bar and then, annoyingly, tore my shoulder four years ago at 49 years old when I was re-training to perform at Rhythm & Alps Festival. I got a moment of crucial timing wrong; a previously 'simple' trick is not simple if you haven't performed it for 15 years. It was a bit like ripping wings off a chicken at high speed.
The advice I'd give to anyone wanting to follow my path is – Look after your body, it's a relatively brief career and you want your body to last into old age without too much wear and tear pain.