More and more women have caught the fly fishing bug. Sue Hoffart discovers why the traditionally male-dominated sport is becoming popular with the ladies.
A quiet revolution is flowing along New Zealand waterways. It's not that female fly fishers are flooding streams in record numbers, as is happening in the United States. Nor are young Kiwi women building vast social media followings, posing in skimpy swimsuits with trout and lines like some of their American counterparts.
But women here are beginning to cause noticeable ripples in the male-dominated realm of fly fishing, staking their own claim on riverbanks and lakes, and in clubrooms, contests and commentary about the sport.
Last year, for the first time, two women were named in the national team for the Commonwealth Fly Fishing Champs and, Covid-willing, New Zealand will field a team in the 2023 women's world fly fishing competition in Canada.
In 2019, Tongariro River Motel launched an annual women-only tournament on Tongariro River, at the southern end of Lake Taupō. The event offers substantial prizes and attracts an increasing number of entries each year.
Meanwhile, a programme called Casting for Recovery is helping women in Tūrangi, Te Awamutu, Wanaka and Nelson use fly rods to combat the fallout from breast cancer – the act of casting works key muscles around the upper shoulders and arms to help restore movement after a mastectomy.
"I use fly fishing every day as part of my recovery," says Taupō Fishing Club president Shirley Fraser. The 62-year-old mother of four was diagnosed with cancer several years before a friend convinced her to try the sport. "From the first cast, it was an addiction. It's an awesome way to de-stress; you're not thinking about anything else."
When she joined her local club to learn the art of fly tying, Shirley was one of only a handful of women among 60 members. It didn't take her long to join the management committee alongside 11 men and, five years later, males are outnumbered almost three to one on that same committee.
As the club's first female president, Shirley oversees 130 members, with five of the club's 43 women regularly placing well in national competitions. Several travel from neighbouring districts to fish in Taupō's trout-laden waterways, and under Shirley's watch, the Taupō club has created female-focused courses for beginners and paired newcomers with other women, supplying gear and offering casting lessons and social events.
The club has also raised funds to pay entry fees for women competing at a high level, and members are encouraged to look after the places where they fish, to collect any discarded rubbish near waterways and help with pest control programmes.
Shirley admits to using the odd cunning ploy to tackle the gender imbalance, too. When asked to address several hundred women with a one minute promotion of her sport, she knew what to say. "I told them someone had told me that fishing is better than sex – I got 30 ladies to turn up to our beginner classes! They saw we were just a really fun bunch of women."
A former pony club and Playcentre president who has lived in the area for about 40 years, Shirley says colleagues from other regions have been quizzing her, too.
"It's about lifting the profile and giving women a pathway so they feel more comfortable. It's about getting women into top roles, being proactive and making it fun. We have a system where we take them out to help them learn and pair them up with a buddy. For women, the social side of things and the support is a huge thing.
"There's always been women fly fishing – the Queen Mother fished in Tūrangi – but you don't hear about them. It's been totally male-dominated, but it's got a lot better. In the fishing shops they used to say (if they even talked to you), 'What are you buying your husband?' Now they're excellent. They stock stuff for women – waders, boots, shirts.
"I do want to see younger women out there. I've been trying to get my nieces and daughters into it. It's good exercise and good for the soul."
Fellow Taupō resident Libby O'Brien, 35, agrees. The fisher and adventurer lives close to the lakefront, just a 15-minute bike ride to her senior role at the Department of Conservation office.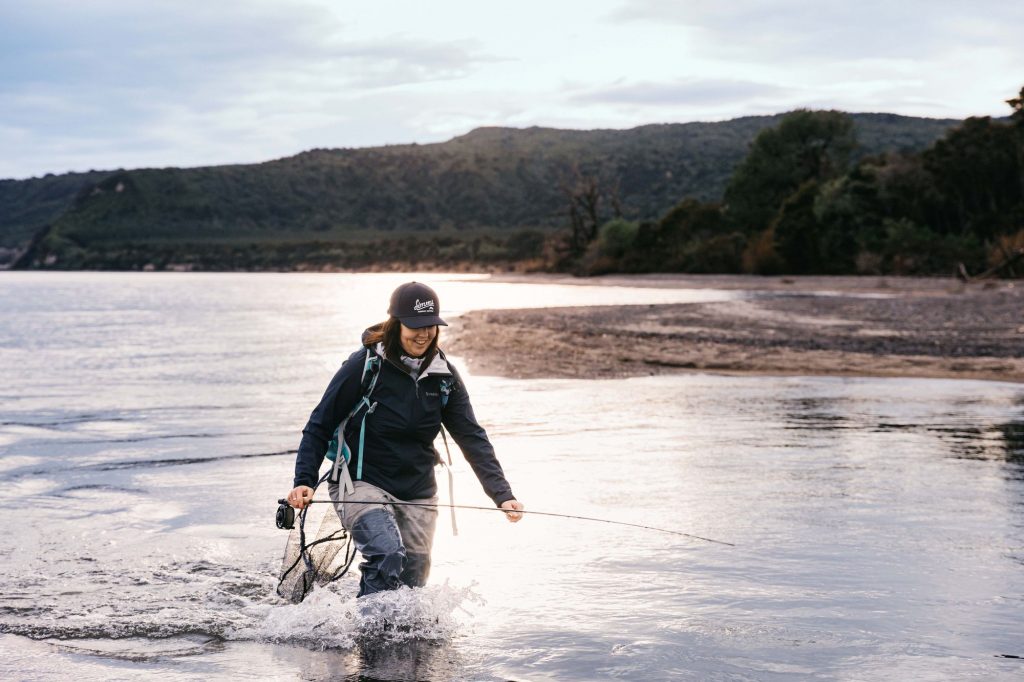 She also pedals to her favourite mineral hot pools to soak after an active weekend of fly fishing, boating, skiing and – more often than not – falling off her mountain bike.
The secret to living in Taupō is, she says, to throw yourself into everything that's on offer, and Libby clearly applies this philosophy to whatever she does.
Like the time the former pipe band snare drummer spent a year playing professionally in Australia before heading to Scotland to drum and work in a kilt shop. And once her journalism career at the Taupō Times propelled her towards politics, she spent four years as parliamentary press secretary, including for then-Prime Minister John Key.
So when Libby hooked a rainbow trout during her first attempt at fly fishing, the sport was never going to remain merely a casual pastime.
"It was so unexpected," she says of that first thrilling encounter in a Central Plateau river. "You've got a fish on the line and it's this insane feeling you can't describe. I managed to land it and I was absolutely hooked from that moment. I got addicted, I guess."
During her childhood in the small settlement of Omori (on the southwestern side of Lake Taupō), Libby watched people fishing but never thought to try it herself. As she got older, she was more captivated by skiing than the art of fly fishing.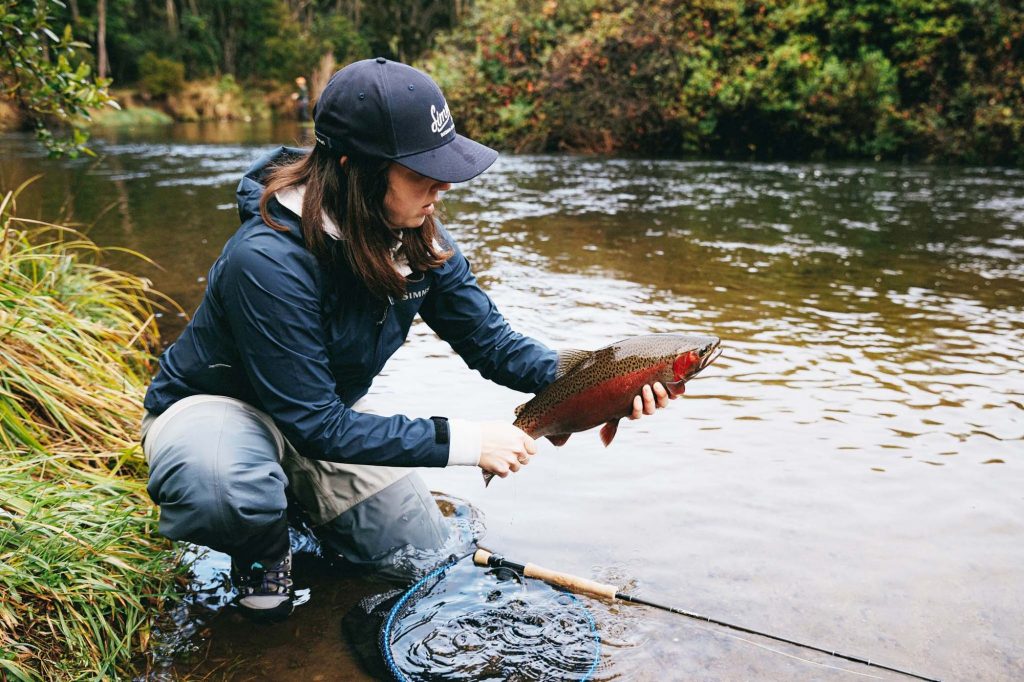 It was only when Libby returned to the region as an adult that she realised what she'd been missing.
"I remember coming back from Scotland and looking at the mountains and lake in a new way. You don't realise how beautiful it is until you go away – the lushness of it, that running water and the beauty of the native bush. You can feel like you're in the backcountry, a world away from suburban Taupō, but it's only two minutes from a carpark.
"They say the tug is the drug. When I started out, catching fish was the goal and I admit I still like out-fishing the boys, it's my competitive streak. But it very quickly turned into more about being out there in nature, and the fish were a bonus."
She describes the thrill of learning to understand and then safely cross an unpredictable mountain-fed river, while hauling her precious rod and reel and backpack full of fly boxes, or the startling moment when a kererū breaks the silence of a still spring morning to crash its way out of the bush alongside her. Or the feeling of crouching beside a stream to release her catch, cradling it in the water as she awaits a telling flick of the tail to signal the trout is ready to be released back to the depths.
Libby also gets a kick out of seeing other young women discover the joys of her sport. When she reeled in that first trout in 2016, she looked hopefully for other female fly fishers, both locally and nationally. The few she did track down were older than her, and it proved even more difficult to find clothing and equipment tailored for women.
"I have small feet and I couldn't find a pair of boots. There was one pair of women-specific waders you could buy, but they were designed for tall American women with no hips," says Libby.
She says social media posts from influential female anglers have encouraged younger New Zealand women to try the sport.
"I started following international fly fishers on Instagram, and one of the first women I followed was April Vokey, who has changed the face of fly fishing and gained a huge following around the world.
"There are now more females proactively looking to give it a try and more women joining the fishing clubs. It's still super male-dominated, but at least it's changing and there's a real groundswell of support from anglers to get women into fishing."
Not that she's looking to fish in a crowd. For her, fishing is largely a solo pursuit and she'll gladly spend hours standing in the water, refining her backcasting technique, always aiming for accuracy and grace, the perfect landing of a line on water.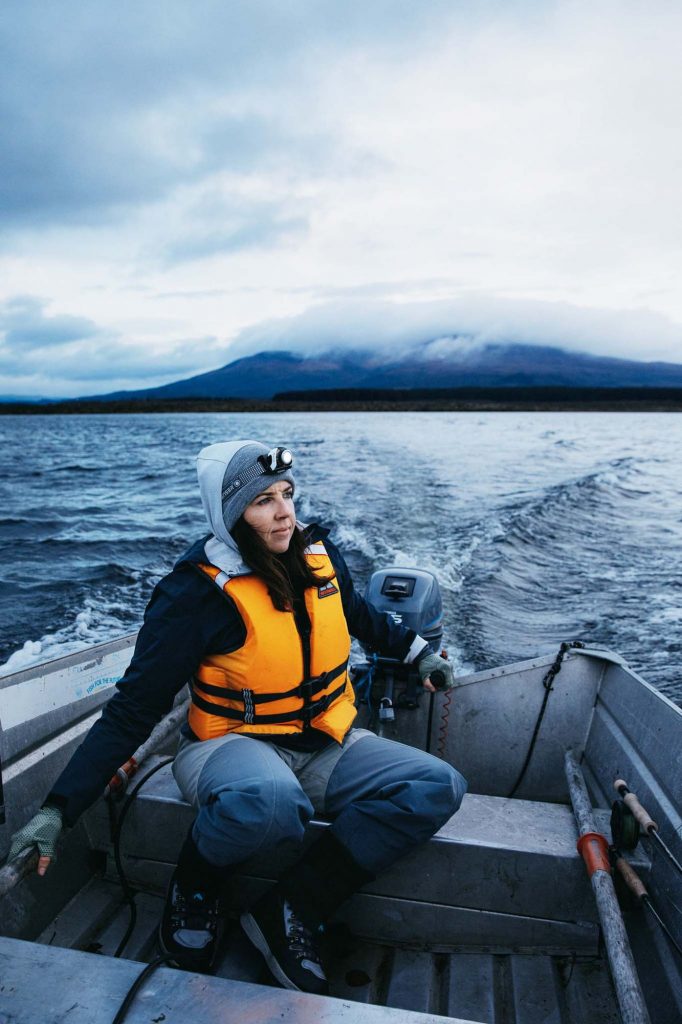 This is Libby's opportunity to recharge, an ideal antidote to the responsibilities and challenges of her work with DOC, where she helps to manage what happens on a large area of public conservation land in the North Island.
"The job is relentless and hard, but I love it and it's a really good working environment. Besides, I like doing reactive stuff, keeping a lot of balls in the air at the same time, and I'm naturally quite nosy."
And she is rarely still. One room of the home she's renovating in suburban Taupō is crammed with her bikes, golf clubs, fishing gear and skis. The aluminium dinghy in the driveway is her escape craft; on sunny weekends, she likes to load the boat with a book, snacks and music, then head to a hidden bay where she can lie on a secluded beach and gaze across the lake at the distant peaks of Tongariro, Ngauruhoe and Ruapehu.
"While I grew up here, fly fishing has given me a new appreciation for the stunning places we have right on our doorstep. Fly fishing isn't about quick wrists, being able to throw a line 50 metres or even catching handfuls of trout.
"It's about getting out there, being in nature and finding your happy place. I know I've found mine and I can't wait to make more memories on the river."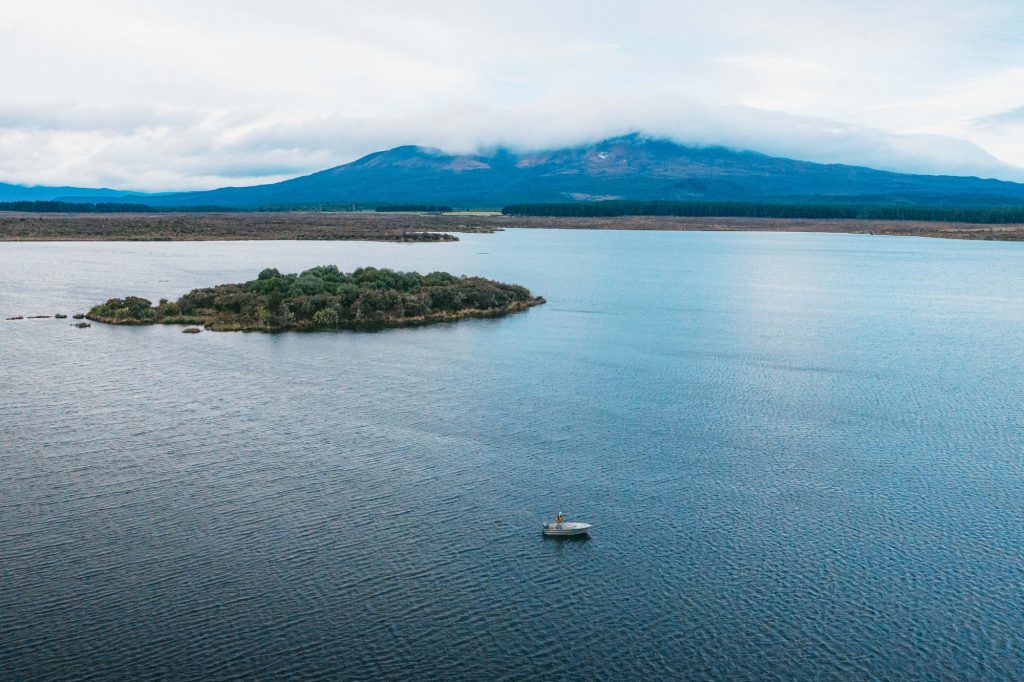 Fishing facts
Fish & Game New Zealand business development manager Steve Doughty says it's tough to know how many women currently fly fish in Aotearoa, due to quirks in the licensing system. However, about 10,000 women a year buy individual fishing licences that allow them to fish for salmon and trout using flies, spinning lures or a boat.
They hold roughly 10% of licences issued everywhere in New Zealand except Taupō, where DOC manages fisheries. Women listed as partners on a family licence add another 15,000 anglers to the mix, many of whom will fish from the family boat.
Steve says that while these numbers have generally remained frustratingly static in the last 10 years, he is seeing positive signs of change. This past summer, licence sales rocketed higher than they had for decades as anglers headed for campsites and fishing spots instead of travelling overseas.
In the US, advocacy groups have poured vast amounts of money into promoting the sport for women, which has paid off with impressive growth.
"I've seen stats from four years ago that say women now make up more than 30% of all fly fishers in the US, which is pretty incredible in what was previously a very male-dominated sport," Steve says. "They've harnessed social media very effectively there, too. Unfortunately, we don't have those kinds of resources here and it's a sport still very much dominated by men. But that's slowly changing and we're now seeing practical initiatives that target women anglers.
"It requires a different approach to recruitment and we're seeing some Fish & Game regions and individual clubs around the country become very proactive. They're implementing some really good programmes and courses that encourage women to take up freshwater fishing."