World-renowned choreographer and music-video director Parris Goebel is inspired by the joyful, soulful interiors of her LA home.
Award-winning choreographer Parris Goebel is known to leave it all out on the dance floor – and her passion for expressing herself does not stop when she steps inside her home at the end of the day. "I feel like my house is a reflection of my energy and my spirit," she says. "The way I decorate my home is a form of art."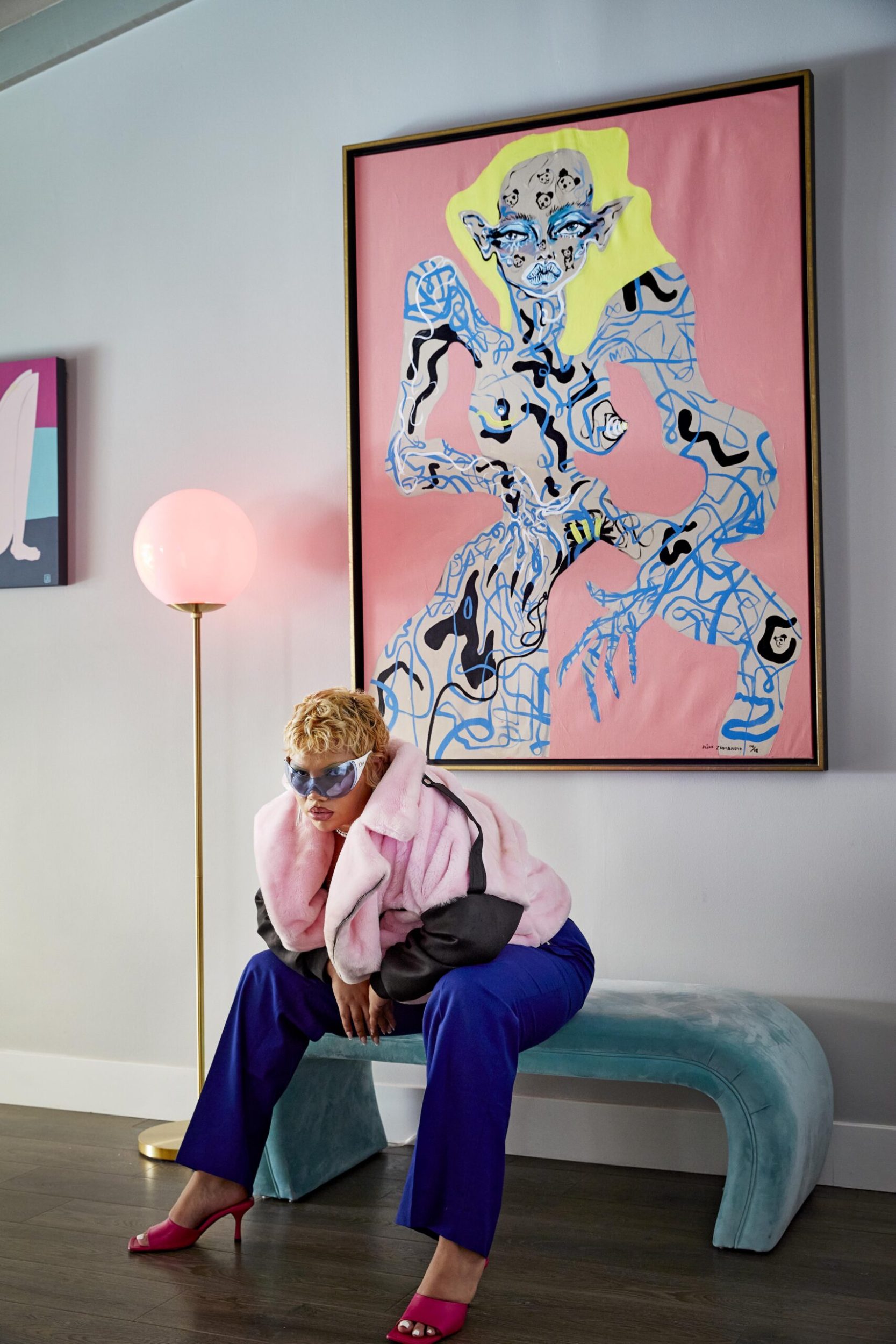 Born in Auckland but now based in Los Angeles, where she works with some of the brightest stars of the entertainment industry, Parris has created a home that is a true extension of the self. "It feels like I took my heart and my mind and I just put it all over the walls and, you know, it feels like an explosion of my soul."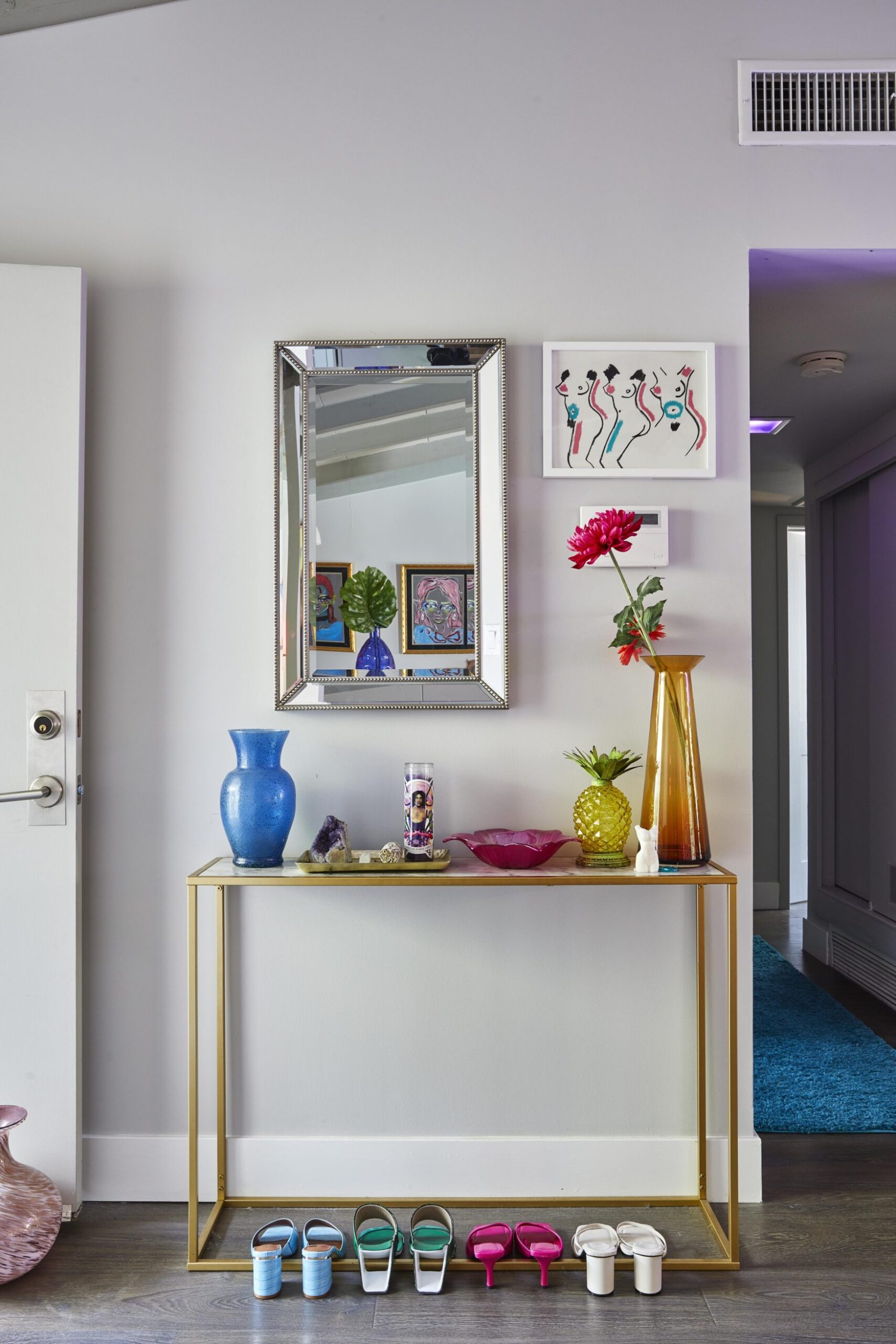 A collection of vibrant, mostly vintage pieces in sorbet colours has taken over the living areas, including a showpiece technicolour rug, which covers some of the hardwood floor. "It makes me feel alive and makes me feel happy," Parris says of her decor. "That was really important when I was looking for pieces for my house – things that made me feel joy, because, for me, that's what I want to feel when I'm at home."
Parris wasn't actively looking to move here, but she's hooked on the Zillow and Trulia housing apps, and couldn't swipe past this mid-century modern home ensconced on a corner lot in a quiet Van Nuys street. "I'm always looking at houses for no reason. And then this place popped up," she says. "I checked it out, loved it, and then made it my home."
The four-bedroom home benefits from a free- flowing kitchen, dining and lounge area. From its vaulted ceilings with exposed beams to the French doors that open out onto a pool, it is a house- hunter's dream.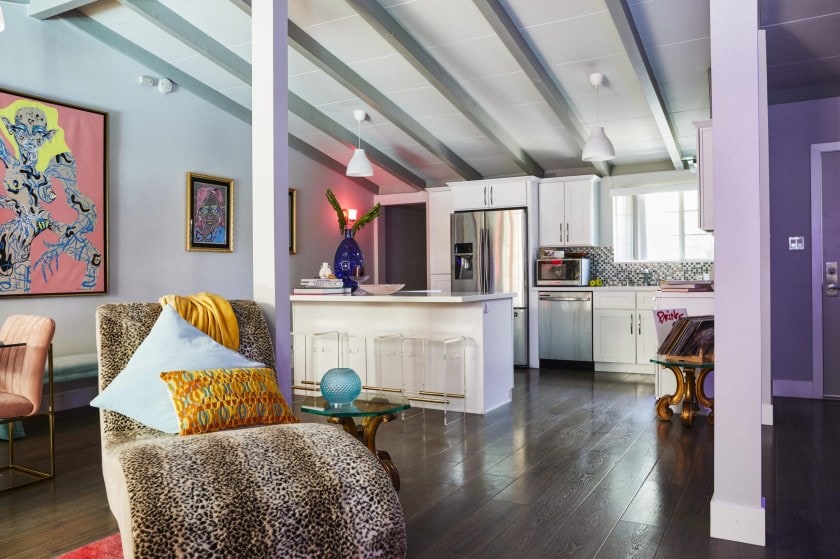 Previously, Parris lived in another mid-century home in the neighbouring suburb of Sherman Oaks. Many of her showstopping furniture finds have made the move with her. "When you're travelling so much, you're in hotel rooms and you don't really find a home. So when I moved to LA and finally got my own place, I was just really excited," she says. "I kind of went crazy and took the opportunity to pick out things that I loved."
Parris's love for interiors is influenced by her mum LeeAnn, who was particular when choosing furniture and colour palettes for Parris's family home. "Growing up, the dining table was always such a masterpiece," says Parris, describing how her mum would thematically set the table at Christmas.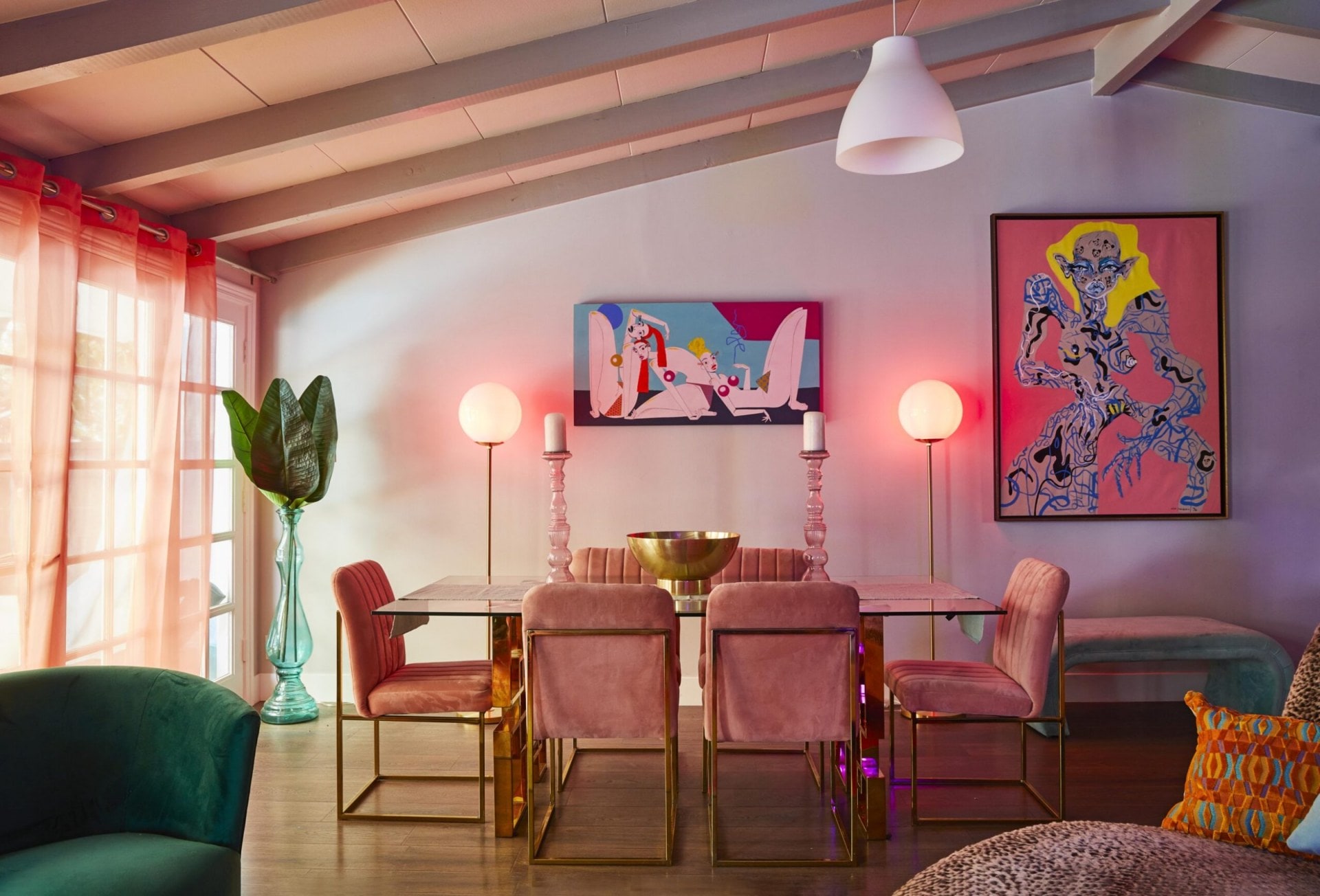 Parris has continued the table-setting tradition, adorning her glass dining table with runners, candles and other accessories. It's surrounded by coral velvet chairs that set the scene. "I feel like as soon as you sit on them and experience them, it transports you and takes you back in time," says Parris. "They're really pretty."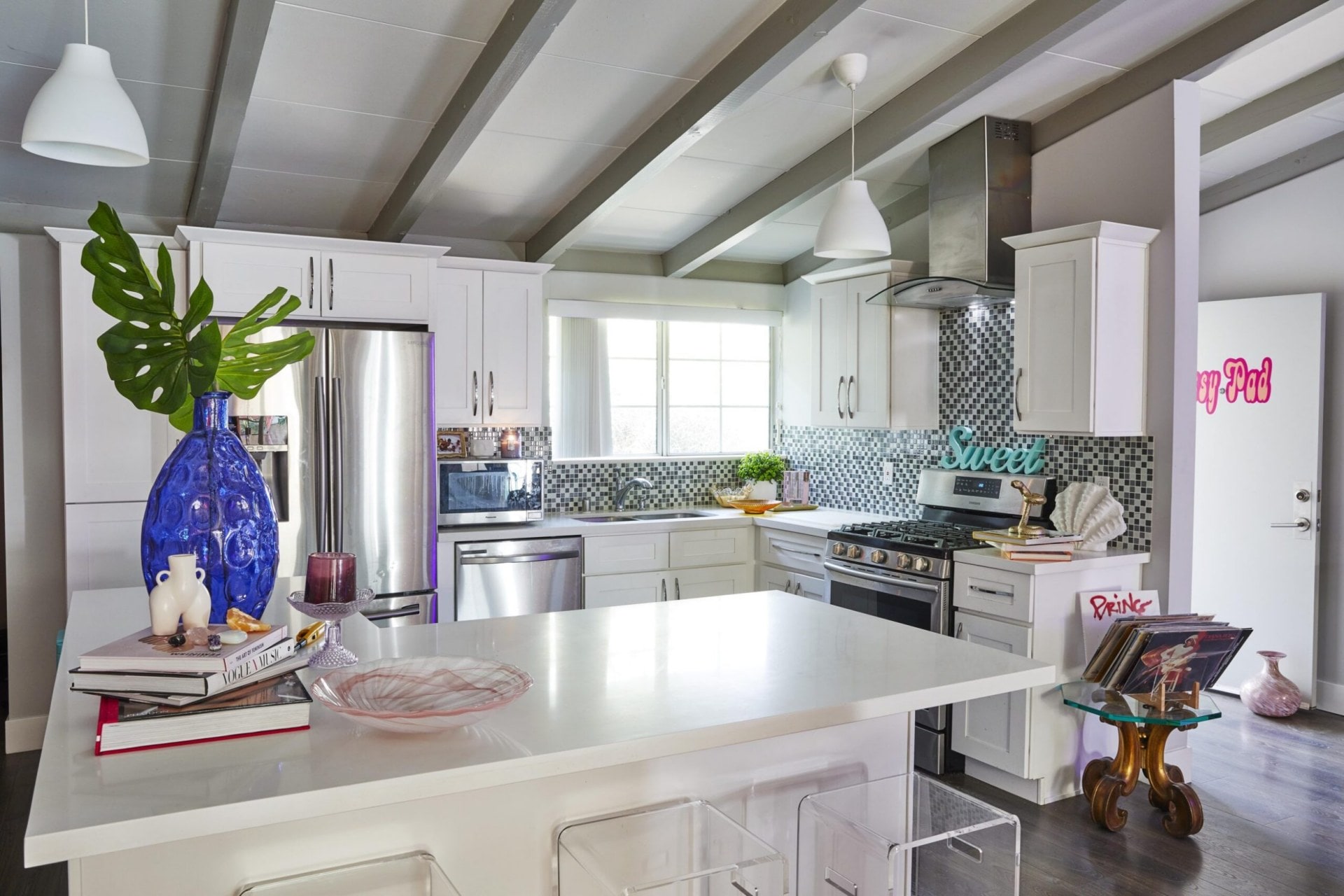 The best decision the dancer made was not putting a TV in her lounge. Instead, the living area is a place to relax with friends, sit by the fire and turn up her new record player. She's started collecting vinyl and is drawn to the same golden eras in music as with her interiors, with doo-wop, jazz and blues on repeat. "I take a lot of inspiration from the 50s and 60s, I think it was such a romantic era, and I try and infuse that into my house," she says. "It feels really nostalgic, and I think that's kind of what my place feels like."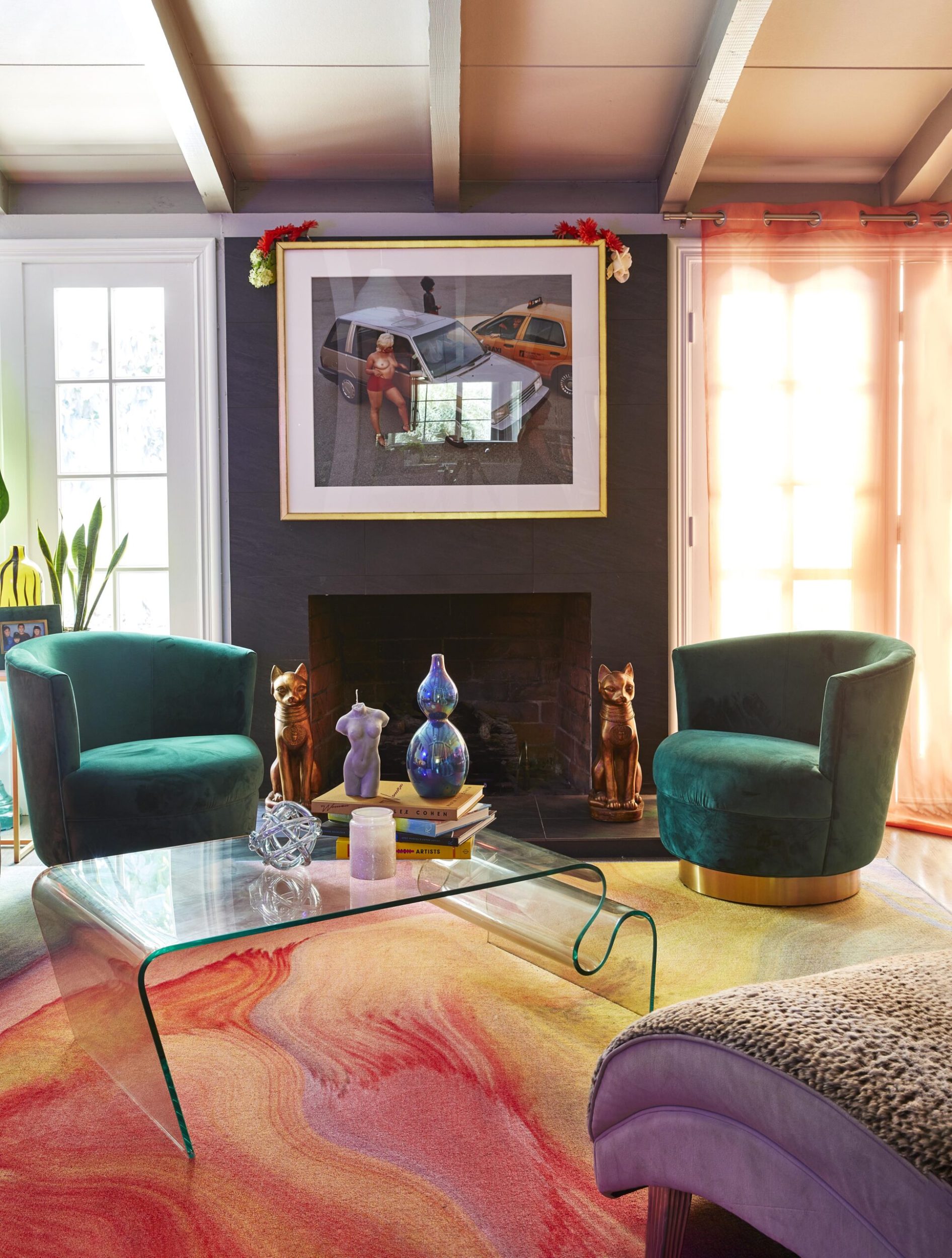 There are no steps to master in order to follow Parris's interior design vision. "You really can do whatever you want. To me, there's no wrong in interior design." Instead, it's about creating a safe space where you can be yourself. "I feel comfortable in this space that is an extension of my soul. I can walk into my lounge and it feels like my world."
Parris has decided to only display art depicting women. "It's this constant reminder of how amazing and beautiful and strong we are," she says. "And I also feel, when other women come into my space, that they kind of feel that energy as well. It's about celebrating ourselves."
Empowering women is the theme that runs through Parris's career. In 2020, she became a Member of the New Zealand Order of Merit for services to dance, and with her sisters Kendal and Narelle in Aotearoa, she runs Sisters United, which provides creative workshops for young women to learn life skills and self-expression.
Parris is close to her family, and visits them in Auckland as often as she can. Other than her collection of female-charged artworks, the only photos on display are of whānau. She's just had a photo framed of her mum with her dad Brett (who is also her manager) as a young couple.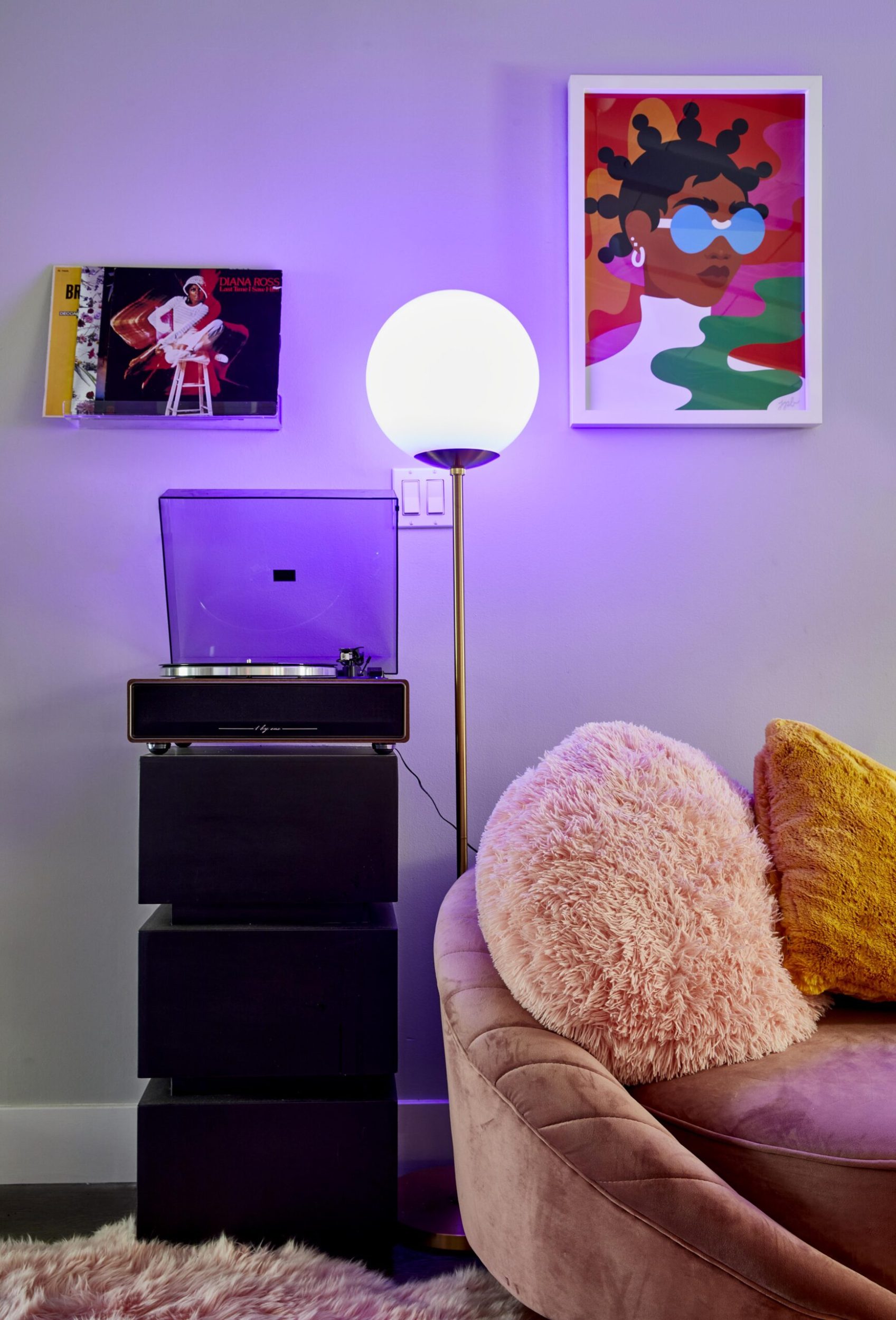 As with most of her interests, Parris's passion for interior decorating never sleeps. She enjoys playing with the colours of her cushions, throws, candles and centrepieces to keep things interesting. "I get bored a lot, so I'm always trying to change things around. I love that it's easy to transform your place as well. I feel like I'm just getting started."
At 17, Parris opened her successful hip-hop dance school, The Palace Dance Studio, in Penrose, Auckland, of which she is still creative director 12 years later, and charted the rise of her dance crew The Royal Family, which won the World Hip Hop Dance Championships for three years running. As well as making a viral hit video for Justin Bieber's single Sorry, she has worked closely with superstars Jennifer Lopez and Rihanna, choreographing a sensational Super Bowl half time show and a groundbreaking New York Fashion Week show for each, respectively.
As with all of Parris's forms of expression, her dance is a fusion of different styles and personal experiences. Next, she is delving into the world of TV and film, directing a film adaption of her 2013 stage show Murder on the Dance Floor for Sony Pictures, as well as being involved in several other exciting projects she is keeping under wraps for now.
She has a lot on her shoulders, but Parris says she shakes it off when she arrives home. "It's interesting because that's how I feel when I dance. People underestimate the power of interior design in creating a safe space for yourself because it can immediately release tension. It can immediately make me happy. That's why I'm also so passionate about it."
Swipe the style