By the twitching of my thumbs, something Wiccan this way comes. Rachel Clare invites you to commune with nature and the green magic that lies therein.
I messaged my oldest friend, Tryphena, the other night. She recently moved home after spending a couple of years being an eco- warrior for DOC on Rēkohu-Chatham Islands. "How is life back in the Big Smoke?" I asked, which is a dorky joke because she lives in Napier and I'm the one who lives in "the Big Smoke" of Auckland, except now that I'm middle-aged and live in the suburbs and only venture into town occasionally, and then am excited when I do, I'm not really a Big Smoke kind of lady any more. Tryphena replied that she was loving being back with family and friends but that the busyness of life was making her tired, and that she was missing her island paradise. "I've been gardening, though," she said "I'm making an archway out of poisonous oleander."
And that is exactly why we've been friends since we were 12. Because a friendship between kindred spirits will endure for a lifetime despite distance and years living in different places. You see, I too wove an archway not so long ago. We are in sync.
It was during last year's August-December lockdown, when life in Tāmaki Makaurau was like being under a friendly house arrest, with supermarket visits and picnics with friends to break up the monotony. Thankfully, it was spring, and the arrival of creamy-white 'Thalia' daffodils and rhubarb-and-custard-coloured 'Camargue' tulips decorated my days, and I inhabited my garden more than I normally have time to do, sitting outside drinking tea, getting to know a resident blackbird family, and pulling weeds while on long phone calls to my mum. One afternoon, I pruned back a pink abutilon – the plant we once more commonly referred to as "Chinese lanterns", because they have pretty papery bell-shaped flowers. I'd been planning on making a garden arch for a while, and the long, supple prunings made ideal material for weaving into one. . . okay, I did cheat and use a little bit of wire. My abutilon archway marks the entrance to a pebbled garden with six raised beds in which I grow vegetables, herbs and flowers. Technically, you could say it's a potager, although I always feel a bit pretentious when I say that word aloud.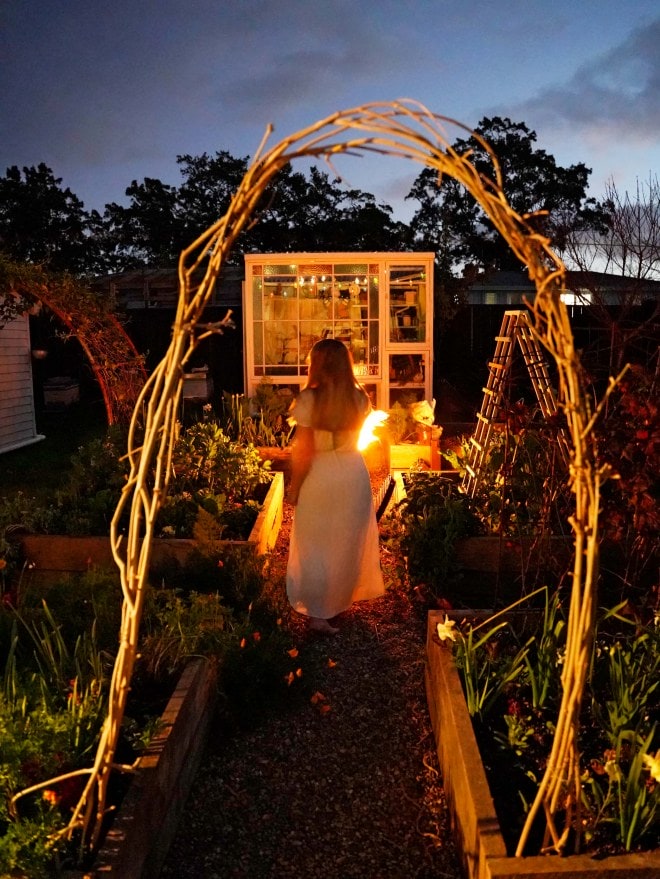 I grew purple and white flecked 'Nimbus' sweet peas up my archway in spring and summer, and will plant some again soon. Tryphena is going full tunnel with her oleander archway and is planning to train a passionfruit vine over it. "We could both stand under our archways on a full moon and do some kind of spell ritual under them," I suggested. "With fennel," she replied. I have lots of self-seeded fennel in my garden, so that won't be a problem.
There is something cool and magical and empowering about weaving your own archway, and at the core of it you could say our garden industry was both of us embracing our inner hedge witch – me during a time of isolation where I had more time to deeply engage with my home environment, and Tryphena reconnecting with hers through the act of garden making after a period away.
Traditionally, a hedge witch was considered to be a woman who lived by herself on the outskirts of a village where hedgerows separated the town from the wilderness beyond. She was deeply connected to the natural world and knew how to harness the healing properties of plants. But even that description was a stereotype back in the Middle Ages – one that many women were persecuted for – because, whether you live by a hedgerow or in Henderson, I reckon that a hedge witch is really just a woman who understands that she is part of the natural world and must care for it in order to care for herself and those she loves.
Knowledge and power that lies within us all. Just ask cool lady Yoko Ono, who once said, "I think that all women are witches in the sense that a witch is a magical being".
I invite you to deeply connect to the natural world you inhabit by turning everyday activities into rituals, whether it's pouring herbal teas from plants you've grown and dried yourself or watering your houseplants with rainwater. Here are some ideas for getting a bit more Wiccan in your garden.
Grow Your Own Healing Herbs
Herbs have been revered for centuries because of their abilities to aid healing, add flavor to food and scent a room. Ditch the plastic-wrapped herbs at the supermarket and grow your own. You don't need much space – even a bucket with some drainage holes punched through the bottom of it with nails will do, and many herbs cope well in pots, particularly ones that hail from the Mediterranean, such as lavender, thyme and rosemary, as they prefer drier soils. One of my favourite ways to use them is in homemade herbal teas. Add a tablespoon of fresh leaves or two tablespoons of dried leaves of your favourite herb to a cup, add boiling water, and a spoonful of honey if you like, leave to steep for five minutes or so, then drink. Sage tea is great for helping ward off colds and can also be used as a gargle for sore throats; lemon balm aids sleep; and mint helps with digestion. Or add them to your bath to ease aches and pains after a long day – lovage and lavender baths are both soothing to soak in. Lavender is also a good moth deterrent – hang bunches of it in your wardrobe or inside a cotton bag in your drawers.



Embrace the wild
Tending carefully to your garden doesn't mean it all needs to be spick and span. In fact, in order to foster a diverse ecosystem, allow some areas of it to be a little bit wild. Leave some of your trees unpruned so birds feel like they're a safe place for nest building, and allow twigs and leaves to pile up on the ground so worms and beetles and all the important microorganisms that form the soil food web can thrive. The wildest part of our garden is a row of old feijoa trees frequented by an extroverted pīwakawaka, whom I visit when I need a break from work. I like to think we're communing with each other, but I know it's just showing an interest in me because of the tasty insects I disturb as I walk past. Encourage more birds to visit your property by planting tree species that provide food for them, particularly during winter. Opt for natives where possible (your local council will have guides on what grows well in your area). If you have a large garden, pūriri acts as a year- round pantry for many native species, or plant harakeke or small species of kōwhai on smaller sections. Abutilons aren't native, but wax-eyes love their flowers – and they have excellent long stems for archway-making!



Create Spaces to Commune with Nature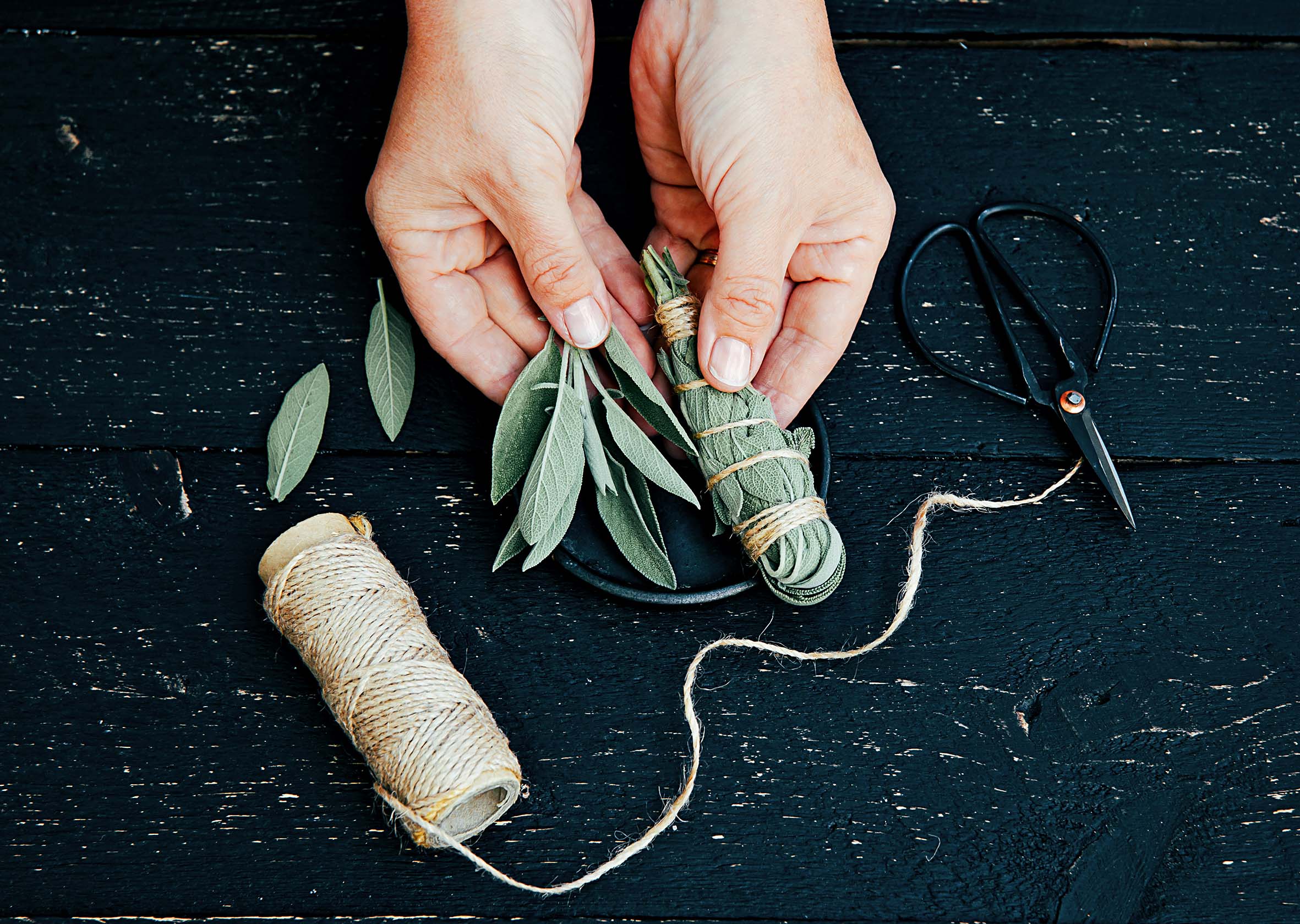 Even when you're not actively gardening, it's important to spend time in your garden so you can observe the health of your plants, but also because numerous studies show what green-fingered wāhine have always known – that being outside is a balm from the toil and troubles of life, and is vital for wellbeing. Make sure you go for a walk around your garden in the morning or evening, particularly in winter. Better yet, put a seat in a favourite spot so you can sit down and drink a cup of your homegrown herbal tea and spend some time just being in your space. Or invest in a fire pit so you can warm up in your garden on a winter's night and gaze at the moon and the stars. If you don't have a cauldron, you can toast marshmallows over it, instead.



Witchy Tunes
Any modern hedge witch needs a good playlist to get into the spirit. Here are some of my favourite tracks to immerse myself in while I tend to my plants:
Drink the Juice by Purple Pilgrims
Witches' Song by Marianne
Faithfull Echo's Answer by Broadcast
Into Dust by Mazzy Star
Because the Night by Patti Smith
Rhiannon by Fleetwood Mac Love Is Not Love by Cate Le Bon
Season of the Witch by Donovan
The Feast by Katie Kim
Cloudbusting by Kate Bush
Sister by Angel Olsen
Daniel by Bat for Lashes
Some Velvet Morning by Nancy Sinatra and Lee Hazlewood
White Rabbit by Jefferson Airplane