Not many people admit to experiencing a midlife crisis, but what do you call it when you feel compelled to break out of the comfort zone that is home ownership, an established career and grown-up children, to do something totally different with your life? Following on from Part I, experienced journalist and writer Claire McCall continues her pursuit of what sounded like freedom.
It gets better. I'm almost too nervous to admit it for fear of provoking the omnipotent forces to prove me wrong. For the past few days of our hike (Day 22-24, to be precise), I've been feeling lighter. In body and in spirit. Is it because I'm getting fitter? I certainly don't feel fitter; at night, I lie swaddled in my sleeping bag while my feet and ankles throb. But I've noticed that, while some hikers on the GR5 we are loosely following stride by, we're catching others.
The route doesn't feel quite as upsy-downsy now that we have reached the Jura. For the most part, it follows a rocky track alongside the river Doubs on the frontier between France and Switzerland. Although it traces an erratic course between limestone cliffs (it takes its name from Dubius – Latin word for moving in two directions), some long straights give me the headspace to lollop along in a meditative bubble. I find myself listening to the rhythmic squeak, squeak of my pack. It seems to be playing a classical marching tune.
What I really believe has evoked a happier mood, though, is people. As my spirit has lifted, so has my capacity to engage. No longer fighting the demons in my legs and head, I've started to look outwards. Lunch with a young French family on the outskirts of Abbevilliers proves to be a turning point. The couple was biking from Montpellier to the Arctic Circle in Norway and for good measure, they had a three-year-old and five-month-old on board. They hailed us over to their picnic table to share their casual meal. This awesome pair was making a movie of their nomadic travels and left us with the most practical advice we've received so far – if water is running low, God will provide. By which they meant, head into the nearest cemetery where there is inevitably a tap plugged straight into the town supply. 
The camaraderie of fellow hikers or bikers lessens the load, but others, too, make the walk special. Patricia, our first "trail angel" left a flask of coffee outside her barn house. We could have kissed her! Short, pleasant exchanges with locals, in French, make me fiercely happy to be understood. It makes me feel human, not just a walking machine. There's the fly-fisher who tells me about zebra trout and flashes a broad smile when I ask to take his photo; the road maintenance worker who is roasting tomato halves and cutlets over an open fire on a pulley system grill who invites us to share his lunch and the old man and his devoted Alsatian who provides directions by road (helping us to avoid a horrible steep section). 
We celebrate the 500km mark by taking a snapshot of the back of a rusted sign that someone had scrawled the distance on. Now our sights are set on the end of Stage 1, an intersection on the shores of Lake Geneva – less than 150km away…
The stone Roman road between the Swiss towns of Saint-Cerque and Nyon is a blessed shortcut. I was tired of crossing fields of cows spooked by wolves and exhibiting "defensive behaviour". This way was a mere 11km sprint down the hill. Even the persistent rain couldn't dampen our spirits when, late morning, we reach the ferry terminal at the lake. A graceful paddle steamer from the Belle Epoque is waiting to transport us on to the next stage. It had taken us 34 days to hike 672km. We toasted the end of one stage with a cheeky vin de pays. Of course, the end is just another word for a new beginning. In The Alps, those ahead of us were facing abysmal conditions with crampons required. That was never our plan. Once again, we leave the original route, walking along paved roads in the valleys to bypass the snowed-in parts. It's hard to let go of the original HexaTrek route – but one look at the white-out blizzards makes it a helluva lot easier…
People-watching in Chamonix, sitting in the pedestrianised main street, is about the cheapest fun you can have in this well-to-do Alpine playground. Chamonix is not actually on the HexaTrek but it is a free bus ride away from Les Houches, where we pick up the official route. Having frog-leaped other Hexa hikers who stuck to the snow-speckled heights, we decide to take a two-day side trip to rest. The social media posts of those ahead of us have given us invaluable information and we certainly have no ambition to be the leaders of the pack.
It was a shock to the system to be plunged into "civilisation". The place was overflowing with American and English visitors. We pay €72 each for a day pass on the cable car to transport us up the Mont Blanc valley. James is saddened to see that the Mer du Glace is a dirty shadow of its former self on his visit 10 years ago. While global warming had taken its toll on one of the great glaciers of Europe, its tallest peak was resplendent in summer sunlight. Free of backpacks, we amble along as light as air on the Grand Balcon Nord, dodging teenagers in short dresses taking selfies, but mainly, looking forward to leaving the holidaymakers behind for a return to peace and quiet…
After about six weeks on the trail, we meet Beatrice and Isabelle, friends who grew up together in a tiny Swiss village. Now in their 60s, they're walking through the Parc National de la Vanoise, a massif with more than 100 summits higher than 3000 metres. When we first encounter them at the Refuge de la Lai, just outside the park, it's instantly apparent that they are well-matched hiking partners: their pace is similar, they share a love of native flora – and they're always laughing. They are also super-organised. So, when they show me their itinerary, all neatly mapped out in a spreadsheet, I immediately decide to adopt it for the near future. Beatrice will be heading home after seven days, but Isabelle is walking all the way to the Med, following the GR5, which in essence is what we have now decided to do too.
While the HexaTrek was a big, bold dream, it didn't take me long to realise I had bitten off more than I could chew. Somewhere along the line, James and I began talking about altering the route. Instead of heading to Perpignan, the aim is now to walk down to the Med using the GR5, but keeping flexible, should a more attractive alternative happen along. Reaching Nice on the Cote d'Azur is now my motivation.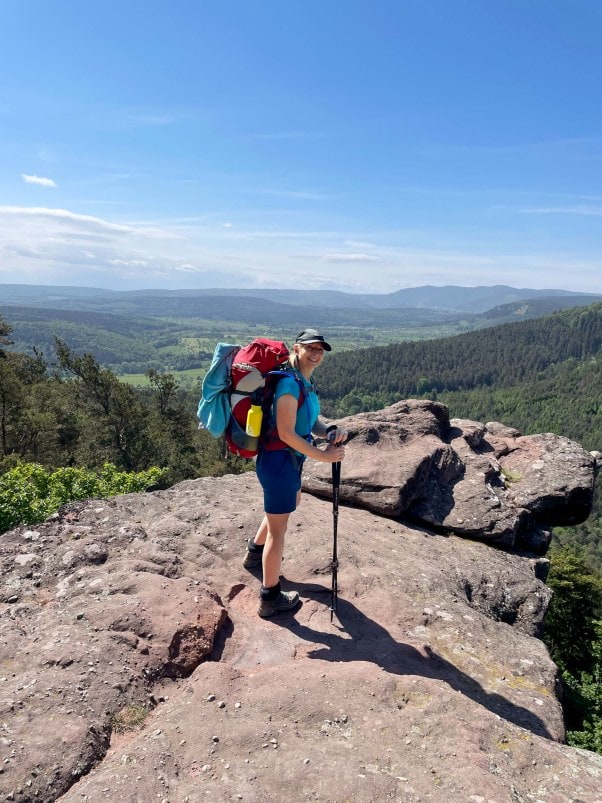 It feels like there are no flat sections in the Alps and you'd think this might have occurred to me before I signed up to this challenge. James, to his credit, did try to warn me when I first mentioned crossing the Vosges, Alps and Pyrenees. Although I am organised in my own way, I am a creative at heart. Numbers are not my department. Instead, I just went ahead, captured by the dream of crossing France on foot.
Then, when I meet people like Beatrice and Isabelle, I suddenly understand how much of a city girl I am. They are nimble and assured, having grown up surrounded by mountains. Whereas I have a measure of cardio fitness which means I can easily hold my own on the uphill sections, downhill, I become timorous and glacially slow. I daren't put a foot wrong. I am afraid of skidding on gravel, losing my balance for even an instant.
"Use gravity as a tool," James advises, but I need to make doubly sure. Makeshift bridges or hopscotch rocks over streams and rivers is another tableau in which the difference is clear. I feel the precariousness of the situation, sticks out prodding the riverbed, as I stutter my way to the other side. Then, there are the skinny paths that follow a ridgeline. I don't bloody care how graceful the ridge is, I'd like a wider margin for error. I am convinced that I am going to stumble over a tiny stone that will tip me over the edge. James is ever patient, coaxing me along as I spit out absurd statements – "I want to go home…right now" – and "why can't they make it just a bit wider?" And, God forbid, there should be snow to navigate. Crampons are not on my agenda and anyone who knows me well can vouch that I hate the cold.
So you see, I am not made for the alpine environment, but here I am. And the Vanoise National Park has delivered in spades: glistening glaciers, chunky boulder fields, squishy marshlands, unexpected lakes, and masses of colourful wildflowers that populate a dozen climatic zones with friendliness. Marmots add a hop of humour to the scene: their fluffy bottoms popping up here and there. Even the weather is "parfait" – cooler days to make the hiker's life entirely pleasant. It's almost as if the mountain gods took pity on me.
My body is adapting to the changed times. I've had to fashion a belt from a camping strap to keep my shorts from dropping down like a teenager's. Both James and I have lost at least a dress size, and I barely recognise my muscly knees working away to carry me ever forward, slowly but more contentedly. We have found a gentler rhythm. Thanks to a couple of childhood friends…
Ce n'est pas une path! FFS, it's a goat track. Focus. FOCUS. Don't look over the side. Or ahead. Or up. Look down. What do you mean? I can't put my foot there! It's shingle. I AM planting my sticks. This is NOT a path. If I get through this, I am NEVER going up mountains again…
The walk through the Alps is sublime but sometimes scary and as I put one step in front of the other, I occasionally wonder if the HexaTrek founders are disappointed in us for following the GR5 instead. Possibly. But am I? Let me think. No. I'm relieved. Even so, I feel like I've let the side down. All that talk and only doing less than half the distance. Still, it's SOME distance. More than 1300km once we finish. And Freeman, my 19-year-old son, is proud. Not many parents get to hear their teenage son say they're proud of them. I'm going to make it to the end. For him. For me.
We're in Mercantour National Park now and the landscape feels enormous. Mountains in every direction. It's ski country on the Italian border. Italians are much louder than the French. They whoop it up at Lac du Lauzanier, showing off. It feels good to plunge my feet in the water until they're numb, sitting on the grassy bank. In the afternoon, there's another col to conquer where we'll take a slow and steady pace. It's important not to rush or you'll run out of breath or need to stop for a water break. Head down, chin up, we find that now, even with full packs, we can beat the weekend crowds to the top.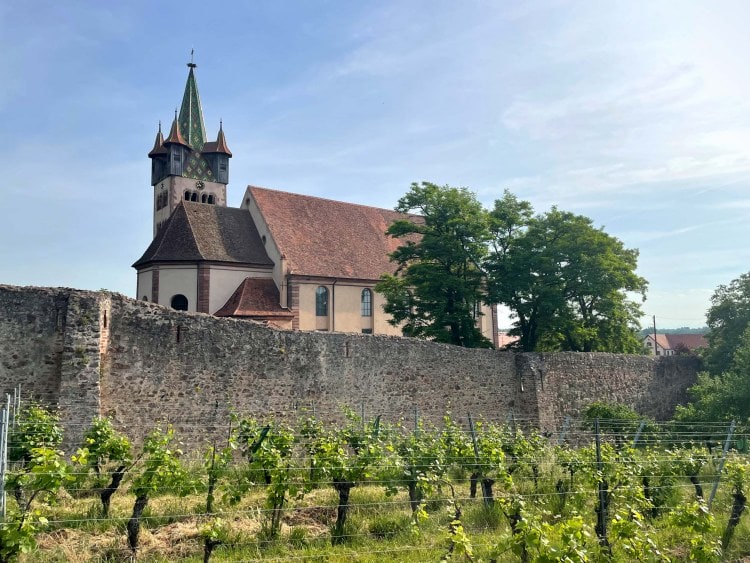 Down is a different story. I made up a mantra: loosen the hips, use the sticks. It's easier on the knees. I can't believe the number of fit septuagenarians who are walking these same paths. It's probably their lifestyle and maybe what they eat. Every serviced refuge seems to give us the same nightly meal. Soup then a small main meal… tiny portions in comparison to what we'd eat at home. At breakfast, there are no cups, only bowls, so we do as the locals do even putting coffee on muesli. Adapt or die.
The night we spend at Granges de la Brasque, less than 50 kilometres from Nice, the guardian of this refuge, which breaks up a 10-hour route between Saint Delmas and Utelle, falls out of bed – literally.
Franck, an ex-special forces soldier, is well-suited to this remote environment where military huts have been repurposed into rustic accommodation. His bed is up on blocks some two metres above the floor of his tiny cabin and so the fall has injured his shoulder badly.
Although his immediate concern is how he will make dinner for the crowd due to arrive tonight (when he has only one functioning arm), what weighs heavily on his mind is the fact that, in 10 days' time, the refuge will be forced to close. A lack of snow in winter has meant a dearth of captured water to get the encampment through the summer and although he has pleaded his case with the local mayor to send up a tanker full, the decision has been in the negative. The "canicule" (heat wave) of spring 2022 has left many regions of France in imminent risk of drought. As we leave Franck, we know he faces an uphill battle. For us, though, the outlook is mainly downhill. Our plan is to take a slow cruise towards the Med. At Utelle, the next town we reach, we are staying at a gite d'etape. These stopover lodgings with dormitory accommodation are exclusively for hikers or cyclists and by far the most economical way of finding a bed in the isolated villages the GR5 passes through. They are brilliant value: they ranged in price from €10-€20 per person per night. They are not catered but offer a chance of a hot shower, a clean bed and a communal kitchen.
At Utelle on Friday evening, a handful of bored teenagers were hanging out in the square. Younger kids rode bicycles while a group of older women chatted by the church door. A simple dinner and a nice glass of chablis was on the cards. Only it wasn't. The only two restaurants in town were inexplicably closed. As was the tiny "shop" in the post office. With no food in our backpacks, we are forever grateful to the anonymous fellow traveller who left a packet of soup and pasta in the kitchen of the gite.
What turned out to be our final day on the trail started early. We were up and walking by 7am. The plan was to spend another night in the village of Aspremont, an official stopover on the GR5. But the only hostel had closed the month before and, being so close to the chichi district of Nice, alternative accommodation came in at more than €120 for the night. What the hell, we thought, in the true spirit of the trail, we'll bivouac: it seemed fitting to wild camp for our very last night. At Aspremont at three in the afternoon and with 15 kilometres to go, we were still weighing up that possibility. Encouraged by a video call from Freeman who, from the comfort of his university hall bedroom had every faith we could do it, we decided to make a dash for the coast.
I had wondered how we would feel at the finish for weeks now. I knew the whooping for joy celebration was not us. I had half-imagined I might cry (such was the relief). I had long-planned to walk straight into the sea. After a parched march through town, dodging dawdling shoppers and families out for an evening stroll, and changing out of our hiking boots on the stairs down to the beach, we manoeuvred our backpacks through the Saturday evening swimmers and stepped into the Med. The pebbles were so deep and the access so steep, we almost fell over in front of an audience of bemused beachgoers. Propped up on our hiking poles, we asked a startled couple to take a photo. When we told them we had just finished a walk from the German border, they made all the right noises, but we knew they had little real idea what that would have involved.
After 64 days, 1314 kilometres and climbing seven times the height of Everest, it was over. Did I feel elated? Not really. Accomplished? Absolutely. We were fiercely proud that we had walked every single step of the way. As the dusk turned the tide a silvery blue, we sat on our backpacks and looked out towards the horizon. What an adventure. What a grand, crazy, unforgettable adventure.
Photography: James Baldwin and Claire McCall