*This is a voiceover created by AI and therefore some of the words or pronunciations may be incorrect. We hope you still enjoy this listening experience.

In the past few weeks, Gemma McCaw has seen more of New Zealand than most of us would in a year. There have been speaking engagements in Tauranga, Taupō, Queenstown and Ashburton, filming in far-flung corners with her rugby legend husband Richie McCaw, and even a whistle-stop trip to the capital, where she made headlines for a powerful address in Parliament on an issue very close to this mum's heart: maternal mental health.
Busy is an understatement, but it's a surprisingly relaxed Gemma who makes time to fit in a chat and photo shoot with Woman+. The sports star turned wellness expert admits she can't remember the last time she spent a full week at home in Christchurch.
"I know I need to slow down, but it's that conundrum of fitting in all these amazing opportunities in. "Work and travel and all those things are going to get harder with more babies in tow, so I'm very conscious of making the most of my time while I have it."
Gemma's schedule is intense, especially with her very active toddler in the mix. Two-year-old Charlotte (Lottie) is a blonde, Wiggles-loving bundle of delight, who has brought her parents more joy than they ever could have imagined.
"People say it gets better and better and I didn't believe them, but it's so true," says the 31-year-old mum. "She's a real little talker and her little phrases just melt me. I guess it's that thing of enjoying the simple pleasures and seeing how they view the world – it's hard to imagine until it happens."
Gemma can't help but laugh as she tells us about her daughter's newfound bid for independence, with the usual toddler tantrums over the most minor details, like her toast being cut in the wrong shape or an objection over the clothes her mum picks out for her.
"Everything is about 'own self '," says Gemma. "She wants to get dressed 'own self ' or put socks on 'own self '. It's pretty cute."
With Gemma and Richie's high-pressure sporting careers now over, the former hockey great tells us they're both keenly aware of how lucky they are to have this time to focus on their family. Former All Black captain Richie, 40, retired from his illustrious rugby career in 2015, and Gemma, who joined the Black Sticks at 18, walked away for the final time in March last year, when the 2020 Tokyo Olympics was postponed due to the Covid-19 pandemic.
She could have continued on for another shot at Olympic medal glory, but juggling motherhood and training was an enormous undertaking – one that involved the entire family, with Gemma's devoted mum Michelle Flynn taking time off her job as a teacher, and Richie reducing his hours as a helicopter pilot to be there, too.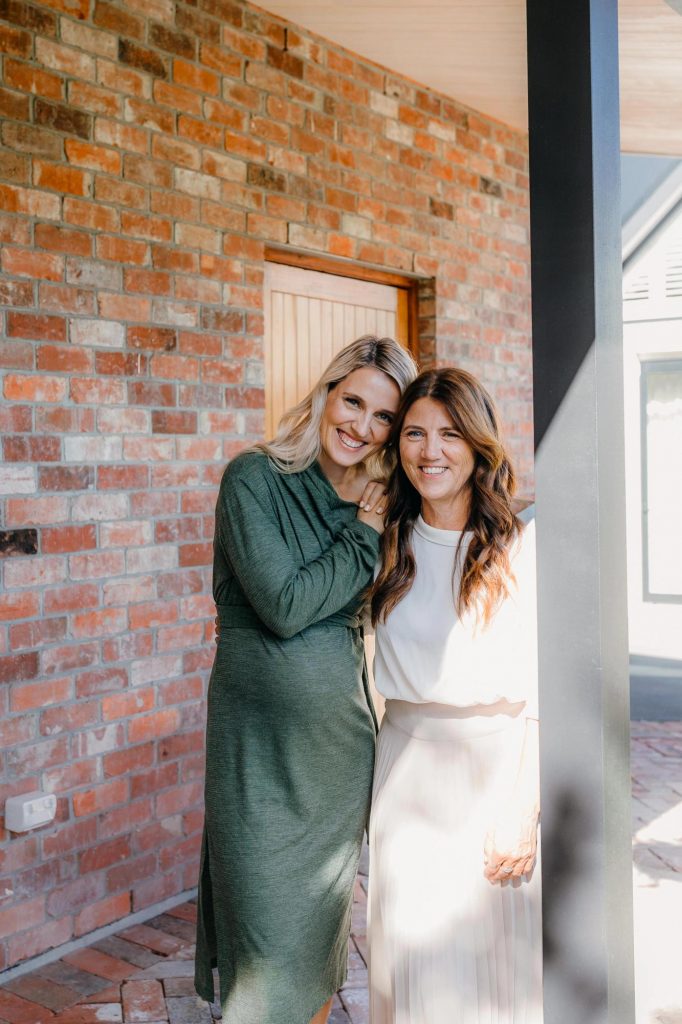 "I look back on travelling with Mum and Rich, and it was an unforgettable time. I wouldn't change that for the world, and to get back and play was an amazing opportunity," says Gemma. "But it was the journey to get there that meant the most. I learnt that for me it was important to have something outside of being a mum and wife and work. It was something just for me.
"But I couldn't have done it without the support. Leaving your baby and knowing they're OK, there's no price on that, and it meant I could fully focus."
Gemma has no regrets about giving hockey a final crack, but now it's over, she's relishing life away from that incomparable high-pressure environment. "Sport is like a job interview each week. If you're good enough, you retain your spot. If not, there's someone else waiting in the wings. It's huge pressure.
"I think Richie and I would both say now, with hindsight, that we perhaps didn't stop and enjoy the journey quite enough. If you won a game, you'd immediately start thinking about next week's one."
Parenthood has clearly changed their priorities, says Gemma, musing on the life she shares with Richie, who now juggles helicopter work with his speaking and ambassador commitments. She feels incredibly fortunate to have a hands-on husband who is able to adjust his work hours to pick up the slack at home. The couple don't have a nanny, instead sharing daycare pick-ups and drop-offs depending on their schedules, and are both usually home for dinner and bath time with their little girl.
"We were so lucky to be able to fully devote our lives to sport in that first chapter, but now we're in a new chapter where we have our family and that's our absolute world.
"I know we'd both agree that our sporting achievements are not where our daily happiness comes from anymore. It's hearing Lottie laugh, or seeing her learn to ride her scooter that makes us smile the most now. A successful potty trip is pretty exciting, too!"
Gemma's work in the wellness space has made her a passionate advocate for women. Through her coaching work with her business Performance Wellbeing, she works with people all over the country, helping them reach their full potential. Too often, she sees women who are overwhelmed, overworked and under-supported, and helping them to find simple ways to make positive change is her driving force.
She refers to her all-important six pillars of wellbeing – movement, nutrition, sleep, hydration, connection with others, and the way we think and feel. Once we have these fundamentals in place, everything else will follow, she insists. And the changes we make don't need to be major for us to feel almost immediate gains.
"We're all different, so it's about learning what you need to be well," she says. "I'm not saying the way I live is perfect or the only way, but I know what works for me and what I need to do to make sure I'm at my best. As long as I try to eat well, exercise, get enough sleep and am connected well to those around me, then I can handle stressful times so much better. It's basic but so important."
Last year, Gemma hosted her first wellness retreat in the Far North, with 30 women reaping the benefits of her and other experts' wisdom over three days of sharing and connecting, moving, learning and relaxing. Helping people reach their potential is hugely satisfying.
But most recently, it's her involvement with Mothers Matter, a Kiwi organisation lobbying for changes to maternity support services, that has got her most passionate. Gemma points to this country's woeful mental health statistics to explain her decision to join the cause, in particular our alarming rates of postnatal depression, which affects around 15% of new mothers, plus our horrifying maternal suicide rates, which are five times higher per capita than the UK.
Gemma is visibly upset by stories of women who've had traumatic experiences in birth and during those crucial first few weeks, without being given the appropriate care for their needs. It's something she can't ignore, especially now she's a mum herself.
"I was told of a woman who gave birth by caesarean at the same hospital as me at a very similar time. She'd just escaped a violent household and literally had no one to support her. She had to take a taxi home from hospital on her own with her new baby, where she had no one waiting for her. I can't even begin to imagine how hard that was.
"That story stayed with me, because I know how lucky I was to have had such good support around me. I had my husband and my mum on board for the first few weeks, making sure I was OK so I could cope with the often-overwhelming experience of new motherhood.
"It's pretty clear that mothers can't thrive or do their best by their babies and children if there is no support for them. Everyone asks about the baby, but no one asks about the mother, and that's where we've got it so wrong."
Gemma cites her beloved nana Yvonne and mum Michelle's postnatal experiences as evidence of things going off course in Aotearoa. Yvonne stayed in hospital for two weeks after the arrival of her four children in the 1960s and '70s, and Michelle stayed in for a week when Gemma and her brothers Jared and Isaac were born.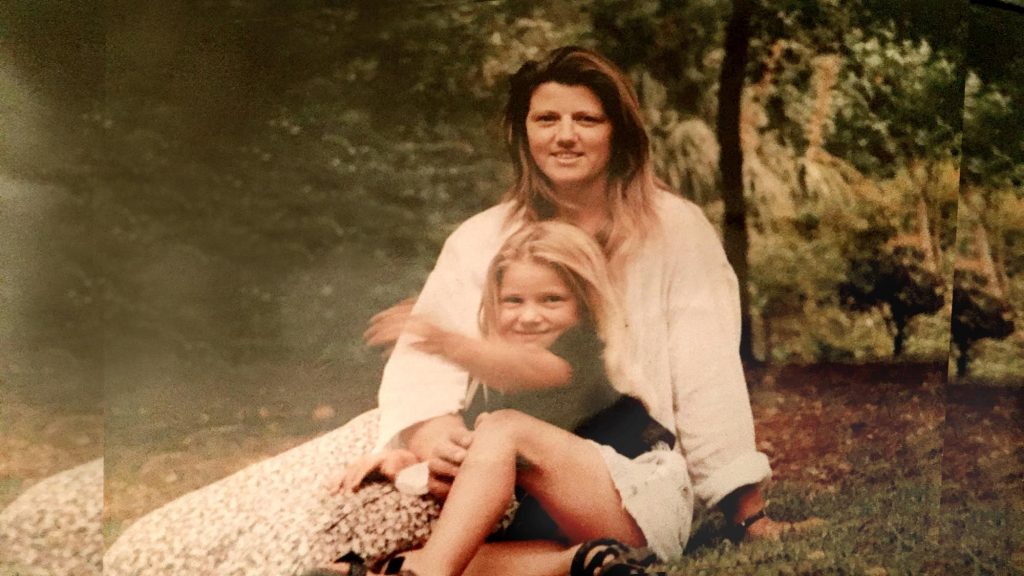 Nowadays, women are entitled to 48 hours of postnatal care, but too often they're sent home earlier than they are ready, Gemma says. It's her work in the wellness space that's led her to become so passionate about the issue, because she knows first-hand the importance of good wraparound support for women to be able to bond with their babies. Without a strong bond, mothers and their children simply can't flourish.
"Wellness is so dependent on our connections with others and healthy relationships. You can't be at your best without the appropriate love, support and care."
Without Richie and Michelle being there in those initial weeks after Charlotte's arrival in December 2018, supporting Gemma as she recovered from birth and got to grips with breastfeeding and the unrelenting sleep deprivation, she can see how easy it would have been to fall into a bad place.
"My village was there looking after me, which meant I had the space and strength to bond with my baby. I was incredibly fortunate. But all women deserve the best chance to thrive, so we need to ensure equity of care, and services that are there for everyone, not just the lucky ones."
Gemma speaks a lot about the impact her Tauranga-based mother and grandmother have had on her life. The close-knit family talk on the phone daily, see each other as often as they can – and regularly feature on Gemma's Instagram account. It's clear Gemma's parenting style has been informed by her own childhood experiences.
"I was raised by very nurturing people. They don't get hung up about the little things. Mum is always down on the floor, cuddling, playing, doing things with Charlotte. Or she'll be packing her up and going out for bike rides. This will be her fifth grandchild," says Gemma, pointing at her tummy, "but she puts her absolute all into them all.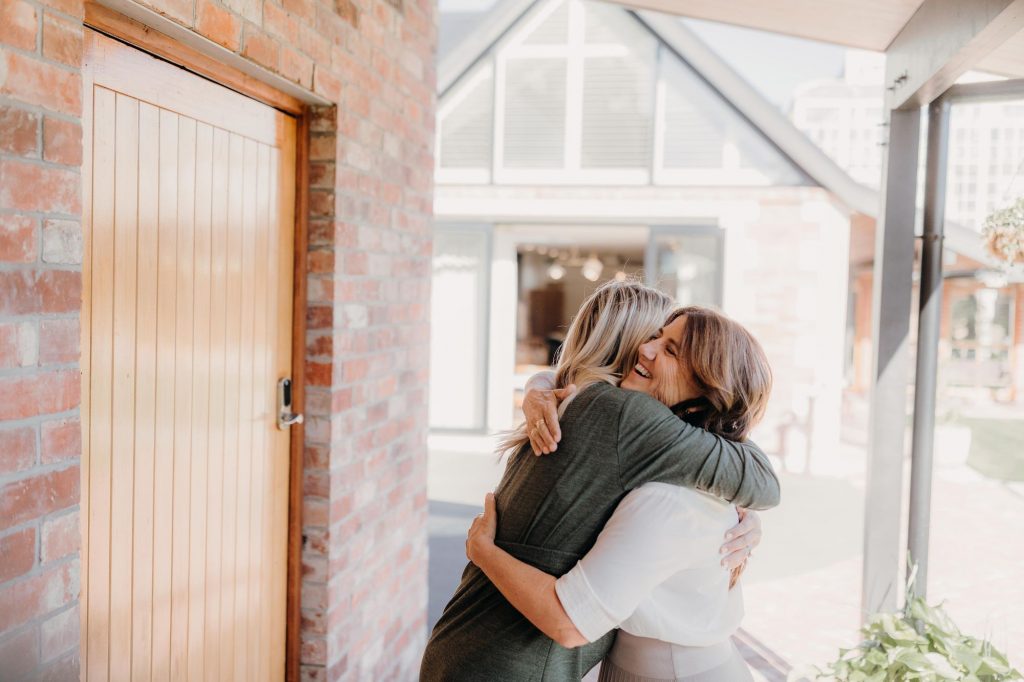 "She's always worked full-time, but when I stay with her, she'll come home, make dinner, bath Charlotte and do it all so that I can have a break. In the morning, she'll give me that extra half hour in bed or a chance to have a shower and read books with Charlotte in bed. She's the most generous and selfless person."
Gemma says her mum, dad Rob, and extended family have always been very present and involved, something she's determined to give her own children, too.
"It's the four Ss – I want my children to feel safe, seen, soothed and secure. It's about meeting their needs and ensuring they know they're loved and cared for.
"I hope my kids will always know how much they mean to me and that I will be there for them. It's important they know they'll always be supported in doing anything they want to do and encouraged to try new things. But it's also vital to have boundaries, so they know these things are in place to help them, because it comes from deep care."
Gemma also knows that by ensuring her own wellbeing, she's more likely to be able to give what she needs to as a mum. She urges other women to ask for help when they need it, and to share with loved ones if they need a break.
"I know I'm a better mum when I can regulate my emotions. When I'm tired, I know I can get a bit snappy. So sometimes I'll tell Rich, 'I've had one of those days, I'm not at my best', and that creates an awareness that I might need him to step in and give me a little break. There is absolutely no shame in asking for a bit of help."
She adds, "I met a woman in the supermarket recently who told me, 'Women can do it all, but not all at once,' and I love that."
But another thing keeping Gemma busy recently has been an exciting partnership with Tourism New Zealand. She and Richie have spent the past few months travelling to some of Aotearoa's most spectacular spots and being filmed as part of the post-pandemic Do Something New, New Zealand campaign. Being able to work with her husband has been a wonderful bonus, and together they've loved showing Charlotte the sights, too.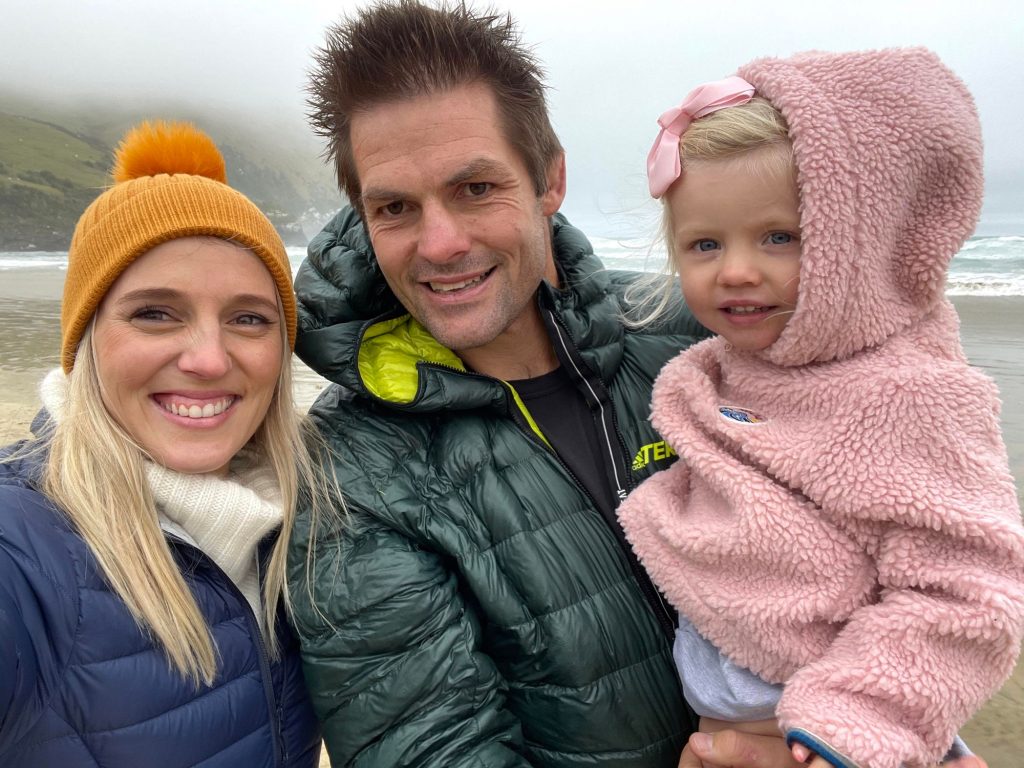 "It's easy to forget what we have here and for us to experience these things as a family has been very special. We will never forget how lucky we are to have these opportunities.
"But for me, the best part has been meeting the locals. We met an amazing couple at an eco-lodge in The Catlins; they were salt of the earth, beautiful people, and they just embraced simple living. There was no internet, no TV, they make all their own food. We had the most memorable breakfast sharing experiences around the table."
Gemma hopes the public will enjoy seeing another side to the man best known for his prowess on the rugby field. In videos already released, Richie can be seen chatting with a kea, and in another, he's pulling pints at Hobbiton's Green Dragon Inn.
"Rich has so many strings to his bow, and I always used to say to him, 'You're so much more than just a rugby player', because he's also a beautiful, gentle, caring human. He's a deep thinker and an amazing listener. We're yin and yang in many ways, but I think our styles have really balanced each other out. I'm much more chatty, I go in for hugs everywhere I go, whereas he's more reserved. But he's taught me to value silence a bit more, and I've helped him come out of his shell and share a bit more of himself."
We're yin and yang in many ways, but I think our styles have really balanced each other out
She adds, "He's still the strong and stoic man the public saw on the rugby field, but he's also a husband and a father and a friend, and he does really care about people. Before, his focus was solely on achieving his rugby goals, but he views the world differently now. Children change you."
Relentlessly positive, Gemma tries not to dwell on any of the negatives that come with being married to one of this country's most recognisable faces. But she can't help but bristle whenever she's asked what gender their next child is, because inevitably a comment will be made about future All Blacks.
"I love chatting to people out and about and they're always friendly, but when I'm pregnant I often hear, 'I bet you're hoping for a boy', because of the whole rugby thing. Hand on heart, we don't have a preference for what we get – it's just about welcoming a healthy baby, that's the only thing that matters. Every baby is a blessing."
And if there's sporting pressure on the McCaw children as they grow up, it certainly won't be coming from their parents, she says.
"There will be no pressure from us. Lottie is into dancing, and I'm certainly not putting a hockey stick in her hand!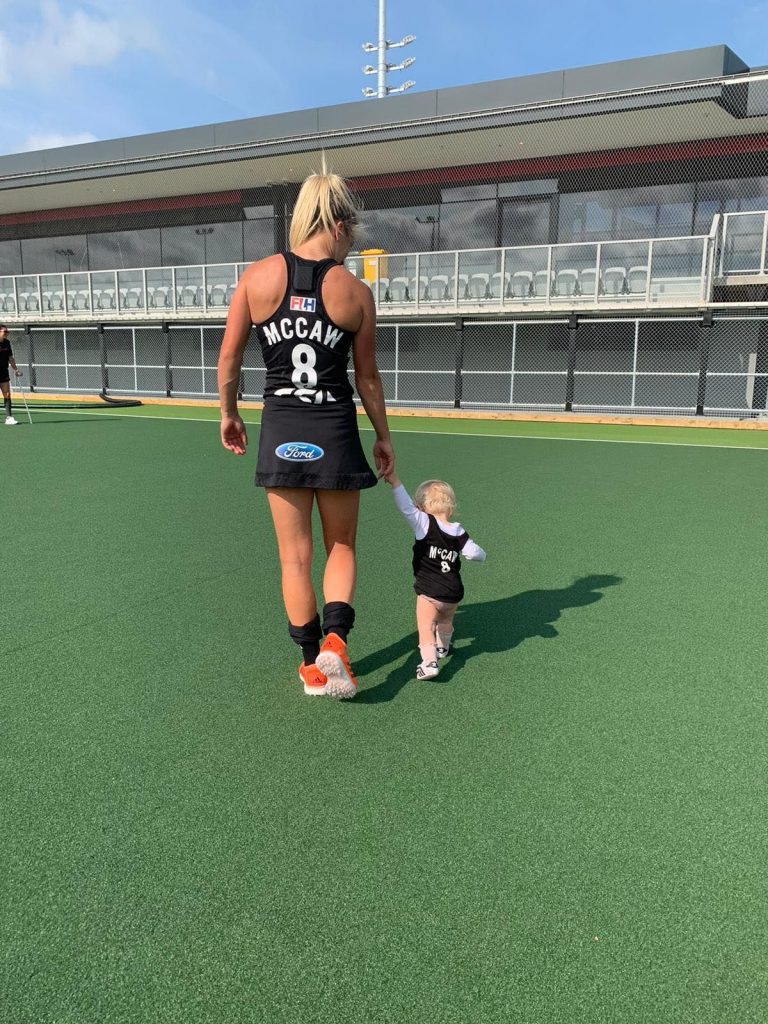 "We can only be role models of being active and enjoying physical activity. So what I would hope for our children is that no matter how far they go with it, they're involved in sport for life, because it has so many benefits. I want them to enjoy being in a team, the camaraderie, learning to get on with people, sportsmanship, winning graciously, losing graciously… But whatever they choose to get involved in, we'll be there for them."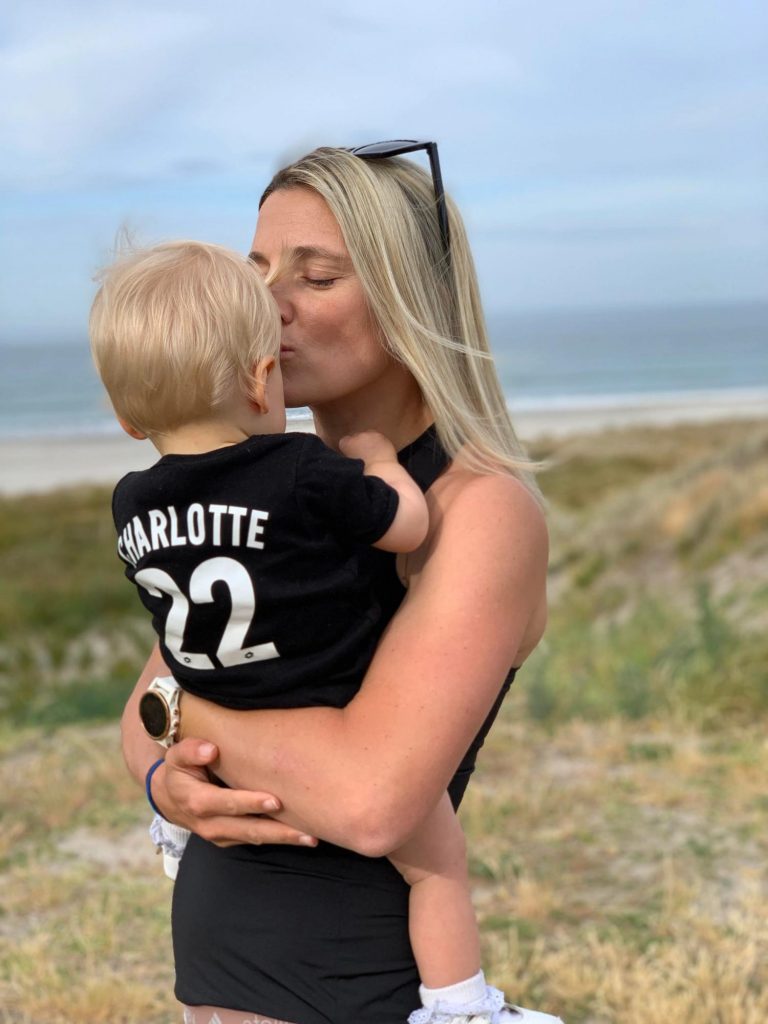 And Gemma tells us Charlotte has a firm preference over whether she gets a brother or a sister – she's hoping for a girl called Emma, named after her idol from The Wiggles, of course!
It's this devotion to the iconic Aussie children's performers that saw Richie agree to join them on stage and play the bagpipes during their Christchurch concert in March. It wasn't something he'd ever envisaged doing, says Gemma, but she actively encouraged it because she knew how much it would mean to their Wiggles-mad daughter.
"He was such a good sport," she laughs, "And it was so worth it, because seeing Lottie's face looking up at him alongside her idols was just incredible. It was an opportunity we could never have turned down."
Charlotte was star-struck when she went backstage after the show, but Gemma says Emma Wiggle was incredibly sweet, holding her daughter's hand and chatting quietly with her. It's an valuable reminder to Gemma of how important role models are in children's lives. Everywhere she and Richie go, they understand that "every interaction counts".
"We both take that responsibility seriously, the fact that it might mean something to someone if we stop and have a photo or a chat. If Richie stopping to sign a ball holds us up for a minute or two, that's nothing if it means something to that person."
With yet another flight to catch, Gemma doesn't have long to chat. But she knows this frantic pace isn't forever. Come June, with the arrival of baby number two, she'll retreat home and immerse herself in the bubble of newborn bliss.
"This pregnancy has flown by," she says. "The first time, you know exactly how many weeks and days you are, and what size fruit or vege the baby is compared to! But this time around has felt very relaxed and there's none of that fear of the unknown.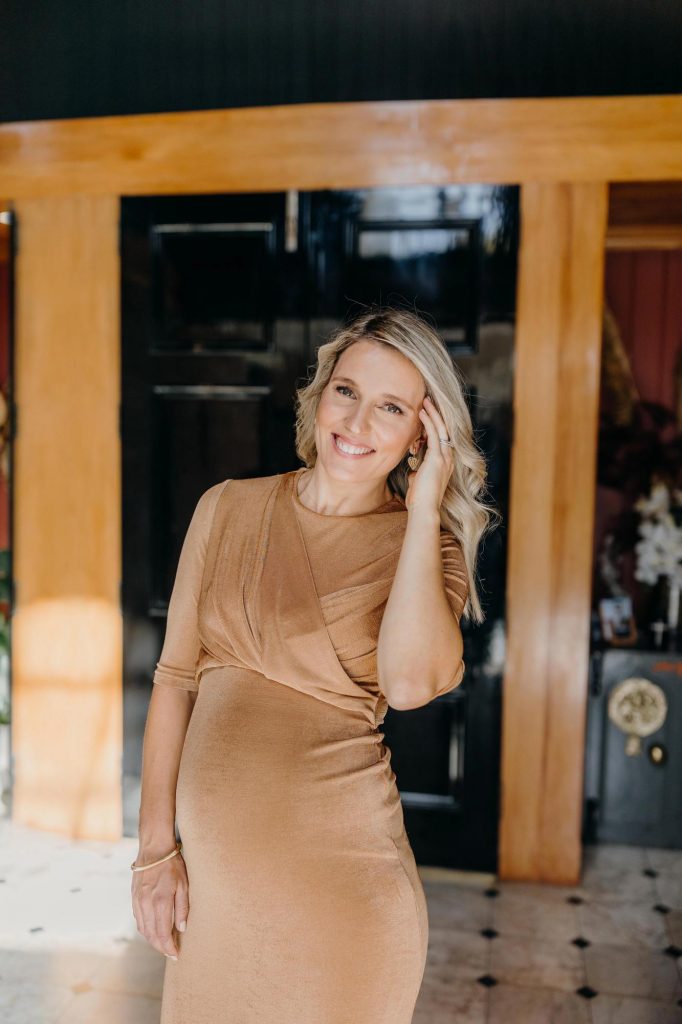 "We just can't wait to meet this baby now and I know it's going to be amazing seeing Charlotte with her little brother or sister. I know it'll be absolute chaos with two, but we'll roll with it."