Blood and glitter. Red and gold. These are the things that jump into my mind when I remember Frida Kahlo.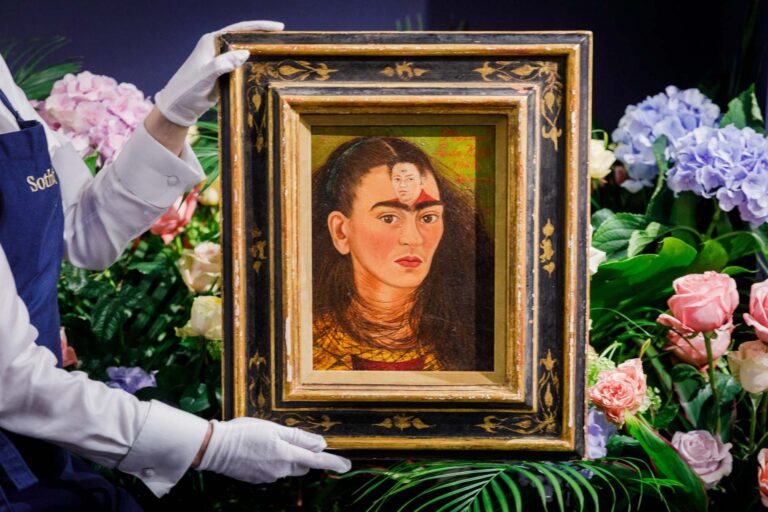 Frida was an 18-year-old student enrolled at the National Preparatory School in Mexico city when the accident happened in 1925. The bus she was travelling on collided with an electric trolley car at high speed, and the result was carnage. The impact seemed oddly benign, Frida reminisced. "Not violent but dull and slow, and it injured everyone, me more seriously."
A metal rod skewered Frida through the middle. The blood at the scene was hers, the festive golden glitter that flew across the compartment, came from a passenger's bag. At the hospital she was taken to, Frida was left for dead.
When I would tell this story to art students, colossal images of her work beamed up on the screens behind me, I had to manage my voice. Keep that waver out that indicates emotion. Because, for me, Frida's story is intensely moving. She is probably the most broken, yet also brave and iconic woman painter of the 20th century. I will always love her work, but the reasons for it, I find, equally compelling. Maybe it's the biographer in me, overwhelming the purest art historian, but I believe no artist has brought life and art together more hermetically than Frida Kahlo.
Before she boarded the bus, Frida was damaged. A bout of polio at six years old had left her with one withered leg. The accident added a litany of horrifying health issues including a broken spinal column, collarbone, ribs, pelvis; her right leg smashed into 11 pieces, and her right foot crushed. During her lifetime, considerably shortened by this one event, she would endure 30 separate operations, including an amputation to remove the leg she fought so hard to save.
Frida Kahlo dreamt of being a doctor – instead, her life would be defined by them. For months after the accident she was bed ridden in a full-body plaster cast. She began making art to mitigate boredom and the nightmare of painful procedures. Her parents provided her with a lap easel, and a mirror mounted on the framework which 
protected her from the heavy weight of her bedding. Her reflection in this mirror became Frida's frequent and ultimately most famous subject matter.
As she got stronger and her portraits more skilful, her ambition shifted from medicine to painting. It was in an art context that she met, renowned Mexican painter, Diego Rivera. "There have been two great accidents in my life [that have broken me]," Frida once wrote in her journal. One was the trolley car; the other was Diego.
They first saw each other when Frida was a 15-year-old school girl, and the muralist Diego, 36. But it wasn't until after Frida's accident, and in 1928, that their pairing began.
"You have talent," Diego, told Frieda when she showed him her self-portraits. "You must continue to paint." 
With Diego's words of encouragement, Frida threw herself into her work and a new life with the already married, middle-aged muralist. They were known by friends and associates as the "dove and the elephant". Diego was a persistent philanderer, and Frida, openly bisexual, frequently slept with women; and, in 1937, enjoyed a brief affair with political asylum seeker, Leon Trotsky. Toxic and traumatic, their lifelong love affair would, however, be sustaining for both painters.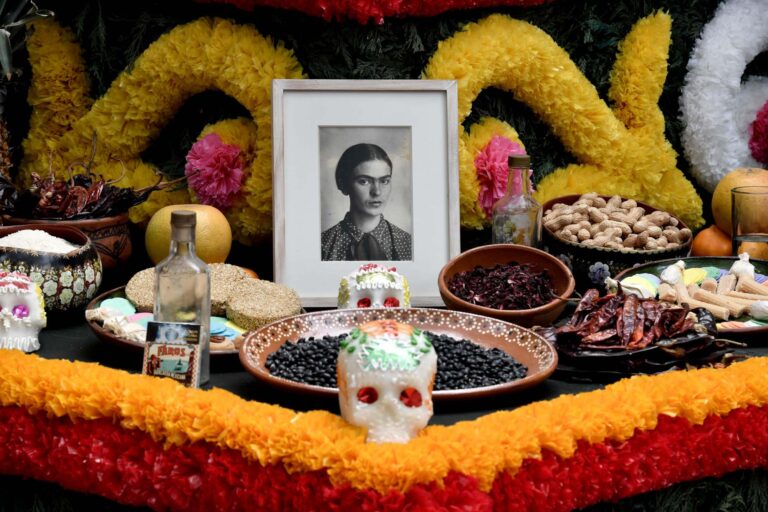 Frida, who moved in Diego's Mexican revolutionary painting circles, and was influenced by the national and indigenous tradition, mostly pursued her own very personal subject matter. Her paintings offering a uncompromising depiction of the female experience. My Birth (1932), with its bloodied bedsheets, is a brutally honest portrayal of Frida's mother giving birth to her. It was painted not long after her mother's death, and just after her own miscarriage. Frida's accident left her unable to have children, and this personal tragedy, along with the consequences of her accident, portrayed in iconic paintings such as The Broken Column (1944), were her greatest achievement.
The personal became political in Frida's painting, and her damaged life the material of art. Perhaps, it isn't any wonder, then, that one's voice wavers a bit when telling the story of this remarkable feminist rock star.