Geneva Harrison of Tuhi Stationery is bringing Māori context to daily planning.
Geneva Harrison (Ngāti Kahu, Te Rarawa Te Aupōuri), an extremely organised woman who has worked in corporate roles for many years, has often laughed about her love of "planning". While this could look like just a personality trait, she became aware over the years, thanks to stories from her grandparents, that this was possibly cultural too.
"Māori, as a people, have always been planners," says Geneva, 47. "We are navigators and voyagers, and to keep us safe on the sea and feed our iwi required a lot of thinking ahead and organisation."
This mixture of a cultural and personal pull towards organisation in a Māori context sowed the seed that would become Tuhi Stationery.
One day, Geneva and her good friend of 12 years, Michelle Mihi Keita Tibble (Ngāti Porou, Te Whānau-a-Apanui, Te Arawa, Ngāti Awa), were sitting around the kitchen table talking about all the planning their jobs required.
"We both felt that the stationery available at the time worked in a very western way, in language and the way things were organised and thought about. We used te reo Māori in a number of corporate settings and thought it would be really helpful to have that information in something we carried daily – karakia (prayers), waiata (songs), whakataukī (proverbs). And being old school, that wasn't our phones, but planners."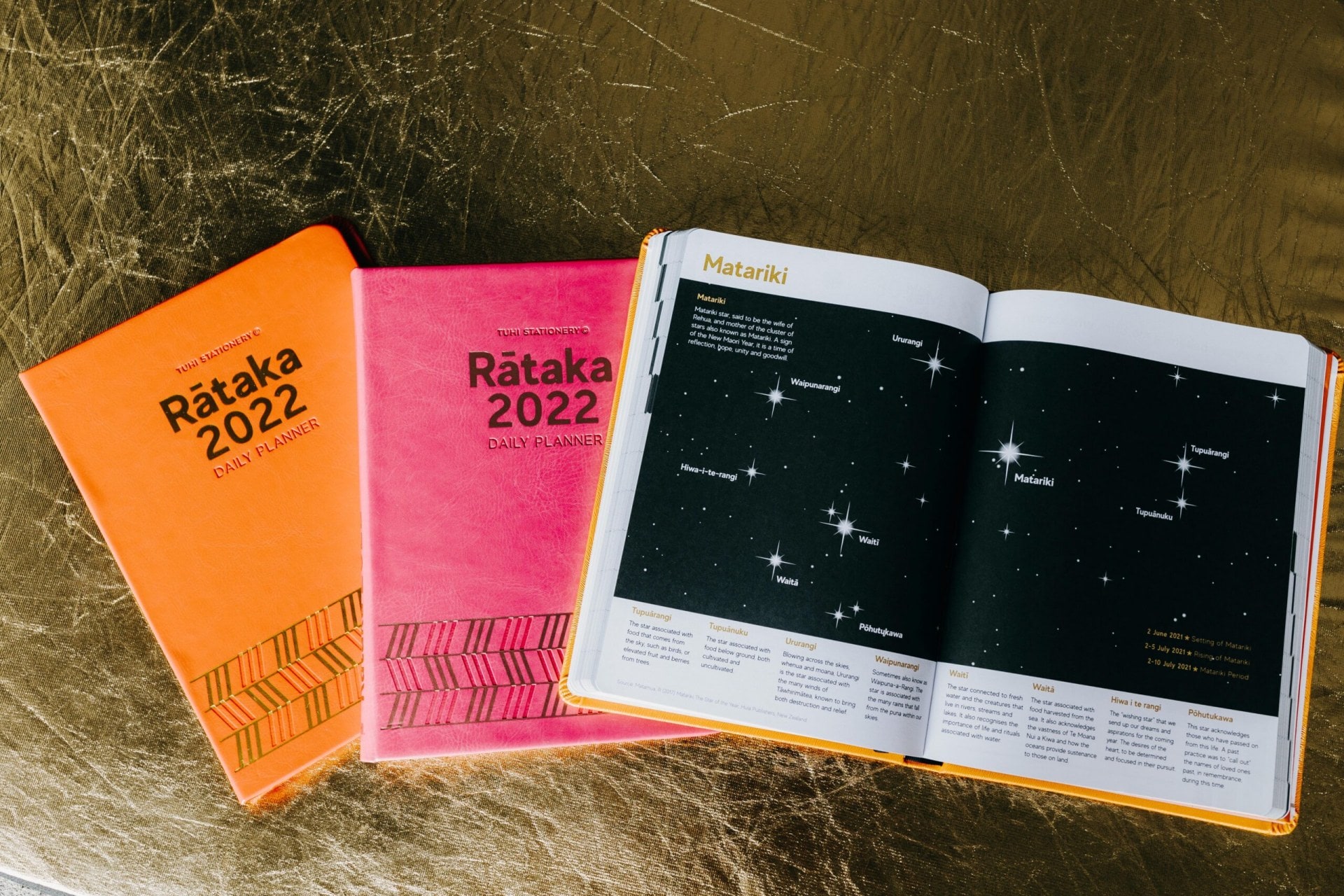 After a lot of research, they launched their first product in 2018, a notebook, soon followed by a journal based on the maramataka (the Māori lunar calendar) and then a rātaka (daily planner). A lot of thought went into design, and customers were drawn not only to the content but the beautiful modern aesthetic.
"One thing that was really important to us was accessibility. We wanted our stationery to allow for multiple levels of competency for anyone on a journey with te ao Māori," Geneva explains. "We didn't want it to matter whether you were fluent in te reo Māori, just beginning to connect, or non-Māori wanting to learn. We want people to purchase from our range for any reason and not feel judged."
And it has grown exponentially from there, with a wide range of everyday stationery now available. In-person workshops on maramataka were originally part of their offering, but now everything is delivered digitally.
"That was actually pure luck," says Geneva. "As mothers, it was a challenge logistically to travel so much, so we filmed the training programme to allow ourselves to spend more time at home. This meant that when lockdown hit, we already had our workshops available to purchase online." During lockdown, Tuhi expanded its range with children's education resources, including two storybooks, which have become top sellers.
At the end of 2020, Geneva expanded the range with a sister brand, Tusi Stationery, to provide bilingual Samoan and English products. "I wanted my son to see both his parents' languages and cultures, used daily in beautiful resources," she says. The Samoan range has generated international demand in Samoa, Australia and America, and this year they've been increasing their local production with the introduction of subscription boxes. It has, and continues to be, quite the ride.
While Michelle has stepped back slightly from the day-to-day of Tuhi and works more as a creative consultant, the duo's original Māori values still permeate every part of the business, such as embedding sustainable practices into the whole supply chain – in line with a Papatūānuku policy of treading lightly on the whenua that sustains them.
And like many things Māori do, it's always more about the wider group than the individual. "The maramataka teaches you that nothing was created in isolation and that we achieve more when thinking and acting collectively. We love contributing in our small way to the everyday use of our languages and sharing knowledge that will hopefully enrich future generations."