Nicky Pellegrino meets Katherine Douglas – a determined, hard-working woman who's a lesson in not judging a book by its cover.
Katherine Douglas seems to have it all. Smart, beautiful and successful, she lives in Auckland in a stylish Ponsonby's villa with pets that match the door. Perhaps most notably, she's the granddaughter of Sir Graeme Douglas, founder of drug manufacturer Douglas Pharmaceuticals, which in the past year alone totalled $236 million worth of global sales.
Katherine, 31, believes there are a few misconceptions about her. The first is that she has access to those millions of dollars and gets to flash the family credit card around. Not a chance, she says. Her life might be privileged, but it's been grounded in reality from the beginning. Her "calm, outdoorsy" childhood was spent in rural Taupaki, West Auckland, where she and her sister Lilly went to pony club in the weekends and helped their dad on the farm.
"I had no idea my family was wealthy," says Katherine. "Then, in Year 11, a boy in my class at school said he saw my grandad on the Rich List. I remember going home to Mum and asking what the Rich List was. She said, 'Don't tell your father I've told you this because he's very private, but your grandfather has been successful in business and he's actually a very wealthy man.'"
At that point, Katherine's father Jeff was working at Douglas Pharmaceuticals, but she says he was paid a standard salary and can recall her parents budgeting to save for the things they wanted, like any other family.
"That's something I'm really grateful for. Even when I went to university, there were weeks where I was eating two-minute noodles because I didn't have enough money for groceries. And I'm glad I had those lessons about the value of money and the hours of work you need to put in to get what you want."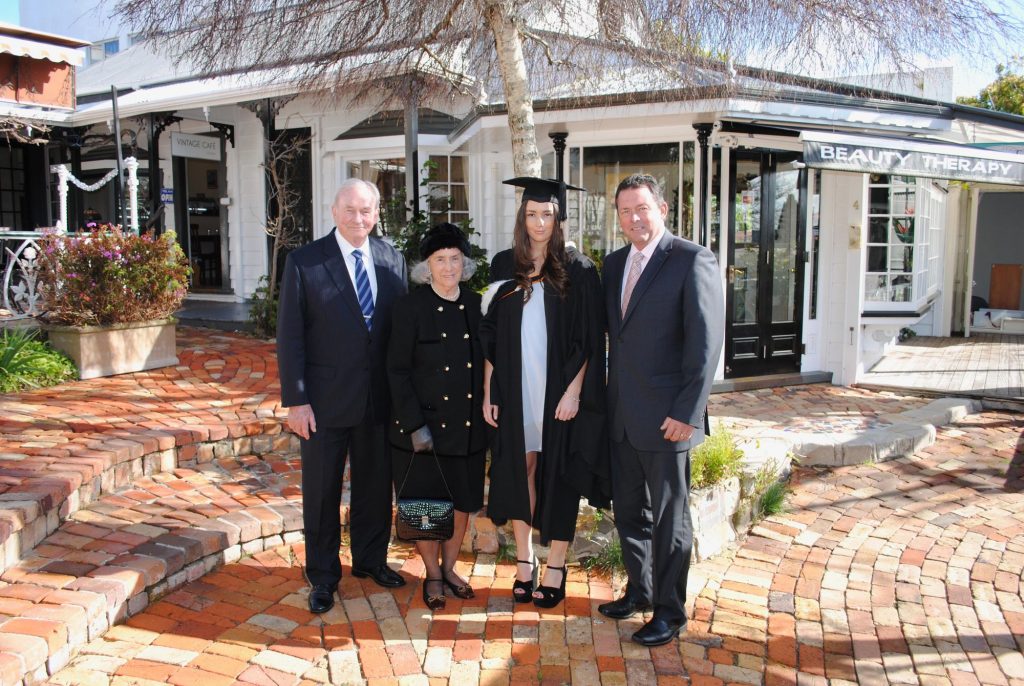 The longer you talk to Katherine, the more you sense she's a determined and driven woman. Even if she had been allowed to lead a hedonistic life of luxury, it's pretty clear that wouldn't have made her happy. Today, she's head of global marketing for Douglas Pharmaceuticals and has just launched her first new brand. But it was never guaranteed that she'd end up in the family business.
"Dad didn't necessarily encourage it – he wanted us to go off and find our own paths," says Katherine, who for a long time struggled to work out where hers might lead her.
"I worked really hard at school, but I had no idea what the end goal was. Adults kept telling me not to worry and saying I'd figure it out, but when I finished school I felt very panicked that I had no idea what I wanted to do."
Katherine now has an MBA from Melbourne Business School but in her younger years, she spent time travelling through Central America and learning to surf in Portugal, taking junior roles at the family firm to pay her way, before realising she was passionate about the business and cared about its future. She particularly loved working with her grandfather, who didn't step down from the company he built until he was 85. When Katherine talks about Sir Graeme and his death in 2016, she can't stop the tears spilling from her eyes. Suddenly, she's less the poised businesswoman, and more the little girl who adored her grandad.
"He was my favourite person that I've ever known," she says. "He was just so considerate and charming. He had so much charisma and was a real gentleman, at work and also at home. He'd make my grandmother a hot water bottle every night and take her a cup of tea every morning. The business was his absolute passion in life and he spent a lot of time thinking about how he could improve it, and not just from a profitability perspective. He took great pride in the number of people he was able to employ."
As kids, Katherine and Lilly spent a lot of time with their grandparents. When Sir Graeme was dying, Katherine was studying in Melbourne and came back to Auckland to be by his side during his final days.
"On his last morning, I was feeding him breakfast and he had this really profound look on his face," she recalls. "I asked if he was worried about the business and he said, 'Yes, I want to make sure it's in good hands. I've spent my whole life in that business and I didn't expect to leave this early.'"
Continuing his legacy is something Katherine's taking very seriously. Douglas Pharmaceuticals remains a family company – her father Jeff now heads it – and making a profit isn't its only priority. The Douglas Charitable Trust has donated millions to Starship to pay for medical equipment and is also a supporter of the Auckland Coastguard. It's currently investing significantly in developing a new medication to help those with treatment-resistant depression.
What Douglas is really about, says Katherine, is creating products that help people and make a difference. Since she stepped up into a senior role, she's been laser-focused on how she can contribute to that.
"Rather than drugs, what I've really got a passion for is preventative health," she says. "Why wait until we're sick to take care of ourselves when there's so much we can do to stop getting sick in the first place?"
Why wait until we're sick to take care of ourselves when there's so much we can do to stop getting sick in the first place?
She'd been giving a lot of thought to how much stress is involved in everyday life and got chatting to a group of friends about it. "All of them said they suffered from anxiety, and that was a real eye-opener for me," she says.
Katherine isn't immune to feeling overwhelmed at times. "I hold myself to high standards, so probably a lot of it is self-inflicted. I really notice my anxiety in the morning when I'm standing in front of the mirror getting ready for work. I can sort of feel it rising up in me, thinking about everything that I've got to juggle that day."
Life is always going to have its ups and downs, so Katherine started working with the company's naturopath to develop a new range of herbal products to provide support when stress and worry start to get a bit overwhelming. The result, BraveFace, has recently launched (you'll find it online at hellobraveface.com). There are three products – a day spray, a night drop and a daily supplement – with the plant- power of passionflower, chamomile and rosemary, as well as ingredients like ashwagandha, mānuka honey and gotu kola. All of these ingredients have clinical trials behind them and are designed to support the emotions related to stress so you can get a good night's sleep or focus on what needs to be done.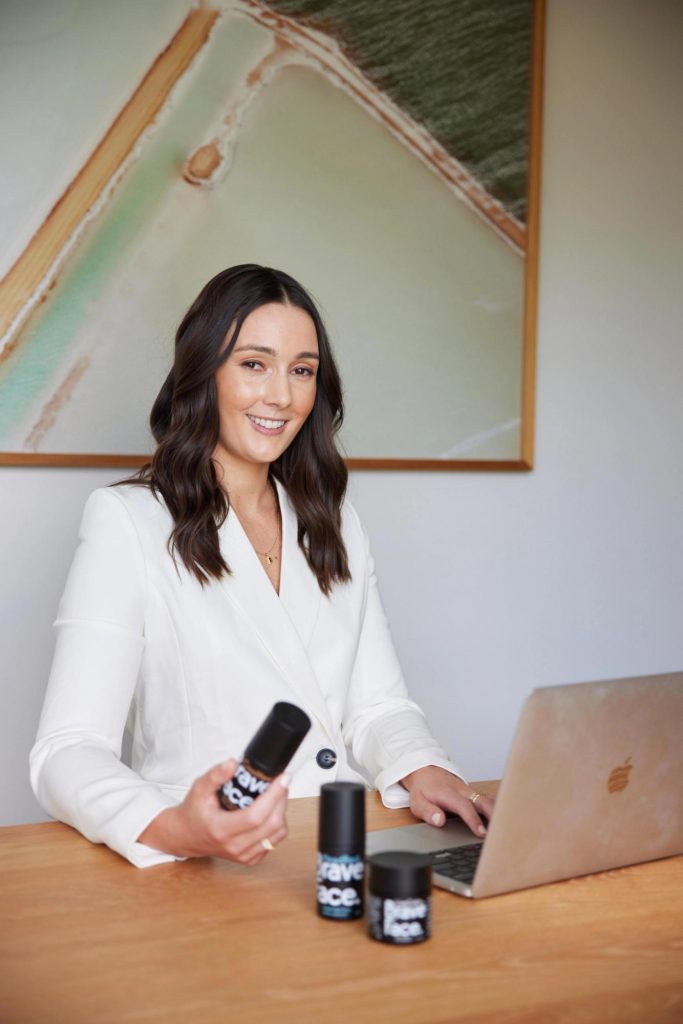 With BraveFace, the stakes are high for Katherine. "This is a real moment for me to prove I can build a brand from scratch," she says. "If I can get BraveFace right, it'll give me a lot of momentum to create more brands and a little more leeway from our leadership team to give things a good crack."
Another misconception, says Katherine, is that having the Douglas name means she gets things her own way at work. "I think a lot of people assume I've been handed things on a plate, and I know among some there's still a sense that BraveFace is just Katherine's passion project, that she's stamped her foot and her father has allowed her to do it. Hopefully that's starting to improve now everyone's seeing it come to life."
There is pressure that comes with her position, she points out – it means she has to work to prove herself. "I don't think everyone understands that," she says. "Of course there are parts of it being a family company that makes things easier. I've got access to Dad and can talk to him directly if I need to. However, there's a shadow side of that. I'm launching our first direct-to-consumer brand that we've built from scratch. That was a really hard thing to get over the line. It's taken over two years to get it to market and I've had to fight for it."
Making BraveFace a success is intensely important to Katherine. You can feel that intensity coming off her in waves. This isn't a woman who leaves much to chance. In fact, she seems to have elevated goal-setting to an art form. Every year, she sets out personal and business vision boards that guide the way she leads her life.
"I've made my own goal matrix, which grids everything into nine sections," she explains. "One might be work-life balance, for example, or the type of leader I want to be. From those visions, I write my goals, which I review every six months. My friends always say, 'Oh, you're so disciplined', but if I don't write things down, it becomes quite chaotic in my mind and I can't focus."
Work-life balance might be up there on the vision board, but there hasn't been a lot of time to go surfing this summer. That's a short-term situation, she promises, and no matter how busy life gets, she's careful to look after herself.
"For me, that means spending time cooking healthy meals, exercising regularly and being with the people I love," says Katherine, who also shares her life with two Persian cats and a Maltese Cavalier dog. "I'm more productive and clearer- headed when I do those things."
Some day in the future, her father is going to step down from his role as managing director at Douglas Pharmaceuticals, just like his father did before him, but Katherine isn't necessarily a shoo-in for the job.
"It's not a given," she says. "I don't even know if that's what I want yet. We have 800 staff, so it's a big company and a huge responsibility to take on. I'd never say never, but it's too early and I'd only want to do it if I felt like it was the best thing for the business and for me. I've got a lot of experience to gain before then."
Some long-term employees at Douglas Pharmaceuticals have known Katherine since she was a baby, so it must have been quite an adjustment to see her rise as a boss. "That's even something I struggle with a little bit with my dad," she admits with a smile. "At times he forgets that I'm not a teenager any more."
Katherine's aware that she's in a fortunate position, but the idea that she has it all is definitely another of those misconceptions. "People say, 'It's easy for you because you're wealthy' – but, no, my grandad was, not me. I suppose I could coast along, knowing that I'll always have a roof over my head, but it's not in my nature. I'm too Type A for that."