Dogs loved it, cats may or may not have cared and fish probably didn't notice – but many of us humans have never felt more grateful for the pets that got us through the stress of lockdown and beyond. From enhanced mental health to improved fitness, the emotional and physical benefits of animals have long been known, and they also have an extraordinary ability to comfort us when times are tough. Here, four women tell Sharon Stephenson about the healing powers their pets have provided them.
Nadia Sosa
WEST AUCKLAND
In West Auckland, Nadia Sosa, 39, is bathing her five-year-old dog Frankie in medicated shampoo when Woman calls. "Frankie's pretty high maintenance because he suffers from a number of skin allergies, as well as separation anxiety," says Nadia of the dachshund who originally belonged to her former partner, but she adopted when they separated three years ago.
Nadia was born in Argentina and came to Auckland in 2007. She works as a corporate digital manager and lives alone in a three-bedroom house she recently bought to provide Frankie and her cat Indie with a garden. "I've always had pets and they mean the world to me, particularly because of the unconditional love they give," she says.
Nadia spent part of lockdown with her mother, who was visiting from Argentina. "Mum was diagnosed with cancer when she arrived in New Zealand, but thankfully she's in remission now," she says.
Most of the time, though, it was just Nadia and her two pets. "I usually work from home one day a week, but working from home 24/7 was fantastic because I was able to spend so much time with my animals," she says. "It helped Frankie's anxiety because I could play with him, train him and do what the dog trainer calls enrichment activities, including hide and seek."
Having two other living, breathing souls in the house also helped to take the edge off Nadia's sense of isolation. "I'm a really social person, always spending time with friends or doing sports such as climbing, but lockdown put paid to that. Having Frankie and Indie in my bubble made it far less lonely."
They also helped Nadia curb her workaholic tendencies and establish a routine that saw her get up at a set time to walk Frankie and step away from her laptop at the end of the day.
"I'm very career focused and if I didn't have Frankie and Indie, I'd work 10-12 hours a day," says Nadia. "Pets force you to focus on them, to slow down and de-stress. Even looking at them lying in the sun or watching TV with them on the couch can be relaxing."
Nadia has continued to work from home since Auckland's lockdowns ended and says she now makes sure to take time out for herself, too.
"I'll go for a run or a bike ride, which is also good for Frankie because he gets used to being away from me."
Augusta Grayson
HAWKE'S BAY
It's fair to say that 2020 didn't quite work out the way Augusta Grayson planned. Last March, the 38-year-old and her partner James Reid shifted from Auckland to Hawke's Bay to be closer to her elderly parents, a move that also involved relocating her dog training business and finding new clients. Two weeks after moving to a property on the outskirts of Havelock North, lockdown was announced.
"Our bubble consisted of me, James, our elderly cat Nigel, two goats we inherited with the property and our dog Storm, who we got the day we left Auckland," says Augusta. "Not only were we still unpacking stuff, we suddenly had to get used to being in each other's faces 24/7."
But Augusta's no stranger to a challenge. Two years ago, long days and relentless deadlines saw her burn out, so she quit her 16-year career in advertising to become a dog trainer.
"Giving up the great salary and the cool world of advertising was tough, but I wanted to do something I was passionate about and make a difference," she says.
As it was for so many people, lockdown was stressful for Augusta. "I'd lost all my work because I couldn't visit clients, yet it felt as if there was a lot of pressure to make the most of lockdown – to study or create things," she says. "James was working from home, and he was stressed and I was stressed because I wasn't doing anything except worrying about the future."
Her pets helped to distract her from a world that increasingly seemed to be falling apart. "If I didn't have the animals, I would've been left alone with my own thoughts, which would have stressed me out even more," she says. "I needed not only a reason to get up in the morning, but also the routine of feeding and caring for something other than myself."
Dogs, adds Augusta, are famous for knowing when their owners are anxious or sad. "It's incredible how having a cuddle with a dog can reduce your anxiety."
Storm (pictured below) also helped kickstart her business with videos she filmed during lockdown. "Storm is such a goofball and although her routine was disrupted with James and I being at home all the time, the plus side was I was able to film myself training her."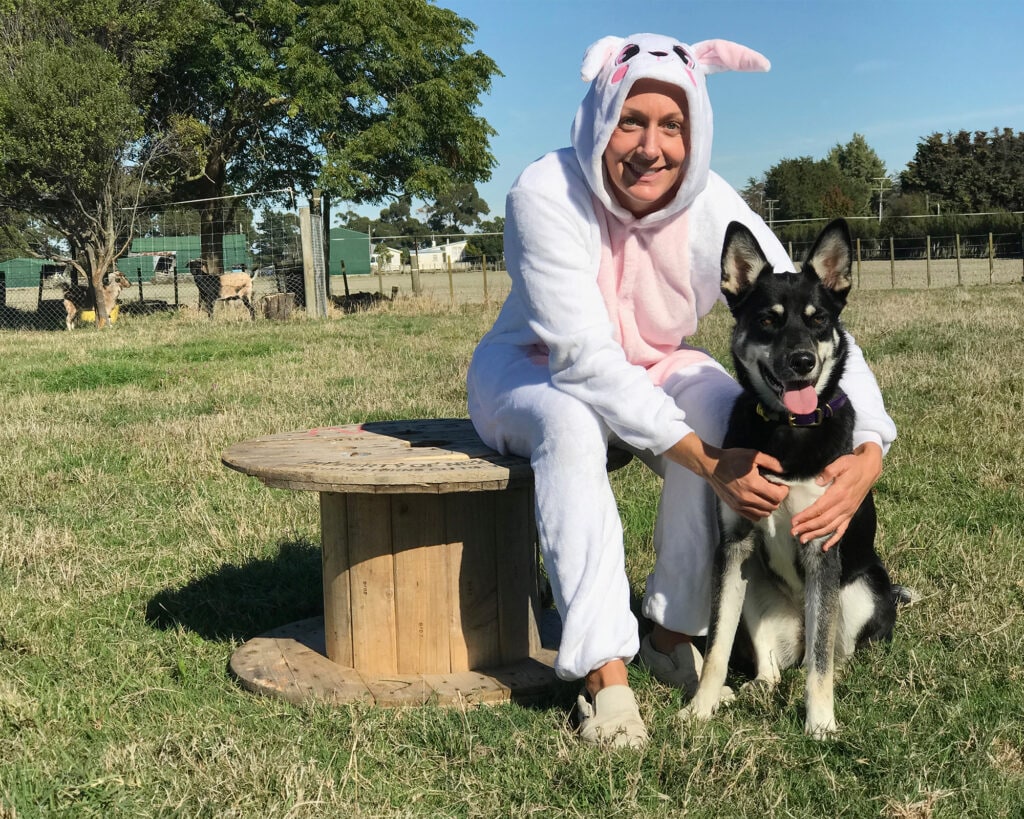 Fortunately, since lockdown ended, Augusta's business has picked up with lots of "lockdown puppies" needing training. "Many of them haven't been socialised with other dogs, but there are also older dogs who are experiencing separation anxiety now that their owners have gone back to work, so it's also about working on those issues," she says.
Katrina McClelland
WAIRARAPA
Pinned to the wall above Katrina McClelland's computer is a quote from Winston Churchill: "There is something about the outside of a horse that is good for the inside of a man."
It's an apt description for how the entrepreneur and digital marketer feels about the two foals she adopted during lockdown last year.
"I was supposed to be buying a cow so we could make our own cheese, but I owned a horse as a teenager and when I saw these two foals on Trade Me, I had to have them," says Katrina, 51.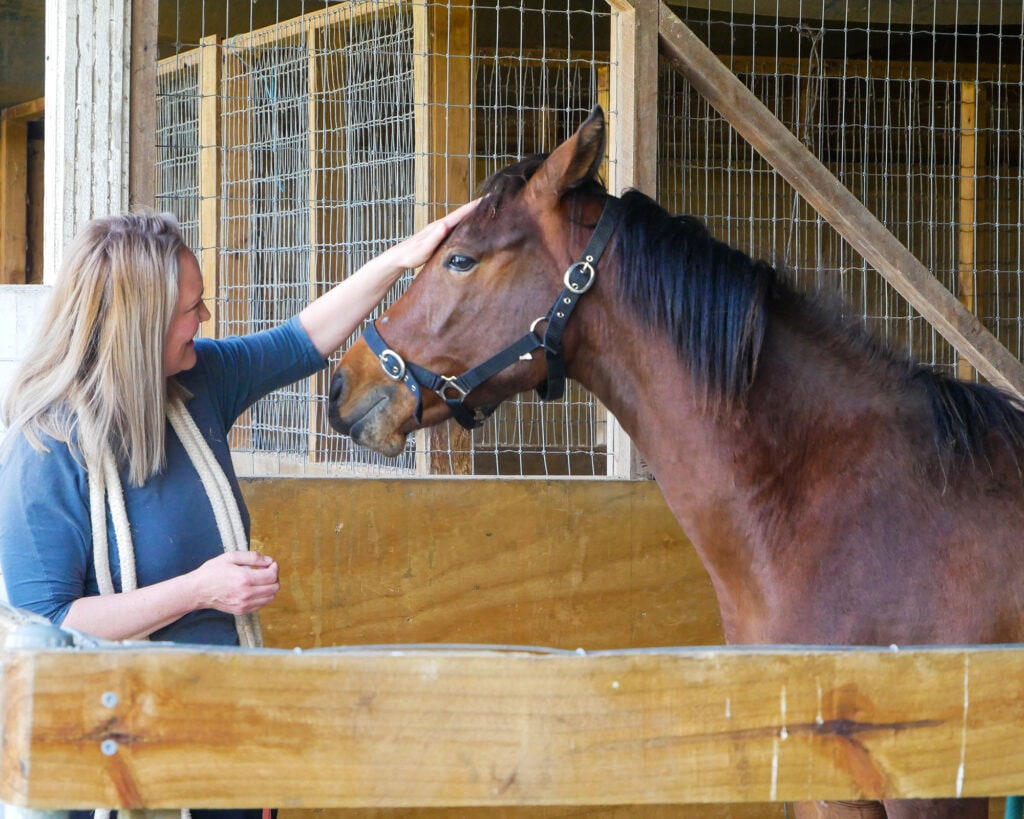 It's been a year of change for Katrina, her husband Jason and children Oscar, 20, and Edith, 17 – as well as 18-year-old Maddison, who Katrina is a guardian to. In October 2019, they packed up their lives in Wellington and moved to a 5ha block north of Masterton in search of the good life.
That included planting hundreds of olive and citrus trees that they hope to eventually earn an income from, and acquiring six chickens, five kunekune pigs, two horses and two sheep, who not only keep the grass down, but also provide fertiliser for the orchard.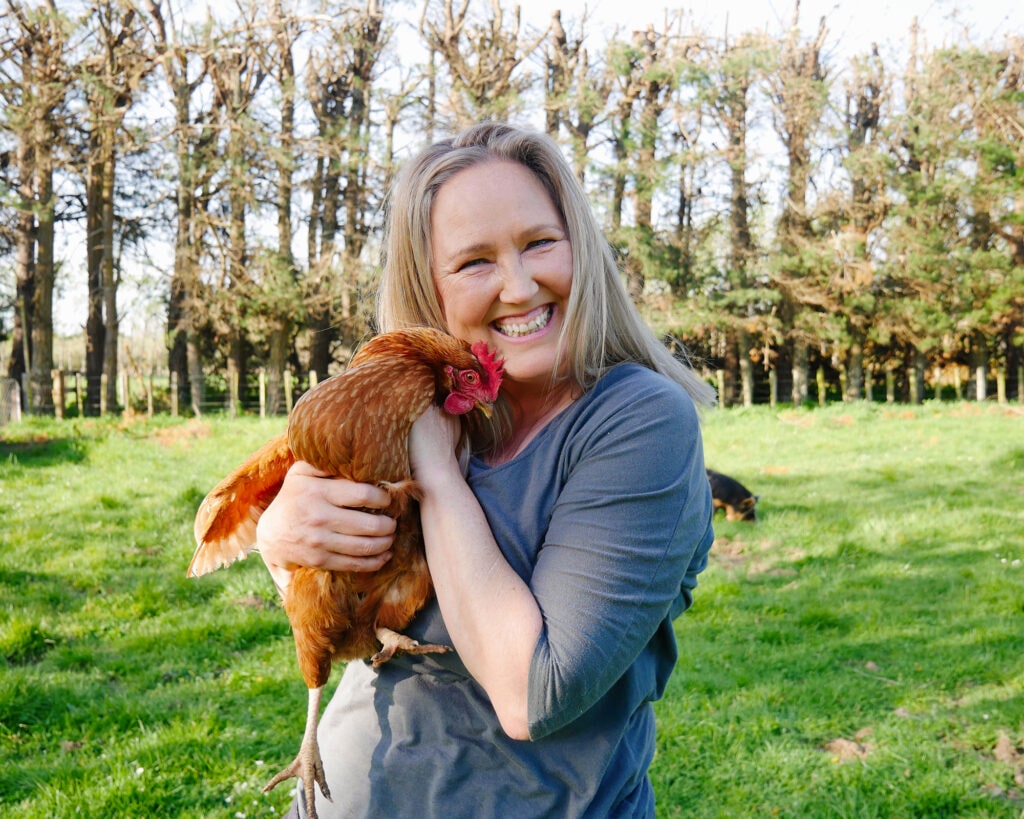 The couple already owned a dog, and, having lost their cat two weeks after moving, when the SPCA put a call out for people to take animals just before lockdown, they adopted a kitten named Blue.
Losing her job during lockdown was a blow Katrina wasn't expecting. "But I'm a positive person and having the animals helped so much," she says. "It meant I still got up at 7am to feed them and train the foals. It's hard to be negative when your animals are so happy to see you."
Having owned and run eight international businesses in her life, Katrina's used to operating at turbo speed. "I'm the kind of person who's always busy and goes 100 miles an hour, but with animals, you have to go at their pace. It's an enforced slow-down that's great for my mental health."
The menagerie also helped her daughters, both of whom suffer from anxiety and depression, as well as her son, who's been training the foals with his mother.
"Oscar had never been around horses but it's really building his confidence and getting him away from the online world."
Post lockdown, Katrina has found a job closer to home, which means she doesn't have to spend four hours a day commuting to Wellington.
"I didn't realise how tiring and stressful it was," she says. "This year has had its downsides, but I'm glad we've come out the other side in a better, stronger position."
Deborah Sampson
WELLINGTON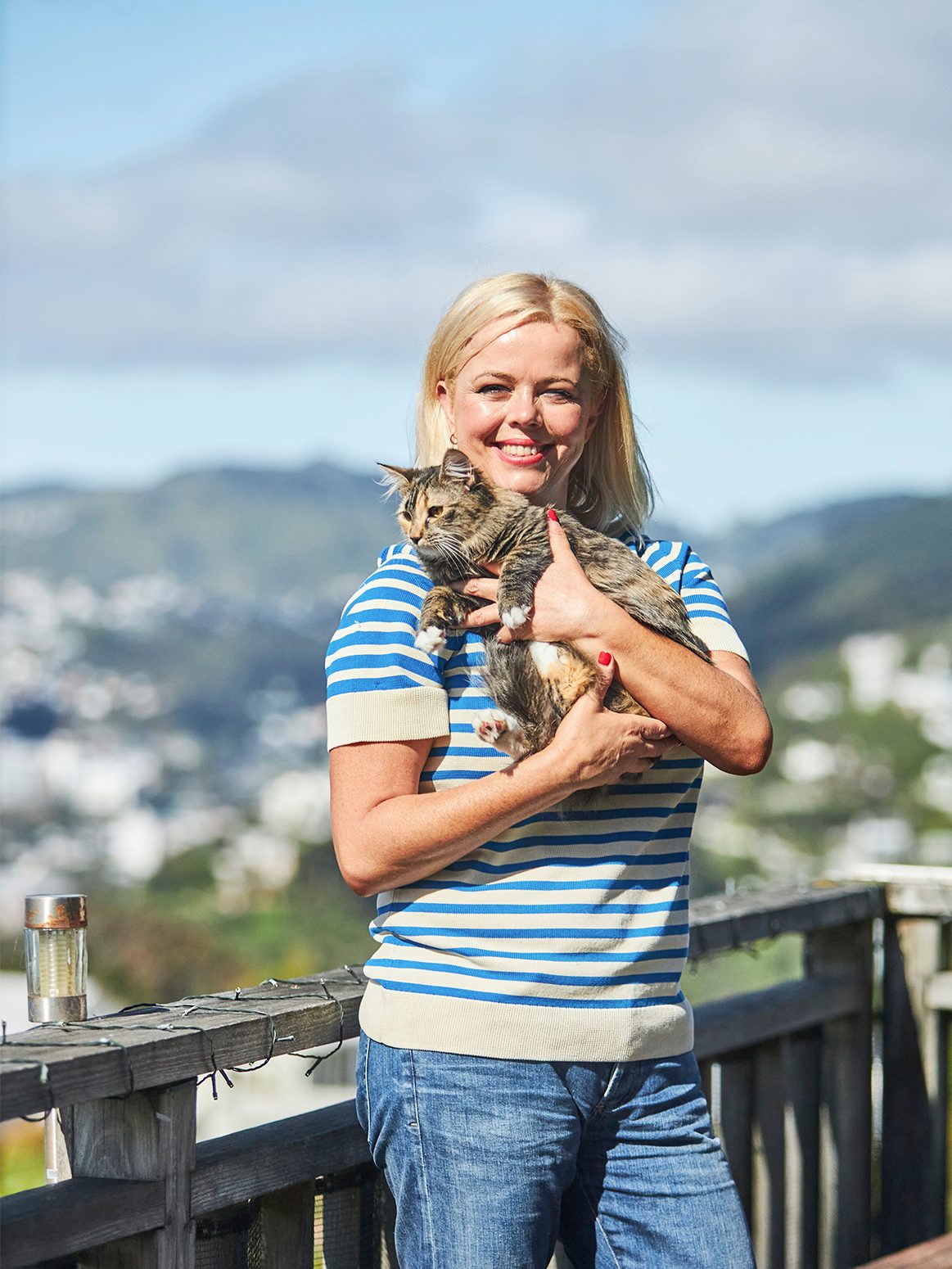 There's never a dull moment at Deborah Sampson's house. The PR consultant and beauty educator shares her clifftop Wellington home with husband Robbie and their three adult children – Georgia, 23, Ethan, 20, and Eva, 16 – as well as a rotating cast of friends and family.
For nine years, a standard poodle called Tom was also a key part of the family. "Tom died last year and it's taken me this long to get over him," says 50-year-old Deborah of the pet she had since he was eight weeks old. "Eva kept asking me for another dog, but I wasn't ready. Then just before lockdown, I was looking on HUHA's website and saw a little kitten – one of a litter of six that had been dumped on someone's lawn."
The eight-week-old kitten, which was subsequently named Roxy, was to prove a lifeline during lockdown.
"She gave us all something else to focus on when everything seemed so grim and the news coming in from all over the globe was so horrible," says Deborah. "It was quite noisy at times with all of us home, so each of us being able to take 10 minutes out of our day to feed or cuddle Roxy made the world of difference to our mental health. And as anyone who's ever had a kitten knows, they're incredibly playful, so Roxy entertained us with her antics."
Being able to take 10 minutes out of our day to feed or cuddle Roxy made the world of difference to our mental health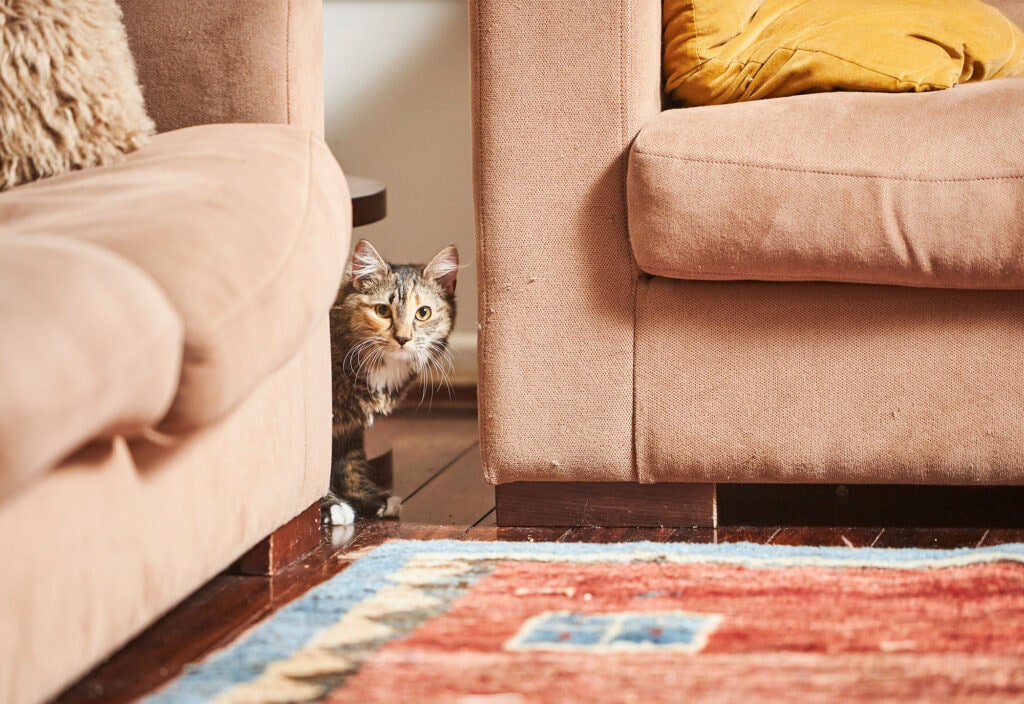 Having a cuddly kitten has also helped take the sting out of daughter Georgia losing her job during lockdown. "She's at home now while she looks for another job, so Roxy is happy about that," says Deborah.
Deborah's hoping to get another dog once renovation work is completed on the family's home and their section is fenced. One thing this experience has taught her is to stick with rescue pets. "While looking for Roxy, I saw just how many poor animals are abandoned each year. It's heartbreaking, so I could never get another designer dog. Roxy saved us and I hope I can do the same for other animals."
Even closer companions
Kiwis have yet to be surveyed about their experience of lockdown with their pets, but a UK study by the Waltham Foundation found that 86% of respondents felt they bonded more with their animals during lockdown. The same survey revealed that 60% thought their pet helped them maintain a regular routine and 43% reported their animal reduced their anxiety. Of those working from home, 58% said their companion animal boosted their productivity and motivation, while 12% revealed they chatted to their pet about their workload or colleagues.
Another UK survey a month later showed that nine out of 10 participants said their pet helped them cope emotionally with lockdown.
Author Dr Elena Ratschen, a health scientist at the University of York, says people who reported poor mental health also scored highly on the strength of their bond with their pet. "We also discovered that the strength of the emotional bond didn't statistically differ by animal species, meaning that the people in our sample felt on average as emotionally close to, for example, their guinea pig as they felt to their dog."