Ellen Mackenzie found her perfect match on dating app Bumble.
When Ellen Mackenzie walked into 2020 as a new business owner, unexpectedly single for the first time in eight years and ready to jet off to Bali, she never foresaw a global pandemic – or the love of her life – fast approaching.
"I'd finally left my corporate job to become self-employed so I could work from anywhere," says the 25-year-old, who juggled the launch of her digital marketing agency, Dishing Up Digital, with her relationship break-up. "I told myself, 'I don't want to date. I'm destined to be this independent, amazing businesswoman doing all this travel."
But like many singles who cured lockdown boredom by swiping through potential matches on dating apps, then-Auckland-based Ellen created a profile on Bumble. One of the first men to catch the former journalist's eye was South African-born Alastair, 26, who reeled her in with a humorous reference to Friends in his bio. "I love that show, so I thought I'd give him a whirl," Ellen muses. "He was the only one I chatted to back and forth, and the messages were so long they'd cut off!"
Two days after matching, Alastair invited Ellen for a virtual Friday evening drink over video call. "He was friendly and charming, and I thought the date went really well. But then he cut it short by saying he had to go, so I was nervous he hadn't liked the date." It turned out Ellen's love interest enjoyed her company so much he wanted to end the evening on a high.
Virtual dinner dates followed, then binge-watching the Netflix series Tiger King together, which became the highlight of Ellen's lockdown.
"I think we used the excuse of being addicted to that show so we could have another virtual date," she says. "It became very comfortable, and I'd show up in my PJs or zebra onesie."
After seven weeks of online dating, when Level 3 lifted, the pair finally met in person. "He was taller than I realised, and I didn't know whether to hold his hand or not. It's weird, feeling like you really know someone but it's the first time seeing them," Ellen recalls. "We walked on Takapuna Beach, climbed to an uphill picnic spot and then drove around until dinner. It was a long date because neither of us wanted it to end."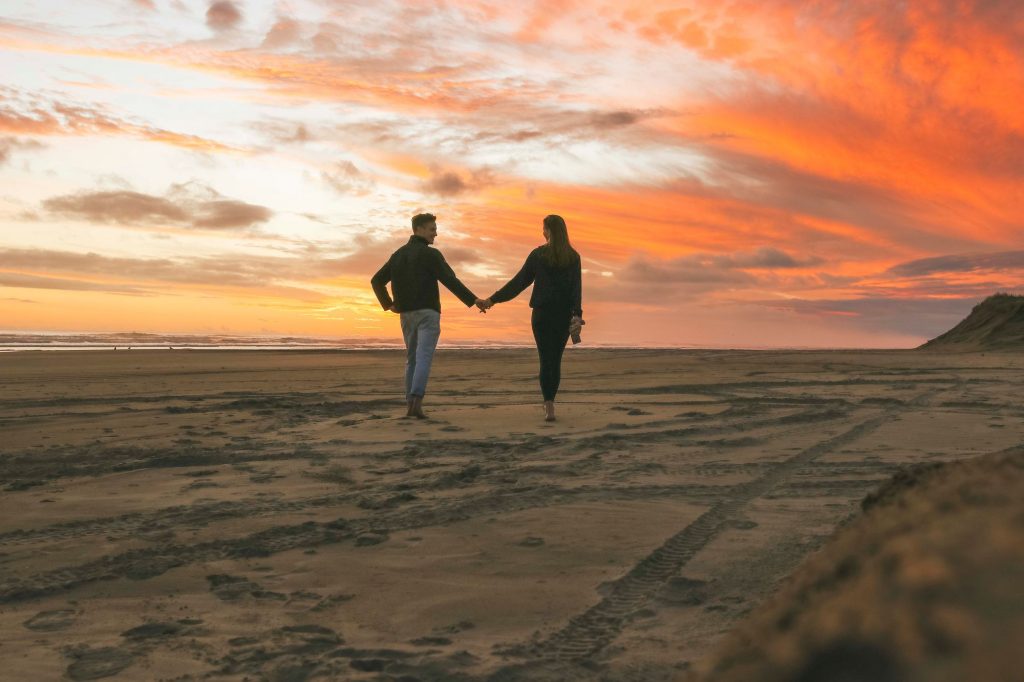 Two weeks later, after a road trip to Cape Reinga and Northland, they became official. And five months after that, Ellen moved to Wellington with Alastair, who'd snapped up a new finance job. The pair are now fostering dogs together.
"It was very fast, but when you know, you know, and it feels like we were always meant to find each other," she says. "I don't know what would've happened if lockdown hadn't happened, or if I hadn't started my business and been able to move with him. It was the weirdest, craziest, perfect timing for us."