Create a sustainable wardrobe with natural fabrics, second-hand finds and ethically made garments.
We all have to get dressed – most days, anyway. Luckily, there are many ways to shop in a more sustainable way. The ethical fashion movement has made significant progress over the last 10 years, thanks in large part to organisations like Fashion Revolution, which encourages transparency around garment manufacturing. As more brands work in sustainable ways and share information about their supply chains, it becomes a lot easier to dress with the planet in mind.
1 Second-hand shopping
While hunting through previously worn clothing isn't everyone's cup of tea – and availability of time and inclusive sizing can be issues – choosing to reuse is a super sustainable way to shop. Whether you purchase from an op shop, vintage shop, online business or a market, buying used clothing stops items from going to landfill, while cutting out the manufacturing and shipping impacts of buying new.
2 Ethical buys
When purchasing new items, try to look into where the item was made and by whom. Many clothing manufacturers work for very little pay in unsafe conditions – seen most tragically in 2013, when a garment factory collapsed in Dhaka, Bangladesh, killing 1134 workers.
If you can, support companies which pay fair trade wages or guarantee a living wage or above, plus offer employees set working hours, holidays and safe working conditions.
Don't be afraid to ask brands the hard questions – the most ethical ones should have supply chain information on their websites. You can also check out a brand's rating on the website and app Good On You, or have a look at the Ethical Fashion Report produced by Tearfund and Baptist World Aid. Local brands with ethical options include Kowtow, which sells certified organic, fair trade cotton clothing made in India; ReCreate, which offers fair employment to people from marginalised communities in Cambodia; and Esse, which makes its garments in small workshops in Vietnam and Indonesia (and just opened its first permanent retail space at Bloc in Auckland's Mount Eden).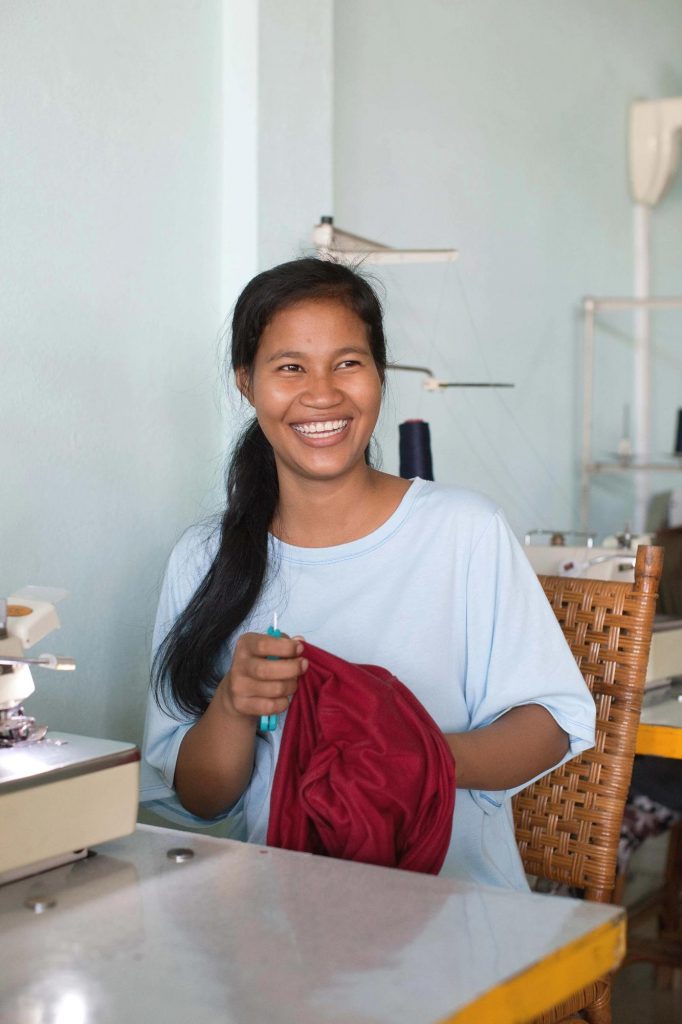 3 New Zealand-made clothing
Choosing locally made pieces is another ethical way to shop and provides an opportunity to support the New Zealand manufacturing industry. Brands making most or all of their garments on our shores include Maggie Marilyn, twenty-seven names, Kate Sylvester, Zambesi, Nom*D, Carlson, Mina, Penny Sage, Standard Issue and more. Twenty-seven names and Maggie Marilyn provide transparency on the origins of each garment – their websites list precisely where each item was made and where the fabric was sourced. Buying from small makers and upcyclers such as Geo Knits Slow, which transforms old fabrics into knitted garments, is another way to support the industry.
4 Sharing economy
Another excellent way to keep previously worn clothing in circulation is to share it with friends, family and the wider community. Options include receiving hand-me-downs, borrowing items, utilising rental services like Designer Wardrobe, and joining or hosting a clothes swap – you can even do this online with Swapology, a subscription-based clothes swapping service.
5 Fabric choices
It's not just how your garment is made that's worth knowing, but also what it is made from. Many fabrics are processed with chemicals and dyes which pollute the environment and harm the farmers and weavers working with them. Certified organic fabrics like cotton or linen are good choices – look for Global Organic Textile Standard (GOTS) or other certifications – as are natural fibres like bamboo, hemp, silk and wool (as long as they are sourced sustainably and ethically). Recycled fabrics are also ideal, as well as manufactured plant-based fabrics like Tencel. OEKO-TEX® certification ensures a garment has been tested for, and is free of, harmful substances. If buying recycled polyester, be aware that this will still release microplastics into the environment when washed, so natural alternatives are preferable when possible.
It's not just how your garment is made that's worth knowing, but also what it is made from
6 Buy less
Even better than buying something ethically made is not buying anything at all. Shop your own closet and rediscover an old gem, buy quality items so you can wear them for years, or rework or upcycle something so you get more wear out of it. Many Kiwi brands, including Esse, Mina and Maggie Marilyn, offer seasonless ranges to encourage slowing down the cycle of fashion. Looking after your clothes is also important – wash them less and repair them when you can. Some brands offer repairs on their clothing, while mending advocates like That Perfect Hour can inspire you to do your own.
7 Circularity
When you're finished with a garment, if it's still in good condition, pass it on to a friend or family member or donate it to a charity. If it needs fixing, consider mending or upcycling it, or if it's damaged beyond repair, turn it into rags or a pet bed, or donate it to a brand to be upcycled (for example, I Used To Be turns broken inflatable pool toys into bags). Some brands such as Kowtow offer recycling programmes so garments can be given a second life.
8 Make your own
If you can sew – or are willing to learn how – making your own clothing is a satisfying and sustainable way to dress yourself. Choose vintage, deadstock (excess or end of line) or organic fabrics from shops such as The Fabric Store. There are a number of designers offering cool patterns, including Liam Patterns and Elbe Textiles.