Told that she wouldn't make it as a musician, Bonnie Hurunui hit all the right notes to make her dream a reality. She talks to Hayley McLarin about overcoming doubt and rocking out with her band White Chapel Jak.
There is possibly nobody more influential in a teenager's school life than their careers advisor. They can harness a talent, or temper pipe dreams; they can fuel a fire that paves the way to a life-long passion, or they can destroy hopes and launch a student into loveless roles.
For Bonnie Hurunui, being told she told wasn't good enough to make a career out of music stifled a fire in her belly, and it was decades before she found the courage to embrace her insatiable desire to be on stage.
She's now an effervescent performer with her brilliant band White Chapel Jak, who won Radio New Zealand's Battle of the Cover Bands in 2018, and have opened for Bonnie Tyler and for Alanis Morissette. They went from the in-between set filler at Auckland's SeePort Festival one year, to being the headline act the next, getting 15,000 fans on their feet, singing and dancing.
Yet the sheer joy Bonnie feels while performing nearly wasn't realised at all.
"Music kept me at school until seventh form, and that was something no one in my family had done before," the 44-year-old reveals.
Bonnie, the second eldest of four children, was just one when her whānau moved from Shannon to Gisborne. At 10, her youngest sibling, Hemi, was born – their parents split up soon after his arrival, and mum Karen Richfield raised her four kids single-handedly.
"She is a fantastic mother who looked after us on her own resources," says Bonnie. "She grew her own vegetables, baked her own bread, swapped fruit for haircuts. She is an incredible worker."
By her own admission, Bonnie became a rebellious student at Gisborne Girls' High School, capable but not there for anything other than socialising and her love of music. In fourth form, (Year 10) she was fortuitously chosen to play the drums at the senior prize-giving.
"I thought senior prize-giving was just the most spectacular thing I had ever been to and I wanted to be part of it. I started to give music my all. I played drums for the choir, I played percussion in the orchestra – just every type of music I could get into."
Until she consulted with the school's careers counsellor.
"She pretty much told me there was no way in hell I would be a full-time musician. I trusted that it wasn't a possibility," she recalls. "It was so much fun, but you couldn't make a living out of having fun. Only exceptional people could be full-time musicians, and I wasn't exceptional."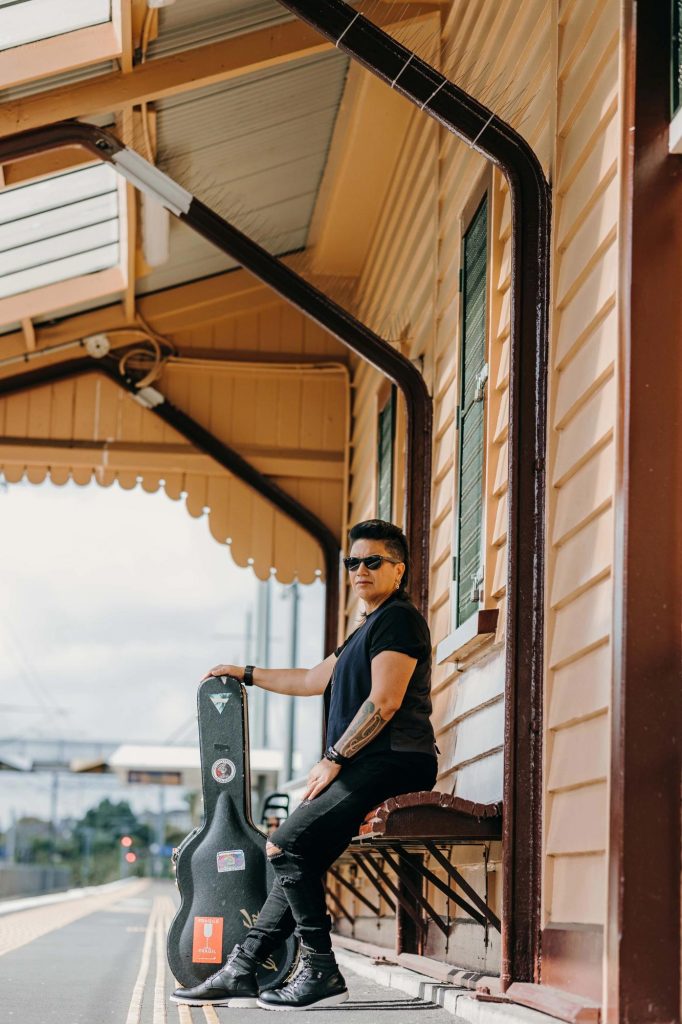 As a teenager struggling with her sexuality, Bonnie's confidence and tenacity had yet to flourish. At least at school she could perform, so she worked hard to ensure she could see out her dream to be at senior prize-giving.
"I got my UE [university entrance], but didn't know what else to do if it wasn't music."
A group from school went on a careers trip to Wellington, and Bonnie successfully completed business studies at Wellington's Central Institute of Technology.
Karen's work ethic was deep-rooted in her daughter, and Bonnie proved to be a powerhouse in the retail world. Her first job was managing a $2 shop in Kilbirnie, before launching convenience stores and managing retail outlets.
Wellington was far more bohemian than provincial Gisborne, and the capital city allowed her to be openly gay. It was learning to accept her sexuality that helped Bonnie start to believe in herself.
"I remember sitting with my sister-in-law and she asked, 'If you could do something where you didn't have fear, what would it be? One thing you absolutely love and there was no fear?' I knew the answer: 'Sing'.
"I'd gained my power in who I was, and that meant starting to play music again. I didn't need validation or a career counsellor to sing. I thought, 'If I can be gay, I can sing.'"
I'd gained my power in who I was, and that meant starting to play music again. I didn't need validation or a career counsellor to sing
Bonnie was 27 and working at a Star Mart in Courtenay Place when Lord of the Rings had its Wellington premiere.
"There on the roof of the Opera Bar was Julia Deans and Fur Patrol. She had her guitar down low, playing it like no woman I had ever seen. She made me want to be a rock star."
Open mic nights slowly nurtured Bonnie's confidence and she moved to Auckland in 2007, working in retail until the bright lights of the big city would lead her into full-time performing.
Serendipity stepped in two years later, when a new colleague turned out to be her high school basketball coach, Mandy Kupenga, who had been three years above her at school.
"She was the coolest. Head prefect, board of trustees rep, captain of the basketball team. She wasn't Mandy Kupenga, she was the Mandy Kupenga," Bonnie says.
They became great mates, but it was a year before they would realise their true feelings for each other, and in 2012, they became civil union partners in their backyard in Leigh.
Bonnie did the hard mahi, giving retail her all during the day, and working on developing a band after hours, eventually creating Bonnie and the Oosh.
"I listened to audio books to help build my state of mind that I could be a full-time musician, undoing years and years of 'you're not good enough'. I dealt with my insecurities and issues, with Mandy telling me that dreams can come true.
"The first 500 gigs, you are going to be quite sucky. Everyone's talking, no one is looking at you or paying attention. It's doing the hard yakka, one gig after the other, after the other. It doesn't matter if people like you. It's about 'do I like it?' You perform for yourself and that keeps you going."
Bonnie and the Oosh built a strong following, going on to record an EP and perform as the warm-up act for Auckland band The Nowhere Effect on their 2014 UK tour.
While Bonnie was ready to take the leap into playing full-time, her bandmates weren't, so she planned her next move and started searching for a group of like-minded musicians. She was ruthless in her audition process, wanting to find talented people that would fit together like whānau. It wasn't long until White Chapel Jak was formed, and Bonnie juggled work with performing before committing to the band full time five years ago.
White Chapel Jak is made up of Bonnie, percussionist Dean Tinning, and guitarist Nathan Boston – formerly of The Nowhere Effect – and they often perform with guests, including Dean's daughter Ocean. The band's energy on stage is palpable; they genuinely love what they do.
"People with natural talent will eventually peter out. You need to work hard. I have worked my arse real hard for this," Bonnie says.
Gigs playing background music at the Matakana markets soon became shows at Leigh Sawmill, then dates throughout the North Island, culminating in opening for international acts.
But then tragedy struck Bonnie's whānau, with several family members passing during her busy performing schedule. Burnout blindsided her.
"Bonnie was barely able to function," recalls Mandy, 47. "There were some days I wondered if she would be able to get on stage."
Mandy – whose teenage son Mitchel often works on the door or at the merchandise stand at gigs – had left her corporate job to work at the fishing advocacy group LegaSea, before hosting fishing show Get Your Fish On on Māori TV for two years and starting her own video production company. She swiftly stepped in to ensure White Chapel Jak could stay together.
"I had to take over running the band and our lives," Mandy says. "For me, 2019 was supporting Bonnie and White Chapel Jak. My passion is film-making and caring for the environment. I have a gnawing conscience – and I want to help. So last year I started working for Greenpeace while also managing the band."
Mandy has planned a busy year of gigs – including the North Island Good Time Tour later this month – while also steering the group towards writing their own material.
"We needed to start the transition to writing and recording original music," Mandy says. "I said to the guys, 'If you want to be the best cover band in the world, keep doing that. But if you want to get to another level, we need to shift our focus.'"
Angst, heartache, loss, validation, acceptance – Bonnie certainly has enough life experiences to write powerful bangers and emotional ballads.
"White Chapel Jak and music will tell you the health of me," Bonnie says. "My mum is happy and well now, but we nearly lost her. I have found the love of my life and have a gorgeous, clever son. We had an incredible summer playing gigs and felt the most amazing love from our fans.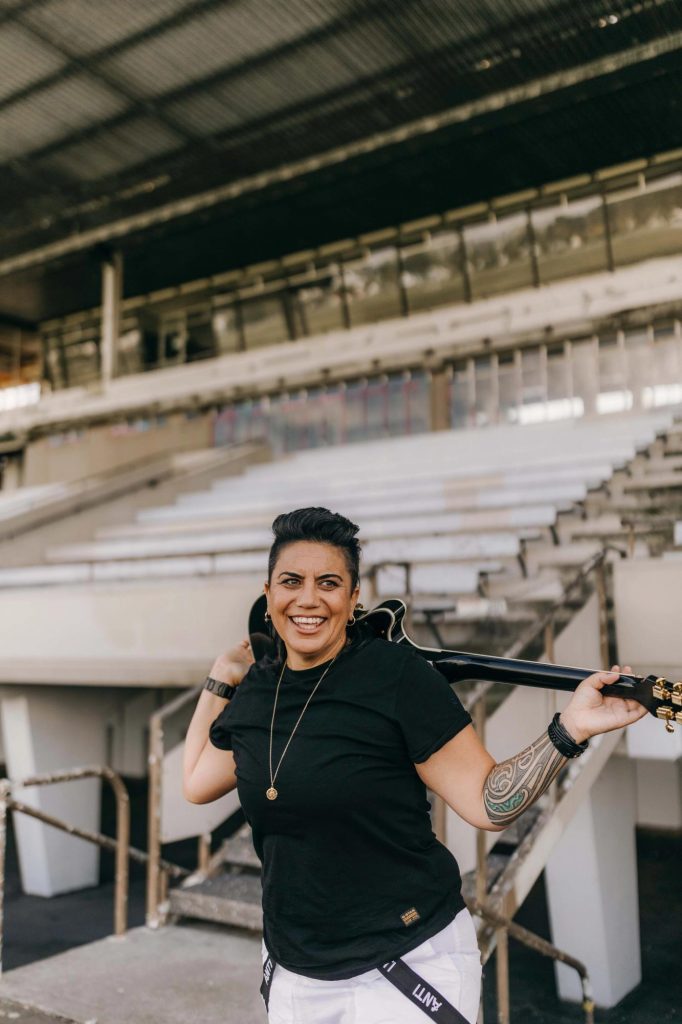 "I know I'm good at reading a crowd, I can give people a good time – it's pure joy, I am nowhere else but in that moment. I don't think I'm at my peak, but I love the way it feels. I do get a little crowd drunk, all that love can be quite addictive."
I know I'm good at reading a crowd, I can give people a good time – it's pure joy, I am nowhere else but in that moment
The chorus to the band's first original song "Everyday People" has all the markings of a 2021 theme tune, and perhaps a prophecy for Bonnie's music career: "One heart, everyday people/One love, everyday people/ Together we will rise!"