Pre-loved fashion finds can be the key to developing your signature look in midlife, stylist Stephanie King tells Thrive editor Niki Bezzant.
Stephanie King doesn't like looking like anyone else. And she doesn't subscribe to the idea of midlife women "hiding" in their clothes.
The stylist and owner of online vintage boutique Painted Bird rails against what she calls "the rectangle" – a style she sees women adopting more and more as they get older.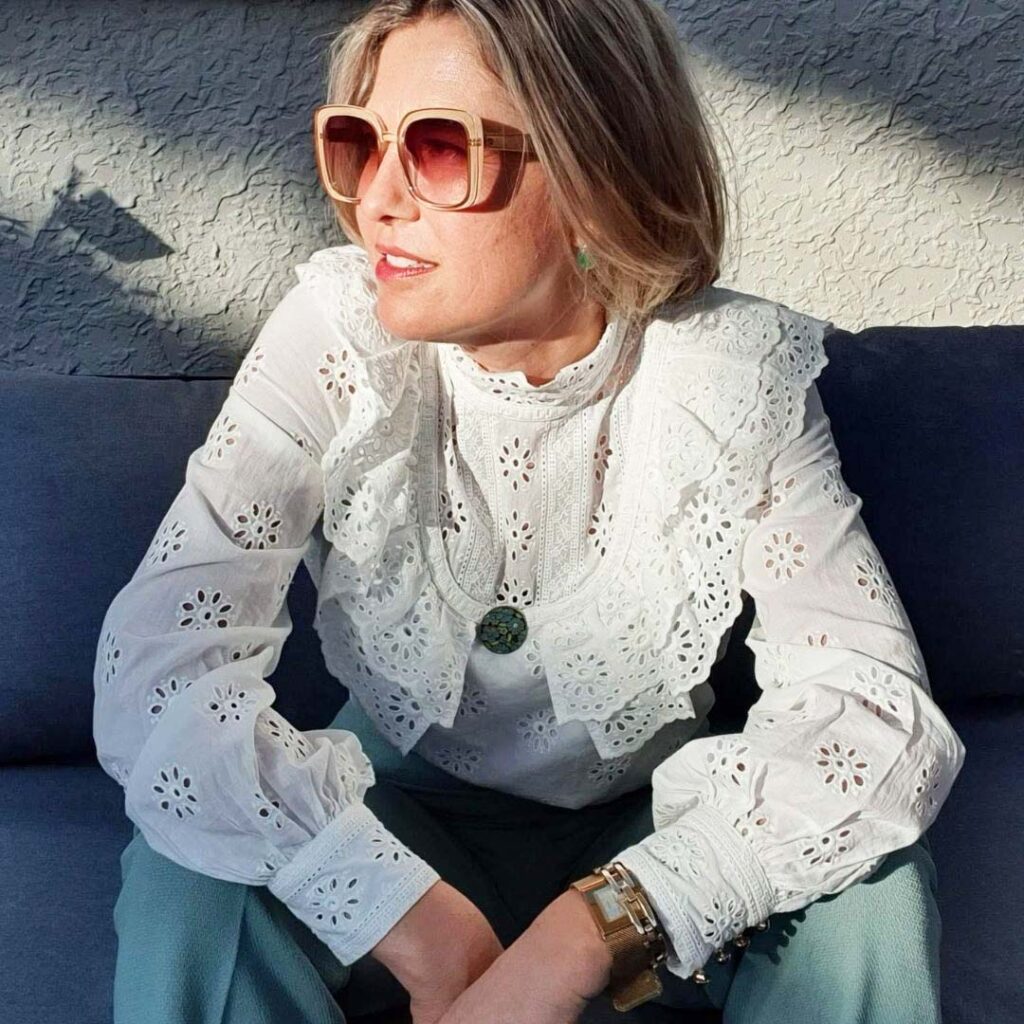 "Those loose dresses that are basically rectangles with armholes and a neck hole, and that's pretty much it. And then you get told, 'Oh, zhuzh it up with some jewellery.' But you're still making yourself look like a rectangle! When you look at yourself in the mirror, when you're already not that confident about the way you look, jewellery's not going to fix that."
Instead, Stephanie is a fan of experimenting – especially as we get older – with different looks as a way to regain any lost body confidence. Vintage garments, she reckons, are a great way to do that. "Vintage was made to flatter women of all shapes, all sizes, all forms. It was made to flatter you."
On the day we meet, she's a living example, looking stunning in a vibrant, shapely 1960s knit dress with modern jewellery and shoes.
"I'm feeling pretty good about this dress," she says. "And you can't see that I have had two caesareans, or see my lumps and bumps, or any extra Covid kilos that I've put on. You can't see that because this is not what everybody else is wearing. It's a reflection of me.
"I think that's one of the things people forget – when you are dressing in things you really like, you stand up better, you face people better, and they're not looking at all the stuff that you are not confident about."
For those of us just starting on a journey to being more creative with our clothes, and wanting to incorporate vintage into our wardrobes, she offers some advice.
"I would say, choose three colours and stick with those, and look for the basics of your wardrobe. I always wear dresses – so I would look for a dress and I would look for a skirt and I would look for a top, and then probably a sweater and a jacket. And if you're a trousers person, look for vintage trousers – though they are really difficult to find, so you can just use jeans. That's your basics, and once you've covered them off, then you can say, 'Oh, that blouse has got a little bit of that colour in it, it's my size – I can go with that.' And then you can start to incorporate other little bits and pieces, but you've got a capsule wardrobe of the basics of vintage, and then you can mix and match from there."

And how can we avoid feeling like we're in costume when wearing vintage garments? "If you like to look like you've walked out of a magazine from another era, I'm totally good with that," Stephanie says. "How cool, that you can emulate that. But that's not my style. I use heaps of accessories to make vintage look modern. If I ever get a chance to go op shopping, that's a thing I look for. I don't think you need to spend a million dollars to make things look current."
Stephanie says she enjoys finding one-off garments and putting unique things together. Her daily style is about experimentation. "I just look in the mirror and go, 'Can I pull that off?'" She encourages other women to do the same.
"I say: put it on, see what it looks like. Maybe walk around the house and see if anyone in your house goes, 'Holy Mike, what are you wearing?' Or do they go, 'Oh, you look interesting today.' Wouldn't it be better to look interesting than to look like you just came out of that fast-fashion shop in the mall?"
Steph's tips for developing your own unique personal style
Use your intuition. Develop and tap into the creativity you probably used to use when trying out different styles outside your regular wheelhouse.
Don't keep things you don't love. A bit of bravado can help you "own it" when you walk out the door. Help yourself find that confidence by not having a wardrobe filled with things that make you sigh in dismay at the prospect of putting them on.
Try all styles. Something that may not have looked nice when you were younger might be perfect for you now. Don't limit yourself – try it all.
Coordinate your accessories. Use the details so often found in a vintage or retro piece to help keep a focus when adding the rest of the elements, like accessories, shoes or jackets.
Dress to your mood. Sometimes simple is the best approach. Sometimes what you are wearing can give you an extra bit of daily armour, such as a bright colour or flamboyant print – it can really lift you.
Remember the stories of your clothes. Think about why your favourite piece is actually your favourite – it's not just about the way it looks on you. It's nice to have a story to go with what you are wearing. When you put it on, it can help your confidence knowing when or where you bought it, or who you were with. It can give you a quiet confidence.