As we embrace more colour in our home, green has positioned itself as a natural choice. It can be used for floors, beds, sofas and walls in exactly the same way you might have previously used grey. The earthy tones of green are pleasing to the eye because they're so prevalent in nature. They are restful, tranquil and soothing.
The green colour range includes bright and rich blue-greens, soft and earthy brown-greens, and everything in between. From kelp, sage, forest, kelly and juniper to moonstone, artichoke, emerald, mint and ivy, there really is a green to suit any interior.
Green naturally goes with blue because they're both cold colours and sit next to one another on the colour wheel. However, green can also be paired with pinks and peaches – complementary colours that sit across the wheel and therefore offer a high-contrast vibrant look.
Bathroom
If you want to make a statement in your home, a green bathroom delivers a real wow factor. Emerald subway tiles, a green vanity or green wallpaper can all look amazing, creating a luxury, one-of-a-kind feel. Baths, vessel sinks and tapware are also available in green.
TIP: To make a splash in the bathroom, lay tiles in a unique formation, such as basket weave or herringbone.
Flooring
Carpet company Bremworth rebranded in 2020 and made a commitment to New Zealand woollen carpets, ceasing production of synthetics. In this rebrand we've seen an exciting new range called Galet: a gorgeous chunky loop pile made from 100 percent felted New Zealand wool. It comes in 11 fantastic colours, including sage.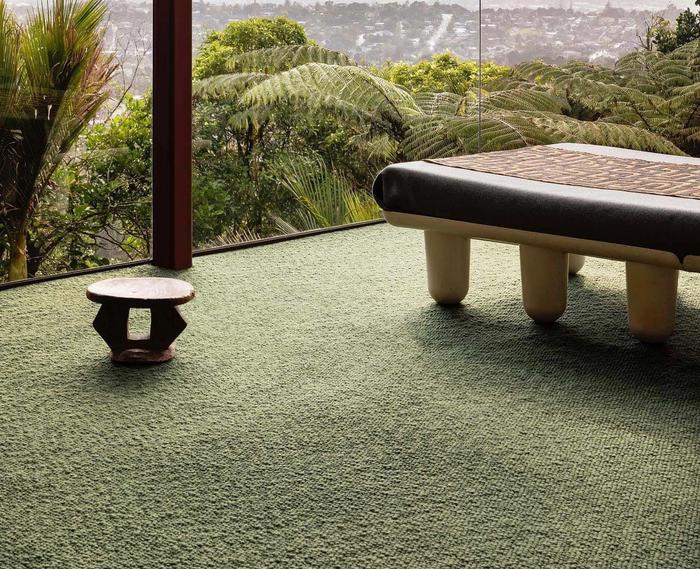 Galet carpet in sage by Bremworth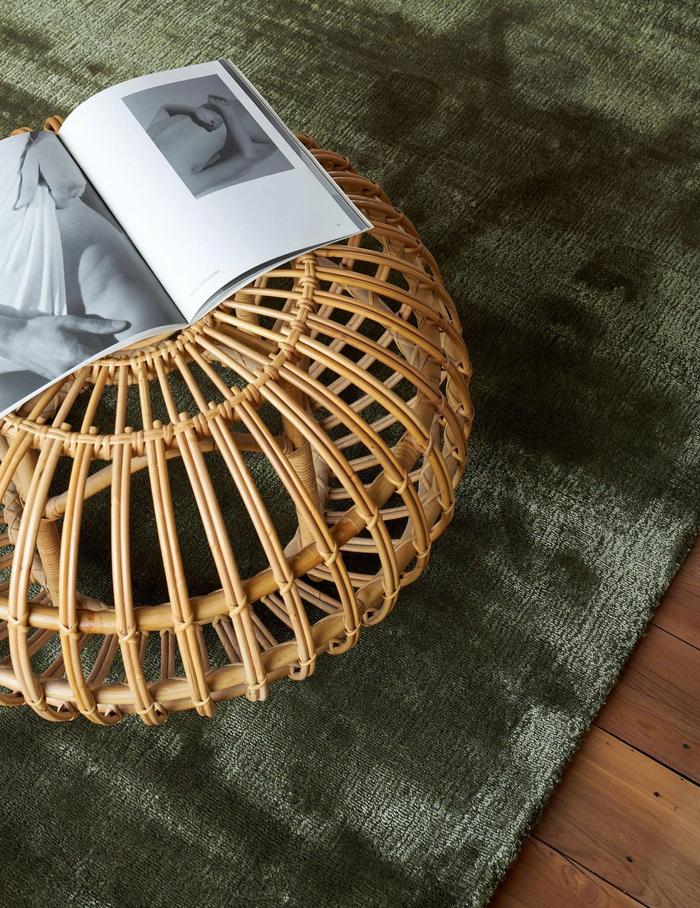 Green carpet and rugs create the feeling of bringing the outdoors in, almost like walking on the forest floor. A green floor rug works well with a very neutral palette, where its soft, earthy tones sit perfectly alongside ochre, natural, rust and cream furniture and interiors.
Paint
When choosing paint, I often start with the colour I want and then go back down the tint range a few shades to find a paler version, as once the paint is on the walls it always looks much brighter. These are some of my favourite green shades, from a soft, silvery grey with a touch of blue-green, through to a mid-toned grey-green.
Furniture
Green's natural tones are ideal when it comes to furniture, particularly as we once again start to embrace more colour in this area. A forest-green sofa would not look out of place in most interiors, whether classical, contemporary or Scandi.
Go temporarily green with a slip-cover sofa for a relaxed, natural feel, or make a commitment to luxury with Mokum's velvety Bespoke by Cat
Amazonia linen fabric by Mind The Gap, Mirage fabric in grove by Textilia at Home



Wallpaper
The sky is your limit when it comes to green wallpaper. From cute cacti, terrariums and tropical gardens to conservatories, classical English gardens, landscapes, geometrical patterns, stripes, dinosaur designs and flower gardens, there's a wallpaper to suit every room.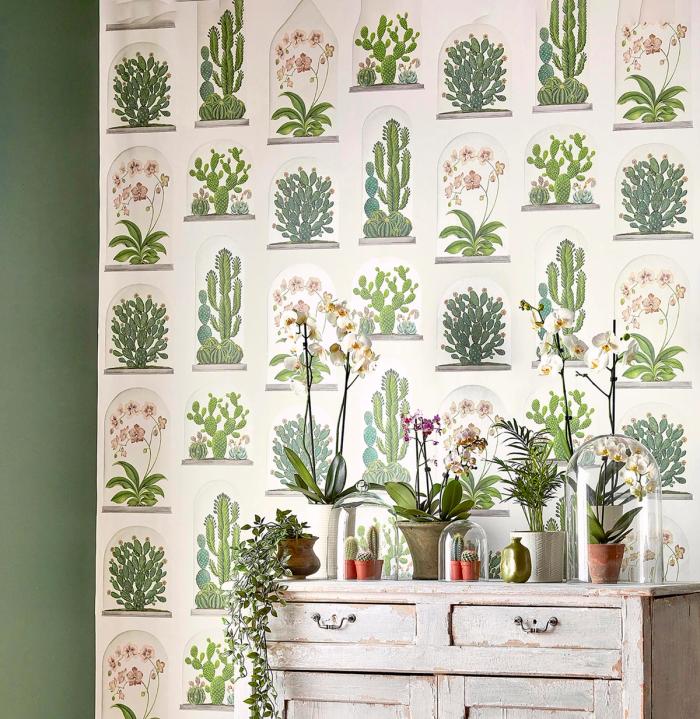 Terrariums wallpaper by Sanderson


Kitchen
Green kitchens have come into their own over the last few years, with Melteca and Dezignatek both introducing green into their colour ranges. Green marble benchtops and green tapware or sinks are also now available to provide that standout look.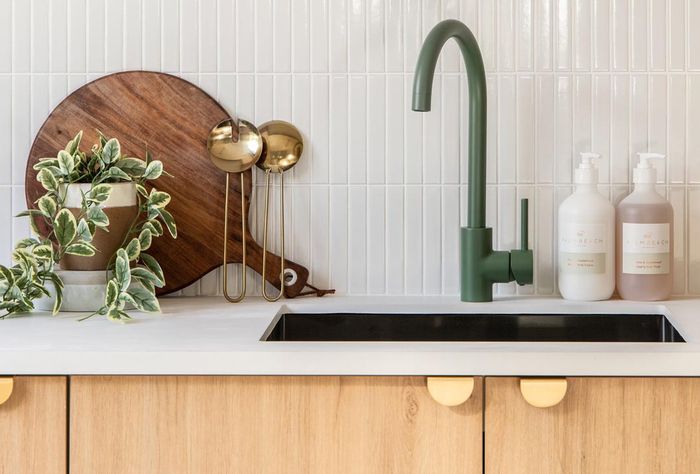 Elysian mixer in flora from ABI Interiors



Bed linen
Finishing touches
Accessories are like jewellery – they pull a design together. And what better way to accessorise your home than with plants? When decorating with plants, I find it better to have fewer larger plants than loads of small ones.
One easy place to bring green into your life is in your bedlinen. From children's rooms in bright kelly green to more neutral bedlinen in soft earthy shades, green linen duvets can be found at every linen suppier right now. If you're keen to try green but you're not 100 percent sure, this is a good place to start.
If you're not green-fingered, mix a couple of quality artificial plants in with real ones. Handblown green glass lighting also provides delicate, beautiful accents. Monmouth Glass Studio is known for its coloured glass pendants.
Twist Pendant in eel green, $750 from Monmouth Glass Studio
Mary-Ellen's green picks from jade-veined marble to mossy wool, go green and earthy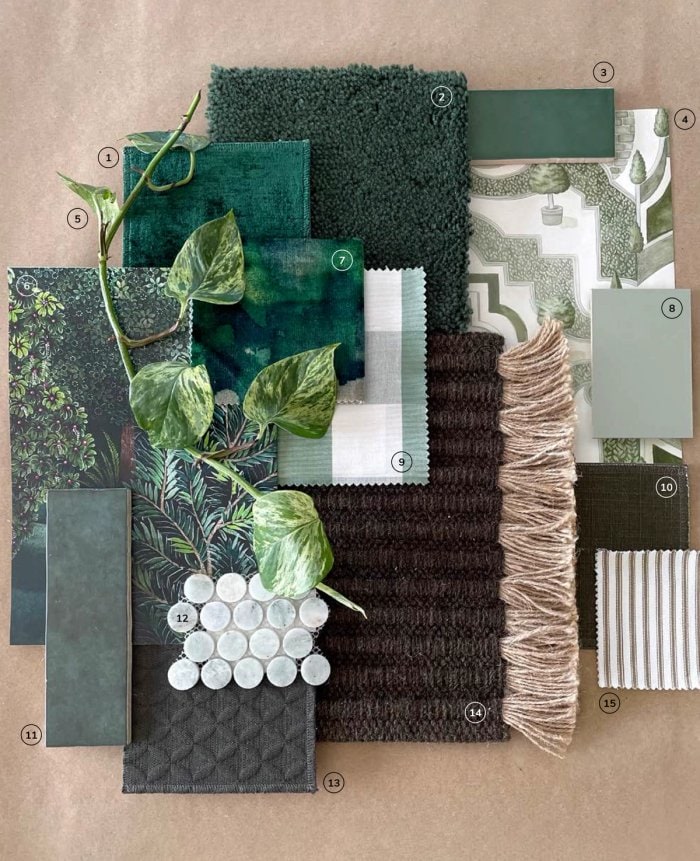 1 Bespoke by Catherine Martin fabric in emerald, from Mokum.
2 Maestro carpet in kelly, from Artisan.
3 Artisan slim subway gloss 58mm x 242mm tile in moss, from Tile People.
4 Topiary wallpaper in leaf green, from Cole & Son.
5 Epipremnum aureum 'Marble Queen' hanging plant, from The Plant Project.
6 Botanica Forest wallpaper, from Cole & Son.
7 Alchemy fabric in lagoon, from Warwick Fabric.
8 Melteca melamine panelling in bayleaf naturale, from Laminex.
9 Kemble cotton check fabric in celadon, from Romo.
10 Soho by James Dunlop fabric in fatigues, from James Dunlop Textiles.
11 Artisan gloss 65mm x 200mm tile in moss, from Tile People.
12 Money Penny marble mosaic tile in Chinese jade, from Tile Haus.
13 Topiary by Mokum fabric in martini, from Mokum.
14 Tasselled wool rug in moss, from Nodi.