Vertical gardens increase our growing space, green up urban landscapes and reduce carbon emissions. So aim high!
In my opinion, we should be surrounded by plants at all times – this means indoors and outdoors, and not just at ground level. We need them. David Attenborough says so too, in his new series The Green Planet. Yes, that's right, another series. "He looks like an 80-year-old, not a 95-year-old," my 10-year-old keeps saying, with deep love and admiration. My 12-year-old reckons he'll definitely outlive the Queen. In the show, which has glorious The Day of the Triffids-esque footage of plants competing with each other in a race to survive, Sir David reminds us that plants are responsible for every breath of air we take and every mouth of food we eat.
The conundrum of modern life is that high-density living means that many of us have less outdoor space to cultivate our own urban jungles, particularly if we're in an apartment or townhouse. So what do you do when you've run out of ground space? You take a leaf out of nature's book and plant species that have evolved to hitch a ride up walls – or you plant a garden on your roof.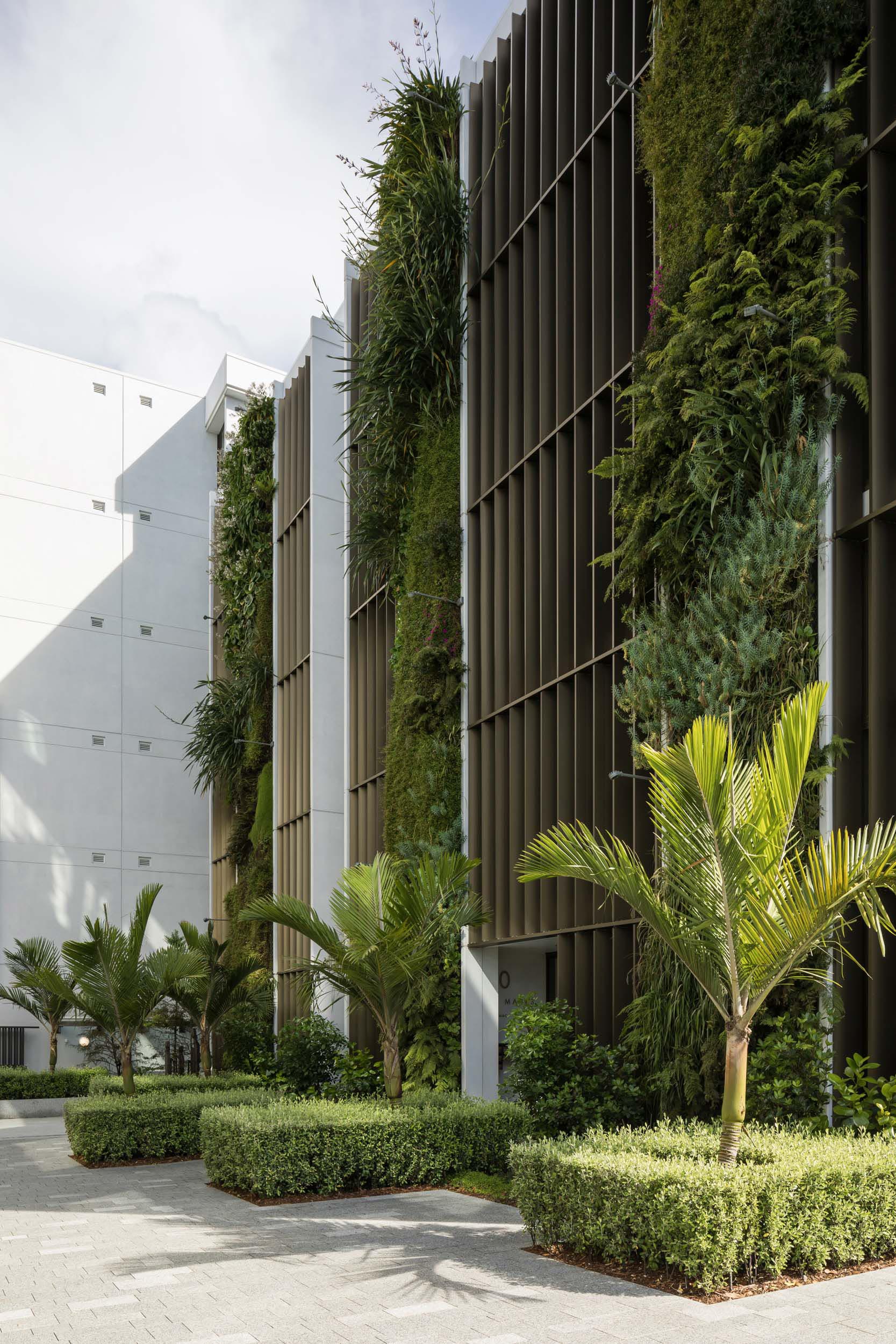 Natural-born climbers
Most buildings and walls look better clad in a cloak of green, and that's where plants that like to climb are at your service. There are the usual effective clingers- on, such as ivy and Virginia creeper, but if space is at an absolute premium, choose one that grows flat against the wall like the creeping fig (Ficus pumila). Its leaves are so small and flat that it almost resembles green wallpaper.
Or, grow a wall of scent by planting jasmine or native clematis (Clematis paniculata), which produces scented white flowers over spring and summer. Another fantastic climbing native, which will create a bobbly wall of texture with its tiny, wiry strands of leaves, is Muehlenbeckia complexa or waekāhu. If green bores you, bougainvillea will make a flamboyant pink or orange splash against walls and create a Mediterranean feel – but do remember that it's prickly, which is not so good if you're often brushing against it. Most climbers need a framework to creep up, so rig up some wire or trellis to get them growing in the direction you want. You can also grow most of them in planters, provided you give them good-quality soil and a decent-sized pot and remember to water them.
Off the wall
Landscape gardeners have been greening up the interiors and exteriors of buildings with living walls for decades, creating urban jungles that mimic the way certain plants scale trees or rocks and cliffs. In Aotearoa, landscaping business Natural Habitats is an expert at wrapping buildings up in a great big dose of living, breathing nature. The company creates green walls for both residential and commercial spaces – its 750sqm wall at Westfield Newmarket in Auckland contains 18,000 plants and is the largest living wall in the southern hemisphere, and its living walls of native plants that scale five storeys of the St Marks apartments in Remuera are among the tallest in the country, and helped earn the building a Homestar sustainability rating from the New Zealand Green Building Council.
Using innovative technology, Natural Habitats has developed incredibly lightweight structures and growing substrates for their vertical gardens, many of which contain native plants well suited to upwardly mobile living, such as rengarenga, flax, hebe, carex, ground covers, astelia and even dwarf pōhutukawa.
With the climate warming up and the race on for our government to reduce greenhouse gas emissions by 2030, we will need a lot more of these space-saving solutions, says Tom McCarthy, Auckland regional manager of Natural Habitats.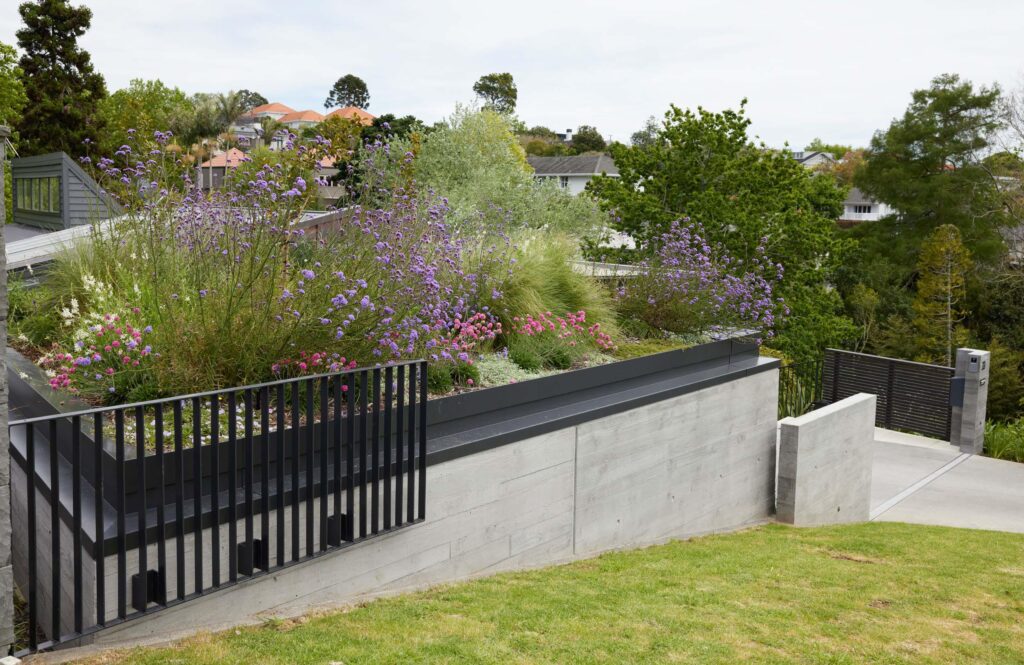 "Green walls cool the air, reduce pollutants, cleanse stormwater, reduce run-off and pollutants running into the ocean, they're food and shelter for fauna, they increase biodiversity, insulate buildings and assist with sound proofing," he says.
As well as keeping buildings cool in summer through their blanket-effect insulation, living walls can decrease heat loss in buildings by as much as 30 percent in winter, according to a 2021 study – which means they reduce your heating and air-conditioning bills while reducing emissions.
Do try this at home
Though you'll need to employ the services of green-tech experts if you want to clad your entire house
in plants, there is a range of smaller DIY modular or fabric pocket systems you can install at home.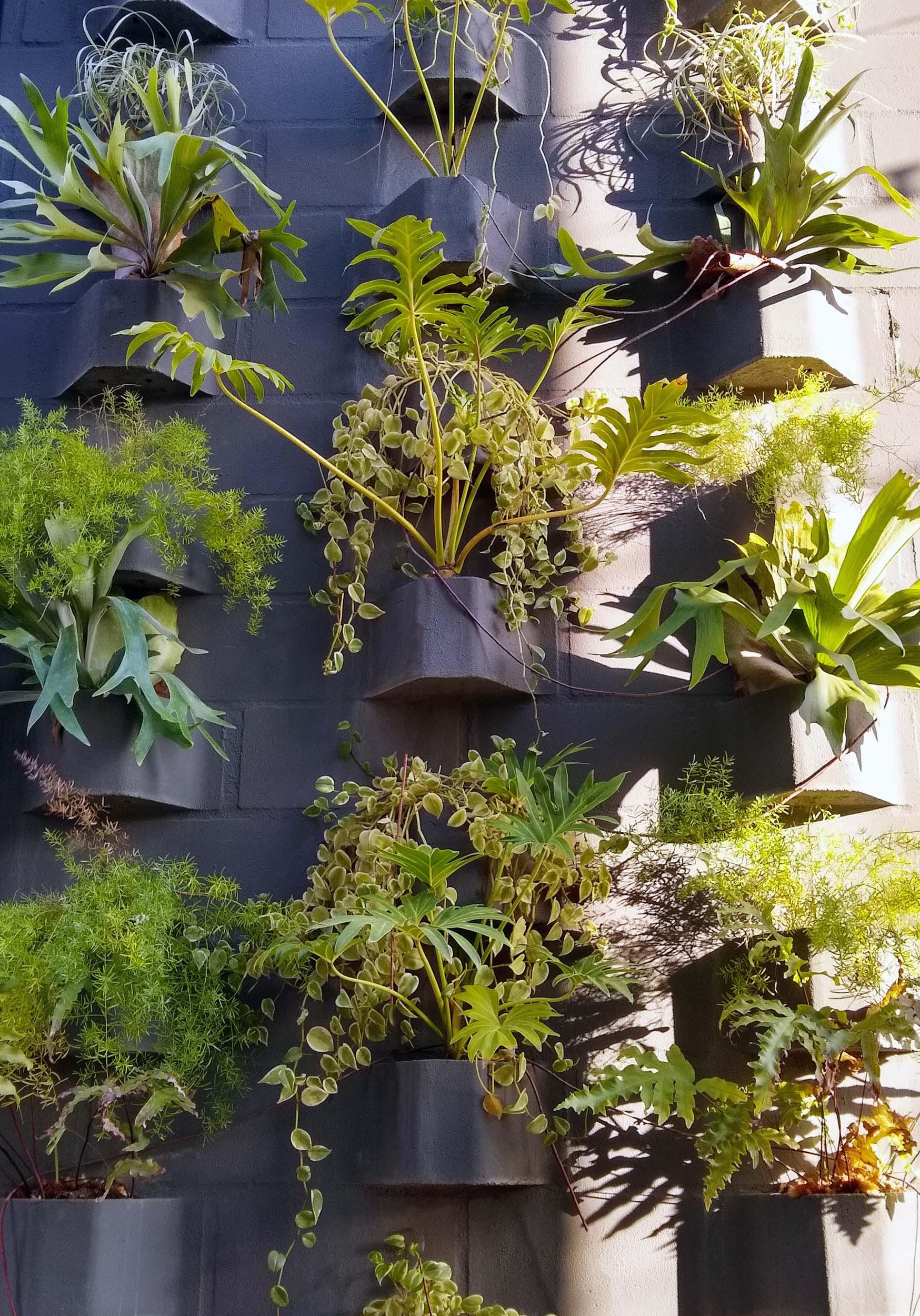 Many come with their own irrigation systems so you don't have to water them constantly. Just make sure you check the weight of your structure before growing one on a fence. They're also a great space-saving way to grow food – strawberries, rocket and herbs grow well in modular systems. And don't forget about planting on roofs, particularly if you're undertaking a new build and can incorporate a garden into your design. For existing structures, plants like succulents that barely require any soil and can handle the dry can be a good option for flat roofs such as garages, but if you want to go full rooftop garden, Tom advises checking with a builder to ensure your intended roof is structurally sound. You'll also have to factor in irrigation, and waterproof it to avoid leaks.