This home is a mere 17sqm but what it lacks in size it more than makes up for in ingenious living solutions.
Downsizing and small-scale living may not be a new trend but what's exciting is the way in which some 21st-century designers are addressing the desire for simpler spaces that still function as hard-working homes. This diminutive pod won't be for everyone but it's tightly packed with great ideas that will inspire anyone to live with less.
The thought process that has gone into the design of this contemporary tiny home is far bigger than the sum of its parts. It's a living, eating, sleeping, working, washing and chilling space that occupies a mere 17sqm!
Many of its clever solutions are reminiscent of life on a boat, from the clever streamlined cabinetry to surfaces that can be folded out as needed and stashed away again afterwards.
Prefabulous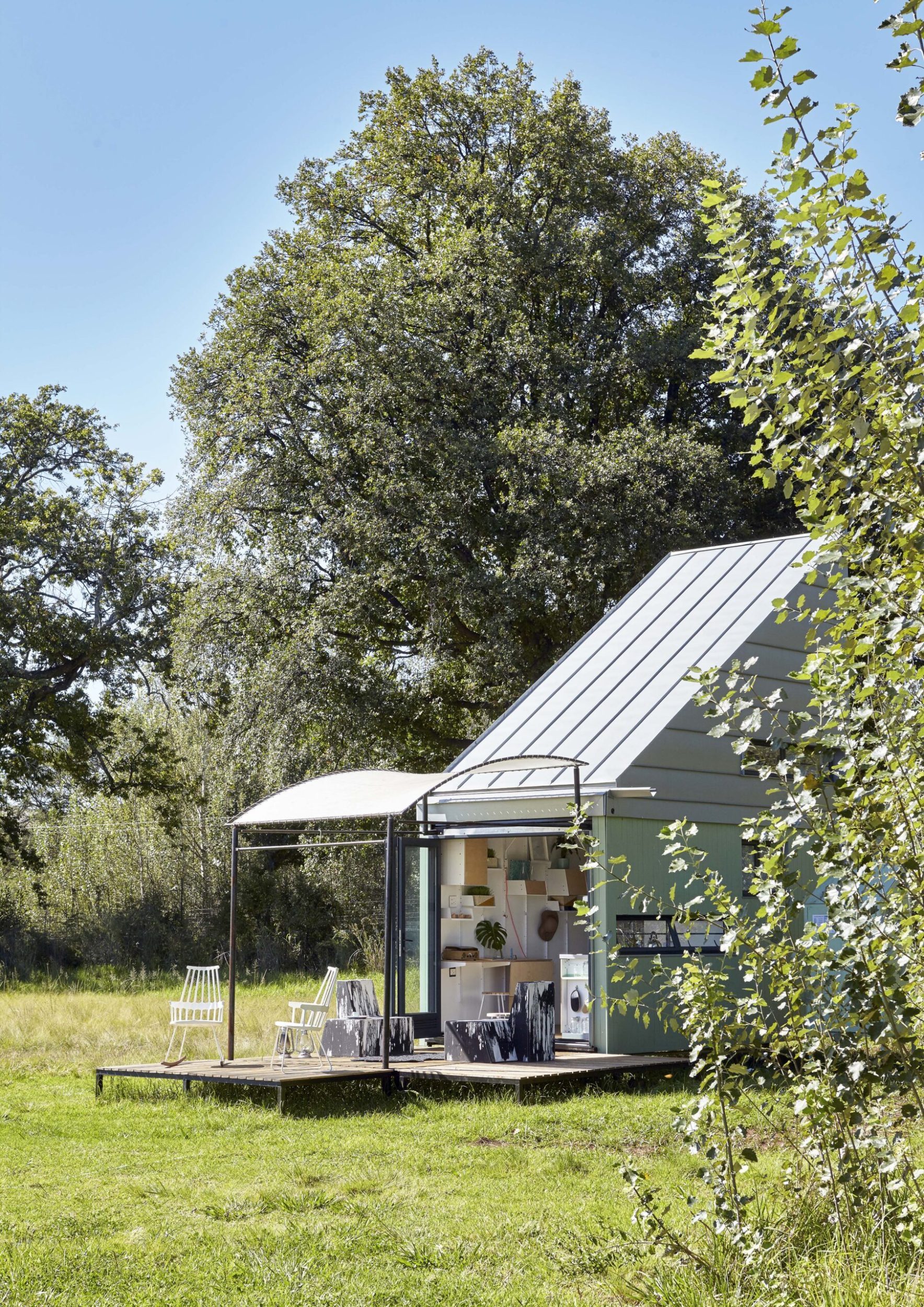 Dreaming of a beach house without the massive price tag? Many a tiny home (including this one) is a modular, prefabricated build, with most of the legwork done off-site. This makes them easier to transport and easier to build in their chosen environment.
Design notes
Tiny homes tend to be outward-looking and thus feel immersed in their surroundings. This pod is a perfect pad for watching nature go by, yet it's also easy to envisage it perched on an urban rooftop.
The beauty of a portable pod is that it can be placed in a range of environments. All you need is the relevant official approval and some flat ground – and the means to get it there.
Before embarking down the pod path, decide on its purpose. Depending on whether it's a place for work or play, a spare room, a studio or a mixture of the above, it will have different design needs, especially when it comes to elements such as cabinetry.


Sliding Scale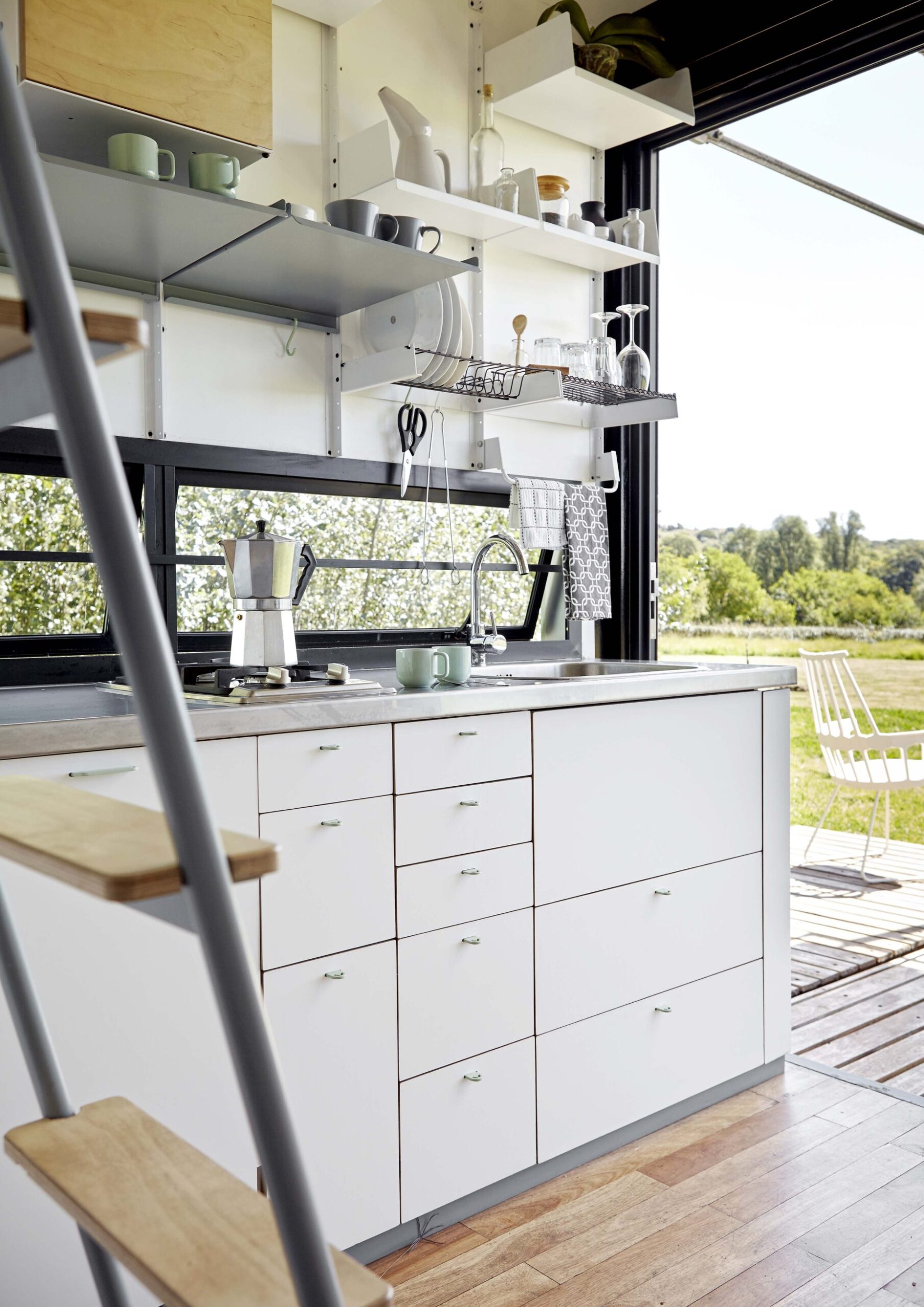 Part of this compact country escape's enormous appeal is the sheer number of thoughtfully conceived elements. The kitchen has everything a chef needs, from essential tools to suspended shelves for storage, all within arm's reach.
Design notes
The interior walls are lined with an ingenious bracketing system – this means that shelving units can be added or removed according to needs and preferred heights, giving the occupier a sense of autonomy over their space.
Countertop space is limited in a tiny house, which is why maximising wall space is so important. Here, the drying rack does double duty as a spot for plate storage while freeing up room for prep.
A small space can feel poky, which is why the bank of low windows in this pod is so important. Light still streams in but because they're installed at benchtop height, there is no compromise on the wall-bracket system.

Dream Small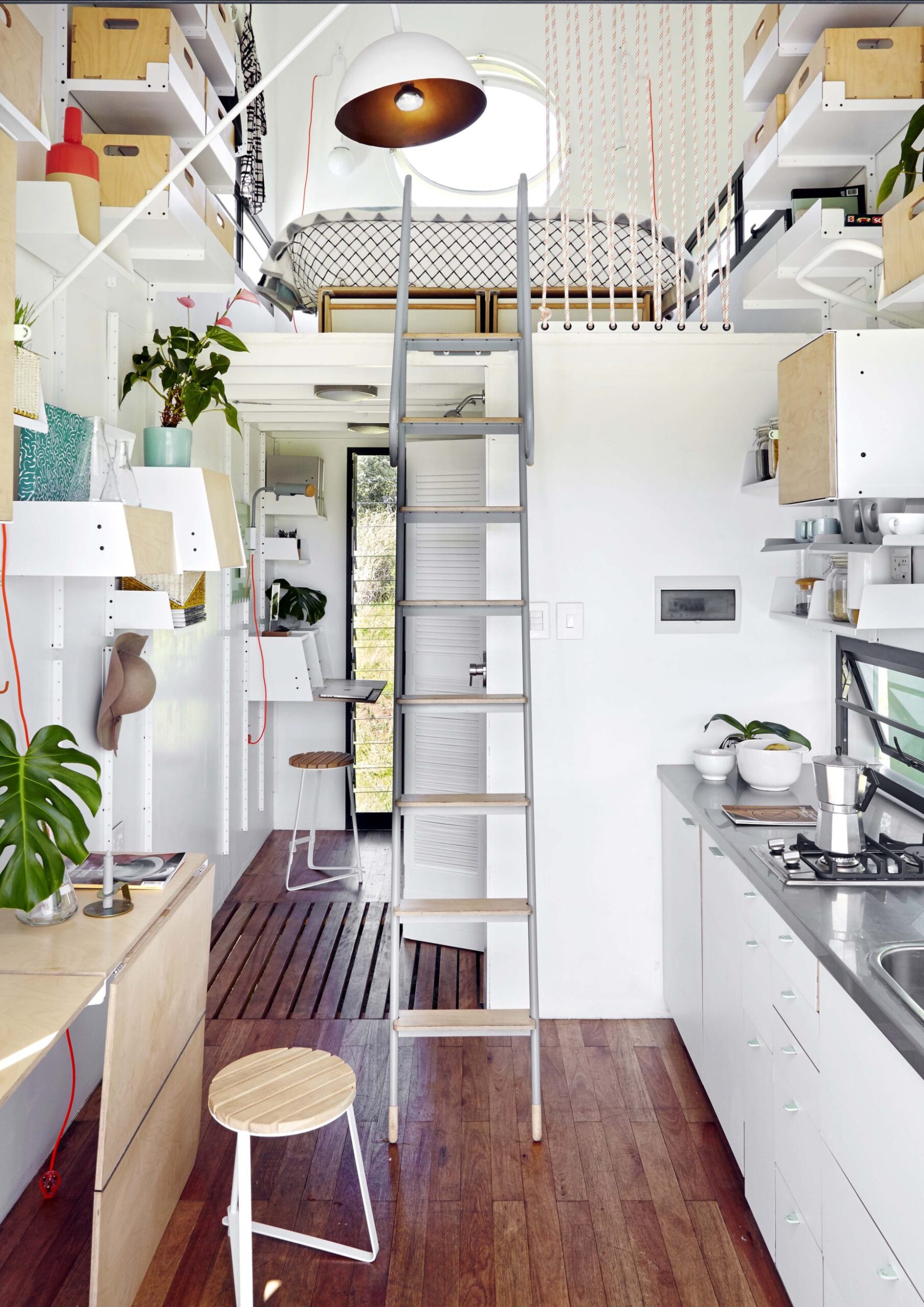 The mezzanine layout creates a cosy bolthole that's just the right size for a romantic retreat for two.
Design notes
An all-white palette is an easy-on-the-eye choice that helps to create a sense of cohesiveness while limiting visual clutter.
Pops of contrast and interest come courtesy of plywood fixtures, a judicious injection of black, and the clever use of strong linear design elements, such as the dark window frames.
The opening porthole window (at top) is a design feature in its own right – and it lets in the light and breeze without dominating the wall.

Work Smart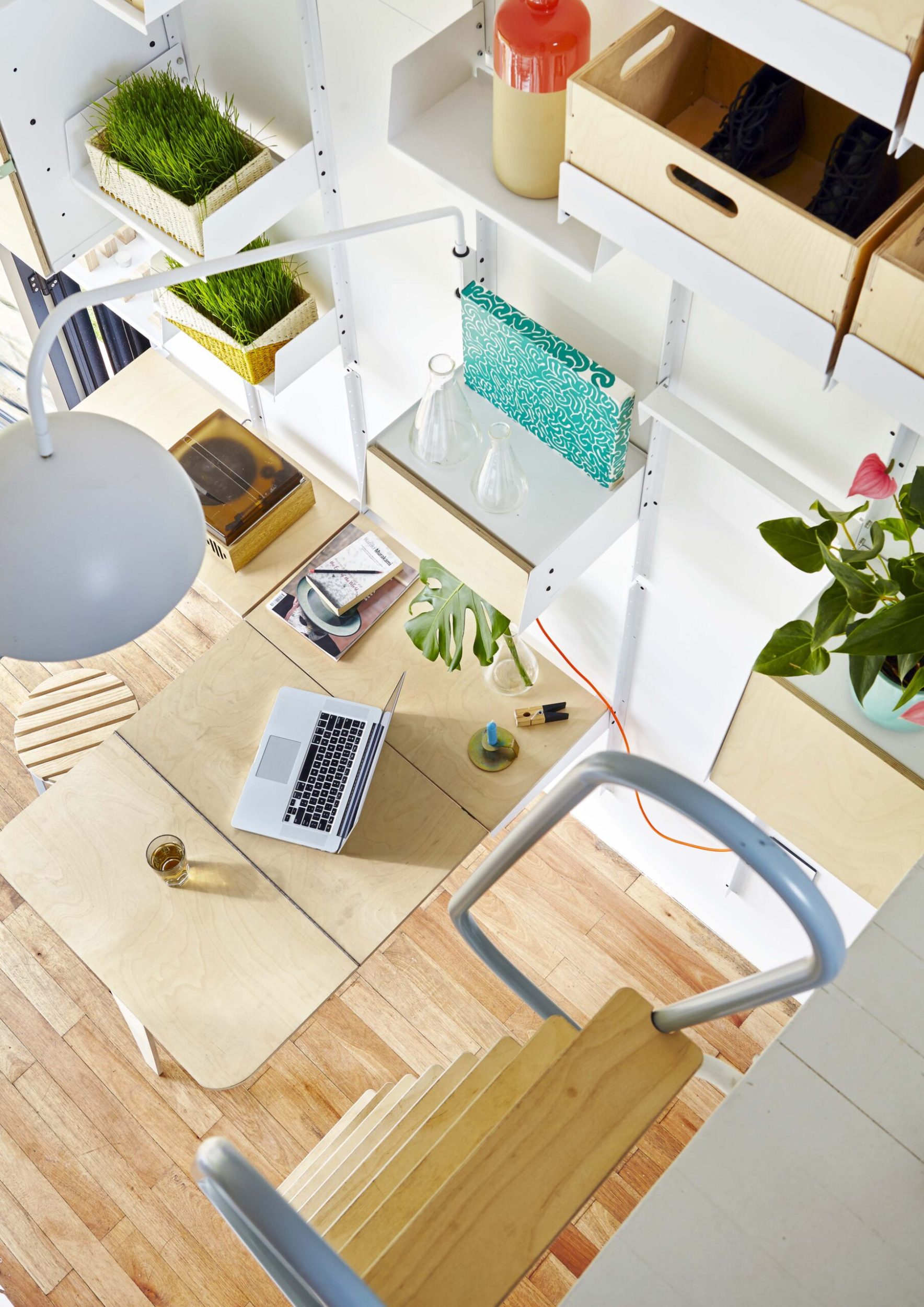 There's even a fold-out spot for taking care of business – an essential feature in the flexi-working era.
Design notes
This work zone was conceived as a "task room" that can be used for a range of activities, from a home office to a dining area and even a laundry room.
There's just enough space on the lower level to pop a mattress down, expanding the pod into a sleepover spot for four.
For the designers of this cabin, fitting in everything needed for a weekend escape pad was an exciting challenge. Up in the mezzanine, there's enough room for a double bed as well as clothes and other essentials.

Rest Easy
For the designers of this cabin, fitting in everything needed for a weekend escape pad was an exciting challenge. Up in the mezzanine, there's enough room for a double bed as well as clothes and other essentials.
Design notes
Utilitarian crates mounted on a simple shelving unit provide a simple, effective storage solution, with no need for a built-in wardrobe.
Graphic patterns and a simple monochromatic scheme are repeated in the decor elements upstairs and down, creating a cohesive aesthetic.
Hooks are always a good idea in small spaces.
A safety rail is essential in a mezzanine space like this. The solution? A rope "curtain" that occupies hardly any space, performs an essential function and adds visual interest.

By Extension
A small home means less floor area, so outdoor living becomes even more valuable. Treading lightly on the environment is a hallmark of this style of house. In this case, the deck is raised off the ground, reducing the need for costly, environmentally invasive foundations.
Design notes
A simple elevated deck and a retractable awning are all that's needed to add an extra living space to a pod.
This outdoor area feels all the more homely with the addition of all-weather seating, as well as a stool and textured rug that can easily be stashed away.
RELATED ARTICLE: Colour Rules for Small Spaces